With overflowing amounts of information and media consumed by us regularly, most of us need to transfer a lot of data to our devices daily in the form of software packages, images, and video files.
Though streaming services have cut down greatly on the need for downloading videos, if you are someone who needs to transfer a huge number of files from the web daily, then a download manager may be something you would like to check out.
The download manager is a system service that replaces the pre-installed download manager of a web browser. This ensures the safety of your machine from harmful malware that may enter your device, along with the downloads.
The best feature of download managers is the more you use them, the more efficient they become. If you need to download an excessive number of files regularly, then the download manager can help you ensure the speed of downloads and the speed of your machine doesn't go down. 
It does so by breaking the file into smaller chunks. They also allow you to schedule downloads or stop downloads when there is some network connectivity issue or power outage and resume the download from the same place when the issue is solved.
Even if you are someone who occasionally downloads a file or two, the file that you have downloaded will automatically get sorted into a suitable folder according to its file type by the Download Manager. When using a download manager, you also get various additional benefits, such as torrent support and magnet links.
Download managers on Windows and Mac have an abundance of efficient and fancy download managers, including Internet Download Manager and Free Download Manager. Sadly, not all of them can be used for Linux machines.
Some of these Linux Download Managers facilitate cross-platform support on open source platforms such as Linux, but most of the time it is for closed source OSes.
In such a scenario finding an open-source source download manager for our Linux-based machine is crucial, especially when you have heavy-duty downloading.
But there are currently some open-source download managers for Linux with an impressive range of functionalities.
Best Linux Download Managers – Our Pick👌👌
Searching for the perfect download manager for your Linux-based machine, which one to choose, which provides a secure and fast gateway for the downloads on your Linux-based machine, can be tough.
So here we have a list with all the download managers for Linux, according to us.
1. FireDM
FireDM (Get Here) is a GUI-based open-source download manager. This is one of the best Linux Download Managers that is also free and supports multiple platforms.
With an interface that can be customized according to requirements with ease. It allows audio and video downloads from a host of streaming sites and premium websites. The download manager is written in Python. It is based on libcurl.
The FireDM download manager has an extremely impressive feature set. It can download files at a very high speed due to the software being based on LibCurl and the multithreaded downloading system.
The manager also provides proxy support for HTTPS, HTTP, Socks4, and Socks5. You can schedule downloads as well as resume incomplete downloads. When any file is downloaded, the automatic file segmentation feature sorts it in the folder where other files of similar type are kept.
The app supports YouTube and most other streaming services and allows you to download fragmented video streams and encrypted or unencrypted HLS media streams.
The application allows you to set the exact speed limit for your downloads. You were even setting the figures on the maximum concurrent downloads and the maximum number of connections per download. There is also an automatic update system for dead links.
The only downside to FireDm is its GUI which is not very visually appealing but has the features of a reliable Download Manager.
And the user interface is so simple that the Download Manager is never overwhelming, even for a beginner. So if you're looking for a super fast and clean download manager for general use, give FireDM a try. 
2. Mortrix – Best download manager for ubuntu
Motrix is a cross-platform GUI-based download manager that supports Linux, Mac OS, and Windows. An open-source program that is facilitated with a clean and easy-to-use interface.
It is suitable for anyone who wants a modern user experience while not compromising the system's functionality.
The interface is also customizable and configurable, which thus can be easily altered to meet the requirements of the user. The application is available in portable versions.
Motrix is amongst the best Linux Download Managers. and is very reliable. If you want to ensure the safety of your files, then from the advanced settings, you can enable a proxy server or create a mock user agent.
It has an intuitive interface that automatically sorts files to their designated directory and pastes a copied link to the correct field.
The download manager can be accessed in multiple languages. Dynamic and intelligent segmentation of files makes it very fast to work with massive files.
The Motrix download manager supports downloading over HTTP, FTP, BitTorrent, and Magnet over the same interface.
It also allows you to set the exact download speed and handle up to 10 parallel downloads. Some other unique features of Motrix include a system of automatic tracker list updates and UPnP and NAT-PMP port mappings.
Motrix has all the features of a modern UX download manager. However, a few issues that need to be noted when using Motrix are the user can't exclusively control torrent downloads and can't select the contents of torrents to download certain files.
Unlike FireDM the download manager does not support downloading videos. If these issues don't bother you and you can work around them, the Motrix is a well-designed download manager for some lightweight downloading. The app comes in a 64-bit version.
3. XDM
XDM is a free-of-charge open-source download manager that comes with a Linux ecosystem. A cross-platform application that supports macOS, Windows, and Linux machines.
It comes in 64-bit and 32-bit formats and can be downloaded per the machine architecture. A GUI is based on an attractive interface that provides its user with a modern user experience.
With an interface that mirrors IDM( Internet Download Manager), it is the first choice of most Windows-converted Linux users, except XDM is free and open source.
It is extremely fast thanks to the dynamic and intelligent segmentation of files into smaller parts allowing it to use multiple threads per file, thus cutting back on time greatly.
The XDM download manager can integrate Google Chrome, Opera, Firefox, Chromium, and Vivaldi. It can also support downloads over HTTP, HTTPS, and FTP.
In XDM you can stream and download the content of various formats. It also comes with a YouTube Downloader from which you can download videos of different quality and resolutions.
XDM also allows users to schedule downloads and resume previously incomplete downloads due to power outages or a network connectivity issue.
You can also queue your downloads, and all you need to do is download all the videos in the queue to Start Queue.
XDM also comes with a bandwidth limiter option which is immensely helpful when downloading multiple files, this makes sure that a single download doesn't take up the entire bandwidth and that all the files can download at the same speed.
The interface of XDM though very attractive, may not be suitable for beginners. Its lack of build documentation and system can make it difficult for beginners to work with it. But if you are a professional who needs a fast download manager with high functionality, then XDM is worth trying.
4. Persepolis
Persepolis is a cross-platform application that supports all macOS, Windows, and Linux machines. Written in python, it is not a standalone download manager. It was created as a GUI interface for the aria2 command-line download utility. The application is available in a 64-bit version.
This is not only among the best Linux Download Managers but also customizable. One of the key features of Persepolis would be its efficient file handling. With an inbuilt scheduler, the download manager allows you to schedule downloads for a later time.
You can schedule the start time and the end time of downloads. It even allows you to queue your downloads, and the download manager arranges the queues in order. By intelligently multi-segmenting large files, Persepolis aids in faster downloading of files.
It even supports downloads from sites dealing with HTTPS and FTP protocols. It has access to various premium streaming services such as YouTube, Vimeo, and Daily motion; this content can be downloaded from there. 
With a strong online community, Persepolis has a very strong problem-solving network. However, Persepolis does not provide support for BitTorrent and has no significant browser integrations.
The download manager is not portable. But if you need a lightweight, efficient download manager and do not have any requirement for browser integration, then Persepolis is worth a try.
Accelerate Your Downloads! - Persopolis Download Manager | IG App Picks
5. uGet – xtreme download manager for Linux
uGet is a lightweight, free, and open-source download manager. Formerly known as urlgfe, this full-featured download manager has an easy-to-use interface but does not compromise efficient functionality.
Completely free of cost, written in C the application uses a KDE+ as its interface It is a full-featured Download manager that can work with both Linux and Windows.
uGet is a file manager and a download manager; the functionalities cannot be separated from each other. It has a very efficient and organized way of dealing with downloaded files. You can resume downloads previously disrupted due to faulty network connections.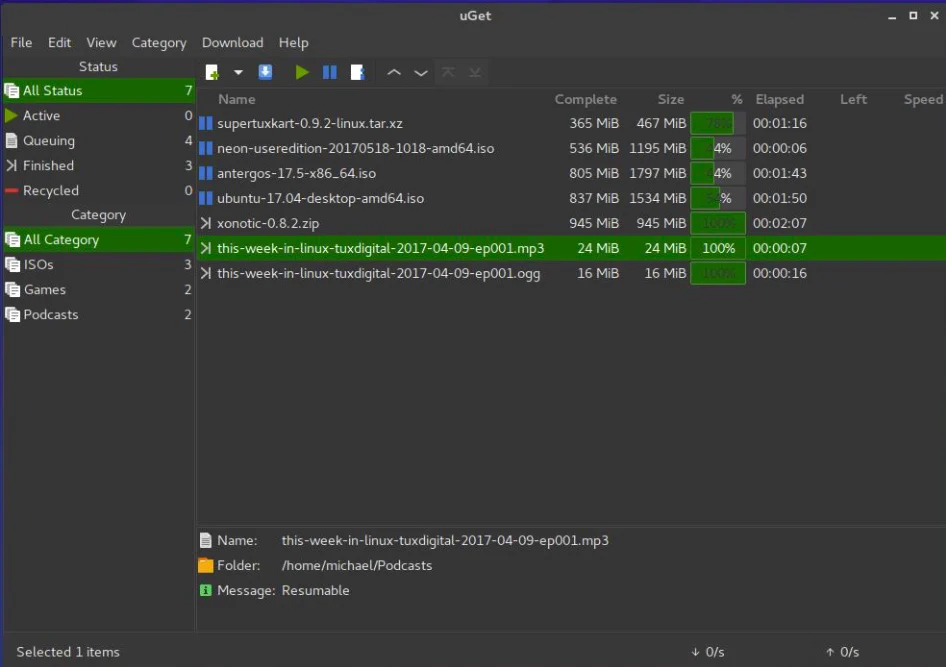 As well as queuing an unlimited number of downloads as soon as one download ends the queue which is scheduled to be downloaded starts downloading.
It also allows neat data categorization into specific folders sorted according to their file type. The application can also integrate with the Mozilla Firefox browser. It can also import downloads from HTML files. It supports downloading from HTTP, HTTPS, Metalink, and BitTorrent sites.
A multi-pathway express allows downloads from multiple locations simultaneously, and with the intelligent segmentation of files, the files are downloaded way faster than normal. The application also lets you exactly customize the speed of the download.
Though the help section of the online community is not very solid, the uGet interface can get overwhelming for a newcomer.
But suppose you can work around that problem or are an experienced professional trying to find a free and efficient alternative to the regular download manager on your Linux machine. In that case, uGet may be the perfect place to start.
6. KGet – Arch download manager
KGet is amongst the best open-source, free KDE/Konqueror integrated Linux download managers. KGet is a versatile download manager with a user-centric interface, making it highly customizable and configurable to suit the user's individual needs. KGet is also one of the most popular managers regarding Linux machines.
KGet and the generic download manager functions scheduling and resuming downloads and queueing downloads to simultaneously facilitate multiple downloads.
Another key feature of KGet is its user-centric and flexible interface which leaves no stone unturned to provide users with a modern user experience.
It has a timer feature that facilitates setting the download time very precisely. It also facilitates downloading files from FTP and HTTP sources. It also supports Metalink and torrent downloads. KGet is also one of the few download managers which update the user on the status of the download of torrent files.
Integration with the Konqueror web browser greatly boosts the KGet download manager's functionality. It has a cached directory that has the information of all previous downloads as well as of the current and pending downloads.
However, the KGet download manager isn't very fast because it doesn't allow the segmentation of files, a result of which the download speed suffers immensely.
It does not have a bandwidth-limiting feature; another reason behind the slowed speed is that the application becomes slow when downloading from multiple locations.
But if the slow speed doesn't bother you, the KGet is definitely worth giving a chance, especially for the ones looking for a way to make downloading easier and more reliable.
7. FlareGet – ubuntu download manager
Do you need a Download Manager that helps you retrieve and keep track of your downloads? But also want it to have an impressive modern user experience?
FlareGet may be the application for you. FlareGet is a full-featured but not open-sourced download manager. It supports cross-platform interaction.
It is compatible with Linux,macOS, and Windows machines. It can be downloaded on both 64-bit and 32-bit machines. The lite version of the Manager can be used for free, but to avail of additional benefits, you need to buy the pro version for USD 20.
FlareGet is an application with a user-friendly and intuitive interface. It is superfast owing to the dynamic file segmentation feature, which allows large files to be intelligently segmented to speed up the download process. It also supports the download of files from HTTP, HTTPS, and FTP protocols and also supports meta links and torrent links.
Among the browsers that can be integrated with the download, the manager is Opera, Chromium, Google Chrome, Safari, and Internet Explorer.
When downloading files, you can form queues, and each can be scheduled accordingly; you can also schedule individual downloads. Resuming downloads previously stopped due to some network connectivity issue is also facilitated.
There is also a dynamic file management system that automatically arranges files according to their file extensions. It is also a highly reliable application that solves any problem while downloading files.
With the pro version, you get additional bandwidth limiting features when performing multiple downloads, enhancing the speed even further and setting precise download speed limits. The pro version also supports the auto-refreshing of URLs and cookies.
And you get a free download of all the updates which would otherwise have to be paid for. If the price point is affordable for you, availing of the pro version is always a better choice, owing to the array of extremely useful features.
8. DownThemAll
DownThemAll isn't a download manager. Rather it is a browser plugin that is perfect if your system is overloaded with bulky software and does not have the memory space to install another such software. The extension is available on Windows, Linux, BSD, and macOS.
DownThemAll brings various unique and never seen features to the world of download managers. You can refine your downloads to get your desired fully customizable version. Its advanced accelerator feature allows the manager to boost the speed by an insane amount.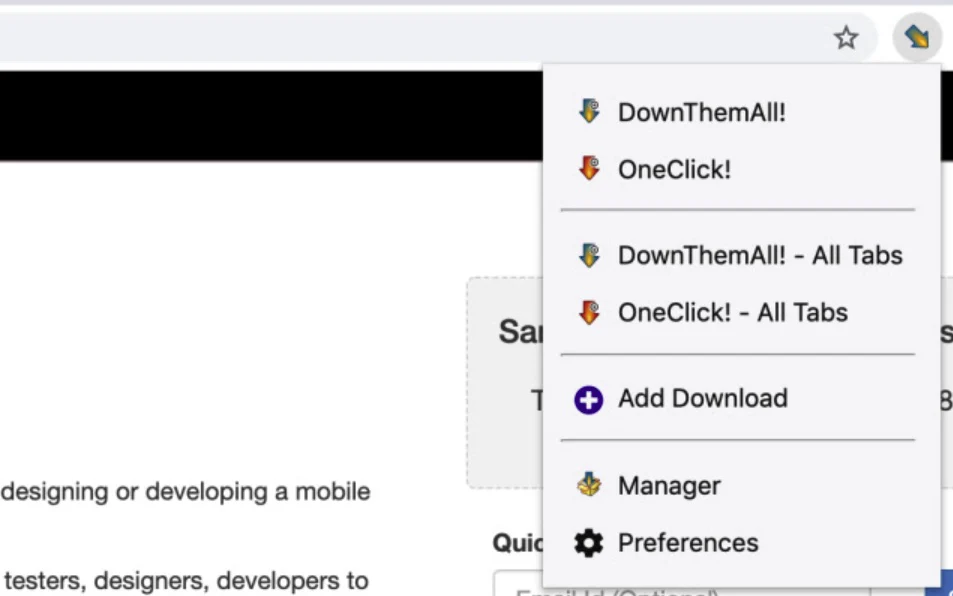 It can support multiple downloads at once and facilitate new downloads' scheduling. As well as allows you to resume old downloads.
In short, every feature of a regular download manager but in a much more accessible format. DownThemAll also allows multiple source downloads while maintaining the desired speed range.
You can completely integrate with the Mozilla Firefox browser using the DownThemAll plugin. Being a plugin in no way compromises its reliability as it can auto-solve problems related to the downloads without any form of user intervention.
However, DownThemAll is available and can be a bit extensive resource, especially dealing with additional add-ons to existing ones. Also, the browser integration of DownThemAll is available only with Mozilla Firefox.
📗FAQ
What is the best download manager for Linux?
The best download managers available for Linux are Motrix, Xtreme download manager, Persepolos download manager, fire DM, Uget, and Kget. It depends on the user using what works best for them and which download manager they prefer.  
How do I install a download manager on Linux?
First, add the wine repository, update the local cache and install it. Now open Ubuntu software or synaptic and search for wine and install it. Now you are done, now you can install the download manager or any windows software on your Ubuntu box. 
Is IDM available for Linux?
IDM is a window application. So to use IDM on Linux, you need something that can support Windows apps in Linux.
Wine is a loose and open supply compatibility layer software program utility that aims to permit programs designed for Microsoft Windows to run on Unix-like operating systems. 
How to install IDM Linux Mint?
First install playonlinux, open playonlinux and choose to install a program from the right side panel. Then, a window will appear with an option to install a non-listed program. Simplyclick on that option, and installation will get started. 
What is the difference between a wine and an emulator? 
An emulator is way different than a Wine. These applications​​ usually have everything the original application has.
Wine, on the other hand, performs the role of a translator by implementing only the essential elements of Windows and converting them into instructions that X-Windows can understand. 
Is Linux good for gaming? 
Yes, Linux is good for gaming. It offers a wide variety of games that you can pick from. Furthermore, you can enjoy a smooth gaming experience without lags and interruptions. 
Conclusion
The list is by no means in any rank of which one is amongst the best Linux download managers but some of our personal favorites.
For a professional dealing with multiple downloads of files of different formats and even an amateur content creator downloading content for their new venture, download managers can be a boon.
So the feature set which suits you the best also has to be a very personal choice. But some features like intelligent file handling and enhanced downloading speed are indispensable.
We hope that this article of ours could provide some insight into what would be the perfect download manager for your Linux machine.