Are you looking for a Loom Alternatives To Record and share video messages of your screen, cam, or both?🤷‍♂️
We got you covered in this review post.
Without any further ado, let's get started.
We use computers in our daily lives very frequently. We come across so many things on the internet or on our computer that we want to save for the future, and it can be a video, an image, or some important documents.
We also use our computers to make tutorials or guide others. So many institutes offer pen drive courses that are screen recorded on the computer.
We can agree that we often find something worth keeping or saving on the internet. But there isn't an option to download or save that stuff.
In that scenario, you can use screen recording as a viable option to save the stuff you see on the internet.
If you play games and want to record that to upload somewhere or want to show that stuff to your friends, then screen recording is the only option by which you get to secure the moment or gameplay.
As per the current scenario, we mostly do our work from home. If you are a working person, you will need a tool to record your presentation, project, or any file you've been working on. Here, screen recording is also the perfect choice for you.
If you are on a video call with someone on your computer and want to record the video call for future purposes, then screen recording will do the trick for you.
As we already know, the Windows Mac operating system does not have a default built-in screen recorder, so we have to depend on third-party software.
However, several screen recorders are available for PC, and we have selected the best for you.
Loom – The Ultimate Tool
Loom is one of the best video-sharing tools available on Windows and Mac platforms. With the help of Loom, you can simultaneously record your screen, microphone, audio, and desktop.
These videos are saved on your computer and are instantly shareable across any platform. Loom is free to download and use.
There are various categories of Loom users. If you're just a starter, you can record videos for up to 5 minutes. If you're using Loom for educational purposes, you can record videos for about 45 minutes.
If you're a businessman working in a firm, the video can last up to 6 hours. So, Loom has sorted out preferences for all the categories.
You can also edit your screen-recorded videos on Loom. Trimming and Merging of the videos are available in the Loom software. With the help of Loom, you can take screenshots and add audio to your recorded videos.
Loom is mainly accessible as an extension of the Chrome browser, and it further helps the user share media or files more easily.
With the help of Loom, you can create your videos and share that media on any social media platform you like.
Loom will help you achieve them all with minimal effort, from work-related to fun-related stuff. The user can easily share these videos with office mates, friends, family, and colleagues for the required purpose.
However, Loom isn't the only app with these features; several apps do the same thing by offering different and extra features on the table.
Here in this article, we will discuss the best Loom alternatives.
Best Loom Alternatives – Our Top Pick👌👌
1. CloudApp: Best Loom Alternatives for Mac, Windows, Chrome, and iOS
CloudApp has one of the most advanced features related to screenshot editing and screen recording. You can record anything showing on your computer.
It can be a long video or even as short as a GIF. This feature allows you to share your videos or GIFs on social media sites like Instagram, Facebook, Twitter, Reddit, etc.
You can even add annotations to the screenshots to highlight something.
CloudApp: The Video, Image, Webcam and GIF Screen Recorder for Professionals
It supports Windows, Macs, Chrome, and IOS platforms and is a good screen-recording tool. The quality of sound recorded by this software is also top-notch.
As mentioned earlier, the annotations are a significant highlight of this product. You can blur, put emojis and text boxes, and do many other things. You can also perform webcam recording and put it on the cloud.
CloudApp is free, but it only allows screen recording for 90 seconds. You must purchase the app's premium version if you are willing to record more than that duration.
The user interface of this app might not be the best. It may take some time to get used to the UI as it is not beginner-friendly.
Key Features of CloudApp:-
The immediate screen recording feature

Annotations tools are present in the app

Direct sending of files to business tools like Slack and Trello

Mouse cursor and mouse clicks are highlighted when used
2. ScreenFlow
ScreenFlow (Download Here) is yet another one of the best Loom alternatives. It is mainly used to screencast and screen record videos or the computer screen in Mac OS.
It can record both audio and video from the computer at the same time. It has a custom title library to add header text and names to your videos. 
The screening tool present in this app is very sophisticated and allows the users to add screen chats in a significantly less amount of time.
If you want to publish your videos or screenshots to a vlog or any other platform, there is also a quick-time movie feature to let that happen.
As mentioned earlier, it can record both desktop audio and video simultaneously. However, it can also record multiple apps and put video filters to let you produce professional-level videos for any category of work. 
ScreenFlow is one of the most feature-rich software. It has one of the highest-quality screen recorders and can simultaneously record even using multiple screens.
It has a more straightforward UI compared to the 1st software that we discussed.
The editing software provided by the app is of the highest quality. You can Animate graphics, text, and logos all in one place within the app and then share them across any social media platform. Here are some of the features of ScreenFlow.
Key Features of ScreenFlow:-
Streamlined media management

Animated GIFs and Animated PNG export feature 

Powerful editing software

Easy-to-understand UI

Closed caption support is given
3. Flashback
Flashback is like an all-in-one package. It has screen recording and editing software built into the app itself. It can be one of the best Loom alternatives for screen recording.
It helps by directly recording the screen. You can record your screen with anything on the computer screen, like a website, or along with a webcam and mic. 
You can also edit the recordings to refine them and prepare them to be presented on the professional stage. You can also add captions and highlight the parts that you think are important.
After that, you can easily export these videos to your desired platform, like uploading directly to YouTube or Flashback Connect.
Most of the time, we use screen recorders for making videos like lecture recordings, Youtube videos, presentations, how-to videos, demo videos, etc., if you want to use the screen recorder. Flashback may be a viable option for you.
It also has multiple features that make this software a solid deal. It supports multi-device capture and simultaneously records numerous screens.
You can even narrate your screen recordings to make them like a guide or tutorial. All these features come with a cost. So, Flashback is not free software to use. 
Key Features of Flashback:-
Decent editing tools

Narrating videos are also available.

It shows the detailed or brief history of changes made to the database or the main file.

Making presentations is easy.
4. OBS Studio – Open Source loom alternatives
OBS Studio is a free, open-source software to record and stream videos or live streaming. This software is available on platforms including Windows, Mac, and Linux.
It is one of the highest performance-oriented software in this category. You can capture real-time audio or video and mix them.
It has the feature of custom transitions. Simply put, you can set up multiple numbers of scenes that you can switch between flawlessly via custom transitions.
The audio mixer provided in its editing tool is very premium. It can suppress noise, noise gate, and gain. You can have complete control over your audio.
There are various configuration options also. Depending upon your desires, you can easily add new sources, duplicate the existing ones, and change their priorities.
One of the significant positive facts about this software is that it is entirely free to use, and it has a streamlined setting panel that gives you plenty of options to configure and tweak stuff based on your preferences. It has a decent user interface too.
Key Features of OBS Studio:-
Straightforward workflow

It is free and an open-source software

Encoding is done by x264 and AAC

Phenomenal audio settings and options
How to Use OBS Studio - Complete Tutorial for Beginners!
5. Kazam Screencaster
Kazam is a very well know Screencaster created with the purpose of video designing. Kazam is a straightforward screen recorder that will capture the contents of your computer screen and will save them as a file.
Later that recorded file can be played in a video format. As for the sound recording, you can record that from any other sound input software or device paired to PulseAudio. 
Kazam offers flexibility as it is supported on numerous operating systems. It has very powerful editorial tools which will let you manage all your files according to your needs.
Various keyboard shortcuts start or pause the recording at any given time or scenario. 
Key Features of Kazam:-
Variable screen recording options

Screenshots are very easy to take 

Videos are recorded in mp4 format, so it is easily playable 

Keyboard shortcuts are very useful
6. FastStone Capture
FastStone Capture is amongst the most potent screen recorders present on the internet. It is very lightweight but feature-rich software capable of doing anything related to its job.
You can easily capture or screen record stuff on the screen and can annotate the contents.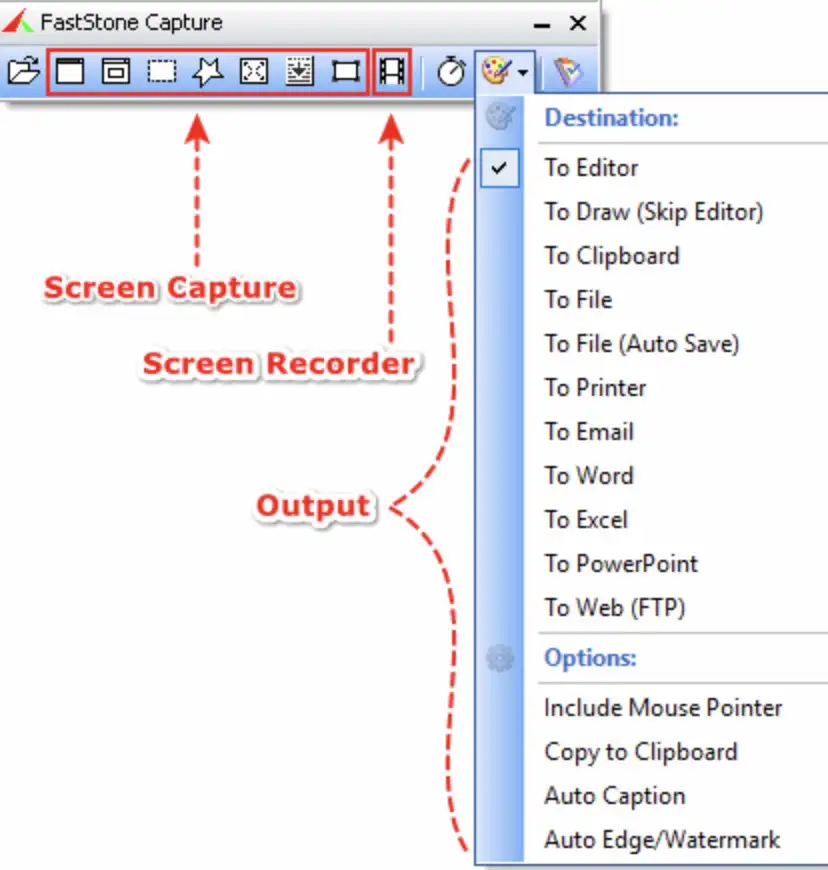 It allows you to record all the contents or activities on the device's screen, including all the changes made, audio, and mouse clicks. It stores them all in a very highly compressed video format. 
It has a small capture panel that helps you to get instant access to the output options and capture tools. There are global hotkeys to activate screen recording instantly.
The primary factor of FastStone that sets it apart from other screen recorders is that you can partially record the screen.
To describe it, you can record only the half screen, rectangular, or in a customizable freehand way.
Key Features of FastStone Capture:-
Re-sizable screen ruler to record only the preferred area of the screen

Features including eye dropper color selection 

The capture panel is very helpful at times

Very powerful and lightweight
7. Cam Studio – Loom alternatives For Free Screen Recording
Cam Studio is software that can record all the screen and audio activities happening on the computer and later convert them into AVI video files to be later played.
The best way to utilize this app is by making demonstration videos or creating videos for your work-related stuff or school projects. 
Cam Studio claims to be very high-quality software that can add anti-aliased on-screen captions to your recorded materials in a matter of seconds with the addition of a video annotation feature.
Cam Studio gives you total video control, and its output depends entirely on you.
You can even record the screen in a lower quality or resolution to save space on your device's storage. You can also choose custom cursors, like if you want to record the whole screen or just a section. This has proved to be a very helpful feature. 
Cam Studio offers a simple user interface that you can learn and get used to in a matter of minutes. The even greater thing about Cam Studio is that it is 100% free to download and use, unlike other entries on our list.
Key Features of Cam Studio:-
Free to use 

You can choose which part of the ratio of the screen you want to capture or record 

Webcam movies can be produced.

Screen captions and notations can be added pretty easily.
8. Click-up
We all went through the hardships of recording our desktops using Loom. But now we have a better alternative to record our screen without any hassle. You can share your screen recording to share or transmit any messages.
Click-up lets you quickly capture all the contents on your screen, including web tabs and app windows.
You can also add your voice using the audio tool embedded in the app and use this feature to convey your message clearly. 
After recording the videos, if you want to share them, the software quickly generates a link you can open in your browser.
Videos will be available directly after recording. No additional downloads are required to play the video. It is also an excellent tool for workspace collaboration. 
Key Features of Click-up:-
Helps in a Collaborative teamwork

Convey messages fluently 

Free as well as paid versions are decent 

The user interface is decent-looking and well-functional. 
9. Action – Loom alternatives game recorder
Action is the first entry on our list solely dedicated to the gaming community. We know streaming is turning into a big market and business these days.
It is no wonder that many people want to capitalize on that. We know plenty of gamers that have gaming channels on platforms like Twitch and Youtube.
They stream daily, or if they do not stream, they post their gameplay videos to entertain their audience. It is their profession to do so.
So if you are amongst the elite community who wants to record and upload their gameplay videos, then the Action screen recorder might be your best bet.
Action! - the best game recorder [Official Short Spot]
Action will help you record your gameplay, commentary, web tabs, and every other activity or task you perform on your PC while Action is recording.
Action is very compact and stylish and has one of the most user-friendly user interfaces.
A built-in screen recorder allows you to delete the desired items and then export the recording to well-known video files so they can later be played without any issue.
One of the biggest edges of Action over traditional screen recorders is the Greenscreen mode. Yes, you heard it right.
You can cut the background and add a custom-made background while recording yourself from the Webcam.
You don't have to use any particular kind of software or camera for that, and Action will do that independently.
Privacy is a big concern for users when we discuss screen recorders. As we already know, screen recorders record all the activities on our screen.
It may compromise your privacy to a certain degree. But with Action, you don't have to worry about privacy.
A new recording mode lets Action record only those apps whose permissions are granted by you.
There are many other features that Action provides, and it might be the best screen recorder on our list, depending on your preference.
Key Features of Action:-
The time shift option is available.

Screen and gameplay recording available in 4k

Greenscreen technology

Selected ap recording option
10. TechSmith Capture (Formerly Jing)
TechSmith Capture is available for Windows and is yet another one of the Best Loom alternatives as a lightweight option to screen capture.
It allows you to record videos and capture desktop images on your computer system. After that, the videos can be screencast and shared with everyone you want to share.
It is one of the most accessible screen recording software and is completely basic in terms of functionality. The customization options that Jing provides are also quite fabulous.
You can choose which part of your screen to record rather than the whole screen. Having the option to record a specific amount of your screen is an outstanding feature.
Despite all the good and handsome qualities, Jing does have its own sets of problems like stuttering and freezing.
These things do not happen very often, but you can lose your precious recorded data if it happens in between recordings. It is still a rapid and efficient screen recorder available on PC.
Key Features of Jing:-
Simplified process of adding more images

Instant sharing on the web feature

Both Windows and Mac are supported

Lightweight yet powerful screen recorder
📗FAQ
What can you use instead of a Loom?
There are several loom alternatives that you can use for video messaging and screen recording.
Some options include:-
Microsoft Stream:- A cloud-based video platform called Microsoft Stream has tools for live streaming events and facilities for recording and sharing recordings.
Zoom:- Zoom is a platform for video conferencing that enables users to capture meetings, webinars, and other events. Additionally, it has tools for screen sharing and video messaging.
Google Meet:- A G Suite account comes with Google Meet, a video conferencing service. It has video communications and teamwork tools, allowing users to record meetings and share screens.
Skype is a communication platform with video messaging, voice calls, and screen-sharing features. It is available on various desktop, mobile, and web platforms.
Slack: Slack is a collaboration platform with a "Slack Calls" feature that allows users to make voice and video calls and share screens.
Teams: Microsoft Teams is a collaboration platform with video and voice calls, screen sharing, and video messaging features. It is available on various desktop, mobile, and web platforms.
Does Microsoft have something like Loom?
Microsoft offers Microsoft Stream, a video messaging and screen recording application. Users can post, view, and share films inside their business using Microsoft Stream, a cloud-based video platform.
In addition, to live streaming events, it has facilities for recording and sharing videos.
Accessible via a web browser or through iOS and Android mobile apps, Microsoft Stream is connected with other Microsoft products, such as Office 365.
Why is Loom so good?
Loom is one of the most preferred platforms to record, share, and interact with video messages to streamline your work.
The best part about the platform is that it allows you to express your thoughts, reduce your overall work time, share quick feedback, and have deep communication.
As a viewer, you can easily interact, comment, and respond to videos to create seamless and instant human interactions. 
Is Loom free to use?
The starter version of the loom is available free of cost. It supports you with Some very useful features like unlimited transcriptions, instant editing, privacy controls, viewer insights, screen recording, cam bubble, etc.
However, to get the best out of the play font, you must go with the Business version, available at $8.00 per creator per month.
The Business version has unlimited creators, unlimited videos, unlimited recording length, video uploads, password-protected videos, engagement insights, custom branding, links embedding in videos, and more. 
How long can I use Loom for free? 
You can use the free version with limited features for as long as possible. However, you have to opt for the business version to access more advanced features.  
Is loom better than YouTube? 
If we compare the business advantages of a loom and YouTube, many users feel that YouTube meets many business requirements better than a loom.
In add event we look at the quality of ongoing product support, the loom is a better option for a lot of users. On the other hand, for feature updates and other road maps, Luke has become a preferred option over YouTube.
In the end, it's your requirements and business preferences that should be on focus while selecting one of the two platforms.  
Can you host videos on the loom? 
No, you cannot host videos on the loom. However, the platform allows you to upload the videos you have recorded on the loom as well as videos you have recorded somewhere else. 
Which is better, loom or screencast-O-Matic? 
While reviewing the two platforms, reviewers felt that the loom is very easy to use, set up, and administer. Reviewers also opted to do business with the loom after checking the overall features.
Loom Fulfills various business purposes better than Screencast-O-Matic. When we check the overall quality of ongoing product support, Loom is still a better option. Overall, Loom is a much better option as compared to Screencast-O-Matic.  
How do I record my screen for teaching? 
Screencastify, Zoom, Loom, Wodershare DemoCreator, CamStudio, Nimbus, etc. are some of the best applications to record your screen for teaching, thanks to a wide range of editing, hosting, and screen-sharing features. 
What is a screencasting tool? 
The screencast is a unique and useful digital video recording of your computer or smartphone screen and usually supports audio narration.
Screencasts are among the most popular and highly effective instructional videos. They can be helpful while explaining different types of important things for various purposes using the content on screen. 
What is the best casting software? 
ScreenRec, OBS Studio, CamStudio, QuickTime, Movavi Screen Recorder, Screencast-O-Matic, Camtasia, etc. are some of the best screencasting software you can try for various purposes like business, education, promotion, and more. 
Is Loom better than Screencastify?
It's challenging to declare with certainty whether one tool is superior to another because it relies on the individual requirements and preferences of the user.
However, both Loom and Screencastify are well-known screen recording and video messaging programs that provide a variety of features and functionalities.
With the cloud-based Loom platform, users may record and share movies on their screen, camera, or both.
It has tools for video editing, collaboration, and annotating—various platforms, including PC, mobile, and the web, support Loom.
Users of the Chrome extension Screencastify can record their screen, webcam, and audio. Users can save their recordings to Google Drive or submit them to YouTube, which has options for annotating and modifying videos.
Ultimately, the user's particular demands and tastes will determine which option they select between Loom and Screencastify.
Loom, for instance, would be a better option if you're looking for a tool with advanced collaboration and annotation features that is accessible on several devices.
Screencastify, on the other hand, might be a better option if you're searching for a program that is made especially for use with the Chrome browser and lets you save your recordings to Google Drive.
Is Vimeo better than Loom?
It's challenging to directly compare Vimeo and Loom because they are two different kinds of platforms.
Users can upload and share videos on the video hosting and sharing website Vimeo. It has options for personalized branding, privacy settings, and functionality for managing video, collaborating, and performing analytics.
Instead of being a platform for making and recording videos, Vimeo is largely used as a hosting and sharing service.
Alternatively, Loom is a screen recording and video messaging platform that enables users to record and share recordings of their screen, webcam, or both.
It has tools for video editing, collaboration, and annotating. Loom is more commonly used to make and share videos than to host and manage them.
Because it relies on the unique demands and objectives of the user, it is challenging to determine with certainty which platform is superior.
The better option may be Vimeo if you're seeking a platform to host and share videos.
However, Loom might be a better option if you're seeking a tool to capture and distribute screencasts and video messages.
Does Netflix use Loom?
Netflix might make use of Loom since it is a program that enables users to capture and share videos of their screen, camera, or both.
Loom has many applications, including video communication, remote work, customer assistance, and video production. As a significant media corporation, Netflix could probably use Loom for any of these things.
Why is Loom so laggy?
When you use Loom, it could seem sluggish or slow for several reasons.
Some common causes of lag in Loom include:-
Internet connection:– Loom may lag or operate poorly if you have a sluggish or inconsistent internet connection.
Computer performance:- On a machine with better specs, Loom might perform better (e.g., a faster processor, more RAM, etc.). Your computer may have trouble keeping up with Loom and run slowly if it is outdated or has inferior specifications.
Browser performance:- Loom can be accessed through a web browser, although the performance of each browser may vary. The tool could operate more slowly if you are using a browser that is less efficient or compatible with Loom.
Other programs: Loom may function more slowly if you simultaneously have other programs on your computer. This can waste resources.
If you are experiencing lag when using Loom, there are a few steps you can try to improve the performance:-
1. Close any other programs not currently in use to make resources available for Loom.
2. Ensure that your internet connection is reliable.
3. Use a different browser or update your current one to the most recent version.
4. To remove any temporary files or programs that might be slowing down your computer, restart it.
5. If the problems persist, speak with Loom customer service for support.
How is Loom different from Zoom?
Users of Loom and Zoom can hold meetings, webinars, and other online video interactions with these video communication platforms.
However, there are some key differences between the two tools:-
Purpose:- Compared to Zoom, a more versatile video conferencing application, Loom is largely focused on screen recording and video chatting.
Features:- Compared to Loom, Zoom offers a greater range of capabilities, such as support for large-scale webinars, virtual backgrounds, breakout rooms, and more. Loom has fewer capabilities and is more centered on screen recording and video messaging.
Pricing:– Loom has a single cost tier that covers all of its features, unlike Zoom, which has several pricing tiers that offer varying levels of capacity and functionality.
Integration:- While Loom has fewer integrations, Zoom has many more with other platforms and apps.
With fewer features largely aimed towards screen recording and video messaging, Loom is often a simpler and more narrowly focused application than Zoom.
Zoom is a more feature-rich video-conferencing application that may be used in a larger variety of situations.
Can Loom be trusted?
Many people and organizations worldwide rely on the well-liked and frequently used tool known as Loom.
The company takes precautions to safeguard the privacy and security of its users, and Loom is intended to be a secure and dependable platform for screen recording and video communications.
When utilizing any online service, it is crucial to exercise caution and adopt security and privacy precautions.
Here are a few tips for using Loom safely:-
1. For your Loom account, choose a strong, one-time password, and keep it to yourself.
2. Think twice before sharing any personal information in your Loom videos. Consider whether the information on your screen is sensitive or secret before you display it.
3. Utilize Loom's privacy options to limit who can see your films and how they are distributed.
4. Add two-factor authentication to your settings to increase security.
By adhering to these best practices, you can ensure that Loom is secure and safe.
You can seek help from Loom customer service if you have any questions or concerns about the security of your account or the confidentiality of your data.
Final Conclusion on loom alternatives
In this article, we've discussed the best Loom alternatives. Loom, as we know, is a screen recorder app or extension for PC users.
However, there is no ideal alternative to Loom. Every app we've mentioned on our list excels in its department and job.
The only difference is that some offer other extravagant features while some are just down to basic traditional screen recorders. Every app has its good and bad characteristics.
Several apps on our list are paid and require money to unlock the app's full potential. Still, there were a bunch of free-to-use apps also.
You decide whether you're willing to spend money for some extra features or if you will be satisfied with the free-to-use apps that have all the essential features but lacks in some way.
In the end, the entire decision is yours to make. We've just tried to put a comparison in front of you so that you have a better idea about stuff and make a better decision for yourself. We hope this article was helpful to you and you found what you were looking for. Good luck with your future adventure. Keep hustling.