When we talk about Windows and Mac, there are a few pros and cons. Although the preferred choice because of its robust operating system, Mac fails in front of Windows when our topic of discussion is about the variety of open-source software Windows offers to its massive audience.
What do you do when first? It isn't easy to find Mac Software Download Sites, and even if you find one, you might need to pay the price!
There's no denying the fact that Mac never disappoints with its performance. It can beat Windows any day (sorry, Windows stan). This infamous strength is attributed to Apple's core policy of all original hardware and software.
You cannot install any random new program on your Macintosh. Being not that immune to computer threats, it tends to get corrupted much more easily.
Finding the best source to aid your Mac experience becomes daunting when you need trustworthy legal authorities. You are not a Windows user who'll get hundreds of applications at a click, even thousands, for the simplest ones.
Mac won't permit third-party programs from unauthorized and threatening websites to its hardware. You might download software with little checking and surprise! You have a new malware, maybe spyware, or it might be a notorious virus to hinder once again your smooth Apple dreams the very next day.
Third-party programs are quite handy when macOS doesn't provide the best variety it supports. You get to choose from a plethora of unique features, and that too at zero cost.
The Perks: The variety. That's the most prominent and only reason people go for third-party open-source apps. You can now get that one video editing software, top-rated and perfect for use for your demands. You can now work with it on Mac!
The Drawback: You just landed yourself in a malicious bug. If only you preferred a safe website, things would have been different.
Best Mac Software Download Sites – Our Pick👌
We did the required research to provide you with the most genuine (and working!) sources, perfectly compiled based on users' popularity and security listings worldwide. 
No, we did not include any pirated sources, of course. No matter how pleasing they are and with the latest versions they seem to offer, they are better avoided to prevent those phishing attacks and ransomware you'll be showered with otherwise.
Here is a list of the ten best and safest Mac Software Download sites (ranked in no particular order) with large selected program libraries to assist you whenever you are looking for any software.
1. Mac App Store
Well, talking about original and safe sources, what's better than Apple's official web store for Mac OS (Visit Here)? The very first place one would visit for Mac Software Download Sites. Let's face it; third-party apps can never transcend the original ones.
You get a wide range of applications to choose from, but most of them being one of a kind, you cannot go for the software unless Mac supports it, no matter how popular it may be.
The significant chunk of software here isn't free; they ask for a nominal amount. The seamless Apple security ensures no ransomware is given a pass so that only the best is delivered.
Protecting your privacy is our primary concern, which will provide all of that. It keeps anything malicious just out of your way!
The Mac App Store is known for its minimalistic user interface, just like its software. Although, you may have a hard time looking for free software here(yes, this is not Windows, everything is not free and easy to choose from here).
Mac permits only certified developers to publish their software in the App store. Recently, Apple has been adding other non-Apple but popular software to its App stores, too, so that you don't miss a thing!
2. MacUpdate
If the Mac App Store is not helping you to get the software you need, MacUpdate will take care of that. MacUpdate has something for everyone, with a massive library with over 30,000 apps to choose from.
It has been one of the most trustworthy websites for many years, and customer satisfaction explains that. Authorized creators develop the software here and won't tamper with your mac security systems. 
Extremely organized and well-updated, this website won't be a big hassle to surf through. The plethora of programs here are sorted and well-placed into numerous categories and sub-categories for smooth navigation throughout the website.
Most of the software here is free to use, and some are still paid. You can grab them when their prices are slashed during sales because some are worth paying for.
The interface is quite simple to understand and also features the point specification. The search results are effective, too, when used with filters selectively, abiding by your needs.
The listed specifications are helpful when comparing two or more alternatives. A fresher and better list of new trending programs is frequently added to cater to all kinds of demands!
3. Softonic
Undoubtedly, one of the biggest Mac Software Download Sites, be it Windows or Mac or any other, Softonic has served years of trust to their consistent users by providing safe and clean options.
You'll fall in love with the user-friendly website and design and the massive variety of applications available, ideally classified under various headings to make downloading a simple process, saving loads of your time!
Softonic not only wins at saving your time but your money too! The software available here is predominantly free and available with their older versions, just in case you feel like shifting to the older update because it was better with some features.
Recently, the website has upped its quotient with comprehensive software reviews with perfectly curated pros and cons, making the process more convenient for the general public.
They also include a technical specification bar for all the geeks out there. The website is getting more useful day by day. Genuine reviews by users also let people select their apps more judiciously.
It has been famous because of its strict security policies. No random developers without a check are allowed to publish here.
These fine details about every product make Softonic much more preferred by the masses than its contemporaries. 
4. Open Source Mac
Almost all the websites list both paid and free applications, but Open Source Mac has a fantastic range of only open-source software! It features a not-so-huge but free collection of Mac-supported software to download.
With over 400+ functional applications, Open Source Mac has become a very trendy platform. The downloading process is quick and easy.
Open Source Mac will prevent any malicious program from entering your system when discussing the safety associated with this platform.
Although new, the platform is entirely legitimate. It features a simple software list to choose from. You don't get to choose from a lot here, but the ones we find the most wanted are available.
The software has small descriptive paragraphs attached for better clarity. You might not get to have older versions of some applications here, but the recent ones work just fine. You can download iPhone-supported applications too.
It is an excellent platform for developers to reach out to a greater audience willing to work with open-source software from reliable sources.
Tried and tested on macOS, you can trust all software here to be authentic, valuable, and threat-free. The Mac App Store is missing your favorite software. You may find it here, absolutely free!
5. Softpedia
No, this isn't Softonic again. Softpedia is also one of the biggest Mac software download sites to get your software and applications from.
Be it Windows, Mac, Linux, or Android APKs, it hosts an extensive array of choices catering to everyone's preferences.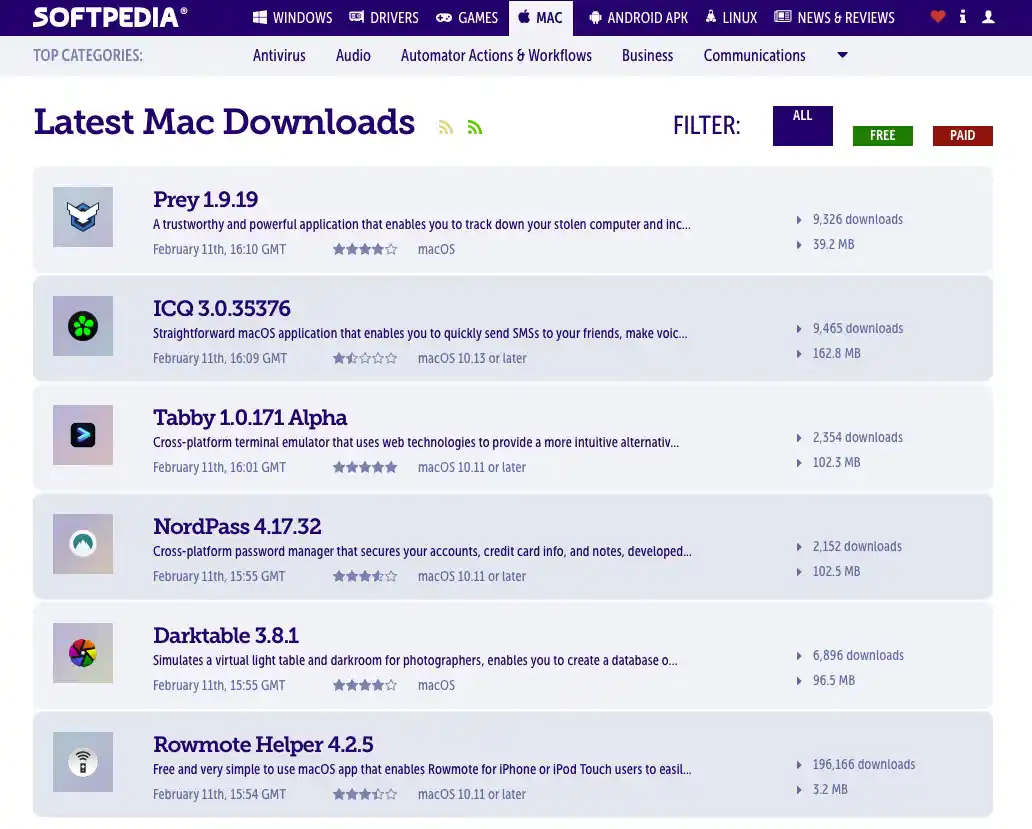 To keep you updated with the latest news and blogs about the current scenario of upcoming software, with their latest editions reviewed and tested. Softpedia has an entire section to deal with that!
Not only is it highly convenient to browse through the platform, all thanks to the well-designed website, but it is incredibly safe too. The giant developers in the market have also made Softpedia a big name in the application market.
It showcases many useful pointers alongside. We have ratings and reviews under every software, the number of downloads worldwide, and the best version to install per your operating system's requirements and supportability.
The list is endless. You can enjoy various programs, the newest ones too, which might be nowhere else. A very useful feature Softpedia provides you are software alternatives with grand descriptions so that you can compare better.
With no worries, it takes a second to find the perfect match for your needs and download it securely. Enhancing your Mac experience has never been that easy!
6. FileHippo
With the best apps available, FileHippo ensures a wholesome experience, a simple yet useful platform to cure all your macOS protection issues. An abundant library of over 300+ software does not disappoint you regarding quality.
Listed reviews provide useful insight while contemplating the best option for your system. This software is compatible with macOS and won't allow trojans or backdoors to ruin your day.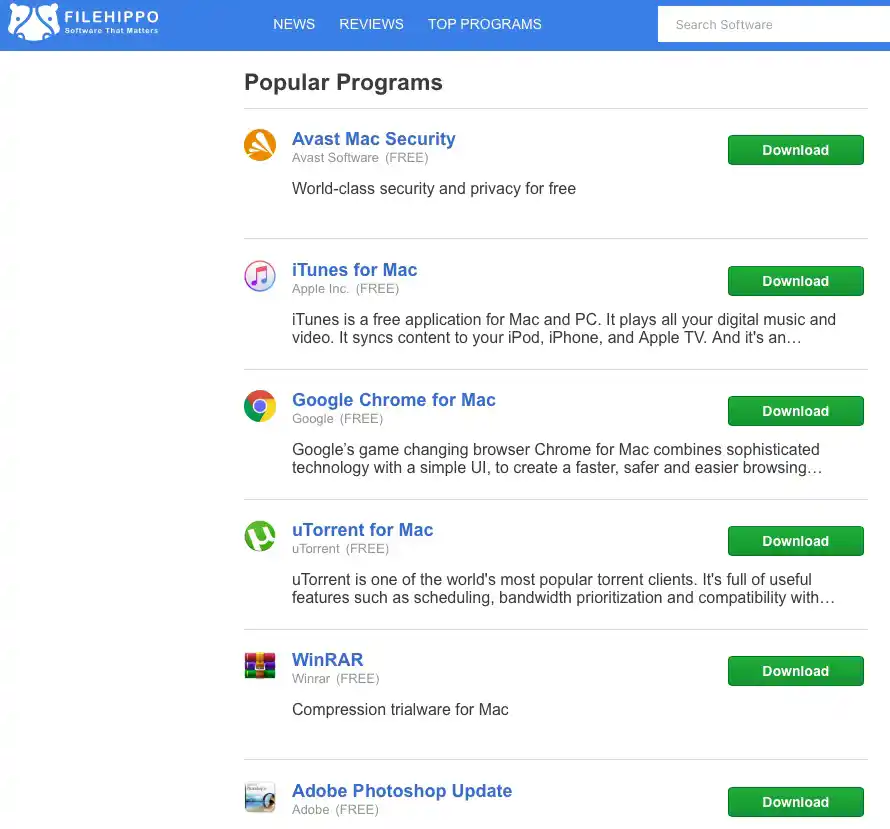 All apps listed at Filehippo are free without compensating for the features. You can get your hands on only Mac-supported software and other non-proprietary ones. With the latest versions available, you get the latest updates possible. 
Do you even need that software you've wanted for so long? With FileHippo's extensively written descriptions, you can infer the specifications provided according to your macOS version.
Is it required? Is it secure? Is it authentic? This platform can answer all your questions so that you can decide better.
The high technical information will help you visualize the software blueprint better. An added attribute of this platform is the option to update any change along with info if you feel like it!
7. CNET
One of the highly popular platforms to download almost any software for any operating system is CNET Downloads. A well-reputed website, CNET, allows you to choose from a massive list of programs.
It offers a wide range of paid, free, and free-to-try software. You can also sort your search according to points like popularity, date of release, and best-featured ones to ease your search manifold! 
They are arranged into many categories, like productivity, business, communications, games, etc. You can find a great variety. Windows and Android-supported apps are also present here.
There are many add-on software to improve your computer experience too. The paid software is also at lower prices compared to the original rates. The free-to-try software is also legal and does not involve any payments during the trial period. 
Mac isn't that welcoming to third-party foreign programs. It only gives access to listed and trusted apps made specifically for Apple. A team downloads and tests the programs vigorously to obtain a detailed analysis.
The reviews listed are also authentic and based on sheer industry expertise. You can trust them any day. An accessible helpdesk works seven days a week to solve any queries.
The software is thoroughly checked before publishing to ensure security standards. It has been 25 years, and CNET Downloads remain one of the customers' favorite choices worldwide.
8. PureMac
At a glance, PureMac might be a non-reliable platform, but that's not the case here. This simple-looking decent website is a significant source of one of the best software to try on if you own a Mac.
It claims a great-sized library of apps, including some free and latest ones. When it boasts of being authentic, it is quite secure.
The listed software download links you to the original software developer, cutting away all mid-redirect links.
A clean website won't hamper your software-choosing experience with unnecessary advertisements on your face. All apps here are compatible with Mac, and you won't face any problems with your systems denying your favorite software.
You also stay updated with the latest versions being added to the platform. Small descriptive information helps you to find your match in a few minutes.
You can search through PureMac's extensive software index to match your needs. Monthly updated software is listed along with further classification like category-wise apps or alphabetically; maneuvering through has never been that easy!
The visuals might not be that pleasing to you, but it won't fail to deliver you the best quality software with utmost security!
9. MacApps
Just when you think you cannot enjoy the beautiful services of Ninite because of owning a Mac and not Windows, MacApps Link comes to your rescue. This is your Ninite alternative, strictly for Mac for super-speed downloads.
The installation is a cakewalk. All you need to do is select your favorite software and install them with a click. It features a limited range of software that is very popular among the masses.
The software here is open-source majorly. You get to try your hand at new and creative software in the market with no fuss. It aids your Mac with classes ranging from messaging, multimedia, utilities, developer, etc.
MacApps is a very recent platform but well-trusted. We tried downloading a few pieces of software from it, considering they are free and easy to install, and we loved the entire experience. It was quick and safe.
Even after days of testing the programs, we did not find any issue with macOS or the software experience. The platform's strict security policy ensures that nothing meddles with your browser, search engines, or local files.
It keeps apps that tend to take over your system at bay. As a new platform, it thoroughly performs what it claims, and we give it a thumbs up for its effectiveness.
10. FileHorse
The last website on our list is FileHorse. It promises the best software for you, be it Mac or Windows. Well, you thought you could never enjoy those infamous programs on your Mac, but that is not the case now.
The user-friendly interface helps the user to select the best for them. You don't need to worry about your privacy with FileHorse; it has covered you. You won't experience any reckless malware activity on your system at all.
Intricate detailing is what FileHorse delivers when it comes to its software. Listings based on popularity, recently updated, or based on their category, will help you navigate through hundreds of apps on this website.
It also features snapshots of the programs offered, key specifications, software requirements, and to-the-point descriptions. You can also take advantage of the user reviews followed by the editor's rating to get all your queries resolved.
The plethora of useful software listed by FileHorse includes completely open-source and a few paid versions.
We tried a few pieces of software from here to see things in the bigger picture, and it didn't fail to provide the latest and safe versions of the programs.
The installation, too, was hassle-free. Don't go by the name; FileHorse strictly won't let any Trojan Horse corrupt your favorite Mac!
📗FAQ
From Where Can I Download Software For Free For Mac?
Many reliable websites and app stores offer a large selection of possibilities if you're trying to download software for your Mac computer for free. A range of free and premium apps can be found in the Mac Program Shop, Apple's official app store for Macs.
MacUpdate, Softonic, CNET, and SourceForge are some websites that provide free software for Mac users. Games, productivity applications, and utilities are just software options available on these websites.
Which Download Manager Is Best For Mac? 
You might think about using one of the several download managers available for Mac. Several well-liked choices include:-
Folx:– This well-liked Mac download manager comes with tools for managing files, integrating with web browsers, and downloading torrents.
EagleGet:– Free Mac download manager with functions including multi-threaded downloading, support for numerous protocols, and browser integration.
iGetter:– This is a premium Mac download manager that provides features including multi-threaded downloading, support for several protocols, and the capacity to pause and resume downloads.
Free Download Manager:– This free Mac download manager features multi-threaded downloading, support for various protocols, and the ability to schedule downloads.
Is It Safe To Install Pirated Software On A Mac?
It is unsafe, and advised to avoid installing pirated software on your Mac. Software that has been illegally obtained and is often disseminated without the owner of the copyright's consent is known as pirated software.
In addition to malware, legal repercussions, a lack of updates, and low quality, using pirated software put your device at risk.
Utilizing pirated software is unethical and comes with hazards. You can ensure that software is developed and enhanced by buying reputable software and giving the creators your support.
Installing only genuine applications on your Mac is crucial if you want to safeguard your computer and guarantee the best and safest experience possible. This entails utilizing only authentic, licensed copies of software purchased from reliable sources.
You can do this to assist software developers who put a lot of effort into making high-quality products while also avoiding the dangers and negative effects of pirated software.
Is there any download manager for Mac?
You can manage and organize your downloads more effectively with the help of one of the many download managers available for Mac.
For Mac, several well-known download managers are Free Download Manager, EagleGet, Folx, and iGetter.
You can select the download manager that best suits your needs from these programs' wide range of features and choices.
How do I download Mac software?
You can download software for your Mac in several ways:-
1. Visit the program publisher's or developer's website and follow the download directions.
2. Use the Mac App Store to get the program. Open the Mac App Store and look for the program you want to download to get started. Click the "Get" or "Download" buttons to download and install the software on your Mac.
3. From a third-party website, download the software. Before downloading software on your Mac, be cautious only to download it from reliable sources and confirm that it is secure and authentic.
4. Use a physical disc or USB disk to install the software. If you have a physical copy of the software, you can follow the installation instructions by placing the disc or USB drive into your Mac.
Once the software has been downloaded, install it on your Mac by following the specified instructions.
You can refer to the software's documentation or get support from the publisher or developer if you encounter any problems or questions throughout the installation process.
Can we download 3rd party apps on Mac?
On a Mac, there are several different methods for downloading and installing third-party applications.
The publisher's or developer's website, as well as a third-party app store or website, are all places from where you can download the app.
If you have a copy of the program in physical form, you can also install it from a disc or USB device.
How do I download an APK file on a Mac?
You'll need to utilize an Android emulator to download and install an APK file on your Mac.
You can run Android apps on your Mac using a software package called an Android emulator. BlueStacks, NoxPlayer, and MEmu are just a few Android emulators that are accessible for Mac.
Follow these instructions to download an APK file on a Mac using an Android emulator:-
Step 1:– Install an Android emulator on your Mac after downloading it.
Step 2:– After installing the emulator, launch it and log in using your Google account.
Step 3:– In the app store of the emulator, such as the Google Play Store, look up the program you wish to download.
Step 4:- When you've located the application you wish to download, click the "Install" button to start the download and installation process on your Mac. The APK file for the application will be downloaded and saved in the emulator's file system.
Final Words
Here are a few crucial pointers you should keep in mind while choosing the following Mac Software Download Sites.
First, you should possess a good Antivirus to protect your system from numerous negative attacks at all costs. Although the platforms mentioned above are great to rely on, an added layer of Antivirus plus an internet firewall would help you in the wrong run. 
Another thing to remember is to refrain from visiting other third-party platforms that are not reputed enough. Macs are very tricky when downloading software from other sources.
You have to ensure no virus or ransomware slides and starts unwanted destruction. It is advisable to prefer platforms that provide authentic developer creations and a well-updated log.
No! You don't need to go after cracked versions of the apps of your choice just because it isn't available on Mac. They harm your OS like anything. There is no need to include unnecessary routing, installing pirated versions, using torrents, and eventually getting dragged to frauds and irrelevant spamming. 
It is a big red flag when the installed program asks you to modify your Mac's security systems. We don't want that. The platforms discussed are legitimate and will never ask you to do something. We need to protect the browser too.
Avoiding unnecessary and non-trusted websites have a history like this, and they deteriorate your Mac's performance to a great extent. Avoid anything that is illegal and isn't licensed. 
Gone are the days when you wished to get newly developed software for your Mac but didn't have a good resource. To maintain the macOS's unbeatable performance and improve your Mac episode, you need to go with only the authentic choices.
There aren't many genuine programs available, but we tried to make the job as easy as possible by listing the best for you.
All the best in searching for your favorite Mac software, safe and secure!