Bitcoin is a word that every person recognizes. Cryptocurrency took the world by storm, and people saw it as a wonderful opportunity to mint some money.
Since then, trading in cryptocurrency has taken place, and with time more forms of cryptocurrencies other than Bitcoin have come into the picture.
Now, as people took an interest in dealing with cryptocurrencies, they felt the need to have wallets that would keep their investments and assets safe and also provide a medium to have more secure and safer transactions. As such, Metamask came as a boon for everyone looking for a cryptocurrency wallet.
Launched in 2016, Metamask came as the perfect web platform for everyone dealing in Bitcoins and other forms of cryptocurrencies.
It uses a safe Ethereum blockchain technology to help keep a cryptocurrency wallet. The major highlight is that it's available as a browser extension to provide easier access to dealing with cryptocurrencies.
Not only does Metamask provide a safe keep to your bitcoins and other Ethereum-based cryptocurrencies, but it also helps you trade in them.
As such, you can buy and sell these currencies just like stocks. Moreover, you can even use them for making transactions wherever they are allowed.
Furthermore, Metamask moved on to become better by introducing Android and iOS application versions and browser extension versions. This new development made the crypto-currency wallet more accessible and available.
So, there are numerous benefits with Metamask, and you'll love to use it as a cryptocurrency wallet. However, there's nothing perfect in the world ever, and you can always find some other options to choose from. The same is true for Metamask as well.
While Metamark looks like a perfect application for managing your cryptocurrencies, there are many more applications with similar functionalities, and some of the applications are even better.
Through this article, we have attempted to acquaint you with some of the best Metamask alternatives you can try to know your options and choices.
So, read on, and find what other wallets are out there to help you securely store, manage, and deal in cryptocurrencies.
Best Metamask Alternatives – Our Pick👌
With the growing pace of cryptocurrency transactions and dealings, having a crypto wallet has become essential. Metamask is the most popular of all such wallets.
It has many features and functionalities that make your dealings and trades in cryptocurrency easy and smooth.
However, it's never wrong to seek options. You always keep different wallets to divide your money and savings.
So, why should you treat your cryptocurrencies any differently? It would be great to know some alternative wallets, just in case you feel like moving your cryptocurrencies, all or some of them, to another wallet.
Well, we've done all the research that ought to be done, and with that research, we are presenting you with a list and detailed review of five of the best Metamask alternatives that you'd love to use for your cryptocurrency safe keep, dealings, and transactions.
1. Exodus – Metamask alternatives To Manage and exchange cryptocurrencies
At the top of our list of the best Metamask alternatives is Exodus. It's the perfect wallet for beginners considering that there is round-the-clock support from the software developer team.
And you can reach them out through live chat for any queries or questions at any point in time. So, understanding and using the software would be very easy and smooth.
The major benefit of Exodus is its accessibility for users. The software is available for both web and mobile applications and supports Android and iOS systems.
So, whatever your device, you can operate Exodus on it and always keep your cryptocurrencies in check.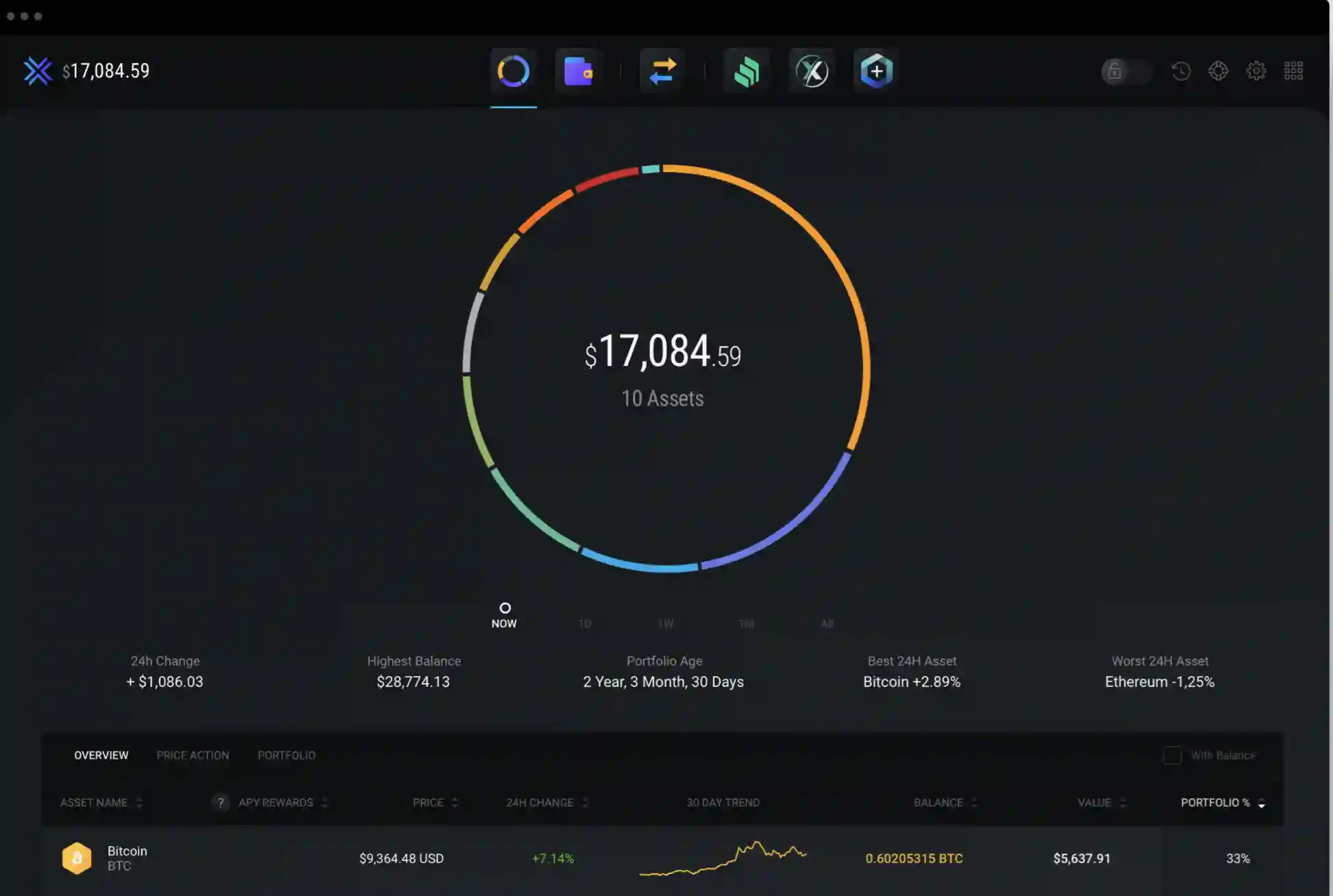 This accessibility is particularly helpful for keeping up with the safety and security of your cryptocurrencies in Exodus. Given that it is a hot wallet, malware and virus attacks are always risks.
Since you'll have all-time access to the wallet with the desktop and the mobile application running simultaneously, you can instantly get alerted about any kind of attack and immediately take the right actions to combat it.
Regular updates and upgrades further ensure the security of the application's safety and security features and protocols.
In addition to these things, the application is also equipped with multi-currency support. You can trade and deal in as many as 100 cryptocurrencies on this application.
Now that's a lot of exposure and would help you earn a lot if you just know making the right trades, deals, and transactions.
The best part yet is that you get all of this without any need for registration or sign-up. You can just install the application on your device and get started.
So, the application doesn't make you waste even a minute of your precious time. You don't need any custodial plan either. Now, what more could you want?
Exodus Wallet (desktop tutorial)
With all of this, Exodus is a great application, much similar to Metamask, and thus the perfect alternative.
Download the App from Google Play Store
Download the App from Apple App Store
2. Jaxx – Metamask Alternatives To Manage 90+ Cryptocurrencies
If there's one wallet full of all the essential features and functionalities that one may look for in a crypto wallet, then it's Jaxx.
It's a highly user-friendly wallet with sleek, smooth, and easy-to-understand UI and UX design. With that, even beginners will get on easy with this software.
The application has amazing support for a range of cryptocurrencies. You can deal and invest in more than 80 crypto tokens and currencies and open up the doors to some great earning potentials.
Moreover, you can make these dealings in third-party applications as well, and that too, without moving out from the Jaxx wallet in the first place. So, it's very flexible, accessible, and convenient.
Additionally, you can track all your investments, assets, and transactions on the Jaxx wallet by simply using the block explorer feature of the application.
Moreover, if you face any trouble or issue or have a question or query to resolve, you can simply move on to the live chat feature of customer support. The support is available 24/7; you'll get help whenever you ask.
Additionally, you can keep your confidential information private by securing it through a private key. However, you'd want to be extra careful as you set up this key.
You must set a key that is easy to remember and something you'll never forget; come what way?
This is essential because if you forget the key by any chance, your Jaxx wallet shall be frozen, you shall lose everything contained in it, and there shall be no turning back.
So, while there is security, it's quite risky to use such a security feature unless you have a foolproof way never to lose your keys and passwords. Probably this issue is a reason for the security-related complaints about the application.
Nonetheless, if you're careful, you'll not face this problem at all, and the application would come as great support for you in keeping your crypto assets and other investments safe and secure while also opening yourself to some great and profitable opportunities.
Download the App from Google Play Store
Download the App from Apple App Store
3. Coinbase Wallet
Starting in 2012 as a platform that only dealt with bitcoin, Coinbase has come a long way as one of the most popular cryptocurrency wallets.
At this stage, it not only allows you to deal in bitcoins, but it has support for 25 other cryptocurrency tokens. With that, it's become a great wallet supporting you to make the best dealings and transactions through crypto tokens.
The application is fully licensed, and you can easily make crypto investments, transactions, trades, and dealings. Moreover, all this is possible in a very clean and sleek user interface.
The application is extremely easy to understand, and you won't take much time to work it out smoothly, even if you are a beginner.
Besides that, the application has a very high liquidity ratio and has been making it to the top of the list.
Considering that you'd never have to worry about cash flow into your accounts when dealing in cryptocurrencies using the Coinbase Wallet. 
However, great things come at a price, and so does the Coinbase wallet. While it's an amazing application and would serve as the perfect alternative to Metamask, it's not very affordable.
Whether you use the features of this application or not, this application will charge a very high fee. So, while the application offers the great earning potential, you need to have spending potential in the first place.
Besides that, there are also some issues with the application's security. Several users have reported that their accounts were hacked and they lost all their crypto savings and investments.
So, you might want to look deeper into the security aspects and add in some additional security protocols to ensure that your investments are safe and you're dealing with and staying in a secure environment.
With all that said about the application, it sure is quite risky, but that's what cryptocurrency and its dealings are all about.
If you're careful, security will not become a big issue. Considering the simple and user-friendly interface, the host of crypto tokens support, and great liquidity, it's a fairly great alternative to Metamask.
Download App from Google Play Store
Download App from Apple App Store
4. MyEtherWallet
Another amazing tool on our list of the best Metamask alternatives is MyEtherWallet. It's the perfect tool if you're keen on dealing with and investing in ERC-20 currencies and tokens.
The tool is free and open source. This means you never have to spend anything on using the tool.
Besides that, it has a clean and sleek user interface to help you with your crypto investments at best. The best part about this application is that it's either available as a Chrome extension or as a mobile application.
It does not have a web application version. So, while the accessibility is limited, the security remains top-notch, given that web applications are more prone to malware attacks.
Now, coming to the point of it being a mobile application, the good thing is that it is compatible with all operating systems, be it Android, iOS, macOS, or Windows. So there's no limitation to using the application on that part.
Talking more about the security and safety of using this application, you can use its private key to keep your confidential information and data more safe, secure and private.
With these security features, you can be sure that the application will keep your crypto investments highly secure, and you'll never have to worry about losing anything.
In addition to top-notch security features, the application exhibits advanced functionalities such as integration with other crypto wallets.
With that, you can use MyEtherWallet for other hardware wallets and enhance your exposure and earning potential as you invest, trade, and deal in cryptocurrency.
However, there are some limitations to this wallet too. As its name suggests, this wallet is only supportive of Ethereum altcoins. So, if you want to deal in any other non-Ethereum cryptocurrency, this wallet will render no use.
Additionally, this wallet is not at all for beginners. Its initial setup is tricky and can frustrate you, especially when you don't have any experience in the matter.
What makes things more difficult is that it lacks any kind of support from the developer team. So, you are all on your own as you attempt to use this crypto wallet.
Therefore, you must have at least some working knowledge in the field to go through with the setup and treat your crypto investments, savings, and other dealings right in this wallet.
With all that said, the application is good to use. If you're not a beginner or even have got some help from another experienced person as a beginner, this would be the perfect Metamask alternatives that you're going to love core.
Download the App from Google Play Store
Download the App from Apple App Store
5. Trust Wallet
Another great metamask alternatives ledger on our list is the free and open-source Trust Wallet. Since it's free and open-source, you can readily download it on your device and start using it.
You need not pay for any subscription or bear any other fee or costs for using this wallet. Also, there are no restrictions as to the operating system.
The application is available for Android and iOS, so you need not worry that it may not be compatible with your device.
In addition to seamless compatibility, the application is also extremely easy to use. You can easily set up your account in the Trust wallet and use it well to keep your crypto assets.
Additionally, you can invest in, deal in, or even stake your crypto assets. Moreover, as you deal, invest, and stake, there are no limitations as the application supports several crypto tokens and currencies. So, there is amazing earning potential in the application.
With that said, we can say that with a Trust wallet, you've got nothing to lose and a lot to earn. However, you might want to be careful about the security of this application.
While the application provides a private key that you can use to save all your confidential information and never saves any private information, the security remains quite a question.
While you can be relieved about the security risks tag along with a web application, Trust Wallet is not a hardware wallet either.
So, it's not as secure as other hardware wallets. However, with the right security measures and protocols in place, you can save the situation and make sure that your crypto assets, investments, and earnings remain in a secure pool.
Moreover, there are millions of active users of the application. So, in case you face any issue or have a question to ask, you'd get amazing community support.
With all that, it's a great alternative to Metamask despite the security issues that line it up, and you can try it.
Download the App from Google Play Store
Download the App from Apple App Store
✅FAQ on the metamask alternatives
What Is MetaMask Used For?
Metamask is a type of cryptocurrency wallet. In this wallet, you can store Ether and the other ERC-20 tokens.
This wallet helps users interact with the Ethereum blockchain. Also, this wallet can be used to interact with various decentralized applications.   
What Are Some Of The Alternatives Of MetaMask?
This app has many alternatives or competitors, such as Coinbase Wallet, Trust Wallet, MyEtherWallet, ZenGo, Staked Wallet.io, Exodus, Ambire Wallet, Hyperledger, Jaxx, and Trezor Wallet.
You can use these apps if you want to invest in cryptocurrency. These apps work like MetaMask, and you can buy and sell cryptocurrency using them.  
Is MetaMask Safe To Use?
Yes, MetaMask is a safe and very secure app to use. MetaMask has a huge community of users and developers working to enhance its security of MetaMask.
Source code is updated constantly to prevent the system from getting hacked. That said, no major hacking incident has been reported on MetaMask.   
Is MetaMask The Best Wallet?
Metamask is a good option for those who already have some experience using cryptocurrency wallets. However, users who are new to Cryptocurrency should not try this wallet.
Because this wallet has a difficult learning curve, it would be recommended not to go for this wallet if you are new to cryptocurrency.  
Is MetaMask Better Than a Trust Wallet?
Both MetaMask and trust wallet are compatible with iOS and Android. You can use MetaMask on your PC but not Trust Wallet.
Using MetaMask, you can interact with numerous blockchains like Binance Smart Chain and Ethereum from your browser.
What Is The Safest Crypto Wallet?
One of the safest crypto wallets is Coinbase Wallet. This is because it is a self-custody wallet that gives you control of your crypto.
Also, it incorporates the Coinbase exchange platform, due to which the crypto-enthusiasts see this as a safe place to store their digital assets. 
Final Words on the Metamask Alternatives Competitors List
Cryptocurrencies are taking a pace, and there is money involved here. So, you need some applications and tools to keep your money safe.
Additionally, you always want to multiply your crypto assets, so in addition to keeping the assets safe in the wallet, you'd also want to use them for investments and dealings.
Moreover, in many circumstances, the wallet comes in handy for making transactions, especially when you don't have enough money. All that considered, your search for the right crypto wallet must never fail.
Metamask is a great wallet, without a doubt. Nonetheless, you need to have options. We hope that this article about five of the best Metamask alternatives has given you enough options and you found the one that suits you the best.