Looking for information about Minecraft vs Roblox Video Game Comparison to get to know Which Is Best for You or Your Child? 🤔
We got you covered in this ultimate Comparison guide.
Let's get started. 📗
At times, you might have noticed that when you search for games such as Minecraft, Roblox automatically comes into your search list. Have you ever wondered why this happens? 🤷‍♂️
This happens mainly because both these sandbox-style games have several features in common. They allow their users to design games, play for several hours, and even meet the other players.
They also boast of an online community serving as support for the users. Minecraft and Roblox are the two leading and most popular video game sandboxes allowing players in the younger age groups to design games and worlds from something similar to the digital Legos.
The young players also get to discover worlds made by the other players while going for adventures along with friends they have made through the games or from the real world. 
Nevertheless, both Roblox and Minecraft have several differences. Both these games are a huge hit among gaming enthusiasts, but they are completely different from one another.
Before getting a clear understanding of the differences between Roblox and Minecraft, you need to know a bit about both these games and what they are good for.
Click here to download Minecraft. 
Click here to download Roblox. 
Roblox
There are a large number of children across the world who are regular and enthusiastic users of this creative and innovative gaming platform.
Ti might not be as popular as the other children's games like Minecraft and Fortnite, but recently it announced that it has above 100 million players every month, which is more than Minecraft. 
Roblox | Official Trailer (2019)
Roblox is in no way a single game. Instead, it is a selection of over 50m games created by its player community. Both adults and kids can download this application for gaming consoles, tablets, smartphones, and computers.
It can be used for browsing and playing different games. It comes loaded with some of the best social features, and this is what is considered the key appeal of this platform.
Players also get the ability to add friends and chat with them during the gameplay sessions.
Number of Children Playing It
The 100 million active players mark gained by Roblox is not split between adults and children. Reports claim that approximately 40% of these players are girls and women. The same reports suggest that nearly 1.5 million kids play Roblox in the United Kingdom.
Reasons behind the Popularity of Roblox
Roblox is not into a lot of promotions and marketing. But still, it has managed to grab a lot of attention and popularity.
This is mainly because interested players are invited to play on the platform by friends and other individuals. Another reason why the platform is famous is because of videos of people playing on Roblox available on YouTube. 
Why ROBLOX is Now MORE POPULAR than FORTNITE...
Roblox has its focus on unstructured gameplay in this present era, where many kids are restricted in their physical world activities.
The majority of the gaming experiences on Roblox are not just about winning, but they are shared experiences where players get to mingle with the other players.
How to Make Games for Roblox?
Almost any individual can make games for Roblox. The process is quite simple. You just need to download the Roblox Studio software that will help you in creating the game you want.
Roblox boasts of over 2 million game creators designing games to be played by more than 100, 000 individuals simultaneously. Kids can build virtual rooms or simple games where they can easily hang out with their friends.
Nevertheless, experienced individuals can build more complex and bigger games. They can even make good money by taking a percentage of the in-game purchases by making use of Robux- the virtual currency used for playing on Roblox.
If reports are to be believed, people are doing good business through the games they are creating on Roblox. They not only make good money but even collaborate with various other individuals working on different projects.
The game development scope at Roblox is so very huge that people can even set up their agencies for making games for the platform. They can hire other testers, artists, and developers in partnership with the Roblox platform.
How To Make A Roblox Game - In 20 Minutes - 2021 Working
What about Safety? 🤷‍♂️
Initially, reports about using Roblox have been negative in mainstream media with parents complaining about having to groom their children on this platform.
With reports of other ruthless and condemning attacks on different avatars, the company started putting in the best efforts in handling the wrongdoers and in fixing the loopholes existing in the platform. 
The company is never defensive in providing an explanation for the wrong-doings. Instead, it has always stood up and put forward explanations about what they have done for fixing such problems.
They have professionals specially hired for learning from the problems of the past and prevent activities that might harm the young players. The safety of the young players is a top priority at Roblox. The company reviews all its tools constantly and is always in the lookout of ways to improvise the same.
Yet another initiative on the part of Roblox is launching the For Parents section where parents can gather all required information about the different safety tools.
The section includes information on everything, starting from reporting systems put in place for improper content or chat to algorithms blocking names, addresses, and swear words in the text chats. The platform has also launched an algorithm detector for detecting the proper attire of the avatars.
About Minecraft
Coming to Minecraft, is one of the most popular video games where players make and break different varieties of blocks in 3D worlds. The two significant modes of this game include Creative and Survival.
In Creative, the players get supplies, and they do not need to consume food for survival. They can even break the different blocks instantly. In survival, the players need to get hold of their very own food and building supplies.
The Next Evolution of Minecraft
They even interact with moving creatures and mobs. Here, zombies and creepers are the most dangerous creatures. The main purpose of Minecraft is to build and explore along with survive. There are no levels or points for the players.
Number of Players:-
Players have the option of playing the game solo or with other players in online mode. The tablet and smartphone versions of this game come with multiplayer options by way of Wi-Fi networks. The players get the scope of connecting with thousands of online gaming servers. 
There are separate versions of this game available for Xbox 360, Macs, and PCs. The game comes with its very own set of opportunities and challenges for parents.
It is necessary for parents to learn the gaming language; explore important facets of this game, and even get tips on the management of their child's playtime.
Why is Minecraft Perfect for Children?
Many parents will agree to the fact that Minecraft is perfect for children mainly because it enhances career skills, develops life skills, and complements educational skills. With that being said, it is necessary to put a limit on the number of times kids play this game.
The game promotes problem-solving, collaborative, creative, and self-directional skills. These are non-academic and tangible benefits coming from the game. Such life skills help kids in working their way towards achieving success in academics and even in the future.
The game is exclusive in its design. It offers children an unrestricted world where they can create anything out of their imagination.
However, they need to work within the constraint that all things are made up of different blocks that need to fit within the three-dimensional net of this game.
The survival mode of this game where different creatures come out during the night and attack the players encourages survival and problem-solving skills in children.
The kids learn to perform in varied environments while quickly figuring out the right way of finding and building shelter, collecting food, and making weapons for survival.
Now that you have a clear understanding of both games, it is time for you to know the differences between the two. Going through these differences will help you in working out, which would be the best for your child. The differences have been pointed out based on several factors. They are as follows:
Minecraft vs Roblox: The Main Differences 👌
Minecraft vs Roblox: Age of the Players
Roblox is ideally suited for children above ten years of age. Children can use this creation game source for designing and uploading their very own games. They even get the scope of playing in varied gaming environments with the other players.
On the other hand, Minecraft is for children above eight years. It comes with creation and exploration-focused, open gaming environments allowing players to make buildings and objects from scratch. Players can use materials for creating buildings and objects from the world around them.
Pricing:- The Main Differentiating Factor
Roblox allows players to play and even design many things free of cost. However, they need to go for subscriptions if they are willing to use the fun and exciting features like purchasing and exchanging different weapons, creating add-on games, and customizing their avatars.
Robux is the game currency that can be used for buying Roblox. Nevertheless, it would be a great idea to sign up for its basic membership, which costs $5.95 monthly for the Builders Group.
Going for this membership means you will have more games, and you can even buy games while eliminating all sorts of advertisements.
The majority of the games available within Roblox charge a certain fee for access. Also, there is no quality control. Only the not-so-popular games are available for free. 
The Roblox Premium Membership is available for $20 per month offering players a monthly Robux income along with more trading alternatives with the players.
Savvy players have full chances of earning Robux during the gameplay sessions. The Robux they earn can easily be converted into real cash. However, this takes a lot of effort and dedication and might not work for casual players.
The initial cost for Minecraft is higher in comparison to Roblox. It is $26.95 for Mac and PC, after which there is no subscription required. There are major costs involved in going for the advanced levels of this game. 
A point to be noted here is Minecraft pricing is way better than Roblox in that the latter collects different types of additional charges from its players. The Starter Pack of Minecraft will offer players easy access to different gaming content.
Then there is the Master Collection package available at $50. This plan comes pre-packed with the best of community creations along with 1000 Minecoins. These Minecoins can be used for micro-transactions while playing the game. However, all these are optional things such as texture packs and skins.
One major point of difference between Roblox and Minecraft, specifically for the parents who make all the payments, is that Minecraft is an out-and-out purchase while Roblox is free of cost. This means that you have full chances of paying more in the long run for both games. 
Minecraft vs Roblox: Ease of Use
When it is about ease of using gaming interfaces, both are challenging. It is this aspect of the games that make them fun and exclusive. Minecraft does not come with any instructions. However, it offers a total of three difficulty levels.
The players learn to enjoy gaming sessions by experimenting, exploring, and watching different videos available on YouTube. They can even read through the reviews of the other Minecraft fans.
There are a couple of modalities offered by Roblox, and they are – create and play. Playing the games designed by other individuals offers great variety. However, this can be frustrating at the time because every user can build the games.
MINEBLOX - Minecraft vs Roblox Animation
There are several instructions available for the kids looking to design their very own games. Along with instructions, they also get a community of supportive players and even Wikipedia.
Both Roblox and Minecraft have a large number of followers on the internet. Therefore, it is quite likely for the players to find huge information on the games in the form of YouTube videos, wikis, and Reddit forums.
But the problem is that this availability of information can expose young children to adult content. In addition to this, Roblox allows its users to come up with advertisements. This means that the children can get hold of in-game promotions.
Both games have one common problem, and that is violence. Roblox users tend to load games that are more about disasters, explosions, and shooting styles. While the games on Minecraft are hand-to-hand fighting-style games signified in caricature. 
Minecraft vs Roblox: Social Aspects
While both the games let in several players, there are certain social aspects considered within the gameplay sessions. Roblox tends to be social right from the point when a player signs up.
Chatting and making new friends is one of the most integral parts of this game. But this is not the case with Minecraft that pays close attention to enjoying gameplay sessions alone.
Both Roblox and Minecraft deal in huge amounts of user-generated information meant for players of almost all ages, including children and adults. Players can easily compete and even contribute.
Since content is usually developed by the players, young kids are exposed to suggestive sexual pictures, violence, and strong language. Nevertheless, these variants can be handled through game controls. 
The safe conversation feature offered by Roblox allows players to block individuals and even report all kinds of unwanted and bad behaviors. Things are a little different from Minecraft, where there are no restrictions on the comments made by people.
Nevertheless, the game allows players to ignore the other players, which means that children have the option of playing with a few specific friends or alone.
Minecraft vs Roblox: Gameplay
Yes, there are several superficial similarities between Roblox and Minecraft, but the gameplay for both games is completely different.
Roblox serves in the form of a toolbox that can be used for making games covering varied genres like strategy games, shooters, and so on.
 Thus, there are some extremely well-known games found within Roblox. These games include Natural Disaster Survival, Theme Park Tycoon 2, and Jailbreak, where the players must either carry out or prevent a bank robbery. 
EXPLODINGTNT PLAYS ROBLOX!? | Minecraft & Roblox
Roblox offers a huge variety in its gameplay sessions though the players need to remain prepared to pay Robux for playing some of the games. Multiplayer gaming is the main focus at Roblox, which means that the players get to interact with many fellow gaming enthusiasts.
So, parents need to beware of their kids on Roblox to watch out for misbehavior and abuse. You know, the internet is a very rough place, indeed! 
Speaking of Minecraft, it is more of a solitary kind of game with the focus being on creating a world with the use of different building blocks. It majorly consists of single-player levels when played offline.
There are smaller servers available for the gameplay sessions if the players are online. It is a game within itself, played from the third or the first person, allowing players to discover and build in the worlds created by the other players.
One good way of segregating both these games would be to put down that at its very core, Minecraft is a building/survival or crafting game.
At the same time, Roblox is a complete toolset with an audience split between consumers playing different games and the creators developing various games.
Creativity and Learning:-
One of the best things about both these games is they teach some of the most basic things about computer coding. However, there is a bit of difference in the programming language used by both games.
Minecraft makes use of Java, particularly adapted to the game while Roblox uses Lua. Minecraft has more educational advantages to offer to its players in comparison to Roblox.
Both games promote reasoning, thinking, collaboration, mathematical skills, and problem-solving. They are fast making their place in after-school classes, teacher's class plans, and computer courses.
Both the games help students and young children in grabbing good skills in interacting with other individuals online and in developing digital content.
Safety Aspect:-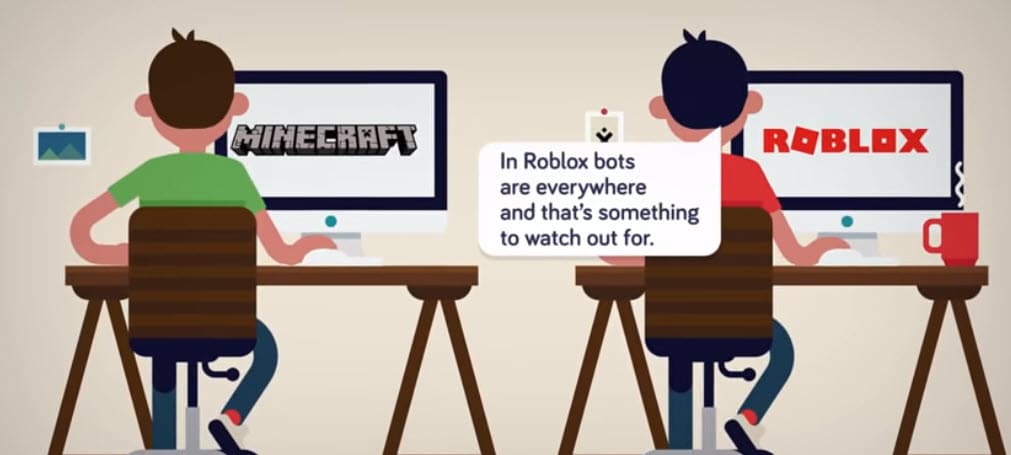 Both Roblox and Minecraft have had occurrences of improper destructive behavior in their chat and multiplayer modes.
To do away with such incidents, Minecraft improvised its child safety setting and included more parental controls, human moderators, and various other safety features. This helped in ratting out offenders to a considerable extent. 
Speaking of the safety aspect of both the games, Minecraft is way better in that it can only be played solo or with a few specific friends. This completely restricts communication with strangers. However, for children looking to play on public servers, parents must find kid-friendly servers.
Popularity:-
Roblox has gained huge popularity in recent times, though it was not much talked about in the game earlier. 
Nevertheless, there is a huge misconception among people that it was introduced after Minecraft and that it is a Minecraft rip-off. The reality is Roblox came up in 2006, which means it is three years older than Minecraft that was introduced in 2009.
Nonetheless, Minecraft that was developed three years after Roblox, was one of the most popular games for several years. Its popularity started waning after its peak year 2013. The interest of the players in both games was all over by 2017 with the introduction of other new games. 
However, it is worth noting that Roblox surpassed the 91 million monthly user records of Minecraft in august 2019 by possessing a total of 100 million users. Hence, it can rightly be said that both these games have enjoyed equal popularity.
Conclusion
Thus, Roblox and Minecraft are not as similar as you might have previously thought about them. Given the wild and robust nature of both these games, it would be advisable for you to be with your kids when they are trying to find content on the online forums or when they are playing the games.
This way, you can guide them on discovering what would be the best game for their interests, experience, and age.