Do you have the curiosity to know about the Monopoly Apps that will help you to learn how to make your own city onboard?🤔
We got you covered in this guide.
Without further ado, let's explore this guide. 📗
The old board games that bred business moguls, even if you didn't play this game as a child but loved the way the game was organized and how it reshuffled your business sense, then you will love these 15 monopoly apps that you can play alone, with your friends, and family or other online participants.
To make it more interesting, you can bet on real currency instead of paper money, and who knows, you could be paying for a property on Piccadilly very soon.
The game of monopoly is a serious board game that teaches you how to start, run, and manage a business. The more you fail, the harder you try to earn more, avoid bankruptcy, and hopefully, bounce back without landing in jail.
So if going into business is your thing, this monopoly board game could be the right app to teach you how to make sound business deals, invest wisely, understand the market, know your competitor's move, and increase your wealth in the process. 
Well, since you have gotten the basics, let's get the dice rolling then.
Best Monopoly Apps: Our Top Pick 👌👌👌
1. Monopoly
A classic representation of fun and excitement of the original monopoly game board where you hustle to buy, sell, and a real estate mogul, this game developed by Marmalade Game Studio is offering monopoly lovers the same excitement but this time online.
Monopoly for Mobile - Out Now!
The game has not lost its shimmer and shine, as you can play it with family and friends or with the computer android.
Marmalade has taken its time to make the board more interesting by developing 3d characters and images to make the playing experience worthwhile.
Features:-
Excellent playing experience either by yourself or with multiple players

No ads pop up or play-to-win and all rules follow the original Hasbro way of playing

Play with the house rules of choice – no compulsory rules to follow

Comes in a quick mode option to allow you to get around the board faster than usual

Show your business skill against the computer

Can be played offline between you and your friends or online with international players
Pros:-
A fun way to enjoy the evenings with family

A great game for kids

Choose your house rule and omit the regular like – no paying rent in jail, etc

Unlock different scenes and play monopoly using different themes

Absolutely free for Android and iOS users
2. Monopolist
This is another replica of the classic family fun game developed by Black Fort Games, available on android and with over 500,000 downloads; you too can download the app on your mobile phone and enjoy the evenings or weekends with family members of all ages.
Like the original board, this board can accept 2 to 6 players making it more interesting, and interactive giving more time to strategize on how best to ruin your opponent and make more money.
Features:-
Play with 2, 3, or more players up to 6 in numbers

Ability to earn free coins by watching an ad video

Play with other monopoly enthusiasts around the world

Create private rooms and invite a player for a challenge
Pros:-
Excellent arrangement with a simple user interface

Free of charge and no hidden in-app purchases anywhere

Ability to play with friends on Facebook or be a guest player on another board
3. Rento – Dice Board Game Online
Love the game but wish you could play with other players LIVE, now LAN Games Ltd is allowing you to showcase your business knowledge in this classical representation of the monopoly board games.
With a star rating of 4.2 and over 10 million downloads on the Google Play Store, you know you won't be short of players for a good business challenge.
Gameplay of Rento 4 - Realize your monopoly
Although the app contains ads and in-app purchases, you can enjoy the free version on a 2 to 6 player interactive board where you buy and sell the property to emerge the winner of the game.
Features:-
Available in four play modes – online, solo (against the AI), via Bluetooth, or a pass 'n' play with your device against your friends

Simple and very entertaining

Ability to add friends and family

Save your purchases and pawn

Improve or change the settings

Make the game more interesting by adding lights, traps, and more intriguing games of chance cards

Game over stats added now
Overall, it is a great game that will bring the family together for a good laugh with some pretty good business advice to go around the table.
4. Quadropoly Pro
Using artificial intelligence and machine learning, Clever Mind Games has developed a machine-oriented monopoly board game to challenge the greatest business minds. 
Available on Google Play Store, this monopoly look alike uses the original board game features to make the game more interactive with some stern rules too.
Below are some of the features of The Quadropoly Pro app that earned it a spot in our list of Best Monopoly Apps to download.
Features:-
No cheats and the dice can't be re-rolled as every roll is final

AI matches your difficulty level for a truly challenging experience

You can only play with AI

There are six difficulty levels in Quadropoly
Quadropoly is to prove that science can be fun, and this game is for individuals looking for a challenge with a little twist to the classic Hasbro monopoly board game.
5. Monopoly Bingo!
Monopoly Bingo! It is another fabulous representation of the old board games that brought smiles to our faces as children; developed by Storm8 Studios, this game has over 10 million downloads and is an application that people will play for hours without getting bored.
Monopoly Bingo combines the fun of two classic games – monopoly and bingo to create a truly addictive game where you go around the board and strike gold by winning. With 10 million android downloads these free online games allow multiple players for an interactive session.
Below are some of the features of The Monopoly Bingo! an app that earned it a spot in our list of Best Monopoly Apps to download.
Features:-
Walkthrough the various boards and choose your starting point

You start building and buying properties when you start earning like in a regular monopoly game

You can play several bingo games at once, the more you win the faster you move around the board

Ability to play up to 8 free online games to earn more and buy more property

Travel the world collecting community chests, monopoly cards to earn more, bingo tickets, or other bonuses to build wealth
Pros:-
A free game you can enjoy with your friends and family

Expand your business send in this well-design mix of bingo and monopoly

Ability to use your bingo winnings to buy properties

Earn new rewards or bonuses watch ad videos
Finally, monopoly Bingo is made for adult minds, and can only be played with a full internet connection. Remember, there are no real-time earnings as this is just an app to relax and catch up on old times with your friends and family.
6. Monopoly Slot
This is another popular interactive board game based on the popular monopoly game available on Android and iOS devices developed by Scientific Games Interactive. The game with over a million downloads give players a chance to build their wealth to become the richest person on the board.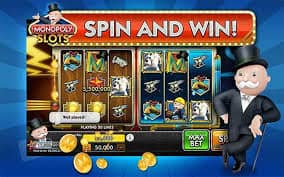 Monopoly slot combines the fun of Vegas casinos slot machines and the business initiative of monopoly to birth a truly interactive game.
This American favorite pastime is guaranteed to make you feel like Bill Gates when fame, fortune comes your way in a fun and interactive manner.
To start playing, install the game and help Mr. Monopoly restore the dying and dilapidating state of the metropolis as you get rush on the slot machine.
Below are some of the features of The Monopoly Slot app that earned it a spot in our list of Best Monopoly Apps to download.
Features:-
Choose a token to advance and build your property on Mediterranean Avenue

Earn new coins daily from the hotels

Restore a section of the city and earn more tokens, meet people and unlock bonuses

Complete the task at hand to build train stations, water parks, and all just like in a regular monopoly game

Climb the success ladder to become a tycoon
Overall, Monopoly Slot is an application intended for entertainment, and interaction between players, and although it is a game to earn, play wisely and have fun.
7. Broadwalk Bingo: Monopoly
Although this beautiful game contains ads and in-app purchases, it has over 500,000 downloads making it a favorite game for android and iOS users. Developed by TeamLava Game, Boardwalk is a whole new way to enjoy bingo on a monopoly-type board.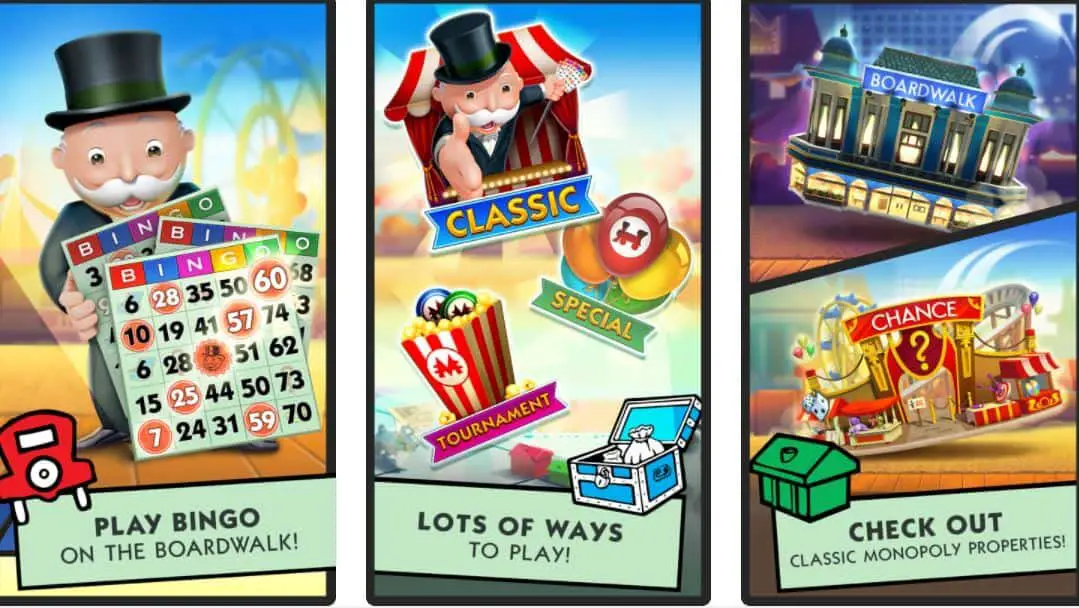 Tagged advanced to the boardwalk, you are guided through the board playing, winning, and receiving rewards as you unlock favorite spots and acquire properties too.
Challenge your friends to a fun game as you walk your way through the boardwalk, relax on the beach; enjoy a good time at the amusement park or in your houses and hotel and gain free parking and chests.
Below are some of the features of The Broadwalk Bingo: Monopoly app that earned it a spot in our list of Best Monopoly Apps to download.
Features:-
Pass through iconic cities on the monopoly board like Piccadilly, Mayfair, and Chance

Ability to play with friends to see who win the highest bingos

Get level boost and bonus

Collect community chests for the extra coin, energy, and tickets to go further
Overall, Boardwalk Bingo Monopoly is a sleek game of chance, it has an in-app purchase that enables you to explore more areas, and it is optional as this game is entirely free and entertaining even without payment.
8. Monopoly Bingo! World Edition
If you love Monopoly Bingo, this will sweep you off your feet and have you smiling all day long. A great interactive game you can play with your friends or family, it is available on iOS and Android devices.
This version takes players around the world as they try to gather as much wealth and reward as possible by traveling through exotic cities like London, Hong Kong, Mexico and see famous historical features Mayfair, Old Kent, and Bond Street.
Below are some of the features of The Monopoly Bingo! World Edition app that earned it a spot in our list of Best Monopoly Apps to download.
Features:-
Ability to play with more cards than most monopoly bingo online

Challenge your friends and earn more bonuses

Unlock extra levels to increase play difficulty and earn a higher reward
This application is a great way to spend the day without getting bored and winning real money by asking your friends to place bets. It is also a great way to learn some business skills that are applicable in real-time.
9. Monopoly Junior by Shuffle cards
Let the kids in on the fun with this Monopoly game designed for children ages 6 to 12 years, available on iOS and Android devices that teach them about the basics of business but also develop cognitive skills and the ability to recognize and match the cards before them.
The game aims to earn money by matching the right card and gaining rewards and expand your business in the process. Play with your kids or use them to entertain their friends during a sleepover.
10. Europoly
Challenge your friends in a race after rolling the dice; move the pawn to buy the properties, make more deals, buy an entire area, develop properties and force your opponents to go bankrupt with you declared the winner. 
This game allows you to take on up to 4 players at the same time as you tour the length and breadth of Europe developing your real estate skills and even purchasing your challenger's property (ies).
The app is designed especially for mobile app users and is compatible with Google and Apple users has simple, intuitive software that adjusts to fit your device to give you a clear and clean look during a play. Players get to enter and cities in Europe including, motorways, casinos, ferries, airports, and even land in jail if they commit an offense worth punishing.
The Rules
Like the regular monopoly, each player rolls the dice, and the player with the highest result starts first.

Players that land or pass the start square get a sum of 5000 dollars in monopoly money to move ahead. 

Any player that rolls a double-digits thrice will be automatically thrown in jail until they can come out or pardoned

Properties in a region come in the same color and are built as such; a property in one area can't be moved to another region of different color

The game needs 2 players to create a truly interactive session.

You earn money when players land on your property; they pay you for staying on your property

Be the business mogul as you play your way around Europe, buying, selling, acquiring, and running your challenger into a broke man/woman.
Pros:-
11. MonopolyCards by Shuffle
And no, this not the junior board for kids, this is for adults that want to have a good time. The rules are simple, although you will need to get familiarized with the entire package if you have not played the monopoly game before; otherwise, you are good to go.
Available on Android, this app has over 500,000 downloads include trading, selling, and stealing your opponent's cards – a case of playing dirty in business. This game is fast, swift, and interactive with a quick-started guide on how to navigate the board to success.
The app was recently updated and a soccer deck was added to the board, so if you like soccer and buying football clubs, you will definitely enjoy this game board. Like the classic game of monopoly, this game will engage you and have you tackling new areas of your life in real-time.
12. CrazyPoly
What to force your opponents to the ground, try playing crazypoly. This app is like the Hasbro monopoly board except it is a bit better.
Available on Android, this app is based purely on having the right economic strategy, business prowess, and skills to acquire the right property until your challenger gives up or goes broke.
Below are some of the features of The CrazyPoly app that earned it a spot in our list of Best Monopoly Apps to download.
Features:-
Play the game in two fun levels – the old western and juicy classic

Three-level of difficulty – easy, medium, and large

Play with 2 or more people

The game aims to render your opponent broke, hence you can create monopolies, rob the bank, steals cards, or whatever, but stay ahead of the player.

Ability to play online coming up soon with the update
Overall, CrazyPoly is an exceptional board game that will have you smiling and laughing throughout the game.
13. Arctopia: Monopoly Power
This is a monopoly game to have your kids involved in playing monopoly. The game allows you to own and run your own coffee empire in Arctopia. 
The aim of the game enables you to grow your business, make a profit from selling and renting. The more customers are happy and satisfy with your service, the more you grow and become better at the business.
To start the game, download the app on your phone and create an account. The instructions will be delivered to you to know the next step. Arctopia is a great way to get kids involved in the world of business, appreciate hard work, respect customer service, and stay ahead of the situation to ensure your business succeeds.
14. Monopoly Game App
With thousands of followers on Facebook from almost 200 countries across the world, the monopoly app is an online version of the original game board where you can sell, buy, trade, and acquire property on the board.
However, using technology, this app is designed in excellent 3D images that are super interactive too. To shake the dice, a player shakes their phone while a tap on your screen affirms the properties you buy.
Below are some of the features of The Monopoly Game App that earned it a spot in our list of Best Monopoly Apps to download.
Features:-
Excellent clarity and a simple, intuitive app

Three-level difficulty

Ability to save a game in progress and come back to it

Choose the number of player from 2 and above

Ability to regulate the rules and challenge your friends to a game

Play the game via WiFi or Bluetooth connection
Get your chance to play a game that confused you as a child and improve your business and real estate skills. If you miss the original monopoly board, now you can enjoy the classic game on your mobile phone.
15. Board Kings Monopoly Game
Available on Android and iOS, this is another excellent representation of the classic games of monopoly. 
The game designed and developed by Jelly Button Games allows you to customize your board anyhow you want. You can add your picture, a favorite photo, anything to own the board.
The simple, intuitive game is totally free and allows you to connect a board to your social media platform and play with friends and family online. It also enables you to invite players, and play the game with real currency in real-time. 
It has a lot of features synonymous with the classic monopoly game, and the aim is to stay wealthy and make smart business decisions so that you don't go bankrupt.
Best Monopoly Apps: A Brief History
The game of monopoly has a very uncertain history, some say it was designed to teach people about income, others say it was a game for the rich, whichever one you choose, Monopoly is a game developed by one Charles Darrow to keep himself and his friends entertained during the Great Depression. He later sold the idea to the Parker Brothers for a tremendous sum of money.
Over the years, the monopoly game has been reinvented in almost every country in the world as a game board for both the young and old. 
With the advent of technology, the classic game has gone digital, giving access to millions of people who love the idea and educational impact of the game in our lives.
Do you like monopoly?
We love this classic board game that triggers your accounting and economic capability. It is a great game for everyone and a must-have in any home.
The lists below are some of the best monopoly app available on Android and iOS systems. While some apps are found on both platforms, remember to check which is compatible with your phone before downloading the app.
Furthermore, the monopoly apps are mostly free, some app contains in-app purchase or ads to enable players to gain bonuses, unlock new levels and build a monopoly, whatever the reason is for downloading the game, you will have a good time playing alone or with others.