Remember when you had to connect the wire and then play games on the console? It was a bit tiring because you needed to find a connection for your box and then look for an excellent place to sit in front of it.
Playing in multiplayer mode was uncomfortable as your gaming session used to turn into a spider web of wires.
Wireless game controllers soon appeared as technology found its pace and things developed. But the problem with those is that you have to sit close to the set as it has a particular area of connection.
Beyond that, your multiplayer mode is used to get disconnected. Now that is some hindrance you don't want to face in your battle game with friends.
That is when the PSP came, and several games were introduced that had multiplayer mode online. This led to easy gaming sessions, and you can freely enjoy your game anywhere. There is no need to sit in front of the box and make yourself comfortable there.
But people are still skeptical that the PSP gives the same fantastic feeling as playing on the big screen. So here are a few games that we advise you to try out.
These multiplayer PSP games are filled with thrilling adventures and get you hooked on PSP. You will come to believe that multiplayer PSP games are superior.
Best Multiplayer PSP Games – Our Top Pick
1. Lumines
Lumines has to be on the list because it is hands down the oldest multiplayer PSP game. But don't you dare think any less of it; the game has a lot of potentials, and you will be thrilled by it.
The game is based on a puzzle video game. The game is an absolute masterpiece developed by Q entertainment. 
It is an exciting game similar to the theme of columns and Tetris. The whole game has a background of a 16×10 grid. Now there will be blocks falling in a 2×2 sequence.
The blocks will be colored. There is a "timeline" that will be going as you play. Now, these falling blocks will get settled in the base. If a block hits some obstruction or passes the previous block, the remaining blocks will fall off.
If you create a 2×2 block of the same color, you will form a colored square. As the timeline reduces, the colored blocks you have created will disappear. The more colored square you make through a timeline, the more points you will get.
One thing to note is the colored block that will be formed in the middle of the timeline will not be counted in the points. Many special blocks have gems inside them.
So if you make a square of them, the adjacent block will also disappear, and you will get more points.
Lumines Gameplay PlayStation Portable (PSP) (1080p HD)
Now there are different levels and skins which get unlocked as you proceed further. The new background and tracks will be changed as you enter the new skin. Different game modes will have different timelines. Some timelines will move faster, some will be slowed down, and both will have difficulties. 
To create the colored block, you can change the alignment. The more colored block you start, the closer you are to winning the game.
You have to ensure that the grid does not get filled with blocks. The game sounds easy, but it is not child's play. You will need to act fast and competent.
2. Everybody's Golf Portable 2/ Hot Shots Golf: Open tee 2 
Everybody's Golf has tremendous respect when it comes to PSP gaming. Hot Shots Golf is one of the oldest games, launched in 1997. The game is designed to be simple and captivating.
It is so colorful that you will genuinely love the graphics and surroundings. The game is made for all ages, and it is simple and easy to play if you need a good break from your work that this game has got you.
This is the 8th game of everybody's golf series. In multiplayer mode, you can add 16 players online. You can play one-to-one and enjoy the game with your friends. The gameplay is simple and would not need some rocket science to learn.
The game is a simple golf play based on arcade-like gameplay that includes real-life accuracy and location. This is one of the features that make the game more interesting.
You will get many characters and courses to choose from in the game. You can play in different; locations, and different levels increase the difficulty accordingly.
There are different modes to try on, a training mode will teach you the tricks and points to score well in the game.
Then comes the challenge mode, where you can participate in interesting golf tournaments. You will get several points through which you can customize many things.
3. Star Wars Battlefront: Renegade Squadron
Stars Wars Battlefront is for people who like wars and adventure. We know that there are tons of star wars fans who are crazy about the movie.
If you are counted in that group, give this one a try. You will love it, and we bet on that. The graphics and tracks are amazing. 
The game is based on a third-person shooting game, but it is pretty simple. You will eventually like the whole set-up of the game. This is the third game from the Star Wars Battlefront series. The game is so unique that it has tons of popularity.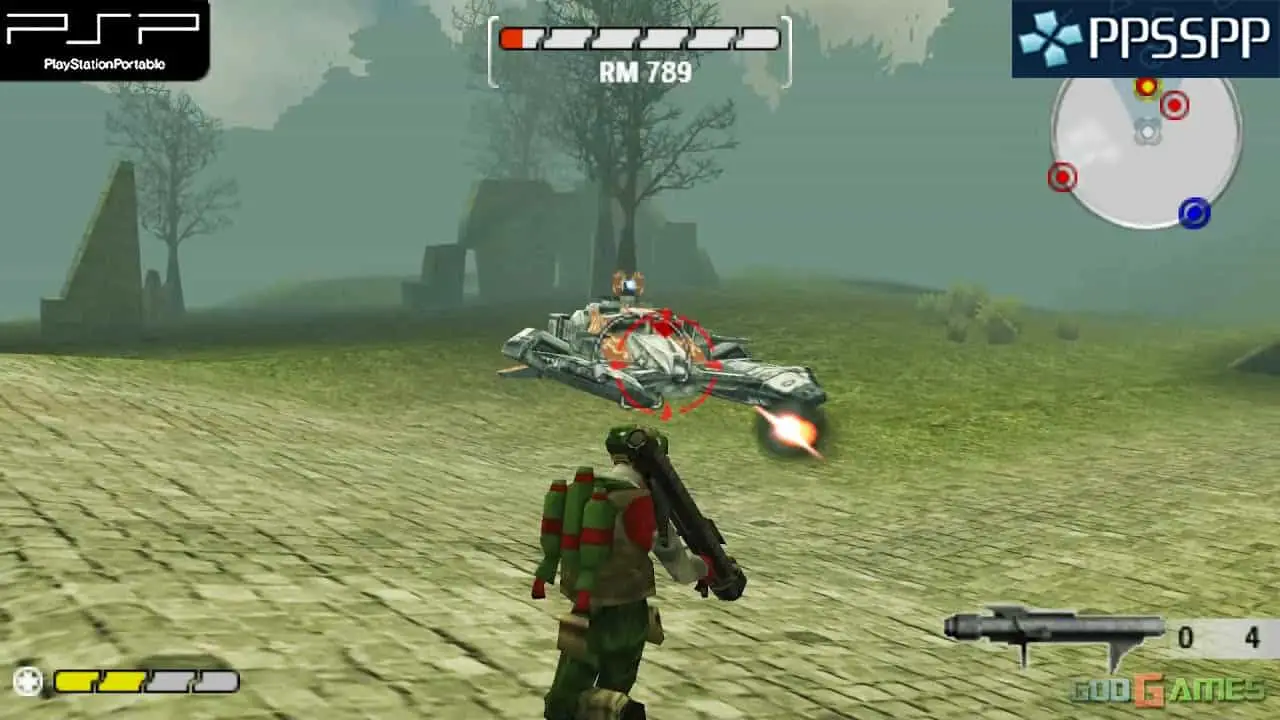 The gameplay is somewhat similar to the previous series of star wars battlefronts. As a player, you need to take up the position of commands and be in charge of a specific area territory, which you will be displayed as icons and colored dots.
Every area will have different challenges and commanding positions to take charge of. Your battleground will be on the ground and in space. Well, space lovers are going to enjoy this for sure.
You have to capture as many territories as possible shown on the map. You must reduce your opponent's ticket to zero to win the game.
At the beginning of the game, you will be given access. The tickets will be reduced in case your soldier dies and respawns. You need to ensure that you don't lose a lot of tickets and capture the territories as much as possible.
PSP - Star Wars Battlefront: Renegade Squadron - GamePlay [4K:60FPS]
At the end of every mission, you will get a chance to arrange the weapons and appearance of your character. You can customize your character to look more dramatic and match your favorite star wars hero. We warn that the game will be tough to put down once you start playing it. 
There are two modes to play the game: a single-player where your pack of soldiers will accompany you to help you get to the territory.
In multiplayer mode, you could be joined by 16 players and play along with them. You can choose to battle against each other or make a strong team together.
4. Bomberman
Bomberman, to be honest, is not new to PSP. You will find similar gameplay in other multiplayer PSP games. But this one differentiates regarding the graphics and features of the game. Bomberman is simple, but it will keep you hooked for a long time. 
In Bomberman, it is pretty easy to save yourself from getting blasted by the bombs that your enemies will be firing on you. You have to kill them with the limitless bombs that you well supplied.
There have been the previous series to this game, but few features have been added. You have power-ups in this series that you can activate according to yourself rather than the previous version, which used to work automatically on collection.
There are 18 power-ups that you can use. It allows multiplayer mode that can connect up to 16 players. So you can play it along with your friends and enjoy your time.
The game is not as simple as it seems, and you will enjoy it. We know several games like this one, but we still insist on trying this one.
5. Wipeout pure
Whenever there is a discussion about general and multiplayer PSP games, there must be one for racing. I don't know if any gamer on earth has not been a fan of racing games.
But most people get skeptical about playing racing games as it includes high performance, which is doubtful in PSP but trust us, this game works smoothly on PSP.
This is one of the biggest reasons this multiplayer game has been on top of gaming. It has amazing captivating visuals. In terms of graphics, you are going to love the whole race. Wipeout Pure is pretty challenging as high-speed races include colorful and exciting views.
If you have friends who are crazy about racing, you should try this. It supports multiplayer mode for eight players. You can compete with each other and find out who has better racing skills.
To make the game more interesting, you will get many options for racing tracks, car design, and weapons. This is something new, and we suggest you try it out once. 
The game is set in the future, 2197, and the players will be racing in an FX300 anti-gravity racing field. In the game, eight teams will be competing against each other.
The racing is unlike the usual ones as you have to control anti-gravity ships which is very difficult. You have to get used to handling the ship.
6. Daxter
Daxter is one of the most fun psp games multiplayer adventurous games you will come around to. One of my favorite things about Daxter was the graphics. The visuals were so good that you will keep looking at them.
It is an exciting game, and we are sure that once you start playing it, you will like it. It is a part of the Jak and Daxter series.
Mostly the series focuses on the main character, Jak, but this particular sequel is about the adventure of the brave Daxter.
The player will be taking the role of Daxter, who is on an adventurous journey to search for his imprisoned friend, jak.
Daxter is on his go-to to achieve his target, but in the middle, he will be needed to complete specific missions that will be given once you open a portal or a door. You must ensure you finish every task because this is how your story will proceed.
To complete the mission, Daxter can do many things like jump, squeeze between the rocks, cross the river through a zipline and take a high jump.
Daxter can use a trampoline too. You will also have to face the enemies, who will constantly attack you and hinder your goal. You will have an electronic blur eco power bug sweater that will help you counter your enemies with combo attacks.
Daxter PPSSPP Gameplay Full HD / 60FPS
After you have completed some starting stages, you will be awarded an advanced weapon that can spray green stuff to stop enemies, and later, you will get more upgraded weapons to fight against the strong enemies.
As you rise on the stage, the game will start being interesting. In case of injury or anything that will lessen your life, you can recover your life through green eco-health packs. The game sounds fun and is more fun when you play it.
7. Crisis Core: Final Fantasy VII
This game is a wish fulfilled for people who genuinely like action games. It will keep you on your toes because you can be killed anytime.
You must be alert, but you will get immersed in this game. It almost gives a realistic feeling. But it is not that complex to play.
Crisis Core: Final Fantasy is a sequel to the Crisis Core fantasy series. It is a role-playing action game where the player is the main character and makes decisions.
Coming the game's story then, it is about a soldier named Zack fair, who is in search of his lost fellow soldiers. In the series, he tries to find his lost friends, but in Final Fantasy VII, he indulges in a war with the megacorporation Shinra.
You will fight with solid and persistent enemies who will try to stop you from your goal. To survive, you and your team must accomplish every mission and kill your enemies like the devil.
In every game, you can change your weapons. You will be given several weapons options as you move up in the stages.
8. God of war: Ghost of Sparta
I never met a person who found the god of war uninteresting. This is one of the most popular multiplayer PSP games you will come across. Not just packed with excellent action but has a great storyline that will keep you hooked.
And the graphics are pure art. If you are a fan of Greek mythology, you will find this game super interesting as it revolves around the Greek gods and that ancient times. It has incredible historical visuals and a track that adds more fun to the game.
Ghost of Sparta is the sixth part of the god of war series. It is a hack-and-slash game in which you will have swords and blades to rip off your enemies.
The player will become Kratos, the god of war in the game. Kratos is wandering, searching for his brother Deimos, who later aligns with him to fight the god of death, Thanatos.
If you have played the previous parts of the series, it will be easy for you to get the whole idea in this part. You will have a powerful weapon that is called the blades of Athena. It can slash anyone's throat.
But as you reach a higher level, you will encounter many powerful weapons to help you combat powerful enemies. The functions of the character in the game will be based on a quick time event.
9. Grand Theft Auto: Vice City Stories
It is impossible that any gamer in this world has not heard about this game. At some point, we all have tried playing this game, and most people like it.
The PS2 PS4 versions are great, but the PSP one is too far behind. It doesn't matter actually where you are playing it. If it is GTA, you are going to enjoy the game.
Vice city is an open town where you can do many things as per your wish, but you need to know the basic goal of this game. So in a single-player mode, there is a drug peddler named Tommy Vercetti, who the player will control.
Tommy is recently released from jail and wants revenge on the people who trapped him in such circumstances. By completing the mission given, Tommy has to snatch the power and become the most feared gangster in the city.
The game is an open world, and you can do real-life things. It has two islands, and you can roam around the city. You can earn money, buy a house, change clothes, buy weapons and even drive a taxi.
You have to keep in mind to save yourself from the police. This might happen because you get charged on yourself due to your missions, and then you will be chased by police. Additionally, you need to make sure your health is fine.
GTA: Vice City Stories [PSP] Free-Roam Gameplay #2 [1080p]
No doubt vice city is one of the exciting games, and once you start playing it, you will not be able to stop yourself from continuing it.
The game has fantastic graphics and visuals that give you effects from Miami and several fantastic beaches. You can even play songs while driving a car.
10. Marvel: Ultimate Alliance
Just like the god of war, give this game a try if you are a die heart fan of marvel. We know we don't need to tell you how good the game will be.
We know that playing as a marvel superhero is every child's dream. We feel that games originating from movies and books give a more realistic feeling.
Coming to Marvel, the Ultimate Alliance, is a masterpiece in terms of graphics and visuals. With all the heart-thumping background sound, this game is a great experience.
Marvel Ultimate Alliance is an action role-playing video game in which you can choose a character from Marvel superheroes. You can also create a strong superhero team that will help you fight supervillains.
Marvel Ultimate Alliance - PSP - #01. S.H.I.E.L.D Hellicarrier [1/3]
You will find almost all your favorite characters if you have watched Marvel movies. You are keeping in mind the power of every superhero you have to create a team and fight against the villain, is doctor Doom, who plans to rule over the world.
Initially, you will have fewer superheroes to select from, but the powerful superheroes will be unlocked as you clear the stages. Just like that, you have to open the powers of your superheroes by defeating the enemies and earning your points.
11. Dante Inferno – PSP multiplayer horror games
Dante's Inferno is one of the most exciting multiplayer PSP games on the psp rpg multiplayer games list. It is filled with adventure and suspense. And the graphics will make you feel the thrill and suspense all around.
The game looks intimidating, but it is simple to play. It is one of those games that keeps you hooked up for a long time without getting bored.
So here, the main character Dante is the temple's knight, who, to save Beatrice, has to go through nine circles of hell. The spirit of powerful Virgil guides Dante. Dante has a powerful weapon named a scythe.
As you go further in the game, you will unlock more weapons to help you fight the devils there. To complete the game's missions, you must combat many devils and solve puzzles. This advancement will lead you to Beatrice. You will get a holy cross as a second weapon that throws fireballs.
📗FAQ
What are the best multiplayer PSP games?
People love to play metal gear solid: peace Walker, Wipeout Pune, monster hunter freedom unite, star wars Battlefront Renegade, MotorStorm: arctic edge, Tekken 5 dark resurrection, grand theft auto: vice City Stories, Worms: Open Warfare 2, Ridge racer, Ratchet, and Clank: Size Matters, Lumines: Puzzle fusion, X-Men Legends 2- Rise of Apocalypse, Syphon Filter- Dark Mirror and many more such games. 
Does Sony provide official support for the PSP?
In addition to its game capabilities, the PSP was popularly regarded as a portable media player. PSP is, regrettably, an old device.
It was unable to perform on par with Nintendo Switch. As a result, Sony decided to stop selling the gadget online and providing official support. 
Can you get Netflix on PSP?
Netflix streaming has been available on PS3 and PSP since 2009. That is to say, you can easily and immediately stream Netflix on a PS3 or PSP.
If you want to watch Netflix stream on your PS3 or PSP, you have to connect your device to the internet, download the official Netflix app, and you are good to go; now you can stream Netflix videos! 
Are games still being made for PSP?
Sony stopped making any games for PSP IN 2016. You will find no new games or any game in the store for PSP.
However, you can still download these games from multiple platforms or even buy the old ones from different stores that still have it stored with them. 
Is the PS Vita store still active?
The hardware maker announced plans to permanently close its PSP, PS3, and PS Vita storefronts in late March 2021.
The business, fortunately, rectified its decision after receiving outrage; as such, PS3's and Vita's digital storefronts were left open. 
Is the PlayStation 5 region free?
Region locks are used to prevent you from playing games from other territories. 
PS5 does have region locks in Bluray. Ultra HD Blu-ray discs are region-free; that is why they can be played on your PS5. 
Conclusion on the multiplayer PSP games list
These were the best options you could try. These games have various genres. You can try one or all to find out which one you like.
Thank you for reading the article, and I hope this helped guide you to the best multiplayer PSP games on the market.