In today's world, DJs need to put in a lot of work to find easy and reliable keys to songs. Fortunately, there are several apps, websites, and VST plugins that offer various levels of accuracy. 
As a musician myself, I have found many of these apps invaluable. But these even go beyond the realms of playing an instrument.
Music producers often will be in situations where they seem stuck trying to figure out chord-based scales that had just crossed their minds or may simply want to find out the music key of a recently released song. 
Finding out which songs are in which key can be a bit tricky, especially for newbies. 
Together we will be exploring lots of music key identifier tools that will help you find out the music keys for any song of your choice.
Best Music Key Identifier – Our Top Pick👌👌
Here are a few that have bailed me out.
1. Mixed in Key
Mixed In Key, key detection software is said to be one of the best accurate music key identifiers ever known. It has an accuracy of 10% more than any other music key identifier software.
It can perfectly produce the key of any song. It has an easy-to-use user interface with a catchy website design that is accessible to all music lovers.
Introducing: Mixed In Key 10 - Software for the world's best DJs and Producers
This software was designed to get the true key of any song, loop, or sample. It took the combined work of American, British, and Swiss data scientists to create its new version with the combination of algorithms that supersedes every result the older version provides. 
Mixed in key can automatically come up with cue points in Pioneer DJ's Rekordbox software as its latest version has advanced machine learning and data science that helps to improve the detection of keys in any song giving you the quality results you can never doubt.
Features of Mixed in Key:-
It uses grand piano added in the software to vet its results

It has an automated way of including as many as 8 cue points

It has an advanced music key identifier system that helps users find songs, samples, or loops to mix

It has an energy level detector that joins songs with a similar tempo together

Mixed in key results is the store using a customized ID3 tagging in any of your music files
Mixed in key can be downloaded for free on any Mac and Windows operating system. 
2. Djay Pro
This DJ software tool has one of the most advanced and polished features that identifies music keys, beats, and BPM.
It uses the frequency-based color of the waveform to easily detect keys. It has an attractive interface that gives its users confidence to navigate through its dashboard.
Djay Pro has a distinctively unique surface dial support that makes browsing through its music library look effortless. It gives a sort of DJ interaction with music lovers. 
djay Pro AI for Mac - Isolate beats, instruments, and vocals in real-time!
Features of Djay Pro:-
It has a support system for both touchscreen and desktop

The music library comprises more than 20 million songs

All you need to set up the DJ system is a simple plug and play

Its audio processing features are advanced and it supports an adjustable audio mixing crossfader curves

Channels can be monitored using its multi-channel audio interface
3. GetSongKey
This (Visit Here) music key identifier tool is very useful for DJs and songwriters. It has a platform with over six million databases of music keys and other important information for music lovers.
All of its tracks are stored in four distinct categories to make accessing music samples that are in the same genre easy.
You do not necessarily have to download the tool on your device, you can just compose any music of your choice directly from its website.
Features of GetSongKey:-
Gives the best keys for harmonizing mixed DJ songs

Extraction of the chord progression from any music can be done

Transposer can be used to transpose any  chord into a different chord of your choice

Its music key identifier is unique and can accurately detect the key of any song

It has a key notation converter that can change any music key that is between Open key mutation or Camelot wheel.
4. Audio Key Chain
AutokeyChain helps music fans detect music key identifiers by identifying the tempo of songs and searching for similar tracks that can be used to create mashups.
Music lovers can upload and music of their choice and share them publicly or privately depending on how they want to go about it. 
Audio Key Chain is a free online tool that does not charge its users. All you need to do is to open a free account by signing up to view every feature that is available on the website.
Features of Audio Key Chain:-
It has an upload size limit of 15MB that supports MP3 and WAV files only

Edited songs can be saved publicly and results can be shared

It has an editable track collection that users can use to correct any error or incompletion
You may like to read our guide on 9 Best
Chord Finder Apps
For Learning Songs on The Fly.
5. Mixxx
Mixxx is an open-source DJ tool that is used to integrate digital music files with pleasant live mixes. It can be used on Mac, Windows, and Linux operating systems.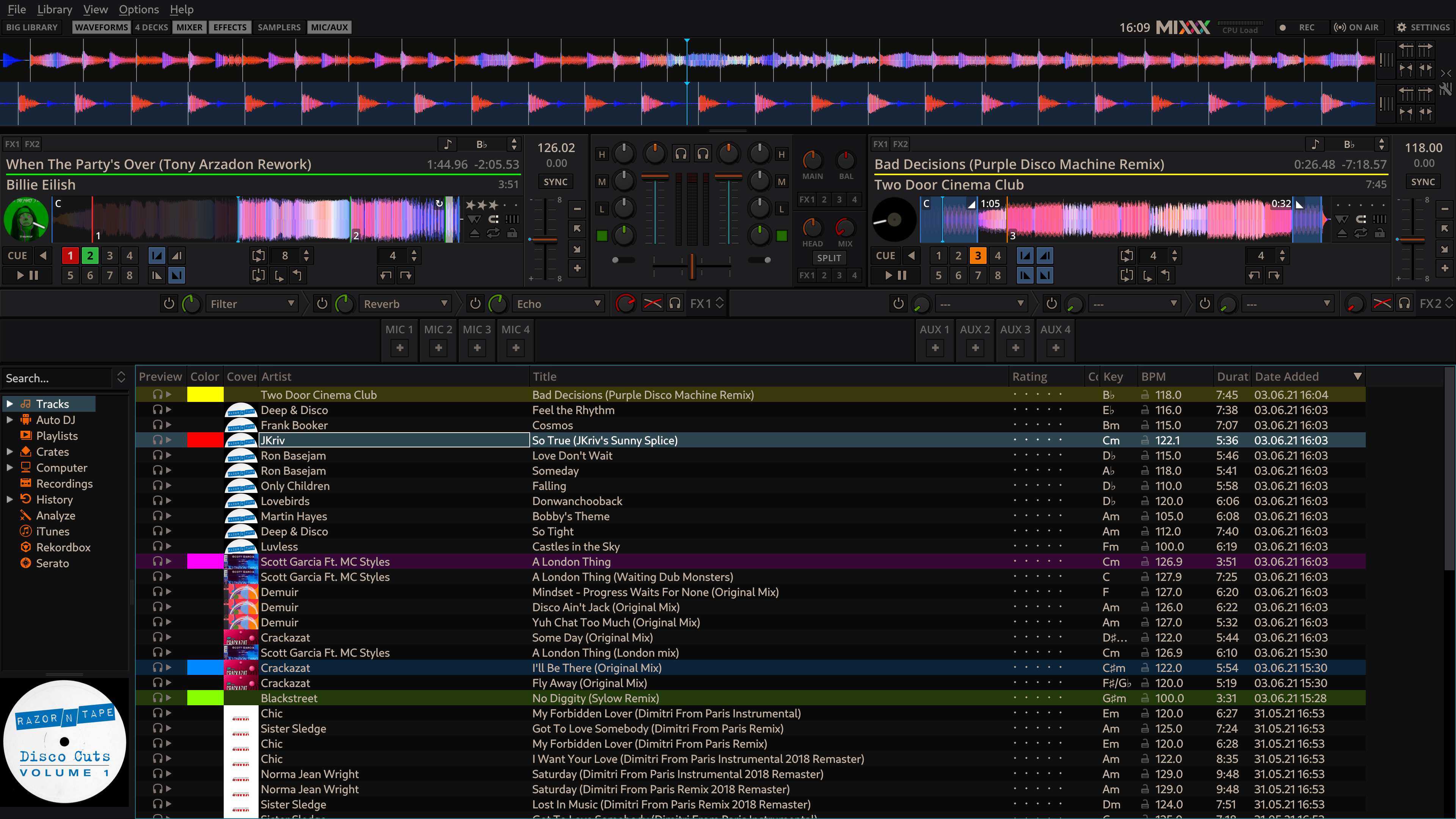 It provides its users with tools like change Beats Per Minutes (BPM) and change cover art. By right-clicking on any song, its users can modify any music of their choice.
Features of Mixxx:-
Several effects can be added and tracks can be spun for lots of sound effects

Turntables can be used on vinyl records so that playbacks can be controlled and music files can be scratched

The music key identifier coupled with the BPM  helps to locate upcoming tracks for the music library. 

To match the tempo of multiple tracks altogether, master sync can be used.
6. Scaler 2
Scaler is free and easy to use that is supported on any Windows and Mac OS. It has a vast knowledge of chords, harmony, and scales that comes with over 30 piano sounds, synth, guitar, orchestral with genre-based music of 100, including a hundred new artists' chord sets.
Scaler 2 - Complete Overview
It gives access through a three-zone connection which includes:-
The upper zone detection; where chords are viewed in incoming MIDI

The middle zone detection; shows the most accurate match for a scale combination or a combined scale presets

The lower zone detection; gives music lovers the freedom to freestyle on several chord sequences of their choice.
Features of Scaler 2:-
MIDI export can be done by using a simple drag and drop function of the music file

It provides its users with over 400 chord sets

Pianists can play complex songs on a MIDI keyboard with the help of the lock keys of chords
7. Tunebat
Tunebat has its database set on more than 40 million songs. It is a music key identifier that analyses songs that have been released. It is free and open-source to all Mac, Windows, and Linux operating systems.
It gives BPM information with recommendations on lots of harmonic mixing. This tool will help music producers effortlessly remix songs and will also help music lovers understand music a lot more.
Features of Tunebat:-
It music algorithms were developed by audio Ph.D. professionals to ascertain that it performs accurately

It functions with a huge chunk of audio data sets using ML models

Calculations and music analysis can only be done in its browser

Files cannot be sent or shared with other machines 
8. Traktor Pro 3
This German-made music key identifier tool especially focuses on developing the best of software and hardware for DJ-ing pleasures. Traktor Pro can easily be used on your laptop while you are getting your groove on.
It has a new combination of harmonic mixing that lets its users detect the key of all music and help know the key that can sound pleasant with another key.
Getting started with TRAKTOR PRO 3 | Native Instruments
It has a system filled with open notes, not just the normal standardized notes. It is important for number, letter, and color markings as it will help you learn how to mix keynotes faster.
✅FAQ
How do I figure out what key a song is in?
Looking through the key signature on sheet music is the quickest and most straightforward approach to determining the key of a song. If its key signature is missing from the sheet music, you will either need to examine the notes used or chords in the song to determine the key.
How do I find the scale of a song?
Consider the song's notes and attempt to determine if they are from a major or minor scale. The notes used in both scales are the same, although they begin in different locations.
You'll be able to recognize the scale if you can see bits of one of these scales. You may also focus on the song's opening and closing notes.
How do you identify key signatures?
The note one-half step (semitone) above that last sharp is the key signature. Major and minor keys may be mentioned in key signatures. Get the name of the major key, then count back three half steps (a tone and a semitone) to find the name of the minor key. Recall that names are impacted by sharps and flats.
Final Thoughts
DJ-ing can be so much fun. As fun-filled as it looks, it requires a great deal of music key identifier mastery. 
Finding the best software that will help you easily detect music keys without ruining your collection of songs can be such a relief. This software will help to support your music style and techniques and for some, you can receive direction on how to go about certain music trends.
So if you are thinking about being a DJ or a music producer, you should learn, understand, and master every chord that will make identifying music keys much easy for you as you progress. 
You can start with the helpful tools listed above regardless of whether you are a professional, a trained musician, or just a newbie. 
If you have additional insights as to more music key identifiers that are not on the list, do let us know in the comment section.