You are searching for games that can be played on your smartphone without using the internet. Sometimes the internet is slow, or there is no connection in your region. This can drastically reduce your gaming abilities using your smartphone. 
When you find yourself in a situation, then is there a way? There is no need to feel left out. With the help of no internet games, you can now play your favorite games on your smartphone. 
To help you play your favorite games, we have come up with a list. In this post, we will look at some of the popular games that you can play offline. There is no need for you to have the internet working at high speed. 
You would love the fact that these no internet games work on both Android and iOS. These games come with a specific graphical quality that does offer you limited capabilities. Of course, they hoard cash through online advertisements. 
Yes, some famous paid games work just fine online. The speed and visual quality might not be up to your liking.  
Why play no internet games in the first place? 
You are playing your favorite game on your smartphone, whether Android or iOS. Suddenly, the power goes down, or your connection is unsteady for some reason. We understand what goes inside you because you were on the threshold of victory. 
Maybe your game was about to end, and you are annoyed with your slow internet connection. Why flatter using internet games, when you can make use of offline smartphone games? These games can be played on any device. 
It could be your smartphone or tablet. These days, technology is advancing rapidly, and you have a barrage of devices, both Android, and iOS released in the market. The choices are endless, and so are your options in offline games. 
There is no denying that playing online games on your smartphone can be fun and exciting; however, you can have more fun with Android and no internet games.
Perhaps, your internet is acting strangely, your commute is mostly underground, and you want to just disconnect from the real world for some time and slip into your own private world. 
You could have several reasons for doing that. Luckily, you have come to the right post and can find many smartphone games that do not require Wi-Fi. The ideal way to play these offline games is solo, with headphones on your ears for extra fun. 
For the sake of our readers, we have segregated this post into android offline games and iOS offline games. 
We will first take a look at some of the best offline games that can be played on your android smartphones, without Wi-Fi.  
Best No Internet Games For Android 
Some of the games like Fortnite and PUBG need you to have an internet connection. Today, users will find it challenging to find a game that can provide them with an enhanced experience. Without an internet connection, it is not possible. 
How about playing no internet games on the google play store? Yes, you can have a similar experience. We have researched and compiled a list of the best android games that do not need the internet.
Though a search on Google play store offers you a massive list, the below games are excellent.  
1. Rebel Inc.
Rebel Inc. is first on our list of no internet games. If you are somebody who prefers playing a fast-paced game related to the war, this is your best option.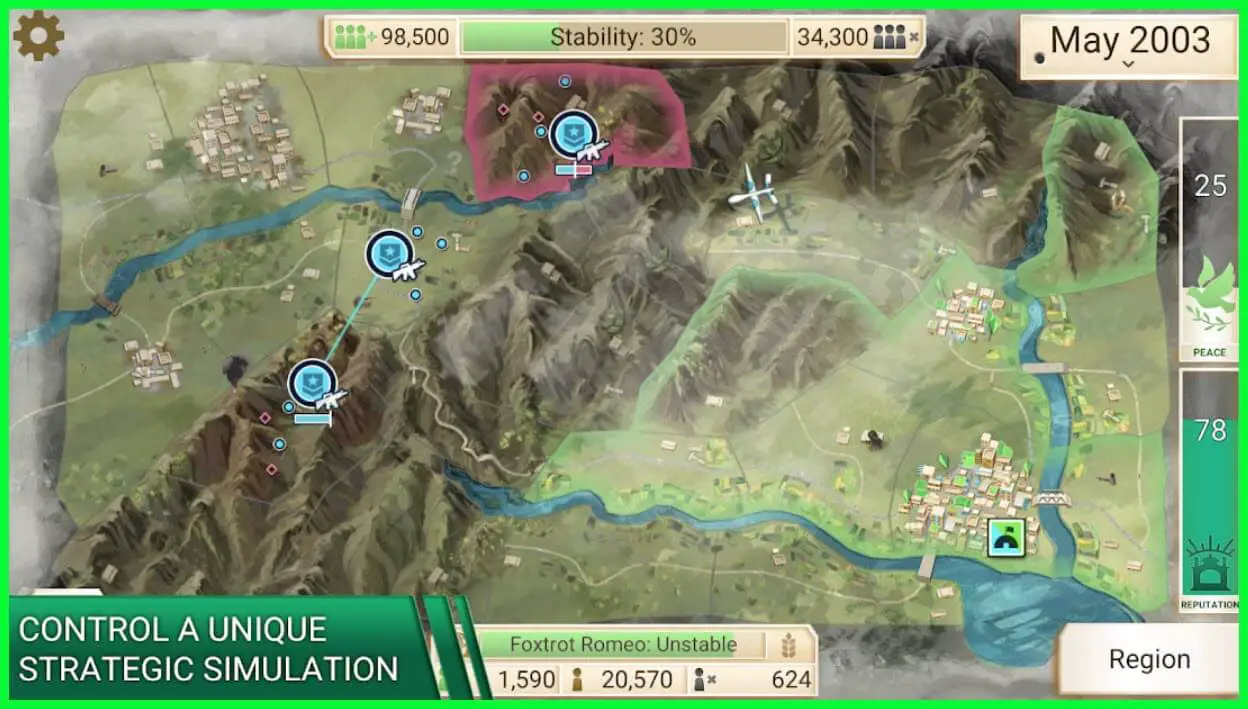 Rebel Inc. is a tough thinking game where you have to pacify a region that has to come on terms with a bad war. As you know, war regions can affect the people of the place drastically. We were surprised that you could play this game without a quick internet connection. 
In this game, it is your job to keep your region under control. You need to control all the resources that are at your disposal. The main purpose here is to retain peace. However, you will want to think about your actions quickly because rebels are waiting to attack your country.
This game is developed by Ndemic Creations, where you face the difficult question of what to do when soldiers have moved after the war.
To make the game interesting and vibrant, you have to perform the menial tasks of ensuring that your citizens have water and power at home. 
Games designed by Ndemic come with hard-pressed subjects. We have seen them earlier. This game offers you a balancing act. Certain situations keep popping up out of nowhere that can test your patience intensely. 
Lastly, you stand to lose your job if you underperform. When your citizens are not happy with your work in the country, then they start moving out. That can cause your score to come down, resulting in your eventual ouster. 
We highly recommend this game if you are one of those who loves to play a game that affects you to the core. This one can do that. Though it is simple to understand and easy to navigate, it keeps you guessing and on your toes. 
Being developed by Ndemic, you know that the game comes with an excellent mobile strategy that can offer plenty to your gaming skills. We can assure you that you will be lost in a fascinating and engaging post-war scenario.
2. The Wolf Among Us
The Wolf Among Us is perhaps a familiar name among gamers. If you are a gamer, then you might have come across this game. This is a high-paced action offline game. For those who haven't played it yet, we will discuss it briefly. 
The game is about Bigby Wolf, who has magical powers and is a sheriff of the locality. This game is based on comics written by Bill Willingham. Bill's work is violence, mystery, and murder. Gamers who prefer the genre will like this game setting. 
The game comes in 5 episodes. In each of the five episodes, a new story ends with suspense. Gamers will be surprised at how good the narration of the game was. That was the highlight of the game. 
We are stunned by the concept of Telltale Games, which are the designers of this game. They have been able to design adventure games having interesting graphics. We found the game interesting because you are given a new direction in the comic part. 
This is something that most games are not able to do. When you are in search of a game that comes with a great crime-related story with a lot of suspense, it is this.
3. Bubble Witch Saga
Bubble Witch Saga is next on our list. This is a shooting game, for a change. Those of you intrigued by shooting games would love this one. Your duty in this no internet game is to free a magical creature trapped in bubbles colored. 
Wilbur, who is a cat, has the creature in its custody. You release animals once you shoot them, and they are freed. As a gamer, you have to find special bubbles to free and then be able to conquer Wilbur's forces. 
You are Stella, who has to rescue these beautiful animals. It is more of a puzzle game where you get to do the same thing. Some users feel that the story is rather slim. You are not getting into a narrative that is not motivated. 
To be honest, these are similar to playing with balls around you. Those of you who have an affinity for balls would love this game. The plot is also simple. We felt that without the internet, this game would be an ideal choice.
The controls are simple to use. You need to pop all the bubbles on your smartphone screen. Of course, your aiming skills have to be excellent because you have to hit bubbles of the same color. Based on the number of bubbles you are able to hit, you can win the game. 
There is a catch in the game for those who think that it is a mundane affair. You do not have several shots, but they are very limited. When you are past the first few shots, you do not get to choose the shooting bubble color. 
You can choose two colors. However, with the individual bubbles that we mentioned earlier, you can shoot the colored bubbles. Some users said that the controls are slow to react, and you can shoot by accident. 
For those of you who like shooting games of any form and style, you will prefer Bubble Witch Saga as a refreshing change from the other monotonous games.
4. Blazing Sniper
Blazing Sniper is next on our list, and this offline game comes with its own unique specialty. Gamers will be pleasantly surprised to find out that some no internet games do not have those frustrating advertisements showing up when you do not want them to come.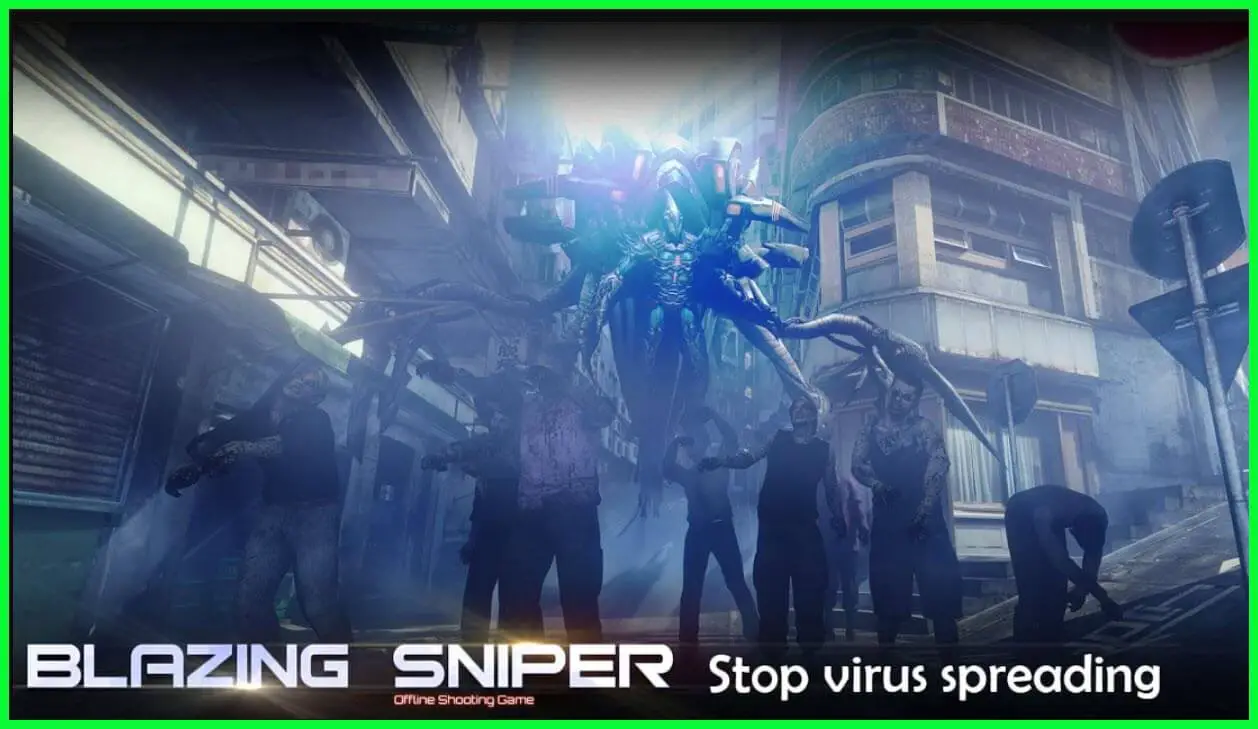 Among them is Blazing Sniper, where you are involved in your game, but no advertisement shows. This is an excellent example of a game that does not require Wi-Fi that protects people from viruses and attacks. 
The plot is quite easy as you have 50 shooter tasks that keep you engaged. Gamers are elite soldiers on the battlefield to kill bad guys with intense action. You are fighting and want to conquer them to acquire their powers. 
It takes place when the Earth is full of terrorism and violence. As an elite sniper, you need to control things and ensure that the situation is brought under control. In some of the dangerous zones, you may want to take down the bad guys before things get out of hand. 
Users preferred the game because of its simplicity. They found the game simple to play. However, you will want to play the game based on guides. We were happy with the number of guns provided, that was ten. 
The visuals in the game were fantastic. You can quickly kill your enemies and have access to the other levels. The sound of the game was also exceptional. At times, they sound realistic as if the gun is being held by you. 
Blazing Sniper elite game is one of the best action games that do the good things you would like. It plays in a good way, and the gameplay is different from the rest. Users may want to know; it is not a kid's game due to the violent content and is meant for 16 years.
The narration, sounds, and graphics are good and appealing. When you like shooting or sniper-related games, then this is a fabulous game. It is an excellent game that can be played on your smartphone with each control. 
5. Into The Dead
Into The Dead is perhaps one of the best games where you deal with zombies. Those of you, who like games based on apocalypse, would love this game. Imagine you are in a dark room with no way to run or move around. 
Into the Dead Trailer for Android
This game lets you spend as much time as you want to escape from doom. We were amazed at the features of the offline game. Not to mention, the story was good. Sadly, you are playing a person who does not talk much and only runs around. 
The fog is so thick at times that the mist enables you to imagine a creepy atmosphere. Gamers can also make use of critical gameplay purposes. Players should tap right and left to ensure that they do not disturb the dead from their sleep. 
As you run more, deep into the endless world of fog and mist, you are greeted with gifts. Unfortunately, you are attacked with many advertisements that keep showing up often. 
Into The Dead is one of the best games to have been released by Pikpok. The experience for gamers is enhanced through this game. Users can quickly move around when they are grazing past trees or hopping around fences. 
Using the controls is also easy, and you can move around without hassle. However, there is not much scope in the game. It won't be fair to say that this game is more than a simple time killer when it is one zombie escape. You will be happy to play again and again.
You may like to read our guide on 11 Best
Sports News Apps
To Up Your Game With The Latest News.
6. Shadow Fight 2
Shadow Fight 2 is one of the ideal no internet games that concentrate on Kun-Fu and karate. When you like to watch those Kun-Fu movies, then you for sure will love this game. You can play the game. 
Shadow Fight 2 Official Trailer
This is a 2D game where you have lost part of your body when fighting with demons. These demons released by you saved your home where you live. Gamers loved the animations, game modes, and RPG elements.
If you played games like Mortal Kombat and Street Fighter, you would use the graphics used in the game. We were happy to use the control in the game as the character designs are excellent. 
You can make use of the earned coins that can help you shop between the fights. When you own a weapon, you can use the gold to upgrade for more power. As you win fights, you can then upgrade your character. 
The content in the game is excellent. You can play with the six different worlds that you are based on. Not to mention, the visuals are good. But, you may not be happy with the free version. They come with strategies that can really frustrate you. 
However, you will not prefer the free version because it is slow. The free model may not be the best option, but Shadow Fight 2 is one of the best Kung Fu games that you can play in today's market. 
7. Asphalt 8 Airborne
Asphalt 8 Airborne is another game that comes with high adrenaline, speed, and some fantastic cars. Those of you who love car racing games have met your match here. Riding on the asphalt at high speeds does give you a huge high. 
That is precisely what Asphalt 8 Airborne does for gamers. Developers have come up with an excellent design for this game. When you use the latest smartphone, you can race on. Players stand to win cash, prizes, and reward. 
The game comes with a high-flying action making racing exciting. You can choose from several cars present there. Unfortunately, the screen can be confusing at times and needs to be slightly more transparent on what is being shown on there. 
Gamers must understand that arcade racing is not the same as real racing. Some of the control and physics might not be the same. It should be more entertaining than the sims so that racing purists can look elsewhere. 
Users have said that the steering is unresponsive at times. It comes with nine different racing locations. You can race through the eight seasons with the different race types. Gamers can race against multi-racers. 
Though you can upgrade your car, the upgrades are quite expensive. The game does have some issues and is a fantastic arcade racing game to play in the franchise.
There are tons of cars that you can unlock, shortcuts for the tracks, alternate routes, and nitro-boosted racing action.
Asphalt 8: Airborne is the best racing action with no internet games in a long time. The game comes with light-hearted racing fun, but you need to keep the urge to spend your money.
8. Implosion: Never Lose Hope
Implosion: Never Lose Hope is a creation of Rayark and is a science-fiction game. In this no internet game, you are controlling a soft-looking mech. You have to save humans from aliens. The game comes with more than six levels. 
《Implosion》 - Never Lose Hope Trailer
They are free, and you have a single-off IAP that reveals the game. It is quite challenging to keep you busy for hours together. Gamers who have heard about Rayark before will know the names Cytus and Deemo.
This is an exceptional game. Before we read through, if you are wondering whether you should purchase this game, then the answer to that is yes. You may want to click on the purchase button and prepare some snacks for yourself because this is going to take time. 
You are playing the role of Jake, who is a pilot that has fled planet Earth because of the disaster that has happened. However, Jake and his team are back to EarthEarth and have to fight with a strange life form known as the XADA. 
The choice of weapons is essential. You have swords and machine guns. However, you can also make use of the blade to extend it. We liked the part in this game where you can repeatedly play though you have failed often. 
This is something that most games do not offer. Each of the levels comes with its leaderboard and mastery. It provides you with excellent motivation for playing games to achieve higher scores. 
You can easily control the game effortlessly. Gamers can find a virtual stick for moving, and it comes with virtual buttons to enable you to manage your actions. You can switch between the ranged attacks and confusion, to access under it. 
The game has an excellent virtual button layout that also allows MFi controllers. Users were delighted to find that the touch controls were good. Unfortunately, it also throws environmental hazards that you have to avoid to be able to use to your advantage.
Users can find it extremely rare to find original games that come with excellent values. We were also happy with the storyline. The game comes well-designed, and the progress is quite enjoyable with deep mechanics.  
9. 3D Pool Ball – Sport
3D Pool Ball – Sport is a 3D game that can be played on your smartphone. If you are keen on playing a 3D game on your android device, then this is your ideal chance. 3D Pool Ball – Sport is an offline android game that provides you with intense entertainment. 
It is as if you are playing pool games in real life. The game is such that it encourages you to play like a professional. Gamers can also win tournaments if they play well enough.
You can play the game using the mobile gaming app, where you can get a few fast matchups of the pool table.
We noticed that you would need an internet connection to play this game. You can use the offline version too, but it is quite lagging. You can compete with other players who are online to win competitions. 
Some players have felt that their pool-hitting skills were refined after playing the game. You can play offline when you are playing against your PC. It is the solo version. If you are alright with that, then it is okay. 
However, when you want action, then you should be prepared to push yourself. You can customize your pool table and the appearance of the pool stick. In this sense, you can use your creativity when designing the table and pool stick.
Gamers can play against the computer system or online players. You can place bets and earn rewards for yourself through tournaments. Users can also invite people to play games with them. The game aborts when the app crashes. 
At times, the download takes quite some time. Do you want to play this offline game? Gamers do not have to like the pool to play this game, but you can spend your money playing other games. Using the app, you can experience high-quality gaming for free. 
You need to ensure that your smartphone is able to download the game without hassle. Gamers can download the game and play game along with other players. All players can experience a whole gaming process in the games and participate in tournaments.
Best No Internet Games For iOS 
Do you own an iPhone or iPad and are unsatisfied with your internet package speed? These things happen, and you would want to make use of no internet games. When gamers cannot play games using the internet, then offline games come in handy. 
Like we said if your internet speed is insufficient for some reason at home, when you are commuting, or at the park. Whatever the reason, that should not deprive you of playing popular games on your iOS devices.
The reasons for getting offline are immense, but you do not have to be bored sitting idle without having the internet. As you know, the iPhone and iPad are expensive devices. There is no use in having them inside your pocket or bag when you cannot use them. 
Why get them in the first place? Well, you do not have to fret. You do not have to use the internet to enjoy them, playing your favorite games. That is because you have tons of iOS games that you can play without using Wi-Fi. 
We have compiled some of the best no internet games for your iOS devices. 
Let us take a look at them.  
1. Monument Valley 1 & 2
Monument Valley 1 & 2 is the first game on our list on iOS devices. This is a simple game that is based on a puzzle.
As a gamer, you can create optical illusions for yourself coming up with new paths that can guide your character to end this puzzle.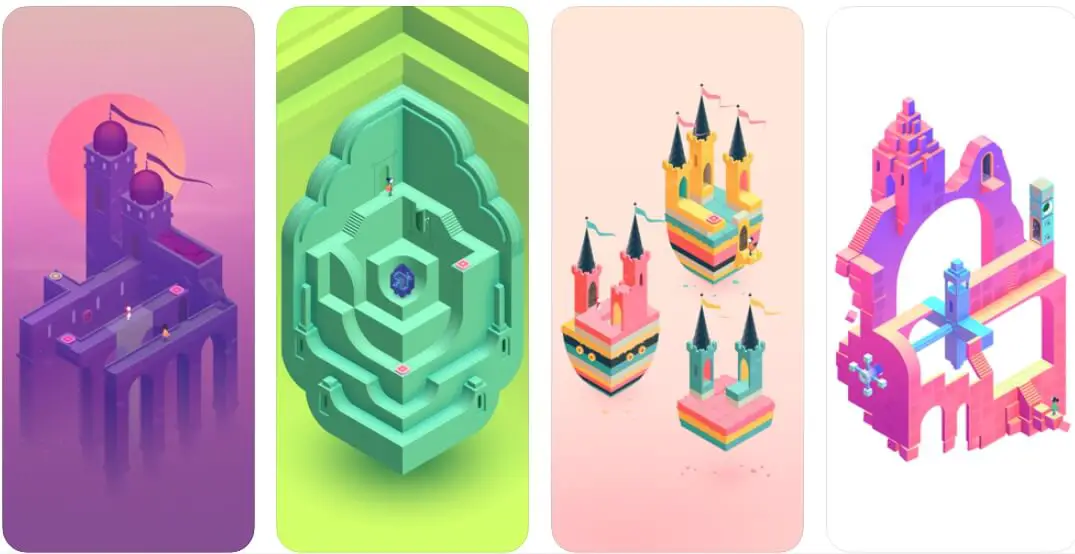 The puzzles are based on M.C. Escher's paintings. You will notice that the games come with more than eight base levels. Gamers can purchase the expansion pack when they like the game they played. 
The game was released in the market in 2014, and the sequel was released in 2017. The beginning of the game is different as you have light falling on the plant. The plant starts to blossom, and the flowers turn into a revolving base. 
Probably, this was the moment that we liked it. However, there are other parts in the game that make you happy. The concept is the same as the first version. You have a massive area of doors, blocks, stairs, and elevators.
The character moves along the pathways until you come across obstacles. The signaled artifacts can be manipulated to enable progression. When you complete one puzzle, you are taken to another puzzle. 
The girders transport themselves from one state to another. They can cross lines that create new confusion and realities. The character can rectify itself if you make it walk upside down. The games are based on trial and error. 
This gives you a sense of trying out the game often. You try and find a balance between complexity and simplicity. You can complete each of the levels depending on your convenience. Gamers would like the aesthetic of the game. 
It comes in a range of shapes and colors. There is ample movement in the game, with slide blocks on the screen to visualize the drama. We were also astounded by the sound effects in the game. 
This game is slightly longer than the previous version. However, you do not feel annoyed by playing the game. You have ample balance with all the sunlight, water, and cooperation throughout. 
We recommend Monument Valley 1 & 2 for gamers as it beautifully replicates the original game's vibrancy and charm. It is just amazing to note that the touch game can make you unfamiliar with solid ground.  
2. Badland 1 & 2
Badland 1 & 2 is another puzzle game that ends with a fantastic twist. We were literally taken aback by the game. You have to guide the clone into the woods using a cycle. The different timings of the day come in different colors. 
The timings come with a feature that you can grasp as you progress on the levels. This no internet game comes with the same idea but a new tactic. Gamers can avoid obstacles like liquids, water, and others. 
The game also provides you with a challenge mode where you can compete with leaderboards. However, at times, you feel that you are not challenged enough. It is as if gamers are just moving around aimlessly. 
But, we felt that this version is good and does well. The visuals on the iPhone screen are stunning. We can assure you that many people will admire your screen if you remove it on the road. 
The pace of the game is excellent. You can move around by tapping on the left and right. You can also push both sides simultaneously without any effort. You would want to get through obstacles, including hyper-sharp blades, spinning cogs, goo, pipes, and others. 
The bubbles change as you move ahead in the game. Gamers can speed, slow, shrink, and even multiply, using the powers. The amount of content is right. The levels are designed such that you can do very long.
The game is good as it comes with what a gamer wants. It is bright, and sharp, and is able to correct mistakes made by the previous version. We recommend that this game is worth your attention, time, and money.  
3. Minecraft
Are you fed up with those puzzle games that you see all around you? When that is the case, then you will want to give Minecraft a go with ease. It comes with online content, and you can play the game offline. 
We were highly impressed with the graphics on the iPhone when we played the game. The latest graphics are simply fantastic and give the game more glamor and elegance. You can now make use of the update on Village and Pillage. 
The game has been around since 2009. Nobody thought this game could make it thus far. Probably, the reason for that being, it does not come with too much gloss. To be honest, the block games are boring. 
You do not want to find yourself playing those games on your expensive iPhone. However, as you play this game, you find yourself sitting hours together, gathering the necessary materials. This game helps you enhance your creativity because of its elegant appearance. 
Using the survival mode, you are stacked away in a world of random creatures. Here, you have to think quickly for your survival. That is because you have to construct shelter, gather your tools, and have your food.
You feel a sense of ownership when you design your own door made from wood. It is engaging with gamers. You can do the same using other games; here, you must get things done from materials and build them for yourself. 
Though this is the best part of Minecraft, you may not want to keep redoing it. That is because you cannot find the trees and gather the wood that you need. Few things are time-consuming, and you can get annoyed with them. 
But, it only makes you improve your creativity with the game. You can create what you want. Some blocks take a massive effort to acquire and make you understand what kind of journey you are facing. 
Like any review, our verdict on Minecraft is a huge yes. It is one of those no internet games that does not survive on adventure games. Though it may seem addictive initially, as the game goes on, you tend to enjoy it more. 
It is safe to say that the game is more than any game. You do not have to play the game in a specific manner, as it is an open world, inviting you to plunge in. So, why not make the jump and find out how you can make your dreams real? 
4. Alto's Adventure & Alto's Odyssey
Alto's Adventure & Alto's Odyssey is a unique game where you can move around in landscapes. As a player, you want to perform tricks and jump. This no internet game comes with 180 goals for you to complete. 
Alto's Odyssey - Android Release Trailer
Some of the tricks also need you to work on your thumb. When the developers released the first game, Alto's Adventure, they decided to use Alto's Odyssey. In Alto's Odyssey, there is endless running, and tricks done, and set in a desert. 
A few of the game's new features come with water surfing, tornadoes, wall-riding, falling platforms, and bouncing balloons. The sequels are quite tricky for you to understand at times when you are playing. 
It involves expanding your idea and maintaining stuff that made people actually like it in the first place. We felt that this is the ideal sequel because they do not mess with the original concept. 
The version comes with three distinct zones, in which each of which comes packed with several generated areas. You can easily pass through dunes and then find a buried pirate ship. However, when you come there the second time, you find swaying palm trees. 
They come in different elements that blend together in the game. We also liked the fact that the developers have kept the game simple. They did not place too many upgrades and mechanics that can dilute the player's wants in the game. 
We found a few flaws in the game. As you are playing the game on your iPhone, you will notice that you cannot see the lemur correctly. That can make users lose a few runs. Should you play these fantastic games?
Alto's Adventure and Alto's Odyssey are able to expand the original concept using beautiful methods for gameplay. No compromise made the first game exceptional. Likewise, we hope that other designers will take a leaf out of their book and implement it.  
5. Threes
Threes is a game that was designed in 2014. This no internet game comes with tiles that are numbered on a grid. They have to complete the grid then. As you progress, the numbers also increase in size. 
What this does is, leaves less space for new tiles to appear there. Once the game is over, no movable tiles remain. It may seem simple, but it is hard to understand. This game is simple to pick up and learn. 
But, at times, you may want not to come back. The matching game is you slide the numbers and make multiples of them. You do this to get the highest score as you can. When gamers play it initially, they may not seem excited. 
But, as you get into the drift, you can find it quite addictive. You would be amazed to know that this game is ranked quite high in paid app listings on the App Store. It comes with one game mode. 
You have to get high scores by combining numbers to make 3s, and then 6s, and 12s, and so on. That can be done by swiping the screen to move the numbers together. You can find three kinds of number tiles colored in red, blue, and white. 
The game does not last for long. You can play the game when you want to pass the time for a few minutes or more. It may initially look as if you are swiping the screen. However, you need to use strategy to ensure you combine big tiles to be able to get high scores. 
What did we like about the game? The game comes with a matching strategy that makes it an excellent time pass. You keep moving; the score keeps increasing. But, we felt that the music was quite repetitive. 
Threes provides you with a simple interface, with excellent graphics, which are simple on the eyes. It comes with a challenging plot, that makes it sound better than you actually feel. This is an excellent way for a fun diversion.
6. Reigns
Reigns are next on our list and is a unique game. For those of you who like to play Game of Thrones, you would love to see how to manage a kingdom. You are a medieval king who has to keep his people, coffers, religion, and army together. 
You can do that by swiping the card right and left. Gamers need to know that the choices are affected either in favor or not for you. It ends when the four pillars are unbalanced. Your ruling ends, and you must begin again with a new heir.
The entirety of the app is ultimately reduced to a series of simple binary choices. You would be surprised to know that a few games have used a similar concept. You are the ruler and have to make proper decisions for the kingdom. 
You can do that with the help of advisors. They come to you with different advice and based on your thinking, you can decide what to do. You have to keep the four pillars of your society balanced for your own safety. 
The game is a strategy game, so if you prefer playing these kinds of games, then here is your best option. You can play it on your iOS device for $3.
The game comes with a charming and innovative diversion, but you do not want to worry too much about yourself. 
7. Kingdom Rush
Kingdom Rush series is a sequel of no internet games with a fantasy setting. It comes with several levels of lanes and slots that are empty. You can deploy towers and then unlock the stars on them. 
Kingdom Rush Android Trailer (Official)
The series is one of the most popular tower-based games played on smartphones. The designers of the game, Ironhide Games have released the series that include Kingdom Rush, Kingdom Rush Origins, Kingdom Rush Frontiers, and Kingdom Rush Vengeance.
Kingdom Rush Vengeance is popular because you assume the role of a villain in the game. Gamers can notice the enemies following them and should be removed by players operating the towers. 
You can place the barracks in the towers where footmen are sent on the field for battle. This helps in slowing down the enemy. You can also place the enemy-blocking barracks on high-powered towers.
We are highly impressed by the manner in which the game is presented. The stylish visuals provide you with a distinct fantasy comedy that is reinforced by the game's narration. The tower comes to life when they are upgraded.
It costs around $12 and is worth your time. On the whole, Kingdom Rush offers you intense tower defense, and you must make use of this strategy game. When you feel that you may not win, there is no harm in playing the game.  
8. Cultist Simulator
Cultist Simulator is a game where you form a cult and work your way through that. This is a game based on cards. Some of the games designed by the makers include Sunless Sea and Fallen London.
Cultist Simulator - Mobile Launch
These were massive narration-related games played on your PC. Though you have played these games before, know what to expect from this no internet game. It is like you are descending into a chaotic world of madness. 
Slowly, you come across new conspiracies and new options. The game relates to knowledge that is better not known. At the beginning of the game, you notice a wooden table that is covered with a leather mat. 
Most of the challenges in the game are cult-related. A few of them include a mechanic who is fatigued, demotions at your workplace, periods of blackouts, and so on. If you are somebody who enjoys card games, then you may be attracted to this game. 
Is there a reason to play these no internet games? Cultish Simulator is a game that comes with its own moments of unearthly insight. The writing in the story inspires you to discover the arithmetic of finding. 
You have a desire to find such moments, to demand as you learn to deal with suffocation and the practical reality. This is a game that is giving a worthy tribute to the human making of malevolence that other worlds are yet to be found. 
9. Civilization VI
Civilization VI was able to make an impact on your PC. Those of you who were wishing for it to be available on your iOS device, well, your desire has been answered. The game is available portable for iPhones and iPads. 
You are part of an ancient empire and must find your way through the ages. There are victories and losses along the way. The plot is simple, where you are a nation that is adapted from a tribe to a dominating superpower.
We liked the tutorials in the game because they help you out immensely. This is one of those games where you require a tutorial. You can also decide to go full military and make an encampment in them. 
The game's idea is to establish a relationship with a leader who can help your nation's cause. Based on your strategic capabilities, your nation may rise or fall. This is a compelling and thinking game.
During the multiplayer game, you may experience crashes, and there is no way you can come back into the game. There can be only a single winner. At times, you may find playing the game on your iPad, impossible. 
Civilization VI is feature-rich, with no internet games in the series. The version of the Civilization classics has been revamped with new ideas and visuals. Not to mention, they come with ample governments, research, and agendas.
10. The Battle of Polytopia
The Battle of Polytopia is similar to the game Clash of Clans. Of course, you do not have to fight with other gamers online. This strategy game is a turn-based one. It is based on who can dominate whom. 
The Battle of Polytopia trailer (Mobile)
There are small cube-like tribes that want to fight for power. You can get the game for free on your iOS device. New gamers can explore the map as you can find new tribes and technology waiting for you. 
The Battle of Polytopia is fun, and you can play the game offline. Its single-mode player is excellent and highly engaging. The multi-player is also enjoyable. You can decide at your convenience and play accordingly.  
📗FAQ
Can we play the no Internet game?
The easiest way to play games online without an Internet connection is by reaching the site Chrome://dino/. You will see a little dino with a message of no internet. Press the spacebar and begin with your dino game.
What happens when you get 99999 on the dinosaur game?
The game resets itself. You are not able to change the direction and you are not able to control the speed. All you can do is jump and duck.
What is the no internet game called?
Chrome dino is the no internet game also called T-Rex. It is a hidden Google Chrome game that can only be accessed when you are offline.
What games can I play offline for free?
Top offline free games are Puzzle: Mazes and More, Chess: Really Bad Chess, Runner: Alto's Odyssey, Platform: Once Upon a Tower, Brainy: Quizoid, Puzzle: Sudoku, Action: Tank Hero: Laser Wars, Arcade: Jungle Marble Blast,  etc.
Which is the No. 1 offline game in the world?
Some of the best offline games to be played are ExoMiner, Downhill Smash; I Love Hue too, The Way Home, etc. They can be downloaded and played free of cost.
What is the coolest offline game?
The best offline Android games are Bloons TD 6, Crossy Road, Alto's Odyssey, Dead Cells, Friday the 13th, Eternium, GRID Autosport, Kingdom Rush Vengeance, etc.
What is the best offline game in Low MB?
Top-rated offline racing games are Hill Climb Racing, Trial Xtreme 4, CSR Racing 2, Traffic Rider, Asphalt 8, Asphalt Nitro, Alto's Odyssey, Noblemen: 1896, etc.
What is the most downloaded offline game?
The top 5 offline games that must be checked are GRID Autosport, Alto's Odyssey, Friday the 13th, Minecraft, and The Room Series.
Is Sky an offline game?
It is one of the best offline games for Android users with a multiplayer feature. The game has several characters with stores and has an excellent music experience. The game was released in April 2020.
Which is the 1 MB game?
Top apps for 1 MB games include The Archers 3: Bird Slaughter and The Stickman and Gun 3: Zombie Shooter. The games have been installed over 1 million times.
Which is the best game for low-end devices?
The top android games for low-end phones are 2048, Fruit Ninja, Asphalt Nitro, Angry Birds 2, Stick Cricket Classic, Beach Buggy Racing, Chess- Play and Learn, Garena Free Fire, etc.
Summing Up 
We have come to the end of our discussion on no internet games. You will find your favorite Android and iOS games. It will be difficult to pinpoint our favorite game here because all of them are exceptional and come with decent plots. 
The listed games are based on engagement. We were quite happy to know that the feedback offered on most of the Android and iOS games were decisive. That is the main reason we have mentioned them on the list. 
If you are somebody who has played the games, then tell us what your favorite game was. We have provided some action games and high-paced games for your satisfaction. Our readers would like to have games of different genres. 
With this article, we tried to cover the best offline games for android and ios including the t-rex game, chrome dino,no internet games on google, dinosaur game online, and free games without wifi.
Not to mention, you can also think of suggesting some of your favorite games not given on our list to us.