Monitoring the overall performance of your computer is very important to ensure your computer is in good health.
And it becomes a lot more important, especially if you run applications like games, graphic design software, compilers, video encoders, photo editing, video editing software, etc.
Built-in task managers can be very effective at monitoring the overall performance of your system. However, they leave insights that are very hard to understand. 
What's the solution, then? So many applications are available for monitoring your system's performance. And NZXT Cam is one of the best, without any doubt whatsoever. But it might not meet your expectations due to multiple reasons.
For example, NZXT Cam is causing multiple problems for GPU BIOS. Other things like fan-controlling issues and constant freezing during loading make things even a lot more complex. 
So, what's the solution, then? How about exploring some of the most competitive NZXT Cam alternatives? I'm taking you through some of the best alternatives for NZXT Cam in this review post.
Let's know about them in detail and find out which suits you best.  
Best NZXT Cam Alternatives – Our Top Pick
1. CPU-Z

 

 
Designed by CPU-ID, CPU-Z is one of the best NZXT Cam alternatives. It's available for free and gives detailed information about your computer.
With CPU-Z, you can detect and monitor your computer's processor, mainboard, memory chipset, and other vital internal frequencies.
The application provides an in-depth report generated in real-time. 
And the best part is you can't only use CPU-Z on your computer or laptop, but you can also use it on your smartphone.
The smartphone version of the software effectively monitors the battery performance, storage, CPU, and network performance. Also, it enables you to get detailed data about IP address CPU, real-time usage and free disk space, etc. 
If you are looking for a user-friendly NZXT Cam alternative, you might have to compromise because CPU-Z has an average user interface.
However, nothing like that with the mobile application of the software! The app's interface is excellent, simple, sophisticated, clean, and easy to use. 
Using the software, even on your desktop, is pretty straightforward. Installation doesn't require much effort, and the launching time is also very short.
It starts working right after the installation, and you don't need additional software to use CPU-Z.   
Features of

CPU-Z:-

 
Real-time analysis of memory frequency and internal frequency of each core

 

Available for Windows PCs from version 95 to all the latest versions available

 

A very exciting vintage edition that also supports SPM memory 

 

One of the best customer supports available

 

Very simple and sophisticated user interface

 
2. Real Temp  

 
Real Temp (Download Here) is another nzxt cam alternatives on our list. The software effectively monitors the temperature of your system and is perfectly designed for single-core, dual-core, quad-core, and Core i7 processors.
The software can successfully monitor each hardware of your system. Whether it is about understanding the memory status or the power consumption, it can deliver all information without taking much time.
The functioning of this simple tool is pretty straightforward, and you can understand it very easily. 
The Real Temp is an excellent option if you have a computer powered by an Intel Core processor. And if you are a Pentium user, you should look for another CPU monitor.  
How does real temp work? It uses a fluke 662 IR thermometer for gathering data according to your computer's temperature.
And keeps displaying the actual temperature while playing your favorite games, coding, Bing watching for hours, editing photos or videos, or doing anything that consumes much power.  
Real Temp is known for very accurate and quick reporting, as well as its wonderful repeatable benchmark. If you are so busy with something very important on your computer, you don't even have to worry about continuous power consumption or slowing down your PC.
This program smartly notices the high temperature and shuts your PC down with a temperature alarm.
And guess what? You don't even have to worry about installation or registry note notifications! Overall, a wonderful CPU monitor for Intel Core-based processors.  
Features of

Real Temp:-

 
Supports all the modern Intel Core-based processors

 

Automatically takes care of all cores of your computer's CPU

 

Checks the DTS sensors for any sign of problems 

 

It shuts down automatically thanks to a "high-temperature alarm."

 

Allows you to use all the features without installation or registry modification

 
3. Speccy  
Speccy is another wonderful program that gives you a detailed insight into your computer's software and hardware.
The software will help you with complete information not only on your operating system but also on CPU, RAM, storage, motherboard, audio support, optical drives, and even graphic cards.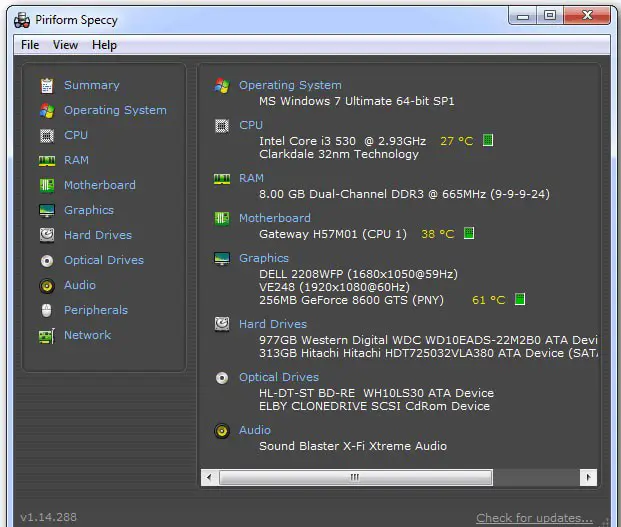 Speccy from Piriform is undoubtedly one of the best NZXT Cam alternatives especially known for its simple and accurate results. If you are a heavy PC user, especially a gamer or a photoshopper, I suggest you have cool software like Speccy.  
Thanks to a very handy but quick summary of your PC's performance, you will get a basic overview of the important things that must be addressed without disturbing your work.
You can take care of your PC's health and make the right decisions at the right time. Speccy saves your system from any potential damage by monitoring the temperature constantly.  
You can save the reports on your system to keep track in the future and even share them with your friends or a tech expert. Both free and paid versions of the software are available.
And, you have the option of choosing either according to your requirement. If you are a casual user, the free version will do. But I recommend you go with the paid version for an enhanced experience.   
Features of

Speccy:-
Very simple, lightweight but fast, and advanced system information tool

 

Quick and detailed information on all the aspects of hardware in your computer

 

Allows you to check real-time temperatures of various critical components

 

Enables you to save the detailed results for easy sharing

 

A very handy tool for maintaining your PC's health

 
4. GPU-Z 

– Lightweight nzxt cam alternatives
If you are looking for a lightweight tool for monitoring vital information on your computer, you should explore GPU-Z once.
The software monitors a computer's graphic processors and video cards. GPU-Z is undoubtedly the perfect NZXT Cam alternative if you are a seasoned gamer.
In addition to graphic processors and video cards, the software allows you to analyze the memory size, type, driver version, technology, bus interface, and transistors. And guess what? You can also check out the details of your computer's sensors!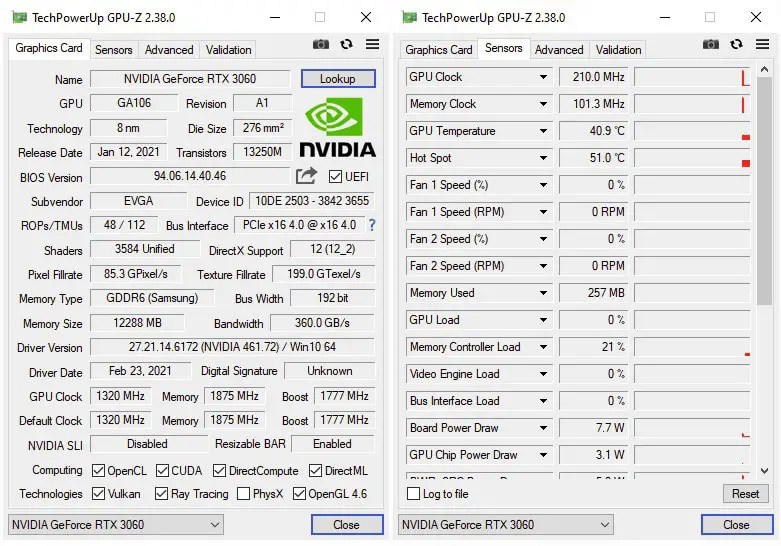 And here is the best thing I have liked about GPU-Z – the program is more than compatible with all Intel graphics, AMD, ATI, and even NVIDIA!
And if you are looking to back up the BIOS of your computer's graphics card, you can do that with this program too! You will surely like the software even if you are lazy like me.
Because you don't have to install it for use, download it and run it. However, you also get an option of an installation feature. 
And if you are a fan of NZXT Cam due to ease of access, you will surely like GPU-Z. And the option of customization makes things even more interesting.
Since you don't have to install it for use, you don't even have to worry about the bit version. The application works perfectly well with 32-bit as well as 64-bit Windows PCs.  
Features of

GPU-Z:-

 
Supports devices with Intel graphics AMD, ATI as well as NVIDIA

 

It helps you with information about the adapter, GPU, and display

 

You can also check for overclock, 3D clocks, and default clocks

 

It also verifies the PCI Express Lane configuration with a GPU load test

 

Simple validation of all results
5. MSI Afterburner

– Nzxt cam alternative for fan control
MSI Afterburner is one of the most preferred NZXT Cam alternatives for monitoring your CPU and overclocking the GPU. Just like NZXT Cam, MSI afterburner is also a free tool.
And it enables you to keep real-time track of your computer's graphic card capacity and helps you to boost the gaming capacity of your PC significantly.
And the most important thing is – that it is compatible with all the known graphic cards, even those offered by MSI. The tool also empowers you to check the actual capacity status of the video card installed in your system.  
Thanks to a thorough and quick scan, the tool shows you the temperature and GPU core clocks on your computer screen with an in-game overlay tray icon.
So, you don't have to close your favorite game repeatedly to check out your computer's real-time status. Downloading the software is as simple as it gets. No mess, no hassle – nothing like that – you can download it with simple clicks and install it through an excel file.  
However, there is a limitation with MSI afterburner – you may not be able to run the software with an older computer, particularly if it's powered by old fashioned GPU.
Models over 10 years old may be incompatible with the software – potentially the only downfall.
If you have a system with the latest version of Windows, you can think about installing MSI afterburner and have complete control of your computer.   
Features of

MSI afterburner:-

 
Overvolts as well as overclocks a computer's GPU

 

It enables you to monitor systems performance even while playing your favorite game.

 

Offers you the option of taking screenshots as well as screencasts

 

Create your profiles and control hardware settings

 

Automatically logs CPU and GPU usage history

 
6. FPS Monitor

– nzxt cam alternative for lighting
Frames per second monitor is another powerful tool that accurately monitors your computer over overall performance end displays the actual information on your computer screen.
Also known as an fps monitor, the software accurately displays all the information as an overlay, even if you are in a gaming environment.
Thanks to this feature, you don't have to worry about minimizing your game while monitoring your computer's performance. 
The software effectively tracts the overall performance of CPU, GPU, HDD, RAM, and other important hardware especially involved in gaming. And here is a bonus too!
The software keeps track of your network connection if you want to play games online. The overlay window doesn't take up much space on your computer screen, and you can drag it anywhere to ensure a smooth and undisturbed gaming experience. 
Thanks to the option of customization, you can easily change various rendering options, including colors, font style, font size, etc. And what more? You also get the option of disabling the monitoring for the sensors of your choice.
If you want to share the system's performance data with anyone, you can do that without much fuss through the software itself. If you are a professional gamer, the FPS monitor offers you a lot of exciting things – even more than the NZXT Cam. So, it is worth giving it a try. 
Features of

FPS monitor:-

 
Accurately monitors your PC's real-time performance even within a gaming environment.

 

A wide range of customization options

 

Allows you to export the details in various readable formats 

 

Instant notifications about critical performance 

 

A wide range of additional features available with the paid version
7. Open Hardware Monitor

 
Open Hardware Monitor is next on my list of the best NZXT Cam alternatives. The software was developed in 2010 and performed excellently as a PC performance monitor.
Yes, the software is not completely focused on gaming but it is more than ideal for monitoring the system's temperature and hardware performance.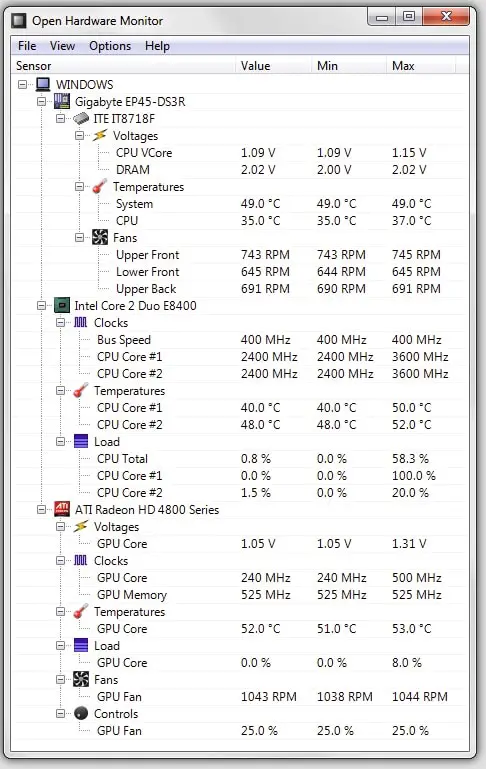 The tool is more than effective at reading the temperature sensors of AMD and Intel processors but also very good at keeping track of the CPU's temperature. And like NZXT Cam, this software also displays the temperature of ATI; SMART, hard drives, and video cards.  
And what more? The Open Hardware Monitor tracks the clock, load, fan speeds, and voltages. But you only have the option of monitoring these data.
You can't customize them like you can with NZXT Cam. However, the software enables you to get important data related to performance in multiple ways.
Whether you want to see the data within the open hardware interface in windows or check it out in the system tray, or you want two set it up as a tiny desktop gadget – you can do it all with the software. 
The Open Hardware Monitor works like a directory when discussing the interface. It's not optimized perfectly like NZXT Cam, but it is much easier.
Most applications on your system can't only read but utilize the information the software provides. And the best part is that the software sends information directly to Windows Management Instrumentation (WMI).
Here is the last but not the least important feature! You can use the software right after downloading it and don't even have to install it!  
Features of

Open Hardware Monitor:-

 
Compatible with both Windows and Linux computers

 

Very simple and clean user interface

 

It allows you to monitor the system performance even from a gaming environment

 

It also reads important information related to clock and load speeds, voltages, and fan speeds

 

Sends information directly to Windows Management Instrumentation (WMI)

 
8. iStat Menus

– Nzxt cam alternatives For mac
If you are an Apple user looking for reliable PC monitoring software, your search hopefully ends here. Because unlike most of the NZXT Cam alternatives, iStat Menus supports Mac PCs. 
The software was smartly developed by Django PTV Limited and worked perfectly with operating systems Mac OS 10 and more.
The software lets you quickly get detailed information about your PC's memory, GPU, CPU, network sensors, disk usage, battery, date and time, power, and more. 
The software collects information in real time, and you have the option of having a glance at your menu bar. 
Unlike NZXT Cam, you get an animated user interface with iStat Menus. You can easily open the full interface by clicking the menu bar, where the software features different icons. The customization option is a lot better than NZXT Cam.
You can change the color and style of the user interface right from the menu bar icons, the menu dropdown, and graphs. You get both light and dark modes with iStat Menus. 
You can easily take care of your computer while performing heavy tasks. The software instantly sends you notifications about any significant change in the system. 
iStat menus are the winner even in terms of accessibility. The software supports and can easily be translated into as many as 36 different languages – it also has a wide range of users worldwide.
The software supports all the major languages, including English, French, Chinese, Spanish, Russian, Greek, Portuguese, etc.  All in all a very decent PC monitoring system for Mac PCs.  
Features of

iStat Menus:-

 
Dropdowns refined menu bar items and other aspects perfect for Mac OS 11 

 

a wide range of theme and color options

 

allows you to open and close menu dropdowns with hotkeys

 

condensed text and dual-line menu bar clocks

 

the weather forecast, including the hourly forecast of current temperature and weekly overview

 
9. OCAT 

 
Open capture analysis tool or OCAT is one of the best NZXT Cam alternatives, especially for gamers. Like NZXT Cam, the open-source software comes with in-game overlay support thanks to the MIT license OCAT is free to use.
However, you won't get a very simple and user-friendly interface like NZXT Cam, but it does a wonderful job in spotting the problem.
The in-game overlay of the software displays crucial systems information in multiple positions on the screen and even allows you to change the position according to your preferences. 
Blacklisting is one of the best features of OCAT that enables you to blacklist the processes you don't want to track or remove from the radar of the software. The software will ignore those processes and won't even feature in the in-game overlay.
And the best part is you get two different blacklists with OCAT, i.e., a default blacklist and a user blacklist. The software automatically lists processes to a default blacklist and allows you to create your editable user blacklist. 
The software perfectly supports windows computers and works on major windows APIs, including direct three diversions 11 and 12 and even Vulkan. And if you have any other OS except Windows, you can't use OC 80 on your system.  
Features of

OCAT:-
An excellent PC monitoring software for gamers

 

Supports in-game overlay

 

Very simple and clean user interface

 

Allows you to change the position on your computer screen

 

It gives you the option of blacklisting certain processes

 

nzxt cam themes
nzxt cam alternative kraken
✅FAQ
Can you run NZXT Kraken without Cam? 
For the Infinity Mirror to be controllable, the Kraken 120 needs an NZXT RGB Controller or 3rd Party RGB header. If a third-party RGB header is utilized, NZXT CAM is unnecessary for the Kraken 120. 
Has NZXT Cam improved? 
Version 3.50 of NZXT's well-known CAM monitoring software is now available. The new version has a new user interface that is less resource-intensive than its predecessor and feels more contemporary and user-friendly.
Although it was closer to 2% and 170 MB in our testing, NZXT claims that the new version won't consume more than 1% of your CPU and 120 MB of RAM in most circumstances. 
The CAM software contains a system summary section, an in-game overlay, GPU overclocking, and simple control of NZXT peripherals, including liquid cooling, fans, and lighting, in addition to monitoring temperature, clocks, fan speeds, and load. 
Is NZXT Cam free? 
Yes, NZXT developed the free utility NZXT Cam for usage with PC-based devices.
It is a PC monitoring program that enables users to maintain tabs on the performance and temperature of installed equipment on their systems, including the CPU, graphics card, and others. 
How hot is too hot for the CPU? 
Your CPU will begin at risk of harm once it reaches and beyond 100 degrees Celsius, and it will begin thermal throttling to lower its temperature.
Your CPU or whatever else you're pushing it with will crash shortly after if this isn't enough. 
Are 50 degrees Celsius hot for a CPU? 
Laptops often idle at 50 C. You have nothing to be concerned about as long as you maintain the vents clean of debris because temperatures while gaming frequently gets above 70 C. 
What GPU temp is normal? 
Under typical circumstances, the ideal GPU gaming temperature ranges from 65 to 85°C (149 to 185°F).
However, it is significant to remember that GPU temperatures vary depending on the brand and model of the GPU. 
Are 90 degrees Celsius hot for a CPU while gaming? 
A healthy temperature range for gaming is between 70 and 80 degrees Celsius (158 to 175 degrees Fahrenheit).
Although the CPU works hard, there is no cause for concern regarding long-term problems. When the temperature exceeds 80 degrees Celsius, that changes. 
Conclusion 
NZXT Cam is undoubtedly one of the best PC monitoring software, especially for avid gamers. But as I usually say, why would you be limited to only one option if you can explore some better alternatives?
Hopefully, you have liked my work and are now equipped with as many as 9 NZXT Cam alternatives. All of them are unique, depending on what you are looking for. Try a few of them and find out which fits you best.
And if you have found any other software handy as a PC monitor and not listed here, you can name it in the comments section.