Do you have the curiosity to know about the Best Offline Cooking Games To Satisfy Your Hunger? 🤔
We got you covered in this list. 😎
Without any further delay, let's explore this Offline Cooking Games list. 🔎🔎
Well, if you've always wanted to live the fast-paced restaurant life of collecting orders, serving them, pleasing customers, and relishing how fabulous your cooking skills are, you can achieve that dream now.
Cooking games available online, on iOS or Android, aren't for kids anymore; plenty of adults are using this app to become better cooks and chefs from the comfort of their homes.
So whether you like baking cakes, assembling a burger, serving street-style foods, or the more refined environment of fine dining, there is a game to exercise your brain, improve your motor neurons, boost your ability to relate with customers, and of course,,, the rewards that come at the end the day.
We hope you are hungry because we have the best offline cooking games to satisfy your hunger.
Best Offline Cooking Games – Our Top Pick👌
1. Cooking Diary
If you are looking for a game that would enable you to build a career and gain the approval of the cooking world, the cooking diary is the most suitable cooking game to take you on a lifetime culinary journey.
As the top-grossing game and winner of the International mobile gaming award 2019 People's Choice award, this cooking stimulating cooking game has a 4.7-star rating on Google Play Store and is suitable for people 12 years.
And above and with over 5 million downloads since its release in 2018, this game is built around a fascinating story that most people can relate to.
Cooking Diary: Welcome to Tasty Hills!
This cooking game tests your skills on different levels, including interior décor, creating masterpieces, participating in a competition, getting rave reviews from food critics, and creating a name for yourself in the cooking world.
Features:-
Invite friends to partake in this exhilarating cooking experience with you

Built, decorated, improved, and made your restaurant the best to get customers to come back 

Look fashionable and ready to tackle the challenge of each day in the most alluring outfits and styles with over 300 articles of accessories

Get free updates regularly

offline cooking games free download
Follow the fascinating relationship between the chefs and see if food strengthens their love wax. Don't be the customer, be the chef, and enjoy the excellent culinary experience.
2. Cooking Madness Offline Cooking Games
This rollercoaster ride into the culinary world is getting into the crazy world of running and satisfying customers.
Available on multiple devices, this cooking game has over 50 million downloads on Google Play Store, with over a million great reviews attesting to the game's exciting journey.
Open, cook, and serve delicious meals that will make you a master cook if you can keep up with the market and your customers. This fast pace will have you dashing into different restaurants to restore them as you improve your cooking expertise.
Features:-
Learn how to manage your cooking skills and the restaurant

Learn to make dishes that you have never seen or heard as you improve your cooking skill at different levels

Take the rush hour challenge that will build your skills and give you a special experience reward

Travel and cook in restaurants around the world

Get huge rewards from serving a customer's combo and showing off your cooking skills and kitchen abilities.

Become a fan of the famous mad chef to upgrade your kitchen

Tackle special cooking missions and earn money
The cooking madness cooking game allows you to pursue your cooking dreams and manage restaurants in exotic places worldwide.
Note:-
I have written a post for people looking for the
Best Wishlist Apps
, do read it If you are interested.
3. Cooking Party: Restaurant Craze Chef Fever Games
Do you have the managerial skills and cooking know-how to start your restaurants? Are you ready for the cooking challenge that will knock your sock off?
Now, you can enjoy these highly addictive cooking games packed with lots of tasks that will test your cooking prowess in the kitchen.
Cooking Party Game Trailer
Features:-
Over 42 restaurants

More than 1000 recipes to make for hungry customers

1600+ cooking levels – you will be playing this game for a very long time

40 difficulty levels

Manage multiple customers and serve more than one type of food

Target requirements for every level before moving on to the next stage

old cooking games
Pros:-
Fun and free with lots of gifts

A fabulous game for kids and adults

Different stages with different recipes and occasions
Fulfill your cooking passion with this cooking madness that will keep you busy as you serve delicious dishes to your clients.
At the time of our research on "cooking games online," we found a video about "15 Cooking Tricks Chefs Reveal Only at Culinary Schools," which is worth watching. 🏆
15 Cooking Tricks Chefs Reveal Only at Culinary Schools
4. Ice Cream Now-Cooking Game
If you'd rather run a sweet confectionery or is on the hunt for a cooking game that your kids will enjoy, this ice cream-making game is right up your alley.
The app allows you to design and create virtual ice cream for your sweet tooth customers, available only on android; this cooking game is a good way for kids to get the hang of managing and developing customer relation skills that can be applied to the outside world.
Features:-
A simple and intuitive user interface that excites and keeps your kid engrossed

Fast, free and is played offline, saving you huge in internet bills and data.

Decorate the ice cream in different colors that represent the flavors in real-time

Personalize your creation by adding designs to please your customers
Pros:-
Entertaining and stimulating app for kids

Mix flavors that you can buy in a real ice cream shop

It is easy to play with and helps kids develop their motor and cognitive skills
So get your kids busy and entertained with a simple cooking game that will develop their skills and keep them away from danger.
5. Cooking Fest: Restaurant Cooking Games for Girls
Another excellent offline cooking game for girls three years and older with different levels tests how you cook, serve, and please your customers to ensure your restaurant runs smoothly.
Cooking Fest Trailer : Cooking Games
Available on Google Play Store, join the over one million people enjoying the app and cooking the recipes of their choice.
Cooking Fest is a culinary journey that sees users journeying through different food backgrounds, including sushi, pizza, ice creams, chicken, cakes, and many more.
Features:-
Enjoy cooking up recipes to the request of your customers around the world

Decorate and serve food fast and clean to get more likes and stars from your customers

Play games within the set time limits to get more rewards

An excellent way to keep the passion for building a real restaurant in real-time

Let how to perform essential kitchen skills like chopping, cutting, baking, and cooking

Increase levels of difficulty, test your resilience skills 

Unlock over 20 restaurants in unique places around the world
Pros:-
Excellent beginners game for kids introduced into the world of cooking

Enjoy different scenes – fast food, seafood, Chinese food, pizza, barbeque, India, USA, and many more

Shop for your ingredients

Cook, decorate, and serve food to please your clients

A fun game for boys and girls or adults
Take a culinary adventure into the food world with this offline cooking game and gain the status of the most acclaimed winning chef.
6. Cooking Fever
If you are conversant with the offline cooking game, you must have played cooking fever at some point. This game is excellent and will have you shaking in your booths to deliver optimum satisfaction to customers queuing to taste your burger and dessert.
Available on Android, this cooking game has a 4.4-star rating. Over 100 million downloads from the Google Play Store will have you traveling to exotic and delicious cities, cooking, and pleasing customers.
Features:-
It contains 27 unique locations that serve everything from dessert, fast food, seafood, and oriental.

Practice and learn new culinary skills at different locations

Upgrade your kitchen appliance and fasten your cooking time

Ability to make your freebies to improve your

Share your progress and adventures with your friends on Facebook

It contains 1300 dishes using over 300 ingredients with 1,400 levels and hundreds of kitchen upgrades to keep you coming back for more
Pros:-
Complete free but contains ads and in-app purchases

A great cooking game for kids three years and above or adults who love to cook

Simple, colorful, and exciting game for all
Although an offline cooking game, you are cooking Fever needs access to the internet to access hidden treasures that will intrigue you and have you coming back for more, just like your customers.
7. Cafe Tycoon
Start the restaurant business from scratch, and get the reward of being a Café Tycoon by cooking, serving, and ensuring your customer is happy.
Available for Android users, this offline cooking game with over 1 million downloads rewards you for expertly managing your space until it becomes prominent and renowned.
Café tycoon is a well-designed colorful game built to test the user's ability to manage time, resources, and skills, including managing other chefs as you progress, cooking meals and hot coffee, and decorating as you start your journey.
Furthermore, this cooking game will have you scrambling to decorate your food court and serve food to gain stars and earnings to make it better.
Features:-
Enjoying cooking, baking, and making desserts for customers

Be in charge of your restaurant and work hard to promote your restaurant

Cook and hire renowned chefs to make food that will satisfy your customers

Open café anywhere in the world serving unique cuisines and drinks

Get an appliance upgrade to make your day at the restaurant efficient
Pros:-
Hire chefs, waiters, and waitresses to showcase your managerial skills

Fast cooking pace game that gets your blood flowing and you excited

Be the star or Tycoon of your cooking empire

It comes with ads and in-app purchases
Build, decorate, cook, hire, and win challenges in this extraordinary cooking game suitable for anyone that loves cooking games.
8. Cooking Express 2
Another excellent game by GameiCreate will allow you to live your dream of owning and running a food truck in virtual life. This free offline cooking game contains free Christmas cooking with over 25 kitchen scenes to keep you on your feet or your couch all day.
Cooking Express New Trailer
Available on Google Play Store, this 4.1-star app has over 100.000 downloads and users serving tasty meals in your restaurant, preparing everything from Pizza, egg dishes, and Chinese, and in world-class environments for customers
Features:-
1000 plus dishes and cuisine

25 unique locations

Win more than 1, 400 levels to become a food truck owner
Pros:-
An excellent game that boosts cognitive and motor skills

Dash through multiple customers and earn stars or gifts

Improve your memorization skills

Work with time and gain rewards

Fun kitchen upgrades

Learn to manage your kitchen efficiently
Get this free kitchen cooking app and build your culinary skills in one big adventure as you aim to become a chef.
You may like to read our guide on the 9 Best
Cooking Anime
Shows Of All Time.
9. Cooking Mama
Put the skills mama taught you into the offline cooking games available to users on Android and iOS with fun mini-games in attractive colors to keep you glued to your device, but that is not the only feature this cooking game is serving up.
Whether popping into different restaurants or expanding a previous restaurant to make your customers more comfortable, you will enjoy this beautiful development by Office Create Corp.
COOKING MAMA Let's Cook! 【ver 1 48 0】 en-US
The game has gained outstanding reviews since it was released on the Nintendo DS, and with its introduction to the smartphone world, it has gained a safe spot with people who love the game and now have access to their favorite game in the comfort of their hands.
Features:-
Enjoy over 30 mini-games to improve your cooking skills

Although some players find the game too mechanical, this cooking game is excellent and will keep you busy trying to satisfy customers and win more awards.

Chop, bake, stew, and grill scrumptious meals for your clients

Build your restaurant and serve everyone at your restaurant

Plant, grow, and harvest foods and ingredients that will be used in the restaurant
Pros:-
Super responsive touch features enable you to serve customers very fast

Unique cooking games that improve your cooking skill in real-time

Enjoy other side games like Help out or a shop keeper to exercise your brain

Enjoy weekly ranking by winning challenges

It supports over ten languages
Cooking Mama is a fabulous game for kids and adults; download now, and enjoy a new revolution in an offline cooking game for you.
10. Good Pizza Great Pizza
Cook to order in this awesome offline cooking game that serves delicious handmade pizzas to customers according to their likes. If you have always wanted to own a pizzeria, this is your opportunity to see if you can run one in real life by managing this cooking game and climbing up the ladder of success.
Good Pizza Great Pizza is a cooking game available for Android and iOS users that enables you to gather money and rewards by fulfilling customers; the money is then used to upgrade your pizzeria and knock out your competition.
Good Pizza Great Pizza - Chapter 2 Trailer!
Features:-
Serve over 100 customers with unique creations according to customer personality with amazing toppings.

Get a variety of pizza toppings and create an incredible mix

Enjoy new characters and stories as you progress

Customize your shop to suit your customer

The equipment upgrades are great

Knead and perfect your pizza-making skills as you build your chain of pizzeria
Pros:-
Simple, colorful, and addictive cooking game

Well-thought-out graphics, bright and beautiful

The sound effect is marvelous
With 10 million downloads on Google Play Store, Good Pizza Great Pizza is a warm game for three years old and above.
11. Cooking Joy 2
Love cooking? Be a chef now with this supper addictive game available to Android users, and with 5 million downloads, you will work your way to the top tackling new cooking challenges daily. 
What makes this game unique is you will be on a cruise showcasing your cooking skills to plenty of customers within a set time.
Features:-
Cook and serve hungry customers in restaurants all over the world

Manage locations all over the world while dashing like a manager

Keep up with the rush hour and earn stars and cash
Pros:-
Fun and interesting levels

An exciting stage that keeps pushing you to play more

Finish old restaurant in record time to open new levels

Serve holiday dishes

It contains ads, and the in-app purchase will allow you to get an upgrade and more
Be the chef you have always dreamed of with this offline cooking game in the comfort of your mobile device.
12. Cooking it
Can you cook and decorate? This is the game for you. This fascinating cooking game will have you dishing out mouthwatering meals in over 200 levels to improve your management and cooking skill all wrapped in one.
Cook It! The MOST ANTICIPATED new cooking game of 2019!
Designed for Android users, the app has over a million downloads with a 4.5-star rating for a free colorful simulator that is a rave in the cooking game world now.
Whether making pizzas or serving fast food, this cooking game will see you traveling across different cities, upgrading cooking tools, and decorating your space to get more hearts from satisfied customers.
The game developers intend to add a pizzeria in 2022, making it more interesting and addictive.
Features:-
Travel the world serving your meals from Japan to Mexico to India or a burger in a barn

Decorate your restaurant and earn more rewards

Play offline or online; it doesn't matter 

Serve different characters

Over 1000 challenges to tackle

Upgrade the tools and cook faster
Pros:-
Simple to play games

A great piece for kids

Stay on your feet as you cook and decorate your way around the world to be a top chef.
13. Delicious World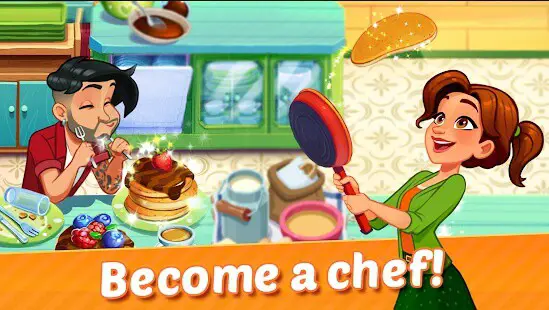 If food and love are two agendas in your life, join Emily on a creative adventure just like her mom, pursuing love while building her career as a chef in renowned restaurants worldwide.
With over a million downloads, young Emily with take you through the ups and downs of the culinary world, her fight for the love of life, and the hiccups experience along the line.
Every chapter of this beautiful offline cooking game is relatable and inspires buddy chefs looking to create a name for themselves in the real cooking world.
Delicious World - Trailer (2019)
Features:-
An elegant picturesque scene with a beautiful story from Emily and her friends

Very beautiful cooking environment for cooking

Create delicious food for the customer's order

Earn bonuses and tips when you deliver a combo

Manage your kitchen and the resource while ensuring you serve the customers, beat the clock, and meet the sales targets

Decorate your restaurants to gain more tips and keep customers patient
Pros:-
Get constant updates and follow Emily as she journey around the world

Make your recipes and surprise your clients

Excellent upgrades

Trying to meet the goals and targets for the game makes it especially interesting.

Win mitten to increase your chef ranking
Find love and cook good food as you follow Emily through the storms of her life. If you like what you are reading, Download Delicious World now and help Emily find her love and achieve her culinary dream.
📚FAQ
Is Cooking Fever an offline game?
You will need internet access to play Cooking Fever. The game requires minor data for daily rewards, restoring lost games, challenges, tournaments, etc.
Is Cooking City an offline game?
Once you finish the initial installation, no internet is required to play the game. You can play this offline cooking game for free anytime. 
Is cooking battle offline?
Cooking battle offers several gaming modes. You can compete against several online players and also play in the offline mode without an internet connection.
Is My Cafe restaurant game offline?
Yes, the My Cafe restaurant game can also be played offline. One can unleash their entrepreneurial spirits and apply their business strategies via this fun and relaxing cafe game.
How much MB is cooking fever?
Cooking fever is 211.31 MB.
What game is similar to cooking fever?
Airplane Chefs, Cooking Crush, Cooking City, Cooking Craze, Kitchen Craze, Cooking Madness, etc., are similar to Cooking Fever.
How do you earn coins in the Cooking City?
One can get coins in the Cooking City by upgrading ingredients and getting quality dishes and combos. The key to making more dishes is upgrading the appliances to produce more food.
Is Cooking Battle deleted?
All servers of the game are closed from June 10, 2022.
Conclusion
Cooking games are an excellent way to grow your passion for cooking and hopefully give you an insight into the crazy world of running a restaurant, keeping customers happy, serving delicious recipes, and making money to improve the business.
If you have skills, download any offline cooking games listed above and start cooking.
It doesn't matter what section of cooking interests you – baking, grilling, or ice cream, there is a cooking game that doesn't need the internet to keep you or your loved ones smiling all day long.