There is no better way to say this, but we all have forgotten to take important notes or forgotten tons of things by the end of the day.
It is not always easy to write everything down on a sticky note or set up a reminder for everything on your device. You may need a tool or software that can manage everything.
OneNote is an exceptional tool to serve all your purpose, and it is free as well. But it is primarily for Windows users only and limited functionality with Linux, macOS, Android, or iOS. So, we have made a list of some of the best OneNote alternatives you can use if this does not satisfy your needs.
Using any digital notebook can pose a huge advantage not only for professionals but also for any individual. It can be used for taking notes at home while shopping for groceries, making a to-do list, having ease of use, lesser paperwork involved, and a lot of other long-term benefits.
The most significant advantage of using such notebooks is that you can easily share them with your friends or family and collaborate for greater benefits.
Let us have a look at the top OneNote Alternative:
Best OneNote Alternative – Our Top Picks👌
1. Evernote – Top

OneNote Alternative in Note Taking
Evernote is the most popular and best OneNote alternative note-taking tool. This application is available on every platform and is highly compatible with every operating system.
Moreover, Evernote is easy to use, and the user interface has been made user-friendly and highly intuitive. If you are wondering why anyone would need an application for taking notes, Evernote is more than just note-taking.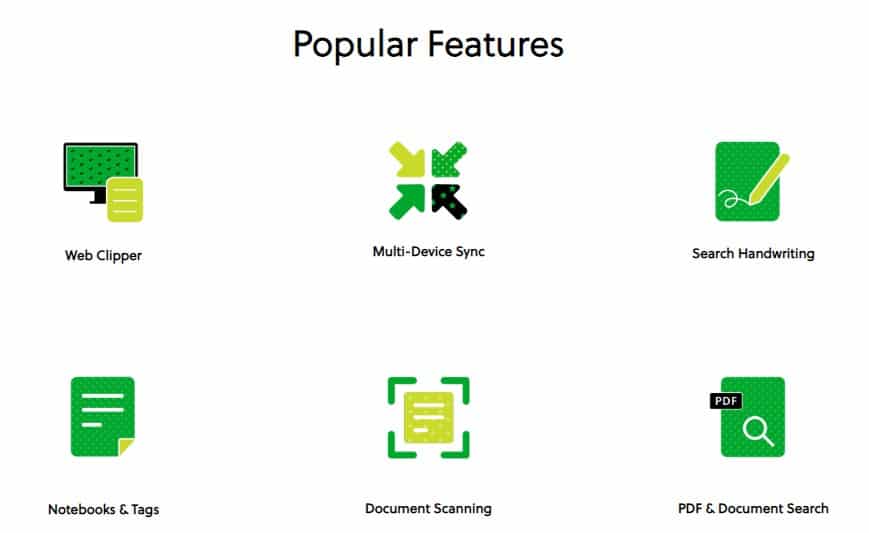 It is used to organize, manage, arrange, visualize, and create better ideas by collecting every piece of information you may have. This cross-platform is excellent for personal use and for everyone looking to organize work in their business.
One of the most noticeable features of Evernote is that you can easily share the notebooks with your family, friends, colleagues, etc. 
This will further allow better collaboration and smooth functioning of any such operations. Evernote is free of cost but only for a limited space.
You may have to get access to the premium version for your business or even some advanced features that can be put to great use.
Some other noticeable features are web-clipper, audio notes, text input, images, password-protected notes, etc.
Pros:-
Highly secure and trustworthy

Compatible with every platform

OCR functionality to convert images to searchable text

Easy integration with third-party apps

Multiple themes are available to create notes.
Cons:-
Difficult to re-order notes

Limited features on free account
2. Google Keep –

OneNote Alternative To Capture Ideas
Google has always taken a high road in every niche and is not far behind in providing an excellent note-taking tool.
Google Keep is a simple-to-use and suitable alternative to OneNote. Well, no one can deny the security of the application's content and its features for every user.
The best part of this OneNote Alternative you will love is that all the notes you may take are arranged beautifully on colored cards. You can easily identify every single word on it with clarity and an easy view.
This tool is available on your Android as well as iOS devices. You can also access web-based applications or add them as your chrome extension.
Using Google Keep, you can share your notes, notebooks and images, web clippers, etc., with whoever you want.
It is free of cost, and all the features are free entirely. Furthermore, it is integrated with Google Drive, and all your data is synced directly.
Pros:-
Unlimited and seamless sync across every Google-connected platforms

Saves all the files automatically

Notes are color-coded and grouped via labels

Supports drawing and writing notes by hand

Free of cost
Cons:-
No text formatting is available

Label limit up to 50 only
3. SimpleNote
SimpleNote, as the name speaks, is a rather simple yet sophisticated note-taking app which has been popular for its easy-to-use interface.
There aren't loads of features that make the application very light and also help you keep your entire focus on simply taking down notes.
We all agree with how complicated OneNote could be at times, with tons of features involved. And if you have been looking for a rather simple approach, SimpleNote does the job perfectly.
Like Google Keep, this tool is free of cost and has no hidden charges. It is also highly compatible with iOS, Android, Mac, Windows, Linux, and web-based applications.
All your notes are arranged according to the dates to keep everything organized and managed effectively. Also, it is advisable not to exceed the word limit of each note above 1000 since it will be easier to sync the content smoothly on the cloud.
Furthermore, Evernote allows you to share your notebook with friends or other people easily. You can also use email or social media platforms to share the notes.
Pros:-
Available offline and work efficiently

Web Interface supports Markdown format

Open-source application

Easily export data like text documents

Ease of use and clean interface
Cons:-
It does not support file attachments.

No reminder feature is available.
4. Notion –

OneNote Alternative To Collaborate with Team
Notion is an all-in-one workplace to write, collaborate, plan, and organize every little feature you have been looking for.
This tool is specially used by many businesses and organizations to keep their notes organized and all the employees informed by collaboration.
This tool is the best OneNote alternative and works perfectly well if you want to take notes and create docs. Notion can offer 30+ media-type options replacing your need for Google Docs and Evernote.
With the need to manage every task and project of your team, this tool helps you further with the Kanban board, calendar, and list views.
The drag-and-drop feature adds more to this tool, helping to organize your notes smoothly.
It is available on macOS, Windows, Android, and iOS for a simpler workflow and greater compatibility. One of the best aspects of this tool is that any user can easily create a dashboard and transfer all the services directly to it.
Pros:-
Content storage is flexible and organized

Excellent for Wikis

Available on multiple platforms

Attach files easily in table files

Renders Markdown syntax
Cons:-
The interface is not intuitive

Markdown table not available
You may like to read our guide on the 7 Best
OneNote Templates
To Unlock Hidden Benefits.
5. Laverna
Regarding providing the best security, Laverna is way better than OneNote by Microsoft. Many users are unsure about their notes being in the right hands and may not be satisfied with the tech giant's security measures.
Laverna is an open-source note-taking application available on GitHub. You are welcome on board to contribute to this tool and suggest necessary changes.
This tool is available on Linux, Windows, macOS, and self-hosted servers. Now, you may not be able to get your hands on the Android version, but it will soon be available on your smartphones.
It also has a Markdown editor, allowing users to write faster and create better content. Moreover, its distraction-free feature keeps you away from the editor.
Since you can sync all your data using the Dropbox or Remote Storage accounts, this tool is accessible anytime from any device.
Laverna makes it easy for people to export the docs to their friends or colleagues, and with the help, you can easily get it back through its import.
Pros:-
Provides end-to-end encryption

Real-time preview of texts

Includes Markdown editing features

Password protected vaults

Uses remote storage for better security
Cons:-
No Android app is available yet

Pictures cannot be resized
6. Zoho Notebook –

OneNote Alternative for To-do and Journal
Zoho Notebook is a part of Zoho that serves the purpose of providing you with a platform for free note-taking.
This tool is a great OneNote alternative since it is free of cost and has loads of features. Apart from all the others we have come across, Zoho Notebook is by far the best-looking tool.
There are no hidden advertisements whatsoever, and everything has been kept free of cost to benefit every user. It is also very easy to link the notebook to the cloud and sync all the data.
You can create a notebook and take necessary notes on the platform on the colorful cards. Unlike Laverna, you can create text notes, put up voice notes, add images, and a lot more.
This tool is available on all platforms, i.e., Windows, macOS, Android, iOS, and web apps. Every platform is highly compatible and doe not have any issues or lags whatsoever. The best way to use it for your grocery list or academics is through your smartphones. Easy to edit and make necessary changes.
Pros:-
Easy to use and navigate

Cloud sync

Pre-built checklist and audio notes

Unlimited devices and ad-free

Excellent UI
Cons:-
No desktop client

No note tagging
7. Bear –

OneNote Alternative For Private Markdown
For all Apple users, the Bear app can be the best thing you may have seen. It is strictly designed for the Apple OS and devices such as iPad, iPhones, and Macs.
This tool has been designed perfectly well and won many awards after its launch. 
Bear is a multi-operational platform that can take notes or create notebooks and organize and manage your work effectively.
Some additional well-known features are the focus mode and the markup options to edit the documents in the best way possible. 
Unlike other apps, it has gorgeous themes and typography to make your notes unique. Bear has taken the necessary steps to secure all the app's content.
You can effectively set a password, Face ID, or Touch ID to lock the content. Some options to export the notes include HTML, PDF, DOCX, MD, JPG, and more.
Pros:-
Encrypt individual notes and lock app

Multi-device sync with iCloud

Multiple themes available

Advanced Markup Editor

Loads of export options
Cons:-
Not entirely free

Only for apple users
8. Turtl
Turtl is a note-taking tool similar to Laverna and focuses on giving its users enough privacy.
With the help of this tool, you can create notes, bookmarks, research papers, logs, docs, etc. All the above are secured in a vault provided by the application that is password protected.
The password is highly encrypted, and the vault can only be accessed with a genuine key. To access the files easily, you can sync all the documents on your device, which can be viewed on other devices.
Furthermore, even though it is private or secure, you can easily share it with your colleagues, family, or friends. Using tags on the content has made it highly beneficial for users to get on with the content they need to access easily.
OneNote does not support the Markdown format, while Turtl and every other does support this feature. It makes the writing smooth with an excellent font style available. Moreover, Turtl is open-source, and many more changes can be made.
Pros:-
Excellent privacy and security

Available on multiple platforms

Open-source application

Great UI

Easy to use
Cons:-
No iOS app is available

Not available when offline
9. Cinta Notes – Portable onenote alternative
We have another OneNote alternative application specially designed for Windows users. Cinta Notes is a brilliant note-taking application available in both installer and portable versions.
The design has been kept very minimal and rather simple to reduce the load off the site.
Once you visit the site, you can select for yourself among the multiple options. It is free of cost but only carries the basic features in this package. If you are comfortable spending a small amount, you can go for the Pro or Lifetime Pro.
All the paid versions have everything you need in a tool other than just taking notes. Professionals or other businesses using the paid version can be more beneficial.
With the help of CintaNotes, you can easily capture any form of text from the web or any application. No special plugin function will be needed; you need to highlight the text and transfer it to CintaNotes.
Using this tool, you can easily search words, texts, tags, notes, etc., with the help of the search query index. It also backups up all the notes in your notebooks each hour, every day, or even weekly.
Pros:-
Lightweight and highly effective

Excellent note section

Tagging system for easier search

Supports Google Drive, DropBox, or SugarSync

Portable version available
Cons:-
Only for Windows users

Copy and pasting images is not possible directly
10. WorkFlowy
WorkFlowy is a much simpler and more direct approach to list-making & taking notes. You can grab the web and the mobile application on your devices for better access.
There aren't any complications regarding how to use or many features that can create chaos. You can easily create a grocery or shopping list and share it with your family or friends afterward.
This tool is available for free for every user but has limited features. You can list your groceries with a limit of only 250 entries per month.
It may seem a lot, but this may not be the best if you are a regular shopper or anything. Either you can go for the paid version, which surely has every feature and benefit you can grab.
It is a quick web app and provides distraction-free note-taking features that will help you keep up with your work hassle-free. There are options to try out the keyboard shortcuts on the web app, which will make things a lot easier for you.
Furthermore, the application has a stunning design, making it even more favorable even though it is not entirely free. All the data synced on one device can be viewed easily on all the other compatible devices.
Pros:-
Simple yet powerful UI

Easy to share lists and collaborate

Compatible on multiple platforms

Searchable and expandable

Easy to structure the lists and notes
Cons:-
Color formatting is not available

Multi-tagging not allowed
11. SynapBook
SynapBook is an exceptional knowledge management tool useful for creating notes or lists for free.
The content and all your notebook data are saved on the cloud, which can be accessed from any compatible device at any time. This tool is similar to Evernote, OneNote, Google Keep, and other applications.
It has personalized hotkeys to make your work easier while taking notes. You will find a specific toolbar with multiple features to help you edit and create your groceries list.
Unlike other tools, it supports different font styles, colors, formatting, and other text modifications. One important feature that sets it apart from others is the use of colored boxes to separate the content from each other.
SynapBook is available on Windows and Android. The company is still looking to make the app compatible with Linux and Mac, and maybe for iOS users.
Apart from data being stored on the cloud, it is also stored locally, which can help you access it much faster.
Pros:-
Structure the notes in tree form

Excellent User Interface for Memo

Supports Offline Mode

Available for free
Cons:-
Not available on iOS
12. BoostNote – Open Source onenote alternative
BoostNote is the last resort we list here among the best OneNote Alternative. It is an open-source application available on GitHub, where you can easily contribute to this tool.
Being one of the best note-taking applications, it is an excellent choice for all developers and can be downloaded on Windows, macOS, and Linux OS. You can even download it on Android and iOS devices for better access.
One of the most significant aspects of this tool is you can write or edit notes offline. All the data will be saved locally, which you can access anytime.
It is free of cost on every platform but with limited storage space. At the same time, you can go for the premium subscription by paying a small amount and getting unlimited space for storage.
BoostNote is equipped with multiple themes and color schemes that you can use to make your application even more interesting.
It can even highlight code snippets in more than 100 languages, making it even more favorable for developers who can understand code better than most.
Pros:-
Open-source applications

Supports multiple platforms

Excellent for developers

Includes tag and search feature

Supports Markdown editing
Cons:-
Uses third-party tools for syncing

Syncing is poor
📗FAQ on Onenote Alternative
Is there anything similar to OneNote? 
There are several similar apps available that have features similar to OneNote. You can try out Evernote, Google Keep, Notion, etc., which you can use to keep track of all your notes and do much more. 
Which is the best free notes app? 
The notion is the best among all that is free and easy to use. Other tools also have a free version, but the features are limited, and you will ultimately have to shift to their paid version, which not everyone can afford. Hence, you can try out Notion. 
Is OneNote worth using? 
Yes, OneNote has many features that make it worth using for every user. Among them, you will love third-party integration with multiple apps around the internet.
Moreover, real-time collaboration makes this software more flexible to use. It also has certain drawbacks, such as the small storage capacity, but overall it is good to go. 
Can I use OneNote if I'm not connected to the Internet? 
Yes, you can keep track of all your notes and data even when you are offline. You view not only them but also make edits. Once you are connected back to the internet, any changes made to it are directly saved on the cloud. 
Does OneNote have infinite storage? 
When it comes to storage, OneNote has a lot to offer. With its free version, you get 7GB of space to add as many notes as you wish. Once that space is exhausted, you can upgrade the subscription and get up to 200GB of storage. 
Can OneNote save locally? 
Yes, all your files are directly saved on the OneDrive cloud. However, you can also save them locally in your documents folder. 
Is Microsoft killing OneNote?
I'm aware that Microsoft has no plans to discontinue OneNote. OneNote for Windows 10 recently received a new update with several enhancements and new capabilities.
OneNote is a well-known note-taking and organization tool that can be downloaded for free on many different operating systems, including Windows, Mac, iOS, and Android.
Along with programs like Word, Excel, and PowerPoint, it is a component of the Microsoft Office family of productivity tools.
OneNote is unlikely to be discontinued shortly because Microsoft is committed to supporting and developing it.
Final Words
OneNote is still considered one of the best note-taking tools available on every platform. But many other options are also available, making it less favorable at times.
We have mentioned the best OneNote alternative in the list above, and still, there are many more that you have been using.
Considering the most intuitive and stable applications, such as the ones mentioned above, you can easily pick out anyone and start working on it. If you are looking for a free or premium option, everything has been listed with the best of both worlds.
It is also recommended to stick to the names as given since we have thoroughly reviewed them and made sure it is curated according to which would suit you the best.
In a good tool, you must look for a simple-to-use interface along with easily understandable features. Using the tools on your devices is a better option, especially if you are making a list of your groceries, which would be difficult to open up the system and start typing. Make the right choice.