Outlook is unquestionably a fantastic email client, however does not mean that the tool is without issues. Numerous customers have complained about a critical function called "Outlook Rules" not operating correctly.
In this article, I would take a dive into the issue of outlook rules not working, discussing the likely causes and fixes to be applied.
What are Outlook Rules?
This is a crucial starting point. In Outlook, rules are useful automatic procedures that enable users to improve productivity especially by organizing their inboxes.
You may, for example, create an action that must be executed on incoming emails, or create a rule to automatically sort emails from a specified sender and place them in a different folder for later examination.
Outlook Rules have a lot of use cases that will always simplify a user's method of managing emails by assisting in remaining updated, and organized.
Sadly there are times these rules would stop functioning as they are intended.
Common Causes for Outlook Rules Not Working
Your Outlook rules may not be functioning for a variety of reasons. Some settings, for example, prohibit Outlook from correctly executing rules.
In other circumstances, a problem might be caused by corruption in your program or account. The problems listed below are the most prevalent ones that cause Outlook rules to be broken:-
Your mailbox's rule quota was exceeded.
2. Your device's settings file for send/receive is corrupted.
3. Corruption of the IMAP or POP4 account.
4. The rules created are set up to operate on a different computer than the one you're using.
5. Rules aren't turned on.
Whatever the cause, this article will aid you in restoring your program and automatically arranging your mails. Check your inbox for corruption and resolve common issues by following the instructions below.
Important Details Before Troubleshooting Outlook Rules Not Working
It is not uncommon that people jump into huge fixes before as soon as there is a computer issue. Please DO NOT do that.
Here are a few checkpoints before you dive into the fixes that I will be recommending later on.
1. Make sure the Rules feature is turned on
Below are steps to follow:
Startup Outlook and locate Files. Next, navigate to the section for Rules and Alert.

If the checkboxes beside set rules are not marked, mark them and hit OK. Make sure you also click the Apply button to make these changes take effect.
2. Rules Don't Use a Deleted Folder or File as a Reference
When certain established mailbox folder rules are removed, the error 'Outlook Rules are not functioning' may occur. To verify them, go to the dialog box for Rules and Alerts and double-click on the rule. In cases where there are deleted files/folders, make sure to replace them.
3. Cached Exchange Mode may be disabled or enabled
Disabling and re-enabling the settings can help users rule out transient glitches that may be responsible for the "Outlook Rules" issue. Users just have to  follow these steps:
Click on "File" menu in Outlook.
Navigate to the Email tab and then Account settings > Exchange account and then select "Change Account".
Make sure the box by "Use Cached Exchange Mode" is unchecked and checked again to enable the settings.
To save your changes, click the Next button.
Under the Advanced tab, you may also select the options for More Settings to open up additional mode settings for Cached Exchange.
Best Fixes for Outlook Rules Not Working
If the simple checkpoints I mentioned earlier have not worked, here are my most recommended ways of fixing your Outlook Rules.
1. Rename the Outlook Rule
You may have created rules with very lengthy names, this is a practice to avoid and a first step may be to shorten the rule names.
Below are guidelines on how to rename rules:
Open the Outlook application and click on the File menu at the top left corner. Next, select the option for Manage Rules & Alerts.
In case there are messages indicating broken rules, click on the OK button. Here you would need to check the box beside the broken rule, this is usually indicated by a red link.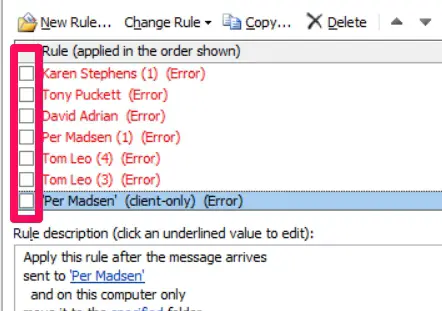 Look for the links below the rule description and click on them, modify them to something shorter and appropriate, and hit the OK button.
2. Totally Delete the Old Rules
Getting rid of what doesn't work may be a good option at times, and it is good to get rid of rules if you do not find a use for them anymore. This will both clean your rule folder and decrease the rule size.
Below are guidelines on how to rename rules:
Once again, open the Outlook application and click on the File menu at the top left corner. Next, select the option for Manage Rules & Alerts.
You should be shown a list of rules if you have any. Simply check the rule or rules you which to get rid of and hit the delete button at the top of your rule list.
After you've decluttered your Rule folder, you can proceed to establish a new one, and you should have also resolved your Outlook Rules not working issue.
3. Combine Outlook Rules That are Similar
To make the Rule folder even smaller, consider combining many rules that are similar into one. After the merging procedure, you may remove the ones that aren't needed:
Once again, open the Outlook application and click on the File menu at the top left corner. Next, select the option for Manage Rules & Alerts.
You would be presented with a new window where you would have to select the rule you would need to be edited from the Email rules tab.
Next, select the "Change Rules button", here you would be able to move to options for Edit Rule and make the required changes.
Once you are done combining your similar rules, make sure you get rid of all the rules no longer needed to keep your rule folder tidy.
4. Update Your Outlook Application
We have talked a lot about changes you make within the application, well, here is one change you may need to make to the application itself. It is not uncommon to encounter errors or bugs on out-of-date applications. This may be the fix you need.
Once again, open the Outlook application and click on the File menu at the top left corner. Next, select the Office Account option. This would be found on the left panel of the app.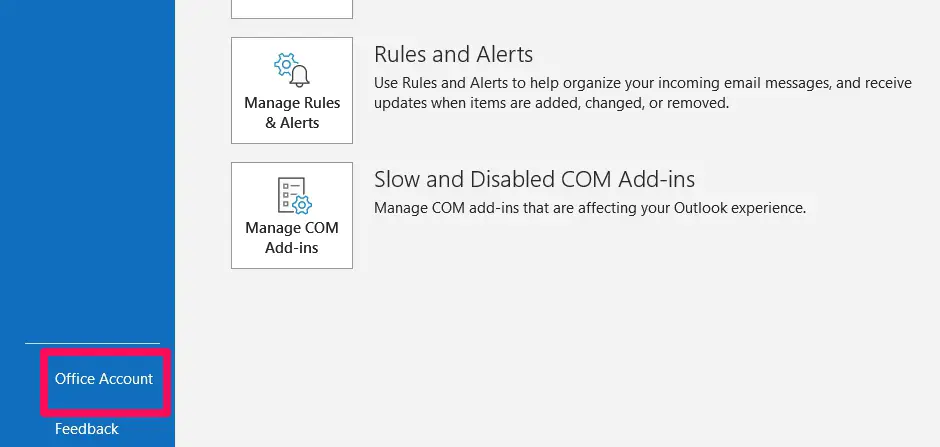 Select Update Options, and select the Update Now option from the dropdown list of options on your screen, and wait for Outlook to update to the current version.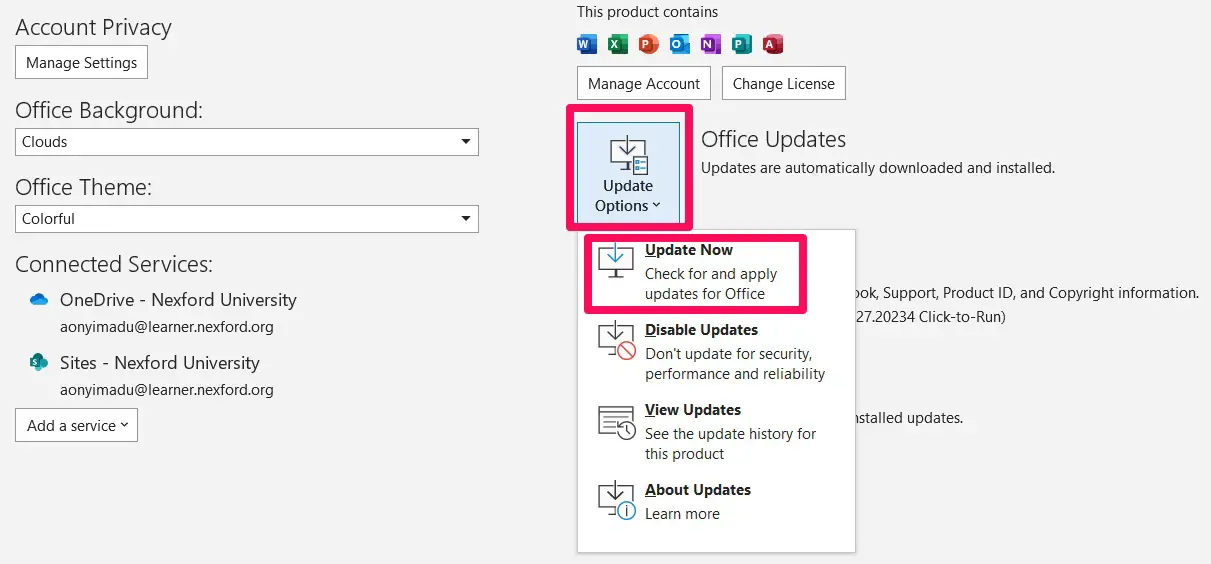 Furthermore, I encourage that customers upgrade the Windows OS as well to verify that there are no new updates that may interfere with the Outlook experience. After that, restart your computer and try to see if the outlook rules not working issue is fixed.
5. Perform a reset of the SRS File
The SRS File is located on your hard disk and contains all of the settings you've made in Outlook for emails sent and received.  To make sure there's no corruption, reset this file:
To begin, open File Explorer, and navigate to the path:  C:\users\username\AppData\Roaming\Microsoft\Outlook
Here, locate the Outlook.srs file and rename it to Outlook.srs.old. You can do this by right-clicking on it and selecting the rename option.
Following this process means when next you open your email client, Outlook will automatically generate a new SRS file.
Note that the AppData folder may be hidden. This will mean you first enable hidden folders in your control panel.
6. Employ a Third Party Outlook Repair Tool
There are a number of third-party tools that are meant for fixing issues with rules on your Outlook email client. One of such is the Stellar Outlook PST.
It works with high precision and would be my recommendation. However, there are a few others that you may want to experiment with. A quick Google search would give you more than enough options to explore.
7. Try A Different Email Client
This would be my very last option. In fact, because I have so much confidence in Outlook, I feel very hesitant to include this option.
The bottom line is that there are other options other than Microsoft Outlook, and if you have gotten to a point where you are fed up with fixing the rules on Outlook, then perhaps try a different service provider.
I may not suggest any to you, but a google search would reveal a few good options that you may decide to explore.
Outlook FAQs
How can Outlook rules be Fixed?
To begin, I propose that you reduce the size of the Outlook Rules folder. By default, it has a max quota of 256 KB. To conserve space, eliminate redundant rules, rename the rules, and merge comparable rules into a single file.
What is the maximum number of Outlook rules I can have?
In reality, the maximum number of rules is determined by the entire size of the Outlook Rules folder, you may normally have between 20 and 30 rules.
Can my rules slow down Outlook?
Yes, they can! The Outlook email program has set aside a section for rules. If users include too many rules, the email experience will be hampered, and the 'Outlook rules' may malfunction.
Try moving to a better option if you're sick of repairing Outlook Rules or other pertinent issues.
Final Thoughts on Outlook Rules Not Working Issue
In my experience, not all of the suggestions would work all the time. Your issue may be peculiar to your installation and you would have to pick which works for you. I am confident that by the time you have run through all these steps, you should have your Outlook rules working perfectly.
If there is a fix I have not mentioned, I would love to hear what that may be from you. A final option may be to totally uninstall the Outlook App and re-install. This is an extreme measure that should be used only if all other hacks have failed.