The MS Paint was called Paintbrush for Windows. If you used the Windows OS PC or laptop, then you would be familiar with the MS Paint. It is a sublime tool that helps you enhance your artwork.
The features and tools are straightforward. Pretty much any user can join in and design art. Users may not need tutorials for the MS Paint. Unfortunately, they never came up with a similar app or tool for their Mac for reasons best known to Apple.
They did bring out the MacPaint in 1984 for the Mac. Unfortunately, the sales figure did not meet their expectations. The app has never seen the light of day again. We hope someday it may be revived.
On the other hand, MS Paint was released in the market in 1985 and was able to make waves. The tool was able to make noise in the market and is one of the most exceptional tools around. The paint tool has basic features for simple to use functions.
You will be delighted to know that it comes with support for 3D objects too. Sadly, the Mac being of the prized possession, for any user, does not come with the Paint tool. This can be a hindrance for those of you who want to learn to paint or design artwork.
If you are searching for a simple, but first-rate MS Paint alternative, you are at the right place.
Why do you need paint for Mac availability?
Before we move on, let us find out how these Paint for Mac alternatives can actually aid you. The need for you to be a painter, designer, or professional artist is not there. Having a MacBook, without one of the essential tools, is indeed odd.
These things happen especially for those of you who have made the shift from your Windows to the Mac. We cannot deny the fact that Mac is an incredible device. You can do anything you want with it.
Though expensive, it can easily last you more than eight years if used well. Having said that, you wished that you had the Paint version on your Mac as well. Today, you can make that happen without any worry.
All you have to do is go through our post and choose from the choices we have given you. Our list was decided after going through several reviews, user's feedback, and the number of downloads. So, you can rest assured that the tools in the post are designed just for you.
Microsoft Paint For Mac: Best Alternative Tools
Now, sit back and relax. Please read the post below. We have made a list of some top-notch apps just for you.
1. Paintbrush
Paintbrush (Download Here) is the first app in our discussion. Why you may ask? We found this paint app identical to the MS Paint. The app that is similar to the paint version in the Windows OS is more likely to be downloaded and used by most users.
Since most of our readers were traditionally Windows OS users, this makes the transition simpler. However, Mac users do not have to worry because the app is relatively easy to use. In fact, we found it a breeze to use.
Let us delve in and find out more. Since the design is quite similar to MS Paint, you will find that you cannot create an exceptional quality artwork. The app comes free of cost and ideal for those who want to create simple designs and work of art.
A distinct feature in this paint for the Mac app is that the dimensions can be chosen as soon as you start using it. It comes with different presets that have different sizes. Besides, you can make use of the custom size that it usually comes with.
Notably, you can save the files in the common file formats like PNG, JPEG, and BMP. Did we find any flaw in it? Well, we did, and it is not to really worry about it because the toolbar has a separate floating window.
You cannot use this app in the single window method. This is quite common among most of the apps used on macOS. On the bright side, you can design several artworks effortlessly without having to use more tabs.
Do you want to use Paintbrush? When you want to use an app that works like MS Paint, has simple yet effective features, enables you to save in several formats, and is free, then you might want to download it today.
2. Mischief
Second, on our list of paint for Mac alternatives is a smashing app called Mischief (Download Here). Unlike the name, you can perform just about anything you want on your powerful device. We liked the configuration of the app because it provides intense capabilities on your artwork.
Some users noticed the common features of MS Paint, making the transition easier. Unlike most of the tools you work on the MacBook, an MS user will find the operation much different from that of the Windows OS.
So, working on Mischief should not be much of a worry if you are not used to working on the macOS. You have common features like the pen, shape tools, and the eraser.
Besides, users can modify the artwork effortlessly using the size of the brush and the smoothness it offers.
It comes in both paid and free versions. The free version does not support any layer. However, the paid version comes with more features. You can make use of the free trial for 15 days. When you have decided you want to make use of the app, you can download it.
The paid version is slightly priced on the expensive side at $25. But, when you have plenty of unique features for enhancing your artwork, then you can do using Mischief. Does it come with a drawback?
The app offers you limited features in the free version. Identical to the MS Paint, users will have no issues in the transition to the macOS. Using this sublime app, you can now design your own artwork and make it transcendent.
You can use it to create beautiful pieces of art. The user interface is very similar to MS Paint, and you can easily use it without any trouble. We highly recommend Mischief as one of the best paint alternatives for your Mac.
3. Paint X 
Third, in our discussion of the ultimate Paint for Mac apps is Paint X (Download Here). Can this be the Paint alternative that you were in search of? Let us find out.
If you have worked on Paint, then instantly, you will realize that this app, too, comes with plenty of similar functions on it.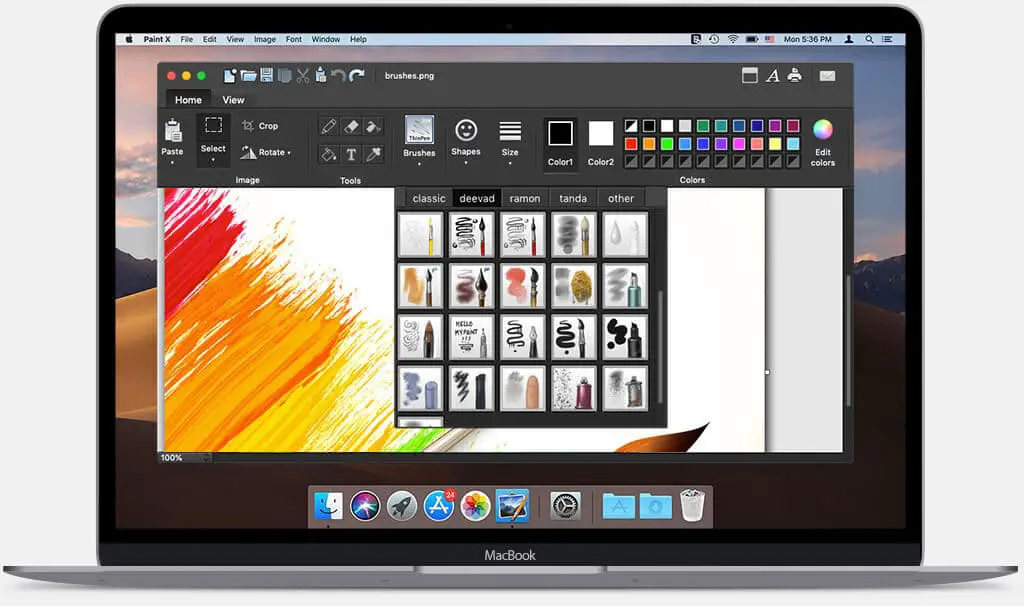 The app comes embedded with useful features like a fill bucket, color picker, and text tool. You also have a pencil to draw different artwork. All in all, it comes just the same as MS Paint. You also have the spray can.
What more can we say? At times, you feel as if you are working on MS Paint using the Mac. We loved the options for the brush that provide you with the ability to enhance your picture. There are plenty of shapes and colors that you can make use of in the tool.
You have the selection tools to utilize. Users can make use of the free and paid version of the app. We were highly impressed with the free version. It worked flawlessly and enabled you to complete your artwork very effortlessly.
Does Paint X  come with any issues? We felt that the free version has "Created by Paint X" words inscribed in there. This can be a hindrance to some of you who are particular in using the app.
Of course, you can upgrade to the paid version if you are not happy to use the free mode. We do not find it any major but wanted to inform our readers about it. Some users found it nagging to have when working on the Mac.
If you are comfortable using MS Paint, then there is no reason why you should not find this app simple to use. Paint X Lite comes with an exceptional user interface, a wide range of features, extra features you will find helpful, and create beautiful art pieces.
4. Paint 2
We also found another smashing MS Paint app for your Mac called Paint 2 (Download Here). Like we promised you earlier in the post, our apps would be quite similar to Paint. This ensures that our readers can easily make the transition.
Can Paint 2 make the cut? We can read to find it out. The app has most of the functions present on Paint. Some of them include a spray can and an airbrush. You will want to know that you cannot create new layers using the tool.
When you design a new object, a new layer is added. However, you can move the layers as you want to, depending on your design. You can also make use of multiple layers for manipulation.
You will be astounded by the number of tools that are provided here. At times, you may wonder what you are going to do with all of them. This app makes it suitable for professional artists and painters.
It comes for free, but you can always make use of the paid version for better features. They give more stability to your artwork. We liked to use the color adjustment feature in the paid mode. You will love to use the magic selection feature that allows you to design better art.
If you are a learner, then the free mode should suffice, but when you want more, then the paid version should meet your needs. When you are in search of having some fun with a Paint like an app on your Mac, then this should be the best option.
Please do note that Paint 2 can be used only on the macOS, and those of you itching to implement your artistic impulse might want to make use of other tools. The features present on the free version were flawless.
We liked the layers design on Paint 2 that really gives an artistic feel to the design that you can come up with. It immensely helps you to give a new dimension to your design capabilities. Since you are working on a Mac, you can use multiple tabs.
You may like to read our guide on 9 Best
Paint.net Plugins
To Make Paint.net Even More Better.
5. Acorn Image Editor
Acorn image editor (Download Here) is a beautiful Paint for Mac app that can get the job done sublimely. The features on the app are more or less on the likes of MS Paint. Besides, it comes with some exceptional features that we will be talking about.
The editing power is the shining moment of glory for the app. We are stunned by the sheer amounts of features that it comes with for editing your artwork. This helps you to design a masterpiece using bits and pieces from your artwork.
Similar to Paint 2, you have several layers options in here too. Using that, you can create an abundance of layers on your artwork. A few of the modification options include adding blur, correction of the color, adjusting the gradients, and so on.
Initially, you may feel a bit lost with a plethora of options. But if you stay longer, you can quickly breeze your way past them. It is a paid app that can be downloaded from their site. They have provided you with a trial version for 15 days.
That is a good thing because it enables you to use the app for a while before you can actually decide whether it meets your artistic goals or not for $29.99. Besides, it also comes with a vector drawing, smudge, and rotate too.
These functions are useful for engineering as well as design students. If you plan on becoming a professional artist, then here is your guidance tool on your Mac. We found the Acorn to be one of the most flexible Paint for Mac apps.
Let us just summarize this excellent app for you. It comes with a multiple window view that is common in most apps on the Mac. The tools come in one place, and the brush strokes are flawless when compared to other apps mentioned on this list.
Photoshop users claimed that this app is more straightforward than using it. You will be amazed to know that the latest version of this app comes with some outstanding features. Sadly, you cannot integrate it with iCloud, and that will be sorely missed.
This was otherwise a magnificent app to use and design art. However, most Photoshop users do not mind it. When you are in need of a paint app that is easy to use and feature-rich, then you know what to do.
6. Pixelmator
Pixelmator (Download Here) is another phenomenal Paint for Mac app. It comes with prominent features that make it on par with some of the best paint apps you can find on the market. We found it a serious contender for the top spot.
Those of you who are keen on developing your artwork might consider the Pixelmator. The app comes with a barrage of features that are commonly found in MS Paint. A few of them are pencil, brush, sponge tool, blur, sharpen, and many more.
They can help you design a beautiful piece of art. We liked the slice tool that really had us going with the artwork. Using it, you can slice the images and give them a brilliant appearance. You can also export the images.
Doesn't that sound terrific? The paint app comes with several effects that you can consider using on your pictures. These effects can be applied to your pictures as you like to. Using layer support, the artwork can now be simplified.
So, is it worth your time and money ($29.99)? It is not necessary that you have to be a student of art or design to use Pixelmator. This Paint for Mac comes with some flawless capabilities and makes your art created out of the world.
7. GIMP
GIMP (Download Here) is a robust Paint for Mac app that comes with reliable features. The best part about this tool is that it is open source. It means that you, too, can contribute if you want to. GIMP stands for the GNU Image Manipulation Program.
It is heartening to note that today, several apps and tools that are open-sourced come with sublime features that make it irresistible. Though we have ranked GIMP low in our list of paint apps alternatives, you will want to know that it comes with exceptional functionalities.
Few users feel that it is a Photoshop alternative. The features, brushes, filters, and effects can be used on the paint tool effectively. We preferred the ability to adjust the pressure of the brush.
Besides, you can add some weight to the brush for getting smooth strokes on your piece of art. The curves and the lines can become flawless using the app. Some of the effects like the blur, color adjust, and correction make your artwork perfect.
Like a few of the apps that we read about, this one comes with layer support. You can now design animated GIFs that do not take too much time. There are options for setting your brush on the artwork.
This helps you to get the right kind of effect that you require on your paint. It is a photo manipulation tool that is suitable for performing a wide range of image manipulation tasks, including image composition, photo retouching, and image construction.
The Paint for Mac app is extensible and developed for augmenting plug-ins. Due to the advanced scripting interface, you can perform the most complicated image manipulation process seamlessly.
On the whole, GIMP is a solid app that comes with all the bells and whistles that one can look for. At the same time, when you are particular about using an app that comes with basic features for painting, then you may want to see elsewhere.
8. Seashore
Seashore (Download Here) is the last Paint for Mac app that we will be reading about on the list. This exceptional app was developed by Mark Pazolli. This image editing tool comes with sublime modification functions that are on par with Photoshop.
When you like to use Adobe Photoshop, then you will adore using this app. You can perform a wide range of functions like changing the color background, inserting texts, layers, crop photos, and many more.
Similar to GIMP, this is a free tool, and we felt that the 0.1.9 is the most stable version. However, you can try the versions available for download and decide which one you like. Typical to most of the Mac apps, in-app purchase is required.
When you want to design a new dimension of art, then you may have to shell out money. At the same time, when you require simple artwork, then the free version is sufficient.
Not all users might be keen to choose the paid mode because using the free mode, you can work sublimely.
Use these Paint for Mac apps
We do not know why the makers of the Mac did not decide to come up with a Paint app. Likewise, it is incredible to note that even the Windows manufacturer is not very keen on designing an app for the macOS.
But you have nothing to worry about with the paint for Mac alternatives provided in the post. It is heartening to see that several developers have come up with a large number of Paint for Mac apps for you to make use of.
Choosing from any of the Paint app alternatives does not have to be a complicated task because it is quite easy. The kind of functions and artwork will decide your app. Most of them are free, and even the paid ones come with tremendous features.
They can help take your artwork to new dimensions. We would love to hear your thoughts about why Apple and Microsoft are not designing a Paint for Mac app. This way, we can leave the topic to rest.
Have you used any of the above tools before? Did you like any of them? Perhaps, you were able to find some other Paint for Mac tool that deserves mention in here. If that is the case, then do let us know all about it.
If at all you have any doubts about what is written in the review, then please do communicate in the comments.