Kids are the gifts of God, but this gift needs to learn to understand what the other person is trying to say to them. For that we have something we call Phonic apps, these apps are made to provide your child with phonics instructions to help them understand the relationship between letters of the written language and sound of a particular language.
These apps will help your child learn the necessary language skills that are required to communicate.
In addition to this, it will make your kid recognize letters and alphabets with its sounds, so when they start going to school, they will have some idea of what they are being taught and will enjoy the learning. 
Today we are going to talk about some of the best Phonic apps that you kind on the app store for your kids. These apps will make things easy for you and make learning more fun and healthy.
You can't take your kids off from the smartphone screen, no matter what you do they will find their way to the smartphone, so why not give them something which can help them instead of making their eyes weak.
With Phonic apps, you can make them learn new things while they are on the phone, keeping them safe from the violent games that don't have any real benefit. 
Best Phonic Apps For Kids: Our Top Pick 👌
Given below is the list of best phonic apps that you can download anytime on your phone. We have curated this exclusive list after hours and hours of testing it, and then we came up with the list.
There might be some features you like in one app, and the other offers the same but will add another layer of features, so we would like you to download at least 2-3 of them and then choose which one suits your kid's requirement the most. 
1. Oz Phonics
Starting in our Phonic Apps list, we have Oz Phonics. This app is Apple's featured literacy app, and lots of schools and kindergartens use this app to teach their kids about the language, words, and alphabets.
The app is made in Australia and is designed while keeping the needs of kids in mind. As a result, you will find this app to be filled with colors and attractive animation.
It improves the language recognition in your child by giving them a set of exercises, which teaches them step-by-step learning. 
Furthermore, the app provides both Australian and New Zealand accent options so your child can understand the local language and be able to communicate with them.
Some of the exercises include sound matches where your kid has to find identical sounds coming from the words. This will benefit them in learning the spelling process of a given language.
The second type of exercise is the Odd one out, where a kid has to listen to all the sounds and take the one out from the group he thinks is an odd one.
A good example is the different noise vehicles make, and in this group, we add a sound of an animal. This will make you find what sound different objects make.
One of the best things about this app is, even teachers are using it to teach their students, so once you teach your kid using this app, it will be easy for them to learn and understand what is being taught in the school.
Thus, saving your kid from a feeling of getting overwhelmed from encountering so many new things in a single day. 
2. Alphabet Sounds Word Study
Giving your kids a lesson about words and alphabets is not enough; it requires you to break the words and make them understand the spelling.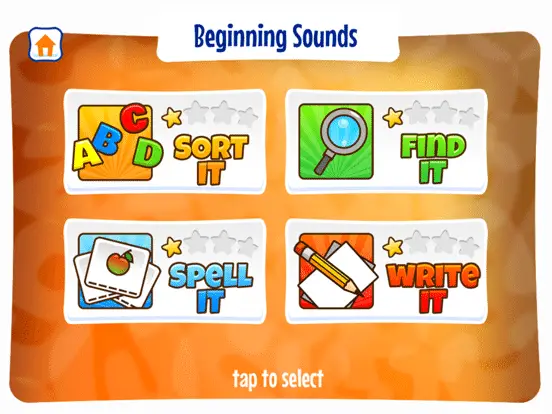 An effective way of teaching spelling does not rely on rote memorization, but it takes time and appropriate hands-on practice. Word study is an app that takes an understanding of what a student can learn and what he's going to miss and needs repeated lessons.
The app uses students' miss spelled words and finds the pattern in between to know where the kids are making a mistake.
The hands-on approach gives your child a more meaningful and creative way of learning, rather than just sitting and listening to the words that need to be spelled correctly. 
The two most important things that one needs to remember to be good in reading and writing are to know letters and what the letters and words sound like.
Beginning letters and words are easy to understand for young children, and they will be able to memorize them in no time. The app includes a fun part where kids can play games while still keeping on learning new words and testing their spelling skills. The games include sound BINGO, a word matching game, and a single-shot game. 
If some of your students are lacking behind in understanding the basic phonics, then it is time for you to use this app and give them extra practice sessions, which are both fun and engaging. Your students will love it, and you will be able to clear their doubts. Thus, making them learn new words and spellings. 
3. Reading Eggs 
There is no denying that we love Reading eggs. There are a number of teachers that are using it in school to educate their students about the words and the alphabet.
When kids are young, it is hard to keep them in one place and cling their curiosity in on one task. With the help of reading eggs, you will be able to accomplish both these things.
The in-app navigation is quite user-friendly, so it won't be hard for your kid to move from one chapter to another. 
Why Reading Eggs works for Lillie and her family...
In addition, each chapter and lesson has its exercise; thus, your kid has to do some work once he's done going through the lesson. This will increase their understanding and allow them to practice what they have learned from the previous lesson. It's a classic teaching technique, but's it is one of the most efficient ones. 
There is no age issue with this learning program. You can teach kids from ages two to thirteen. Likewise, it teaches language, but it also has a separate section for maths, which can be easily accessed using the same dashboard.
If you have a computer or a mobile, you can keep both of them in sync, meaning once your kid completes a particular topic through the mobile app. His dashboard on the website will be updated, so he doesn't have to go through it again on different devices.
The second component of the reading eggs is the most important one, cause this component works on your kid's reading skills. The first component is used to familiarize your kid with words and alphabets. 
4. Hooked On Phonics 
If all the other apps are failing you, this might be the solution, Hooked on Phonics is a beautifully designed app that has engaging fun content that makes the learning fun.
As a result, lots of students get attracted to it, and in their pursuit of completing the game, they were able to learn new words and alphabets.
There is no funny business in this app; it sticks to the point and keeps the lessons as short as possible, so the kid might not feel bored. Once the lesson is over, the fun part begins, which is exercises that come in the form of games and puzzles which your kids need to solve. 
There are different methods to teach your kids the basic language, but time after time, we go back to phonics to make the learning fun and healthy. That's the main principle of Hooked on Phonics: Keeping the students happy while still teaching them valuable lessons.
The company keeps on updating its app to provide you and your child with the best learning experience. When you are giving this to your kid, you will be amazed to see the growth from day one, and your kid will be able to pronounce new words from day one. 
While it's a great teaching app for kids, even teachers can benefit it, as it gives them new ideas to teach and make learning fun.
One of the best parts of this app is the music you get to play before the start of the next lesson. It feels like you have truly conquered something when you are moving from one chapter to the other. 
5. The Joy Of Reading 
On no 5th in our Phonic Apps list, we have the joy of reading this app made with such detail that you can see how efficiently the developer of the app has understood its usage. More importantly than that, Joy of reading uses games as the basis of learning.
In addition, the company has brought up a website that has the sole purpose of helping people with the app. If you don't want to go to the site, you can download their app manual from the app itself.
When you first open the app, you will be greeted with the animation and the graphics that will go throughout your kid's learning process.
There are two options: the simple version and the other one with more functionality is the adult version, where a parent can see the progress of their kid and change some features of the app if you don't need them. 
As we said, games are the basis of learning in Joy Of Reading, and so gameplay is one thing in which this app exceeds our expectations. The kind of challenge it brings to the table keeps students engaged and helps them learn efficiently.
The mechanics of the game works in the form of breaking up the words and finding out the pronunciation. In addition to this, the app covers all the aspects of letters, sounds, rhyming words, blending, and short to long vowels.
In the end, we can say this app has a lot of details in the given subject, and the developers have taken insights from the experts to curate one of the best learning experiences.  
At the time of our research on Best Phonic Apps For Kids, we found a video about "10 Parenting Tips to Calm Down Any Child In a Minute" which is worth watching. 🤴
10 Parenting Tips to Calm Down Any Child In a Minute
6. Read With Phonics
Sometimes there are words that might sound correct, but they are not, and when we teach our kids the same incorrect word, we are making a mistake. It doesn't matter if it's an accent issue or just a tongue twister problem.
You need to make sure that your child knows the correct words and their pronunciation. The very first thing you are going to notice is how colorful this app is, which works as an attraction to the kids.
Each level in the app has 7 games for your child, which will help him learn new sounds and words. There are multiple games, like match the picture with the sound, match the word with the picture, etc. Your child won't get bored of it quickly. 
The games are easy to understand, and in no time, your kid will be on his own and won't require your help. Each level in the app focuses on different sounds. The sound will be completing the word. This helps in blending the sound to form new words and sentences. 
The only issue is you can't change the order of the sounds, so if your child is being taught phonics in school and the order is different, he might get confused.
This Phonic Apps has helped a lot of students and parents to improve their sound when they are reading and learning something. 
Click here to download 
7. Teach Your Monster To Read 
Some kids just don't want to learn, whether it is their interest in the games or their tendency of not sitting around in one place for a long time. But Teach your monster to read is the app made for that one purpose only.
Teach Your Monster To Read App Trailer | Learn To Read And Phonics Game | Teach Your Monster
To make your kids and learn while still having fun. It will make your child excited about reading and learning new words. Teachers can use it too, for their young students and we are sure they will crave more levels, which means more lessons.
Kids have the freedom to play whichever level they want, and once they complete the level, they get a review, a kind of consolidation of how many words did they pick right, and what were the wrong ones. This way, students will know where they have made a mistake. 
The app revolves around the story of a king and a monster, which is an excellent way to keep young minds engaged. Students get quickly bored with the games and other activities which they are doing to learn phonics.
Because most of them work on the same mechanics. But this app changes it from the ground level. Instead of games teaching your kid how to pronounce new words, the story is going to make them learn in this app. 
Once your kids start playing with it, it is hard to stop them. Your kids need to design a monster of their own, now how cool is that, right? Once the monster is complete, the real adventure begins, and with adventure comes new words and sounds that your kid will learn on his way to different quests. This app is a sure download for those parents whose kid loves to play fantasy games. 
8. Endless Alphabet
By the name of the app, you can see this app doesn't have any end to it. New words keep getting added to the app, so your kid won't have to look for another app to study phonics.
Endless Alphabet for Google Play
Your kid will take out a word from the mouth of a monster, and then the animation will start showing the meaning and usage of a specific word. The app doesn't shy away from teaching kids some complex words such as gargantuan, quarrel, etc.
this is one of the unique features of Endless Alphabet, other apps might only restrict themselves to pre-school or early school words. But this app will take it to a whole new level. Thus, your child's vocabulary will increase massively. 
The app is available on all devices, from laptops with windows to iPhones with Ios, you can install this app and use it to teach your kid. 
9. Starfall ABCs 
In these apps, alphabets are no less than stars you see in movies, their grand entrance will leave you in "awe." each alphabet has its entry animation, and with each alphabet, you get a starring letter with its sound.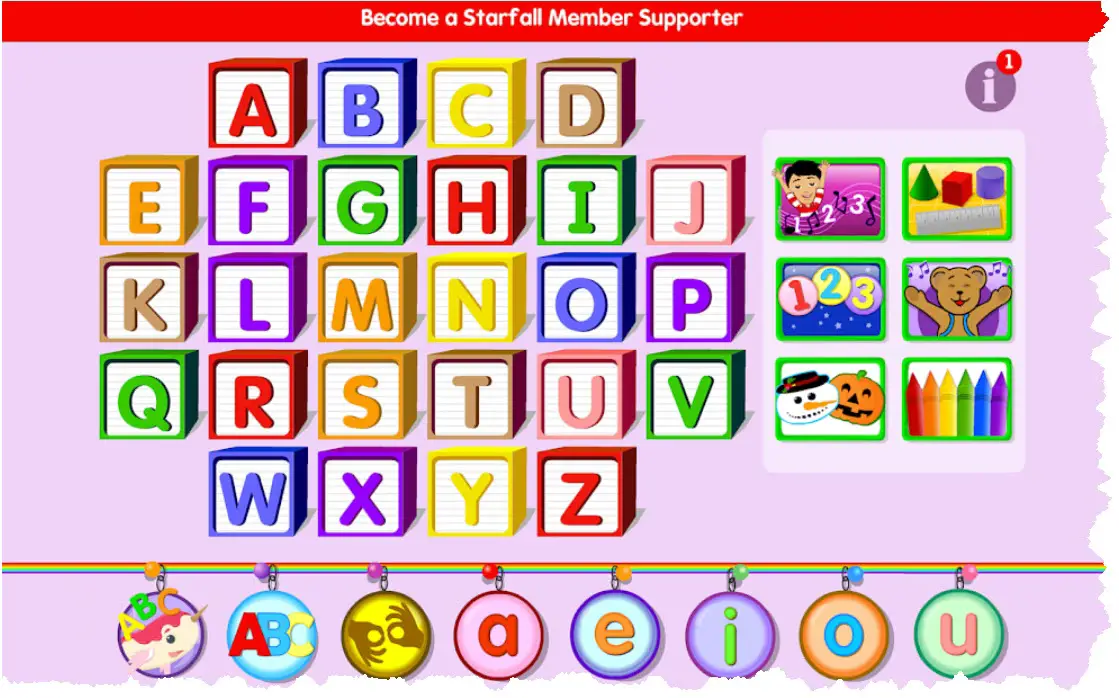 Once the parade is over you, get words that start with the same alphabet to help your kid understand where and how the word is used. Kids can also play a game where they need to put the alphabets to form a word and make it sound slow to see how each word helps make a complete word.  
It is an excellent app for preschoolers as each letter will be used again and again with its sounds to signify how that particular alphabet has been used in a spoken word.
Each word has its little animation, which can be triggered after you solve a puzzle or complete a game. The approach that developers have taken to introduce new letters and words to your kids is brilliantly researched and has quite a depth of understanding.
Every game your kid is playing on this app is safe from any kind of violence and is still helping him to learn new things.
The app is free to download, so you don't have to worry about paying a monthly subscription fee of any kind. This is one of those hidden gems which not a lot of people know about, but its usage is quite amazing. 
10. HOMER – Proven Learn To Read Program
Last on our Phonic Apps list is HOMER, an app that requires you to pay $8 a month as a subscription fee, but all of it is worth it. The app includes every way possible to keep your kid engaged while he learns new words and letters.
AppStoreVideo 30Sec 16x9 Old Menu for Google Play
He can be doing coloring, solving puzzles, etc. One of the best parts of this game is the art section, where your kid is free to create his own story from the words that he learned. It's a great way to teach the usage of words and letters. 
The app is in sync with other devices so you can check your child's progress on your laptop. Even they can resume their learning from where they have left on the mobile phone. So it's an excellent feature that can be used in multiple ways.
If your kid is slacking behind the learning in his class, you can support him with this app. We have seen great results in kids that are learning phonics using HOMER.
Whatever has been taught to your child using this app will be stuck in his mind forever. Because the learning is so easy and engaging. 
Furthermore, you can have multiple profiles for your kids, so if you have two kids in the house, you don't need to buy a subscription twice. You can just create another profile in the same app, and it will run flawlessly. 
Conclusion
So there you have it, these are the top 10 best phonic apps for your kids to learn new alphabets and words. We know in modern times, it is hard for you to focus on the studies of your kids.
But we would like you to invest some time from your day, to talk to them and help them revise what they have learned in the school and through these apps. Phonic apps have undoubtedly made it easier for parents to help their kids learn the language they speak. But your kids need you to practice what they have learned.