Looking for the Best Pokemon Card Maker application for planning and preparing your Pokemon exchange cards effectively and rapidly? 🤔
We got you covered in this article.
Let's get deep dive in. 🐱‍🐉
There is hardly any individual on this planet who would not like to create or design his or her very own tailor-made Pokemon card.
If you also have this keen interest in making your Pokemon card, then you must lookout for a good quality Pokemon card-maker on the internet. This will help you in designing the best Pokemon cards without taking a lot of time.
No matter whether you want to use the image of a friend for turning it into Pokemon or you are just looking to create the perfect card, Pokemon card makers and apps can help you do so without going through much of a hassle.
These are the creative applications that will not just help you in creating the best Pokemon cards but will also offer you peculiarly engaging and new characters for the game.
Some of the best Pokemon card makers you will find useful and engaging are as follows:
Best Pokemon Card Maker: Our Top Picks 👌
1. Card Maker for PKM
This is one Pokemon card maker that will give you the scope of releasing your creativity and your innovative mind. It will help you have a fantastic time making your Pokemon card and learning the Pokemon card game.
Use this application for planning and preparing your Pokemon exchange cards effectively and rapidly. This is one of the most fabulous card producers boasting of amazing card designs and quality.
The in-game display feature of this application is also quite decent and useful. The easy-to-use interface of this Pokemon card maker will make it quite convenient for you to give any form and design to your Pokemon card within just a short time.
The simple and intuitive popup menu of this card maker will help you design your Pokemon cards easily and will also help you share the cards with friends by using different social media platforms.
Pokemon Card Maker | create your cute pikachu card
Below are some of the features of The Card Maker for PKM App that earned it a spot in our list of Best Pokemon Card Maker to download.
The app offers you the scope of updating your Pokemon cards by saving the history of the cards.

The cards designed using this app can be re-edited based on the preference of the users.

The app even offers support for several stages of card-making like basic card stage, second card stage, and EX card.

Users also get to review the themes of the cards as the app features a plethora of themes that the users can make their choice from.

CardMaker for Pokemon makes it very easy for the users to figure out the way they should structure their Pokemon cards.

Creating Pokemon cards gets simple with this app because of the immersive design schemes it offers.

With unrestricted creativity, users can capture almost everything in their cards.

Free themes are available for designing Pokemon cards.

Users can give their ideas in the app's review section.
This is an unofficial Pokemon card creator for all those individuals who do not have good skills in creating Pokemon cards on their own. It gives you the ability to challenge yourself and create your very own card.
2. Mypokecard
Mypokecard is yet another clean and tidy Pokemon card creator available on the internet. Many Pokemon card game players are fond of this site mainly because it gives them the ability to make cards of their choice.
Users have the option of choosing from a plethora of arrangements available on the drop-down menu. However, there is a form available on the site, and users need to fill this form for creating Pokemon cards on the site.
The form requires the users to fill in details like the name of the character and the hit points of the character.
Next, the Browse and Upload options can be used for replacing the image of Pokemon with the user's image. They even get the option of setting their resistance, retreat cost, weakness, and attacks.
Below are some of the features of The Pokemon card maker that earned it a spot in our list of Best Pokemon Card Maker to use.
The pictures users want to upload should be in jpeg format.

Uploaded images are cropped and resized automatically based on the Mypokecard algorithm. This is done to ensure that the image fits into the card without making any changes to the effect.

One of the most interesting features of this app is that whenever the form on the site is filled in with proper details, the card available on the left side changes dynamically so the users can see how it appears.
Mypokecard is a Pokemon card creator that comes loaded with some of the best features that make it one of the best card creators available out there. Use this card maker if you are unaware of the nuances of designing the perfect Pokemon card for a thrilling game.
3. PokeCardMaker.com 
PokeCardMaker.com (Visit Here) is one of the newest card creators apps around.
The advantage over other card creator apps is that you can not only download your card digitally but also create and buy it as a real card.
The PokeCardMaker web configurator currently has 6 different versions, from which you can create your own unique Poke card.
The available variants are currently:-
The Base Card. Perfect for collectors who want to add their own card to their Pokémon Base Set!
The GX Card. It is mostly created to emphasize its special attack and its importance.
Our most popular Tag Team Card variant. Who wouldn't want to immortalize themselves on a trading card with their best friend or partner?
The Supporter Card is for those that want to keep a long story short.
The newer V & VMAX Cards – Perfect for those new to trading cards.
Another feature of PokeCardMaker.com is the in-house Card Gallery. There, users can upload their cards, have them rated and share them with their friends.
You can currently share the cards on up to 11 different social media platforms.
There are also regular promotions where the top 10 most rated cards receive gifts and free cards.
Last but not least, we come to the point that makes this Poke Card Creator App unique.
We're talking about creating your designed card, as a real card.
You can buy your card and send it to you for as little as € 9.90.
Shipping is of course worldwide and frees of charge
The cards are available in "Standard" and "Jumbo"sizes. You can even add a holographic effect to your cards if you wish to.
The cards are of course delivered with kink-proof and suitable protection. This is a matter of course for experienced card manufacturers who have already created over 15,000 cards.
The most important features are summarized here:-
You don't have to download anything, but you can still use it on your PC or mobile.
Completely free to use, no advertisements, hidden fees or memberships.
Download your cards for free and the best: No watermarks at all!
Six different card variants and the base card even has stage 1 & 2 variants!
You can upload your cards to a card gallery and share them with your friends!
You can have your card created by a professional card manufacturer team and shipped to you. Shipping is completely free and the cards come in different sizes.
Super easy to use!
PokeCardMaker.com is a newer tool, but it is already one of the best card creator apps out there. The experienced team behind PokeCardMaker keeps releasing new card variants and does its best to keep the users happy.
The unique features and the possibility to buy your own designed cards are completely new ideas that have already made over 7000 users all over the world happy.
What are you waiting for? Visit PokeCardMaker.com now and create your unique card for free!
4. Card Maker for PKM 
With PKM, no design skills are needed to create personalized Pokemon cards. With just a few taps on your phone screen, you can create amazing cards that look professional and artistic.
The app's intuitive interface lowers the learning curve of its features while keeping all of its tools within easy reach. You can even share your card on Facebook or Twitter to show off the results of your creativity.
This pokemon card maker lets fans create their own Pokemon cards in just minutes. It's an excellent way to engage fans and get them talking about their favorite characters, events, and stories.
Download the POKEMON Card Creator for free to have fun while you learn and master the app. 
Features:-
Easy to create cards with immersive design

 

Support multiple card stages

 

Design cards

 

Free card Themes 

 

Introducing GX Card – New Update

 
Download App on Google Play Store
5. PokeArt – TCG Card Maker
The PokeArt is a pokemon card maker that allows users to add designs and elements from the latest expansions in an easy-to-use interface.
It has a library of over 750 card backgrounds from the latest expansions, allowing users to create fan-made Pokemon cards in a matter of minutes.
The PokeArt  – TCG Card Maker app lets you design custom Pokémon trading cards, capturing the game-play feel of building your own deck.
You can choose from a variety of card types, including classic Trainer and Energy cards, as well as newer Sun & Moon, Sword & Shield, and XY cards, allowing you to create decks that are suited for battle or casual play.
You can view all your cards in an index gallery, edit them at any time, share them with friends or family, and print them out to show off. 
Features:-
PokeArt has features to help you create great Pokemon cards.

 

Has Easy-to-use interface

 

Weekly Events

 

Edit and view cards in Gallery

 

Can View cards in 3D

 
Download App on Apple App Store 
6. Pokellector: Pokemon Card Collection Management
Pokellector is the e-card organizer to bring your Pokemon cards to your fingertips. With a powerful mobile app for collecting and trading your cards. It's a built-in pokemon card maker that offers card prices and a searchable database of cards.
With this sharp app, fans can trade cards, organize their stacks, and play just by scanning in their cards. With desktop functionality and sharp design, it's the best smartphone app for collectors.
The app includes every card ever made, so you can check up on your collection or look up cards you have never seen before. The scan cards feature allows you to scan the card you have in your hand, and an image of the card will be shown on screen.
Download this app and start using all amazing features to manage and make your cards, trade Pokemon, battle with your friends, and more! 
Features:-
Manage Cards easily

 

Track alternate versions of cards

 

Card Scanner available

 

Japanese and English Sets

 

Can check market value and track progress

 
Download App on Google Play Store
Download App on Apple App Store 
7. Pokecard.net
Pokecard.net is yet another superbly easy and stunning Pokemon card creator available out there. This Pokemon card maker will offer you the right structure and theme for designing the best card. You can use this app for creating Pokemon cards absolutely free of cost.
Exclusive features of the app include:-
Users looking to create Pokemon cards using this app are not required to install it on their machines.

Users can simply visit the site and put in the card details such as character name, type, stage, HP, and main image URL. Rest everything will be taken care of by Pokecard.net.
If you are on the lookout for an easy-to-use and simple app that can help you create a Pokemon card in just a few minutes, then Pokecard.net would be the perfect choice for you.
At the time of our research on Best Pokemon Card Maker, we found a video about "What If You Played Video Games for 1 Day Non-Stop" which is worth watching. 🤴
What If You Played Video Games for 1 Day Non-Stop
8. Pokemoncardapp
This Pokemon card creator (visite their website) is an iOS application, which means individuals looking to use this application need to have an iOS empowered system or device for downloading the app.
This is a precise app and brilliant Pokemon card generating site that comes loaded with a plethora of options. Cards designed using this app are visible on the website for a minimum of 24 hours, and they get deleted only after the completion of this time.
Also, the cards designed with the use of this site can be saved to a computer by using the right-click option and then going for the save image button.
Below are some of the features of The pokemoncard app that earned it a spot in our list of Best Pokemon Card Maker to use.
Users on this site can fill in details such as Pokemon Info, Attack 1, Evolves, Attack 2, retreat, weakness, and resistance.

Once the details are filled in, the users need to prove their human identity by answering simple questions and additional problems provided at the bottom.

The custom Pokemon card of the users is created using their pictures.
Pokemoncardapp is one of the best card generators that you have at hand when it comes to creating Pokemon cards without any kind of complications. Use it for generating custom cards that will enhance your Pokemon card gaming experience.
You may like to read our guide on 13 Of The Best
Pokemon ROM Hacks
, do read it If you are interested.
9. Pokemon Card Maker 2
Pokemon Card Maker 2 ( Visit Here) comes from GitHub, the store known for producing Pokemon card makers with decent highlights.
It will not just help you in creating your very own Pokemon cards but will also offer you the choice of different themes to make cards for varied stages.
You get the option of selecting image names, including the name of the antecedent, if you are working on a development card.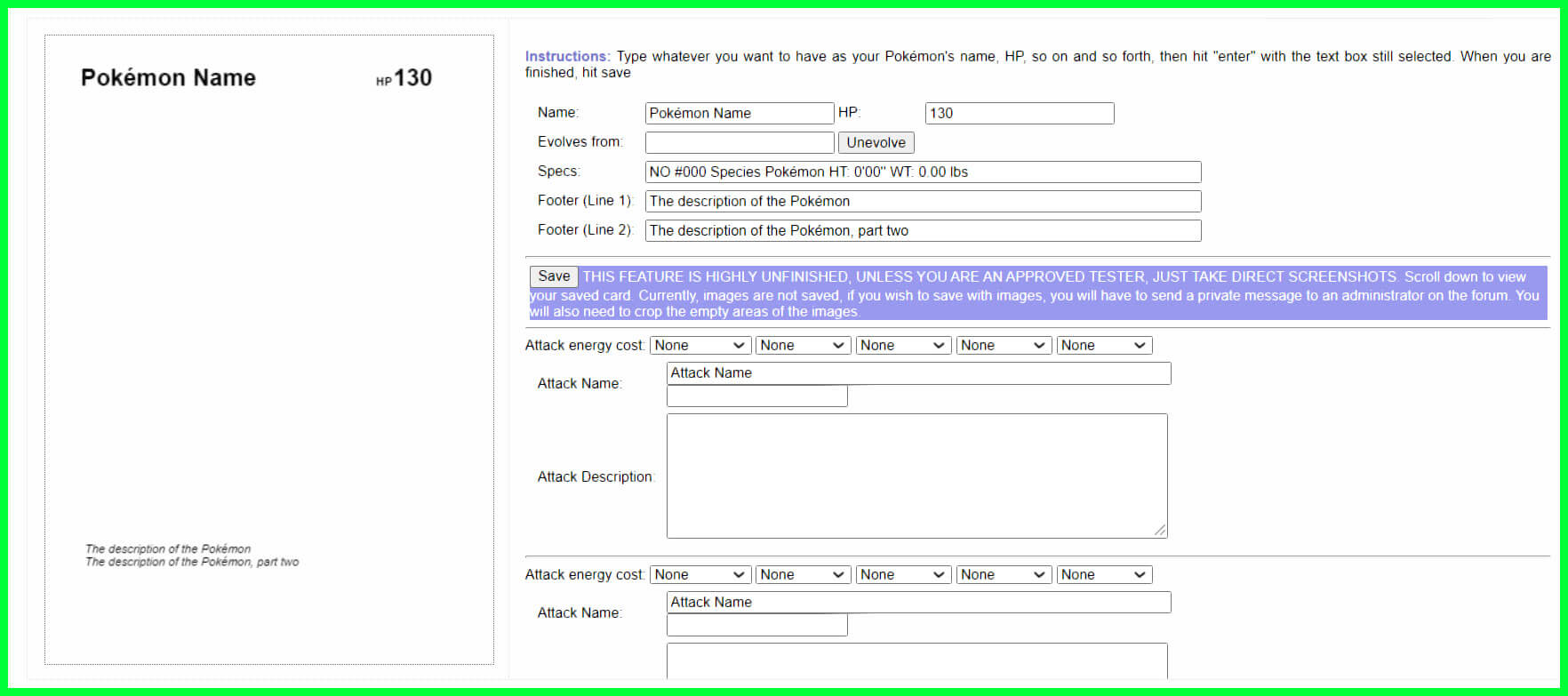 Pictures cannot be transferred from the local stockpiling. Users need to provide URLs of the images accessible on the internet. This would not be a major problem as there is no shortage of high-quality Pokemon images online.
The card generator also offers its users the flexibility of pivoting their pictures and setting X and Y scales to them. It boasts of one of the most propelled toolboxes that can prove to be highly useful for the Pokemon card creators.
Below are some of the features of The Pokemon card maker 2 that earned it a spot in our list of Best Pokemon Card Maker to use.
The user interface of this site is very easy and comes with varied sets of features like card attack energy arrangement, show or hide card components, and so on.

There are previews available for the card users are looking to design as soon as they fill in the details of the card they are looking to create.

Cards can be viewed and then saved so that any corrections if required, can be made easily.
This Pokemon card maker is a one-of-a-kind tool that makes it very easy for card producers to create their custom Pokemon cards without going through any hassle or complications.
The only thing that the users need to do is fill in the details properly. Once this is done, they will get Pokemon cards in the designs they prefer.
10. Poke Pics
If you have long been on the lookout for an application that offers you the flexibility of using your design theme for creating a Pokemon card, then Poke Pics is the right destination for you.
Customizing your Pokemon card on this site will be a super easy and fun process for you. Also, you will be able to share the designed cards directly on different social media platforms only by using this app.
Users going for this app get the option of choosing almost any image they would like to have as a character picture on their card. They can choose the image from their photo gallery. They even get the scope of swapping card varieties.
Users can even edit the name, stats, descriptions, and attacks of their cards. Furthermore, they can save their cards to be added to the deck sometime later.
Below are some of the features of The Pock picks that earned it a spot in our list of Best Pokemon Card Maker to use.
Pretty useful app and highly beneficial for users considering that it comes for free.

Stage 1 or Stage 2 cards are not available, and this can be a problem for some users.

Frequent upgrades are available for proving the authenticity of the cards designed using this platform.

This is a highly functional application that works fine even without the option of sorting cards using Pokedox#.

It offers a great Pokemon card-making experience to the players.

Users can make custom cards using their images.

They can customize almost everything on their cards and view them in cool 3D mode.

The app is super easy when it comes to editing designs.
Poke Pics is undoubtedly one of the coolest Pokemon card creators available out there for iOS users.
Do you want to Spot Fake Pokémon Cards? 🤔 Below-mentioned video is for you only. 😎
How To Spot Fake Pokémon Cards
11. ThatPokemon
ThatPokemon is yet another cool and super easy Pokemon card maker that will make it quite convenient for you to come up with a card that matches your design preference.
It comes loaded with some simple features that can effectively be used by even beginners in Pokemon card making.
Below are some of the features of The pokemon that earned it a spot in our list of Best Pokemon Card Maker to use.
Simply fill in the details of the card you are looking to generate and choose an image. Rest everything is taken care of by ThatPokemon.

The app helps in generating Pokemon cards instantly, and the cards designed using this app can even be saved in the gallery.

There are previews available for the card you are looking to design the moment you fill in the details.
If you are looking for something super-easy and authentic when it comes to creating Pokemon cards, then ThatPokemon will be a great choice for you.
12. Pokecharms
This is a trainer Pokemon card making site (Visit Here ) that can be given a try. This well-organized and feature-rich site comes with almost all the important options required for making the best Pokemon cards in the right designs.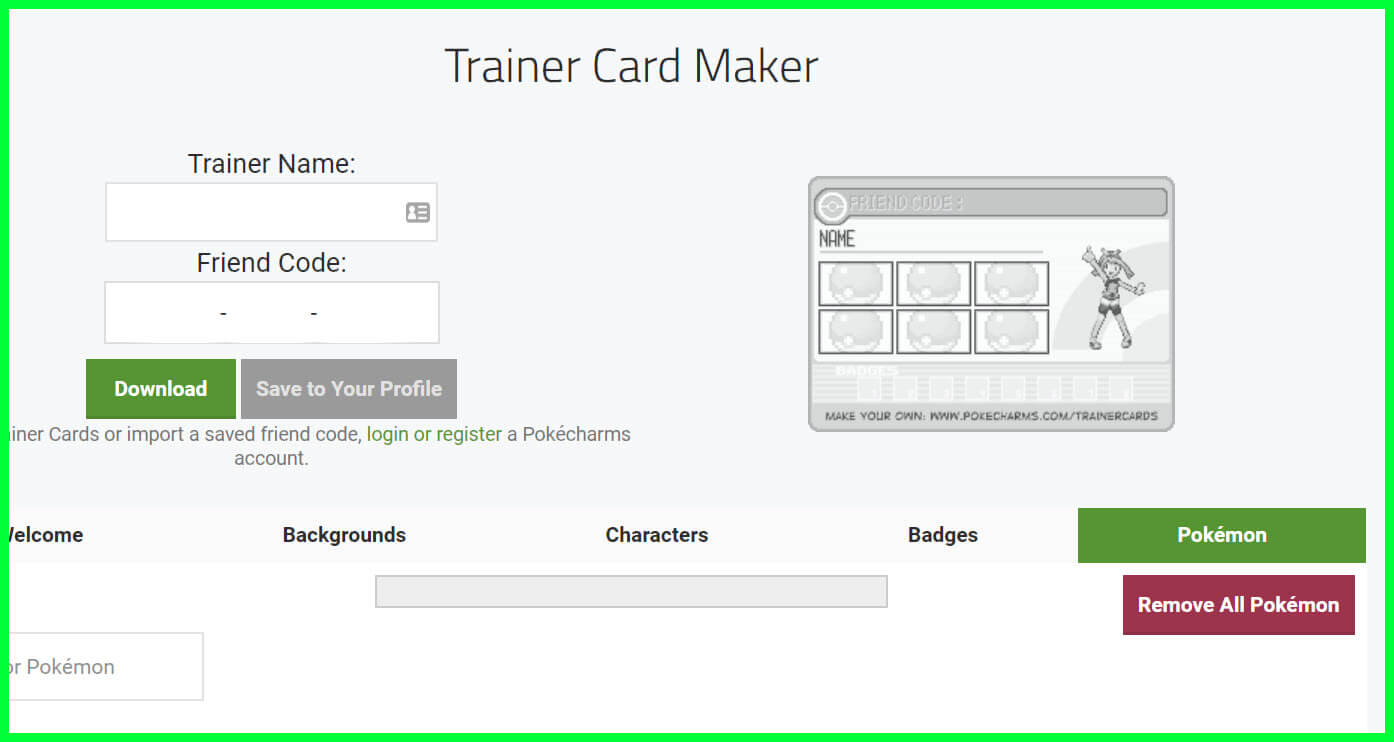 One of the best things about this site is it does not have any advertisements that can be very annoying for the users. Also, all the card generating features on this site have been arranged nicely for the ease of use of card-making enthusiasts.
Below are some of the features of Pokecharms that earned it a spot in our list of Best Pokemon Card Maker to use.
Custom-designed Pokemon cards on this site can easily be downloaded as pictures with just a few clicks.

The designed cards can even be shared with family and friends and can also be saved to the user's Pokemon profile. This way, the cards remain visible permanently.

Designed cards can even be embedded online.
Though there is one downside of using this Pokemon card generator in that there are watermarks included in the cards created, the other features available from the app make it quite a good toolbox to be used by Pokemon card producers.
13. Imgflip
There can be absolutely no doubt in the fact that Imgflip is one of the best sites for creating custom Pokemon cards, and this is mainly because of the rich features this site comes loaded with.
It will help you generate cards for free. However, users who want to use the advanced features of this site have the option of going for its Pro Basic and Basic membership packages.
Also, this site not only helps in creating custom Pokemon cards but even comes with a section called Featured Blank Pokemon Card Memes showing some of the best Pokemon memes created by different users.
Some of the most important features of this app are:-
Watermarks come with each custom card generated on the site. However, these can be removed by going for Pro Basic membership plans.

There are no advertisements to bother the users.
If you want a simple and sober Pokemon card maker that does not hamper your experience of making a custom Pokemon card, Imgflip would be the right choice for you.
If you want to make Your Own Pokemon Cards then check this tutorial.
How to Make Your Own Pokemon Cards!
14. Pokemoncardmaker
Use this app for making Pokemon cards that are filled with rich elements. However, you need to be very careful when using this app as it comes packed with a large number of promotions.
One of the best things about this site is you can use it for as long as you want. It will not trouble you in any case and is neat enough to avoid the frustrations of designing a Pokemon card on your own.
One tap on the card you have designed, and it will change to a different design. Preset designs can also be downloaded very easily.
Even the images of the already designed cards can be changed, and users even get the scope of including images with the required content and custom shading in their Pokemon cards.
Once the alterations are done, the only thing that the users need to do is click on the spare catch for changing the card into jpeg format.
Some of the most important attributes of this card maker are as follows:
It can easily be downloaded on a computer and even printed on any device.

The smooth interface and animation features available on this site make it very easy for the Pokemon card generating enthusiasts to come up with some of the best card designs.
The advertisements on this site can be a little annoying, but you will forget about them once you experience the ease of making custom Pokemon cards using this device.
It is the perfect toolbox that can be used for creating some of the best in design Pokemon cards.
Click here to visit. 
Final Words
The above-mentioned Pokemon card makers are versatile tools that will make it very easy for you to create your favorite Pokemon cards without putting in a lot of effort, time, and even money.
Just a few simple clicks of the mouse on your system, and you will get the Pokemon card that best suits your choice and requirements.
They are not just suitable for expert card makers but even for beginners who do not have any idea about how to make custom Pokemon cards.
The features they boast of will make your Pokemon card-making experience a fruitful and enjoyable one. These tools are simply awesome!