Several cases of credit card theft have risen gradually, becoming the most common crime related to identity theft today. If you use a credit card for any online payment, you must protect your details from being safe from such crimes.
Privacy.com also lets you establish virtual cards to ease various online payments without using your real credit cards.
You can also close cards you make at any time as per your choice and build single-time usage cards that will immediately close.
Users can take control of their subscriptions on the site, pausing and stopping them at any moment.
It comes with a browser extension that automatically inserts an acceptable card number into the card field, and users only have to click on it. Privacy.com uses split-key encryption and TLS-level security to keep its users' data private.
It protects users' financial information in the digital environment, preventing data breaches and monetary losses.
It gives users a virtual card number for each merchant they shop, ensuring their credit card information is kept safe. There is a free and paid edition of Privacy.com.
However, Privacy.com is not the ideal option for everyone due to one reason or another. If that describes you, here are the 15 Privacy.com alternatives.
Best Privacy.com Alternatives – Our Top Pick
1. Skrill
Individuals and corporations can use Skrill to make payments. You can also generate virtual cards to proceed with the online payments using a Skrill account.
You can also send or receive money. ID verification is a mandatory requirement for using Skrill, making it a secure option.
Skrill, a topmost Privacy.com alternative, also lets you create a virtual and prepaid MasterCard and use the funds from your account to make various online purchases.
Everything is accomplished online, so applying for a card is simple.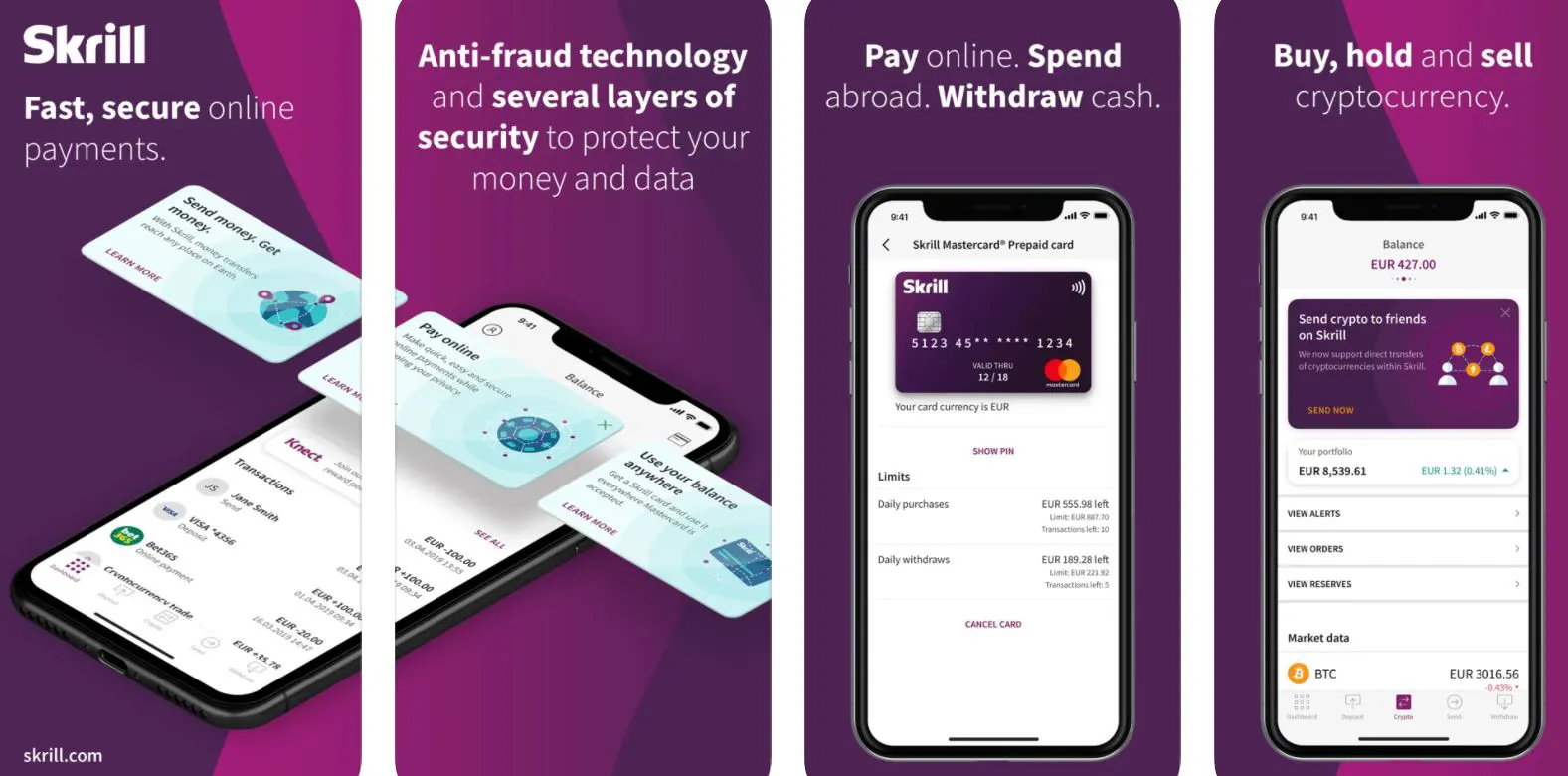 Skrill offers mobile applications for Android and iOS smartphones, just like Privacy.com. Skrill, on the other hand, accepts global users from nations that are European Economic Area members and also others, unlike Privacy, which is confined to only US consumers.
Furthermore, Privacy only supports USD out of the box. Skrill accepts GBP, USD, PLN, and EUR and automatically converts any transactions completed in any other varying currencies to USD.
It is also safer to work with. According to the Strong Customer Authentication regulation requirement, your account is well-protected with a PIN and password.
Skrill also offers physical prepaid cards in addition to virtual prepaid cards. These cards are similar to virtual cards and are connected to the Skrill account.
They will be issued to the provided address after you apply for them. Skrill customers can obtain help through their help page, using the available articles and answers to frequently asked questions.
Skrill is also free to use for global folks. You must log in at least yearly to make online transactions. If your account already has some money, you will otherwise be charged $5 per month.
Download the App from Google Play Store
Download the App from Apple App Store
2. Abine Blur
On our list, we have another solid Privacy.com alternative. Abine's Blur is an extended online solution for transaction safety. DeleteMe is also a product of Abine.
The Abine Blur solution safeguards passwords, online payments, emails, and other personal details. They use masked cards to secure internet transactions.
The masked cards are entirely virtual. You can use a disguised card for various purchases, with the added benefit of establishing individual expenditure limitations for all the cards.
But, the Abine Blur disguised cards, just like Privacy.com, can only be manufactured and utilized by citizens of the United States. Therefore, the platform only accepts USD-based payments.
Furthermore, these cards are only used for transactions from US merchants; most retailers not from the US have payment restrictions owing to fraud. Blur, in contrast, local stores and secures all the credit card details.
You also get to authorize Synchronization and backup for enhanced security purposes. Your details are further encrypted and stored on their cloud servers. Two-factor authentication is also available.
You can obtain assistance from a detailed FAQ page provided on their website. There's also a separate FAQ area for the details related to masked cards, as well as a User Manual is present too.
Blur also has a mobile app. There are free and paid Blur versions, and you must choose the premium plan if you wish to generate your secret credit cards.
The only difference between their Monthly, Yearly, and basic Plans is that you must pay a fee for the obtained credit cards.
3. Braintree
For online businesses and merchants, Braintree refers to an excellent Privacy.com alternative. It lets you accept customer payments while safeguarding the details against fraud and compromise.
It is a secure payment processing system that works entirely online. Braintree also offers numerous payment options and vendors. Venmo, Apple Pay, Samsung Pay, and other similar services fall under this category.
It accepts credit cards from Maestro, Discover, VISA, American Express, MasterCard, and several other brands. This ensures that the clients can pay using any of them as per their choice and comfort, without the fear of information and data theft.
They are also not required to hide the card as various security enhancement provisions are considered with Braintree.
Similarly, Braintree serves more people than Privacy.com, which exclusively supports the United States. The United States, Malaysia, Canada, Australia, New Zealand, Singapore, European countries, and China are among the countries that have pledged their support.
You can also get paid in practically any currency in the world. Braintree accepts 130+ currencies, and you can set up the created account for receiving different currencies.
Being a Braintree user, you do not have to be concerned about security. The platform is PCI Level 1 compliant.
Braintree features an enhanced and more dependable support system, unlike Privacy.com. You'll also access their helpful resources and frequently asked questions page. 
4. Bento
Bento has everything required for conducting an online business. It refers to a company expenditure management tool based on debit cards and lets users create virtual cards to hide the actual card information.
You must first register an account with Bento and link your bank account to receive a virtual card. After that, you must add funds to your account and apply for the virtual card.
Because the Bento-based virtual cards are VISA cards, they can be used everywhere VISA payments are accepted. You may also set spending limits and create cards for certain payments.
Virtual cards generated using Bento, like those created with Privacy.com, can only be used in the United States.
You can, however, disable this limitation and use the card for overseas transactions.
Bento platform walkthrough
Several businesses have default limits in place for the prevention of fraud. Unlicensed firms, hedge funds, and shell banks are examples of this.
Bento secures all the data using the Secure Socket Layer encryption of AES 256 bits for better protection of your privacy.
You can contact their support staff to assist via LiveChat or phone call. You can also contact me by sending questions via email or using the available contact form on the website.
A separate support center is also available, including articles providing several details. Therefore, it is among the best Privacy.com alternatives to try.
5. Neteller 
Neteller refers to a well-known online payment system. It allows you to pay online safely for anything and everything. It lets you send money to multiple Neteller customers globally, just like most privacy.com options.
Before requesting and using Neteller's virtual cards, you must verify your identity. MasterCard virtual cards are also issued by it.
You'll be asked to choose a card name, a currency, and a limit while generating them.
Introducing NETELLER's new account levels
However, if you live in France, a default monthly restriction of 1000 EUR applies. Privacy.com is exclusively available to residents of the US, but Neteller is available to all European Economic Area (EEA) nations.
Furthermore, unlike Privacy.com, which only accepts the USD, the platform supports three major currencies: EUR, GBP, and USD.
Neteller refers to a safer Privacy.com alternative that has anti-fraud technologies and is monitored 24 hours a day, 7 days a week. Because Neteller is PCI DSS-compliant, all transactions made with the virtual cards stay fully protected.
They're also protected by numerous firewalls and encryption of 256 bits. Neteller provides support in a variety of ways.
There is a supporting corner with articles on four primary categories: Payments, accounts, Prepaid Cards, and Security.
There's also a page containing FAQs and a contact form for contacting the sales team. Neteller, similar to Privacy.com, has Android and iOS mobile applications that let you control your virtual cards from the phone.
6. Payoneer 
Payoneer is a platform that allows you to send and receive money from people worldwide. Some of the most well-known freelancing, eCommerce, and digital marketing platforms use it.
Payoneer, like Privacy.com and the top-most Privacy.com alternatives, allows you to complete payments with an e-wallet and a credit card.
You can also request a virtual or a physical card for your Payoneer account. Your Payoneer balance is debited for payments made with this card.
The account must also have received a minimum of 100 USD payment in the previous 6 months to be eligible for a virtual card. Payoneer, unlike Privacy.com, does not support US-based residents and USD currency exclusively.
The platform supports GBP, USD, and EUR for virtual cards, but you can complete the transactions in any currency. Payoneer is also available in more than 150 countries as a worldwide payment solution.
It is also controlled by several government agencies, implying that your cash is secure. Firewalls protect and monitor your transactions to prevent phishing, fraud, and other threats. As a user of Payoneer, you will have access to all the assistance you require.
You can discover help articles in the resource and the support center, and there is a community of more than 2 million Payoneer-based users where you may receive all the solutions.
You also get to view Payoneer's video tutorials. On Android and iOS devices, you may also download and utilize its mobile application for convenient management.
No start-up or membership fee is there when you use Payoneer. There is no fee when you use a virtual card to pay for online products. Currency conversions, however, are subject to any fees.
Download the App from Google Play Store
Download the App from Apple App Store
7. US Unlocked 
This is an exclusive solution for the US-only shops, as the name says, making it one of the best and most preferred Privacy.com alternatives.
Even though you only get to pay the US merchants, you may do it from any place and receive the US-based billing address.
The US Unlocked is used by more than 100,000 people. You may use US Unlocked to generate unique cards for various US retailers, including Netflix, Amazon, Walmart, Hulu, Spotify, and others. 500+ merchants of the US are represented on US Unlocked.
In addition, each card is limited to a maximum of 3,500 USD.
U.S. Unlocked - Virtual Payment Card
To make one, all you have to do is fill out an application and pay all the membership costs, and you're all good. You can generate a single-usage virtual card in addition to exclusive virtual cards.
Because only US retailers are accepted, all payments made with virtual cards are processed using the USD, exactly like at Privacy.com.
However, it is not limited to US residents; you may also pay from anywhere in the world. Ruby, the individualized LiveChat support for US Unlocked, is available. You may also contact their customer service team by filling out a contact form.
The FAQ page, resource center, and blog are other ways to get help. The pricing for this platform is flexible. Your country, deposit, loading method, and amount determine your card's cost.
8. Netspend 
Prepaid MasterCard and VISA cards are issued by Netspend. It is also a widely utilized payment method, with over 10 million users.
Netspend, like most of the Privacy.com alternatives, needs identity verification before you apply for the virtual cards and get them created.
You can also get the virtual card numbers created for one-time or recurring transactions from your Netspend account area.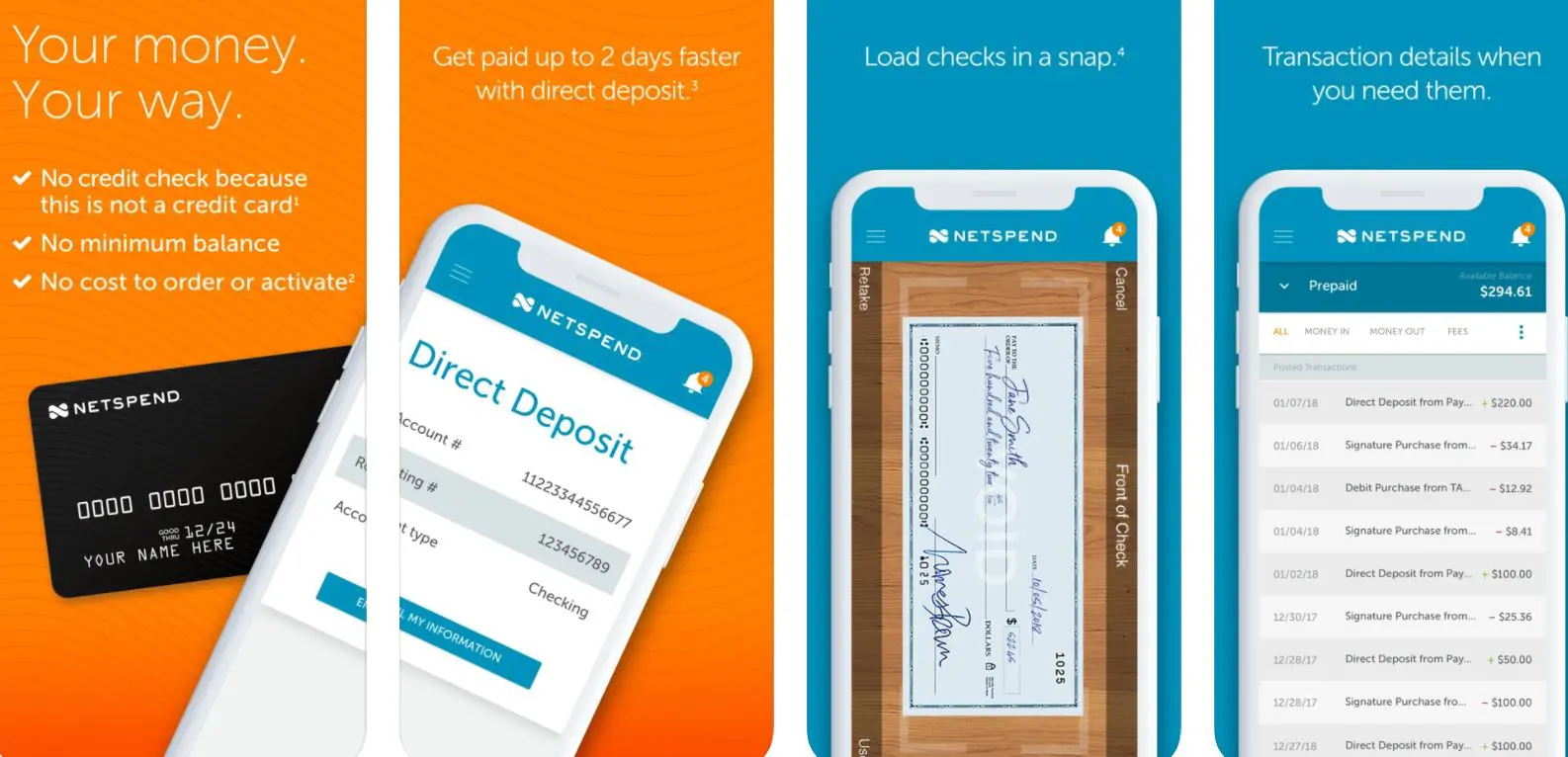 At any given time, you can also create and manage around six virtual cards, each of which can be customized by uploading a photo. Unlike Privacy.com, which is only available in the United States, Netspend lets you shop from merchants worldwide.
Thanks to their partnerships with PayPal and Western Union, you can use your Netspend card to make transactions in more than 200 countries.
Netspend offers two types of protection to its users: internet privacy as well as security regulations. Your credit card number, ID number, and other sensitive information are encrypted.
If your card or account is used for any fraud activities, or if you think so, you can also report the same, and urgent action will instantly be taken. You can get help by visiting the FAQ page or contacting the team via phone or email.
The mobile app will make managing your Netspend virtual cards and account easier. You can also get the virtual cards created for free with Netspend; there is no added activation fee.
However, you may be charged use fees based on the chosen plan.
Download the App from Google Play Store
Download the App from Apple App Store
9. Brex
Brex is an excellent Privacy.com alternative dubbed "the financial operating system for the upcoming businesses." It is the one-stop shop to fit all online payment needs, including bills, credit cards, bank accounts, and more.
Brex is an advanced solution in comparison to Privacy.com. As you open an account, you get a routing number, an account number, and all the virtual card details.
After the approval, you will soon receive the card. You can create multiple virtual cards per your needs and close them at any time.
Its virtual cards can also be utilized anywhere where the payments are accepted via MasterCard online.
It isn't limited to a single country; it also means that you can make payments in several currencies using its services.
While Privacy.com only offers 1Password as a significant integration, Brex works with Oracle, Xero, Xoom, QuickBooks, intercom, Slack, Carta, DropBox, and more. Brex uses PCI and DSS-certified partners to keep your payment information safe.
Even its team does not have access to your account when it comes to data modeling. Additionally, the platform is secured using HTTPS, and the Idle Lockouts are enabled, so your account immediately logs out after the inactivity period.
Finally, Brex comes with iOS and Android applications for global usage. Brex is a Privacy.com alternative worth considering if you want to save money on pricing.
Download the App from Google Play Store
Download the App from Apple App Store
10. iCard 
Payment cards, such as plastic cards, virtual cards, and metal cards, are all covered by it. Payments can also be made using multiple digital wallets. MasterCard and VISA card-based virtual cards can also be easily managed via the services of iCard.
You may also create these cards, get them loaded, and start making online purchases as your iCard account is created.
You may also personalize the cards, set some spending limitations, and then freeze or unfreeze them at any time.
You can also restrict the cards for certain merchants such as AliExpress, Amazon, Netflix, eBay, PayPal, and others.
Unlike the Privacy.com platform, which is exclusively available to the residents of the United States, iCard virtual cards are only available to European inhabitants.
Payments can be made in various currencies, including the Euro, Romanian Lei, British Pounds, Polish Zloty, US Dollars, Czech Krona, Croatian Kuna, Bulgarian Lev, and Swiss Francs, using iCard.
You can rely on the advanced security precautions it uses, including being a PCI and DSS-approved application and being controlled using the EU.
Furthermore, they also use encryption, which has military-grade algorithms for encrypting your data.
If you need any further aid, iCard has an exclusive page for a FAQ with videos. iCard is a free platform that you can utilize for personal and corporate reasons. 
11. ProPay
ProPay is an exclusive multi-payment service provider and the top-notch Privacy.com alternative, allowing customers to send money to anyone anywhere across the globe.
It also accepts numerous payment methods, including in-person payments, credit cards, mobile payments, internet payments, and bank transfers.
It provides payment options for many users, including small businesses, direct selling companies, corporations, and even banking channels.
What makes ProPay unique? Because it offers industry-leading payment processing tools and solutions to a diverse range of businesses.
To aid users, it allows them to identify the best solution for their industry and business. ProPay offers credit card payment choices for small businesses, payment processing options for enterprise enterprises, global commission and payout options, and payment solutions.
It also includes payment facilitator tools, developer payment connection choices, text payment, one-click payment alternatives, and much more.
12. Transfast
Transfast is one of the most dependable ways to send money to someone who lives abroad. People can effortlessly send cash using Transfast's web- and mobile-based remittance services at the best-guaranteed exchange rates and cheap service charges. It is one of the most recommended Privacy.com alternatives to try.
Transfast is focusing its efforts on developing countries rather than engaging on multiple international levels. Transfast's online money transfer services are available in thirty countries worldwide. There are no hard and fast restrictions for money transfers.
The total process begins with choosing a nation and then entering the amount to be transferred. Transfast's currency rates ensure the lowest possible conversion fees at this point.
The user must next enter the recipient's information and select the method of receiving the funds. Money can also be transferred via a credit card or a bank account.
13. ACE Money Transfer
ACE Money Transfer is a web-based money transfer service that allows you to send money quickly and easily. ACE Money Transfer ensures that its customers can send as much money as they want.
Because ACE Money Transfer is integrated and regulated by the majority of government and official authorities in many countries, it is a safe and secure way to send money across borders.
Visa, MasterCard Secure Code, Maestro, Swift, and MasterCard accept and verify ACE Money Transfer payment methods.
In addition to cash transfers, ACE Money Transfer also accepts credit and debit cards. Therefore, it is one of the best and most recommended Privacy.com alternatives.
It currently charges all consumers a five-euro commission fee per transaction, although there are no fees for online customers or agents.
The recipient must present a national ID card at an ACE Money Transfer location to receive the funds.
Download the App from Google Play Store
Download the App from Apple App Store
14. Currencies Direct
Currencies Direct is a web-based money-transfer platform that provides the best exchange rate for money transfers.
Currencies Direct is a wonderful way of sending money to others at the lowest possible rates if you want to avoid long lines in front of the bank counter and save money on bank fees.
Currencies Direct provides a comprehensive range of services to personal and commercial clients. It can use any method of money transfer, whether it is through its users, online, or its official application.
Its services are also available to business customers that want the finest in class business services, online seller services, top payment solutions, and advanced risk management systems. Money may be moved in four simple steps.
The procedure begins with the creation of a basic account, followed by selecting the currency in which the user wishes to send the funds, sending the funds to Currencies Direct via bank transfer or credit card, and Currencies Direct converting and sending the funds to the receiver on the same day.
15. Money2anywhere
Money2anywhere is an online money transfer platform that allows users to conduct real-time transactions.
To use its online services, the interested party must first form a free account, after which he may make payments to people who live elsewhere. It is among the most preferred Privacy.com alternatives.
Transferring money in a matter of minutes, getting the best and lowest possible exchange rates, having many payment alternatives, and using a safe and secure payment method are the four primary advantages of using Money2anywhere's money payment services. Money2anywhere makes it simple to get started.
Users must submit the receiver's data to whom they want to send money after opening an account. Then enter the amount to send, choose a payment method, and click Send Money.
Your account will be debited, and the cash will be sent promptly to privacy.com outside us ,privacy.com alternative Europe. Finally, note the transaction number, which you can use to follow the transaction.
📗FAQ
Is there an alternative to Privacy.com?
Several websites fulfill your requirement if you are looking for the best alternatives to Privacy.com.
You can opt for Skrill, Abine Blur Braintree, Bento, Neteller, Payoneer, US Unlocked, MirrorFly, and NetSpend. You can do similar functions on these websites, just like Privacy.
Can Privacy COM be trusted, or is privacy.com safe?
If you are looking for a website to protect and keep your bank accounts safe, you should opt for privacy.com. It is an excellent service provider that can protect your financial accounts and bank passwords.
How can I get a free virtual debit card?
You must first get a physical debit card and log into your online bank account. Go to settings and download the virtual card issuer's app.
Log into the app and search for your debit card number. After accessing the card number, you can get a free virtual debit card.
Is Privacy.com only available in the US?
Yes. Currently, privacy.com is only available for the citizens and legal residents of the United States. However, the company is looking at several opportunities to expand its countries of Operation.
How can I mask my debit card online?
It is quite easy to use a virtual debit card. After you apply for a virtual debit card, you also get an option for masking your new card.
Websites like Abine Blur and Privacy will ask you about your purchase costs. Then, the websites will buy a card to cover the costs and give you the card to help you make the purchase anonymously.
Can you use Privacy.com internationally?
Yes. You can make international purchases and settlements on the website. However, the merchant should accept a US Prepaid Visa or MasterCard.
If you use Privacy for international purchases, there are no fees, and the exchange rate is posted during the transaction.
Does privacy.com hurt credit score?
It shouldn't affect your credit score if you use Privacy.com. Whether you use Privacy.com or any other financial service, your credit score, which is based on your credit history, reflects your creditworthiness.
Does online Privacy still exist?
Online privacy is a complicated and ever-changing problem. The privacy of individuals can be violated in various ways, even though there are laws and regulations in place that are designed to safeguard people's privacy online.
Gathering and using personal data about individuals is one of the primary ways their privacy may be violated online.
Numerous websites and online services gather and keep data about their users, including their browsing habits, geographic location, and demographics.
The user experience is frequently personalized using this data, but it can also be used for other things like targeted advertising or shared with or sold to third parties.
Online tracking technology like cookies and browser fingerprints can also undermine users' privacy online.
Through the use of these technologies, people' online behavior can be tracked, and profiles about them can be created. These profiles can then be utilized for targeted advertising or other uses.
Online privacy is also at risk from hackers and cybercriminals who can try to gain access to people's data or steal their identities.
Overall, while people can take precautions to safeguard their online privacy, such as using privacy-focused browsers and being cautious with the information they post online, it's vital to be aware that total online privacy is challenging to attain.
Conclusion
In this piece, there is a list of the top ten Privacy.com alternatives that also provide safe payments for consumers, merchants, and businesses. These are credited and reliable platforms that you must try to be safe from data theft online.