Qobuz and Tidal are the two most popular music streaming services in the market, and deciding which is best is quite challenging. Therefore, if you are also confused between these two music streaming services, you have landed on the right page.
In today's article, we will thoroughly compare both of these music streaming services to help you decide which one will be the best bet for you.
So, without any further ado, let's get started –
Qobuz vs Tidal – A Brief Introduction
Qobuz and Tidal are quite popular names in the music streaming industry, and each has its pros and cons. Since it is not easy to say that one is better than the other, we will compare these music streaming services in a few different categories.
This comparison will include both companies' overviews, sound quality, pricing, music library, user experience, compatibility, etc. In the end, we will also share our opinion on which music streaming platform would be better for you.
So, let's start this comparison with the company overview –
What is Qobuz?
Qobuz is a French music streaming service. It was founded in 2007, making it one of the oldest online music streaming platforms.
Initially, the service was available in a few overseas markets, including the Netherlands, the United Kingdom, Germany, Italy, and Spain.
However, recently, the company expanded its services to a few other countries, including the United States.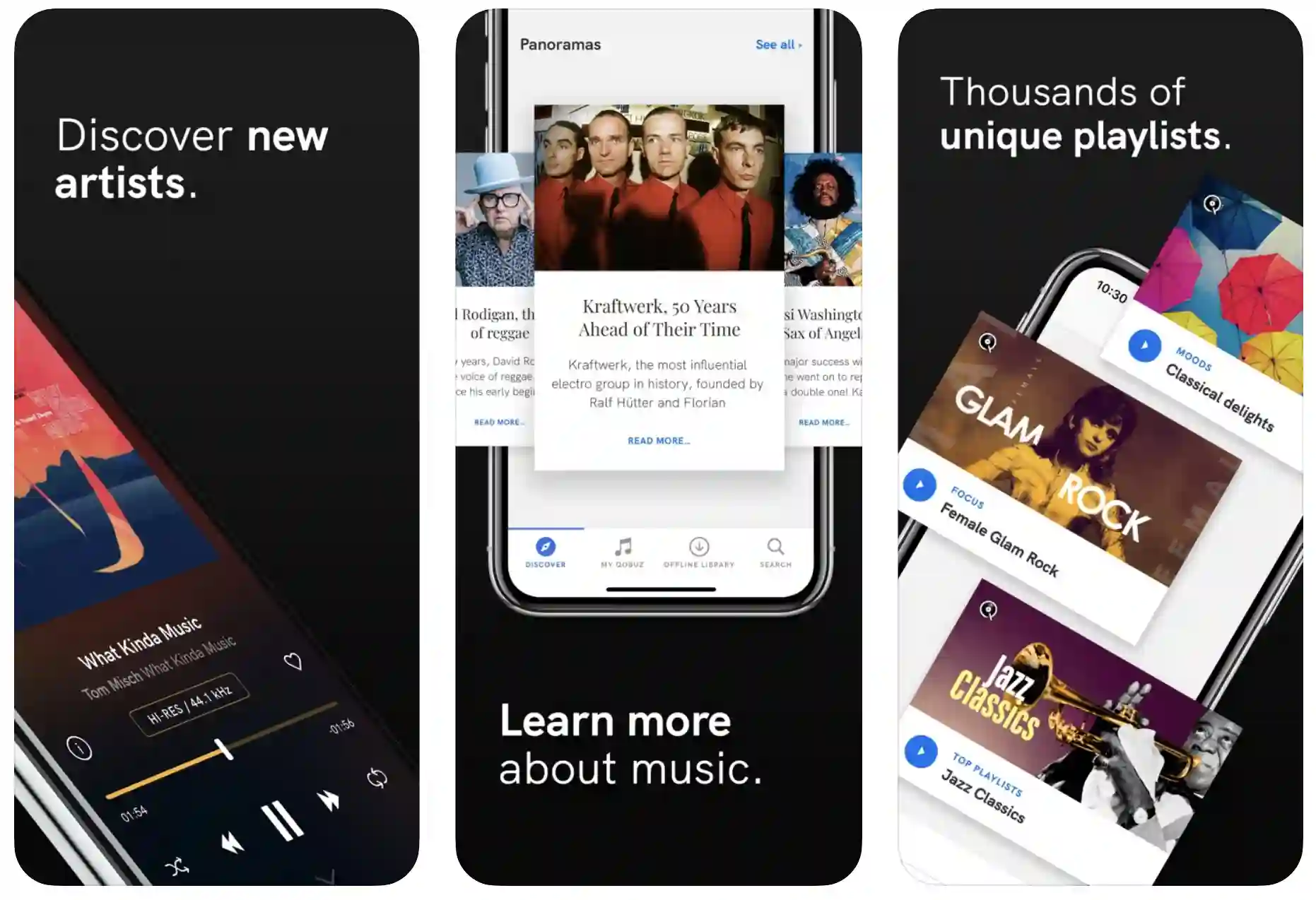 Even though Qobuz has gradually expanded its services into many new countries, it is only available in 18 countries.
Although it is available in 18 countries, it has over 300,000 customers. With this, you can easily understand how popular Qobuz is.
What is Tidal?
On the other hand, we have Tidal, a Norwegian-based platform founded in 2014. However, the thing that makes Tidal stand out amongst others is that it is not just a music streaming platform.
Instead, Tidal is more like an entertainment platform specialized in music streaming services where you can find plenty of other stuff, such as music videos and others.
Another good thing about Tidal is that its services are available in over 61 countries, making it an excellent choice for people across the globe.
However, the platform had not disclosed the number of paying subscribers since 2016, when it reached over 3 million subscribers.
Qobuz vs Tidal sound quality
Sound quality is one of the essential things for any music streaming service, and it can be a deal-breaker for many. After all, who would like to listen to low-quality audio music on their premium audio setup?
Qobuz and Sound Quality
Starting with the Qobuz, it supports a wide range of audio quality options to choose from. Qobuz uses the lossless FLAC files for streaming that they acquire from labels, right holders, and distributors.
Starting from 320 kbps basic CD-quality audio to the maximum of 24-bit/192kHz Hi-Res lossless audio quality, the audio quality range offered by Qobuz is pretty versatile.
While the audio range is quite versatile and the highest quality is exceptional, you need to consider a few things before getting attracted to these numbers.
The first and most important thing is that you need high-quality equipment to enjoy this Hi-Fi or Hi-Res audio quality.
Otherwise, the difference in audio quality between MP3 and Hi-Fi or Hi-Res music will be so subtle that it will be nearly impossible to understand.
If you are an audiophile and you have the proper equipment, then considering Hi-Fi audio quality makes sense.
Another important thing is that downloading these high-quality audio files will require way more space on your device than the regular 320 KBPS MP3 file.
Plus, streaming online will require a high-speed stable internet connection. So, keep all these things in your head.
What about Tidal?
If we talk about Tidal, it also offers a pretty spacious soundstage. The sound quality ranges from basic high-quality audio of 320 Kbps to 24-bit/96kHz Hi-Res music. Tidal has over 25,000 tracks that are ready for streaming in Hi-Res quality.
The highest frequency for Hi-Res streaming of Tidal is way less than what Qobuz offers. But as I already told you, if you are not an audiophile or your gears are not good enough, you will rarely notice any significant difference.
However, if I had to pick one based on sound quality, I would pick Qobuz.
Qobuz vs Tidal – Music Library (Slight edge to Qobuz)
After sound quality, the music library is the next important thing to consider when picking a music streaming service.
Tidal has an awe-inspiring music library with over 70 million audio tracks, including music, podcast, and other audio files.
Along with that, Tidal also features a massive collection of over 250,000 music videos. For Hi-Res streaming, Tidal offers over 25,000 songs.
On the other hand, Qobuz is solely a music streaming platform with a whopping 70 million+ high-quality audio tracks in its music library. Qobuz is solely a music streaming service, meaning you won't find other types of audio stuff such as podcasts, audiobooks, etc.
However, one thing where Qobuz ultimately shines is its Hi-Res library. Qobuz library contains over 424,000 Hi-Res audio tracks, which is on par with any other Hi-Res music streaming service on the internet. Therefore, Qobuz is easily a better choice if you are an audiophile.
That said, I don't mean that Tidal's music library isn't impressive. Tidal's library is excellent and versatile and well-suited to people who want an all-around audio-streaming solution. If you enjoy listening to podcasts, audiobooks, and watching music videos, go with Tidal.
Qobuz vs Tidal – Pricing 
Qobuz and Tidal offer many music streaming plans, but the question is, which gives you a better bang for your buck?
1. Tidal
Individual Plans
Premium – $9.99/month

Hi-Fi – $19.99/month
Family Plans
Premium – $14.99/month, allows you to add up to six members

Hi-Fi – $29.99/month, allows you to add up to six members
For students, US military, and first responders
If you are a student, US military officer, or first responder, you can get all the individual plans at 50% off.
Tidal has two different types of subscription plans – Premium and Hi-Fi.
The premium plan allows you to stream high-quality music up to a bit rate of 320 kbps. It gives you uninterrupted access to the massive audio library of Tidal.
If you primarily listen to music on your smartphone and are not an audiophile, this plan will be the best choice.
However, if you are an audiophile, Tidal has the Hi-Fi plan, where you get access to the massive library of Tidal and 25,000+ Hi-Res music files.
2. Qobuz
Individual Plans
Studio Premier – $14.99/month

Studio Sublime – $20.83/month
Family Plans
Studio Premier – $24.99/month, allows you to add up to six members

Studio Sublime – $41.66/month, allows you to add up to six members
Similar to Tidal, Qobuz also features two subscription plans – Studio Premier and Studio Sublime
However, the good thing about Qobuz is that it offers the same sound streaming quality to all its users, irrespective of the plan they buy. This makes Qobuz a better choice than Tidal.
If we talk about the Studio Premier plan, then this plan gives you uninterrupted access to the massive library of Qobuz. Plus, users can also stream and download 424,000 Hi-Res audio files. This plan is suitable for music listeners of all types.
The other plan, Studio Sublime, is more designed for people who often buy songs and albums. With this plan, you will get exclusive access to special discounts when you purchase Hi-Res audio for downloading on your device.
If we compare both services, if you listen to Hi-Res audio, Qobuz surely offers the best value for money. Because at just $14.99 a month, you get uninterrupted access to one of the most extensive libraries of Hi-Res music tracks.
On the other hand, if you want a streaming service to listen to high-quality music, Tidal can be a good solution for you.
Sadly, none of the services offers any free membership tier. There are only premium plans. You get a 30-day free trial to test their services, though.
Qobuz vs Tidal – Compatibility
Regarding compatibility, both Tidal and Qobuz have plenty of options. They have their native apps available for Windows, macOS, Android, iOS, and others.
Not only that, but you can also install these apps on your Apple TV, Roku, or other digital devices. Additionally, you can access the service's web version if the native client isn't available for your device.
Qobuz vs Tidal – UI, and UX
1. Getting started and signing up
Getting on board with Qobuz is straightforward. When you land on their homepage, you will see a try for free button.
This button will lead you to the signup page, where you will be asked questions about your email, your name, date of birth, and other things.
After that, if you want a membership trial, you must select that subscription plan to proceed further.
If you skip this step, you will not be able to get the free 30-day trial of the service. Even though Qobuz offers a free tier, that is not free.
With the free membership, you will be restricted to playing samples, not the entire song.
10 ways to listen to Qobuz
After selecting a plan and successfully registering on the website, you will be asked to select music genres you enjoy listening to.
This initial step allows Qobuz to understand your taste in music and throw recommendations accordingly. Overall, I would say the signing process on Qobuz is pretty easy.
On the other hand, getting started with Tidal is also very easy. When you visit their website, you can see a free trial button. After clicking on it, you will be redirected to the signup page.
You can manually sign up using an email account or continue with your social media profile on Facebook, Twitter, or Apple ID.
After registering, you will be asked to select a plan. Unlike Qobuz, Tidal's free tier doesn't even let you play samples. You can use the free plan to see their layout and UI.
Everything you need to know about Tidal -- in 90 seconds | Mashable
However, to test their sound quality and library, we suggest you opt for the Hi-Fi plan, as you can downgrade your plan later on.
Like Qobuz, Tidal also asks you to select the type of songs you listen to. However, the good thing here is that instead of asking about the entire genre, Tidal asks you to select your favorite artists from different genres.
For example, you can select rock music bands and artists such as Måneskin, The Beatles, Nirvana, and others instead of selecting rock music.
Similarly, you can select artists such as Johnny Cash, Lil Nas X, Ed Sheeran, Avicii, Taylor Swift, and others. Overall, I would say the signup process of Tidal is a bit better than Qobuz.
2. Layout and design
The user interface and layout of Qobuz are okay. While I didn't find it very intuitive, it is not too difficult and tedious either. The white background on the web version looks great, but it looks a bit dated to me.
Indeed, the user interface depends on an individual's choice and liking, and therefore, you may enjoy Qobuz's UI over Tidal or any other music streaming service.
More than the web-based version, I like the Android app of Qobuz. The Android app looks very minimal and easy to use. On the homepage, you will see a bunch of newly released albums and tracks in your selected genres.
On the other hand, we have Tidal. The user interface of Tidal looks way more visually appealing and attractive than Qobuz. If you have used Spotify before, you will realize that Tidal's UI looks similar to Spotify. A similar thing goes with the smartphone app too.
Also, the user interface of Tidal is very easy to use. When you land on the homepage, you will be greeted with a bunch of sections such as Recently Played, Mixes for You, Radio Stations for You, Because You Added, Suggested New Albums, Tracks, Tidal Charts,, and many more. On the homepage, you get many ways to discover new music.
Qobuz vs Tidal – Music Discovery
The music recommendation feature of Qobuz is okay. It is not too bad, but it is not too impressive either. When you land on the homepage, you will see "New Releases" tracks and songs based on the selected genres during the signup. 
Instead of offering algorithmically personalized songs, Qobuz offers playlists based on Hi-Res songs, new releases, different genres, and more. Therefore, Qobuz is not the right choice if you prefer personalized suggestions.
That said, these pre-curated playlists are not too bad. The only thing is that I didn't like them, and I prefer personalized suggestions a bit more. There are chances that you might like those playlists, and therefore, Qobuz might be a good choice for you.
In my opinion, the biggest issue with these playlists is that they are pre-curated. The thing is that I am a big fan of rock music, but I prefer listening to old songs more than some recently released tracks.
The issue here is that since they have pre-curated playlists, their list contains a big majority of recently released songs that, even though I might enjoy, I am not in the mood to listen to at the moment.
If Qobuz had any recommendation algorithm instead of these pre-curated playlists, their algorithm would have understood that I prefer to listen to old music, and I would have received suggestions accordingly. This is the main issue with these pre-curated playlists.
Below those playlists, you can find two sections named Panoramas and News. Panoramas include descriptions of these playlists, insights, trivia, exciting overviews of artists, and other music-related topics.
On the other hand, the news section covers the latest gossip, news, and other trending topics related to the music industry.
I am not too fond of these sections, but it depends on the individual's choice. If you love to gather information or stay updated with the latest news about your favorite creator or music industry per se, you will surely enjoy this section.
You can also discover music on Qobuz by searching for that specific song, album, artist, or band. You can also head to the particular record label's page to browse the songs of all the artists releasing their work under that label.
Overall, I would say that I like the search function of Qobuz more than the pre-curated playlists.
What does Tidal have to offer?
While Qobuz performs just okay for music discovery, Tidal features one of the most powerful recommendation algorithms to offer personalized playlists.
When you sign up, Tidal asks you to select your favorite singers, then displays songs of those artists, called your welcome mix. Here you can find most of the songs that you enjoy listening to.
Once you listen to your favorite songs, Tidal starts learning your taste and prepares some playlists based on them. The best thing about this algorithm is that the more songs you listen to and like, the better these recommendations become.
If you like a playlist, you can also save it to listen to in the future before it gets refreshed.
Other than their personalized recommendation algorithm, I like the number of pre-curated playlists they offer. Though these sections are based on your liking, there are plenty of ways to discover something new.
The different sections that you may find on their homepage are –
Recently played

Mixes for you

Radio stations for you

Because you added

Suggested new albums

Suggested new tracks

Popular playlists

Trending playlists

Popular albums

The charts

Party

TIDAL Rising
The songs you see in the first four sections will be based on Tidal's personalized recommendation algorithm.
The following two sections – suggested new albums and suggested new tracks, will display recently released songs based on the type of music genre, artists, and albums you have listened to.
The other sections, such as popular playlists, the charts, trending playlists, and others, will show popular songs and albums across all genres.
If you want to discover some new trending songs out of your favorite genre, these sections can be a great place to look.
Lastly, there is a TIDAL Rising section, and here you can find new rising singers and bands. This section is a great way to see some hidden, underrated talents.
Another way to discover Tidal music is by heading to the Explore tab. Clicking on the Explore tab will take you to a page where you will be greeted with many ways to explore music.
The first thing you will see on this page is a massive list of genres. You can select any genre, and Tidal will show you pre-curated playlists of popular songs in that genre.
Below the genre section, you will see the mood, activities, and event section. This section will help you find music based on your mood or the activity you are doing.
For example, if you want songs for a party, you can select the party from this section. Similarly, you can get pre-curated playlists for the workout, dance, relaxation, meditation, romance, and others.
The explore tab is a great way to discover music you haven't listened to. 
Overall, I think Tidal is way ahead of Qobuz in terms of UI and UX.
📗FAQ on Qobuz vs Tidal
Is there anything better than Tidal?
Spotify has become one of the most popular music streaming applications worldwide. It has a vast library and several podcasts for complete entertainment. However, Tidal offers much competition with lossless audio, videos, and podcast.
Is Tidal better quality?
Tidal, a music streaming service, offers high-fidelity streaming called Tidal HiFi, which provides lossless audio quality at a significantly higher rate than other services that generally provide compressed audio.
Whether one can discern the difference between Tidal HiFi and other streaming services depends on various factors such as the listening environment, audio equipment quality, and hearing ability.
In an environment with minimal noise and high-quality audio equipment, it's possible to perceive the difference between Tidal HiFi and other services. Conversely, it may not be noticeable in a noisy environment or with lower-quality equipment.
In conclusion, Tidal's high-fidelity streaming service is technically superior to others, but whether it's subjectively better depends on individual listening circumstances and preferences.
Is Tidal worth it in 2023?
Tidal is a brilliant option and offers terrific music recommendations. Go for the premium version if you are an audiophile. Ensure that your headphones are up to the mark for the best experience.
Which music app has the best sound quality?
Tidal is way ahead in the competition if you are talking about sound quality. It has about four audio quality settings that can be used to enhance your music experience.
Does Roon sound better than Tidal?
Roon makes modern sounds brighter, especially in loud environments like a car. Tidal is smoother compared to Roon and offers fewer details.
Does Qobuz sound better than Spotify?
MP3 on Qobuz is superior to generally with 320kbps MP3. Compared to Apple Music or Spotify, Qobuz offers a better experience. You will listen to music the way the artist has intended.
What aren't artists on Tidal?
No significant artists can be found on Spotify or Apple Music, not Tidal. Many artists are not available for streaming on any platform. They are the Beatles, Garth Brooks, Tool, and Bob Seger.
Why does Qobuz sound better than Tidal?
There is a difference in which the services stream music. Users with Qobuz can stream hi-res music without requiring an MQA. With Tidal, you will get an MQA option in the audio settings.
Is Tidal worth the money?
The high-cost entry is worth it because of its excellent listing experience. You will receive curated content, an awesome playlist, mastered audio quality, etc., with Tidal. Audiophiles can go for it without any second thoughts.
Is Qobuz the best streaming service?
Finding the top streaming service for your music needs relies on specific factors like music selection, user interface, price, and device compatibility.
Qobuz, a high-quality streaming platform, offers lossless audio and high-resolution music. This makes it a top pick for audiophiles and music enthusiasts searching for the best listening experience.
However, Spotify, Apple Music, and Amazon Music are popular services with vast music libraries and advanced features such as personalized playlists and social sharing options.
Additionally, consider whether the service provides exclusive content or unique features not available elsewhere.
Ultimately, determining the best streaming service depends on individual preferences and needs. Try various services and compare them based on the factors that matter most to you.
Is Qobuz lossless?
In general, Qobuz's high-resolution streaming option delivers audio quality that is very close to the original recording.
Do audiophiles use Tidal?
Audiophiles often use Tidal due to its high-fidelity streaming option, Tidal HiFi, which provides lossless audio quality at a high bit rate.
Audiophiles are passionate about high-quality audio and appreciate the subtleties and nuances of music. They tend to invest in high-quality audio equipment and seek out high-quality music.
Tidal HiFi's high-resolution music files and lossless audio quality make it an attractive option for audiophiles, and it has been marketed to this demographic. As a result, it has gained many subscribers willing to pay for the high-quality streaming option.
In conclusion, Tidal's lossless audio quality through its high-fidelity streaming option has gained popularity among audiophiles.
It offers a listening experience that closely matches the original recording, making it a valuable option for those who appreciate high-quality audio.
Why is Qobuz better than Tidal?
Some may favor Qobuz due to its vast classical music library and larger collection of high-resolution music files.
Qobuz has a playlist curation, an album review team, and a unique feature where users can buy high-resolution music files at discounted rates.
On the other hand, Tidal has a more extensive selection of exclusive content, such as live performances and partnerships with renowned artists like Jay-Z, Beyoncé, and Prince.
Tidal provides the "Tidal X" feature, allowing access to exclusive live events and concerts. Tidal's lossless audio option has a slightly higher bit rate, which some users may prefer.
Why is Tidal not more popular?
Several factors may contribute to this:-
1. Tidal has limited availability in certain countries, which reduces its user base.
2. The high-fidelity streaming option costs more than the standard audio quality and other services.
3. Lesser brand recognition than competitors, making it challenging to attract new subscribers.
4. Tidal has exclusive content, which can be a selling point for some users but restricts access to specific content to only one streaming service.
What music service has the best sound quality?
Here are popular music streaming services with high-quality audio:
Tidal HiFi offers high-fidelity streaming with lossless audio quality at a higher bit rate than competitors.
Qobuz provides high-resolution music files and lossless audio options, including FLAC and ALAC.
Amazon Music HD provides lossless audio quality at a high bit rate and an expanding selection of high-resolution music files.
Deezer HiFi offers lossless audio quality at a high bit rate and a growing collection of high-resolution music files.
Apple Music offers lossless audio at no extra cost for CD-quality audio for most of its catalog and high-resolution audio for a growing selection of songs.
Is Spotify the highest quality than Tidal?
Spotify's highest-quality streaming option provides a maximum bit rate of 320 kbps, which is lower than Tidal's high-fidelity streaming option, Tidal HiFi. Tidal HiFi offers lossless audio quality at a bit rate of 1411 kbps, significantly higher than Spotify's highest quality option.
Although both services provide high-quality music streaming, Tidal HiFi's lossless audio quality more accurately represents the original recording. However, audio quality depends on the original music file source and the user's audio equipment.
In conclusion, Tidal's high-fidelity streaming option provides higher audio quality than Spotify's highest-quality option.
What is the maximum quality of Qobuz?
Qobuz offers high-resolution audio files up to 24-bit/192 kHz for most of its catalog, with some tracks available up to 24-bit/352.8 kHz.
Do you get Dolby Atmos with Tidal HiFi?
Yes, Tidal HiFi subscribers can access a growing collection of music in Dolby Atmos format.
Wrapping it up – which one (qobuz vs tidal) is better?
We have reached this article's end, and it is still not easy to say that Qobuz is better than Tidal or vice versa. I believe that the answer to this question ultimately depends on the needs of the individual.
If you are an audiophile and enjoy listening to Hi-Res tracks, then both Tidal and Qobuz are great options. However, if I have to pick one for Hi-Res or Hi-Fi music, I would go with Qobuz.
The reason is simple, Qobuz is less expensive and has a far bigger library of Hi-Res audio tracks than Tidal. 
On the other hand, if you are a regular music listener and not an audiophile, Tidal can be a great solution. At just $9.99 a month, Tidal premium allows you to access a massive library of over 70 million songs and 250,000 music videos.
You can stream all these songs in up to 320 kbps, and that bitrate is not bad, either. Therefore, Tidal would be the right choice for you.
But if you want a music streaming service to listen to high-quality songs and a personalized recommendation algorithm, then why not try Spotify?
After all, Spotify offers a much better deal with a more extensive catalog at the same pricing. Plus, Spotify's library contains a massive collection of audiobooks, podcasts, stories, and more. And not to forget, Spotify features a free ad-supported tier, too.
What's better? The personalized recommendation feature of Spotify is the best in the industry. Plus, Spotify is available across the globe.
With that said, here I am wrapping up this article. If you have any questions, feel free to shoot them in the comment section below. Our team will try to answer them ASAP.