This Buyer's guide will help you find the Best Scuba Diving Camera in 2022. 😎
The best part?
All of the Cameras in this review are current and up-to-date.
We manually reviewed around 15 cameras based on Housing, Depth rating, Aperture, ISO Speed, and Manual white balancing and came to the best 7 for our readers.
So without further ado, Let's dive right in. 🎭
Diving into the depths of oceans can be quite fun for some people, and it could be a nightmare for others. The beauty of the underwater world is that it is something to behold and gets many people captivated; that is why the quest for underwater excursions continues.
Friends have been known to challenge themselves in scuba exhibitions on how deep or long they can stay in the water. Though this is quite dangerous and extreme, the adrenaline among scuba divers always continues to increase.
The zeal to have recordings of these expeditions brought about the invention and creation of scuba diving cameras. These cameras are built to work underwater and differ from your everyday camera as they are waterproof and exhaustively sealed.
The invention of these cameras has bought about the widespread modification and innovation of most diving gears, especially the camera, as it is now a paramount part of a diving expedition.
The beauty of this underworld is usually so breathtaking that photo agencies pay huge sums of money for those photos. Albeit, this sort of photography needs the specialty of well-crafted cameras specifically designed to bear the brunt and weight of having to take a photo underwater.
No matter what your aim is when taking diving camera sessions, paying attention to the beauty of the water world is the most paramount thing.
The history of the diving camera goes way back to the first underwater camera called the Calypso; this innovative camera was patented after a couple of glitches by the manufacturer sometime in 1963.
Since then, brands have tried to outdo themselves in producing these underwater gadgets. With the advent of more and more innovations, The widespread use of scuba diving cameras is now a fad.
So getting a diving camera should no longer be a problem for you.
Best Scuba Diving Camera – Our Picks👌
In this article, you will know which camera to invest your money in for durable and excellent performance.
1. GO PRO HERO 6
The GO PRO HERO 6 is an offshoot of the GO PRO HERO 5, which was quite a hit after its release, selling over a million copies of the product.
Many pro scuba divers opted for the GO PRO HERO 6 due to its clear camera ability and awesome capturing capabilities. Its ability to shoot from a 12MP camera gives it an edge as it gives out 4K images.
Its high-end resolution and refresh frame rates were parts of the features that were improved upon, which later gave way to more convenient image quality stabilization and a total overhaul in the resolution and quality of the image.
Its price was then reduced to be easily accessible to its devoted fans, eagerly waiting to purchase.
You probably would not get this much quality for a  camera of this size, so getting it is one of the best options for why you should get the GO PRO HERO 6.
Its design is just an improved version of HERO5, which got a lot of attention, which means you can pair up most of the accessories of the previous model and use it for the HERO 6.
The Hero 6 comes with a 2-inch touchscreen feature that now works perfectly; the image resolution is much higher than the previous version.
GoPro has been trying to work on their voice prompts but features them in this new version. Its power saver mode can last up to eight hours.
Overall, the  GoPro Hero 8 is an excellent diving camera for that price, and you can rest assured you will get nice quality images.
Handling a 5GHzWiFi connection signal boosts the way images are being transferred through the Go Companion app on your mobile devices. This WiFi connection takes a huge toll on your camera's battery life.
Pros:-
Availability of 4k imaging
Voice command
12MP camera lens
It possesses a high transfer speed
Cons:-
GoPro HERO6: This Is the Moment in 4K
2. Canon PowerShot 120
The Canon PowerShot S120 has a laminating lens of f/1.8; this allows for images to be captured in low light situations, thereby producing a clear and vivid image. This ultra-wide 24mm angle allows you to take stunning scenery images.
Close capturing of images allows you to zoom 10 times using the Zoom plus feature in the landscape mode.
The furnishing of the HS System in the Canon Powershot  S120 performs wonderfully even when there is poor lighting and admittedly produces a picture of the right quality and high resolution without the need for external light.
The Advanced DIGIC 6 processor backed up with a 12.1 Megapixel CMOS sensor is capable of outstanding image resolution in all occurrences.
The Canon Powershot S120 touch screen is quite easy to use, with its captivating touch and quick response rate.
The built-in Movie Transcoding feature of the camera allows you to share images directly from the camera to your devices. Noise cancellation makes the experience more wonderful due to its 30p ability.
You can also record videos at 60fps, allowing full HD resolution videos. Its WiFicompatibility allows you to easily access your local network or any WiFi-compatible device for streaming on the Internet and adding positioning to the images.
The image Sync property of the camera makes it easy to store the information. Its images are usually breathtaking through its HDR mode, which can capture beautiful book pictures.
You do not have to bother about it getting damaged in water, as it is waterproof and has external housing. The Canon PowerShot S120 has many outstanding features that put this high-end Camera in the mind of every scuba diver.
Pros:-
1 Megapixel camera
Wireless connection
Full HD facilities
Waterproof
Cons:-
3. SONY RX100 III with Housing
Sony is known for constantly producing high-end camera resolutions, focusing on high pixel density. This makes the SONY RX100 III competition one of the best scuba diving camera for beginners on the block.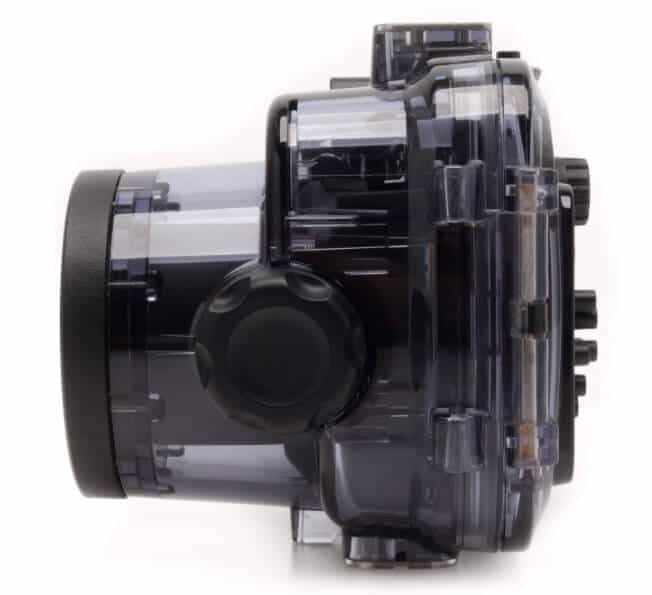 Categorically, you would expect the Sony  RX100 III to be a game-changer in this aspect as their quality is usually top-notch. A 1080p HD video quality allows you to capture breathtaking images while scuba diving without a depletion in the video quality.
Just imagine capturing detailed and clear images of the water beds as they swivel and move to the current of the water.
The overall image quality results from a specialized image processor called the BIONZ X, which allows the camera to capture at a speed of 10fps when set in speed priority mode.
Its shutter speed boasts 0.0008 lag time which means the images can be captured in real-time with memories being made in high resolution.
The images from this camera can be reprinted onto any surface with a Full pixel readout to reduce any artifacts due to the camera's ability to use data from the camera's sensor.
Focal lengths play a major role in camera quality standards, with the Sony RX100 not being left behind. A  built-in Zeiss Vario-Sonnar T churns out a 35mm focal length from as low as a 27-70mm capture range.
Adding this lens allows for eradicating any kind of distortion on the image. Expect a noiseless image even in dark underwater conditions, as the RX100 III has a balanced aperture range of f/1.8-2.8 and can be zoomed to some certain focus range.
Wireless compatibility is also one of these cameras' features, as it supports the use of Near Field Communication (NFC) system. This enables you to send data and images immediately after they are captured on the camera.
Another feature called the PlayMemories camera app gives you the liberty to set the camera to our personalized shooting style. So just imagine swimming along with a school of fish and simultaneously taking pictures at a fast rate.
Pros:-
High-quality images
portable and quite compact
Cons:-
Sony MPK URX100A Underwater Housing for the RX100 Quick Review
At the time of our research on "scuba diving", we found a video about " If You See This While Swimming, Get Out Of the Water Right Away! " which is worth watching.
If You See This While Swimming, Get Out Of the Water Right Away!
4. Intova Edge X Waterproof 1080p Action Camera
The Intova Edge X Waterproof 1080p Action camera is one very rugged camera. Its outward look has a hard and bare design because it is placed in a housing that allows it to reach depths of about 330′ is as far as most scuba divers reach.
The materials used for this housing, such as polycarbonate coating, are airtight and waterproof. That does not infer that the camera quality will wane as this beast comfortably churns out top-quality images.
You will miss the loaded features if you allow its outlook to deceive you. It comes with 1080p videos at the rate of 60fps, some of its potential due to its stunning camera pixel of 20.1MP CMOS sensor.
The lens, which is waterproof and light repellent, allows for optimum performance underwater.
A long-lasting battery is also quite important as most times; the camera would be used underwater. This allows the camera screen to dim when not in use, thereby saving energy.
The charging facilities and HDMI compartments can be found on the rear side of the camera casing. This multimedia allowance allows you to connect your camera to a viewing system to see the images in a more enhanced viewing platform.
The lens of this camera is so wide that it can capture up to 160 degrees of their line of sight. You might need to capture some moments at very high speed; the burst mode feature can take up to 30 burst shots while using the 20MP lens.
Large buttons are also a bonus for the Intova Edge X as it allows easy access without punching in the wrong commands.
The camera's start does not take a long time, with the camera's processor working at optimum speed. the placement of buttons is well placed, and you do not have to fiddle through a series of buttons to find the right button to depress.
The camera has three modes depending on the purpose with which you want to use it. The modes include the Photo mode, the video mode, and the file-sharing model.
Pros:-
The Intova Edge X Waterproof 1080p Action camera is exhaustively waterproof.
It is compatible with WiFi and file transfer
Availability of Memory card slot
Cons:-
It does not have a fine finish
An absence of an image stabilizer.
5. SeaLife SL740 DC2000
When it comes to brands that are very prolific in producing underwater, SeaLife is an authority in producing these waterproof cameras.
This stylish camera can reach depths of over 200feet, which is prime for scuba diving. It is a fast camera with a speed frame rate of close to 60fps this reduces the level of distortion and noise that may want to pop up in the picture.
Like most top-end scuba diving cameras, the SeaLife SL740 DC2000 has a high-resolution capacity, producing clear and vivid images.
Capturing images at 1080p quality is just one of the few abilities this camera has with a lens that produces images of over 20MP. Most of the camera's exposure settings can be adjusted manually to help take pictures in all conditions or environments.
Unlike most well-known underwater cameras, the SeaLife SL740 DC2000 does not compromise the integrity of the image. It produces RAW images of the subject and puts its other advanced features into good use.
Its ability to respond to ultra-fast shutter response is a welcome development in how most of these images are captured, which is why it's easily recommended by an underwater photographer with a lot of expertise in the field.
Connectivity is one of the factors that many people consider when getting scuba diving; this feature allows you to transfer a file from your camera to your WiFi or Bluetooth-enabled devices.
The internal memory of this camera is around 80MB and can be expanded through its numerous memory slots. Books could be written about the efficacy of this camera and its properties because it is affordable and accessible to everyone.
Pros:-
Delivers RAW and JPEG format
Manual control of capturing configurations
Availability of 4 underwater capture modes
Full HD properties
Cons:-
Distortion when finding focus
6. Olympus OM-DE-M5 Mark II
The Olympus OM-DE-M5 Mark II is a simple and compact underwater camera with a 16MP camera. This camera has been embedded with an improved movie ability that allows the camera to take pictures with a multi-shot mode of 40MP.
This camera, just like most high-end cameras, has a WiFi connection that allows images to be transferred from the camera to another medium where it is being viewed.
The battery life of the E-M5 II is quite subjected to a high battery consumption module; the camera is known to take at least 300  shots but can be boosted by the use of Quick mode.
The quick mode allows you to take pictures at high speed. You can also decide to accessorize the camera by adding grips and detachable tripods to help balance the camera's output.
The possible accessories are numerous as it even features an earphone port which can be used while using the camera as a video camera. So going for a compact camera is quite the choice to make, especially if you spend money on housing for your camera.
The image stabilizer used in this camera is a 5-axis sensor-shift image stabilizer which can either be used for images or video recording. A flash or strobe is best used with this camera if you cannot handle the camera aperture and ISO.
Three external light sources and the commanding strobe should help balance the lighting in murky waters. The HDR feature makes the image colorful and quite attractive to the eye.
The Full HD 1080p recording ability is another reason to consider getting the Olympus OM-DE-M5 Mark II.
Pros:-
Wireless feature
Full HD 1080p feature
Good battery consumption
Interchangeable lens
Cons:-
Note:-
I have written a post for people looking for the
Best Hidden Dash Cam
to buy?, do read it If you are interested.
7. 

Fantasea Line FG7X II Underwater Housing 
This Canon camera is one of the brand's camera lines. This camera has a solidified defense or housing, which protects it from liquid entry and dust.
This housing, also known as the Fantasea FG7X II, allows it to maintain a deep water time frame. This allows the camera to function as deep as 200ft without a glitch.
The wet lens added to the camera is also a bonus to the already exceptional Canon G7 X Mark II features.
The LCD screen with this camera allows you to view the images you took while diving without resurfacing.  RAW and JPEG are their output format, which can be easily accessible and edited to your taste.
Its fps rate is also high, making the camera give out continuous or burst shots. It also records high-resolution video with the Full HD 1080p capability running at 60fps.
The 1-inch sensor is the company's first trial at the sensors in compact and portable cameras. The autofocus speed was also improved, raising the shutter speed to 8fps.
Some capturing features, such as the One-Shot feature, allow you to focus on the subject at a time. The AF servo allows you to capture your subject without influencing other factors.
The Canon G7 X Mark II with Fantasea FG7X II Housing gives a very detailed and high-quality image. Coupled with the fact that it can connect through wireless means such as Bluetooth and WiFi Connections.
A new processor is being used in the camera called the DIGIC 7 processor that helps reduce noise distortion on the images.
Pros:-
It uses a new processor called the DIGIC 7 processor
It has full HD capability
It has a better autofocus speed
It delivers RAW and JPEG images
Expandable memory slot
Cons:-
Best Scuba Diving Camera: What To Consider
🥽Housing:-
Before you buy a scuba diving camera, you need to pay attention to the housing in which the camera will be placed.
There are several qualities of the camera housing, and you must get the right specifications when purchasing your scuba diving camera. You do not want your camera to be ruined at its first immersion.
There are different housing types depending on the type of camera you want to use it with. the fact that most scuba diving cameras come with top-notch housing is a reason why you should get one that has a good depth rating and lens feature
🕵️‍♀️Depth rating:-
The Depth rating of a scuba diving camera or underwater camera is the depth it can reach before it starts losing its credibility. Where you get scuba diving is also a determinant of the type of camera you should buy. You do not want to get a low depth rating on your camera if you frequent deep waters.
If your camera exceeds the depth rating being instructed by the manufacturers, it is bound for the pressure of the water body to crush the equipment.
This is because pressure accumulates the deeper you go, and when this becomes unbearable for the camera's housing, it gives inlets in water that would damage the camera.
The farthest you should ever take your scuba diving camera should be 200ft because, after this point, the polycarbonate casing starts to fail.
🤴Aperture:-
The aperture of a camera is the hole of space through which light moves, determined by the rays that hit the image plane. When the camera's aperture is reduced by one aperture stop, it will reduce the amount of light that enters the camera.
Scuba diving usually takes place in a poorly lit environment, so getting a camera that has a good aperture is quite important because you want to be able to capture those moments with disturbance and noise in the image
🎏ISO Speed:-
Before you purchase a scuba diving camera, you have to consider the ISO speed of the camera. Understanding what an ISO first helps you grasp what to do and how to pick out your scuba diving camera.
The higher the camera ISO, the more distortion changes the camera's dynamic range. They continue to use a higher ISO, the faster your camera's shutter speed. Most cameras come with a small aperture which allows the camera to get more depth of field.
Getting a camera with a higher ISO quickens the recycling power of the strobe and helps you reduce the camera's power consumption.
Setting the ISO at auto does not have an impact on the way on the camera settings, so you should configure it manually as many times it is needed.
🎎Manual white balancing:-
Make sure to get a camera with its manual white balancing. Automatic white balancing is nice, but it would not fit nicely when taking a memory shot as you may have to remove the whiteness using editing apps.
Maintaining your Scuba Diving Camera
The fact that this camera undergoes some real pressure-crushing depths does not mean it should not be maintained. So you should always take good care of the cameras.
Here are a few tips on maintaining your scuba diving camera.
Always wash the camera in freshwater.
Confirm if the camera is dry before accessorizing- assembling it.
It is quite important to follow the manufacturer's instructions when it comes to taking care of your camera
Do not overexpose the camera to heat or sun rays
📗FAQ's
Below are a few queries on the ScubaCamera that everyone expects to answer, and I included the same for my readers.
What camera is best for underwater photography?
1. GO PRO HERO 6 and 7 2. Canon PowerShot 120 3. SONY RX100 III with Housing 4. Intova Edge X Waterproof 1080p Action camera 5. SeaLife SL740 DC2000 6. Olympus OM-DE-M5 Mark II
What GoPro should I get for scuba diving?
GO PRO HERO 6 & 7 is the recommended one.
Is GoPro a good underwater camera?
Is GoPro 7 waterproof without lens cover?
YES. So long as all camera doors are closed, these cameras are waterproof down to 10m (33ft) without a housing.
Can GoPro hero 7 go in salt water?
it's always a good idea to safely remove the camera and wash the housing with fresh water.
Is GoPro 7 white waterproof?
HERO7 White is built tough and waterproof to 33ft (10m).
Final Notes
If you decide to eventually go out and get a scuba diving camera, make sure to consult the help of a  professional. With their experience and the guide you just went through, you should be able to get a nice scuba diving camera.
Maintaining is also as important as getting the camera; follow the guide on taking care of your scuba diving cameras.