Are you in search of the Best Secret Messaging Apps For Secure and Private Communication? 🤔
We collected 13 of the best apps for you in this post.
Let's get started. 📗
Nowadays, people do care about their privacy more than anything else. Privacy has become an important concern for people these days because more and more companies are into data collection constantly.
This has made it difficult for people to determine the sources they should trust. This issue can well be combated with the new products that are introduced in the market from time to time. 
Amongst the new products available for safeguarding the privacy of individuals, the most important ones are secret messaging apps. These apps make way for end-to-end-encryption, which means no one will ever know what is being conveyed in the form of a message. 
Personal information is no more personal these days as more and more people, especially hackers and scammers, are on a hunt for personal data.
For combatting these dangers, secret apps for messaging are on the rise. They come with the claims of keeping privacy intact and safeguarded by providing end-to-end encryption solutions. 
Some of the best private messaging apps for Android and Ios that can serve as your go-to option when it comes to safeguarding privacy are as follows:
Best Secret Messaging Apps: Our Top Pick 👌
1. Signal Private Messenger
With the use of the Signal Private Messenger secret messaging app, you can instantly communicate while avoiding exorbitant SMS charges.
The app will help you in creating groups enabling you to chat in real-time with your entire friend circle in a single go. You can even share attachments or media with complete and top-quality privacy. 
One of the best things about this secret messaging app for Android is its server does not have access to the communications of the users.
Also, it does not store the personal data of the users. This secret messaging application makes use of highly advanced and world-class end-to-end encryption decorum for providing complete privacy for all messages. 
Features:-
The app uses the existing address book and mobile number of the user. 

Users on this app do not need to go through the hassle of managing separate usernames, logins, PINs, and passwords. 

The all-inclusive protocol of this application has been planned to be operated even in the most controlled of environments. 

Users even have the option of going for cell phone security preparation to get an improved understanding of the app. 

Audio call assistance is available.

The latest and highly advanced end-to-end encryption procedure

Encrypted groups can have secret conversations.

The server does not store personal data and private messages.

Peer-reviewed, open-source cryptographic protocols
Introduction to Signal Private Messenger
2. Viber
This is one of the most popular private messaging applications available at present. It is not just simple and secure but utterly fast, and the icing on the cake is that it is available completely free of cost. As per the recent reports, this secret messaging app has over 1 billion users across the world at present.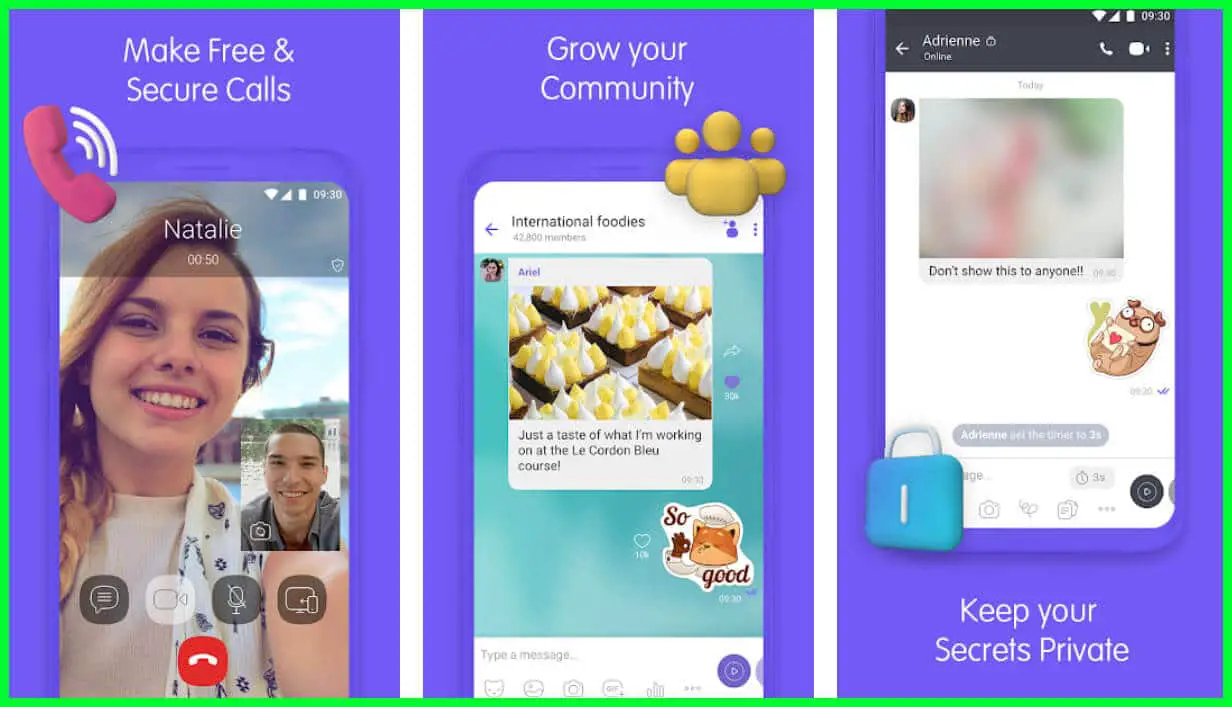 Hence, if you are on the lookout for the best private conversation messenger for making top-quality calls and texting for free, then Viber would be the right choice for you.
Accessing Viber is very easy on your mobile phone. The only thing that you require is a data connection or Wi-Fi. You even have the option of downloading this application for sending private messages, making non-chargeable international calls, and for opening different chat groups. 
Features:-
Users get the option of starting a Viber network or community consisting of unlimited members.

Its self-destruct feature is highly used for secret chats.

Several stickers and GIFs are available for the users.

The app can sync with the tablets and the desktops of the users completely.

It even comes with the option of enhancing regular conversations owing to its Chat Extensions feature.
📱 Viber Tips and Tricks You May Have Never Seen Before 💬
3. Threema
The app has got good rankings in the list of top private message apps. It comes with the claims of keeping the personal data of its users out of the reach of third-party developers, governments, and hackers.
Threema: Your private life is valuable. Don't pay with your data
This encrypted messaging product can be used anonymously, allowing individuals to make highly encrypted voice calls. The app has got all those features on offer that users generally expect from highly advanced and state-of-the-art chat apps. 
The Threema Web option enables users to have this app on their personal computers. So, they are saved from the hassle of using their mobile phones for texting through Threema all the time.
It is probably one of the most secure chat apps known for securing all user communication, including group chats, messages, files, status messages, and voice calls. 
It is just the intended recipient and no one else who will read the messages sent through Threema. With a gigantic figure of more than 3.5 million users worldwide, this app offers you good reasons for consideration. 
Features:-
It makes way for multifaceted file formatting.

Users can use it for sending text and voice messages.

Its highly innovative and beneficial poll feature can be used for conducting polls.

It is possible to make voice calls on Threema.

Options are also available for sharing videos, locations, and images.
4. Telegram
In the words of the company itself, Telegram is one private messaging application with a focus on security and speed. The whopping 200 million users of this app stand evidence of its popularity and ease of use.
 Not only this, but the active users are also constantly growing, and that too at a very fast pace. Quite the same as the other secret messaging apps, this product provides end-to-end encryption. 
It is also considered a very secure messaging platform mainly because of its Secure Chat feature. The advanced settings of the app have this feature on offer.
Telegram offers its users the flexibility of accessing messages on several platforms, mainly because it backs data syncing on many devices at the same time.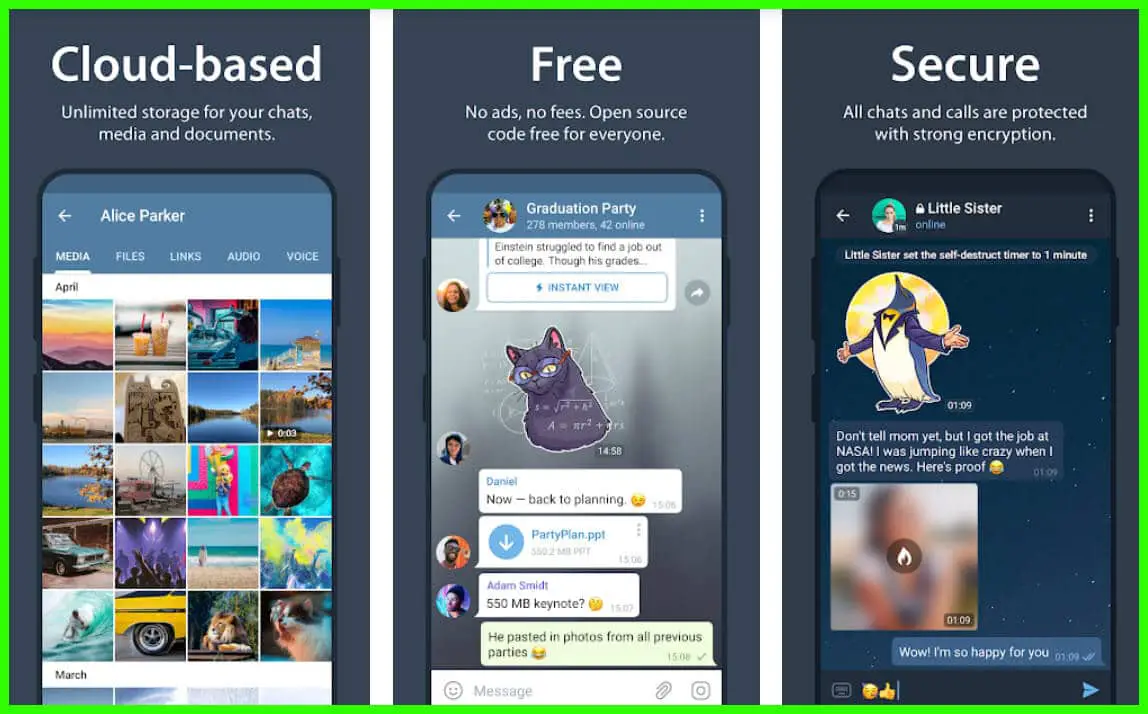 Another great thing about using Telegram is that when a user deletes messages on his side of the conversation, the messages on the other side of the chat get automatically deleted.
Telegram users also get the option of ordering their files, videos, messages, and images to be self-destructed within a certain time span but only after they have been received and opened by the intended recipients. After this, the messages disappear from both devices.
 The private chats in this app are not an integral part of the Telegram cloud. They tend to be device-specific, which means users can access messages only in secret chats on their origin devices.
This means that if the original device of the messages is safe, the chats are safe automatically. Users have the flexibility of sending files and media without any restrictions on their size and type.
Features:-
Chat history on the app does not require disk space on a mobile as it remains privately stored in the Telegram cloud. 

Users have the option of creating group chats for more than 100 000 members. 

Telegram is the ideal source for coordinating teamwork and hosting internet communities.

Offers assistance for several accounts

Provides video and photo editing tools

There are alternatives for unlimited file and message sharing.

Messages on the app are encrypted using a blend of 256-bit symmetric AES encryption.
5. Wire Secure Messanger
This secret messaging app comes as one of the ideal solutions for businesses and organizations that depend on secure and safe communications.
Wire encrypts personal data in the best way possible and is even protected by European privacy regulations. It provides some of the most traditionally used chat attributes along with stringent privacy.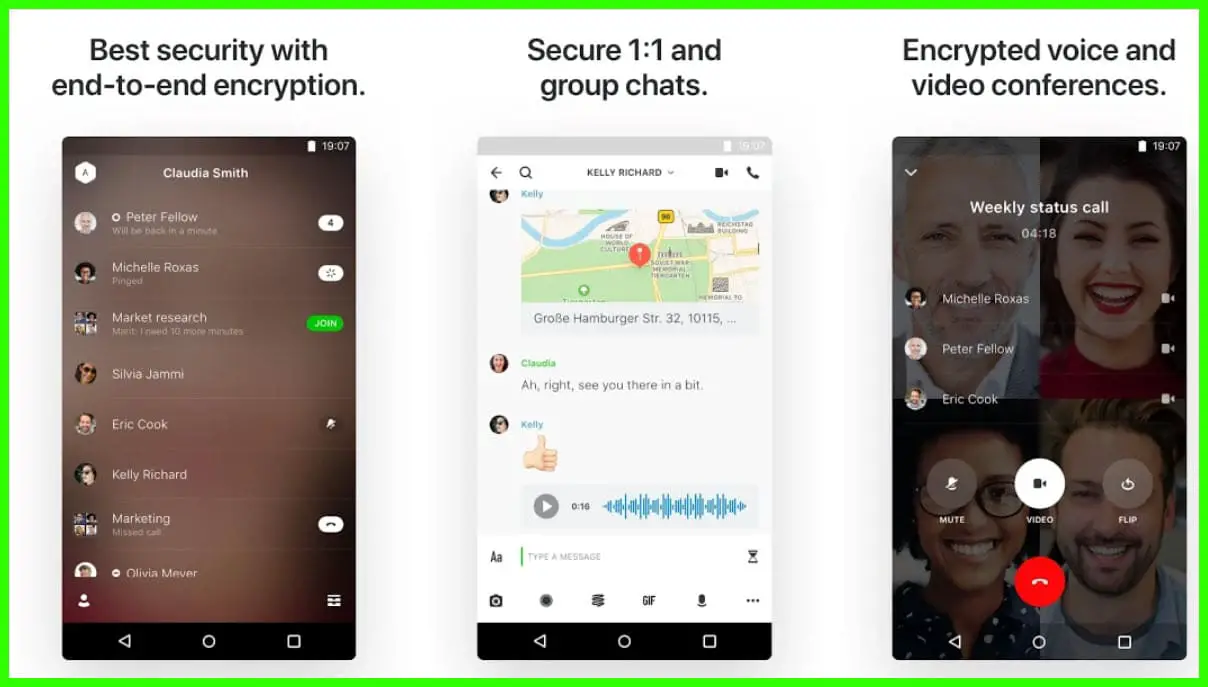 The protected communications ideas of this app have made it one of the best secret messaging apps presently available in the market. It works on the majority of the social platforms, which means that the files, calls, and chats of the users will always remain in sync. 
Features:-
It offers secure and safe file sharing.

End-to-end encryption

Independently audited and open-source application.

It supports video and voice calls.

The app has options for logging in with several accounts.
6. KakaoTalk
For the ones who are on the lookout for a multifaceted and fast private messaging app, KakaoTalk would be the best choice. This is not a much-talked-about secret messaging application, but it works wonders when you use it for your group chats and private conversations.
 You can use it for sending images, messages, voice notes, location, videos, and almost anything in the world without having to spend a single dime. 
The app also comes with an assortment of stickers and emoticons for making private conversations more exciting and fun-filled.
Using this secure app will give you the chance to communicate with family and friends across the world very easily. It is even backed by different platforms apart from Android, and these include Windows, iOS, and Mac. 
Features:-
It has several Kakao games that can be played on a mobile phone.

The location-sharing option is present in it.

Multitasking alternatives are available during free-of-cost calls. These include texting.

Users even get to see the people who have read their messages.

Appointments can also be scheduled using KakaoTalk, along with reminders.
7. Silence
Previously, this private messaging app was called SMS Secure, but now it is more popularly known as Silence. It is a wonderful end-to-end encrypted private messaging app that can be used on a smartphone.
In case the intended recipient does not have the app, they can still establish communications, just like the regular messaging applications. 
Furthermore, this app does not cost you any money. This open-source messaging platform enables its users to verify that the codes are flawless and free of all kinds of vulnerabilities.
This is both an MMS and SMS application giving users the flexibility of protecting their privacy even in times when they are communicating with friends and relatives across the world.
It not only helps you in sending messages but also gives you the option of sharing media in varied formats while ensuring complete security and privacy at the same time. 
Features:-
Silence works just like a simple SMS app. 

It does not require any internet connection or server on the user's phone. 

The users do not need to sign-up or register with individual login credentials.

It uses Axolotl encryption protection for offering end-to-end encryption to the other Silence users.

Messages on Silence are locally encrypted without the need of an internet connection.

Communication takes place by way of encrypted messages.

Free and open-source application.
8. Line
Yet another superbly secure and private text messaging app is Line which has gained huge popularity for the messaging privacy that it offers. The story of this app is quite unusual.
Initially, a group of Japanese professional engineers developed this application to serve as a solution for communicating after the 2011 Tohoku earthquake.
This devastating natural calamity destroyed the country's telecommunications infrastructure. Thus, one and the only way of communication left was dependent on online-connected podiums.
It was only in 2011 when end-to-end encryption was added to Line. The feature is known as Letter Sealing, and it is easily available to all Line users.
The only thing that they need to do for using this feature is to turn it on. If they do not want to use the end-to-end encryption features, they even have the option of switching it off. 
Many users consider Line to be one of the most effective applications when it comes to hiding messages on the phone. 
Some of the most unique attributes of Line App that earned it a spot in our list of cheating secret messaging apps that look like games:-
Auto-sync on several devices.

Users get the option of chatting with more than 200 friends at the same time.

Free video and voice calls.

Quick polling option.

Users can even call friends and family who are not using Line.
9. Wickr Me – Private Messenger
Boasting completely encrypted voice memos and voice calling, Wickr Me helps you connect with friends within a group or in different groups instantly.
The app comes loaded with some of the best features in the category of trusted and dependable end-to-end encrypted sharing of videos, files, and images. 
By making effective use of this secret messaging app, you can have complete control over the people who have access to your information and the period for which your data remains accessible to them. 
Every message on Wickr Me is encoded by making use of advanced examined encryption. One of the best things about this app is that it does not have access to the user's contact list or messages because no mailing address or mobile number is needed for registering on this application.
 The address book of the user remains personal and is not stored on the app's servers. The Wickr Me messaging protocol makes way for strong and safeguarded end-to-end encryption. It ensures both forward and backward security for the content of the users. 
Some of its most unique attributes of the Wickr Me – Private Messenger app that earned it a spot in our list of Best Secret Messaging Apps.
Latest vetted end-to-end encryption.

It comes with a configurable termination timer.

There are secret group chat options with a member limit of ten users.

The app overwrites deleted content.

Make use of open-source coding for complete clearness.
At the time of our research on Best Secret Messaging Apps, we found a video about "40 FUNNIEST TEXT MESSAGE FAILS" which is worth watching. 🤴🏆
40 FUNNIEST TEXT MESSAGE FAILS
10. ringID
Considered the most useful application in the category of popular, secret messaging apps, RingID can go a long way in making your social life happening and exciting.
This is because it comes jam-packed with options of music and media management where the users can explore the universal audience. 
There are live features that enable users to do so. Boasting of a whopping 300, 000 million registered users; this is one private messaging app that you must have on your Android device.
Many individuals consider RingID as their next go-to application because it offers them some of the best communication features in one place. 
Features:-
Individual friend permission alternatives are available.

The timer option is also available for all self-destructing text messages.

Maintaining and fabricating separate groups is quite possible for RingID users.

Users even get the freedom to choose their preferred news providers by going for the app's NewsPortal feature.

The app provides the exclusive ID for securing social media account sign-ins.
11. Snapchat
Probably one of the best secret messaging apps, Snapchat has had its share of ups and downs in the recent past. The most exciting feature of this private messaging application is that it brings forward innumerable ways of sending text messages for its uses. 
If reports are to be believed, the app is successful in registering around 50 million users every month while the download estimates are approximately 1, 000, 000, 000.
Despite all odds, Snapchat has been successful in coming up as one of the best security applications in terms of securing text messages.
These days the platform has gained immense recognition for its exclusive snapping tool. Additionally, it allows users to use different secret ways of texting, like taking videos, images, or snaps. 
Features:-
It allows you to add text or captions over a snap or a video that you might have taken, and you can share the same with others. 
It comes with customizable security settings.

Third-party servers not available.

Messages get deleted automatically after a time duration of twenty-four hours.

Snapchat offers free storage on the Cloud.

Data backups are not available.
12. WhatsApp Messenger
In these present times, there is hardly any individual who does not know about the famous WhatsApp.
This is a cross-platform messaging application that has gained immense popularity for the different features it has on offer. First things first, it can effectively be used for sharing files and exchanging text on the internet. 
Despite some controversies, it offers superb services as far as the privacy and the security of the users are concerned. It has paid off well in the long run and has emerged out successful amongst all the other secret messaging apps available at present. 
The best thing about this app is that even if a hacker is successful in occupying the system and getting hold of the messages on WhatsApp, he or she would not be able to decrypt the messages.
This is all because of the strong and solid encryption offered by the app. It even works on the policy of not storing messages on the server.
WhatsApp is not just for regular messaging, but another version of this app, known as WhatsApp Business, can be used for exchanging business messages.
Medium to small-scale industries can use this app for carrying out day-to-day business conversations and meetings without going through any hassle. The gigantic 1.5 billion users of WhatsApp stand evidence of its popularity across the world. 
Features:-
The app supports many multimedia files.

Both desktop and mobile compatible.

Enables group calling and texting.
Is WhatsApp End to End Encryption is Really Secured
Conclusion
For people who think that data sharing on the internet is private, it is time to redraw their thoughts. Government authorities are in the constant loop of data logging and online surveillance.
The government requires this data for national security while companies need it for advertising and promotions.
But why forget the cybercriminals who need personal data for their financial gains? So, if you want to keep every private message and personal data on your device safeguarded, you must download any one of the secret messaging apps detailed above.