The sim card is a vital component of our mobile devices. Without it, you won't be able to do anything virtually network related. That's why it is a really huge deal when we are faced with the "sim card not working".
Fortunately for everyone, there are quite a few fixes we could try to make sure our sim cards start working again. I'll be explaining the processes below in easy to follow steps, but first, let's look at some common causes of the problem.
Some Causes Of The "Sim Card Not Working" Problem
Incorrect insertion of the sim card in the mobile device's sim card slot

Third-party apps conflicting with system process and leading to sim card issues

Android software issues

Damaged sim cards due to fall or immersion in water

Damaged mobile device sim card port

Incorrect network settings configuration in mobile devices
There are so many other things that could cause issues with your sim but these are the more common ones. 
Some of these causes can be fixed by simple techniques explained below but some causes (like permanent damages to sims or sim card slots) can't be fixed easily. You might have to go to service providers or customer care personnel.
Simple Fixes For The "Sim Card Not Working" Problem
Mobile devices display error messages when the sim card is not working. The error messages can sometimes tell us where the problem is coming from, but it is not an exact science.
I'll be explaining the fixes in a way that ranges from really simple to a bit more complex tips.
1. Rebooting Your Mobile Device
This is the first thing you'll hear from a lot of tech experts about any issue with tech. Reboot, restart, turn it off and turn it on.
The reason is, sometimes some app processes can conflict and cause issues but a simple reboot will get rid of the conflict and your mobile device will start working normally.
Even though this fix is really easy, first try it out because it also works in many cases. 
Press and hold your device's power button, choose the Reboot/Restart option. Then check if the problem still persists. If it does, use another fix below.
2. Turning Off Your Phone (For Some Minutes) The Turning It Back On
This is different from the fix above because you'll have to keep it off for some minutes before you turn it back on. In the case of the fix above, it doesn't stay off for long.
Press and hold your power button. Shutdown your mobile device. Wait for a few minutes and then turn on your mobile device. Then check if the "sim card not working" problem has been fixed.
3. Manually Repositioning Sim Cards (Remove Battery Too If Possible And Re-Insert)
Whenever our mobile device falls, our sim cards can get out of position. This can definitely cause the "sim card not working" problem you're facing.
If you've dropped your mobile device recently (who hasn't) then you might want to check your sim card slot. Remove the sim, clean it gently with a dry cloth, and then reposition it back properly.
For folks using a built-in battery, then just reboot your mobile device. If you can remove your battery, then do so before repositioning your sim and then put it back in place and turn on your phone.
This fix should work if the sim card problem was caused by the sim card moving out of position due to the fall and you repositioned it properly.
Sometimes the sim slot might become loose, you could use tiny pieces of paper to firm it up until you can properly replace the loose sim slot.
4. Turning On And Off Airplane Mode
The idea here is that sometimes your mobile device/sim just needs a boost to search for a network connection and start working properly.
That's what turning on and off Airplane Mode will do. When you turn Airplane Mode on, the network connection to your sim card will be blocked. 
When you turn it back on, your sim card will automatically start looking for a network. 
The Airplane Mode option can be found by swiping down on your screen twice (once in some cases). Or swiping down and clicking the airplane option.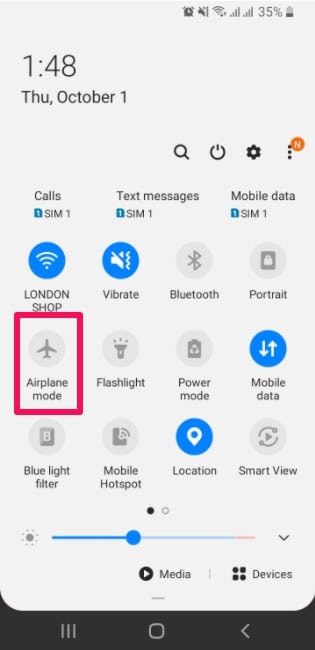 5. Switching Network Mode To Auto
Normally, this setting should already be Auto but you can check if you have issues with your sim card. 
Go to Settings, then in the menu, find and select Mobile Networks.
In the Mobile Networks menu, select Network Mode.
The first option should be – LTE/WCDMA/GSM (auto connect)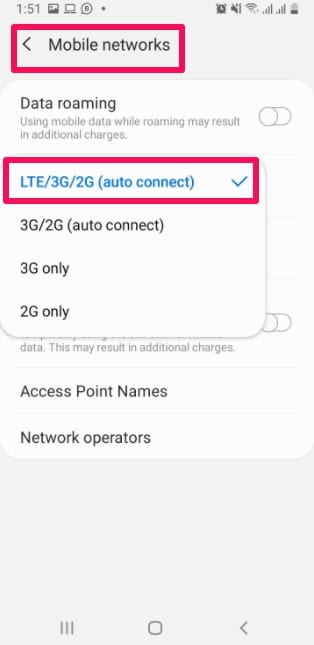 Choose this option and your sim card should aromatically connect and start working normally.
6. Checking Sim Card Settings Configuration
I have had folks complain to me that their sim card is not working and the simple fix was just to turn the sim card on in the Settings menu of your mobile devices.
Turning it off and forgetting you did, happens a lot. Especially in Android devices that use two sims. 
Sometimes you might have unknowingly turned off one sim port when it wasn't in use and now it isn't registering the fact that there's a sim in the port.
To fix it, navigate to your Settings menu. 
Find the Network & Internet option and select it. 
In the Network & Internet menu, open the Sim Cards option.
Check if the sim cards slider is switched to On.
If it isn't, then that's what's causing your sim card issue. Switch the sim port on and your sim card should start working. 
7. Correcting Wrong Network Operator Settings
Sometimes you might have a different network operator to the one that's selected in your Settings menu.
To fix that, open the Settings menu.
Find and open the Mobile Networks option.
In the menu that opens up, select the Network Operators option.
Here's where you'll be able to see if your device has selected the wrong network operator. 
You can use the Scan Manually option to search for the carrier of the sim you're using currently.
The select that carrier when the search results come back. This should solve the sim card problem you're having.
8. Update Your Mobile Device's OS
The "sim card not working" problem could occur because of software issues so updating your OS is a practicable way of fixing your sim card problem.
It is important to try out this fix, especially when all the fixes geared towards the sim itself did not work. If you're sure the sim is not the problem, then try out the steps below.
Go to the Settings menu on your mobile device. 
Find the Software Update option and open it. It is usually down the list in the Settings menu.
If updates are available and the problem was OS related, update your OS and your sim card issues should be over. 
Note: If the sim card problem started happening after you had an update, back up all your data in your mobile device and Reset To Factory Settings.
9. Removing Third-party Apps That Are Causing Problems
Like I explained before, some apps can cause major issues on your mobile device. Sometimes a simple reboot is needed, but other times you will have to totally remove the troublesome apps.
To be sure third-party apps are the problem, boot your mobile device into safe mode (only using apps that we're preinstalled) and use it for a few hours.
How To Boot Into Safe Mode
Long-press your Power button until your Power menu opens up.
In the Power menu, long-press the Power Off option until you see the option to reboot in Safe Mode.
Select the OK option and your device should go off, then come back on in safe mode.
How To Turn Off Safe Mode
First, turn off your mobile device.
Then turn it back on and press and hold (power button + volume down button).
If this doesn't work, turn off your phone (for a minute or more) remove your battery and sim card. The reinsert both back and turn on your mobile device. 
Using In Safe Mode
If the phone does not exhibit the "sim card not working" problem you were facing before, then some third-party apps are causing the damage. 
You can just delete the apps based on how recently they were installed and check to see if the problem with your sim card goes away.
10. Go To Your Mobile Device Help Center/Sim Card Help Center
You could go to your mobile device help center if the sim card slot looks damaged or too loose. They will be able to repair the fault and your sim card problems should be solved.
Maybe your sim card wasn't activated, they can help you find out there and activate it for you. If the sim card is not fixable, you can get a new one that you could test and use right there. 
Conclusion
The "sim card not working" problem is a quite common problem that is usually fixed by simple methods. 
Sometimes you might need some settings changed but most times it is the really simple things that fix it. 
Use the fixes exactly as provided and you should be able to get your sim card working normally again.
If you have any other tips that could prove useful for people having issues with their sim, then please share below in the comments section.