SIM not provisioned or SIM not provisioned for voice isn't your regular mobile issue. It can only be an issue on a mobile that makes use of SIM cards, and you are more likely to have this error during SIM swaps or if you are inserting a new SIM in your phone.
This error is more common in android phones like Oneplus, Samsung, Samsung, MI, and Huawei. Before Jumping into the fixes, let me give you an idea of what this error really means.
What is the SIM Not Provisioned for Voice Error
Putting it as simply as I can, it simply implies you would be unable to make calls even if other services continue to work on your phone. So don't be surprised if you can still browse the internet when you have this error.
There are a few reasons why this may happen. Here are the most common ones:
SIM swaps
New SIm insertions
Unavailable servers of SIM card providers
Problems with the network like poor network coverage or bad weather
Contact transfer to new SIM card
I must note that this error is increasingly popular with phones on Google Fi network (Network +wiFi) networks.
How to Fix SIM Not Provisioned For Voice Errors
1. Restart Your Phone
You would have guessed this fix. A simple restart works magic for many minor phone issues.
There are countless advantages to restarting your phone. It is an essential process to help retain memory, prevent crashes, prolong battery life, and would generally help your phone run smoother and smoother.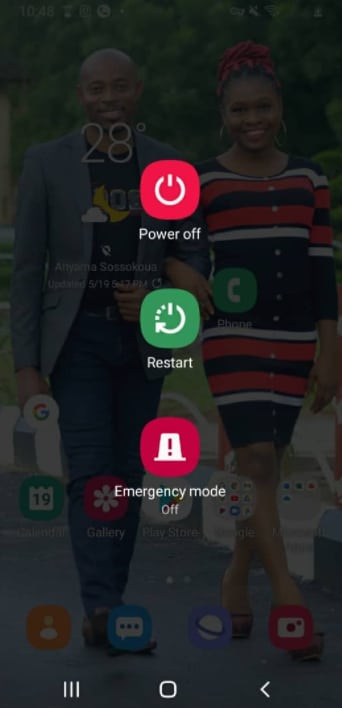 So yes if you are experiencing SIM not provisioned for voice this should be your first call.
2. Activate The SIM Card
SIM cards are not always plug-and-play. You would usually need to have them activated before they are ready for use. In most cases, all you would have to do is insert the SIM card and give it about 24 hours, the activation may be automatic.
When it doesn't happen automatically, you would have to either make a call to an automated number, log into the service provider's page, or send an SMS.
The activation method you choose would depend on what the service providers allow.
Once activated, restart the phone to see if the error is fixed.
3. Check That the SIM is Properly Inserted
This shouldn't come as a surprise. This problem could just be because you have not properly inserted your SIM. If this is the case, all you need to do is properly switch off your phone, completely remove your SIM, and carefully check to make sure it isn't damaged in any way. Finally, insert back your SIM, carefully making sure it properly fits into the phone's SIM slot.
Once done, switch on the phone and hopefully, the SIM not provisioned for voice error is gone.
Depending on what phone you are operating, the SIM card removal may involve taking off the batteries, or simply using some pin to open up the SIM card compartment.
4. Top Up Your Phone Credit
Sometimes all you need is a tiny little trigger for your SIM to be activated. Topping up your credit with as little as $1 might be enough to do the trick.
Once you have done the top-up, you may consider restarting the phone or even reseating the SIM card before turning on the phone again.
Tip – Whenever you switch off your phone, wait about 5 or 10 seconds before turning it back on.
5. Try Porting Your SIM to a New Service Provider
I would recommend that this is one of the last fixes you should try. So we have to assume you have tried all the different hacks listed above.
Now you should switch to an entirely new carrier.
To do this, you would not even need to step out of your office or home. Simple go online and look for the deal that suits you the most. Once you have ported, double-check to see if the error has been fixed.
T-mobile is an option you may consider.  You would find this resource handy for porting your mobile numbers.
6. Contact Your SIM Provider
After trying the above-mentioned fixes, you should start considering the possibility that the problem can not be corrected without external help.
In this case, your first call should be your SIM provider, explaining the error you are having. Your provider would investigate while having you hold the line.
If the issue is caused by a server that is down, you may just have to wait till it is up and running. The positive in this fix is that at the end of the call, you would be given some sort of explanation, and a time frame for its resolution.
7. Get Help From a Community
Most of the mobile carriers have huge communities online. If you do not want to go through the interaction and long holds associated with contacting customer service, simply opt to look for solutions on the online community.
These communities are made up of folks like you, and not paid staff of your mobile carrier. You are very likely going to find someone who answers your present problem.
There are dozens of these communities, and a google search may just be enough to help you find the community for your carrier.
8. Replace the SIM Card
I agree this may not be the ideal solution. Our SIM card is normally attached to the number or family and friends know. But it is good to know, for a worst-case scenario that this could be a fix.
Getting a SIM is usually easy. In most cases, you would most likely have to head to a local phone shop. This is also not usually an expensive fix. Alternatively, you could get a new sim at a franchise or a branch of your SIM provider.
Final Thoughts on the SIM Not Provisioned For Voice Error
If you have read this far hopefully you have this error fixed by now. I recommend you work your way from top to down with the fixes. I have arranged them in order of ease and efficiency.
For this and many other phone-related problems, my personal first try is always a quick restart, having in mind to wait 5 or 10 minutes after a shutdown before turning it back on.
I have given a list of fixes I know have worked. But this may not be the most exhaustive list because with mobile devices, from time to time we will be faced with peculiar problems. I would love to know what additional fixes you have tried, and what has worked for you in the past.