Are you searching for alternative Sites like the chive For funny photos and videos?💁 With this post, I covered the 11 best alternative websites for you.
Without any further ado, Let's explore this guide.
Do you get bored at work? Do you spend all your time searching for funny videos or fabulous blogs to read and try to improve your English skills? If so, then you are in luck. If you have peace of mind and nothing to do, jump into the internet world.
The Chive offers one of the best platforms to turn your mood around. The Chive is home to the world's largest database of movies, hilarious blunders, amusing photographs, unique photography, and art worldwide.
Whether you're looking for motivation or a place to relax, the Chive delivers daily doses of enjoyment in a never-ending sequence of experiences.
What is The Chive?💁
The Chive is a website created to allow people to share and discuss stories, images, videos, and other content online.
Some people call it an excellent website for memes, but The Chive also has some of the most incredible photos and videos. The Chive is where to go if you're searching for something amusing or inventive.
It contains posts and images sourced from international and domestic websites. The Chive was first created by the founder of CHIVE, John and Leo Resig, in 2007 to share content that he felt was better than other sites.
Its users have described the Chive as "the Internet's most entertaining site." It is designed for entertainment purposes and has become quite popular.
It is among the best sites to go to boost your mood. It has many videos, entertaining fails, funny pictures, outstanding photography, and many viral things. But this great site has problems with the load time.  
If you still want to explore additional sites comparable to the Chive, your quest stops here. To help you make your pick, we've assembled a shortlist of sites like the Chive.
Best Sites Like the Chive – Our Top Pick👌👌
1. The Onion – Sites like the chive For

unusual or outrageous content
The old-style newspaper used to have a strict editorial structure with a clear division between news and opinion columns. With the development of digital media, this is no longer the case.
The Onion is an American satirical publication and one of the best sites like the Chive famous for its unusual or outrageous content, typically involving fictional and often ridiculous stories. Some have described it as "the world's finest news outlet."
The Onion's latest issue tries to imitate the tone of a mainstream news publication by publishing articles in a style that is typically reserved for severe news sources.
To mimic the tone of their website, the Onion has a set-up in which stories are pre-written in different departments, including editorial, political satire, Hollywood satire, and man-on-the-street interviews.
The Onion is known for its humorous headlines, parody, and satire of the day's news. It publishes local, national as well as international articles.
Tim Keck and Christopher Johnson, who also penned their first pieces, created The Onion in 1988. The Onion has been praised for its wit and satire. It is often referenced as a parody of traditional newspapers.
It also operates the A.V. Club, pop culture and entertainment publication. This section is a collection of weekly features and reviews covering the latest movies, T.V. shows, albums, games, and more.
The Onion is a daily news source with a distinctive voice that many people enjoy reading. Its articles offer an array of opinions on various topics ranging from serious to absurd and are written in a satirical tone to make people laugh about their everyday lives.
2. iFunny 
iFunny is a platform all about funny videos, memes, and pics. And it also helps you in making your collection.
It has made it easier to create new content because of its powerful content creation tools, allowing users to share their online creations with the world easily.
iFunny is a community-driven platform where you can also find the most famous content shared by users. So people can easily find their favorite meme, GIF, or video on this platform.
With millions of users, iFunny is among the most popular platforms for sharing content. It provides users with a massive collection of videos, memes, and pics.
iFunny also helps you make your collection by providing pre-made templates or allowing you to search for the correct type of content. For instance, if you want to share a video of your friend's party, go to their homepage and search "party video" to automatically select your best options based on what iFunny collects.
The most acceptable jokes are shared and watched in real-time. This makes iFunny a unique social network leading to creating content online today. The application empowers users to post videos, images, and GIFs without limits.
It is a platform where you can share your memes through humor content, and others can also share their own. It offers various tools to discuss your ideas with other members, including the comment feature.
It also allows its members to monetize their content by displaying ads on their memes in exchange for money paid to the creator.
3. LOL Pics – Sites like the chive For Fresh Memes
LOL Pics is an app that allows people to enjoy and share humor on the most entertaining and hilarious moments. Across all platforms, the app has been installed over a million times.
It is a website that provides its users with excellent content to make their time more enjoyable. The site has funny and cute content that can easily be enjoyed without paying anything.
This software is accessible on iOS and Android, and it allows users to experience the most incredible stuff for a hilarious time at no cost.
It has become popular among social media users because it offers a variety of entertaining movies and photographs. It has been used to express amusement or laughter through sound or text.
This app is the perfect way to have a good time when bored or waiting for a delayed flight. It has everything you need – funny pics, jokes, gifs, memes, and other hilarious content.
It has more than 20 categories, including memes, comics, and anything you can think of. If you dislike a specific sort of content, you can unsubscribe from it without difficulty.
LOL Pics offers a user-friendly interface that makes browsing their content easy and fast. Their search bar is also beneficial for finding the specific meme you are looking for.
Download the App on Apple App Store
4. Cheezburger
The Chive is one of the best sites on the internet, and there are many other sites like the Chive that you should visit. One of them is Cheezburger, which has hilarious pictures and a lot of content about your favorite topics.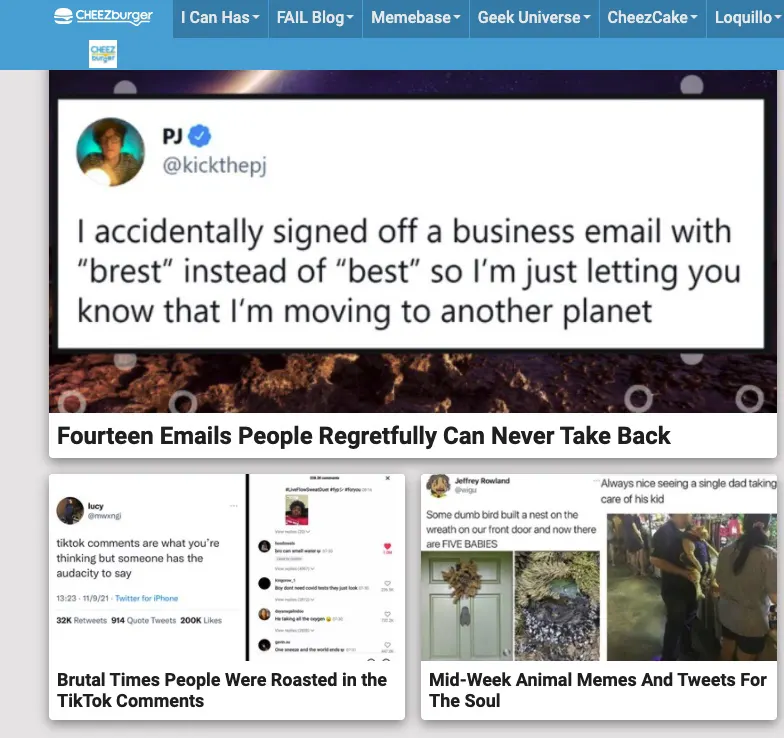 The site began as a meme blog and has become an online success with its app, books, and clothing line. Cheezburger is a hit because it always surprises people with its daily dose of humor.
Ben Huh and Steve Chen started the website in 2007, looking to innovate how people dig for news on the internet.
When building a massive community of regular contributors, they realized that many people like to contribute content if they feel appreciated for their work. They found that celebrities have a lot of fans and often need to share pictures or jokes with their followers. 
The idea behind Cheezburger was to make it easier for people with similar interests to come together and share their favorite content, which would help them build stronger communities.
If you are in the mood for hilarious pictures, search the "Memebase," "I Can have Cheezburger," or the "Fail Blog." You can find out about the hilarious cat moments on Twitter, and there are also other features, such as creating content and resources for people looking to make their cat jokes.
5. 9Gag – sites are similar to thechive
9Gag is a free online social media platform where users can upload and share user-generated content. It has been around on the internet since September 2008.
9Gag was started by a group of five Hong Kongers and has grown significantly over the years, with 10% of its traffic coming from mobile devices just a few years after the platform started.
When 9Gag began, it was focused on photos and funny videos. Over time though, it had to evolve with its user base to include other types of content such as jokes and memes.
This evolution also allowed 9Gag to expand into different areas like gaming, where they could publish articles about games like World of Warcraft or League of Legends.
It is a social media platform for fun, where you can post anything without rules and make new friends. 9Gag has a history of millions of visitors every day.
After its founding in 2008, 9gag multiplied by providing entertaining content such as memes, gifs, and image macros. It is a free online social media platform that allows users to post anything without rules or censorship.
The primary purpose of 9Gag is to pass the time and have fun. 9Gag has been having a ton of success with the help of its free content, which provides users with an instant feedback loop that leads to social sharing.
9Gag is perfect for people looking for funny pictures or memes to share on Facebook or Pinterest or generally want to pass some time.
6. Funny Or Die
Funny or Die is a digital media company that offers content on its website. The site has been around since 2007 and is among the best sites like the Chive, which provides entertaining content for users on their mobile devices.
Funny or Die, available as a mobile app, is an online media company that creates highly entertaining videos and other media for millions of viewers worldwide. They were founded by Will Ferrell, Adam McKay, and Chris Henchy in 2007. 
They offer videos, pictures, and articles that are funny and unique. The site has various content perfect for those who want to browse their favorite websites without using their phone's browser. It is an excellent way for those who want to watch viral videos and jokes but don't want to use their phone's browser.
Funny or Die is an entertainment company and one of the best sites like the Chive in Los Angeles. It is a web-based comedy website that has been successful on YouTube and social media.
The company consists of unique content from the consistent staff of in-house writers, producers, directors, and comedians like Will Ferrell, Adam McKay, and Sarah Silverman. 
The website's humor combines irreverent news pieces with scripted sketches that typically last less than two minutes each, giving them the moniker "the world's first-ever comedy news network."
The website is updated with all the latest entertainment news from around the world and content from many other topics. It also offers a vast selection of trending GIFs and photos.
Funny or Die is possibly the only service that updates you with all the latest info on entertainment or learning that you wish to know. It has become a go-to platform for content creators to share their works. 
With its different features such as voting, commenting, embedding, and embeds – it provides the perfect way for content creators to get feedback from their audience to produce better work in the future.
It also enables users to participate in discussions with other Funny or Die fans on this platform about specific themes, making it a crucial tool for content creators who have ideas and want input before moving forward with them.
7. CollegeHumor
CollegeHumor is an online comedy platform founded in 1999 by Josh Abramson and Ricky Van Veen. It has a wide range of content, from the latest news to sketches and games.
It started as a website but quickly grew into a YouTube channel with over a million subscribers and over a billion views. In addition, the content is also being streamed on television through Comedy Central and MTV.
Tinder Profile Picture Day (Animated Edition)
The site publishes unique funny articles and videos daily, written and produced in-house by the site's in-house writing and production staff.
The posts may be seen on CollegeHumor's website and YouTube channel. It features popular user-generated jokes, humor pieces, short sketches, and CollegeHumor-original material.
CollegeHumor is unique from other sites as it focuses on online videos created by its employees or submitted by viewers. The videos are made for entertainment rather than profit and are only monetized if they go viral online.
The site is known for its unique style that combines original content with user-generated pieces, often hilarious. This includes comics created by the website's users posted on social media sites.
8. Tumblr
Tumblr has been on the rise in the past few years. Teenagers popularly use it to share their thoughts and ideas. With its use cases, people have found a way to connect through pictures, words, and other media.
David Karp created it in 2007, and it started as a blog platform for college students. By using Tumblr, anyone can find like-minded individuals and form communities on their terms with different content types that are all presented easily to the user.
Tumblr is an easy-to-use social networking tool that provides the average user with many great features, such as blogging tools, blogging categories, followers, likes, photo tagging, and more!
It has a unique interface that allows users to share easily with friends. A blogging platform also allows Tumblr users to host their content and make it public. This means that Tumblr can be used as an online journal or diary and a social media platform like Facebook or Twitter.
With its easy interface, many people use Tumblr as a personal blog to share photos of their daily lives with friends and family nearby or even in the same country.
Tumblr is also among the most popular social media websites worldwide. It's used to express personal thoughts and ideas.
It allows people to get creative with their posts which is why it's such a fun site for many because they can express themselves without any limitations or judgment from others.
9. Memedroid
Memedroid is a fun software that allows you to experience fantastic stuff worldwide. It is a free web program that helps you to discover, post and share any material.
This app is not just for entertainment but also helps learn about new things and new words by playing word games in the accessible version of this app. It's a great way for grownups to find and appreciate funny pics or memes.
Novagecko develops Memedroid. This company made its first app in 2013 called MemeDroid, a Google Play Store best-selling game with more than a million installs.
People have always enjoyed the funny meme pictures on Reddit and 4chan. But with the rise of online memes, people can no longer want these memes through the desktop browser.
MemeDroid is a website for adults who want to discover, view, upload, and share funny pictures online. This website also has a chat room where people can interact over jokes and memes. People who enjoy and share funny memes can earn points and coins through various promotional schemes.
Its features offer users an easy way to discover different types of humor. Many people have used this app in their daily lives, such as when they need to laugh out loud or need some entertainment during their free time.
It features a multi-posting interface where you can enjoy sharing your funniest moments with friends and family easily. In addition, you can find new content to share with your followers.
10. ZergNet
ZergNet, a content recommendation company, has worked in the internet industry for over ten years. They have found success in providing entertainment information and promoting their celebrities on various websites.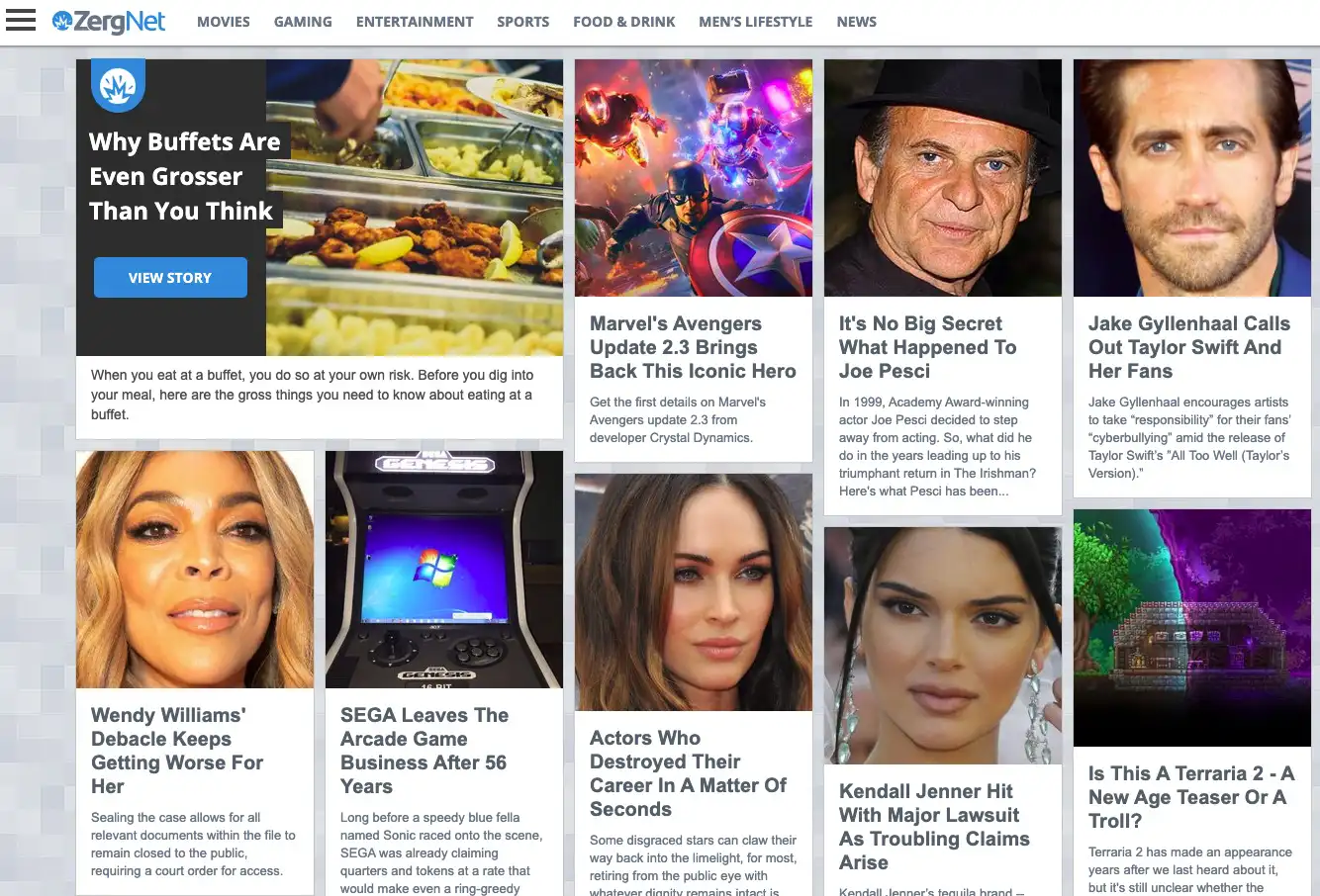 It is one of the most successful and influential companies globally regarding entertainment content. They have access to exclusive celebrity gossip and information, which is why they can promote their celebrity-oriented websites like The List (Women's Lifestyle), Nicki Swift, and more.
ZergNet provides content recommendations to help users find the latest entertainment news and information. The company also has a social media platform to help people discover celebrities they might like.
As more folks scour the internet for fun, ZergNet offers content recommendations and tips to help them save time while browsing for fresh and intriguing material.
Zergnet is a website that publishes articles, reviews, and podcasts on topics related to different niches. They have been posting content on gaming and sports, movies, and other subjects.
Zergnet offers an incredible amount of content to explore- this is done in a very user-friendly fashion with its easy-to-use navigation system. The website provides its users with quick access to the best content of their choice and recommendations for similar types of content.
The platform provides content to many organizations. The interface is very transparent, and the company offers a wide range of services for its clients. It offers several other services for its customers, such as paid features like traffic, search ads, and social media marketing.
📗FAQ
What websites are similar to theCHIVE? 
The Onion, LOLN Pics, iFunny, 9Gag, Cheezburger, etc. are some of the best websites very similar to theCHIVE and offer a complete range of amazing blogs, hilarious videos, English lessons, and much more to do in your leisure time.  
What is the most addictive site? 
Fancy, Google Feud, The Onion, Wix, Free Rice, ListVerse, Do Nothing for 2 Minutes, etc., are among the most addictive websites designed to amaze, amuse, and maybe occupy your time like nothing else.
Is chive a legit website? 
There isn't any instance reported related to any kind of data leak or fraud from the theCHIVE. However, the overall rating of 1.86 stars indicates that most customers are not satisfied at all with the overall services.  
Is theCHIVE gone? 
No, there isn't any news or report related to going down theCHIVE website, and it's still one of the most preferred destinations for people who always look for something funny, crazy, hilarious, and even related to lifestyle and other niches. 
Does theCHIVE app still exist? 
Yes, theCHIVE is among the most downloaded humor applications in the entire Android history and is still available to download.
The app offers a massive variety of humor, craziness, fun, hotness, lifestyle, and more uniquely and excitingly. 
How much is theCHIVE worth? 
John Resig is the co-owner and co-founder of theCHIVE website and is an American Internet entrepreneur with a net worth of $50 million. 
Final Verdict
Seize the opportunity to get bored and get closer to the world by enjoying your time on the websites suggested above for funny photos and videos.
I hope you enjoyed perusing our selection. From the list of ten sites like the Chive we have compiled, it is clear that each has something unique in store for you.
While some are humorous, others will bring out your creative side and make you look at every aspect of life from a fresh perspective. The best part? You can access each one of these fun and exciting websites right on your computer, tablet, or smartphone to videos keep calm and chive.