When it comes to screen capture software, Snagit and Greenshot are amongst the best. Their screen capture capabilities, editing tools, and interface have many similarities—after all, they are both used for the same thing. This Snagit vs Greenshot review will not only focus on the similarities but their differences.
As a preview of our discussion on the difference between this two software, note that Greenshot is free while Snagit is not. So, the underlying issue that cannot be ignored in this review is whether the difference in quality is worth the price for you. I hope to be able to give you the tools to answer that question.
Before we do a Snagit vs Greenshot analysis, let us consider each of this software individually.
Greenshot Software:-
Greenshot is free, open-source software. It is one of the most popular screen capture software available. It allows you to capture your entire screen or portions of your screen. It can also be used to capture an entire webpage, including the parts not visible on the screen.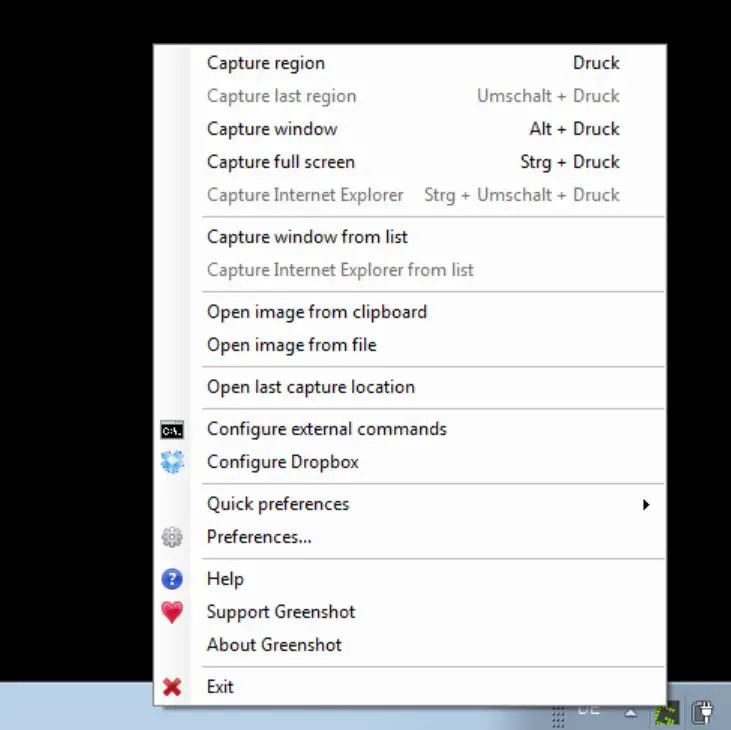 You can move from one recording mode to the other using the customizable hotkeys. As long as you are not doing any advanced recording or editing, Greenshot is perfect for you. Below are some of its pros and cons.
Pros of Greenshot:-
It is free and open-source. Being open-source means it is likely to be safe and constantly updated. It would have a growing number of contributors, and a large community. 
Allows you to highlight, annotate and blur screenshots.
You can capture an entire webpage. You scroll through the page, taking images at set points, and then stitch the image together.
It freezes the screen when you capture it. In other words, the screen content is the same before and after capture.
The selection tool alongside the magnifier is easy to use in selecting only a part of the screen.
Clicking the print screen button allows you to select the captured area easily.
It has an easy-to-use interface.
Cons of Greenshot:-
It has no Linux, Android, and iOS versions. The macOS version is not free.
The scrolling window capture only works in Internet Explorer.
Just before the snagit vs Greenshot comparison, let's take a look at the Snagit tool next.
Snagit Tool:-
Snagit is a comprehensive screen capture and recording tool. It not only allows you to capture the portions or the entirety of the screen, but it also allows you to record the content of the screen.
You can record virtually anything on your screen from music to video clips to video chats. It has an easy-to-use interface, and the output comes in different formats.
If you are looking to boost the quality of your recordings, Snagit is the right tool for you. It offers cost-effective functionality. I will now give some of the pros and cons of Snagit.
Pros:-
It has an image editor that allows you to adjust the capture, add captions, and symbols such as boxes and arrows.
It has good markers that help you set the capture area. It makes it easy to choose between a full-screen capture, or capturing a select area.
What's new in Snagit 2020?
Easy to add annotations using the editor and it can capture screen video.
It integrates well with third-party services such as Twitter, Facebook, Google Drive, and your email.
The tool allows delayed capture. You can adjust the setting so the capture takes place after a set time rather than immediately.
It can capture editable text. Almost all text captured on the screen is editable.
It has a mobile app for moving screenshots from your smartphone to the Snagit editor.
Cons:-
It is quite costly compared with the pro version costing about $60 (We will return to this during our Snagit vs Greenshot comparison later in the article), and users have highlighted that the input editor is not user-friendly.
With this individual analysis out of the way, let us turn to a Snagit vs Greenshot comparative review.
Snagit vs Greenshot: A Comparison
I will now proceed to do a detailed comparison between Snagit and Greenshot. I will compare them across several categories such as screen capture options, editing quality and options, screen recording, app integration, price, and so forth.
Without much ado, let us discuss Snagit vs Greenshot.
1. Screen Capture Options
Both Snagit and Greenshot make capturing either the entire screen or a portion of it a possibility. Also, they both allow you to capture text from images. However, Snagit does it easily while Greenshot relies on a plugin and an add-on from Microsoft.
There are two other differences with regards to their screen capture functionality. First, Snagit allows you to delay a screen capture. What this means is that you can press the print screen button and capture the screen automatically after a set time. 
This allows you to arrange the screen however you want, open popups, switch tabs, open new software before the time for the screen capture.
Also, you can apply visual effects on Snagit directly by using saved presets. This means you don't need to open the image editing panel to apply those effects manually. The saved presets include a border around an image, a preset cropped size, and management of the edges.
2. Screen Recording
Greenshot does not do screen recording. Its focus is only on on-screen capture. This means that Snagit wins this battle by default. Snagit has a dedicated screen record panel that can record audio, webcam, and microphone.
3. Image Editor And Video Editor
Greenshot has an image editor that does all the basics well. For the majority of tasks you want to perform, Greenshot will serve you excellently.
However, if your editing needs are more complex, or if you want to have a great amount of control over how the final image looks, Snagit is your best bet. 
Amongst other things, Snagit allows you to add text to a chat bubble or create a video from an image.
Greenshot does not have a video editor, but Snagit has a video editing panel similar to its image editor. The video editor lets you do basic video editing, even as a beginner. It allows you to create GIFs and animated photos.
Snagit – The Ultimate Screen Capture Tool
4. Learning For Beginners
Both Snagit and Greenshot have tools to ensure the learning curve for new users is not too steep. They both have user manuals that you can refer to. You can also get email support when you need it. Snagit also offers chat support.
Note also that though it may take some time for a beginner to master all the tools, a large portion of the basics can be grasped easily. Greenshot has less advanced functionality, so most users find it easier to use.
5. Custom Templates
Custom templates are the predefined templates or parameters that screen captures are made to fill. These templates make editing easier and faster, often eliminating a need to open an editor, and thereby increasing productivity.
Templates can be used to create better-looking images with your captured screenshots. Greenshot does not have custom templates but Snagit does.
6. App Integration
App integration is possible with both Greenshot and Snagit. The only difference is the extent to which the integration is possible. You can easily upload your screenshots to the cloud using host software. In addition to this, you can share screenshots on different apps and websites.
Greenshot allows you to share screenshots on Outlook, Word, PowerPoint, Microsoft Paint, and other traditional apps.
Snagit does what Greenshot does. In addition, it also shares with other more modern apps. You can share your images on Twitter, Facebook, Slack, SharePoint, and so forth.
7. Operating System Versions
Though neither Snagit nor Greenshot has Linux versions, Snagit can still boast of being more versatile. Up until recently, Greenshot had only a Windows version (now it has a Mac version which is not free by the way).
Snagit has both Windows and Mac versions. It also has an iOS version which makes it edit screenshots on your smartphone.
8. Price
For some, this is the most important comparison. While Snagit has the advantage in most other categories, nothing can beat being free. The question many are asking is whether Snagit's high price is commensurate with the increased quality.
Greenshot is free. For the Mac version, you have to pay $1.99. Snagit on the other hand costs $50 and even more for the pro version. Furthermore, you have to pay $30 for updates. 
So, Greenshot is a clear winner in this category. Does it make it a winner overall? You decide.
Final Words: Snagit vs Greenshot
Both Greenshot and Snagit are suitable software for most purposes. Many people, particularly those who need a screen capture tool that has some niche functionality are interested in this Snagit vs Greenshot matchup.
Greenshot is excellent software, and it is a major plus that it is free. Despite the incredible usefulness of the software, most people who have used Snagit acknowledge that it offers more.
At a price of $50 (not counting the cost for each subsequent update), one needs to take the cost into consideration before deciding to use Snagit. Does the difference in quality between this two software justify the difference in cost?
Who wins the Snagit vs Greenshot debate? The answer to this is still up in the air, and would probably be down to your personal preferences or the depth of your pockets.