The recent Pandemic has helped to realize how vital traveling is. While isolating and staying back at home, most of us must have made some solo traveling plans. Solo traveling sounds adventurous and fun. You go on a journey not just towards your destination but towards yourself.
But one of the challenges that come to our mind regarding traveling alone is the hassle of planning. You will have to thoroughly research which place to go, where to eat, where to stay etc. The thought of this intricate planning is intimidating itself.
But thanks to technology because with the growing tech world, we have tons of useful applications. Many great apps in present times can relieve you from all this planning stress.
These apps give you suggestions on where to eat, accommodate or even show you directions so you are not lost from your destination.
We list some great solo travel apps you can download on your phone while traveling our research. You will realize how these solo travel apps can make your traveling experience convenient and fun.
Best Solo Travel Apps – Our Top Pick👌
1. Travel Buddy – Solo travel apps For Connecting Travelers Locally
We all want an adventurous traveling experience. We were wandering around new places, finding something new about the area. We search for something new and different that is not a part of our daily lives, which can separate us from the real world.
Travel buddy is an awesome app where you can find a local traveling partner. This app helps you travel like a local person, so you don't have to face the inconvenience of being new to a place. With the help of your friend who knows the area well, you can explore new places and sights.
Travel buddy is designed to be user-friendly. You have to select your destination, and based on your selection, the app will suggest the localities of the place. You can chat with them to get to know them well, take advice and plan your trip and the sights you can visit.
One of the best things you will get from this app is that you will not be visiting just the mainstream places crowded and suggested by websites.
With your travel buddy, you can tap on the places that are rarely talked about and unmentioned in sites but still have breathtaking beauty.
Travel Buddy: Find a Local & Plan Your Trip
Your traveling experience can be easy with a local person with you. You don't have to search for the best places to eat and read reviews about the restaurants whenever you are hungry. You can just ask your travel buddy and know the best place. 
Suppose you plan to visit a place with a different language, not knowing the particular language. But if you have a travel companion from the same region, you can break all the language barriers and learn much about the place without much hassle.  
You will find different tour companions and ratings and reviews in the app. You can find a suitable one that matches your vibe. You can use several filters to get the most suited travel companion. 
In the end, this help will help you to get mixed up with the place and culture soon. Fall in love with the surroundings and explore a place comfortably like a local.
Download the App on Google Play Store
Download the App on Apple App Store
2. Eatwith – Solo travel apps To Taste the world with locals
It's challenging to find an excellent place to eat when traveling. You go through all the reviews and ratings to see the best order. Various locations have different specialties, so you need a background check on the best thing you can get in a place.
Eatwith is a genius app through which you can dine with the locals and taste the authentic dish with some great conversation.
This app is available in over 130 countries and is still expanding. Eatwith is not about filling your stomach when you feel hungry; it gives you an experience of knowing the culture better and observing it closely.
The app selects one of the best hosts around the place to connect and enjoy your meal. You can eat in a home, an elegant party and beautiful venues. There could be nothing better than enjoying your food in an authentic style.
Download the App on Google Play Store
Download the App on Apple App Store 
3. Meet up – Solo travel apps To Find events near you
Traveling is more fun when you connect to like-minded people who have the same interests as you. Traveling is not just about sightseeing and gaining historical knowledge about a place.
In today's generation, you can have fun, try different things, and share laughs and experiences. But for a solo traveler, this might not be possible.
Meetup is an app that completes this wish of many solo travelers. You can enter your location and find a group of friends or hosts who can entertain you.
The app is commonplace, where people host events to share activities and exciting things about the place. You can join in and have a lot of fun with new people.
It is currently available in 180 countries with millions of users. There are different categories like music, cooking, sports, or any outdoor activity. You can choose the one that is exciting to you. 
Download the App on Google Play Store
Download the App on Apple App Store
4. Touring Assist
In this 21st century, women are coming forward in everything. It's a dream for many female solo travelers to travel alone without any inconvenience. If you are also nervous about how you will manage things, touring will be a great help.
The app is for female solo travelers who can find a companion to travel with of their choice. You just have to put a destination to travel to, and the app will suggest your companion accordingly.
You can quickly go through the list check to select a person you find trustworthy and comfortable to be with. You can just plan your trip by chatting and diving into a relaxing and adventurous journey with your companion.
Download the App on Google Play Store
Download the App on Apple App Store
5. Hotel Tonight: Book amazing deals at great hotels
Suppose you are in a new place, enjoying your journey, and remember you haven't booked a hotel. Or, to escape reality, you pack your bags and plan to go somewhere far. You must pre-book a hotel, but what if you have not? But in today's generation, everything is easy and convenient.
Hotel Tonight is an app that can instantly provide a hotel at a very good price. You can just pay for the night you are staying in the hotel.
Hotel Tonight is owned by Airbnb, which helps people to find a room to stay at the last minute. You get good deals and discounts while booking.
The app is working in a different country and has a large audience. The hotels under the apps are secure and safe.
You can select a room or hotel according to your budget and comfort. You can even find reviews and ratings from previous travelers. So last-minute traveling is not stressful anymore.
Download the App on Google Play Store
Download the App on Apple App Store
6. Google Maps
Google maps are one of the most necessary solo travel apps one must-have. You can search for the nearest restaurants, theatres, parks and many more.
We all know what a nightmare it is to get lost in a known city—asking about the direction of strangers and wandering everywhere. 
Google maps help you to find your way and reach your destination. Several features can show you the right path to take.
Google maps notify you about the traffic around you, so you are not stuck. It informs about the best places to visit. You can read reviews about the people who have already visited there.
You can even know if the place is open or not. It has various features in which you can know the distance between two places through multiple means of transportation. Post your picture on the app so others can see it and learn more about the place.
Download the App on Google Play Store
Download the App on Apple App Store
Google Travel Tips | Google Maps Tips for Travel + Shared Google Maps
7. CouchSurfing – Best solo travel apps to staying with amazing locals
Couchsurfing is one of the best solo travel apps where you can search for people like you. While traveling, you can meet local people and enjoy yourself along with them.
Rather than staying at a hotel alone you can have the company of people your age and have some great experience. 
The Couchsurfing community is spread across 230000 cities worldwide and is currently used by 14 million travelers.
The app connects travelers to one of the most exemplary hosts and a group of people who can make your trip memorable. You can chill, discuss various things, and find different underrated places.
Various people on the app conduct events and some parties; you can join in and make some friends for life while traveling. Meeting new people and sharing culture is one of the essential parts of traveling. You can have a proper taste of nomadic life. 
You can see the host's reviews and select from the multiple options. Have fun in a different place with unknown but great people. You can post pictures and let the other traveler know how incredible your journey is.
Download the App on Google Play Store
Download the App on Apple App Store
8. HelloTalk – Learn Languages
Suppose you are traveling to a place that has a different language, then you must know a few things to have a conversation with people. We understand that learning a language in a short time is not that easy.
HelloTalk is an app where you can learn a language from a native speaker of the language. The app has millions of users from different corners of the world, e.g., China, France, Spain, Brazil, and many more.
If you have any doubts and want to translate a sentence into a particular language, you can just type and ask.
In a few minutes, real people will suggest appropriate answers. The people help you translate in such a way so it does not create misunderstanding.
Till now, the app has helped a lot of people to learn a new language and speak it. You can ask for correct pronunciation. Trust us, at times, this app can turn into helpful too. 
Download the App on Google Play Store
Download the App on Apple App Store
9. Tripadvisor – Best apps for solo travel. To Plan Your Next Trip
One of the most cumbersome tasks about a solo trip is the amount of planning you have to do. Writing every detail, making a list of things to pack, booking flights, planning on which site to see, doing research work on what things to do.
Well, this all sounds pretty exhaustive to anyone. And planning these things alone is a heavy task.
Tripadvisor is excellent, which enables you to take advice from people who have already traveled to that place. You can just type a location and get thousands of suggestions on various topics.
All these people are constant travelers, and if you are lucky, you can learn a few money-saving hacks. The trip advisor can even guide you on when to book a flight to get it for a lesser price.
Which hotels are best to stay in? You can search for a place's name and read the people's experiences, and you might find a few good places to go.
You can even read blogs from travel experts to learn how to travel on a budget. What are the things you can buy, what to eat, and where to eat?🧐
You can book flights and hotels directly from the app at great discount rates. The app makes a lot of things more accessible and your adventure smooth.
Download the App on Google Play Store
Download the App on Apple App Store
10. Airbnb – Solo travel apps To Discover Millions Of Possibilities
Airbnb is one of the most famous solo travel apps. It is home to some crazy and comfy staying sights. The app has helped millions of travelers to connect with their hosts.
Why stay like a stranger in a place when you can make it feel like home? Millions of people search sites to stay on Airbnb and have some fun with a group of travelers. 
You can just search the destination, and you will get thousands of options to select from. Unlike hotels, it is not compulsory to live in one sized room.
You can choose to relax in the countryside or near a lake. Find a home for yourself, and then you can manage the dates. One of the good features of the app is that the dates are flexible. You can expand your trip as you wish. 
Airbnb just does not give you the usual stay in a brick room. Suppose you plan to be adventurous you can find a tree house or a dome. You can share it with other people and make your trip more happening. And this makes your accommodation cost cheaper too. 
Travel according to your own rules, hang out with a group of people, discover a fellow traveler, join a party or be a part of an event. 
With Airbnb, you can bring out the most from your trip. If you find anything interesting to stay in, just chat with the host and check-in. In the end, you will have a wholesome traveling experience.
Download the App on Google Play Store
Download the App on Apple App Store
You may like to read our guide on 11 Best Alternative
Apps like Airbnb
For Best Travel Deals.
11. Kayak
Kayak helps you to seek out cheaper flights to your destination. You can search hundreds of hotels and search for renting cars.
You can get great discounts and offers on flight prices and hotels. If you want to drive alone, you can rent a car and go on a long drive. You also have flexible dates; cancel anytime or reschedule according to your needs.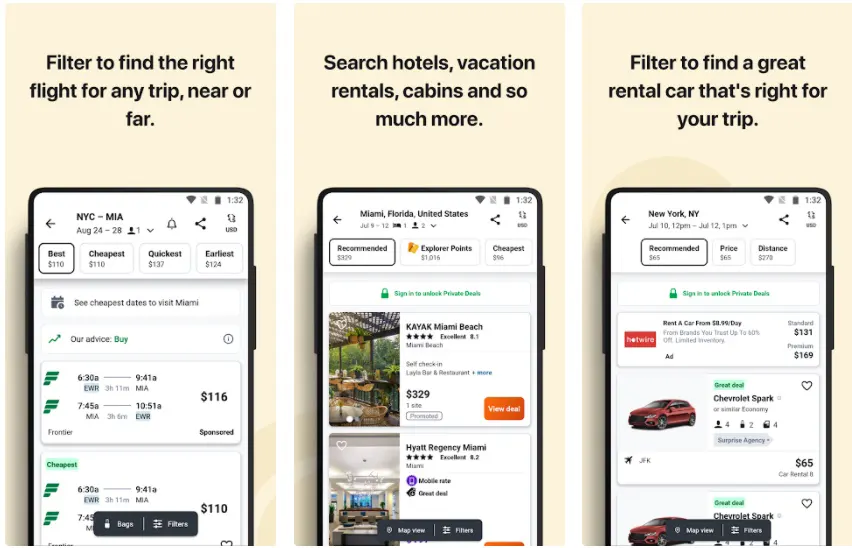 The app has a feature of setting price alerts, so you will get a notification whenever the prices are low. The solo trip lover can explore a lot of places on a budget.
You can get a flexible flight offer and don't have to pay change fees. You can even find the best day to fly. This app gives you multiple options to choose from.
Download the App on Google Play Store
Download the App on Apple App Store
Tips for Solo traveling
Solo traveling is not easy; you are alone and don't know about the people around you. This can be a little bit stressful. There are a few things that you should keep in mind—planning and listing out places where you want to visit.
Make a list of the items you want to pack because buying anything outside can be difficult, especially in different countries. Before eating anything out, check on ingredients to avoid consuming anything you are allergic to. Interact with the local people; you will understand the culture properly.
Along with viewing the most hyped places, try to visit something new and explore the place. Observe the small details around you. Try different cuisines because food is the language of culture. Try to be involved in the place and be a part of it. Visit shops and buy something exclusive to that place.
Last but not least, be safe. Take all the measures required for your safety. Don't get scammed because these things will make your experience terrible.
How to Travel Solo: Must Know Tips Before Traveling Alone
✅FAQ on solo travel apps
How do I meet solo travelers? 
Five Ways to Make Friends While Traveling Alone 
1. Occupy a hostel room. The simplest approach to making friends is probably by staying in a hostel. 
2. Attend a gathering or activity that welcomes both visitors and locals. 
3. Social media usage 
4. Volunteer your time. 
5. Use a group travel agency! 
Is there an app to meet people while traveling? 
Travel Buddy, Meet Up, Touring Assist, Tripadvisor, and HelloTalk are some amazing apps to find and meet new people while traveling to new destinations. 
How do I find a female travel partner? 
Explore the world with Tourlina and find your female traveling companions! For female travelers, there is a safe social network called Tourlina.
Find a traveling companion for your upcoming trip with similar travel objectives and hobbies, or meet up with a local woman.
You can also rely on applications like TravelBuddy, Eatwith, Meet Up, and others to quickly identify the most appropriate travel companions. 
How do I get paid to travel companions? 
Your duties as a travel companion include helping your clients with any needs they may have while on the road. Depending on the client and location, your responsibilities change.
You might accompany senior clients on their travels, for instance, or keep an eye on kids when they fly without their parents.
Many visitors, travelers, and travel agencies search for local travel partners that can assist foreigners in visiting the many regions of the region. Additionally, many earn a respectable living by serving as travelers' companions. 
How do I find a travel partner? 
You can use apps like Travel Buddy, Meet Up, Hotel Tonight, TravelBuddy, etc., to find a travel partner for your next trip and make it memorable.  
What is the Travelbuddy app? 
One of the top social travel apps, Travel Buddy, can help you find a local travel companion, discover and share interesting itineraries, listen to the best travel stories, and get unbiased location information from local experts.
Discover hidden attractions and destinations, beautiful hotels, and tour packages that are right for you, meet up with friends, and make money through the best online marketplace while you do all of this. 
Who is the best travel companion? 
Anyone who enjoys experiencing new locations and traveling can be a good travel companion. It depends on the companions you wish to take on your journey.
Additionally, it's really simple to discover the ideal travel companion depending on your preferences, thanks to websites like Meetup, Travello, Trip Together, Travel Buddy, etc. 
How much does a travel companion cost? 
According to Doug Iannelli, proprietor of Flying Companions, a domestic coach flight with a companion might cost between $2,800 and $4,500 (for both tickets). Additionally, when traveling with a companion, you must consider other costs. 
Do airlines offer travel companions? 
A travel companion seat can help you save money if you're traveling with a friend or member of your family.
With some frequent flyer programs offered by airlines, you can buy one seat and get a complimentary or discounted companion seat. 
Can you hire someone to travel with you? 
Yes, travelers can hire a traveling companion from a care facility or travel agency and freelance companion service.
In most cases, traveling companions receive payment for their services and reimbursement for their expenditures from their employer or agency. 
What is the best way to travel solo?

 
Here are some recommendations for safe solo travel. 
Before you arrive, complete your homework.

 

Pick the appropriate lodging.

 

Belief in oneself.

 

Keep valid identification on you at all times.

 

Keep opening public areas, particularly late at night.

 

Exude assurance.

 

Avoid coming out as a tourist.

 

Store your valuables at home.

 
How do you trip with strangers?

 
Websites and apps to make traveling with strangers easier 
Hostelworld!

 

You are matched with a group of adventure travel addicts by Roamies adventure travel trips.

 

A social media site for travelers is called Travello.

 

Meetup features groups for practically everything, including hiking partners and solo travel.

 
Conclusion on solo travel apps list
So here is a list of a few famous and valuable solo travel apps you can download before a solo trip. From great suggestions to finding people and food, you can use them per your needs.
This way, you are using technology to help you fulfill your dreams and enjoy your life. We hope this article is helpful to you.