Steam is one of the OG in the video game industry, launched by Valve, with one of the biggest following user databases. If you can not take my words seriously, you are more than welcome to ask any 96 million gamers. 
The platform is setting all the new trends in the gaming market since it was released 2 decades back. The platform has steaming games, is a safe platform, and offers some ideal deals for gamers.
But nothing is perfect, nor does Steam.
Being one of the well-known in its field does not stop many users from looking for steam alternatives. And from changing their platform to some of the best customer services gaming platforms.
One of the dominant drawbacks you can see on Steam is that it takes 30% of developers' revenue, and as far as I see, it is quite a lot. Its indie game collection is also not too up-to-date, so if you are one such indie game lover, disappointment is guaranteed. 
So to provide you with safe, large gaming theme collections and admirable customer service gaming platforms, we have comprised this article and tried to gather only the best alternatives.
Best Steam Alternatives – Our Top Pick 👌👌
1. Good Old Games (GOG) – alternatives to steam for buying
The developers of the Witch Game series, CD Projekt Group, developed one of the best gaming marketplaces after steam, Good Old Games or GOG, for abbreviation.
If what you are looking for is trending PC games yet at the same time do not cost you much penny, then Good Old Games is the right place for you to check out. The offer on games and DRM-free finest PC games are with the time.
And the best part is the indie games that you were missing in Steams are present in Good Old Games. Keep in mind before going for the deal that it may not have a large collection of games you are used to on Steam.
Although the collection does not have loaded classic games, it is enough for a gamer. The sales and discounts they put up for the games almost cover the drawback. At many times of the year, you will get hefty sales.
In the sales, you can make the top-notch classic games yours, such as The Witcher 3 and such likes, by paying half the real price. With no arguments, Good Old Games can fit in easily among the best Steam alternatives.
2. Origin
Origin meets the demands of players who can afford only so much; therefore, Origin is one of the Steam alternatives with offers and discounts on the games. 
It lets you shop all the EA-launched games under one roof, so there is no looking around for another gaming platform with all the exclusive EA titles. FIFA and SIMS lovers can expect discounts every month on its franchise. 
Playing alone does not seem as much fun as playing with teams, and getting a feel of consoles with live chat and audio makes origin more of an advanced gaming marketplace. Origin is growing its game collection with vigorous fervor. 
And to put a cherry on top, you can test the water by going for the trails that will cost you nothing or even for the demos. Origin is one of the Stream alternatives that offer a subscription package that gives access to all the recently launched games. 
The EA creation reduces 10% off on the game purchase and details on upcoming game projects. I don't know if you had a problem while canceling a plan, but from personal experience, it is quite annoying.
To remove this hindrance, Origin has an easy way to cancel your subscription. Origin has nestled its way among top Stream alternatives because of its features.
3. GreenMan Gaming
Recently stepping into the gaming market, GreenMan Gaming is attaining the attention of every game lover by creating something out of the blue, a console-streaming platform. Nevertheless, it's still in construction, so you must wait to get your hands on this feature.
Its infrastructure does not amaze Origin and Good Old Games users as it gives resemblances to it. The alternative has a long list of PC and Mac games that ask your attention in its gaming library.
You can get exclusive access to some of the biggest enterprises, and a peek into their product earlier than most if you were missing Indie games, then no more missing, as GreenMan Gaming has a lot of Indie games in its catalog. 
GreenMan Coming is in the line of best deals offering Game marketplaces that offers a sale no other gives on games; discounts can go up to 90 percent off. 
4. G2A
G2A is an all-in-one store that is a complete gaming hub for players. You can sell, buy, and trade gaming keys on this platform. G2A comes under the same category as GreenMan Coming as they both reflect the design that Good Old Games (GOG) and Origin have.
The most liked feature of G2A is its random key offers which mean unlimited steam keys. Letting you access randomly picked games. The option is intriguing. In this way, users can jump from genre to genre. This steam alternative is going for the safer way for its billing, PayPal.
Playing games and getting money seems like hitting the jackpot to me. The paycheck can be great if you have a wide array of friends, as some of the platform's function depends on social media tools.
5. Humble Bundle
The name hints toward bundle, and if you think what I'm thinking, you are right.  You can play games from the bundle you created or from the games chosen by Humble Bundle's gaming geeks in Humble Bundle. 
It lets its gamers enjoy a broad gaming horizon by having classic titles and the most-loved Indie games. Not finding a title or least-popular games, then no worries, Humble Bundle is integrated with some of the streaming platforms like Twitch.
It makes finding subscribed games easier. The catalog has all the games a gamer would love to play, whether it's recently launched or from already established franchises. It also lets you promote.
Humble Bundle is one of a kind, as not many gaming platforms have a book collection. Enthusiasts can not only enjoy the game but also manga and sagas full of characters. There is a wide collection of novels from all genres that a user can take a lovely time to read through.
6. GamersGate
GamersGate can be another stop for GreenMan Gaming users as they can compete with each other in providing PC and Mac games. It's a gamer destination where gamers can purchase all sorts of games.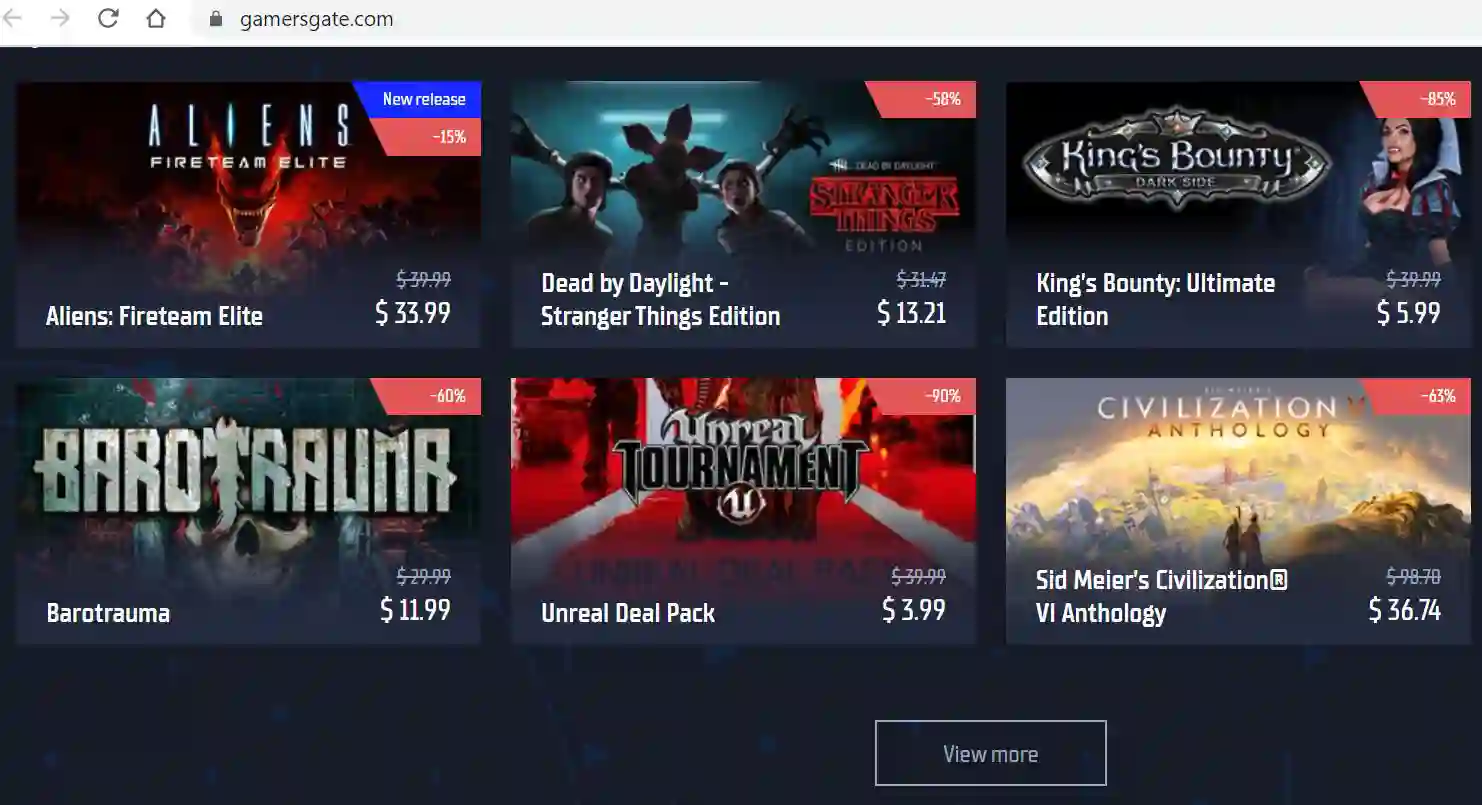 There is a perfect blend of indie games and games from large enterprises, so boredom is not welcome in GamersGate. It is also following the path of a no-nonsense rewards program, so a bonus for gamers.
GamersGate allows gamers to earn by doing what they love, so blue coins can be earned by playing the games and participating in the tutoring area. It creates a gaming environment for gamers from all over the world to work together to host their winning flags in the games and their hardest levels.
You go, ugh! You have to pay extra charges even after paying up for the game, but that is not the case with GamersGate, as there is no need for additional charges. GamersGate offers one of the better deals regarding being a steam alternative.
7. Microsoft Store
I'm sure you have heard of this name before, Microsoft store. The store is not a good fit for installing apps, but if you are a gamer looking for some of the best PC games, you can not go wrong with Microsoft Store.
Its easy-to-use interface makes it more fun, and you can go through its catalog by clicking the Games section in Microsoft Store. As with any other alternatives, you have to use the help of a search bar to find particular game names. 
And if you want suggestions, you can also go through categories and rating filters to sort out the one you are trying to find. 
Well, many game lovers are bitter towards Microsoft Store as some classic and top-notch games like Forza Horizon 4 and Rise of the Tomb Raider are just available at Microsoft Store and not accessible on any other gaming platform. 
 8. Itch.io
As discussed earlier, Steam is lacking Indie games very badly, and many gamers can not get their hands on the best Indie games, so if you are one such indie game starved player, then Itch.io is the right destination for you to check out this instance.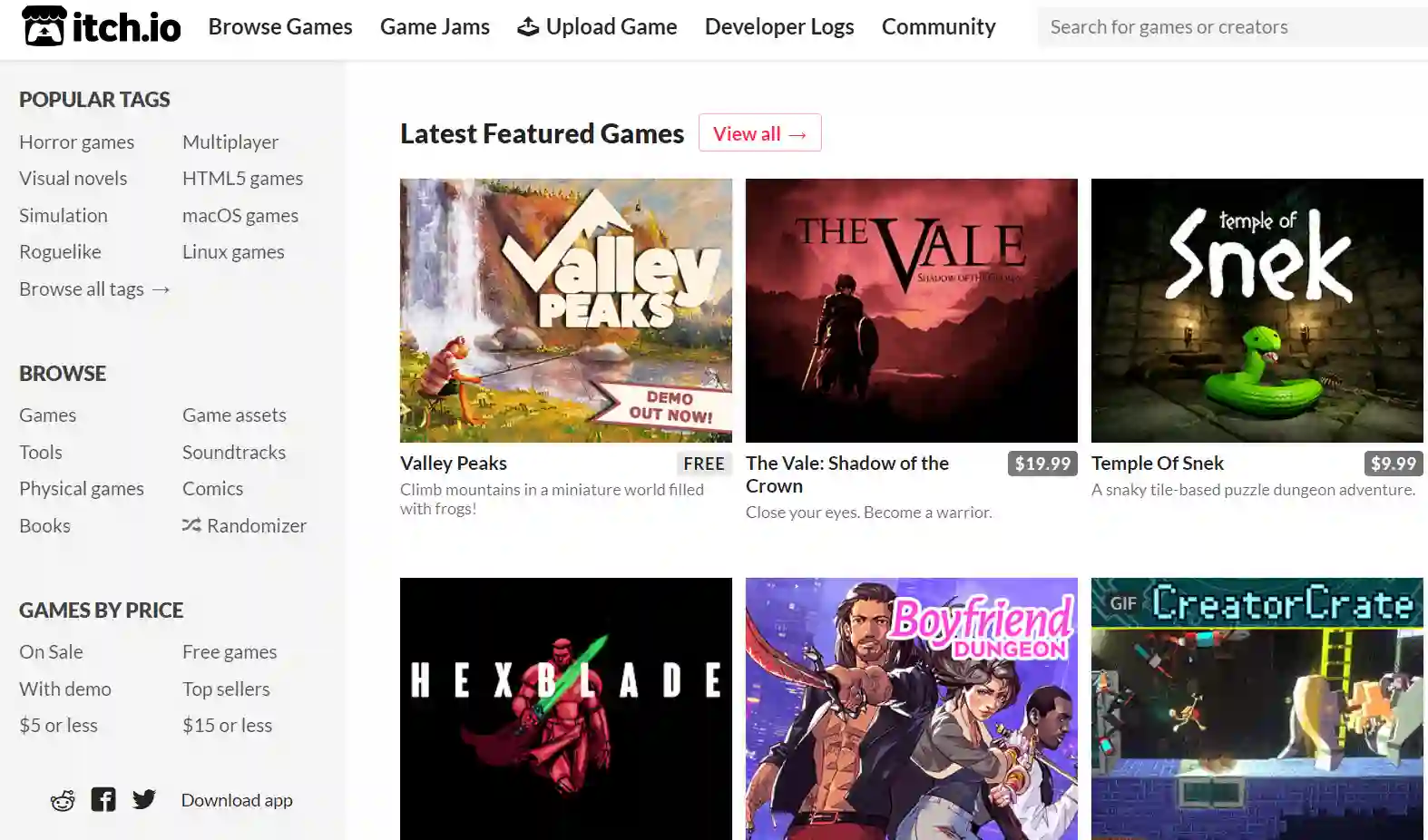 The best thing you can see on Itch.io is its paying policy which means you are getting indie games and exclusive titles by paying only its purchasing price, no additional prices.
Itch.io is a haven for gamers looking for Indie games and fulfills the demand of users looking for Indie game Steam alternatives.
I bet developers would love this steam alternative as this platform lets them handle everything related to games, whether it's the game distribution or its game's front page. It's all in the hand of developers, with no expert or team handlining it.
Although everything seems cool, Itch.io has its faults. Sometimes, it may seem like you are swimming between everything or your pages are too flamboyant. If you can overlook this minor drawback, then you can get one of the best alternatives having a wide range of Indie games.
9. Epic Games Store
You are talking about Steam alternatives but have not added Epic Game Store to the list. Are you insane? We will not commit such a grave mistake so let's start with Epic Game Store, one of the best alternatives.
The platform was launched with a selective set of exclusive and unreleased games for PC. The gaming marketplace was launched with a bang as it allows gamers to experience games like Ashen, World War Z, and many more such games.
If you are okay with limited but exclusive games in the catalog, then Epic Game Stores is 'the one for you. And if you are more of a fancy frill and thrills person, then, um, sorry to say, not the right place.
In many terms, Epic Games Store is providing a better deal for developers with an 88% revenue-sharing scheme. It is a good contender amidst alternatives, with its rapidly growing catalog, timed exclusive, and many more.
It also offers a close-knit relationship between social media and game pages, so to say the least, lest friends and followers may cause a hindrance.
10. Uplay
Uplay is a gaming distribution solution by a famous and known video game enterprise called Ubisoft and mirrors somewhat similar characters to Steam.
Do not confuse Uplay and Ubisoft, as Ubisoft has its online store, but your license and whatever you purchase will be synced with Uplay. It allows players to declutter and manage the games.
And if you love chatting with your friend, then you have more reasons to go for Uplay as it has special tools for online interaction. It creates a friendly zone for gamers; you can play, chat, create new friends, and create a community. 
If we are talking about deals, promotions, and discounts, you can wait for every Wednesday to have that. The platform provides 20% off on your next purchase as a club discount on the Ubisoft store.
And if you don't know what I am talking about, then let's clear the doubt. Gamers can play and participate in-game objectives and challenges in the Ubisoft Club. The wins and participation will earn you the Ubisoft currencies.
These currencies can be used in the next purchase to lower your purchasing prices. Ain't this a cool feature to have? You can go for its subscription, Uplay+. The plan unveils over 100 PC games.
With over 100 PC games, you can access newly launched exclusives, premium titles, and early betas subscriptions. There are not many plans when it comes to subscriptions so that you can pay $14.99 a month.
The gaming library here has some known games such as Assassin's Creed, Rainbow Six Seige, Ghost Recon, and many more. There are other franchise titles, but there is not much to consider. 
To wrap up this app, if you were using Ubisoft or want to use Ubisoft studio and want to be a part of the club, then Uplay is a cheaper approach to do that and fits well among alternatives. 
11. Blizzard
Another Steam Alternative launched by a big video gaming enterprise called Battle.net is Blizzard. The platform is a mediator between gamers and Activision and blizzard studios games. You can find any game from both studios.
It covers some of the exclusive PC games such as Overwatch, Starcraft, Call of Duty, Diablo, and such likes. The creators wanted to give new touches to Blizzard so that it could be fully-fledged digital distribution, and to do so, they added social interaction to the mix.
And this new touch allows you to interact and chat with your friends while playing games, and you can also know their current favorite games.
And if you can not believe when I say that some games are available at no cost, then you are more than free to check out the alternative. And if you are a Call of Duty lover, then it is free for you.
It is an all-in-one feature pack steam alternatives as they have everything, music, themes, trailers, previews, and many more. If you can not find a game released the previous year, you know where to go.
Who does not like Warcraft, The Lost Vikings, and Diablo, and all of these can be your game to play? The platform may not be an ideal platform for those who are looking for another franchise's titles. But it can not get better for those who want nothing else than these two studios' titles.
12. Game Jolt – alternatives to steam for indie
Game Jolt can be your friend if you want new indie games. Yes, steams do have a large catalog of exclusive plus new games, but what they lack, Game Jolt covers up.
Again, you can see some steam looks in Game Jolt as they have separate categories for different themes.
You can easily find horror, action, RPG, platformer, and many more. It also has some genre-defining categories, such as FNaF games. The variety may not be as great as Steam, but it can quench gamers' thirst. 
There are not many good restaurants and Tiles games in the gaming industry, but Five Nights at Freddy's is one such best pizza restaurant. And just like Blizzard, you can communicate with your friends in Game Jolt.
You can grow your friend circle with Minecraft and 3D art lovers and players. To finish it all, you are getting the best out there in the face of Game Jolt, and it can be considered among the best steam alternatives.
13. Fanatical
If what you are looking for is a perfect blend of Steam and Humble Bundle, then you got the answer in Fanatical, also known as Bundle Stars. The game distributor has a wide array of games, and to say the least, at a very reasonable price.
The offers and discounts are huge on Fanatical as discounts can reach up to 99% off the purchasing prices. Apart from games, the alternative is quite famous in other genres, such as eBooks and educational materials. 
The platform also houses several DRM-free games. Fanatical allows users to buy games at a heavy discount price via Star Deal, and after purchasing, you will get a key in return for whatever you have bought it for.
14. Kartridge
If Kartridge is reminding you of Cartridge, then the whole purpose of naming this distribution platform has got its results. It is one of the ways to have a sequence of indie games, a help by Kongregate for its users. 
The platform is newly launched but is expanding its collections, badges, rewards, and chat features with great speed. It has all the features you can see in any other Steam alternatives.
This steam alternative is not at the level of Steam, but Kartridge is trying its best to get Indie games the same recognition as any other genre. And to provide a platform where gamers can play with their friends.
You can see a glimpse of Itc.io in Kartridge as it allows developers to create their game pages and control everything related to the game and its interaction with gamers. 
At the time of our research on steam alternatives for pc gaming To Try Out, we found a video about "Video Games Are Like Powerlifting for Your Brain," which is worth watching.
Video Games Are Like Powerlifting for Your Brain
15. Amazon Games
Not a new name, right? Amazon? Yes, we all know where to go if we want to buy anything from accessories to gadgets, but do you know that you can visit Amazon again if you are looking to purchase games? 
Although it may not be a fully-fledged game dedicated platform, you can still find a good collection of games. Purchasing the game is the same as purchasing music or downloading the game as you normally do.
Many gamers have complained about not finding the game when searching, and the major drawback is that there are barely any deals or discounts, and if there are, it lasts only a day. The key feature that you can take advantage of Amazon is its customers' service which is available 24/7 at your service. 
Using Amazon Fire Stick may also help in making purchasing more convenient on Amazon. 
16. Direct2Drive
With the idea of purchasing and then starting streaming, Direct2Drive is following the path of IGN's previous game store. The platform is now a stand-alone gaming marketplace that offers easy downloads straight from the web interface. 
The company is hitting big by providing exclusive games that you can also get from Steam, Origin, Uplay, or any other big-stream alternatives. You may find hefty markdowns on games, but they lack in providing a safe platform.
📗FAQ
What is the best alternative to Steam?
Suppose you are looking for the best alternative to Steam for PC gaming. You can opt for GOG Galaxy, Itch.io, Humble Bundle, Epic Games, PlayNite, Ubisoft Connect, Gamejolt, Battle.net, Lutris, Origin, G2A, Fanatical, and Green Man Gaming.
Can you buy PC games without Steam?
Yes. There are other platforms from which you can buy PC games without Steam. Major retailers sell Origin, Battle.net, and UPlay with other activation codes. You can get PC games from retailers like Amazon and GameStop easily.
Is Steam the best PC platform?
Steam is regarded as the best PC platform for buying games. It has the best PC games for laptops, tablets, Steam Deck, and desktops. The games are also selected and reviewed independently to make them safe.
Is Origin similar to Steam?
Origin is similar to Steam as it has a similar interface with all the contemporary amenities like cloud, game forums, and digital store.
You also get access to your game library and friend list while offline. You can also get non-EA games on Origin, like the Witcher.
Where can I buy Steam games other than Steam?
There are various alternatives to Steam available online where you can buy Steam games. Some of the best alternatives are GOG Galaxy, Itch.io, Humble Bundle, Epic Games, PlayNite, Ubisoft Connect, Gamejolt, Battle.net, Lutris, Origin, G2A, Fanatical, and Green Man Gaming to get great games at a great price.
Is there anything better than Steam?
To answer this question, we need to know what better means. It is used to compare two things and their respective qualities.
In this case, yes, there are other Steam alternatives, but are they any better? You can only know by reading the entire passage.