Aritzia, a store founded in 1984 in Vancouver, Canada, is a little different from our usual fast fashion choices. Unlike its competitors (Zara, H&M, and others), Aritzia takes a more appealing approach, offering clients apparel of exceptional quality and durability rarely found in fast-fashion retailers. 
You've undoubtedly scrolled through more than one enormous puffer coat that was layered to perfection if you keep up with your favorite influencers' latest street style moments. And there's a good possibility you'll be able to find the clear coat at Aritzia.
It's an essential destination for those essential wardrobe basics at an affordable price, and it's a go-to for celebs and editors alike. Consider exploring alternative stores like Aritzia for even more elevated staples if you're trying to widen your horizons a bit.
While some may credit the brand's success to Kendall Jenner, who wore the iconic Super Puff in a shot in 2018, the model isn't the only it-girl who wears it; influencers like Jen Azoulay and Sophia Roe are also fans.
Apart from the ever-popular Super Puff jacket, the Vancouver-based business has also garnered fans for its minimalistic style. Every staple you need to fill the holes in your wardrobe can be found in its in-house labels, including basic tees, comfortable knits, luxurious outerwear, and a wide range of jeans.
The pricing is unquestionably high, and they even refer to themselves as a premium brand, but one that caters to both mainstream and luxury clientele.
People like Bella Hadid and Meghan Markle have claimed Aritzia as one of their favorite "cheap" businesses, and ordinary old people like us enjoy the style and sustainability Aritzia provides!
Best Stores like Aritzia: Our Top Picks 👌👌
1. Chic Me
Chic Me is among the prominent women's clothing stores like Aritzia. It offers numerous discounts on its products, allowing you to purchase a large number of items at a reduced price. They have supplied items that are less than $20.
They provide a wide range of alternatives and categories from which to choose. If you are in search of something to wear this season, search through their seasonal products; if you're seeking current trends, look through their current trends section.
The clothes are often of good quality, and you won't have to pay a fortune to get something fashionable.
Download App on Google Play Store
Download App on Apple App Store
2. Zaful
Zaful is a men's and women's stylish apparel store. This boutique is a haven for comfortable, fashionable, and edgy fashion. When you go to the website, you will find a lot of deals.
The clothing is of decent quality and will not make you feel uncomfortable. They investigate all of the current styles and trends to provide you with the most up-to-date merchandise.
Their company structure is not just motivated by economic considerations but also by environmental considerations. Swimwear, lingerie, sleepwear, tops, and jeans are among the items available. Zaful has regular promotions where you may get great prices on their products.
Download App on Google Play Store
Download App on Apple App Store
3. Romwe
Romwe is a well-known women's apparel retailer. It's a one-stop-shop for all of your requirements. This store has been in business for over a decade and has a loyal following. It is among the most recommended stores like Aritzia.
When it comes to diverse styles and trends, there are many categories and possibilities to choose from. A wide range of clothes and accessory goods are available.
This website has the advantage of having something new to give regularly. One day, you can get free delivery if you spend $10, and the next day, you can save 50% on merchandise. You will then also get a 10% discount on your first order.
Download App on Google Play Store
Download App on Apple App Store
4. Rosegal
Rosegal was founded on a love of fashion. A group of passionate friends about clothing and fashion wanted to open a store to sell trendy and stylish goods to the general public.
They founded Rosegal, which offers a wide range of clothes and accessory trends, styles, and categories. The garments are well-made and comfy to wear. We liked how they incorporated an area for plus-size items right away. Look for sales and discounts regularly.
Download App on Google Play Store
Download App on Apple App Store
5. Dresslily
Dresslily has been in this sector for over seven years. The website's primary goal is to provide comfortable and attractive apparel for ladies of various shapes and sizes.
It claims to have more than 14.7 million registered customers and has become well-known for offering high-quality clothes at low prices. Many collections in many categories are available on this one of the top alternative stores like Aritzia.
There's something for everyone, from basic blouses, shorts, skirts, and jeans to swimwear, lingerie, and sleepwear. So, if you're seeking some top-notch stores like Aritzia, take a look at this website.
Download App on Google Play Store
Download App on Apple App Store
6. Frank and Oak
Frank and Oak are situated in Canada. From the kind of clothes they sell to the aesthetic they apply, Frank and Oak are among the excellent alternative stores like Aritzia! While more expensive than Aritzia, Frank and Oak are entirely committed to making garments ethically and sustainably.
All of their clothes are created from environmentally friendly materials. Their entire supply chain is ethical, ensuring that the garments they give are of the highest quality, long-lasting, and devoid of the sweatshop culture that other fast fashion firms rely on.
This ethical chain makes their clothes pricing more acceptable and worthwhile, and if you have the extra cash, this is a terrific alternative to try out and buy from!
At the time of our research on Best Stores like Aritzia, we found a video about "20 Amazing Tricks to Make Your Clothes Look More Expensive" which is worth watching. 😎🤩🤴

20 Amazing Tricks to Make Your Clothes Look More Expensive
7. Reformation
Another famous name in sustainable design is Reformation, which is perhaps the business that pioneered ethically sourced clothing and has long been a favorite among the best stores like Aritzia. "Being naked is the #1 most sustainable option," they proclaim. They stay faithful to the fact that they lead in the environmental industry with "Reformation is #2."
They use eco-friendly materials like Tencel and other recycled materials, and some of their items are Bluesign and Oeko-Tex Standard 100 certified, earning them a 'great' environmental rating.
They also recycle offcuts from the production process and have successfully decreased their carbon footprint by producing much of their product line close to where it is marketed. While their garments are pricey, they are well worth the money!
8. Everlane
Everlane is also one of the most recommended shopping stores like Aritzia, and it's one of the more budget-friendly options on the list! While Everlane isn't recognized for its environmental stewardship, they have a few sections dedicated to more ethical, organic clothes.
They feature a large selection of clothes that is both simple and interesting. Everlane has various garments, ranging from loungewear to formal outfits that follow the same pattern of being muted yet sticking out, as Aritzia's elegant, minimalist design.
If you like Aritzia, you'll love Everlane, and it'll be a terrific addition to your wardrobe, so don't miss out!
9. The Frankie Shop
The Frankie Shop is a company focused on supplying its clients with high-end apparel inspired by the designs we see on runways worldwide! It was launched in 2014 and is a lesser-known retailer.
The Frankie Shop, which is based in New York Metropolis and is also one of the world's fashion capitals and among the top alternative stores like Aritzia, exudes the elegance and charm of the city.
With a pricing range that is very close to Aritzia's, The Frankie Shop's designs are just a wee bit chicer and more sophisticated, playing with a lot of odd silhouettes that are not for the faint of heart!
They make something highly distinct and awe-worthy yet still have the power to be understated, with their intriguing twists and interpretations of standard essential attire.
It's a kind of silent power. So, if you adore Aritzia and are looking for some best shopping stores like Aritzia and want to try something latest in your wardrobe, The Frankie Shop is the place to go!
10. Go Jane
Go Jane is another famous and preferable brand, having been founded in Ontario in 1998 under the parent business of Aeropostale (a name we're all familiar with). Our choices so far have all had a similar aesthetic, with muted but striking colors and irregular forms.
Go Jane is a unique character. Go Jane is more mainstream, with bright, dramatic colors and fashions heavily influenced by current trends.
However, while they offer some beautiful basics, styling some of their pieces requires a bit of bravery! Go Jane has it all, from princess-inspired gowns and blouses to wacky trousers. Go Jane is also the cheapest brand on the list, so if you're searching for a style that's comparable to Aritzia's but at a lower price, Go Jane is a beautiful place to start!
11. Pixie Market
Now it is another environmentally-conscious brand, Pixie Market! Pixie Market is an attractive option since, like some of the other brands on this list, they focus solely on using ethically sourced, eco-friendly materials in their apparel collections.
With the delicate grace and beauty in which they are portrayed, all of their outfits have a fairy-like feel, immediately pulling our attention to them for their distinctive styles.
Their style is similar to The Frankie Shop but less experimental, making them a more modest yet equally beautiful option if you're looking for something a little less "out there."
With their clothes not being the most affordable but they are highly worth it, with the accomplished tag of "ethical" that they carry, they fall right amid Aritzia, Frank, and Oak.
12. Bloomingdale's
Bloomingdale's is a name we've all heard of, no matter where we reside. Some of us had always known about it, and those of us were first introduced to it when Rachel landed her first dream job there, on F.R.I.E.N.D.S.! We can safely state that we always put our faith in Rachel Green's fashion selections since, without a doubt, her style was faultless!
Nonetheless, due to its variety, Bloomingdale's is among the beautiful alternative stores like Aritzia. While we agree that the costs are high, the garments are so beautiful that you can't help but fall in love with them!
Furthermore, they are taking strides to become more environmentally friendly and have even introduced a line of clothing made entirely of recycled materials! Bloomingdale's gets some additional brownie points for that!
13. NET-A-PORTER
Average price range: $350 to $1,200, with a few more expensive pieces available. Pricing for shipping and returns: All orders come with free shipping and returns.
More than 800 designer brands are already available on Net-a-Porter (a clever play on the French term prêt a porter, meaning ready to wear), and the list is growing all the time. 
The Fashion Challenge with Alexa Chung | NET-A-PORTER
Like the top alternative stores like Aritzia, the site has a distinct style of styling and photography that only adds to the luxury of its vast collection of clothing, shoes, accessories, and beauty.
Porter, the company's digital newspaper, offers monthly styling and buying advice and profiles with various famous women (like Halima Aden, Angelina Jolie, Jerrika Hinton, and Claire Waight Keller). Sustainable manufacturers have their area on the site and curated shops for events like warm-weather holidays, weddings, and sophisticated workplace wear.
14. O.A.K. + FORT

 
In addition to New York, San Francisco, Los Angeles, Toronto, and Vancouver, O.A.K. + FORT now has 19 sites across North America. The minimalist, Japanese-inspired basics you'll find here will match with almost everything in your closet.
The majority of what you'll discover here is in a timeless, neutral color palette of black, white, grey, tan, and navy, which means it can easily be mixed and matched with ease and without complication with what you already own.
You'll find jewelry, accessories, homeware, and beauty products in addition to women's and men's clothing. Thus, it stands among the most recommendable shopping stores like Aritzia.
15. Lou & Grey
Lou & Grey is a must-try for the ladies who live in comfortable fundamentals. Here you'll find all of the necessary for a comfortable lifestyle without sacrificing flair. You may stock up on inexpensive cashmere and loungewear that can be dressed up or down for nights out or comfortable nights in.
But the softness of each piece is unquestionably the most appealing feature. The brand's mission statement is to create goods that are "crazy soft" and give you "all the feels."
16. Loft
Do you like super-soft and cushy basics? Then there are Lou & Grey tops, which are a great alternative to the shopping stores like Aritzia. Loft, formerly Lou & Grey, features suitable cashmere and loungewear for simple night-out outfits and pleasant nights in.
The deal you'll never get tired of getting at Loft is dressing in breathable, soft, and warm fabrics that make your body feel good and your looks classy. Their dresses and accessories appear to be elegant and expensive, yet they aren't as pricey as those found in most stores that provide similar quality and variety.
17. Mango
When it comes to having a range of fashionable products that are wearable and on-trend with a current contemporary look, Mango is all shades of fantastic. If you like shopping for your favorite and stylish clothes at the top alternative shopping stores like Aritzia, you should know that Mango has a more extensive selection.
CHUFY X MANGO | Exclusive boho dresses collection designed by Sofia Sanchez de Betak
If you enjoy super-wearable, luxurious things that don't come with exorbitant price tags, you should check out Mango's online one-stop store as often as possible.
18. Zappos
The average price range is $200 and under, with a few pieces priced at $300 and higher. Pricing for shipping and returns: All orders come with free shipping and returns.
What began as a digital shoe store 20 years ago has grown into a super-sized retailer selling everything from running sneakers to back-to-school items, as well as men's suits and a strong dose of outstanding women's ready-to-wear. 
Zappos' shoe selection remains remarkable, featuring pairs from well-known brands (such as Nike and Sam Edelman) as well as lesser-known labels (including OluKai and Kaanas).
Zappos Presents...Every Body Moves
Most of the garments are under $200, but there's also The Style Room, a portion of the site where buyers can shop for their favorite designer labels like Loeffler Randall, 1.State, Prabal Gurung, and Tory Burch. Classic denim, beautiful and practical outerwear, lovely summer dresses, and everything in between can be found in both departments.
19. Eloquii
The average cost is less than $150. Pricing for shipping and returns: $7.50 flat price, free shipping above $125, and free returns. Eloquii is also among the highly preferred and recommended shopping stores like Aritzia.
Sarah Williams Spotlight Series | ELOQUII
While the availability of fashion-forward plus-size clothes is steadily growing, there are still a limited number of fantastic options available. One notable exception is Eloquii.
Its clothes strike the perfect blend between elegant and trendy, and the company routinely collaborates with influencers such as Gabi Fresh, and I Am BeautiCurve to create curve-friendly collections created by the ladies who wear them.
The most expensive pieces cost $150, but the majority of styles are around $100, allowing you to stock up on both work and date-appropriate outfits without breaking the bank.
20. Garmentory
The average price is $250 or less, with some goods costing up to $500. Delivery and returns are charged at a flat rate of $9.95, with free shipping on orders over $100.
Garmentory is all about giving tiny businesses and independent designers from all around the world a platform.
Jewelry, clothing, shoes, and accessories (as well as menswear, children's clothing, and certain home decor goods) abound on the site, many of which are handcrafted in small numbers.
Each product page includes the name of the brand, designer, or boutique, as well as information on where they are situated so that you can brag about your Blue & Cream T-shirt from Manhattan or Aurelie earrings from Seattle.
Finding a fashionable piece that no one else in your group has is the most enjoyable part of the game. There are also some pre-owned fashions from brands we all know and love, such as Ulla Johnson and Ganni, as well as a new Make an Offer program that allows you to bargain on specific items.
21. A.S.O.S
The average price range is $150 and under, with a few more expensive pieces available. Pricing for shipping and returns: $5 flat rate postage, free delivery for orders over $50, and free returns.
This British retailer (A.S.O.S) is considered a one-stop-shop for all of our sartorial requirements. Separates that are on-trend, such as current jeans and dresses? Check it out. What are some inexpensive accessories that can be used to complement any look? Yes, absolutely.
Bridesmaid gowns? Suits for the beach? What do you wear to work? What about athletic wear? Yes, for all. Even better, in addition to the standard X.S. through XL sizes, several ASOS-exclusive designs are available in small, tall, plus, and pregnancy sizes.
Aside from its several in-house lines—Collusion, A.S.O.S. Made In Africa, ASOS 4505, and so on—the e-commerce behemoth also carries brands such as & Other Stories, Levi's, Whistles, and Topshop, to mention a few.
Even though it ships from the United Kingdom, deliveries are usually quick, especially if you join up for A.S.O.S.' Premier Delivery membership, which includes free two-day shipping (as well as returns) and costs just $19 a year.
Download App on Google Play Store
Download App on Apple App Store
Note:-
I have written a post for people looking for the 15
Stores like Asos
To Refresh Your Wardrobe, do read it If you are interested.
The majority of the pieces are around $100, although a few are more pricey. Pricing for shipping and returns: Amazon Prime members receive free shipping and returns. We would never have purchased apparel from Amazon only a few years ago.
But, oh, how things have changed through the years. With its Common Threads program, the site has lately partnered with the C.F.D.A. and Vogue to bring up and coming independent designers, as well as more famous names like Tanya Taylor and Anna Sui, to the masses.
But there's also The Drop, which has limited-edition mini collaborations with fashion influencers available to shop for only 24 hours; Making the Cut, Heidi Klum and Tim Gunn's new design competition show that produced winning looks for viewers to buy through Amazon; and the #FoundItOnAmazon page, where you can buy pieces worn by you. So, it turns out that fashion isn't an Amazon stumbling block after all.
23. W Concept
Pricing ranges from $150 to $200 on average. Shipping and returns are free for orders having worth more than $100. This (Visit Here) Korean-based retailer is the place to go if you're looking for new Asian designers. Consider the names Reike Nen, Yan13, and Yuul Yie, to name a few.
Like many of the other stores on this list, W Concept sells male and lifestyle items and women's clothing, shoes, bags, and accessories. The majority of dresses cost approximately $150, while tops are usually under $100.
There's also swimwear, intimates, shoes, purses, and accessories, as well as a faux fur area on the site. Budget-Friendly Sales are held frequently at the store, and they usually promote one designer at a time, although they can also include new seasonal items.
24. Shopbop
Pricing ranges from $120 to $300 on average. Pricing for delivery and returns: Amazon Prime members get free two-day shipping and free returns.
The bright, cheery colors and simple interface of Shopbop's website initially drew us in. Still, it was the vast assortment of very stylish apparel, accessories, and shoes that won us over.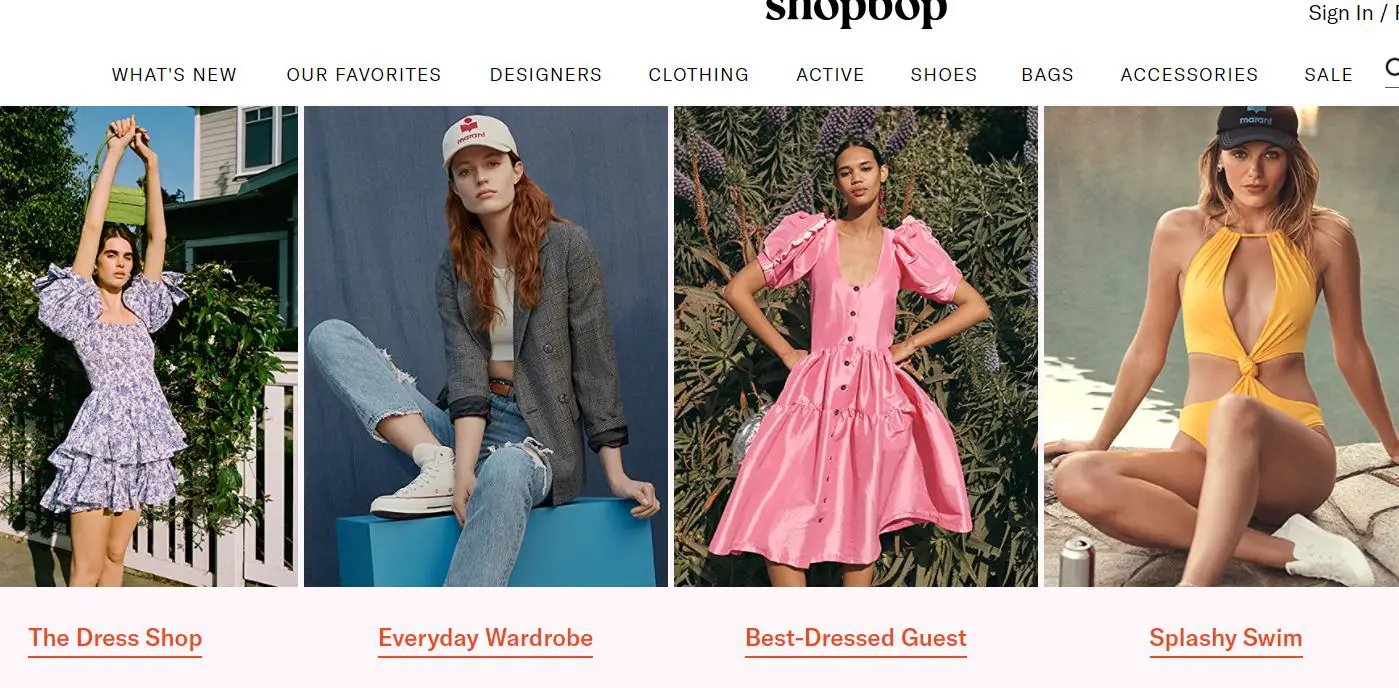 Shopbop (which is owned by Amazon and allows Prime members to use their free two-day shipping privileges) sells our favorite go-to affordable lines (Madewell, Faithfull the Brand, Free People), high-end designers we like to splurge on (Alice + Olivia, Ulla Johnson, Self-Portrait), and new names we'll soon be seeing all over Instagram (keep an eye out for Banjanan and Alfeya Valrina).
Dion Lee, Victoria Beckham, and Zimmermann are among the high-end names represented on the e-commerce platform. There are items to suit every price and style, but the curated Fashion Finds Under $200 section is one of our favorites.
25. Staud
When talking about stores like Aritzia, it's easy to get caught up in the warm, everyday necessities. But what if you want a little more pizazz in your basics? Staud is the ideal location for you. Staud has never been frightened of a print and is the master of the bold look.
Staud and Aritzia may appear highly different, but their clothing quality is consistent, and they will both be stalwarts in your ever-expanding closet. It is one of the most popular stores like Aritzia for worldwide fashionistas.
Conclusion
And with that, we've come to the end of our list!
It's no easy task to name the most excellent online clothing stores for women in 2020. There are many brands out there, each specializing in something new and exciting: plus-size designer items, hot-off-the-runway frocks, eco-friendly T-shirts, small-batch collections under $100, and so on.
So we did our research and discovered the top 30 businesses to visit, ranging from high-end luxury businesses to the most reputable online secondhand stores.
These top shopping stores like Aritzia are highly preferred and recommended worldwide for the broader range of fashion apparel and clothing styles that they offer. To style according to the trend and be the one to stand out of the crowd, you must look at the collection that these top alternative stores like Aritzia have!