When we talk about fashion mentioning one name is a must, Asos. It is a brand known for its body-conscious image. Asos has its creation for both men and women and other known brands.
ASOS's sole purpose is to make people more comfortable in their skin so that they will wear the clothing with pride, thus increasing the charm of ASOS's dresses.
It wants its client to have freedom of who they are irrespective of some prying eyes and what is best other than expressing themselves through their choice of clothing.
It contains different outfit options ranging from a boho tee to a cute floral tee, plain jeans to rocking neon color jeans, and flowy gown to bodycon dress.
Asos has its one design along with more than 850 brands. Thus, we can say it is a boutique hub.
If you want to find a place for slim joggers, tracksuits, wide-leg trousers/tights, leggings, shirt dresses, midi dresses, hoodies, or poplin wrap front mini smock dresses, then Asos is the best place.
A picture-perfect outfit for gym, training, outdoors, running, skiing and snowboarding, yoga, and studio are in the closet of Asos.
If you want to catch every eye while walking or look ramp walk ready, then Asos can help you find corset tops, jumper dresses, knitwear, Mom jeans, and vintage stores.
But not always; we fashion bees want the same tag clothes or want to refresh our wardrobe, so we have jotted down some stores like Asos.
Stores like Asos To Refresh Your Wardrobe 👌👌
No need for you to fret if you can't find eye-catching clothing apparel in Asos; here are some stores like Asos that can most likely cater to you.
1. Forever 21
If you are looking for stores like Asos that can make you ready from head to toe, then you do not have to look any further than Forever 21.
Forever 21's closet has for head-to-toe, so you do not have to look through another fashion store.
The shop's name defines pieces in their closet that will fit your body like it was made especially for you. Its apparel helps you in looking young and 21 forever. You can for sure find any outfit that your heart desires.
If you are a fan of Asos's fashion but do not want the same brand's tag, Forever 21 is a must-store like Asos, as it gains its fame quickly in the fashion industry for trendiest and classic-looking outfits at affordable prices.
If you are a man or a woman, you can find an outstanding outfit as it has both men's and women's wardrobes in their closets. Not only faddish attire, but you can also find different varieties of accessories, beauty products, home goods, and footwear.
It lets you slay homeware and provides must-have clothing pieces and fashion bae-sics. You can bag away almost everything at a reasonable price.
You most likely want to grab the deal when you are offered such things. Therefore, it is one of the most searched stores like Asos.
2. Anthropologie
Trying to fund the perfect store like Asos that can guarantee you comfy along with fashion at its peak, not looking through Anthropologie would be your less.
Anthropologie is the fusion of comfort and style, taking second place in the most searched store.
It offers the best summer fashion that will make you feel breeziest; you can find clothes in summer-fitted colors such as neon and pastel colors.
If you are a fan of printed designs in maxi dresses, no other store can cater to your needs better than Anthropologie.
It provides you with comfy yet polished pieces. From midi and maxi dresses to mini and tunic dresses, lounge and casual dresses to cocktail and occasional dresses, sweater and floral dresses to jumpsuits, wedding guest dresses to black, cocktail, casual, beach wedding dresses, little black, white dresses to formal dresses, you can find anything.
Not only dresses, but you can also find top-rated shoes, whether it's boots, booties, flats, formal heels, sandals, slippers, sneakers, or wide-width shoes.
It does not disappoint you in offering bold, stylish, jaw-dropping dresses in stores for women of any age.
You can also buy accessories such as scarves, belts, legwear, bags, home, and furniture like pillows and throws, curtains, furniture, candles, and fragrances to make your home heaven, wallpapers, room decor, etc.
It is a multi-tasking store like Asos, so you can also look at beauty and healthcare products.
3. Pretty Little Thing
Pretty Little Thing is a known brand in the fashion bazaar for its large collection that oozes fashion, trends, royalty, and dopeness.
You will find PLT tag clothing in divas' wardrobes as it guarantees eye-catching pieces.
Pretty Little Thing's range starts from dresses, tops, shoes, accessories, beauty, and stay at the home wardrobe.
You can find anything from dresses, tops, activewear, coats, jackets, blouses, crop tops, denim, jeans, joggers, jumpers, jumpsuits, knitwear, leggings, loungewear, shorts, playwear, etc.
In accessories, you can go through trendy earrings, necklaces, chokers, rings, body jewelry, bags, purses, belts, sunglasses, and hair products.
Pretty Little Thing is like a magical place to get any fashion solution.
It is one of the stores like Aos that you should check out without wasting time. Its closet contains any dress, a wide range of boots, heels, flats, and beauty products that make it seem endless.
Looking through Pretty Little TRhing shop, you can see its collection with a PLT tag that can bring charm to your closet and prosperity as it gives you a whole pack of offers.
4. Boohoo
When motivating beautiful women with beautiful figures, Boohoo will make a good competition.
A 2006 launched brand, Boohoo was initially made for women's apparel, but recently, it has been expanding its territory to men's clothing pieces. 
Boohoo is a must-place for visitors who like oversized clothes in trend and who want comfort with fashion.
You can find dresses; it does not matter if you are looking for a midi, maxi, mini, smock, jumper, shirt, long sleeve, T-shirt, bodycon, skater, wrap, sweatshirt, black, blazer, or pinafore dresses because Boohoo has it all.
LOVE WITHOUT LIMITS | PRIDE | BOOHOO
You can find everything almost immediately as there are different sections such as 'dresses by occasion', 'dresses by fit', and 'dresses by trend.'
It is not just a closet full of dresses but has many things to offer, such as tracksuits, joggers, leggings, hoodies, sweatshirts, and athleisure, along with nightwear, loungewear, and self-care.
If you are a fashion person who likes to coordinate your outfit at a reasonable price, then Boohoo is one of the stores like Asos that can meet your expectations.
It offers high sales every time. Its collection always showcases the ingenuity and fashion different from other stores like Asos.
5. MANGO
Mango stands on the expectation we get whenever we hear the word mango. It offers fresh, sweet, tangible fashion like the Mango fruits flavor. You can stand out from the crowd just as Mango is known as the fruits' king.
Mango makes fashion out of comfort along with trends. It offers some awesome vintage-looking floral dresses that will bring you confidence in your skin. In the fashion business, Mango is gaining fame for its collection of coats in which no one can find a single fault until now.
No matter your age, Mango can offer something as it targets kids up to 40. Finding a shop that can cater to your need for suits at a low range is nearly impossible, but Mango, a store like Asos, can do that.
When examining the clothing item of Mango, we can say that it resembles the Mediterranean style along with such color palettes that make the girl/boy, men/women wearing it look good.
Its closet offers you a variety of dresses, whether it's a skirt or any jeans, from chic trousers to sexy blouses, from expensive-looking pieces of jewelry to antique accessories.
It is expensive yet offers the best quality of clothes with the perfect art of tailoring. 
You can see Mango in the list of stores like Asos as it is one of the most searched stores, and you can become a Mango girl by going through their offers.
6. Misguided
Misguided is one of the many stores in showbiz that stand with women's empowerment and believe in bae's power.
Its collection beholds the power to make girls feel comfortable in their one skin. Missguided, through its fashion platform, is trying to empower girls all around the globe. 
If you do not like something in Misguided, then rest assured that your dislike will be listened to by them as they care about their clients' pleas, requests, opinions, trends, and fashion statements.
You can feel the street style, pop culture, and comfiness in Misguided clothing items. You can find various activewear, winter wear, skiing clothes, coats and jackets, dresses, and tops. The best thing you can find in Misguided is its makeup brand which has accessories related to the face, lips, and eyes.
You can find various dresses such as bandages, blazers, tuxedos, bodycon, casual, denim, formal, slip, sweater, little black, long sleeve dresses, to slick, classy gowns.
You, the fashion bee, can easily have your hand on a quirky knee-length dress to a long flouncy gown in a minute.
They can provide you with anything you want, whether it is a dress for your summer plans or swimwear for your pool party or jeans for a party and casual date. Missguided is a store that fully stands to its customers' expectations.
During the time of research on Stores like Asos, we found a video about 15 Ways to Recognize And Avoid Low-Quality Clothing, which is worth watching.
15 Ways to Recognize And Avoid Low Quality Clothing
7. Topshop
Topshop is another most searched store that is a must palace for fashion icons and divas like yourself to check out.
Topshop is a British-based apparel company that offers you to select from a wide range of options.
If you are not from Britain, no worry; Topshop has more than 500 shops worldwide. It comes under stores that can provide various sizes, from small to XXL. Compared to' normal' girls, Topshop can be at your service if you have a beautiful body that is more filled.
Fashion divas can satisfy their fashion quota here in Topshop. It has clothing items and dresses that vary from slip, bodycon, shirt, wrap skater, and tee to mini, maxi, midi, day, going out, and workwear dresses.
If you don't know your size, you can also shop from 'shop by fit.' Its closet holds coats, jeans, cardigans, tops, along joggers. No need to go through some other store for shoes, bags, and accessories as you can find all these things hidden in Topshop.
Topshop has established brand names, such as Adidas, Levis's, Puma, Calvin Klein, Topman, Skinnydip, Skechers, Champion, and Tommy Hilfiger.
Topshop is among the most versatile on our list of "stores like Asos." It has a wide range of dresses in its collection and offers shoe wear, makeup, and accessories, so don't look any further than its shop.
8. Amazon
There is a high chance that you already know this online retailer, Amazon. It is an online mall that holds different brands irrespective of their magnitude. It has dozens of choices that you can easily access.
Amazon is the most convenient shop to buy from, and with its membership, you can have prime shipping that will let you hold your order within two days. Not only known brands are available on Amazon, but also many retailers and resellers around the globe.
The one thing about amazon that can set you back is its hard interface which causes a problem in reviewing business practices of purchasing brands. It may not be your best place if you stand with customer rights.
Amazon can give you anything, footwear, clothing items, accessories to household items, books, to any equipment. If you do not like to go through multiple stores, then Amazon is the best place, as it tends to give you everything. Therefore it is one of the stores like Asos.
9. In The Style
The other contender in our list of stores, like Asos, is In The Style. The 2013 launched store works to empower women by allowing them to wear outfits that can make them feel confident in their skin and provide a comfortable fit for them. 
Its apparel has grace and authority and seeks attention from buyers. "In The Style" wants girls to feel good about their natural beauty and appearance while adorning their masterpieces.
"In the style" store is just like any other store here and can offer you accessories, shoes of all kinds, and dresses of different styles such as midi, maxi, mini, bodycon, smock, and little black and white dresses.
It also offers maternity clothes for heavily pregnant women.
Fashion critics and their customers have positive and negative responses, and the major reason for that is receiving clothes that are too big or small.
The solution to this downfall is also provided by In The Style to its customers, as you can return the package if you ever get mismatched orders.
It has collaborated with some fancy name brands such as Syd&Ell, Billie Faiers, Melly Sophia, etc.  If you want to go, look at the In The Style collection.
10. NewLook
Newlook is another store where you can get almost the same apparel as Asos. It can help you in finding the best outfit for any event. It does not matter if you are looking for men, women, or girls, as you can find event-ready outfits.
NewLook's closet covers almost every category: dresses, jeans, coats and jackets, tops, knitwear, sportswear, joggers, hoodies and cardigans, trousers, nightwear, skirts, denim, jumpsuits as well as playsuits, shorts, along with lingerie, and swimwear.
 Many users rated NewLook as the best quality provider and affordable prices. You can find shoes such as boots, trainers, sandals, and flats.
NewLook is a 1969-based British company that an investment firm recently bought, thus creating more fashionable clothes.
It not only offers you apparel, but you can also find accessories such as hats, scarves, socks and tights, gloves, jewelry, hair accessories, and face coverings.
Why stay behind in presenting bags? NewLook has it, too, in their stores. It is a must-store like Asus that you should once look at.
11. The Iconic
Native to Asos, The Iconic is the best place for people who want to surf through new things every day as it has collaborated with over 1000 large and small enterprises that offer a huge whoop of 60,000 merchandise.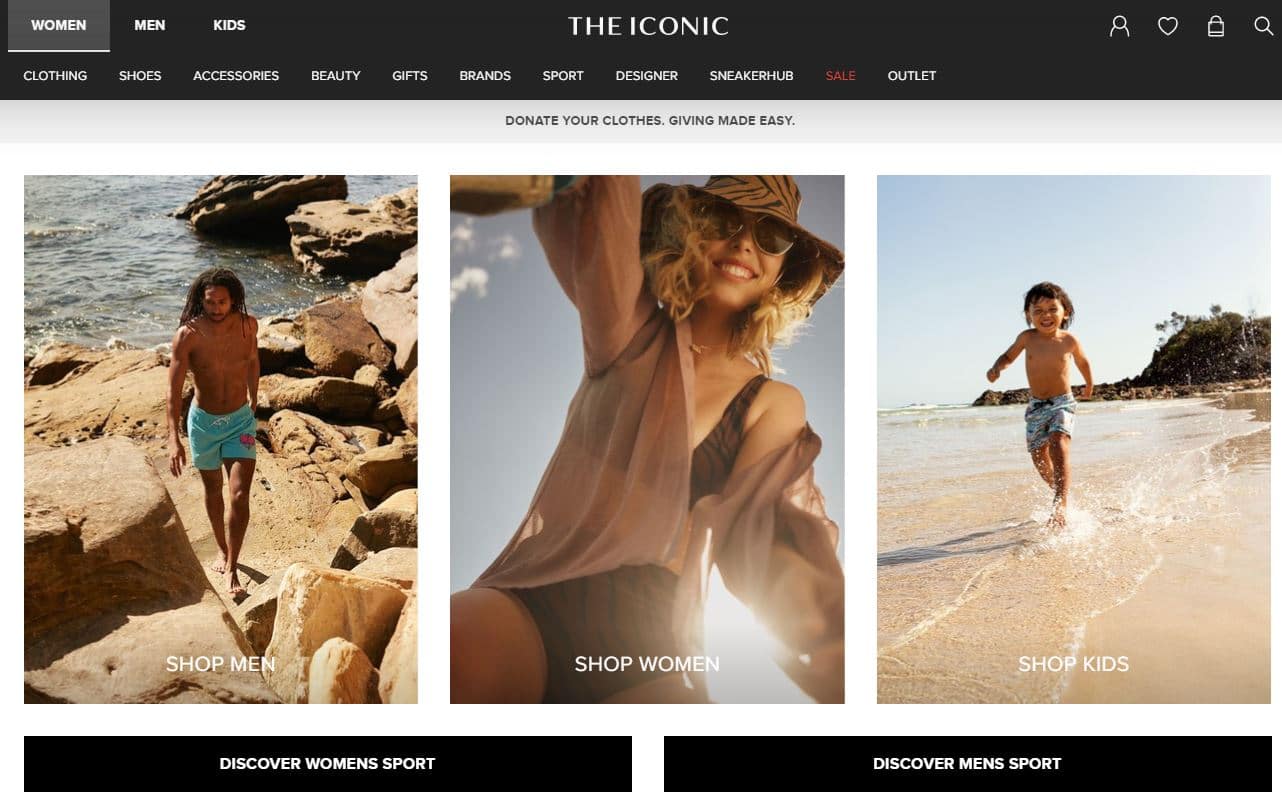 The special feature of The Iconic is that you wouldn't get bored with its product as it keeps putting 200 products a day for its users. If you are a fan of Topshop, Tigerlily, then you can find it along with The Iconics.
The best thing is its shipping package, and if you enjoy Sydney, it is more than possible to get your hand on your deals in 3 hours.
People living in Melbourne, Brisbane, and Adelaide also get surprises as they can get their offers within a day.
12. Shopbop
Fan of Asos? But do not like the same tag clothing item in your closet! Crazy about modern style? Shopbop is the best place to visit as it not only provides the same fashion sense but also lets you have the feeling of buying offline.
It provides a fashion catalog that only your elegant friend can give you. Some known brands, such as Alice McCall, Birds of Paradise, and Furla, are attached.
If you are someone living abroad but still like their fashion statement, then free express international shipping is for you, and if it isn't up to your liking, then returning it is also possible.
13. Net-a-porter
If you are looking for Asos, Fendi, and Prada in a shop, then Net-a-porter is the best dashing store you should check. It may be what you look for in a store, and its layout is pretty simple.
It has some pretty inspirable looks that can catch your attention. If you are getting something shipped from the store, you only have to spend a small amount of 10$ and will get the deal within4 days.
14. Fashion Bunker
Fashion Bunker is one of the online stores that aim for Aussie fashion, thus including brands such as C/MEO COLLECTIVE, Finders Keepers, Keepsake, and The Fifth.
Fashion Bunker is the best outlet for classic chic fashion, and if that's not your style and you look more towards street style, then it is worth giving your time.
The one thing most people would not like is that free express shipping on orders is only available if your orders are over 79$.
15. The Outnet
The Outnet is also a part of the Yoox Net-a-porter group. It has daily offerings that have serious markdowns. It can offer some serious sales of up to 75% off on major brands like Alexander Wang, Balmain, and Rag&Bone. 
If you enjoy designer clothing with a good bargain, then The Outnet is the must-go place for you. The shipping will ask you to remove 20$ from your wallet, but spending that much is worth it when you have your new package within 3 to 6 business days.
The Outnet is one of the best stores like Asos that can afford every designer label-lover something.
📗FAQ
What is similar to ASOS? 
Forever 21, Anthropologie, Pretty Little Thing, Boohoo, MANGO, etc., are some of the most popular platforms similar to ASOS and give you access to thousands of amazing clothing brands that offer fashionable outfits at very reasonable prices.
What type of clothing store is ASOS? 
ASOS Plc conducts business as an investment holding company that sells goods online. ASOS.com Ltd., an international online retailer of clothing and cosmetics, runs the business.
It provides branded and house-brand goods, such as clothing for men and women, shoes, jewelry, accessories, and cosmetics.
The company's headquarters are in London, United Kingdom. It was established on June 2, 2000, by Nicholas Jon Robertson and Quentin John Griffiths. 
Is ASOS like Shein? 
A major online retailer of apparel is ASOS. Like SHEIN, Asos blends excellent fashion with a reasonable price.
They are a British-based online retailer that sells its line of clothing and accessories in addition to more than 850 other brands. 
You will adore that they provide inclusive sizing if you are a fashion freak! In addition, they carry apparel from their ASOS brand in more than 30 sizes, so you can be sure they have the ideal item in your size! 
Wrap-up:-
In this article, we have seen 15 stores like Asos. All the stores, at this least, are good; one can trust any of them to curate a stylish outfit.