AutoZone has been one of the most preferred destinations for auto lovers to find a wide range of high-quality auto parts at highly affordable rates.
It is a popular American retailer known for some of the high-end aftermarket auto parts as well as various related accessories. It's safe to say that it is undeniably the largest company in the entire United States.
However, like all other great things, people have started to notice a constant downfall in the overall services and quality of products by the company.  
If you are also among those who had not best of experiences with AutoZone, you can definitely have a look at some similar auto parts stores like AutoZone. And, in this informative review post, I am looking at 17 such online stores that are doing decent work as far as delivering high-quality aftermarket auto parts is concerned.
Whether you are in search of vehicle-specific stuff like a timing chain, are you simply want to buy something like a brake pad, you will get almost everything from these online stores at really surprising rates!
Let's have an in-depth analysis of these online auto parts stores. 
Top Auto Parts Stores like AutoZone – Our Pick👌
1. Advance Auto Parts

 
It doesn't matter what your requirement is, Advanced Auto Parts (Visit Here) will take care of it without any problem whatsoever!
From some of the best sales Flyers to batteries, brake pads, shoes, oil change bundle builders, wipers, alternators, brake rotors, and drums to spark plugs, engine air filters, radiators, and brake calipers, the reliable online store offers literally everything!
You can't only find these parts without any problem from the website, but can have them at some unbelievable price tags as well. 
If you are wondering how good their presence is in the aftermarket spare parts industry, here is something astonishing for you! They have as many as 5200 stores all over the country, and can't deliver the parts you need and as little as 30 minutes!
If we talk about the overall website experience, I have found it quite simple and easy to shop. All the items are perfectly categorized, and you can explore them without much fuss.
Advance Auto Parts' website also offers regular promotion deals and other types of discounts exclusively for online shopping. And, you can of course make the best out of these offers whenever you want to shop through the website! 
2. NAPA Auto Parts 

 
NAPA is not only about finding your desired auto spare parts. The website also helps you get accurate estimates on all types of repairs, and schedule appointments at their exclusive repair centers across the country.
In addition to buying a wide range of car parts, you can also make purchases for almost all types of diagnostic equipment, automotive accessories, and all other types of tools you might need.
And if you are not completely sure what you actually need, or how you can install it in your vehicle, you can find out a complete range of how-to guides right on the website as well. 
The website has a dedicated section dealing with everything related to what you can do yourself. With exclusive NAPA AutoCare, you can seamlessly book an appointment with a vehicle expert.
With more than 17,000 centers across different locations and ASE-certified technicians, you can completely rely on the website to get the job done! The best part about the online auto spare parts store is, that it gives you two years of "peace of mind" with almost all its services!
If you are struggling with your finances, you can explore the exclusive NAPA EASYPAY FINANCING option that gives you six-month promotional financing assistance on your purchases of $199 or more! 
3. BUYAUTOPARTS.COM – stores like advance auto parts
"Buy Auto Parts" is also among the most reliable auto spare parts stores like AutoZone! On the website, you get an extensive range of auto parts, import parts, truck parts, automotive accessories, as well as performance parts at very competitive rates!
You can seamlessly explore a wide inventory from the website to find both aftermarket car parts as well as OEM car parts for your love of the vehicle.
The online store is one of the most popular distributors of all types of auto parts in the entire United States. The website is also known for its unparalleled customer service.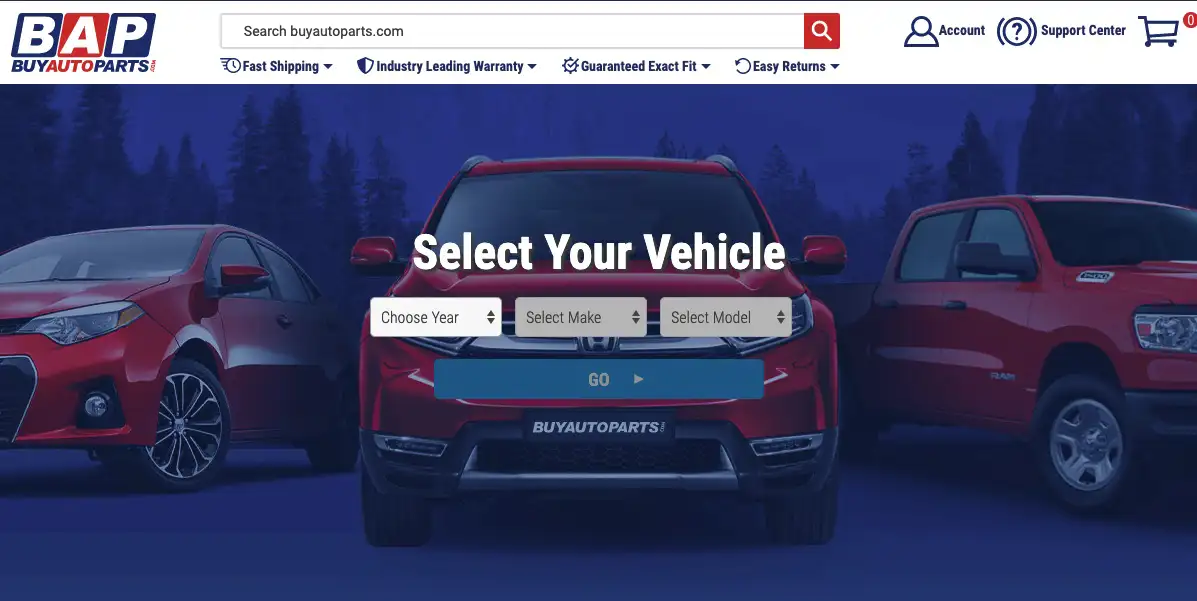 If you are not too sure about what your vehicle needs, you can always get in touch with the automotive experts in the company, and they will help you get the right part according to the brand and model of your vehicle.
Guess what? You also get a one-year unlimited mileage warranty on all the parts you purchase online from the store!
Whether you are in search of a turbocharger, or you need an AC compressor, rack, and pinion steering, power steering gearbox, manual steering gearbox, shock and strut set, driver shaft, or even if you want to purchase a complete AC repair kit, you can find it all right on the website!  
3.

Amazon

 
Yes, you can argue that Amazon is not a dedicated online auto spare parts store! But is it really possible to keep it out of any list talking about online shopping irrespective of categories?
What you can't find on the global online shopping giant? It already sells you literally everything, and why can't you rely on this website to find your auto parts as well?
The website partners with some of the leading manufacturers and vendors of auto spare parts, and delivers some of the best auto spare parts right to your door steps.  
All you have to know is how you should navigate the site! And, it will seamlessly help you narrow down your social results according to your requirements and specific vehicle.
Yes, you may find it a bit challenging to get a technician to help you install the spare parts, but if you are already aware of how you should install them, Amazon can be your one-stop destination for all aftermarket spare parts!
However, if you order stuff through Amazon, you are going to get arguably one of the best return policies and the online shopping business! And, of course, it can give you that much-needed peace of mind while ordering!  
You may like to read our guide on 11 Best
MirrorLink Apps
To Manage Your Car Smartly.
4. Eckler's

 

 
Eckler's is one of the largest sources of Aftermarket auto spare parts known for its versatility. The app specially deals in automotive restoration and performance parts and only sells high-end premium components.
The brand has been one of the pioneers in the industry for more than 50 years. Whether you need a specific part for your vehicle, are you want to get you are difficult questions answered by the experts, you can do it all through the online store.
If you are finding it difficult to get a suitable part for your vehicle, you can always get in touch with the tech staff and sales representatives of the company. They will surely help you locate even some of the hard-to-find parts with limited availability. 
The website has been committed to providing the highest quality spare parts at very competitive prices. It only selects some of the best parts exclusively from the world's leading parts manufacturers.
It doesn't matter if you are planning a major restoration project, or you simply need a few items for a single repair of your vehicle, everything on the website is selected individually for value and quality. With more than 300,000 products across categories, Eckler's are definitely right up there with the best in business.  
5. A1 Auto

 
A1 Auto is among the most competitive auto spare parts stores like AutoZone. The company focuses primarily on empowering people to successfully perform all types of auto repairs on their own.
The website provides the highest quality spare parts along with the best customer experience. You only get the most reliable spare parts, manufactured from the best possible materials.
You can always get in touch with a team of automotive experts in the company, and get all the necessary assistance related to the installation of spare parts.
In addition to a wide range of high-quality products, you also get toll-free customer care and live chat so that, you don't find it really difficult to install the spare parts by yourself.  
You can also explore a complete range of how-to videos right on the website. These exclusive videos are recorded by automotive experts, and contain everything related to DIY repairing and replacement of spare parts irrespective of the type and model of the vehicle.
A1 Auto is also loved by a lot of customers due to its extraordinary shipping policies, as it delivers literally every type of spare part on the same day of ordering!  
6. Truck Pro USA 
Truck Pro USA is one of the leaders in the auto spare parts industry, particularly dealing in almost all types of spare parts required for heavy-duty vehicles like trucks.
You can find a wide range of aftermarket truck parts and accessories on the website at highly competitive prices. Tonneau Covers, suspension lifts, leveling kits, floor mats, exhausts, cold air intakes, programmers, LED light bars, towing bars, and bumpers, the app offers literally everything related to spare parts for a truck.
The company has been in the business for more than 30 years and is only staffed by dedicated and experienced truck enthusiasts.  
If we talk about the overall user interface of the site, it wears a very professional look with white and blue as its premier colors. If you are a seasoned drug driver, or you deal in the truck business, I would suggest you to have a look at this website at least once!
It will without any doubt get rid of all your problems related to spare parts. From exterior accessories to all types of interior accessories, performance tools, suspension and brakes, tires and wheels, and everything else is available on the website at really reasonable prices. 
You may like to read our guide on 11
Best Trucker Apps
To Ensure That You Arrive Safely.
7. FCP Euro
How about finding everything related to your spare parts requirements on a single website? Yes, FCP Euro is all about that!
In addition to dealing with a wide range of spare parts, it also offers almost all types of highest quality replacement parts, a complete range of do-it-yourself knowledge, as well as extraordinary technical support to those who are always worried about the maintenance of their vehicles.
The website perfectly curates its catalog with only the highest quality OEM brands like Bilstein, Bosch, Brembo, and Lemforder.  
If you are a fan of European cars like Audi, Mercedes, BMW, VW, or any other car from Europe, FCP Euro can be the most suitable destination for you to find almost all types of parts for your vehicle.
One might say that the website only exclusive deals and spare parts for European-made vehicles, but it is definitely an outstanding option for those who only drive high-end European cars!
You don't only get the spare parts of the highest quality on the website, but you also earn free shipping on all your orders of more than $49! Additionally, the auto spare parts store also offers a lifetime replacement guarantee if any part fails prematurely.
Even if that's not the case, and you want to return a purchased spare part, you get a flexible 90-day return policy.  
8. Auto Anything

 
Here is another decent online store that deals in hundreds of different types of car parts made for all models from almost all brands. The company works with some of the best brands, including Bilstein shocks and K&N air filters, add ensure you get whatever you want at very reasonable prices.
Auto Anything website doesn't only offer a wide range of premium performance parts, but they also sell an extensive range of OEM replacement parts as well.  
In addition, you can also rely on the website if you are looking for top-notch accessories for your vehicle. From high-end floor mats to deflectors, to truck bed covers, there is everything available on the website.
The website claims that they can offer literally everything for any type of vehicle, and I can say that they don't disappoint you! Most importantly, the website also offers free shipping on almost all types of deliveries.  
In addition, you also get exclusive price protection for up to one year without any cost. What does that mean? If you purchase a spare part today, and the company lowers the price anytime in the next 12 months, you will automatically get the difference refunded to your account! 
9. Carparts.com

 
CarParts.com is among the top-notch online stores like AutoZone, working extensively to transform the way you shop as a driver! The spare part provider has been in the spare parts business for more than 25 years and is focused to streamline the entire factory-to-consumer shopping experience.
You get an extraordinary customer experience from the website, as it helps you perfectly deal with everything related to spare parts shopping.
One of the biggest highlights of the company is, that it always ensures brand and factory direct self-distribution. Hence, you can remain assured of the quality of the products listed here.  
You don't only get some of the best quality products, but you also get a wide range of additional services like a satisfaction guarantee, vehicle selector, as well as fast shipping.
Whether you are a diehard automotive enthusiast or want to repair your vehicle yourself, you can completely rely on the website without any hesitation whatsoever.
So, it doesn't matter what you need for your vehicle from mirrors to bumpers and headlight assemblies, or you are even looking for OEM replacements or high-quality aftermarket upgrades, the website has got you covered!  
10. 4-Wheel Parts
If you are in search of different types of truck and offroad spare parts, 4 Wheel Parts is the website you can definitely have a look at! They offer everything you may require to upgrade or repair your Jeep, truck, or utility terrain vehicle.
The website exclusively deals in ball joints, winches, covers, wheels, tires, suspension and lift kits, bumpers, sidesteps, tops, lighting, drivetrain, and more, and some of the most surprising price tags.
In short, it can be a one-stop destination for you, if you are in search of spare parts for vehicles that usually head off the pavement and onto the trail! 
Do you have as many as 94 stores across the country, and offer free shipping irrespective of location on orders of more than $99. The online store also offers an unparallel price match guarantee, through which, who can directly report to them if you find the same part anywhere else at a lower price.
The company will match the price instantly, and will return the remaining amount! This way, you can always remain assured that you are getting potentially the best deal on products of your requirement.  
While doing research on car part stores For Car and Truck Parts, I found an awesome video on "9 Facts About Cars Everyone Has Googled Once"😎😎
9 Facts About Cars Everyone Has Googled Once
11.

Auto Barn

 

– automotive parts retail
Auto Barn is yet another competitor if we talk about the online auto spare parts stores like AutoZone. The company has been evolving as a regional leader in automotive aftermarket products and ensures all the customers get whatever they want at possibly the best price.
If we compare it to other websites listed here, it has a more limited supply as far as spare parts for vehicles our concerned. But they make it up with some of the best car care products hard to find literally anywhere!  
You can trust the website to find everything you're required to take care of your car including interior cleaners, glass care, car wax, Polish, adds so much more. The website also offers you various options for premium cargo liners, floor mats, and a wide range of protective gears for your beloved vehicle.
If you require high-end spare parts for your car, Auto Barn may not be the best place for you. But if you are always worried about keeping your car in the best possible condition, it's undeniably a perfect place! 
12. ROCKAUTO.COM
When I first visited this website, the overall user interface didn't look much promising, as it wears a very average look! However, the website does an excellent job as far as delivering high-quality spare parts is concerned.
Rockauto covers an average look with one of the easiest navigations. It automatically feels that you already know what you are in search of.
The website covers almost all the models and allows you to make the right decision based on your requirements and preferences. Whether you are in search of auto parts for your daily drive or are searching for more exotic imports, the website has everything for you.  
In addition, it sources all the spare parts from some of the leading manufacturers. If you want to modify or upgrade your vehicle without spending a lot of money, rockauto.com can be more than just a handy source for you!
However, there is a downside associated with the website as well. You don't get free shipping with any order. So, if you have to order multiple spare parts, you may need to do a bit of extra research to find them all from one vendor to effectively reduce your shipping charges.  
13. CARiD

– stores like autozone near me
CARiD is also among the most promising online retail stores like AutoZone. It exclusively deals in premium spare parts, OEM placements, as well as performance parts. The website is not only about repairing parts.
You also get a wide range of premium upgrades like new rims, stereo equipment, exterior upgrades, and so on! What more? If you are not pretty sure what your car specifically needs, you can try out the advanced automotive diagnostic tools.
These tools by the website are more than just enough to troubleshoot the problem, and get your vehicle to rule the road again! 
If we talk about the overall user interface of the app, it gives you a wide range of sections including interior accessories, exterior accessories, automotive lighting, performance parts, repair parts, wheels and tires, audio and electronics, body parts, and automotive tools, and specialty shop.
And, if you want the website to solve your problem through an expert, you can opt for that as well. Services like battery replacement, transmission fluid change, spark plugs replacement, engine oil change, brake pads replacement, and headlight assembly replacement – are exclusively available on the website. 
14.

Car-part.com

 

 
Car-part.com has gained massive popularity in the online automotive spare parts industry simply because of its unmatchable range of products. The website offers as many as 200 million car parts! Yes, you read that all right!
That's a massive number. Isn't that? The overall website looks just an average one, mainly because of the below-average fonts and overall look. However, thanks to a simple search engine, you can find literally everything irrespective of your car model and brand.  
If saving a few bucks is your biggest priority, or you have tried various websites without finding the spare part of your requirements, you can surely have a close look at this website!
The most interesting part about the website is, that it doesn't deal with the sale of new parts. Instead, partners with recycling and auto wrecking yards to help you get the spare parts you need.
With the website, you don't only get the parts of your requirement at very cheap rates, but you can also look for discontinued parts that are not available elsewhere.
Overall, a very reliable option for people who own old vehicles, and are not interested in investing a lot in repairs and replacements. 
15. Parts Geek

 

 

 
The Parts Geek deals primarily in discounted parts, and offers tons of aftermarket and OEM parts for a wide range of models and makes. If you have visited various online and offline stores to find spare parts for your vehicle without much success, you can surely check this website out at least once.
However, you may have to be 100% sure before making a purchase. Because the website has been in discussions for some very wrong reasons across the regional spare parts industry.  
A lot of people have been questioning the customer service policies of the website. For example, if you receive a wrong part instead of what you have ordered, or some parts are missing from your actual kit, they ask you to return the shipment back to them, and at your own expense!
According to various reviews from actual users, the website doesn't reimburse you for any type of shipping charges, and they don't even send the right parts or missing parts unless you ensure the entire shipment is back to them! And, of course, dash the reason, why this website has got the last spot on this list! 
📗FAQ
Who are AutoZone competitors?
Advance Auto Parts, NAPA Auto Parts, BUYAUTOPARTS.COM are among the leading competitors of AutoZone.
Is O'Reilly the same as AutoZone?
Yes, it is very similar to AutoZone. However, there is a lot of difference between the ranking of both websites. AutoZone is ranked number 408 in the list of global top 1000 brands. On the other hand, O'Reilly is not even in the top 1000 brands.
What is the most popular auto parts store?
AutoZone is one of the most popular and largest auto parts chain with more than 5000 locations in all 50 U.S. states. NAPA Auto Parts is the second most popular with nearly 5000 stores in various states.
Is Auto Shack the same as AutoZone?
Auto Shack is the old name of AutoZone. In 1987 the company planned to change its name to AutoZone.
Is AutoZone owned by Walmart?
No, all AutoZone stores are corporately owned by the company itself, and there are no franchise operations whatsoever.
Is Lowe's owned by Walmart?
There is no affiliation between Walmart and Lowe's. Both enterprises are entirely different and separate, and they don't even have any kind of ownership or stake in each other. However, both companies are known as large retailers.
Who is AutoZone owned by?
Advance Auto is the principal company add owner of AutoZone with more than 70,000 employees, 5000 plus company owned stores, and an annual sale of $9.3 billion.
Did Walmart own target?
No, there is no connection between Walmart and target. Time, there is no any kind of hint from any of the two company. Target is a popular retail store chain in the United States, and is completely separated from Walmart.
Does Walmart own Costco?
No, Walmart does not own Costco wholesalers. Instead, Costco is one of the Walmart's major competitors as the second largest retailer corporation in the United States. Additionally, Costco is not owned or operated by a single individual, but rather by a multinational company managed by multiple directors and public stockholders.
Does Walmart own Sam's Club?
Sam's Club is an important division of Walmart headquartered in Bentonville, AR. The total revenue of Sam's Club was $73.6 billion for the fiscal year ending January 31, 2022.
Who owns the other 50% of Walmart?
The Walton family is the actual owner of Walmart. The company was founded by Sam Walton in 1962. The Walton family are involved in various active positions in not only maintaining but growing Walmart. At present, Walton enterprises LLC and the Walton family holdings trust own the 50% of Walmart's share.
The Final Words

 
Finding spare parts or OEM replacements for your vehicle can be very challenging at times. Yes, AutoZone has completely revolutionized the concept of online stores for automotive spare parts. But as we have already discussed, there are some glitches associated with this website.
If that's not the case, you may have your own reasons to look for some other online automotive spare parts stores like AutoZone! And, I am pretty sure that you have got enough options now – a lot of them!
Try exploring a few of them, and find out which website can be handy for you according to your vehicle, requirements, preferences, and of course budget!