Free People are often the first on the fashion list to name all the best boho shops to brands. Boho is a term that means the bohemian style and is the most sought-after due to its on-trend styles that can be hard to get a hold of!
Instead of waiting for the new updates on Free People midi dress or flare jeans, you can spread the love for your favorite brands that hold similar interests like the Free People.
The hold of the creative, vintage, and vogue looks put together in a Boho piece gives all a reason to protest against fast fashion. With Vanessa Hudgens, Sienna Miller, Nicole Ritchie, and Rachel Zoe becoming the voice of Boho styles, there is a need to rediscover more stores like Free People.
Check out the Top ten brands like Free People that present various price points and styles. 
Best Alternatives For Stores Like Free People
1. We the Free
We the Free is the most revolutionized store that serves a global audience. We the Free can be found exclusively at Free People and makes the top in the apparent addition to the list. The mainline of Free People's tag is to get lots of love, but you will sleep through the private labels.
As a mature, contemporary brand, We the Free has shed its junior image and now presents you with its minimal yet bold styles. The store's fashion evolution caters to an individual's creativity, intelligence, and individuality, bearing in mind premium quality and affordability to meet the needs of any aspiring fashionista at all costs.
The unrivaled sections present easy fit wardrobe with stylish basics and trendy denim for the free-spirited women out there. There is almost nothing you can't find in this online store, starting from classic flare jeans, thick comfy tanks, and cute knits to tie-dye sweatshirts and co-words that can be merged with almost anything to amp the overall.
Also, don't miss their collection of accessories, shoes, swimwear collection, and even intimates. Unlike the other stores like free people, We the Free store offers something beyond fashion. They remain eco-conscious and provide a range in their hemp plus organic collection to encompass the classic bohemian style in an energy-efficient manner.
2. Anthropologie
Anthropologie, known as Free People's older, more mature sister, has radically reshaped the fashion industry from an isolated phenomenon to being a creative, affluent, and original brand.
Anthropologie offers a broad range of selection for those pieces you can wear every day, either for a casual brunch, a lazy picnic day, or an I-am-the-boss occasion. 
Anthropologie's online store offers similar playful and fun prints. Still, the styles complement the conservative side with more attention to details, such as embroidered dresses or fringed jackets. The brand focused on catering to each of the most avant-garde lifestyle muses through effortless cool, boho chic, modern sporty, soft and delicate, and elegant classic.
The boldest move in the history of fashion lies in the store's sense of adventure that makes one about what she wears, and she is enjoying life to be governed by the latest trends. Anthropologie is a discovery portal to find a place to lose and find oneself among the other stores like Free People.
Download App on Apple App Store
3. Show Me Your Mumu
Unlike other free-spirited stores, Show Me Your Mumu portrays the heart and spirit of young people with diverse ethnic and modern fashion.
If you love fluffy and frilled dresses with statement ruffles? Or if you are a keeper of leopard prints and patterns with a touch of wild and chic? If yes, then Show Me Your Mumu is your pre-eminent choice. 
Show Me Your Mumu :: How Do You Mumu Blue?
Show Me Your Mumu presents a massive collection of boho chic with a blend of stripes and florals that caters to occasional diverse demands based on themes like retro dresses, vintage dresses, and even boho brides.
Show Me Your Mumu App offers you their exclusive feature to see how your bridal party will look next to you on your big day with their craft fully woven designs. 
Women globally loved Mumu stores who can find it online and ship its retro yet modern statements to over 300 stores nationwide.
4. For Love and Lemons
For Love and Lemons brand is best known for its lace and ruffle touches on almost every apparel and accessory they hold. For love and lemon is a brand curated-based fantasy fueled concept, like female camaraderie and love and compassion for all.
The brand caters to customers with enchanting clothing for the vibrant muse unafraid to take risks, forge their path, and embrace adventure.
The online store throws fashion surprises with its fun lemon prints and is well-known for its broad lingerie and undergarments.  
The lace and ruffles store uses eco-friendly materials, including organic cotton, to create the most comfortable yet stylish fits skillfully.
For Love and Lemons is in high demand like the stores like Free People, and it is best to keep an eye on frequent promotions with steep discounts attempts made by this online clothes company regularly.
5. Reformation
Starting as a small vintage clothing store, Reformation has now expanded not only in terms of fashion but also in terms of environment-friendly initiatives! While Reformation carries a hefty price tag, paying a little extra is worth it to the path of fashion oblivion you would enter into. 
Reformation's top style recommendations include milkmaid tops, seasonal prints, and even polka dots to amp your inner boho self perfectly.
To top it all, Reformation holds a dedicated sustainable mission and is the best place to experience a guilt-free splurge. Apart from their ruffle, gothic, lace, embroidery, and vintage classics, the store offers 100 percent carbon, waste neutral, and water, focusing on people and progress equally. 
From recycled and eco fabrics to the heat-reflecting roof and clean energy, Reformation effortlessly cools the feminine figure for chic and confidence. 
Add Reformation to your list of stores like Free People and become a part of the socially conscious vulture currency. 
At the time of our research on Best Alternatives For Stores Like Free People, we found a video about "14 Dressing Rules Everyone Should Learn Once and for All" which is worth watching. 😎🤩😍
14 Dressing Rules Everyone Should Learn Once and for All
6. Zara
Boho is a perennial trend that never goes out of style, and Zara falls as a perfect fit for the exclusive style. Zara is most popularly known as the fashion hub for the top latest trends, and they have amp their boho game for a while now!
Zara takes on the bohemian style with its fall-winter 2020 Limited Edition collection focusing on eyelet lace and cotton fabrics. It delivers the most superior and elegant designs with an off-white color palette.
 The range of chic ensembles stretching from retro-inspired vests to lightweight dresses and long skirts has become the trendsetter, with most people adopting the Zara fashion boho culture.
What makes Zara stand out from other stores like Free People is that you can choose from a variety of dresses, such as pleated dresses, ruffled dresses, wrap dresses, and floral printed dresses to fill your closet with elegant and classic hues.
In true boho-meets-business fashion, the list of apparel and accessories can be worn both for work and at random brunch.
7. Tularosa
Another store like Free People doesn't get much attention and love they deserve in Tularosa. Tularosa is a refined vintage-inspired store that offers a blooming collection of wrap dresses, ruffle skirts, and a varied ensemble of prints and patterns for customers without defining the age. 
Tularosa incorporates pastels and brighter colors into their clothing collection of textual jackets, embroidered tops, and romantic dresses for all the wild at heart.
Tularosa's summer collection makes you want to run through a flower field and fall off the grid with the collection's prominent killer features like crochet lace, bell sleeve details, and tonal stitching. 
Shop at the Tularosa store if you want to inject light-hearted or girlier vibes into your wardrobe with another speck of boho and elegance.
8. Brandy Melville
Brandy Melville is best known for its neutral tones and floral prints and constantly remains with other stores like Free People with its "everything Bohemian" and "a relaxed Boho" chic styles. 
The Italian storefront is often described as the cool, trendsetting, fast-fashion, relevant, and the most prominent abode for young adolescent girls scavenging for trendy and fashionable outfits.
Due to the availability of trend-setting apparel from trendy overalls to basic graphic tees, Brandy Melville holds a massive cult following within a short period. Brandy Melville is the only store that offers one-size-fits and also presents pretty boho and chic styles at an affordable price range for people on a budget.
The boho graphic tees also repeat designs, like, a single print on a t-shirt, a tank top, and even a long-sleeved crop top.
Not to mention Brandy Melville clothing is exceptionally soft and comfortable to wear, making it perfect for loungewear or a lazy outfit for a group brunch or coffee.
9. Modcloth
If you are fervently exploring retro or vintage brands online, then you might as well check out Modcloth. Modcloth, like other stores like Free People, offers boho yet chic designs, except that it is well championed for its vintage, feminine, and fun fashion aesthetics. 
The popular indie store offers a range of apparel from ruffle skirts and A-line dresses to unique laced and vintage sweaters, jumpers, accessories, and shoes.
Summer's Power Suits | ModCloth Swim
The store offers flexibility in terms of payment and in terms of industry size standards like anti-photoshopping policies, female leadership, and size inclusion way before it became a norm.
Step out effortlessly in Modcloth's oodles of colorful prints, rainbow-striped dresses, spirited-away jumpers and sweaters, pastels beauties. This size-inclusive brand lets you show off your personality at relatively reasonable prices.
Apart from their fashion statements, Modcloth also has excellent decor and gifting options for both the kitchen and main rooms.
Join their mailing list to get VIP access to new collections, unique promotions, and a 30 percent discount on your orders sitewide additional to a 50 percent discount off sale.
10. Madewell
Madewell is one of the highly recommended stores like Free People that focuses on minimalistic basics and classics. Madewell is a brand for people who hold an exclusive collection of denim or those who appreciate the timeless designs, patterns, and styles that ease you. 
Madewell has the fashion formula figured out and offers a comprehensive collection of items from denim, like effortless tees, keep-forever bags, fabulous jewelry, compliment-worthy shoes, and everything in between. 
what are you made of? / starring issa rae
You can start your day with a simple, effortless boho look with a knotted tank, high-rise denim, and a boat hat for casual yet minimal overalls.
Madwell's denim masterminds make use of the best denim with the latest technology to design signature fits that provide both a super comfortable feel and an old-school rigid look.
Maxwell has scored their place as an eco-conscious brand with the three-step reuse, recycle, and repair method with its denim apparel.
For some simple boho basics with a contemporary twist, Madewell is your next go-to brand.
11. Out From Under
Out From Under is an exclusive and private brand that falls under the fast-fashion joint Urban Outfitters. The Out From Under brand offers a store of experiential retail environments and a well-curated mix of on-trend men and women apparel through a unique combination of product, creativity, and cultural understanding.
Like other recommended stores like Free People, Out from Under specializes from boho dresses, graphic and essential tees, and denim to shoes, hats, and backpacks, as well as beauty, intimates, pastel, and lace swimwear, and a collection of handpicked vintage clothing.
If you are looking for subtle, minimal, or neutral colors and simple outfits, Out From Under is your store to go happy shopping!
They provide exclusive 15 percent discounts to all new users and up to 25 percent off on all sale items! Go and explore the exciting range!
12. Francesca's
Francesca's is home to not only cute boho apparel but a wide variety of accessories, like, everything from festive-ready clear totes and bags to cute cabbie hats. 
Francesca's boutique offers an eclectic mix of well-curated apparel mixed with bold accessories, bright baubles, and playful gifts that are fun and stylish are both affordable and trendy.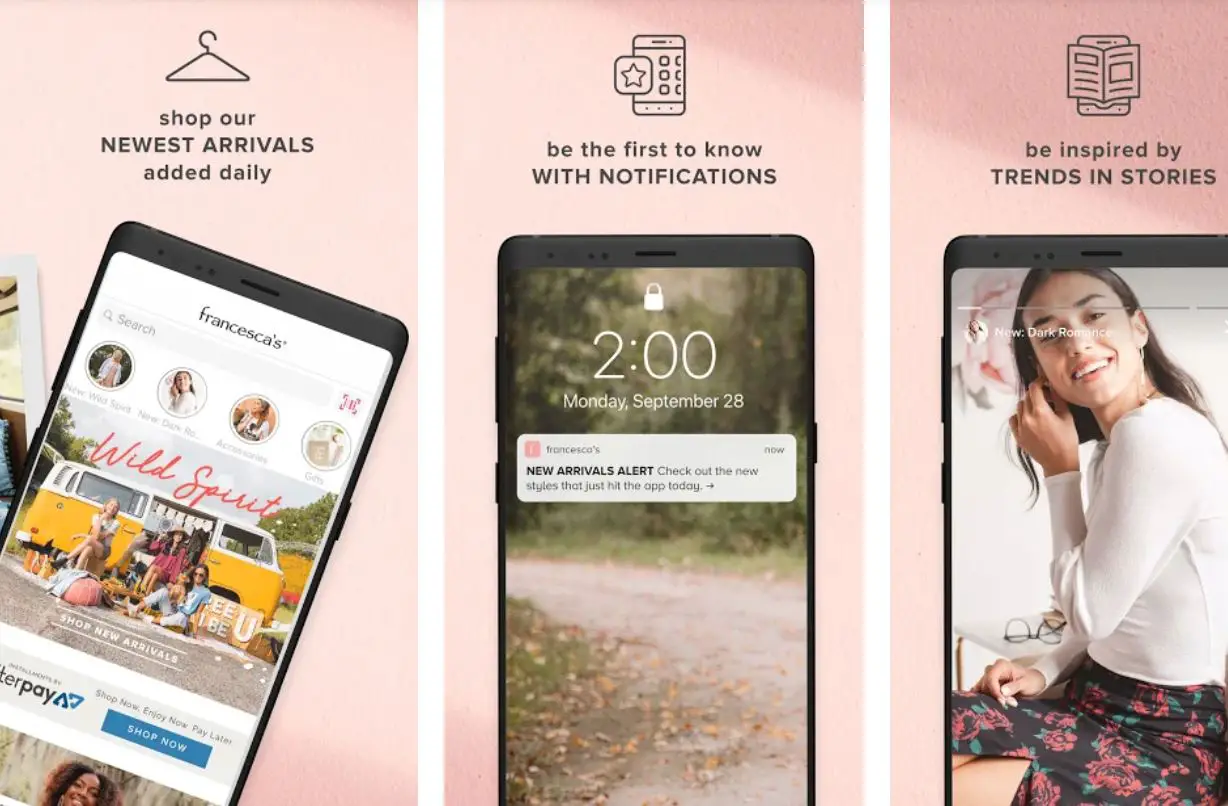 Boutiques reveal an array of new arrivals almost daily, a charming collection of handpicked merchandise in ways to create your stand-out statement.
If you're on the hunt for a casual yet girly romper or a cute lace and ruffled dress, check out Francesca's collection brimming with treasures that are sure to become favorite pieces in your collection.
Francesca's is one the most sought-after stores like Free People and reveals an array of new arrivals almost daily. Their lovely collection of handpicked merchandise reveals a wholesome piece of boho-chic pieces that help you achieve an unfettered and relaxed look.
Download App on Google Play Store
Download App on Apple App Store
13. One Teaspoon
The trending bohemian style store One Teaspoon is known for lace accents, ruffle details, and floral dress, but this, over other stores like Free People, is best known for its stylish jeans and printed pants.
The store offers a range of accessible collections from super flared jeans, iconic shorts to cheetah prints and luxe ready-to-wear pieces to amp up your simple brunch or outing looks.
One Teaspoon offers an unwavering commitment to eclectic design inspirations and styles that transcends trends from edgy and wearable attires, revealing an unconventional interpretation of conventional denim styles and fits.
The boho-icon store holds frequent promotions with steep discounts like 'buy one to avail one free,' so keep an eye on this online clothes store regularly to find whatever bottoms you need to complete your boho look.
14. Ecote
Another well-known boho-icon that is sold exclusively at Urban Outfitters is the Ecote home store. This small brand is renowned for its distinct and exclusive pieces that often feature embroidered or floral prints for that extra ornate punch.
Ecote is a terrific space for apparel from decanted fabrics to tie-dye, and crochet pieces played against vintage surplus that completes a finessed boho look. 
Ecote collection of airy tops, slouchy cardigans, and breezy printed dresses will have you covered for any season, occasion, and mood.
Ecote displays the most tempting sister and cousin shades, like three shades of brown- maroon, caramel, and latte and four shades of blue- sky blue, navy, turquoise, and steel and avoids isolated and solitaire colors.
Ecote saves a search for this capsule wardrobe of versatile collections for clothing that stands out from the crowd. 
15. Cloth & Stone
Nobody likes denim as much as Cloth & Stone does with their elegant, easy-to-loving, and easy-to-wear fashion apparel. Cloth & Stone is an Anthropologie-exclusive line that channels. 
The store offers complimenting apparel like pants, jumpsuits, shirts, and dresses composed of super soft and premium quality denim. 
The brand's vibe is rustic yet comfy with current casual favorites like joggers and flannels. Each item piecing effortless silhouettes is imbued with personal touches like seasonal blues, specialty washes, and rich textures. 
With Cloth & Stone, you will find it easier to mix and match prints with a seasonal hue palette, including neutrals, rich hues, pastels, and highly saturated garments.
You can explore their range of sleeve-intricate designs, relaxed and loose fits, with ethic and decorative prints, and embroideries that are body-enhancing technology and a fit that genuinely flatters.
At Cloth & Stone, you can customize your gift package with classic gift cards and e-gift cards to present your loved ones with a wholesome wardrobe capsule.
16. Fillyboo
Fillyboo is a well-known brand for their irreverent, laid-back, bohemian styles that offers artisanal boho clothes, unique handmade pieces by local artisans.
Fillyboo is an epitome of handmade boho classics from luxurious fabrics which are exclusively hand-embroidered and crocheted.
The most popular style in the Fillyboo collection that held a significant upsurge in their followers was their  'Story Of' maxi dress. The brand's summer collection comes available in various colors and prints, out of which their navy chevron hit as the most acclaimed piece. 
The brand also hit success with their maternity line- the 'Dreamfeed' nursing line, which adds discreet breastfeeding access to their boho classic styles.
In tune with Fillyboo's diverse characteristics, you may get an entire outfit in one go, including accessories, clothing, and footwear.
17. Fanm Mon
Fanm Mon is a well-known luxury womenswear brand of bohemian clothing, most notable for its plus-size boho styles.
Fanm Mon is a sustainable brand representing a modern symbol of femininity, freedom, and consciousness. It takes a bold approach through its embroidery and vibrant colors, boho classics with ruffle and sleeve details.
Fanm Mon designers claim to have a keen sense of style and an extensive knowledge of rare traditional fashion. As a result, their products cater to individuals, assisting them in embracing their individuality, body personality, and depression of freedom.
Their knitwear collection is an epitome of simplicity and minimal aesthetics with hues of bright embroidery designs. You can also use the store's gift certificates to send exclusive fashion statement pieces to your loved ones as a gift-giving destination.
Thus, it is one of the highly preferred shopping stores like Free People to elevate your free spirit.
18. Faithfull The Brand
Faithfull The Brand stands out amongst all boho brands for its whimsical prints and represents the lifestyle of culturally diverse, hippie at heart, and free-spirited souls.
The brand's unique designs with a touch of comfortably chic are a call to love without being inconsiderate or wasteful. Their 'Summer' collection balances that are both bright and warm neutral. The collection echos with the theme of floral, stripes, checks, and monochromes made of handmade techniques such as hand-dying and hand printing.
If you are a person that delves into mystical vintages, you definitely should explore their 'Vacances' collection inspired by mysticism and freedom. Their 'Vacances' collection combines large wallpaper florals and classic stripes with a touch of wilderness. 
The label also stocks lots of boho accessories, makeup bags, travel bags, and footwear to plan your entire seasonal outfit.
Check out Faithfull The Brand to avail vintage kimonos, feminine boho dresses, classic style trousers, and relaxed silhouettes.
19. Zaful
Counted among the best stores like Free People, Zaful is a widely loved fashion destination that exhibits the most daring, exciting, and edgy fashion apparel. The online fashion store is one of the best options for looking to redefine trends with utmost design excellence, exceptional quality, and affordable price range.
Besides, Zaful is a hub of fashion, offering many desirable options that make you feel a creature of your emotions and lifestyle, rather than being a mundane part of the garment you wear.
The 'one-stop destination' store is your online portal of heaven to explore the variance of apparel. You can tour from flowers to animal prints, from party dresses to stay-at-home pajamas, from holiday wear to party costumes, and from athleisure to lingerie collection for every fashion-lover globally.
You can even browse the online store to check the seasonal favorites and match your entire outfit under the same roof. Join Zaful's mailing list to get VIP access to new collections, unique promotions, gain up to 15 percent discount on your first order, and regularly avail of other handsome discounts.  
Download App on Apple App Store
Download App on Google Play Store
20. Boohoo
Boohoo is an online fashion boutique known for its 'For The Future' capsule collection. If you look to get your hands on minimalist and affordable yet classic fashion statement pieces, then Boohoo is your fashion abode. 
The online clothing center makes fashion accessible, fun, and 100 percent sustainable, which means you can create the capsule wardrobe of your dreams by embracing your individuality. The brand offers apparel and accessories from as low as $4 to $10.
You can pick from their fresh summer collections to even maternity collections and book your slot for Express delivery. 
The brand partnership with  Studentbeans and Uniday gives every student fashion enthusiast access to exclusive discounts! You can also avail a plethora of deals for every occasion and season. Explore to find more!
21. EcoVibe
EcoVibe store is one of its kind online retailers specializing in women's fashion clothing while still maintaining the environment and sustainable, ethical practices.
Besides its sizable range of women's and men's fashion apparel, it also presents home decor basics like plants, rugs, kitchenware, baskets, gardening essentials, and even macrame and baskets, and many more.  
Explore EcoVibe's trendy and stylish outfits, starting from elegant kimono prints to bamboo cotton tans and wrap bodysuits.
In addition to their easy and comfy outfits, EcoVibe is well-known for its services like Plant care consultation and Private shopping appointments for minimal costs as low as $20. 
Suppose you have admired the elegance and bold personality of the bohemian style. In that case, you can explore EcoVibe's range of skirts, shorts, ponchos, kimonos, jumpsuits, rompers, and sustainable, stylish tops to perfect your everyday outfits.
You can also explore their Curve collection and get lost in their spectrum of accessories such as sunglasses, jewelry, face masks, watches, and more.
Conclusion 
Fashion defines an individual's personality. While some may say boho style is retro and vintage, some embrace the frugal comeback of the bohemian trend for young to old to express themselves freely.
Everyone doesn't need to rush through the same online sources, and choosing apparel that flaunts your body and compliments your personality can be a complex and tedious process. 
This list of top exclusive stores like Free Store will help you explore your fashion choices that complement your personality for fashion trend enthusiasts. You can even upheave your styles without drifting off from the evolving trend and also flaunting your fashionista senses.
Explore the brands mentioned in the list to top the alternatives like Free People stores to get a steady hold of the revolutionizing fashion trends and implement them in your everyday series.