Arts and crafts is a hobby or a passion for many different kinds of people. Art is freeing in itself and a great way to relax. Additionally, people even have businesses selling their arts and crafts.
And this is something that has been on the rise since the pandemic began and people began to work from home. Many creative people have made the best of this time. 
However, all this means that you also need a place that you can buy your arts and crafts supplies from. Sometimes finding these products can be a little beyond affordable, so it is a great find when people get a store that sells inexpensive products. Hobby Lobby is one great store that can be a one-stop shop for these supplies. 
But it is also nice when there are other stores like Hobby Lobby, so you have a good variety to choose from. This can be because Hobby Lobby isn't accessible to you or just because you want something different.
There's nothing wrong with having different choices, and in this article, we are helping you with just that. We will be looking at a few alternatives to Hobby Lobby as you read ahead.
Best Alternatives Stores like Hobby Lobby 👌👌
As mentioned, we will be looking at a selection of stores that are like Hobby Lobby. This article gives you a list of stores with information on prices, something important when budgeting.
This is also important when we're comparing with Hobby Lobby because they do have inexpensive products, and this is one of the reasons why people go there.
In the following sections, we will go into detail about the different stores. Please also note that some stores sell both home decor and arts and crafts, while some do only one niche. 
1. Michael's 
Michael's is the first store you would think of if you're looking for stores like Hobby Lobby. They are a chain of arts and crafts stores across America and Canada. It is one of the largest sellers of such products in North America.
They sell products for DIY projects, makers, wall and floral décor, frames, and any arts and crafts thing that you can think of. This is a store that was begun by Michael J. Dupey in 1773 in Dallas, Texas.
If you're working on DIY or an art project or would like to redecorate your house, Michael's is bound to give you precisely what you need. They have thousands of products so you will not leave disappointed. They also have online classes, online deals, and a lot of discounts that keep being put out for the customers.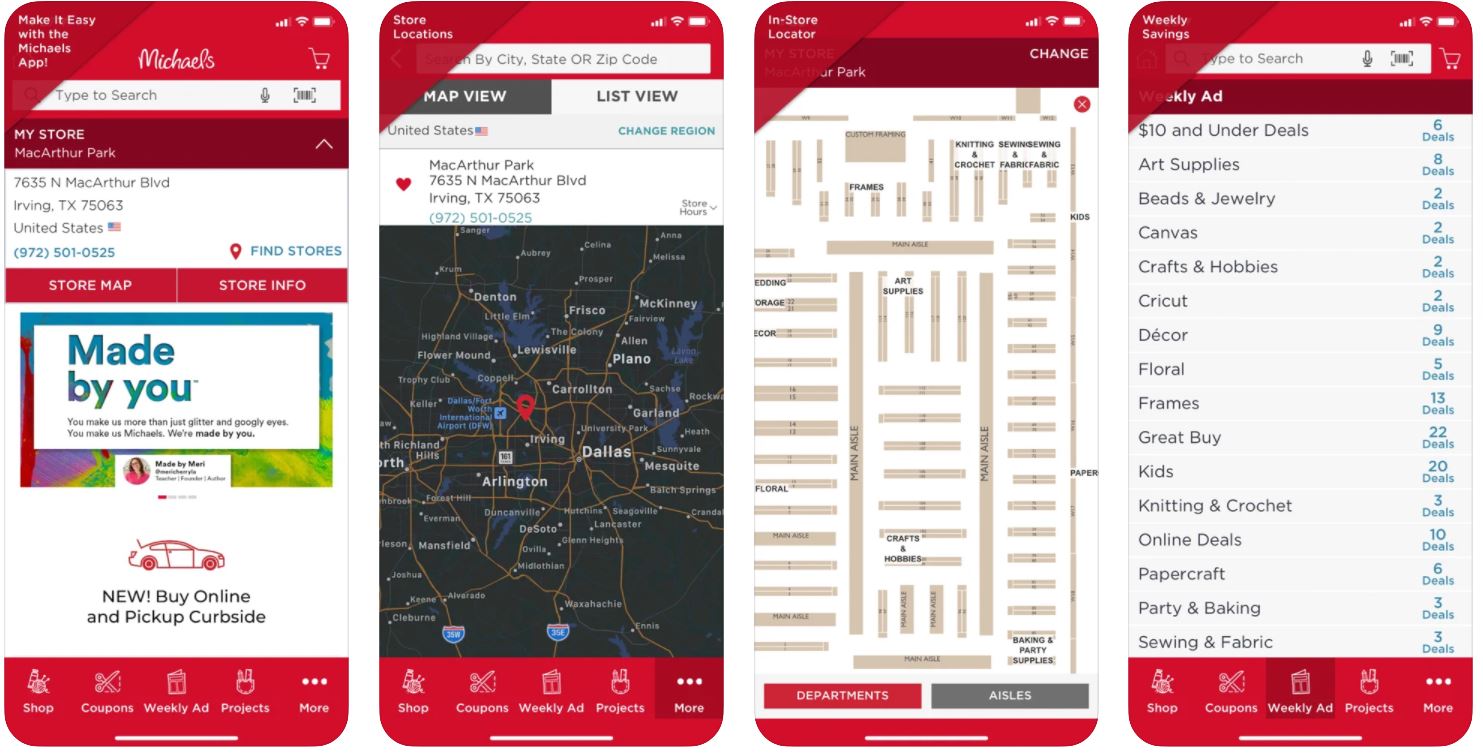 They also have what they call Michael's Rewards, which gives you better deals for the things that you would want to buy. Another benefit is that if you are a teacher, and you let them know, if they have your email ID, they will give you a lot of coupon codes or other such deals that can make shopping a lot easier and also cheaper.
Michael's also has a collection of decor that is seasonal, and mind you that all these things are affordable. Their prices are one of the reasons why customers love Michael's along with, of course, their vast collection of products. 
You can also get products from them delivered to your house, something that is very helpful in the middle of a pandemic.
In certain stores, they even offer same-day delivery, making it a great place for any time that you may have to end up doing last-minute shopping. If you choose to shop from Michael's you will definitely not be disappointed. 
Download App on Google Play Store
Download App on Apple App Store
2. Burlington 
Burlington is a store usually known for their clothes, especially their coats. However, they sell wall decor, frames, candles, and a lot more. Their venture into such products means that these are also priced at affordable rates, making them accessible to all.
Burlington began in 1924 as a place to get junior suits and ladies' coats for wholesale. They opened their first store in 1972, in Burlington and it was called the Burlington Coat Factory.
Their strategy was to sell quality and branded outwear with prices that were below what retails stores were selling at that time. This was a good strategy as their sales in the very first year were about $1.5 million.
But as mentioned, they now have home decor and decorations items that can help you bring personality to any space you want to do up. This is a great store not only to buy something for your own house, but also for a gift for someone's housewarming party or similar events.
Their home decor is loved because of the price, quality, and also the collections they have, like glam, feminine and global. They even have a blog that can help you figure out what products go together for what style and how you can get your home looking absolutely fabulous with their products.
They sell wall art, decor, candles, frames, planters, vases, throws, rugs, etc. You can find a whole range of products at Burlington. They even have gift cards that you can use or gift, as the name itself says, to another, and the receiver will be happy with it.
The only catch with this store is that they do not sell their products online, but their website hosts blogs and information about what you can buy from them, where their stores are, discounts, deals, and such information. You would need to go to a store to buy their products.
3. Jo-Ann
Jo-Ann is a great store if you're looking for stores like Hobby Lobby. Interestingly, this store, too, is actually known more for their fabrics, but they do sell other arts and crafts products. Their prices too are similar to Hobby Lobby, meaning that they are affordable.
Jo-Ann began in 1943, and their mission statement is actually about inspiring the creative spirit in them and the customers. They have definitely inspired creativity in the hearts of the people as they intended.
They went from being a single store in Cleveland, Ohio, to becoming one of the fastest-growing businesses in this arena. They now have 855 stores, and these are located in 49 states across America.
They are also the nation's leading category leader when it comes to sewing and fabrics, so you know that their products are good. Their goal is to help their customers find their creative 'happy place,' and they do that by making the store one-stop for all supplies that one might need. 
They sell supplies for sewings like fabrics and a lot of fabric at that, along with decor items, supplies for jewelry making, and scrapbooking. They also put up seasonal details for holidays like Christmas and Halloween, and they also offer discounts for all these items.
Their stores also have clearance sections giving you even more choices for lesser rates even though their products are generally affordable. They have mailing lists for customers and give out project ideas, coupons, special promotions, and even weekly ads. 
Another aspect that makes their stores great is the fact that they take returns even if you don't have the receipt. The only issue, though, is that their selection of products is not as great as some of the other stores, but what they do have is absolutely worth it.
They sell home decor, items for your hobby, products to make your gift sets, and anything else you would want to redecorate your home or any other space. While their products are inexpensive, their quality is not cheap and is definitely worth it.
Jo-Ann always also has discounts online or in-store, and this can be all the way up to 50% off sometimes. 
Download App on Google Play Store
Download App on Apple App Store
4. TJMaxx
TJMaxx is another one of the stores like Hobby Lobby that we're listing out here. This is a company that began in 1976, and their first store opened in 1977.
TJMaxx has only grown since then, and they have opened their chains in newer markets, countries, and even continents. Their products are fashionable, of great quality, and of excellent value. 
They are basically a department store chain, and they, too, sell their products at lower prices than other similar stores. They have more than a thousand stores in America, and TJMaxx is the flagship chain of TJX Companies, and they have sister stores like Marshalls. 
TJMaxx is another company that is more known for its clothes, but they also sell some excellent home decor products. They sell apparel for all with shoes, bath and beauty products, toys, accessories, and most importantly, home products like kitchen utensils and furniture.
TJMaxx has literally anything that you would want for your home at an off-price value. Basically, for anything that you may need for your house, TJMaxx has got your back.
They do have an online store, so you can get their products from the comfort of your house. However, if you do want to go in-store, you will find that their employees are great and will help you with anything you need.
They have great discount codes both online and offline, so you can get great deals for good-quality products.
Their home decor and furniture are of great quality; they have excellent policies on the sales of these products too, in case you want to return them. TJMaxx also has a TJX reward card for further benefits and discounts that customers can get and redeem both online and offline. 
Download App on Google Play Store
Download App on Apple App Store
5. Blick Art Materials 
Blick is another one of the stores like Hobby Lobby that are out there. The only catch here is that they sell only art supplies and not home decor. But their art supplies are in abundance, and their store is bound to be loved by all artists that are out there.
Another great fact about Blick is that they are a family-owned catalog art and retail supply business that interestingly began as a mail-order business in 1911 by Dick Blick.
In 1947, it changed hands when it was bought by Robert Metzenberg and is one of the largest as well as the oldest art material suppliers in America.
Artists Serving Artists - Bao Pham
Blick is also the primary supply of all mail-ordered art supplies, and this mail-order aspect goes back to when it began, as mentioned. 
Blick is heaven for artists because they supply more than 90,000 art products. From them, 8,00 are sold under the name of Blick Art Materials, and this includes products like brushes, mediums, handcrafted paints, markers, pastels, artist papers, markers, canvas, paints, and a lot more.
They have an online store as well as more than 65 retail stores in America. You have the choice between going in-store or buying online so you can have the most convenience with buying art supplies for yourself. They do have shipping charges, but they also have discounts on signing up and other regularly offered deals and discounts.
They have all the art supplies that you could possibly need, be it for a personal project or to make a gift for someone. They have absolutely everything that you could want.
It is important to mention that Blick's products are a little pricey, which is understandable with the quality that they have to offer. However, they also have regular sales so customers can get excellent products for lesser prices. 
6. Big Lots
Big Lots is the best place to go to for home decor if you're looking at stores like Hobby Lobby. This is a company that sells a lot of different items, but they are like Hobby Lobby in their home decor, furniture, and their affordable prices.
Big Lots is headquartered in Columbus, Ohio, and they have more than 1,400 stores across 47 states in America. This is a chain that can trace its history back to when Sol Shenk formed Consolidated Stores Corporation in 1967. They opened their first store in 1982 and have only grown since then. 
BIGIONAIRES - People who feel like a million bucks saving at their neighborhood Big Lots!
They have an online store as well, and their main purpose has been to help people to save money on the different products that they buy. This has not changed over the years, but as the customer needs grew, their products also grew in variety and collections. 
They offer an assortment of quality and brand-name products that include furniture and home decor along with gifts, toys, accessories, electronics, seasonal items, and even food. Their stores are designed to help all people on all budgets so everyone can get whatever they may need.
You can also choose curbside or in-store pick-up when the option is available to make shopping convenient for you. They have weekly deals, and you can find more discounts and deal if you sign up for their mailing list, as you will get weekly ads. They have a clearance section both online and offline so that you can buy more for less. 
They also have gift cards, and you can sign up for their rewards and benefits membership for benefits, bonuses, and more that you can often do while shopping from them both online and in-store. They also have special birthday discounts!
7. Nordstrom Rack
Nordstrom Rack is the off-price division of Nordstrom Inc., and is known for its clothes and accessories but is another one of the stores like Hobby Lobby. They sell some excellent home decor items for you to be able to redecorate any space that you would like for inexpensive prices.
As mentioned, it is the off-price division, and they have been doing this since 1972. You can find great brand-name products at Nordstrom Rack for discounts all the way up to 70% off!
They also make an effort to make sure that a percentage of their products are made from sustainable raw materials and even have a target to reduce greenhouse emissions for their sake and also for conscious consumerism!
They have the clothes and accessories that they are famous for. But in the home decor section, you will find a whole selection of products like accent rugs and doormats, decorative pillows, decorative accessories, window treatments, trays, throws.
They also have desk accessories, stationery, lighting, candles, lamps, diffusers, home fragrances, stands, and even faux plants.
Nordstrom Rack not only has an extensive collection for all these categories, but these products are great for bringing style and personality to any space they are used to do up or redecorate. These products are high-quality, are made by designers, and the best part is that they are all for prices that are inexpensive and affordable. 
Their collection is always growing too, so you can never say that you didn't find anything or that the collection wasn't big enough. Nordstrom Rack has stores, a website, and even an app that you can use to shop from. This means that you have different choices for the ease of the shopping experience. 
Another thing that they are loved for is the fact that they keep having sales, flash events every single day, and even a clearance section that you can buy products from. This applies to all three shopping mediums, and this section features products below $50.
They have free shipping on orders over $89, free shipping to any one of their stores, and free returns for their US stores. 
8. Factory Direct Craft
Factory Direct Craft is another place that you need to look at if you're searching for stores like Hobby Lobby. They are another company that sells both home decor as well as craft supplies, so you can get both under one roof!
This is another successful company that is family-owned, and it began in 1985 by Shari Dogget. The idea came to me as she needed a way to bring in extra money for her family as there were constant ups and downs in her husband's job.
She started by selling her items at festivals and local flea markets, and now they are a distribution company that supports educators, parents, event planners, brides, crafters, and artists across the globe.
They sell craft supplies like supplies for jewelry making, woodcrafts, activity kits, etc., home decor like plates stands, lighting stands, etc., seasonal items like those for Christmas, Thanksgiving, Memorial Day, etc., and even primitives, florals, and a lot more for really affordable prices. 
Factory Direct Craft also has excellent customer service, and you can even contact them for a special order if there is a product that you can't find or would like to order in bulk for.
They have their own shipping and order fulfillment center, and their warehouse has the latest technology so that your order gets processed and shipped to you with accuracy. 
They do not have a warehouse that is open to the public, which means that all their shopping is done online, and you can get their products delivered to your doorstep in a minimum amount of time.
9. Create for Less
Create for Less is another one of the stores like Hobby Lobby, and they have art and craft supplies and a really extensive collection at that. This is a completely online store, and they do not have a store, but they ship within one business day and have great offers on shipping prices for their products.
Create for Less was started with the discovery that craft enthusiasts, teachers, craft professionals, and designers were having trouble finding the quantities and prices for the craft supplies that they needed. The founder then created the solution by making a craft supply warehouse online that people could have access to.
Their name defines their mission as they want to help customers create for less time, hassle, and money. They began in 2001 and over 70,000 craft supplies, discount prices, and the option to buy in bulk. 
They sell supplies for kids' crafts, knitting, crocheting, crafts, beading, quilting, sewing, scrapbooking, needlework and yarn, and even gifts. They also have projects and kits, floral and garden supplies, patterns and books, tapes, adhesives, glues, and a lot more!
Factory Direct Craft also has a website that is easy to navigate along with shipping that is reliable and real-time inventory of your packages! They also have a craft advice blog where you can get ideas, tips, trends, and techniques for new projects.
10. Pop Shop America
Pop Shop America was begun by Brittany Bly, and this is a store that is a little different from all the stores we have listed out in this article. But it is certainly one of the stores like Hobby Lobby and is great for art supplies and even kits for DIY projects.
Join us at a Pop Shop America Craft Class
Most of their products are found online, but they do have a boutique in the Heights for their products. They specialize in handmade goods, and they care about the products that they create and sell. This idea was to make the anonymous process of shopping online more fun. They have wearables, beauty products, and art, along with art supplies. 
They also have blogs and classes to help small businesses and anyone else that may want to use Pop Shop America's products to make DIY projects at home. These are said to be modern and fun while also being functional and easy to put together. 
Pop Shop America helps small businesses by having little exhibits and festivals. The exhibitors are also helped beyond just the festival in better their business. This means that they offer a lot of products that are made by small businesses as well as their own products.
The care and quality that you would get from something handmade do not compare to products made in a factory. They also have subscription boxes for coloring for adults and also for craft supplies. This is great not only for you as a customer but also as a gift for someone.
Conclusion
In this article, we looked at a good selection of stores like Hobby Lobby so that you have a good range of choices for stores that sell arts and crafts supplies.
As we mentioned, when there are choices, there is more freedom for you to choose from the different stores that there are. You can pick a few you like, find one that's near you if you'd like to go in-store, or just shop online from the comfort of your house. 
But note that not all these stores sell their products online, so you can only go in-store there and vice-versa and some have only online stores. These stores all operate offline with safety guidelines regarding the pandemic, so you can rest assured that care has been taken to keep your products sanitary.
We hope that his article has helped you find a store that suits your tastes and budget while also being convenient and easily accessible for you.