Stripe is one of the leading payment platforms for sending and accepting payments and managing businesses online. Millions of businesses across the world – from tiny start-ups to large enterprises are using Stripe as a very secure and hassle-free payment gateway.
As a global leader in the online payment environment, the platform has surely shaped up international finance technology in a lot of different ways.  
Stripe becomes a benchmark for almost all the other payment gateways especially when it comes to detecting fraud while transferring or receiving the money.
That said, like most of the other great things, Stripe doesn't perform well in different aspects. And multiple competitors are already offering a very secure and flexible payment environment, and are a lot more affordable than Stripe.  
In this post, I am going to take you through the 15 best Stripe alternatives you can definitely try not only for receiving but transferring the money online. These are my top picks and all of them work seamlessly not only in the US but in other major countries as well.
Let's have a look at them! 
Best Stripe Alternatives – Our Top Pick👌👌 
1. PayPal

 
Whenever we talk about the global leaders in online financial services, PayPal automatically comes into our minds – and we are in awe of this extraordinary payment interface – don't we?🧐
It has to be the number one alternative for Stripe for dozens of various reasons! You can't only process online payments through the platform!
It offers a lot of other things too. You can buy and sell different items directly from the merchants and customers – without worrying about the payments!  
It's one of the most secure and simple ways of getting paid for your orders, and sending money to your loved ones who have an active account with PayPal.
What more? You can manage all your bills in one place, buy your favorite items, and checkout with cryptocurrency! Plus, there are so many other features, I am sure you are going to like.  
Customization is the thing that I have liked the most about PayPal. It's highly customizable for both international buyers and sellers.
All you simply have to do is to place an order with an authorized merchant, receive the invoice instantly, and pay without wondering about the security of your money.
From exclusive offers to exciting cashback, multiple rewards, and interest-free pay later, there is a lot to explore on PayPal.  
Features of PayPal:-
A highly customizable payment gateway for both buyers and sellers 

 

Resolution center for settling your disputes instantly 

 

A very affordable fee of 2.9% of your payment amount 

 

Data-driven insights for B2B companies and e-commerce 

 

Deal in a wide range of cryptocurrencies without any hassle 
Availability: Web | Apple Store – 4.8 / 5 | Google Play Store – 4.4 / 5  
2. Venmo  
Venmo has as many as 70 million-plus users in the US and has automatically become one of the most popular peer-to-peer payment services in today's online payment world.
Venmo is one of the most convenient ways of sending and receiving payments to and from individual users as well as businesses.
You can trust Venmo for business for secure and quick in-person or online payment using QR codes. You also have the option of making payments using the Venmo app for both iOS and Android.  
Venmo allows you to pay as well as get paid for whatever you want – from monthly bills to rents to purchasing gifts and more.
The customization option with each payment makes Venmo one of my favorites – It allows you to attach a personalized note to each payment and share it with your friends and other business contacts. You even have the chance of earning up to 3% cashback while making payments to selected merchants.  
The straightforward setup of the website makes things a lot easier than you would think. And it allows you to start your payments straightaway after linking your debit card with the website – and you can do that with the Venmo app as well.
Split your money without any hassle, and transfer it to anyone with a minimal processing fee. If you are interested more in an intuitive and simple payment interface, Venmo can be one of the best Stripe alternatives for you.  
Features of Venmo:-

 
Allows you to pay the way you want 

 

Safely transfer and receive money according to your ease 

 

Enables you to buy crypto with only $1

 

Exclusive Venmo credit card for shopping and earning custom rewards 

 

Expand your business to new customers with Venmo 
Availability: Web | Apple Store – 4.9 / 5 | Google Play Store – 4.3 / 5  
3. Square  
One of the earliest competitors of Stripe, Square is an excellent and versatile payment application, especially for small and medium-sized enterprises. When we talk about functionality, there are a lot of similarities between Stripe and Square.
However, the in-person Point of Sale (POS) is even better than Stripe. The fraud detection tool works superbly and detects fraud while sending and even receiving the payments.  
One of the best Stripe alternatives works excellently with most third-party apps. And it also gives you some of the best solutions for growing your business thanks to its free website builder – all in a matter of a few minutes.
The powerful POS feature enables you to initiate contactless payments using payment links, Apple Pay, QR codes, EMV chip cards, and more.  
Square Reader: Getting Started Guide (UK)
Using the mobile app, you can even issue invoices to your customers and track them constantly. Customize your invoices the way you want!
Set up automatic, recurrent weekly or monthly invoices directly from the dashboard, and allow the customers to pay online with a wide range of credit and debit cards.
All the funds are transferred fast in a couple of business days, and that too, in a completely secure, end-to-end encrypted payment environment. Overall, an excellent online payment interface for both small and medium-scale businesses.  
Features of Square:-
Accept payment instantly and securely from your customers 

 

Get paid online, via invoice, with QR code, and even over the phone 

 

Receive orders for pickup and delivery 

 

An excellent POS platform for selling anywhere 

 

Engage securely and easily with your customers via email 
Availability: Web | Apple Store – 4.8 / 5 | Google Play Store – 4.4 / 5  
4. Wise  
Previously known as "Transferwise", Wise is another very reliable alternative to Stripe with a wide range of handy features. The global payment service provider is especially known for its attractive interest rates and is one of the best platforms for mid-range businesses.
Wise is an excellent payment gateway for both sellers as well as customers. Thanks to the complete transparency in the payment, Wise has a massive fanbase across the world.  
Wise allows you to transfer money not only for business purposes but also to your loved ones across borders. The company is primarily known for its unique, "no-nonsense" approach to international money transfers, and makes things really simple for everyone.
And that's the reason, it deals with transactions of more than $1 billion every month! Thanks to superb currency-exchange service, there is no concept of a middleman when transferring money across different countries.  
For example, if you are sending $1000 to someone in Canada, instead of exchanging the money in the exact amount, Wise just adds your $1000 to its USD pot and pays the recipient the equivalent amount in Canadian Dollars from their Canadian Dollar Pot – No exchange-related hassle, no complication, simple and secure money transfer!
This unique system eliminates the costly intermediaries and plenty of other legwork of the transactions. And all your transactions are processed according to the bank rates on the day of your transfer – what more do you want from a transparency point of view? 
Features of Wise AKA Transferwise:-
One of the best payment gateways for international businesses 

 

A very unique transfer system across different countries 

 

Hassle-free transfers without worrying about exchange rates 

 

One of the most secure money transfer systems 

 

Ensures maximum security of customers' information 
Availability: Web | Apple Store – 4.7 / 5 | Google Play Store – 4.3 / 5  
5. Amazon Pay  
If you are using Amazon's infrastructure for your business, Amazon Pay automatically becomes one of the most reliable Stripe alternatives for you.
It's surely a very convenient way of managing all your online transactions in one place. Yes, indeed, Amazon Pay is not up to the mark when we talk about offering the customers outside the Amazon's bubble, it's certainly an easy option for those who have integrated with their business websites, or are willing to do so.  
And you can surely expect a beyond average fraud-detection and protection from a brand like Amazon, and it's not going to cost you an extra penny!

Payment rates on Amazon Pay are pretty much similar to those of Stripe's, it also offers a flat-rate pricing system that starts from 2.9% plus $0.30 without any monthly or annual charges.
This can be more than handy for you if you have a largely seasonal business. But here is one more thing! Amazon Pay is by no means a cheap option, especially for those high-volume businesses.  
One more thing you are certainly going to love about Amazon Pay! Your customers will save a lot of time by using the billing and shipping details right from their Amazon accounts – isn't that a great option if you are a customer-centric company?
And who isn't these days? And unlike Stripe, the payment processing from Amazon is conducted inline, so your customers won't be redirected to a separate website for payments – another great reason for trying Amazon Pay?  
Features of Amazon Pay:-
Affordable, predictable, and flat-rate pricing 

 

Very easy to integrate with your company's website 

 

A sense of security as well as confidence even from customers' point of view

 

No need to pay anything to maintain your account

 

No-long term contracts, use the payment interface as long as you want
Availability: Web  
6. Authorize.net 

 
What can I call authroize.net? A payment gateway? A processor? Or both? Because it's a bit of both!  A powerful combination of a gateway as well as a processor, authorize.net is one of the oldest and the most popular payment solutions, especially for eCommerce.
How credit card payments work
It has been there as one of the most recognizable names in the online payment history, and has engulfed a lot of its competitors – and I would say, with mere simplicity and top-notch quality.  
In fact, most of its so-called "competitors" ensure compatibility by using the "authorize.net emulator mode".
Yes, one can argue that the platform doesn't provide a merchant account, but does exceedingly well with its primary objective – its fast and secure payment gateway!
And the company is also doing a commendable job by offering a wide range of ancillary products and services swiftly integrated with it.  
If you don't have a merchant account, the website may help you to set up one, but only by using a third-party payment processor. But it's definitely a better idea to have a payment infrastructure ready before signing up yourself on authorize.net.
You can quickly start transacting with credit cards and different types of wallets. Affordability is another great asset of the website, as it only charges $0.10 per transaction $25 per month for maintenance.
And advanced fraud detection with risk mitigation tools is also the reason, why authorize.com is one of the top Stripe alternatives.  
One of the cheapest payment gateways 

 

Easy recurring payments for businesses 

 

Authorize protect customer data and risk detection tools 

 

No additional cost for virtual Point of Sales 

 

Automated invoicing for recurring customers 

 
Availability: Web 
7. Braintree  
Braintree is a powerful global payments platform exclusively presented by none other than PayPal. The merchant service provider was originally founded way back in 2007 in Chicago, Illinois, and was acquired by PayPal in late 2013.
Since then, the platform has been one of the heavyweights in the online payment industry and processes a whopping 6 million-plus transactions every year. Despite being one of the major Stripe alternatives, Braintree focuses exclusively on the eCommerce sector – and that's why it's among the best.  
However, with most of the payment processing systems are slowly but steadily migrating to the cloud, merchants have a lot of opportunities to take advantage of the payment gateway from Braintree. There is a wide range of standard features you usually expect from a modern payment gateway.  
Multiple customization options are there for both customers and merchants. Braintree is surely one of the most effective platforms for increasing revenue steam and driving conversion.
It works perfectly with multiple global partners around the world and offers all its services at fairly low prices i.e., 2.9% with an additional processing fee of $0.3.  
Features of Braintree:-
Smooth integration with BigCommerce 

 

A very simple, pleasing, and decluttered portal 

 

A wide range of cyber protection tools for secure payment services 

 

Wonderful customer service 

 

Automate back-end processes and internal costs without affecting your revenue 
Availability: Web  
8. Adyen 

 
Adyen is a well-known international payment service known for providing merchant accounts to so many big-name users.
The website is doing an excellent job by building new technology and systems right from the scratch and bypassing the old-fashioned payment infrastructure. It offers a secure and frictionless payment environment to its clients and has been a huge success right from its very existence.  
Adyen is certainly one of the most exciting payment processors especially for small and medium enterprises, as it charges an extremely low processing fee. And that has been a problem for a lot of Stripe users for a long time.
You only have to pay $0.25 plus $0.12 for ACH transfers 3.95% plus $0.12 for Amex cards, and 0.6% plus $0.12 for Mastercard and Visa – it means you have much better control over your online payment system.  
However, you must have to ensure a minimum of 1000 transactions annually. Otherwise, the website will charge $120 per month – hence, you have to be on your toes as far as the number of transactions annually is concerned.
Adyen is undoubtedly one of the most impressive Stripe alternatives especially if you want to extend your reach to regions like Asia, Africa, and Europe.  
Features of Adyen:-
One of the most affordable payment services for small businesses 

 

Easy to integrate with fraud prevention technology 

 

Excellent global presence 

 

Also allows you to create a merchant account 

 

Drive revenue and conversions with the option of transaction optimization 
Availability: Web  
9. DWOLLA 

 
If you want an affordable yet highly secure and smooth payment system, DWOLLA should be on your trial list for sure. The payment interface is one of the cheapest Stripe alternatives in the US.
It works perfectly well with all the United States banks and even the unions and allows users to customize a transactional experience according to their preferences.  
DWOLLA is one of those payment services that use transmits sensitive customer data through tokenization and implements the same-day ACH timings for expediting payments.
Dwolla: A Modern Payments Platform
It gives users complete access to a wide range of useful tools at no extra cost and makes both transferring and receiving payments super easy. If you are interested in the concept of Wallets, the company deals in secure and sound wallet operations too.  
The developer-friendly interface of the website easily adds all types of integrations and ensures a top-notch, cohesive brand experience. You can purchase a wide range of items directly from DWOLLA's gateway @ a very reasonable processing fee of 0.5% plus $0.5 for each transaction.
As there is no monthly fee or any hidden charges, it's certainly one of the best payment services for small businesses that are unable to maintain a huge number of payments regularly.  
Features of DWOLLA:-
One of the most affordable payment interfaces 

 

Seamless payment experience thanks to a clean and smooth interface 

 

Helps you with a very strong fraud prevention system 

 

Allows you to customize your payment set up according to your preferences 

 

No monthly fee or any other hidden cost 
Availability: Web  
10. PaymentCloud  
If you are running a high-risk business, PaymentCloud is one of the best platforms for you for receiving funds. Yes, Stripe is excellent at accommodating a wide range of businesses – both domestic and international.
However, high-risk businesses usually find things really difficult while managing a Stripe account. Companies have a lot of complaints about Stripe that it usually aggregates the customers into larger merchant accounts. And as a result, customers don't continue with such companies as they fear chargebacks and even fraud.  
PaymentCloud becomes a reliable payment receiving platform for such companies! The service is even accepted as a high-risk specialist in the global business sector.
The payment processor is already recommended by some of the well-known high-risk enterprises. And if you are not an accomplished entrepreneur, and you are always hesitant about your payment environment, I would recommend you to give PaymentCloud a try!  
The platform is more than a reliable option for mail order/telephone order (MOTO), eCommerce, and other high-risk businesses, especially the new ones.
PaymentCloud has a very strong base in the US market and is constantly becoming a wonderful option for that uncertain mid-to-hight-risk space.
And the hands-on approach during the initial application is second to none in my view. Last but certainly not least, you can expect extraordinary follow-up support from the company!   
Features of PaymentCloud:-
One of the very few payment gateways especially made for high-risk businesses 

 

Excellent services at very reasonable rates 

 

Satisfied, on-time customer support 

 

Setting up an account is absolutely free and superbly easy 

 

Very few complaints from the users 
Availability: Web  
11. Helcim 

 
One of the best payment processors for enterprises that deal internationally and are looking for a reliable as well as scalable processor.
While most of the well-known payment systems are almost leaving the low-volume merchants for the big, well-established brands, Helcim is doing excellently well in its own terrain and is still proposing high-volume savings to the larger customers.  
Yes, one can argue that Helcim doesn't look as polished and sophisticated as Stripe, but is certainly giving stiff, neck-to-neck competition. And isn't that something to admire?
You are promised to get very reliable international support with Helcim with a featured online store as well as multiple solid developer tools. If your company makes offline sales, you have a wonderful option of using the "Sales of Point" feature of Helcim – which can easily be run off a computer or even a mobile.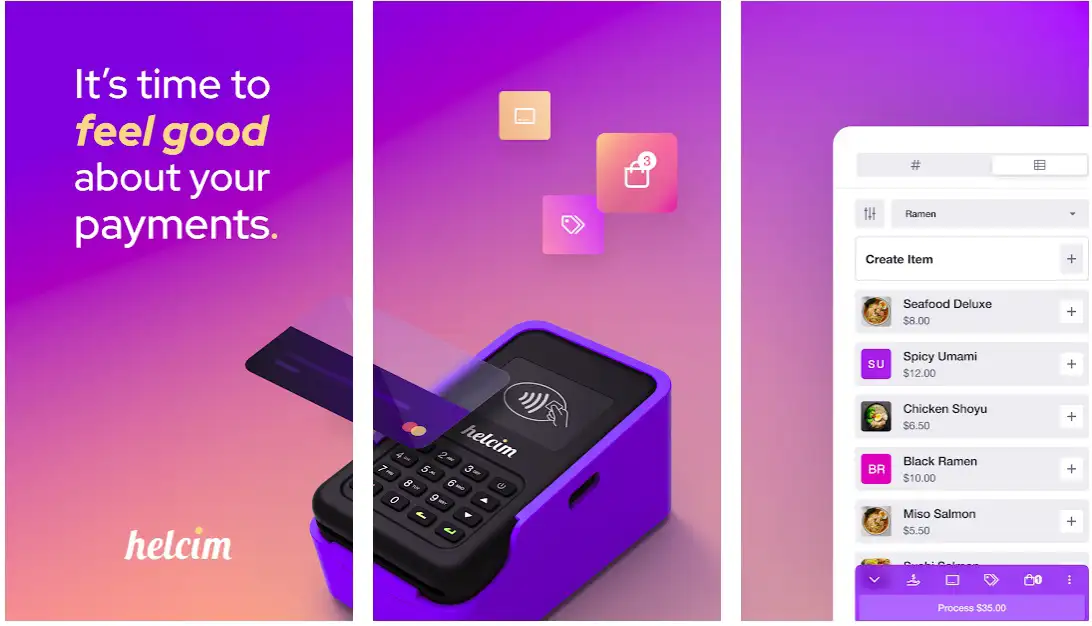 The pricing system by the payment service provider is a thing of discussion as well – and I have liked it, to be honest.
Rather than going ahead with a single pricing model, unlike Stripe, Helcim offers its customers multiple options – and all of them are tailored for different types of business models! There is a simple, flat-rate pricing system for low-volume businesses. And higher volume businesses can opt for interchange-plus pricing.  
Features of Helcim:-
Simple, secure, and reliable payment infrastructure

 

No monthly fee or long-term contract 

 

Also accepts international payments 

 

One of the best options for low-risk businesses 

 

An exclusive online store with multiple developer tools 
Availability: Web | Google Play Store – 4.0 / 5 | Apple Store – 3.1 / 5 
12. Stax
Stripe is without any doubt one of the best payment partners for low-volume businesses as it's very simple and predictable with flat-rate pricing.
But why would you want to pay a high fee for each transaction if you are a high-volume enterprise? And for example, if you are a high-volume business active completely in the US, I would suggest you try Stax by fattermerchant at least once!  
Stax is one of those Stripe alternatives that use wholesale pricing as its selling point. And what does that mean? It means that instead of paying a certain percentage for each transaction, you have the option of paying a monthly membership fee with a very reasonable flat fee per transaction and a fixed interchange rate!
Doesn't that sound more logical? There is a fixed monthly fee for annual transactions of up to $5,000,000. And if you process more than that, you always have the option of requesting a custom quote.  
Yes, I would admit that the developer tools and API of the Stax are not as slick as those of Stripe's, but they are more than just reliable for most of the low-volume businesses.
And the nice, user-friendly way of centralizing all your transaction information is something you get as a bonus with Stax! Depending on your preferences, there are different packages @ $49/ month, $89/month, and $129/month.  
Features of Stax by fattermerchant:-
Doing a stunning job by simplifying the payments infrastructure 

 

One of the very few and unique subscription-style payment services 

 

Affordable as well as transparent membership pricing 

 

Month-to-month billing cycles

 

A very convenient, centralized payment platform 

 
Availability: Web| Apple Store – 3.4 / 5 | Google Play Store – 2.8 / 5  
13. Verifone  
Previously known as "2Checkout", Verifone is the next entrant in my list of the best alternatives. Undoubtedly among the best payment services for businesses targeting international marketing and also want to avoid so much coding.
The third-party payment gateway focuses primarily on eCommerce. However, Verifone only enables the users for card-not-present transactions. Hence, if you are a brick-to-mortar business, this service is not designed for you.  
With that being said, Verifone is known for its wonderfully optimizing business pages as well as robust support, especially for CNP transactions.
From reliable global support to A/B testing and excellent subscription management to fraud protection, as well as conversion rate optimization, you get all these amazing services in one place – and that too, at pretty affordable rates!  
Verifone is also gaining popularity for ease-of-access and hassle-free setup – especially when compared to most of the other payment gateways. As the payment processer deals mainly in high-risk payments, there is a 3.5% plus $0.35 flat fee.
It enables the high-volume businesses to negotiate for a lower price under certain conditions, of course. However, you don't have to worry about any type of contract or termination fee – get the services till you need them, and terminate whenever you want! 
Features of Verifone (2Checkout):-
Flat-rate pricing ensures predictability for businesses 

 

Offers robust support to international merchants 

 

Highly encouraging website and overall user interface 

 

Simple, month-to-month recurring billing 

 

Integrated easily with most of the popular shopping websites 

 
Availability: Web  
14. Melio – alternatives to paypal and stripe
Melio is another decent alternative to Stripe and for some obvious reasons. You get all the features an ideal payment gateway should have. The application allows you to pay distributors, vendors, suppliers, and all types of other businesses in the US.
In addition, the payment merchant also helps businesses pay different types of bills including rent, phone, advertising, internet, insurance, and utilities.
Whether you want a payment partner for one-time payments or recurring bills, Melio simplifies the whole process of payments.  
You get both options of making your payments i.e., bank transfer as well as via credit card. Melio is primarily dedicated to expediting the overall money-in process for both enterprises and customers.
From the business point of view, it enables you to create a highly secure and simple pay link and share it with your customers and clients for instant payments. All the payments are processed online and directly credited to your linked bank account in up to 3 business days.  
Using the link, your customers can make the payment even without having your bank account details or a Melio account. And what more? The payment service also enables you to schedule as well as manage the due dates for all different types of payments.
With this option, you can ensure paying at the right time – no need to pay your bills too early or too late! Thanks to timely notifications, you can have complete control over your payments even if you are busy with other important things.
Most importantly, you can easily integrate Melio with QuickBooks Online to simplify accounting and get rid of double entries.   
Features of Melio:-
Allows you to pay via credit cards as well as bank transfer 

 

Timely notifications to keep you on track with your payments 

 

Enables you to add bills manually 

 

It's absolutely free to pay an invoice through a bank transfer

 

Schedule your payments according to your preferences 

 
Availability: Web  
15. Billtrust 

 
Billtrust is one of those Stripe alternatives that makes it very simple for B2B companies to get paid for their services. The company is undoubtedly one of the leaders in A/R automation for almost two decades and has a strong base of customers across 40+ industries.
Billtrust is known primarily for automated and secure cash-to-cash payment solutions according to the diverse requirements of both businesses as well as customers. Thanks to a tailored invoice sending system, the application ensures timely payments from the customers too.  
If you are looking for a payment service that can simplify receiving payments through an order-to-cash cycle system, I would suggest you try Billtrust at least once.
Flexibility to facilitate the payments is another great feature of the payment interface, as it offers much-needed convenience to clients and customers to pay through a wide range of channels.  
Thanks to a very simple and user-friendly website interface, finding the invoices and making payments is as simple and easy as exploring a shopping website.
If you are a business that logs in only once a month or even less, you can still easily navigate through the portal without even being confused or frustrated – and if you are still not very clear about the payments and invoices, a very friendly customer team is always at your service!  
Features of Billtrust:-
Supports a wide range of payment methods

 

One of the most prominent payment services for the order-to-cash cycle 

 

Allows you to pay through your preferred channels without much fuss 

 

High-grade protection against fraud 

 

A very supportive and friendly customer service 

 
Availability: Web  
📗FAQ
What is better than Stripe?
Payment services like PayPal, Venmo, and Wise are doing great as compared to Stripe
Is there an alternative Stripe?
There are various Stripe alternatives like PayPal, Wise, Amazon Pay, and Braintree etc.
Who are stripes biggest competitors?
PayPal, Amazon Pay, and Venmo are three top competitors of Stripe.
Is there anything cheaper than Stripe?
Venmo offers 3% cashback on most of the payments, and that's how it helps you to save some money, and becomes cheaper than Stripe.
Is Stripe or square better?
Both are equally good. While Square is known for offering decent POS hardware and solutions, Stripe is a reliable option for online stores.
Why Stripe is the best?
Stripe is one of the leading payment platforms and is known for easy, instant, and secure payments on multiple other platforms.
Is it better to use Stripe or PayPal?
While both Stripe and PayPal are decent options for online payment processing, PayPal offers better services for new and small businesses. And Stripe is well suited to large enterprises.
Conclusion
So, which one is the most suitable payment interface for your business?💁 
That's it about my review of the best Stripe alternatives. Stripe is doing an excellent job as one of the leading payment processing platforms.
But it's not the only option you have to rely upon! PayPal is undoubtedly the closest competitor, and might be even better for a lot of users! Wise is just right there with its unique money-transfer system. And when it comes to cheaper service charges, Adyen is cheaper than Stripe!  
Billtrust is a very reliable option, especially for B2B companies. And if you have a local business actively operating in the US only, you can give Melio a try.
For a secure payment service that can be integrated easily with your website, you have the option of exploring Amazon Pay. And Verifone becomes an obvious choice for those who are looking to expand their business internationally.  
In short, there is no shortage of options when we talk about the best alternatives to Stripe. Depending on your business, your future goals, and the frequency of transactions, you can choose any of these 15 excellent payment gateways.
Don't forget to hit the comments section below if you have got any suggestions or questions!