DNS ( Domain Naming Server) is a service that is used to translate your typed website address (www.technicalustad.com) into a computer readable binary format (010101010). Most of the ISP comes with an own DNS server which is quite slow in compare to available faster and safer DNS servers.
Switching to another DNS server can transform your online experience, providing faster internet speeds, stable browsing, better security and child-friendly content.
Step-by-Step Process to Switch to a faster and safer DNS server
Step1:- Download
the
Public DNS Server Tool
. It displays your computer's Network Interface Controllers, and current primary and secondary DNS servers, alongside a list of alternatives.
Before making changes, click Backup, then Backup again. Choose a location for your file. Click Save.
Step2:- Go to 'Select your NIC card'. If you only have one, it's automatically selected. If there's more than one, pick the one you're using from the drop-down menu.
Alternatively, tick 'Select all' to change the DNS server of multiple networks, including both wired and wireless options.
Step3:- Choose a server based on your needs. Google is a good all-rounder, while 'Privacy-first' servers like Cloudflare and Verisign won't flog your data to advertisers.
OpenDNS, Comodo Secure and Norton ConnectSafe offer a secure setup. Highlight one, click Change, then Yes to verify the switch.
Step4:- You can change to a different DNS server on the fly – one that better suits your needs – by repeating Step 3. The switch is instant and the new DNS is displayed under 'Current DNS servers for selected card'.
To switch back to your original server, click Backup a followed by Restore.
Step5:- The Public DNS Server Tool supports 16 preset servers. To add more, type Public DNS in the search bar and open the folder.
Open the 'servers' text file and add the new details, precisely following the format of the existing servers.
Click Save and restart the tool. Now you have entry of your own dns server.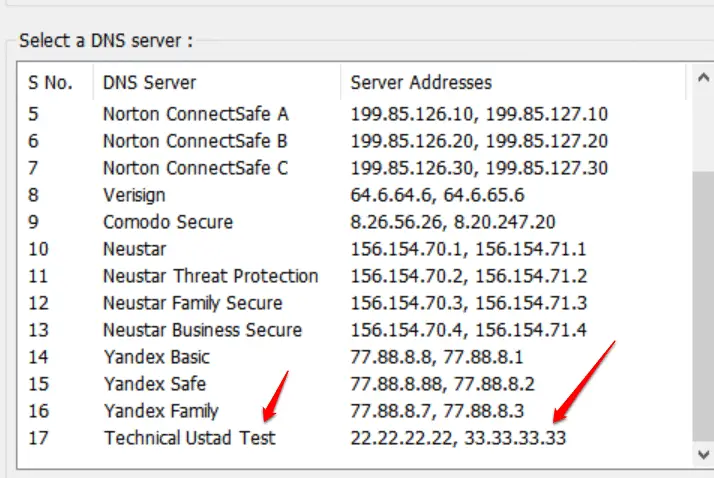 Step6:-
GRC's DNS Benchmark (
Download Now
)tells you which DNS server offers the best performance. Click Nameservers, then Run Benchmark.
Once complete, click Conclusions. As you seen in above image, 8.8.4.4 is first faster and 1.0.0.1 is second fastest DNS server for me.
Follow the Step 5 and create one entry for this DNS server and change current DNS server to new modifed ones. That's all.
Now you have fastest and secure DNS server.
You may also like to read these awesome related articles