So, your computer is slowing down, and you are afraid it is because it is infected. In this article, we will talk about the Symptoms of a Computer Virus.
What is a Computer Virus?
Computer Viruses are venomous software/applications often referred to as Malware. They tend to destroy files, steal personal information, and damage your computer's delicate parts, such as its RAM.
What are the types of computer viruses?
Computer Viruses can do many bad things and harm your computer in many different ways. Here are eight of the most common computer viruses waiting out there for you to put your guard down.
1. Boot Sector Virus
The Boot Sector virus attacks your master boot record. It is very severe and, at the same time, very easy to prevent kind of a virus. It transmits via USB drive or emails attachments.
It's replacing the current boot code with your infected code, so when you boot your PC next time, you will be loaded into your PC as part of the master boot record.
2. Network Virus
It is a relatively new kind of virus. It transmits over your network and does need to drop a file-based copy. Our computer is fairly protected from this virus as the network VirusWall Enforcer scans the network traffic, identifies, and kills this virus.
3. File Infector
This virus slows your computer down and attacks system files by targeting the files with the ".exe" extension. These files are called Executable Files.
Some File inspector viruses also damage your system's Host file, which will cause your PC to send your PC request to malicious links.
4. Web Scripting Virus
The Web Scripting Virus tends to break your web browser's security, eventually making your Personal Information Vulnerable to hackers. They are generally used to attack social media sites and can extract your personal information.
5. Over Write Virus
Over Write Virus, as the name suggests, overwrites file content to poison folders, files, and your important and delicate programs.
6. Direct Action
This virus is one of the easiest to detect. It attacks specific files. Generally, these files with extension (.exe), such types of files are called executable files. They attack the file, replicating and infecting that file.
7. Multi-Parasite Virus
Multi-Parasite Viruses do not target a specific kind of file; they infect the whole computer. They expand their reach by doing unauthorized actions on your OS, files, and programs.
8. Browser Hijacker
If you are redirected to a malicious site, you might want to run a quick scan afterward. Browser Hijacker redirects one's browser to malicious websites. Therefore, detecting them is also very easy.
9. Resident Virus
They are the smartest, as they can also attach themselves to your anti-virus. They target and recite in your RAM and play with your OS.
These were eight of the most common virus out there.
What are the symptoms of a Computer Virus? 🤔
After knowing the different types of viruses, you might be curious to know if your computer is infected.
If you can relate to the "effects of computer virus" points mentioned below, then, unfortunately, your computer is infected.
Let's explore the 10 symptoms of computer viruses.
1. Sluggish Computer
The first thing that comes to mind while thinking about the aftereffects of the Virus is that it will slow our computer. It will not only slow your computer's speed but will also decrease your internet speed.
So, if you know that you are not running tons of applications on your system and your computer is slowing down, you should consider going for a total scan.
2. Crashing
The appearance of an unwanted guest BSOD(Blue Screen of Death) will ensure that the virus infects your computer.
The blue screen of death is mostly because of the Boot Sector Virus. Although there are many reasons behind BSOD, it is the most common cause.
2. Pop-ups
If you are annoyed by the "Pop-ups" and will break your screen with the wrath of your anger.
Then you should first get a glass of water and then flush your computer's virus by running an anti-virus as the "Pop-ups" are one of the most common symptoms of viruses/spyware/Malware.
4. Break Down of Hard Drive
Although there are multiple reasons behind the malfunctioning of your Hard Drive, the one due to a computer virus is the easiest to solve.
If you want to confirm whether your PC's Hard Drive is breaking down because of Virus, try checking your activity. If your hard drive is exhibiting high activity without you using it, it means your Hard Drive is infected.
5. Shortage of Storage
Computer Viruses have this nack of creating duplicate files. These files are often stored in a  shortcut format. This will eventually fill up your computer's space.
So, if you observe that your drivers are filled without you stuffing files in them, there is a high chance that your computer is infected.
6. Starting of Unwanted Programs or Messages
Suppose your window is shutting down without any notice. If your programs are opening and closing automatically, or you are receiving a message that "you lost access to your drive," the chances of your computer being infected are high.
7. Disabled Security
I want you to do one thing, remember when was the last time your anti-virus received an update. If you are not able to remember, then not you, it's your computer that needs attention.
There are some viruses out there that will first kill your soldiers and then it will attack your king(processor). They will disable your security, making your system defenseless.
8. Application is not responding
If you have tried starting your computer a hundred times, it is not responding. Then, do not go for the 101st attempt, as the file you are opening is under the wrath of the computer virus.
9. Suspicious Network Activity
If you notice that your network activity is high without you being connected to the internet. Then this implies that your computer is infected.
10. Error Messages
If a dialogue box constantly appears with the message "missing files," your computer is smarter than you as it has deducted a virus or malware.
11. Ads
An ad pops up if you are not browsing and out of nowhere. The Poping of an ad is a clear symptom of Computer Virus.
12. Hardware Malfunctioning
If you notice some error in your Display, there is a jitter of pixels. This means that your computer is suffering from malware disease.
This can also be concluded if your printer is not working properly.
13. Spam Emails
Emails are one of the most common sources of infection. So, I want you to check your Outbox, and if there are emails you have neither sent nor received, then the chances of your PC being infected are very high.
14. Weird Computer
Viruses can make your computer do weird stuff, such as opening files or clicking a key. Next time your computer does the same, then scan your computer. As it is another symptom of the computer virus.
15. Weird Application
Some viruses were built considering a specific application in mind. They tend to attack that application only. So if a specific application is behaving abnormally, then try reinstalling that application.
16. Blocked anti-virus Sites
If you are using an infected computer, then there is a chance that you won't be able to access anti-virus sites. Viruses that attack browsers usually do a such malicious activity.
17. Un-readable Dialog Box
Sometimes in an infected computer ton of dialogue boxes appear all at once. Which includes a lot of Gibberish that can not be decoded.
18. Slow Startup
If your computer is infected, the first symptom it will exhibit is starting up slowly. There are a lot of computers that do not open quickly, but if it is taking even longer to open, this means that your computer is infected.
19. Printer Issues
If your printer is behaving in a very weird manner as it is opening on its own or randomly printing a document. Then it means you must witness a fight between your anti-virus and virus.
A question might have throttled your mind "Can my printer catch a virus?"
No, your printer can not catch the virus. Well, theoretically, it is possible, but practically not. If your printer behaves weirdly, it does not mean that your device(printer) is infected; it is the interface causing the tantrum.
But, nothing can be said for the future of printers, As the new printers are built with their operating system and an added AI feature. Therefore making it vulnerable to threats.
20. Fake "Virus Alerts"!
Sometimes when we are browsing or downloading something from the internet. A message saying "Virus Alert" flashes up. Do not panic, as it is fake. The main aim of this Alert is to redirect you to an antivirus buying portal. There it will ask you to buy or download it(if it is free).
If, after reading all the symptoms, you suspect that your computer has a virus, then try the following options.
Run your computer in safe mode and scan it via an anti-virus.
If your computer is slowing down, then before concluding anything, try clearing temporary files.
Use anti-viruses and anti-malware software to get confirmation.
That's it; implement the following tips and tricks for complete virus protection.
Symptoms of a Computer Virus: How to prevent computer virus
If you want to prevent your computer from being infected, then the best thing you can do is to be attentive and follow the "5 ways to prevent computer virus" tips prescribed below:-
1. Keep your computer up-to-date
To prevent your computer from a malicious virus, try enabling automatic updates on your Windows OS. These upgrades generally have security patches that will fill all the security voids.
Do not be lazy, as laziness can make your computer pay.
It's too easy to keep your PC updated; click on the Start on your Windows 10 PC and click on the Setting option.
Now click on the Update & Security tab and the "Check for updates" to get the new update on your Windows PC.
Click "Advanced Options" and turn on the 'Receive updates for other Microsoft Products when you update Windows."
2. Install an Anti-Virus
This should have been the first step. Find, download, and install the best anti-virus you can afford. Not only that, try keeping your anti-virus up-to-date because with new updates come new security patches.
One question might be hitting your mind; once windows 10 PC already came with "Microsoft Defender," do you need a third-party antivirus?🤔
If you ask this question me with Windows 7, XP, or Windows 8, then my answer is for sure you need a third-party antivirus program on your PC.
But with Windows 10/11, Microsoft is working hard to improve the "Microsoft defender" program that is more than enough to protect your PC against viruses and malware.
You can access Windows Security under Settings ( Click on Start and Settings).
I recommend enabling the below security options to enhance your PC security with Microsoft defender.
Core Isolation:- It uses virtualization-based security to protect your PC memory integrity. To enable this, click on the "Device Security"
and click on the Core isolation option here and turn on the "Memory Integrity" option.
Enable Periodic Scan:-
Windows defender came with a periodic scan option, but by default, it's turned off that you need to enable it to get the best security.
Click on the "Virus and Threat Protection," click on the "Windows Defender Antivirus options," and turn on the "Periodic Scanning" Option here.
Exploit Protection:- Vulnerability is called a weakness in the system or application, and a piece of code that will benefit from current vulnerability is called an exploit.
Windows defender came with the feature of Exploit protection, which protects your PC against attacks like ransomware.
You can access Exploit protection under "App & browser control." Click on the "Exploit Protection Settings"
By default, it protects all the top applications, but you can also add them here.
Click on the "Program Settings" option and the "Add a program to Customize" option to add your application here.
Still you are looking for an Antivirus solution? 🤔 if yes, then go with Malwarebytes (Download Here).
Malwarebytes provides the best protection against Malicious sites, Malware & PUPs, Ransomware, and Exploits.
I recommend using Malwarebytes AdwCleaner (Download Here) to remove toolbars, adware, hijackers, and potentially unwanted programs (PUPs) from your web browser.
This new release can also scan and remove the preinstalled software bundled with new PCs (as opposed to programs Microsoft includes in Windows). This can improve your PC's performance. AdwCleaner creates a system restore point when it detects preinstalled software.
3. Scan Malware
Malware Scanner or anti-malware is different from the typical anti-virus as it will protect the computer from fresh viruses such as polymorphic malware. So, scan your computer by Malware Scanner once a week.
if you doubt whether your current antivirus means detecting viruses, then it's time to use Online virus scanners.
Many online virus scanners are available, but I recommend the Eset Online scanner (Download here); you can try it for free.
it's a One-time scan solution to remove malware and threats from your computer for FREE.
Use VoodooShield to protect from malware and hack attacks
Even if you have a reliable, fully up-to-date antivirus program on your PC, it doesn't mean you're completely immune from malware or hack attacks.
VoodooShield (Download Here) provides another level of clever protection to keep you safe.
It offers two modes: in the Off mode, your PC is unlocked, and VoodooShield learns which programs to allow; in On mode, your PC is locked, and only currently running software (and specific Windows system files) are allowed.
Stop all Viruses with Voodoo Shield
You can whitelist anything you don't want to be blocked. However, you need to upgrade to the Pro version for $29.99 (£23.62) a year to unlock additional features and configuration options.
4. Scan E-mail attachments
Sometimes you open an email attachment without scanning it, and "BOOM!". Your email is hacked.
It is one of the most common and easiest ways of hacking a computer  So, at first, do not open an unauthorized email; even if you end up opening an email, scan the attachment before opening it.
Most of the paid antivirus solutions scan your email attachments but still, if you have doubts about attachments,  send your attachment to scan@virustotal.com; they will do the scanning for you.
Read more in detail here virus total email submission.
Note:- Virustotal.com is one most trusted platforms for analyzing suspicious files and URLs
5. Say NO to suspicious websites
We spend most of our time on the internet, scrolling through our social media feeds or browsing something. Intenet's expansion comes with many merits, but it also has some demerits.
Because of the internet expansion, the number of sites has increased to trillions, among which thousands are malicious. So, next time you browse, look closely at its URL.
We recommend the WOT Web of Trust (Download Here) browser extension to eliminate suspicious websites.
Once you visit the safe websites, you will see the green icon in your browser.
It will stop you from accessing any malicious websites. Even once you search, you can see which link is safe. As seen in the below screenshot, it's showing the green icon of WOT in front of my search results.
6. Back up your important files
You cannot do this to prevent your computer from getting infected, but it will ensure your important files are safe and secure.
Sometimes you have no choice but to delete all your files and install a new window; these files will play a major role then.
Having a perfect virus prevention strategy is impossible, but this is as close to perfect as it gets.
At the time of our research on What are The Symptoms of a Computer Virus, we found a video about "12 Signs Your Computer Has Been Hacked" worth watching.
12 Signs Your Computer Has Been Hacked
How To Remove the Most Difficult Virus From Your PC
Some malicious software can be particularly difficult to remove from your device. In this case, we need an offline scanner that can scan your PC offline, which means it will scan your PC before booting it.
1. Using Microsoft Defender Offline Scan
Microsoft Defender Offline can help find and remove them using up-to-date threat definitions. This will restart your device and will take about 15 minutes.
To use Defender offline scan, navigate to Windows Security and Click on "Scan Options."
Now Click on the "Microsoft Defender Offline Scan" option and click on the Scan to start the Scan; it will reboot your PC and start the scanning.
2. Using Third-Party Antivirus Live CD
Approx all the antivirus are coming with a Live CD, and most of the live CDs come for free; only you need to download them and make a bootable USB or DVD drive and boot your PC from USB and start scanning.
We are recommending Avira Live CD (Download Here)
After downloading, make it a bootable USB ( Check our guide on How to Create a Bootable USB Flash Drive for Windows 10) and run it to scan your PC.
How to Scan Files For Virus Before Downloading
The Internet is full of bogus and cracked software; you don't know about downloading files. Most of the time, hackers can bypass your single-installed software as they are aware of antivirus technology.
But they are not able to bypass 40 antivirus engines at the same time. You heard right; you can scan your files with 40 antimalware-engine for viruses before downloading.
Metadefender for Chrome, by OPSWAT, allows you to scan all downloads, or specific files, for malware using 40+ commercial anti-malware engines.
Using many anti-malware engines helps ensure that more viruses, spyware, Trojans, and other threats can be detected – malware that a single anti-malware engine might miss.
Open Chrome Web Store, search for "Metadefender for Chrome," and click the "Add to Chrome" option to add this extension to your Google Chrome browser.
Now it's available on the Right-click menu on a web page. Right-click on the file you want to download and select the "Scan with Metadefender before downloading" option.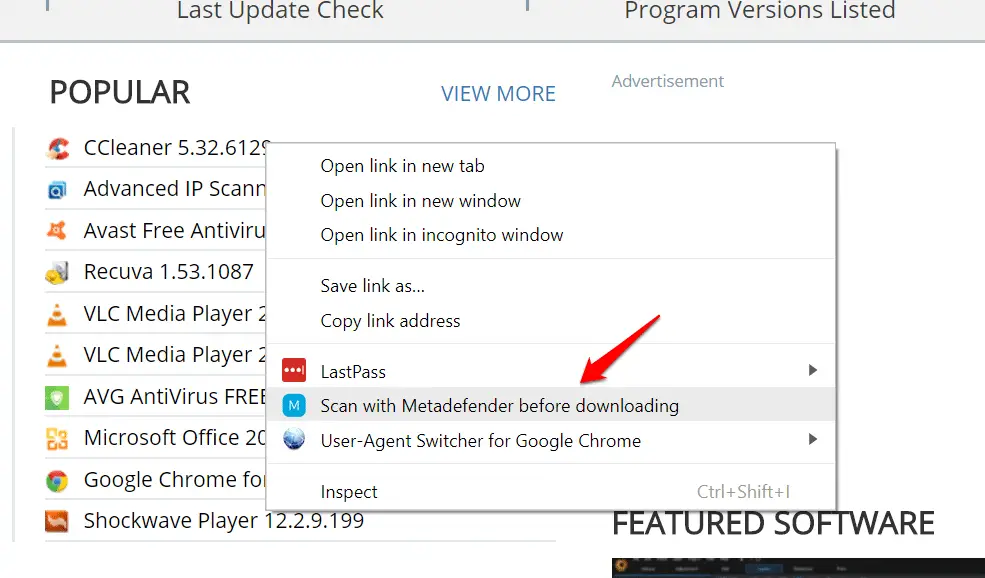 It will start the scan and show you the MD5 and SHA values of the file.
also, the scan result status with all 40 antivirus engines.
How to Scan Files For Virus Before Downloading
📗FAQ
What are the 4 symptoms of computer virus?
Slow performance, Pop-up ads, Unusual error messages, and Files or programs missing or changed are four common symptoms that may indicate that your computer is infected with a virus.
What are 3 things a virus can do to a computer?
Corrupt files, Steal data, and Spread to other computers are three common things a virus can do to a computer.
Can a computer with a virus be fixed?
Fixing a virus-infected computer is possible. The method for fixing a virus depends on the virus type, the extent of damage caused, and computer security measures.
Antivirus software can detect and remove the virus from the computer. This software identifies and eliminates viruses and other malicious software from the system.
Sometimes, extensive measures are necessary. These include reinstalling the operating system, wiping the hard drive, starting over, or seeking professional technician assistance.
Prevention is the best strategy to deal with viruses. This means keeping your computer and software updated, avoiding suspicious downloads, and using strong passwords and security measures to protect sensitive data.
What happens when your computer gets a virus?
A computer virus can cause various effects depending on its type and actions. Common symptoms include:-
Slow performance:- Viruses consume computer resources and slow them down.
Crashes:- Viruses interfere with normal functions, leading to crashes and freezes.
Pop-ups and ads:- Viruses display annoying and distracting pop-ups and ads.
Data loss:– Viruses corrupt or delete files, resulting in critical data loss.
Identity theft:- Viruses steal personal information such as passwords and credit card numbers, leading to fraud and identity theft.
Spreading:– Viruses can spread to other devices on the same network, causing damage and making it difficult to contain.
How do I get rid of a virus on my computer?
Removing a computer virus depends on the virus type and extent of the damage. Here are some general steps:
1. Disconnect from the internet:– Prevent virus spread to other devices or networks.
2. Run antivirus software:- Detect and remove viruses and malicious software.
3. Use System Restore:- Restore the system to a previous point, if available, before the virus infection.
4. Reinstall the operating system:– In severe cases, reinstall the OS. Backup files before reinstalling.
5. Seek professional help:- If you are uncomfortable with virus removal or the virus caused extensive damage, consult a technician.
Conclusion
With this detailed guide on the Symptoms of a Computer Virus, we tried to cover topics like the type of virus and their symptoms, 10 causes of computer viruses, and ways to protect yourself against these viruses.