Tattoos are the coolest deed to take on, but getting inked is not for the faint-hearted. Tattoos are permanent inscriptions on the body, and because choosing the best tattoo artist, preparing your mental space, picking the right design, and knowing how it will look before the process is a tough one – tattoo design apps are helping millions of people.
Well, thanks to technology, that decision has been made easier for you. Tattoo artists and potential clients now have their job cut down in half with these tattoo design apps.
Depending on the choice of the tattoo design app, you can see the design you need, and how it will look on your body.
While there are so many designs and categories that can leave you confused, the following text is aimed at easing you into the process. Below are some of the best tattoo design apps for android and iPhone, which is helpful to you and your tattoo artist.
Are you ready, let get inked?
Here is The List Of Best Tattoo Design Apps
1. INKHUNTER
This is probably the best tattoo design app on the internet for mobile users because of their ability to augment reality, enabling you to design and see your tattoo before you actually get inked.
With over a million downloads, INKHUNTER is the best drawing apps for tattoo artists for android and iOS smartphones.
Features:-
A broad collection of tattoo design (all free) that is easily accessible on your mobile device
You can virtually design your own tattoo on any part of your body and see how it looks before heading to the tattoo parlor
Gives you the exact image of how the tattoo will look with all the colors and dimensions
Ability to see your proposed tattoo design from all angles – the more reasons to confirm if the tattoo design is for you
Super easy to use in creating the perfect tattoo design on your body without any regrets
Ability to edit your photo with the right tattoo on for free, now you can get your friends opinion before you do the deed
Overall, the INKHUNTER tattoo design app is fun, easy to use, and free. It is the perfect tattoo app for projecting real-time design, so you don t fall victim to tattoo mistakes that you can't undo.best drawing apps for tattoo artists.
Though the pop-up ads are a nuisance, this tattoo design app is dope and worth having for a tattoo artist or you.
Download From Google Play Store
2. Tattoodo
Tattoodo is more than a tattoo design app; it is a community of budding and professional tattoo artists around the region, their designs, and the latest buzz – how to tattoo videos.
They have literary the biggest tattoo collection that will allow you to discover why you love tattoos and should get one. Also, Tattoodo has over 600,000 tattoo designs to choose from, and with over 5 million downloads; little wonder why they won the best Tattoo design app in 2018.
Tattoodo doesn't only benefit clients looking to get inked, this platform also showcases the talents and skills of over 25,000 tattoo shops so that clients can choose one near them.
Features:-
Largest tattoo database currently in existence with access to a tattoo artist that can design your specific choice perfect for you
Create an inspiration board for your next tattoo design with over a million styles, designs, motifs, colors, and body placement
Get the latest news, trends, and videos on what's new in the tattoo industry
Save your favorite tattoo design until you are ready to get inked
Available on Android and iOS devices
Ability to find you a tattoo professional artist at the drop of your location
Overall, Tattoodo is the best of the best; the app is super fun and easy. Although you access most of the app in free mode, a little token will eliminate ads and grant you an unlimited view of a whole new world of tattoo designs.
Download From Google Play Store
3. Tattoo Design HD
This tattoo design app is new to the crowd, but it is holding its place in delivering unique tattoo patterns with a catalog of tattoos that range from spiritual to romantic or gender-specific designs, small or big tattoo, etc.
If you can think it, Tattoo design has it. The tattoo design HD app was released in May 2019. Although downloads are few, it boasts of amazing and inspiring designs in its over 1000 tattoo design collection. The best is that it is absolutely free
Features:-
Simple and easy to use tattoo design app with the ability to share designs on your social media page
All tattoo images on tattoo design HD are in high resolution enabling you to zoom into the image and see the tattoo design in details
Compatible with Android devices
The apps update its catalog every week with the latest tattoo trend from across the globe
Choose and download the desire tattoo design for your tattoo artist before you get inked (a sure way of eliminating mistakes)
Subscribe to the app and get instant notification when a new tattoo design is added to the catalog
Overall, Tattoo Design HD is a must-have tattoo design app that will enable you to choose the right tattoo and have fun doing it. The app does contain ads, but it is a great ink app for any tattoo lover.
4. Tattoo Designs
If simple tattoo designs are not your thing, then this is for you. Tattoo design is a totally free tattoo design app that allows you to design the mystical creatures of your choosing in bold and sleek designs. Whether it is a phoenix, angel, tribal symbols, or an animal from the past, Tattoo design got your back.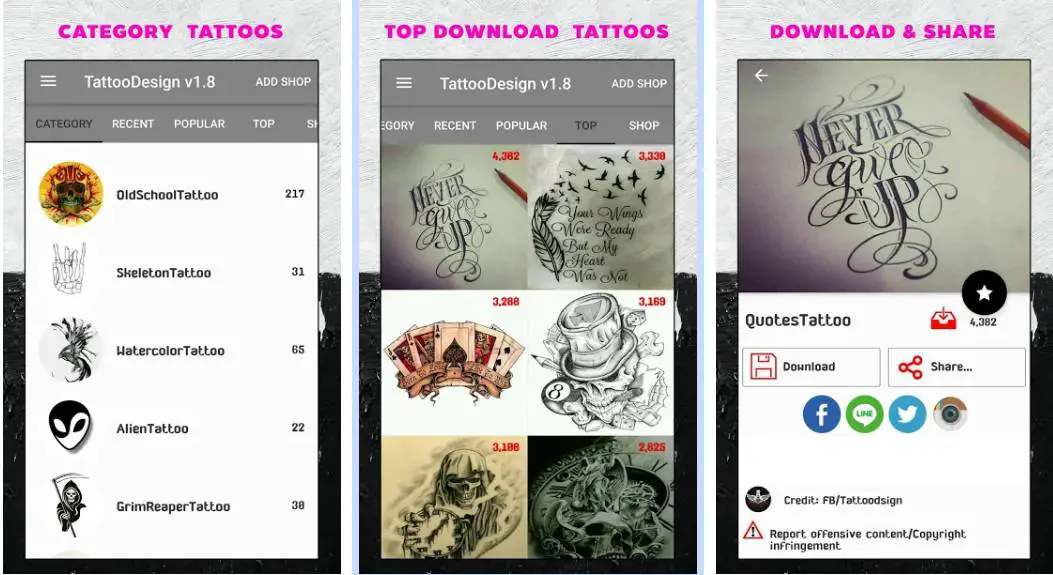 Or neck, chest, arms, or legs – this tattoo design app divides the patterns into different categories to ease searching through the over 1000 designs. The app is updated every month with the latest tattoo trends on the planet.
Features:-
Get retro and unique tattoo designs that will wow your friends in a matter of minutes
Compatible with Android and iOS smartphones
Get inspiration from thousands of themes with fantastic mystical creatures to adorn your body – angels, the devil, mermaids, etc
A collection of tattoo designs for men and women
A light application that won't consume storage space on your phone
Overall, the tattoo design app is your on-the-go mobile tattoo studio packed with beautiful tattoo designs you will never regret when inked. Share with that indecisive friend and get her/him tattooed too.
5. Tattoo Designer Body Art Maker by Chao Zhang
This partially free tattoo design app is only available on iOS devices and compatible with iOS 9.0, iPhone, and iPad, or iPod touch devices. The app supports over 30 languages, and if small tattoo designs are not our thing, this body art maker will surely tickle your fancy.
The app comes with in-App purchases, and for a fee less than a dollar, you get to enjoy tattoos and features.
Features:-
It can place a tattoo on the exact spot on your body and access how it looks. All you need to do is take a picture of the body part you will be tattooing and then add the chosen design on it.
Ability to zoom, rotate and insert texts on your tattoo of choice
Hundreds and hundreds of tattoo designs and fonts styles to choose from
An extensive tattoo database from different tattoo artist allowing drawing inspiration to create your own unique combo
Overall, a tattoo designer body art maker is a fun and easy way to design large tattoos on your body before you actually get inked for real. The app is fun, easy to use, but not compatible with the android device.
6. Tattoo Fonts – Design your text Tattoo
Well, we all can be the same when it comes to body art and elaborate designs. If you want a tattoo, but can stand the broad design on the market, then a simple word is enough messages.
Tattoo Fonts is another Apple-based app that allows you to design your message or word with the right font for your body.
The app allows you to pick a font, draft a message, and view it from different angles how it would look on your skins.
Features:-
Comes with a simple intuitive interface that makes it fun and easy to use
Preview, edit, and save the design before getting inked
Consist of 150 high-quality font styles, and it is not free (cost $1.99) with customized sizing
Supports two languages – English and Russia
Sleek font designs with less rendering time hence easy to export
Save time and energy choosing the perfect tattoo font for your next tattoo design
Ability to design your own font directly on the app to see how it looks
Overall, Tattoo Fonts is a great tattoo design app regardless of the ads and limited numbers of fonts. The ability to design your own font, the user interface makes it enjoyable and a must-have tattoo design app.
Note:-
I have written a post for people looking for the
Best Apps For Nurses
?, do read it If you are interested.
7. SoundWaves Tattoo – Skin Motion
This is the hippest tattoo design app trend and a plus to modern tattoo designing. Skin Motion tattoo design app is audio tattoos, tattoo your favorite sound wave clip on your arm or anywhere on your body, and the Skin Motion app gives the tattoo a voice by playing it when the app scans over the design.
With all this technology and magic, you need an activation fee of $39.99 as an initial registration fee and a $9.99 for year's subscription.
While some people think this is weirdly amazing, the designers of this app aims were to allow you to carry a piece of your loved one or a past memory with you everywhere you go.
Features:-
Compatible with iOS and Android smartphone
Ability to customize the design element of your soundwave tattoo including color, shapes, significance, and design
Get up to 30 seconds of the music note
Overall, it is a very genuine tattoo design app, and even though the music only plays when the app scans the images, it is worth the emotions and thought behind the design.
8. InkSquad Tattoo Design App
InkSquad is a tattoo design app for potential tattoo hopefuls, tattoo artists, and tattoo enthusiasts who love tattoos but don't dare to handle the pain of actually getting inked.
It is a very commonly downloaded app on Apple. InkSquad is a brewing community of tattoo artists, tattoo fans, and the app enables you to choose a design without the stress, but also find a tattoo artist that will bring your tattoo designs to life.
So when you have your designs in hand, just ask the community, and you will be directed to a high-quality studio near you. The app connects you with the artists where you can book an appointment or fine-tune the tattoo design you have picked and eventually bring it to life.
Features:-
Find a tattoo artist that fits your style, needs, demands, and location
An extensive tattoo database with the option of different parts of the body
Pick and preview a tattoo design to know how it will look on you
Simple and intuitive interface for anyone to use
Supports only two languages – English and Italian
For the tattoo artist – the app aims to great more visibility for them and increase their follower base as they showcase their artistic talents and skills
Overall, InkSquad is similar to Tattoodo, but until they can extend their tattoo design app to tattoo lovers on Android, they still have a long gap to cover. The app is free to draw inspiration from the multitude of images and designs before you get started.
Note:-
I have written a post for people looking for the Best
Calligraphy Apps
?, do read it If you are interested.
9. Tattoo Design App for Men
Tattoo design is like a guy thing, so this tattoo design app for men released 2017 by Krishna S. Patel has over 500,000 downloads, now you can create beautiful tattoos anywhere on your body, preview it and then make up your mind if you will be getting inked.
This virtual tattoo design app allows you to choose the tattoo, edit it, and place it anywhere you want on your body giving you a real-time view from all angles.
Features:-
It has an extensive tattoo database that consists of animals, skulls, mystical creatures, tattoo fonts and even 3D designs for you to choose from
Tattoo design for arm, chest, legs, shoulder, and neck including tribal tattoo option from Native American, Polynesian, Borneo, and the Celtic
Simple and very easy to use drag and drop feature to preview a selected tattoo on your body
Also able to located a tattoo studio close to you to get you to tattoo done
Overall, the tattoo design app for men can be used by any tattoo lover. It's simple to use interface and tattoo gothic inspiration makes them unique and different from other tattoo design app on the market.
10. Tattoo Maker
If you have the creativity of designing your own tattoo, get it perfected with the tattoo maker app. Available on Android (Google Play Store), this tattoo design app has gained over 5 million downloads since its release date 2017.
Tattoo maker is a great tattoo design app that allows you design, edit, add text, adjust the size and upload the finished look on any part of your body to see how it will look if you do get inked.
Well, as good as this tattoo design app is, it is not totally free, and users will have to pay around $3.99 to enjoy premium benefits.
Features:-
Besides creating your own tattoo design; the app allows you to edit pre-existing tattoo designs from its gallery adding your personal touch and stamp to make it unique
Draw, color, edit, adjust and have fun becoming a virtual tattoo artist
Scan through hundreds of tattoo designs from around the world to get inspired by the art of tattooing
Learn to be a professional tattoo editor or create your unique designs including font styles
Overall, the Tattoo Maker tattoo app puts the needle, paint, and body in your hands, design anyhow you want, and enjoy a painless form of tattooing on a virtual platform. Ink yourself and invite your friends to do the same.
11. +3500 Tattoo Designs Tattoo App
Unlike other tattoo apps on the internet, plus 3500 tattoo designs is an app that is made up of over 3500 real tattoo designs by individuals around the globe.
The app allows you to see how a tattoo actually looks on a real person as to create one or pick from an extensive catalog and positioning it on a photo of you.
With over 1million download and 4.3-star ratings, this tattoo design app has images for every type you desire.
The application is simple to understand, uncluttered, and won't take up too much space on your phone.
Specifically designed for Android
Overall, this tattoo design app will enable you to get the reality of tattooing and how they actually look on a real person.
12. Japanese Tattoo Design App
We know that tattoo, especially from Japan, are unique, intricate, colorful masterpieces that wow even the most skilled tattoo artists.
If the arts from the orients are your way to take on your first tattoo, then the Japanese tattoo designs app is one for you.
For tattoo lovers who appreciate the beautiful and robust culture of the Japanese, this app will allow you to choose one before your ink date.
Features:-
Variety of Asian tattoo designs like dragon, geisha, samurai, symbols, patterns, images and signs that scream Japan
It has hundreds of Japanese tattoo designs with images
Ability to save and share your favorite tattoo design
Easy to use and clutter-free menus
Overall, this tattoo design app is very beneficial. One feature it is lacking is the ability to edit a design or add your special touch on it.
13. Inkstinct Tattoo Design App
Thinking of inking tattoos from a specific era or region of the world, but you have no idea what kind of designs they have?
Now you can browse through the most extensive online tattoo gallery for tattoos from anywhere on the planet.
Inkstinct is a tattoo design app available only on iTunes and showcases tattoo trends around the world, tattoo artists, and their work, their location, and the newest tattoo studio in a place.
Features:-
It has the most extensive tattoo design collection with the latest trends from every city in the world
Ability to upload your own tattoo designs in your profile
Expert help on how to find the best tattoo studio close to you
Post your personal tattoo design on the platform and get clicks and like from your region
Follow tattoo/artist/design from anywhere in the world
Compatible with iOS and available in dark mode too
Overall, the Inkstinct tattoo design app is in a world of its own, with such an extensive gallery and the opportunity it presents from upcoming or professional tattoo artists; it will only be a matter of time before you are discovered by the best.
14. Tattoo My Photo
 If you are beginning in the world of body ink, then this app is for you. Tattoo My Photo is an easy to use and free design app that allows you to attach the tattoo to your photo to give you a real-time preview of how the tattoo would look like when you do get inked.
The app is the perfect combination of an easy to use interface, exceptional editing tools, and infinite tattoo designs to create the one that represents you.
Features:-
Perfect tattoo design app for beginners
Choose a design from the gallery and edit to make it yours
Save and share pictures to get your friends opinion about it
Upload finished the design to a professional tattoo artist
Available on iOS and Android
Overall, the perfect tattoo design app for a newbie in the tattoo space. The app is easy to use and will not take up storage on your phone.
Conclusion
So we have finally come to the end with our tattoo design apps to excite you to getting your first tattoo or adding another design to a previous one. Whichever the case, you are in control of which pattern you want and the results.
Is there a tattoo design app we didn't mention, please let us know, but these apps here are some of the best with an extensive gallery, easy to use interface and mostly free; after all, you will be paying the tattoo artist for his job.