A smile, they say, is worth a thousand words; but how bright is your smile. While we want all our pictures to look prim and magnificent, having a mouth full of not-so-white teeth can put a damper to your best pics.
However, to avoid tarnishing your online image, or reducing the number of likes on your Instagram or Snapchat page; it is time to start using teeth whitening apps to make your smiles – picture perfect.
Why Teeth Whitening Apps?
Even though natural teeth have a tinge of yellow, having white teeth is an obsession, and every year millions of people take the easy route or not just to get the white teeth.
While not having white teeth is commonly linked to improper dental hygiene, you have got to wonder how celebrities and models pictures have sparkling teeth that have light bouncing off and blinding the viewers.
Well, if you have been eying white teeth, then you can give technology the applause as you can whiten your teeth with teeth whitening apps available on Android and iOS.
Ah, before you jump for joy, it won't give you white teeth in real-life, but you can bet your pictures on social media will be enhanced.
Why Teeth whitening Apps are the new craze?
You don't need a dentist appointment:-
Teeth whitening apps are simple to use applications that run on your phones. All you do is download the chosen apps, take a photo, and use the app to create the perfect white teeth ready for any social media post. This eliminates booking an appointment, waiting in line, and paying huge bills to get a well-done job.
When you are done, just zoom the image and look for faults that are easily rearranged with some light brush strokes or your pointers or fingers.
Remove discoloration and stains ASAP:-
Remember how embarrassing that thanksgiving picture was with spinach stuck to your teeth. Bet you don't want a repeat of that incident again. Now with teeth whitening apps, you can remove stains and discoloration without lifting a finger except to your phone. Teeth whitening apps will do all the magic in an instant.
Rearrange your teeth to perfection:-
Natural-looking teeth aren't aligned the way we would want. Teeth whitening apps not only whiten the teeth, but these apps are capable of aligning your teeth, giving the correct curvature, broadening your smile, removing pimples, and acne from your face – you know to create the perfect you.
Now that you know how beneficial teeth whitening apps can be, which app are you currently using? If you haven't and is contemplating, you are welcome to scan through our list.
Let's get our teeth bright!
Here is The List Of Best Teeth Whitening Apps
1. Photo Editor & Perfect Selfie
Everyone loves selfies and if you love then too, then this app is clearly for you. The app allows you to not only whiten your teeth but add a little effect that will brighten your face and personality.
Since its inception in 2015, this teeth whitening app has over 10 million downloads because of its simple to use interface. Although it has in-app purchases, users can take advantage of all the services with a token fee of less than a dollar.
Features:-
A powerful yet easy to use app that enables you to create impeccable pictures from regular photos in your gallery
Comes with amazing filters to make your skin finer, smother and fresher
Brighten your smile in minutes
Comes with 100 pre-installed stickers for each season, holidays or special event to add that finishing touch to your pictures
Lighting effect to enhance or color your pictures
Offers you the option to draw over your image, rotate and crop, add a professional look with over 30 frames and eliminate red-eye to create the perfect picture.
Overall, the Photo editor and Perfect Selfie teeth whitening app is the complete package to give you the unbeatable freshness to all your pictures without bursting the bank.
Download From Google Play Store
2. Facetune2: Best Selfie Editing
Facetune2 is the latest photo editing app that will do great things to your face. Whether it is whitening your teeth or getting an awesome face ready for a Selfie, the app will do it all.
With over 10 million downloads, Facetune2 is your personal glam squad available on Android and iOS devices that allows you to whiten your teeth, broaden your smile, make your eyes pop and sparkle, remove any facial imperfection and give you that radiant glow as if you just walked out of a beauty parlor.
It also comes with a toothbrush tool to make your teeth whiter, reshape the corners of your mouth, broadens your smile, and more natural-looking effortlessly.
Features:-
Unlike other teeth whitening app, Facetune2 gives all your photos a natural and real look
Comes with glowing and vibrant filters to create high-quality pictures and add some professionalism to your images
Edit and enhance your pictures in real-time
A variety of photo editing tools to create the perfect retouch to your face and smile
Add your finished images to Facebook and other social media pages or save on your phone for another day
Overall, the Facetune2 teeth whitening app is more than a face editor. This app also comes with a matte brush feature; you can now swipe oily effect from your pictures to create that picture-perfect face with a dazzling smile.
Download From Google Play Store
3. Visage Voir Teeth Whitening App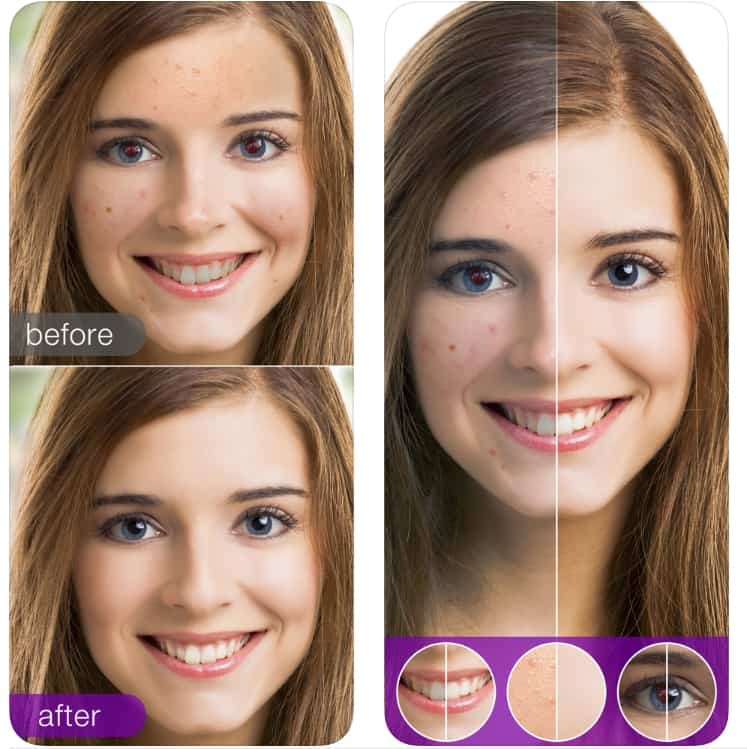 Available on Android and iPhone, this teeth whitening app has gained over 5 million downloads on Android devices. The app comes complete with a face editor tool that enables you to give that professional touch to your face without stress.
Visage Voir is a very awesome tool for people who want a natural look without overdoing it. This application has an inclusive interface that allows you to simply tap to retouch the traits you want on your photo. Besides whitening the teeth, this app has the following features.
Features:-
Eliminate aging spots, red-eye, and horrible pimples and acne
Tweak setting to have automatic enhancement on your photo when uploaded to the app
It is totally free
Beautiful and exotic filters that will create the perfect look for your face
Ability to save the shot and share on social media and other online sites
Overall, Visage Voir is professional editors with teeth whitening app that will make you smile at all your pictures without going to the dentist or hiring the services of a makeup artist. The app also has a whitening effect that brightens your face to match how white your teeth are for the perfect picture.
Download From Google Play Store
4. BeautyPlus -Snap, Edit, Filter
This is one of the most used face transformation apps on the internet. The app has a 4.5 – star rating with over 100 million downloads since 2013. Available on Android and iOS, this best teeth whitening app also contains powerful editing tools to perfect the smile on your next pics.
Simple to use and understand interface, it doesn't only process your photos, it adds augmented reality and visual effects to create a masterpiece that will wow even you.
Features:-
It has an AnimeCam that turns your photo into an anime character to enable you to retouch as you want
Has an extensive array of filters and frames to add a unique look to all edited images
Create the perfect face, smile, and eyes just by tapping on the right button
Has a LIVE auto retouch function that assists you in retouching your picture if you are in a hurry
Has fantastic brush features to ass special effects to your photos
BeautyPlus teeth whitening app and photo editor continues to have followers because they use information from real makeup artist to give you that natural look. While the app won't take up storage space, you need up to 1GB to save their AR filters.
Download From Google Play Store
5. Sweet Selfie teeth whitening App
 For people who love to takes selfies but want high definition photos that will make their updates look wow, the Sweet Selfie teeth whitening app will do just right.
The app is filled with numerous filters and several choices, including animals, face, or part to make your pics look fab.
Sweet Selfie is only available on iOS for now and has one of the best video and photo touch-up apps on the market. With over users in 40 countries across the globe, Sweet Selfie is your makeup and professional dentist on the go.
Features:-
Besides whitening your teeth, this app allows you to correct the shape, improve on the color and give a pleasing aesthetic to your face all with the tap of a button
The app automatically touch up your makeup, so you don't have to do it always unless you want a little extra something
The app is free for download on iTunes, but Sweet Selfie Pro comes with a price tag of $4.99 per week
Overall, it is a fabulous app and will deliver on an attractive face and pretty smile just to give you that perfect Selfie in a snap.
Download From Google Play Store
6. AirBrush Teeth Whitening App
AirBrush is the best teeth whitening and editor app that allows you retouch your pictures using filters and other features available of the app to create the perfect selfie.
The app is available on Android and iOS devices and has over 10 million downloads due to it's easy to use interface.
Features:-
Whiten your teeth with the essential parameters available on the app without going overboard.
Brighten your eyes and adjust the makeup quality and quantity on your face for a standard photo
Comes with an automatic configuration that helps you arrange your photos, so you don't spend time doing it
Ability to edit your selfie in real-time before taking the pictures, making your look more natural and better
You can build your own personal kits – this allows you to have the essential stuff you always use ready to go instead of searching for it every time
Overall, it is a very modest and generous teeth whitening app with a whole load of other features to create the perfect selfie every time. It is a must-have tool that everyone should have on their phone; aside from its ease of use, it will transform your look without stress.
Download From Google Play Store
7. Fotor Teeth Whitening App
Coffee stains, yellow teeth, or other teeth discoloration you are ashamed of, don't worry; Fotor Teeth Whitening App will take care of all your petty problems at the tap of a button.
Fotor app does more than just whiten your teeth; it is a complete photo editing tool that enables you to remove wrinkles, blemishes, and red-eye so that every picture is as perfect as it can be.
Besides the above, Fotor whitening app allows you to reshape your face, brighten it, and add the exact makeup right for your face.
Whiten your teeth in three easy steps:-
Go to the photo you want to edit
Tap on the teeth whitening app and use it to remove any imperfections on your teeth
Preview photo, save and share as you desire.
Features:-
Other features that distinguish this teeth whitening app are
Plenty of stickers in all shape; sizes and form to help you add that special touch to your pictures
Exotic photo filters free of charge
Using HDR to give you the best lighting for your pics
Ability to add text to your images using fonts directly from your computer or device
Overall, Fotor Teeth whitening App is not just for mobile users, it is available on Mac and Windows for photographers, artists, and editors to get their pictures looking smart and elegant every time.
Download From Google Play Store
Note:-
I have written a post for people looking for the
Best Apps For Walking
, do read it If you are interested.
8. Teeth Whitening App Naturally
This is more of an educative app on how to whitening your teeth using natural methods and everything you need to know about taking care of your teeth.
The app will, basically, answer all your teeth questions and proffer options to help you whiten your teeth in real-life.
It will also tell what foods to eat, drinks to take and how to maintain healthy white teeth for long. This teeth whitening app might not be the regular apps that allow you to add whitening effect to your teeth but is just as good in ensuring your smile is real and not made up. It is available on android for free download.
Download From Google Play Store
9. BeFunky Teeth Whitening Photo Editor App
Do whatever you want to do to your photo – Whether it is whitening your teeth, or adding retouch to your pictures, now you have an app that will deliver excellent results at a touch.
BeFunky is a smart and fun teeth whitening app with an easy interface – all you do is move your finger side to side on the photo of choice to effect the changes you need to be done.
Besides whitening your teeth, BeFunky allows you to use filters, crops, and special effects to create amazing pictures. With this app, you can add a mustache, be a pirate, and change the background pr landscape.
Even more, is the ability to cancel using a photo after playing around with the app? The app is available on Android and iOS devices and comes with really exceptional features.
Features:-
Comes jam-packed with powerful editing tools including collagen makers, fonts, photo frames, overlay, stickers, and filter to create the perfect pics
Probably the freest whitening and editing app on the internet – no ads, no limitations, no registration required, BeFunky surrenders total editing control to you
Ability to work with up to 9 photos at a time
Plenty of fonts to choose from and state –of -the -art editing tools to whiten teeth, remove blemishes, wrinkles, broaden your smile, etc
Comes with 32 free photo effects for all you edit
Share photo instantly after editing on social media
Overall, BeFunky is creating a fun and free way to enjoy the best things in life – a bright smile and a happy face. If you can express yourself with BeFunky, you will see the world in a different light.
Download From Google Play Store
10. Perfect365 Teeth Whitening App
Get the latest tools to make your pictures, wow using the Perfect365 editing tool. This app is the best glam squad any girl, makeup artist, photographers will ever need in their pocket, purse, or laptop.
Available on Android and iOS, the app has over 50 million downloads and is the freest virtual editing app that will take your pictures from drab to fab within minutes.
The app is giving users total control of how and what they can change on their photos and with over 100 million users worldwide, they are surely turning the corners as the best teeth whitening and photo editor app on the internet
Perfect365 allows you to do anything – change your hair color, try a new and bolder look, makeup, or lipstick at the touch of a button.
As teeth whitening app, it offers dozens of features to retouch your photo and see yourself as no one ever imagines.
Features:-
The app is compiled by expects makeup artists hence you know you have the right app in your pocket
Constant updates of the app mean users enjoy the trendiest changes in the world
Create unique looks from hundred of style and special effect
Comes with a special section that gives user firsthand tips on how to apply makeup, blend and perfect it
Edit, save and share on all social media pages
Overall, Perfect365 is a girl's complete makeup squad that will transform you into a model within minutes. The best part is that it is free, and you get the best advice from renowned makeup artists across the globe.
Download From Google Play Store
11. Pixlr Teeth Whitening App with Free Photo Editor
Unleash your inner creativity with this fun and free editor tool that enables you to do quick fixes to your picture in a matter of minutes. Pixlr is the most professional editor tool available currently on the internet.
Available on Google Play Store and iOS devices, the app's huge inventory makes it especially useful for professional artists, editors, and photographers.
The app combines special color schemes, lighting, and filters to create the face you only dream of. It also comes with auto-correct features that help you improve on your imperfection without stress you out.
Features:-
A free app that needs no registration, just download and start editing
Enormous inventory with over 2 million combinations including filters, overlays, and effects to create that perfect picture
Create photo collage easily with pre-installed collage styles and settings
Adjust, tone, color, transparency to your images
Add beautiful texts to your pics with the array of font style on the app
Rearrange, whiten and broaden your smile and facial features in a matter of minutes
Overall, Pixlr is the teeth whitening app for selfie addicts or social media personality looking for the perfect picture every time. The extensive directory enables you to create something new with each edit.
Download From Google Play Store
12. Teeth Whitening App Tip
 This app by Fullfunapps is a Hindi based app that is offering users teeth whitening remedies from using essential everyday ingredients to will help you brighten your teeth naturally.
So not only do your teeth look white online in pictures, they actually look white and stunning in real life. Released 2019, this app has 4.4-star ratings, over 50,000 downloads in just 6 months.
So if you don't have the funds to book an appointment at the dentist's office; follow them and discover holistic ways to brighten your teeth and personality.
As mentioned, the app is in Hindi, but it is worth trying them out to make your teeth brighter in real-life and on photos.
Teeth Whitening apps usually never come on their own, most are attached with a photo editor tool to enable you to get the complete look, instead of just having a clean, bright smile.
There are hundreds of teeth whitening apps, and editor tools on the internet with many more to come as the world advances in technology.
These apps are mostly available on android and iOS devices, but some apps are compatible with laptops such as Mac and Windows giving artists and photographers who work with large pictures handle the quantities efficiently on their display devices.
It doesn't matter what device you are using if a smile will make your day and improve your self-esteem, then the teeth whitening apps listed here will help you achieve that celebrity red carpet smile in minutes.
Download From Google Play Store
We would recommend to watch Below YouTube video on 10 Natural Ways to Whiten Teeth at Home.