Offshore software development has become a popular choice for businesses looking to leverage cost advantages, access a vast talent pool, and achieve high-quality results. Among the top destinations for offshore development, Ukraine stands out as a leading player in the global software outsourcing market. In this guide, we will explore the benefits, challenges, and essential factors to consider when engaging in offshore software development in Ukraine.
Why Companies Choose Ukraine for Software Outsourcing
When it comes to software outsourcing, Ukraine has a lot to offer. Not only is it home to a large pool of highly skilled developers, but the cost of doing business in Ukraine is relatively low. As a result, more and more companies are choosing to outsource their software development needs to Ukrainian firms.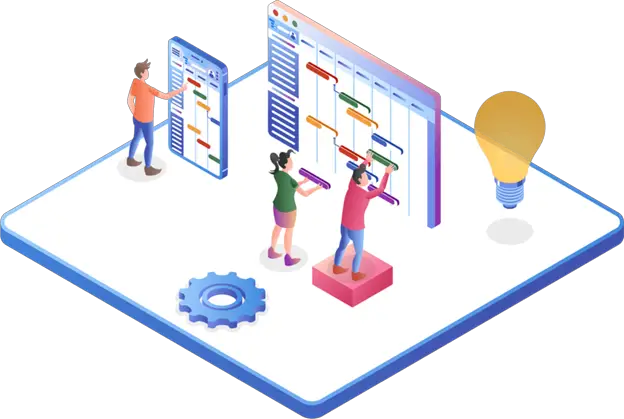 There are several reasons why companies choose Ukraine for software outsourcing. First and foremost, Ukraine has a large talent pool of highly skilled developers. In fact, the country produces more IT graduates than any other country in Europe. This means that there is no shortage of qualified individuals who can provide the services that companies need.
Second, the cost of living and doing business in Ukraine is relatively lower than in other Western countries. This makes it an attractive option for companies looking to save on costs. Additionally, the time zone difference between Ukraine and most Western countries is just +2 hours, which makes communication and collaboration much easier.
Finally, Ukraine has a proven track record when it comes to software outsourcing. The country has been providing these services for over 20 years and has worked with some of the world's leading companies. This experience gives Ukrainian firms the necessary expertise to deliver high-quality results that meet or exceed expectations. You can hire professional developers in Ukraine on this page.
Challenges to Consider
Offshore software development in Ukraine can be a great option for businesses looking to tap into highly skilled developers at a fraction of the cost of hiring locally. However, there are some challenges to consider before embarking on this type of project.
One challenge is timezone differences. Ukraine is six hours ahead of the US East Coast, which can make coordinating work tasks and deadlines a bit tricky. It's important to have realistic expectations about the level of communication you'll be able to maintain with your offshore team.
Another potential challenge is language barriers. While most Ukrainians speak English reasonably well, there may be some miscommunication due to cultural differences or language nuances. Again, setting clear expectations and open lines of communication can help mitigate these risks.
It's important to do your homework when selecting an offshore partner. Make sure you understand their process and how they work with clients. Ask for references and case studies so you can get a sense of their work style and quality. Doing your due diligence upfront will help ensure a smooth and successful experience with your offshore team.
Facts and Statistics on Ukrainian Developers
Ukrainian developers are some of the most in-demand outsourcing professionals in the world. Here are some facts and statistics on Ukrainian developers that show why they are so popular:
There are over 160,000 professional software engineers in Ukraine.

The average salary for a Ukrainian developer is $2300 per month, which is much lower than salaries in Western countries.

Ukraine has the second-highest number of IT professionals per capita in the world.

There are over 700 IT companies in Ukraine, including many global leaders such as Google, Microsoft, and IBM.

The Ukrainian government provides significant tax incentives for businesses that outsource to Ukraine.
Tech Skills of Ukrainian Developers
When it comes to tech skills, Ukrainian developers are among the best in the world. They are well-versed in a wide range of programming languages and platforms, and they have the experience and expertise to get the job done right.
Here are some of the most popular tech skills of Ukrainian developers:
PHP is a widely used programming language that powers many popular websites and applications. Ukrainian developers are well-versed in PHP and can help you create custom solutions that meet your specific needs.

Java is a versatile platform that can be used for developing a wide range of applications. Ukrainian developers have the skills and experience to build high-quality Java-based solutions.

.NET is a Microsoft development platform that is used for creating desktop, web, and mobile applications. Ukrainian developers have significant experience with .NET, and they can help you build solutions that meet your specific requirements.

Databases. Ukrainian developers are also well-versed in working with databases, such as MySQL, Oracle, SQL Server, and others. They can help you design efficient database structures and write efficient SQL queries.
Soft Skills of Ukrainian Developers
In recent years, Ukrainian developers have gained a reputation for being some of the best in the world. They are known for their strong technical skills and their ability to work effectively in teams.
However, there is more to being a successful developer than just having strong technical skills. Ukrainian developers also need to possess a range of soft skills in order to be successful.
Some of the most important soft skills for Ukrainian developers include:
Strong communication skills: Developers must communicate effectively with clients, managers, and other team members. They need to understand requirements and explain complex concepts in simple terms.

Time management skills: Developers need to manage their time effectively and meet deadlines. They need to be able to prioritize tasks and work on multiple projects simultaneously.

Problem-solving skills: Developers need to be able to identify and solve problems quickly and efficiently. They need to be able to troubleshoot errors and find creative solutions to difficult challenges.
Advantages and Disadvantages of Offshoring to Ukraine
Offshore software development is a popular option for businesses looking to save on costs. While there are many advantages to offshoring, there are also some disadvantages that should be considered.
Advantages:
Cost savings: Offshore software development process can be up to 60% cheaper than equivalent domestic options.

Access to key talent: Ukraine has a large pool of highly-skilled developers with experience in the latest technologies.

Flexible staffing: It's easy to scale up or down as needed when

working with an offshore company

. This flexibility can be helpful when managing projects with tight deadlines.

Improved efficiency: Working with an offshore team can help streamline processes and improve overall efficiency.
Disadvantages:
Communication challenges: There can be difficulties communicating across time zones and language barriers. It's essential to have a clear and concise communication plan in place from the start.

Cultural differences: There may be some cultural differences that need to be addressed when working with an offshore team. It's essential to respect these differences and consider them when making decisions about the project. 3) Lack of control: When working with an offshore team, you may have less control over the project than you would like. This can be frustrating if you're used to being hands
Tips for Successful Offshoring to Ukraine
Define your business goals and objectives. What does your company hope to achieve by outsourcing to Ukraine? Be specific and realistic in your targets.

Do your research. Learn as much as you can about the country, its culture, and the Ukrainian IT industry. This will help you choose the right software development partner and set expectations for your project.

Consider the time difference. Ukraine is in a different time zone than most Western countries. Make sure you take this into account when planning project timelines and communicating with your team.

Build a strong relationship with your software development partner. Have regular meetings and updates to ensure that everyone is on the same page. Establish a good working rapport to get the most out of your collaboration.

Manage expectations. Set realistic milestones and deliverables for your project. Don't try to bite off more than you can chew; scope creep can kill even the best-planned projects.
By following these tips, you'll be well on your way to successful offshore software development in Ukraine!
Conclusion
Offshore software development in Ukraine is becoming increasingly popular with companies worldwide. With talented developers at competitive rates, it's easy to understand why choosing this option for your development needs might be a great choice. We hope that our guide has provided you with enough information to make an informed decision on if going with offshore software development in Ukraine is right for you and your organization. So what are you waiting for? Let's get started!