If you don't know what Thingiverse is, first get a brief understanding of it. Thingiverse is a website providing a wider range of resources to configure and share 3D printing blueprints by the makers.
It was started in 2008 as a MakerBot partner and has remained one of the most popular 3D printer interaction systems ever since. People relied on their clear and tidy design to get affordable printables, correct printing information, and understand many instances.
Unfortunately, maybe due to their popularity, the Thingiverse pages typically have long wait times. When you expect three or four designs tied to a high subject to be checked out efficiently and quickly, this could ultimately detract from the consumer experience. 
Thingiverse has a plethora of worthy opponents in terms of diversity, quality, and quality. But there are a few more ones you must give a shot at. Here is a brief on the top 20 Thingiverse alternatives worth your time.
Best Thingiverse Alternatives – Our Top Pick👌
1. MyMiniFactory
MyMiniFactory began operations in 2013 and has continued to grow organically since then. Visitors to this website were first only given access to a few 3D designs, but more and more 3D designers could freely share their work as time passed.
Around 60,000 different 3D designs make the selection comprehensive and economical.
Additionally, unlike Thingiverse, this one requires each file to get through a software test and get tested after being printed by the community before the release. As a result, any printing errors can be minimized.
In 2018, MyMiniFactory launched an online store, which is rapidly growing in popularity and provides users with a practical way to profit from their inventions. Additionally, this website offers a fun competition feature.
Users may also compete using their designs and win some cool rewards. Because new contests are held regularly, you should always stay informed as a user.
As a MyMiniFactory user, you can also contribute by uploading a scan or an inventive concept, which the community may assess and discuss.
MyMiniFactory offers a variety of free and paid 3D designs, many of which are reasonably priced, and thus, it is one of the best Thingiverse alternatives. The user interface is incredibly straightforward and minimalist in design, and it provides quick navigation and enticing information to over 270,000 users.
2. CGTrader
CGTrader began as an online trading platform in 2011. The 3D designs were bought and sold here, with users reviewing the 3D designer content in advance.
The capacity to convert 3D formats into equivalent 3D content is one of the services CGTrader provides to consumers and online traders. After that, they can be used for augmented reality or other presentations.
This website has an extensive collection of over 950,000 high-quality 3D models that can be downloaded for free or paid for. Therefore, you can be assured of finding the perfect and ideal model for all the users.
Augmented Reality Marketing and 3D solutions for your website - Modelry
It should be underlined that free designs can equally impress with a high level of quality. Additionally, the advanced functionality of trader loyalty discounts can be employed for purchases and is marked with a piggy bank icon.
This option is exclusively available to regular customers and is intended to reward and motivate them to make additional purchases. CGTrader is simple to use and offers a project-oriented approach and a user-friendly interface.
There are several different subheadings under each drop-down menu. This makes it simple to spend hours looking through each part in depth.
Individual users can participate in a variety of challenges that encourage community participation. Many various topics are explored here, allowing any user to participate.
3. Cults3d
Launched in 2014, the Cults3d website was the first independent marketplace to provide 3D files, and it has also traveled a long way since its launch. It has over 800,000 members who can choose from 85,000 distinct 3D printing designs.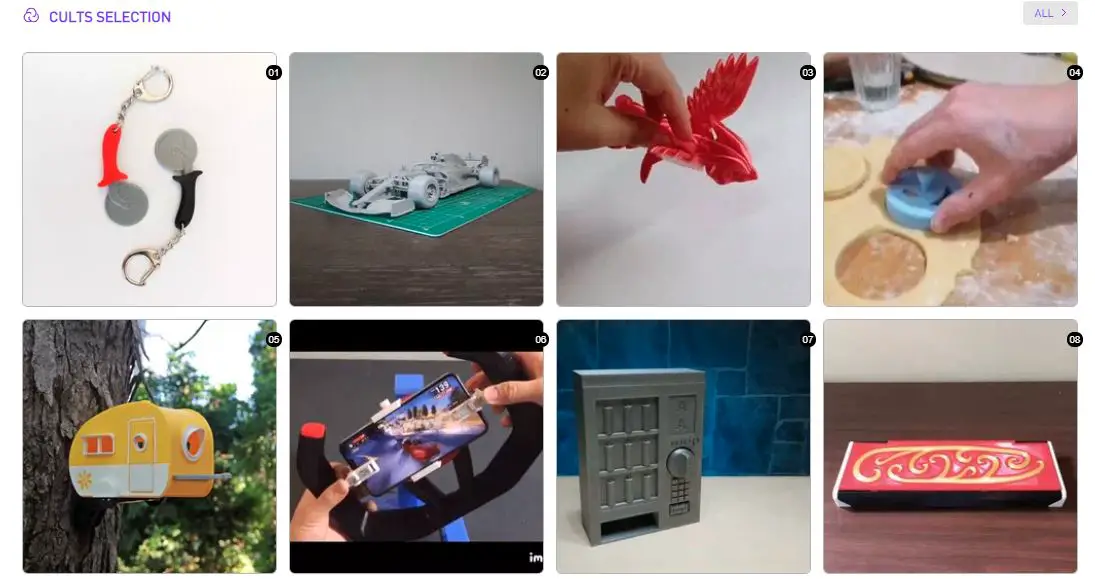 These are incredible numbers, especially considering the small management team of three. Several special deals, including discounts and sales on 3D printers, filaments, and cheaper accessories like the blue tape, also help the Cults stand out of the pack.
All essential accessories required for their 3D printer are housed and highly convenient for consumers, making this one of the most recommended Thingiverse alternatives.
There are also a variety of contests hosted at various times to put your talents to the test. You also get to win some amazing rewards for making a prize drawing. There's also a helpful blog with intriguing material.
Cults is distinguished by a simple user interface that includes high-resolution photos. Unfortunately, the free designs on this website can't be readily sorted out of the extensive overview like they can on other similar websites.
4. Pinshape
Pinshape was created to make 3D printing simple and enjoyable for its users. The company is an online marketplace connecting people with designers.
As a result, designers at all levels may showcase their talents in an exciting and expanding community, while manufacturers can choose from a choice of designs.
In addition to the countless designs available, a helpful rating tool allows you to rank projects by popularity.
You may filter designs by numerous parameters using a tab on the left side of the user interface. Both free and premium plans are included in the filters. You may also sort the designs by category to get only the relevant areas to your search.
An instructional center is also available on this website, which comprises special software and hardware projects and professionally organized courses, and rich post-processing information.
This portal also provides advice and knowledge on various printers, assisting customers in selecting the best model for their needs.
5. 3Dfindit
3Dfindit.com is the next dimension visual search engine launched in 2019. It offers over 5,000,000 free 3D CAD & BIM models from hundreds of manufacturer catalogs worldwide for architecture, mechanical, electrical, and electronic engineering. 
The search engine was developed to reduce search time and increase engineering and construction efficiency, so it was created as a platform for architects, planners, engineers, and designers. 
Many catalogs offer more than 150 different neutral and native CAD formats such as Autodesk Revit, Nemetschek ALLPLAN, ArchiCAD, Autodesk Inventor, NX, Solid Edge, PTC Creo Parametric, AutoCAD, CATIA or SOLIDWORKS. 
The following search functions are available:-
Parametric Text Search




High-performance full-text search that offers suggestions for alternatives and corrections and allows logical operators (e.g.: D < 12).

 

3D Shape Search




Finding geometrically similar parts based on a reference part

 

2D Sketch Search




Receiving suitable results by sketching a simple 2D drawing

 

2D Photo Search




Finding similar components by uploading a component photo

 

Color Search




Filtering components within the parts library based on the color 

 
Feature/Topology Search




Finding components with the same properties and dimensions

 

Search by Category




Filtering components according to categories like DIN / ISO / eClass

 

Class 2.0 Search / Reverse Search




Finding a match of already existing components in component libraries

 
3D printing parts are mostly offered HERE, but you can also find very informative step-by-step tutorials which include 3D models available in the same folder.  
6. YouMagine
YouMagine is also one of the most preferred Thingiverse alternatives. It allows users to produce CAD and 3D files easily and is specially built to mix and match current designs in new ways.
However, every attempt is meant to safeguard the original designs more and more. Furthermore, the shutdown policy ensures that any potential violations of the prohibition on copying originals are thoroughly investigated.
On YouMagine, you may find over 16,000 free 3D designs. Although there aren't as many as on Thingiverse, the quality and scope of what's available are superior, making YouMagine a worthy competitor.
Users may also select the most popular or recent designs by category or using the tags with other users' recommendations.
The portal also includes manuals for various 3D printers, essential maintenance advice, and tutorials to assist newcomers with 3D printing. As a result, users receive access to a new level of experience and focus solely on printing by extending their printer handling skills, which is a huge benefit.
Educational institutions and developers are also interested in YouMagine. The necessary parties will receive their email address from participating as a developer or academics.
They can use this address to communicate and engage in projects related to their field of study. The website also includes a helpful blog area that provides practical, up-to-date information, such as new brands that designers have lately introduced.
The blog can be sorted into categories. You won't need to scroll through as many articles this way. The blog is also updated regularly.
7. 3DExport
3DExport is another well-known competitor of Thingiverse and is one of the best Thingiverse alternatives available in the market.
This platform, established in 2004, is the market leader, with over 200,000 different designs and over 500,000 members worldwide.
Several high-quality instructional tools and projects cover various topics, including physics, astronomy, engineering, the automotive industry, biology, and mathematics. You can filter the results using this drop-down menu and choose between premium and free 3D designs.
The multiple lessons that walk you through a previously recorded setup step by step are a bonus. Users can carefully investigate processes and expand their knowledge in this way.
In this approach, the chances of future successful ventures are increased. In addition, the tutorials can be paused and rewound whenever you like. The 3DExport sales model allows designers to keep up to 85% of their income.
This cost is also more competitive, and you may have a harder time finding a better deal elsewhere. Furthermore, designers are not bound by an exclusive agreement and are free to distribute their work on other platforms at any moment.
Users who have trouble obtaining the file format they require may benefit from 3DExport's ability to convert the available formats to meet their requirements.
Furthermore, all purchases are covered by a money-back guarantee if the guarantee is exercised within 24 hours of the transaction.
8. 3Dagogo
Users can browse designs in a variety of categories on the 3Dagogo portal. These range from more functional methods to beautiful and creative models and are accessible for both cost and free.
As a result, users can now experiment with both ends of the 3D printing spectrum.
AstroPrint 3D Printer Management Platform
Special protection measures help both designers and buyers equally. Furthermore, the community help center can answer any questions that may occur.
Astroprint and 3Dagogo are also partners. This gives you the unique ability to cut, store, and print 3D files from any Internet-connected device. Users can also use the cloud to organize their designs.
9. GrabCAD
This website has an exceptionally user-friendly interface, reflecting the type of platform it is. GrabCAD has come a long way since its humble beginnings as a simple community for sharing 3D creations.
Moreover, various professionals and businesses utilize the platform for collaborating on 3D designs. However, it is not perfectly ideal for hobby printers. It's mostly a CAD site focusing on models that can't be replicated with a home 3D printer.
GrabCAD, on the other hand, still has a good collection of 3D printer designs that users may download for free. The GrabCAD community, on the other hand, is unrivaled in terms of quality and is one of the most preferred Thingiverse alternatives available globally.
It allows for developing a professional platform and includes manufacturers, professional 3D designers, engineers, and students. In addition, individual members of the community are accommodating and knowledgeable. 
GrabCAD distinguishes itself from the competition by providing an online workstation. Individual teams will be able to collaborate on the same project as a result of this. All the group members may access the same file library and share or edit them.
The online workbench also serves as a way of communication for the team members. This eases internal project conversations and makes the platform a perfect collaborative 3D designing tool.
10. Repables
Repables is a 3D design platform that is community-driven and is not affiliated with or influenced by third-party 3D printer manufacturers. As a result, it's arguably the most straightforward source for getting free 3D models.
When you sign up for a Repables account, you'll be allowed to upload a 3D model to the website immediately. As a result, the website's library contains many 3D models.
However, the uploaded designs have little to no quality control. As a result, don't be shocked if your chosen method has an error once it's sent to your 3D printer.
Repables also have the drawback of not providing explicit recommendations for the optimum printer settings to employ for each design.
This is especially aggravating if you don't want to spend significant time and effort painstakingly adjusting your printer settings to achieve the best results.
Repables aren't one of the most incredible places to look for 3D print designs, as you can see. However, all the sets of designs are available for free for users.
11. Treatstock
Treatstock is a multifaceted platform, including 3D printing and CNC machining capabilities. It also provides customers with a library of files for 3D printing.
You may upload your files to the platform and create a professional model if you don't have a 3D printer. Another intriguing feature of Treatstock is the ability to provide your services.
How to become a manufacturer on Treatstock
You can set up shop as a manufacturer and offer 3D printing services to others using Treatstock. You only need a 3D printer and can then satisfy other people's 3D printing demands.
12. PrusaPrinters
PrusaPrinters is a smaller database than others, but it is well-managed and rapidly expanding. Because the database is still relatively fresh, the number of duds and old models appears below.
However, the search engine and user interface are both excellent, and the connection is consistent. Prusa Printers is the companion repository to Prusa Research, as you might imagine.
The designs are all entirely free, so it's an attractive option if you want to avoid paying for anything.
There are over 40,000 designs on Prusa Printers, with subcategories and criteria such as printer model, nozzle diameter, printing time, and filament quantity.
For speedy prints, the option to search for pre-sliced models (G-code files) is quite helpful. It is one of the most preferred Thingiverse alternatives globally available.
Prusa Printer's blog has a wealth of helpful information, instructions, and, of course, Prusa Research updates. They host regular design competitions with Prusa-themed prizes, which typically include a 3D printer.
They have most of the standard community features, such as likes, collections, and remixes; however, they don't have any makes. However, they have "user print files," which help discover pre-sliced versions of a file or minor alterations that don't qualify as a "remix."
They include a group option, similar to Thingiverse, so you can follow communities or themes of interest and remain up to date on the latest ideas.
13. 3DVIA
Are you interested in interior design? 3DVIA allows you to create and share 3D home models with the rest of the world. You may also check the layouts for ideas for improving the image of your organization.
Check out the homepage's warehouse, which allows you to customize and exchange design elements. 3DVIA is one of the top-most recommended Thingiverse alternatives to which you must give a shot.
14. Instructables
Instructables are distinct from the other pages we've seen thus far. In their 3D printing category, you'll find many exciting projects, which I define as tutorials and guides that explain how to make something.
Numerous projects are available for electronics enthusiasts, and numerous learning courses for both beginners and specialists, making it one of the top thingiverse alternatives available globally.
The platform also has courses covering everything, including the 3D printing fundamentals, 3D scanners, and how to use them. They provide a wealth of free knowledge to everyone, and the platform is fantastic if you enjoy building things.
15. Free3D
Another site where users can buy and sell their work is Free3D. Their extensive portfolio and you may find a wide range of 3D models. The website provides any 3D work, including animations.
This site is perfect for helping you find real-life replicas of any object you imagine. Because it is not possible and feasible to print every 3D model, you must use the 3D printable option for filtering results.
It is also one of the best Thingiverse alternatives available in the market.
16. NASA
NASA maintains a free CAD library that includes 3D representations of its technology and monuments—making a model of the moon landing.
You'll quickly discover comprehensive models of the moon's surface, lunar landers, spacecraft, rovers, and whatever else you need here.
Although not all of these designs are suitable for 3D printing, NASA is attempting to assist fans. They include a section for 3D printable designs, with markings indicating files that have been confirmed.
They also provide an email address for reporting any problems with 3D printing, presumably so they can alter the designs or pass on what you learned.
17. African Fossils
African Fossils is a non-profit organization dedicated to using modern technology to educate the public about prehistory.
They maintain a publicly available archive of high-quality fossils scanned using photometry with a mounted SLA camera. Even though the files are not explicitly designed for 3D printing, hobbyists may readily use them.
Because there are so many files to look through, African Fossils divide their scans into hominids, animals, and tools, allowing users to limit their choices by fossil age. Want to print historically accurate human skulls? This is among the best Thingiverse alternatives where you should look.
18. NIH 3D Print Exchange
Take 'fighting sickness' to a whole new level by printing molecular models. The National Institute of Health's free biomedical CAD library is the NIH 3D Print Exchange.
The NIH 3D Print Exchange
They host open-source scientific designs such as anatomical and molecular models and models of useful labware. Users shouldn't have to dig through erroneous or badly optimized files to locate what they're looking for because the designs are curated.
A few tutorials on the website are oriented explicitly toward designing biological 3D models to assist potential contributors. There are also more community elements, such as a forum, than similar public databases.
They've been able to designate which designs are needed by the healthcare community and which demands have been met, preventing their database from becoming clogged with thousands of model variants that aren't required.
19. TF3D
The best place to get free 3D models is TF3D. The most notable feature of TF3D is the inclusion of models and designs from various tools, including Blender, Maya, FBX, 3ds Max, etc.
TF3D also offers premium 3D models, which start at $6. Plants, human characters, human organs, and other challenging 3D designs are available in TF3D. It's one of the most excellent Thingiverse alternatives. You can upload your designs and earn paid through the platform if you are a 3D designer.
20. TurboSquid
Turbosquid is another wonderfully designed website to obtain STL files for your 3D printer. First and foremost, the website features a stunning interface that will immediately fascinate you.
In addition, everything appears to be well-organized and arranged. Because it focuses on digital content development rather than just 3D printing, it offers over 850,000 free and paid models. TurboSquid is among the most recommended Thingiverse alternatives that you must try.
There are, however, STL files to be found there as well. So all you have to do is search for "STL files" or "3D printing", and you'll be ready to go. Higher quality indeed comes at a premium. As a result, most of the designs on our site are of high quality and arrive at a cost.
Aside from that, there are some excellent free models that you may print right now. With a "best pricing" promise and 24/7 customer service, Turbosquid ensures 100% client pleasure. The funds you make to purchase designs are also completely secure.
21. Gambody
Gambody is a high-end marketplace for buying and selling STL files of video games and comic book models. Its files are all high-ploy and error-free, and they're optimized for all types of 3D printers.
As a result, the site claims to have the world's most extensive collection of video game and comic book model files, with hundreds of new files added daily to keep up with the latest trends.
All of the model files on this site are divided into different categories, each with its own set of files you can freely browse and purchase.
It also allows you to use various premium tools to construct your STL files, such as shapes, poses, races, mounts, and other things, and develop your import goods to make them better than others.
The site's layout is straightforward, allowing you to search its database and quickly add new things. A daily update with new designs, bargains, support for several currencies, an advanced search box, an expert guide, and other features are among Gambody's most significant features.
📚FAQ
What can I use instead of Thingiverse? 
MyMiniFactory, CGTrader, Cults3d, 3Dfindit, Pinshape, etc., are some of the top Thingiverse alternatives you can try to get all types of digital designs for various physical objects at very affordable prices.
Are thangs better than Thingiverse? 
They are among the greatest 3D file storage services for good reason, and Thangs and Thingiverse are comparable in several ways. But Thangs would win my vote mainly due to its Workspace collaboration features. 
The 3D printing market is continually developing. It has advanced significantly in recent years. However, the truth is that this sector is still expanding.
Therefore, a strong feature like Thang Workspace is a benefit that enables real-time communication. Additionally, it advances the 3D printing market as a whole. 
Is it legal to sell things from Thingiverse? 
Thingiverse encourages users of its platform to apply for a Creative Commons license for submitted models.
One of the public copyright licenses that permit the unrestricted dissemination of a work that would otherwise be protected by copyright is the Creative Commons license. 
The Thingiverse website says, "In the spirit of preserving an open platform, all designs are encouraged to be released under a Creative Commons license, meaning that anybody can use or edit any design."
Designers can, however, add additional restrictions to the Creative Commons license, including banning the selling of 3D prints created from digital models.
Most Thingiverse designers have chosen to limit the use of their creations to non-commercial uses only.
Non-commercial objects can be 3D printed for private use but cannot be sold. The licensing remains the same whether you paid for the file or downloaded it for free. 
Wrapping Up
For all your 3D printing design requirements, there is probably a platform to meet all your requirements. Whether you're a seasoned veteran or a beginner, there are plenty of Thingiverse alternatives to choose from.