In this post, we are going to talk about Thunderbird alternatives and why do you need a good thunderbird alternative, and more. 
Thunderbird is a very popular and the cheapest source of electronic mailing and was basically initiated by Ray Tomlinson in 1971. As we all know that how our lives have been changed just by simple means of communication through E-mail, whether for day-to-day personal use or for business purposes. 
After a quick introduction now, we need to be informed about what we are going to read and that is all about Thunderbird and Thunderbird Alternatives.
Mostly Thunderbird is used for business deals. Approx 25 million people are using it today, millions and billions of emails are sent and received every day. 
Globally the use of the internet eventually increased since 1990, the new launch took place in the name of Netscape Navigator in 1994 (was an amalgamate web browser as well as an email patron) though was more advanced as Netscape Communicator in 1997.
The organization was being garnered and likely introduced the more advanced version in 1998 as the Mozilla App. 
In due course the Mozilla App was divided into separate editions in 2004, one was the Firefox browser and the other was the Thunderbird email.
Both were found successful as their use continuously increased but unfortunately, Thunderbird's use was slowly and gradually come to an end in 2012 whereas Firefox is still alive among the users. 
It includes the one-click Address Book which is the smartest way to attach people to your address book. Might be wondering how can we get attached in a quick and easy way?  It's as simple to add people by just clicking on the star icon in the text you receive. 
Just two clicks and you are all set to add all details like information related to birthdays, a picture, and other contact information. Now another smart feature that helps you to convert the look of Thunderbird quickly.
Even you can get the facility of the dark theme which makes you comfortable to manage your email comfy on the eyes. Also includes the light theme, both are available here. 
If we talk about the folder where we can get the time-saving folders that help you to manage multiple email accounts by joining unique folders like your Inbox, Sent, and Archive folder. It provides the facility of seeing the incoming emails in just one inbox folder. Among all its other commonly known facility is that it secure and protect your email. 
Have amazing support for user privacy and remote image protection facility. To protect a user's privacy Thunderbird itself stop remote images in your email messages. 
Nevertheless, Thunderbird is still alive in 2022 without having any updated features just as the bygone mode of tool. If being among the 25 million users of Thunderbird one is chaotic then one must know about the hardiness of Thunderbird. 
Advantages of using Thunderbird:-
It can easily be used in all work station, So can be used over Windows, Mac, as well as Linux. 
Definitely easy to use as it connects an email address to an email holder. After entering your name, email, as well as password it will update the rest itself without taking much of your time. 
It includes high-security which protects emails involving spam filters, firewall, and antivirus. Users can send heavy files with the help of pCloud for Mozilla Thunderbird.
It is very prominent in design still has more flexibility. Here you can archive a simple email. Also, you can use multiple tabs for navigation. 
Proper Maintenance and Arrangement in Thunderbird:-
Tons of useless emails disturb our important mails to be focused upon. We are desperate to know the ways to get rid of such emails which get archived or set as spam, wasting our enormous time every day for no reason. 
Thunderbird is the tool that allows you to save your time by arranging the mails properly by amalgamating folders. Not only it can manage your messages itself but also allows you to do so. As many of us have our own rules and regulations of arranging or can say decorating our own personal mail. 
Many of the features are run automatically so that if we are in lack time, it can be done itself. Even you can have your own folder for many features like search etc. 
First Advanced Application:-
If we talk about spam messages Thunderbird uses AI to get rid of spam emails as it gets informed by artificial intelligence mechanisms. More interesting is that encryption is also there in Thunderbird. 
Its uses are free, being used for retrieving the email. Also can send or receive large files up to 2GB and that too free. Lastly, it can be said that it is open-source to be used. 
Why do I need alternatives: Quick Disadvantages of Thunderbird 
This section can be the reason why you are looking for thunderbird alternatives. 
It can be said that in comparison to other Apps it is outdated, pretty much more than any other app on our list, hence, the need for its alternative is quite necessary. 
From 2004 to 2012 when it comes to an end, it can be seen that not many updates took place in its version. 
A very big drawback is that till now we don't have its Mobile Application as the world has become so modernize and among all the fastest means of communication we have, here Thunderbird is very backward by not having its advanced version of the mobile app. 
It can be said that development or modernization is very slow in spite of focusing on security.  
Best Thunderbird Alternatives: Our Top Pick👌
1. Spark
Spark is free for Mac, ios, Android, and Windows users. Its common and well-known features are mostly used by the business account. 
More attractive features include highlighting the emails which are not read or responded to. A quick reply facility is available to save your time. 
You can use advanced search to enable you to put down search results. It is a bit similar to Mailbird. One of the smartest email app along with lots of good features can add multiple attachments from the cloud. 
It is all the way free for Mac, the app offers folders, tags, and flags, but rules are missing over here.
Although developed or modernize criteria are present, which allows people to easily put down the search outcomes. 
Work better as a team with Shared Inboxes in Spark
2. Mailbird  
Mailbird basically works for Windows, one of the best email users also won the award for it. It's the email client that works flawlessly with IMAP, POP3, particularly perfect for Google Workspace as well for Outlook users, along with Mailbird.
People using Mailbird have enormous facilities like they can store their personal and business emails separately.  
Mailbird's most prominent facility at present time is Whatsapp and Slack for quick exchange of messages including media, files, documents many more. You can make folders too for easy and quick search. 
Mailbird is at the moment resent for Windows only but the mac version is coming soon. You can buy it just for $79 from the official website, or purchase an annual subscription along with updates for $39. 
You can work by saving your time with the help of so many smart features- like snooze and send afterward-are made to help the user work instantly through their inbox. 
Moreover, Mailbird also includes a wide range of third-party services, much of which are not available on Thunderbird.  
3. Microsoft Outlook
Here don't need to specify more as most of us are well aware of it. It works on Windows, Mac, iOS, Android. The most prominent feature is it is connected to Microsoft's different apps.
Not to mention, Outlook is definitely one of the most popular Thunderbird alternatives. So, let us see how it is better than Thunderbird and is it worse than it? 
Generally, it's most of the well-known features match Thunderbird. If you have Microsoft Office, then Outlook will automatically be installed on your device. 
Microsoft Outlook is available on mobile apps whereas Thunderbird is still lacking mobile devices facility. 
Where Thunderbird seems outdated, Microsoft Outlook represents the appearance as well as feeling of the common Microsoft apps like Word and Exel. By touching just a button its ribbon bar facilitates the most used features. 
The newest search and email regulations present in it work the same as Thunderbird's.  
You can have a healthy ecosystem of endorsements just for the tailoring of capable apps. Even though it protects or saves you from junk mail by filtering it and blocking remote images. Those 365 Microsoft users who are being subscribed to it use the Windows client.  
4. Airmail – Lightning Fast Mail Client
Airmail is one of the best email clients for Mac. All the way good to use as the general features are free to be used while Airmail Pro and Airmail for business purposes are chargeable. 
Airmail is present for Mac and iOS, the common features are free, whereasAirmail Pro is priced at $2.99 per month or $9.99 per year. And if we talk about business it is priced $49.99 at once while purchasing. 
Here you can access most of Spark's planned features as swipe actions, unique inbox, snooze, and save for future use. Also, you can get the modern features of Thunderbird which include rules, email filtering, and large search criteria. 
Folders, tags, and flags are being organized for further use. You can tick the messages which can be marked as To Do, Memo, and Done, that offer you to use Airmail as a quick and easy task manager. 
Advanced assistance for third-party apps is present here. Although very simple to send messages. 
5. eM Client
eM Client is accessible for Windows and Mac, it is chargeable as it costs around $49.95. It presents almost the maximum number of Thunderbirds features with limited litter and advanced interface. 
eM Client offers you the updated search also search folders beyond Thunderbird. You can have your own folder, tag, and flag. You can get the emails encrypted and filter spam messages. It has a clean and effective user interface. 
It is priced at $49.95, or $119.95 with a whole life improvement directly from its official website. Here you can manage and organize your messages with the help of folders, tags, and flags. Modern search criteria and search folders are available rather than Thunderbird. 
Few common features which are present in Mailbird as well as in Spark are also present over here. For example, you can speed up your inbox, snooze emails that you want to see afterward.
So, if you are looking for a service that is even more capable than thunderbird, then is one of the thunderbird alternatives that we would definitely recommend, considering you are ok with the extra charges. 
6. PostBox
Next up, on our list of the best Thunderbird alternatives, we have PostBox. It is accessible for Windows and Mac. It offers some advanced features as you can point out particular folders as favorites for quick action. 
You can get the fastest and strong search which includes files and images. Here to Encryption is available just like others. 
It has been created especially for those who like to be up to date. The interface can be tailored. The subscription fee for it is around $29 per year or else you can buy directly from its official website at $59. 
Here you have the advanced facility of fast search including files and images. With just one click you can get quick access to an email with the help of Quick Bar.  
7. MailMate
Mailmate is One of the finest Email Clients for Mac, as it is an influential email client. It enables to send of plain and simple emails. Here the email headers can be clicked easily. Just by clicking on a particular email address, all the mails available from that will be shown on your screen. 
It is stylish though comfy to use. If you click on the subject line quickly all the emails from that particular subject will be displayed. The MailMate can be purchased at around $49.99 directly from its official website.
MailMate is definitely one of the most aesthetically pleasing Thunderbird alternatives, but you should go to their official website and see each and every offer before making a decision, as you are going to be using this service not presenting it or on it. 
8. The Bat
The Bat is One of the slightest used apps among all in our list of the best Thunderbird alternatives. So you might be confused about the superiority.🧐
But, we decided to show you some of the best services that can replace thunderbird, not the most famous alternatives. 
It enables privacy and security as encryption concord is all set to use. The Bat is accessible for Windows.  
One of the best features of The Bat is that it has MailTicker which informs about the upcoming emails. Mostly The Bat is used by those who very stick to their security norms. 
The Bat can be purchased instantly from its official website at a price of around28.77 euros, whereas The Bat's professional costs are high. 
9. Canary Mail
Canary mail is known for its security but not as good as The Bat. Accessible for Mac as well as good for Mac users especially those who are security conscious.
Unlike, it's easiest easier. It consists of many strong features, Likewise above 50 alternatives are present in Canary Mail, but among them, the best alternative is the Thunderbird which is free as well as open-source. 
10. Unibox
Unibox is one of the distinctive apps among all others we have in our list of Top 10 alternatives. Gives pleasure in mailing as it focuses more on the one who is using it rather than the emails. 
It makes it, easier to find a particular mail from a bunch of hundreds and thousands of emails rather it shows the people from whom you have received the emails. It gives the feeling of chatting apps that can be fun-loving to be used. 
11. EssentialPIM

 
Email clients are not bound by just management and sending emails in modern times. With the new technologies integrated with email apps, millennials seek better integration to encompass all activities under one umbrella.
EssentialPIM has been thoughtful in this regard and has emerged as an alternative to Thunderbird and MS Outlook. 
EssentialPIM is a cross-platform utility that guarantees the privacy of users' data with its PGP encryption along with features of handling multiple email accounts, email printing, setting signatures, or setting a particular time to send emails.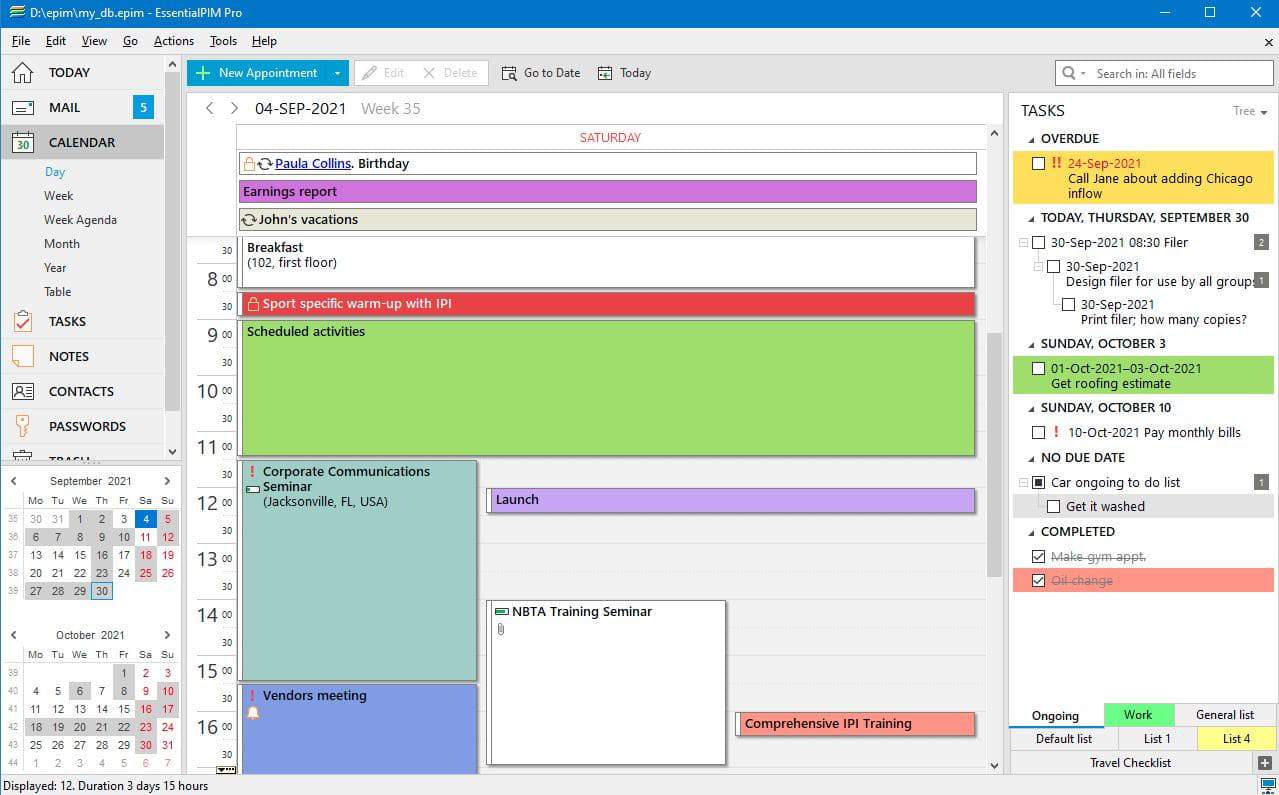 With various tools like sorting, categorizing, and even filtering, EssentialPIM provides total efficiency to the user. Whether it is Gmail or any other service provider, EPIM provides an overview of all the email accounts in one place, so you do not miss an important notification.  
Data management is not burdensome anymore with EssentialPIM as despite handling email messages it also allows you to work with calendars, tasks, notes, contacts and password entries.
It offers synchronization with many popular cloud services such as iCloud, Dropbox, Outlook for Microsoft 365 and many others. The cross-linking and tagging feature for users' data ensures that even a single change reflects in associated areas of related items. 
The Pro version of EssentialPIM is available for a free trial, where users can use the full features of this software for 30 days. After the expiry of this period, it can be availed as per the user's requirements.
EssentialPIM Pro regular license is available for $39.95 (with one year of free updates), and a lifetime license is available for $79.95 (with lifetime updates). 
 Final Notes on alternatives to thunderbird
As of now after a complete description of Mozilla Thunderbird, we have reached the conclusion that it is one of the obsolete email clients till now which is present. It provides lots of powerful features as well as a healthy system of addition. 
Nevertheless, it seems to be quite outdated as it is no longer in present use. So is the reason why it is not being commonly used among the people.  
That is why we brought to you this article and came with our top picks for Thunderbird alternatives and know we are going to give a final conclusion, so, that you can get a clearer idea. 
Let's start with the Mailbird, so we know that it is a very simple alternative to be used for Windows, whereas Spark does the same on Mac.
Both are slightest and modern app which allows you to get the work of cleaning your inbox while removing distractions.  
eM Client for Windows and Mac and Airmail for Mac both have an equal balance among power and usability. Both offer a litter interface than Thunderbird which still retains most of its power. 
People using Microsoft  Office must also consider Outlook, which is an email client with a similar Microsoft interface and similar features to Thunderbird.
Among there are those who aspire to power users can have fun-loving extra features and configuration options which PostBox for Windows and Mac, MailMate for Mac, and almost even The Bat for windows. 
It is been 47 years since we are familiar with email and of course using it. Approx 98.4% of users who check their inboxes every day relating it to be the most crucial business tool. Most of its inboxes are filled with- businesses, as well as customers at present approx 269 billion emails, are sent daily. 
From all the greatest news is that every Mac offers a simple email client- Apple Mail. It manages multiple accounts, which are as simple to use, and its integrations focusing on emails make it very easy to find it. 
I can share with you my personal experience while writing these reviews I loved it while exploring more and more all the alternatives as well as MozillaThunderbird. 
It was a great experience to use Airmail for quite a few years, I was in search of something better which might have come along.  
So I got to know that something better has come so far, and now I concluded that Airmail is still one of the best management of features for our needs 
Spark provides a minimum interface that helps you to go through your email. Afterward, there's MailMate, which won't qualify for any contest but has more power than any other email client for macOS- at a cost.
Now there are others that may be interesting for you if your priority is related to privacy and security, or the Microsoft ecosystem. 
In the end, all I can say to each is their own. So, pick wisely as nothing in this world is perfect. Hopefully, now you know which one to choose from our list of the best Thunderbird alternatives.