Today, we face many difficulties while uploading various documents due to the size of the file or image. To overcome these issues, many websites and software offer their customers to reduce the image or file size with just a click.
One such site is TinyPNG, which is an online website specially designed to help you with reducing the size of an image.
TinyPNG uses lossy compression or "smart lossy compression techniques". It reduces the image size by compressing the quality of the image. There are some drawbacks of using TinyPNG as well such as it only supports two formats- PNG and JPEG, you can't upload images more than 5MB, etc.
But you need not worry, if you are looking for the best TinyPNG alternatives, here we have brought a list for you!
Let's get started!
Best TinyPNG Alternatives: Our Top Pick 👌👌
1. Kraken.io
Kraken.io is an ultra-fast image optimization and image compression app designed specially to save your time and picture quality. It is one of our favorites and also the best TinyPNG Alternatives on this list.
The app comes with a free trial plan along with a bunch of five paid plans starting at just $5 per month. Kraken.io not only helps in compressing or reducing the file size but also has an advanced algorithm that optimizes the image and helps you make your website load faster.
Here are the features of Kraken.io that make it to add to our Best TinyPNG Alternatives list.
Optimize multiple images at one go

You can paste a list of image URLs into a simple text area and Kraken.io will download them all, optimize them, and give you back a ZIP archive. 

Resize your images

Upload a ZIP archive by just dragging it to Kraken.io's web interface

Has a world-class webhook delivery system for simple event callbacks.

Provides Cloud storage, everything you optimize is instantly stored in the cloud storage

Customer Support
Why Kraken.io is better than TinyPNG:
Does not make the quality of the image poor.

Helps is image optimization and decreases website loading time

In the pro plan, you can optimize images up to 32 MB each. 

It enables you to download all the compressed files in .zip file format
2. Imagify – image compression tools
If you are looking for a website or software or an app which helps you to reduce the weight of your pictures without reducing the quality, then you must try Imagify. Imagify is a WordPress plugin that is known worldwide for providing the best image optimization.
This WordPress plugin helps you to lighten the weight of your images and make your website run and load faster.
Your website might get slow due to the heavyweight of images, so to avoid these glitches Imagify offers its customers to compress and reduce the weight of their pictures before adding them to their webpage. Imagify has a free trial plan and the monthly subscription starts at $4.99.
Here are the features of Imagify that make it to add to our Best TinyPNG Alternatives list.
Easy to use interface

You can optimize all your images from your WordPress dashboard.

Reduce the weight of the images with just a single click

Supports JPG, PNG, GIF, and pdf format

Easy restore of images after compression if backup option is enabled.

Free Trial Available

Easily set up a free account and dive in to start optimizing your images

Imagify uses its server to optimize images which help to fasten up your page or website loading

Directly use with WordPress
What makes Imagify different from TinyPNG?
Although the work both of them provide is the same but here are some key differences that make Imagify better:
Restore images after compression

It can be used through the dashboard, a plugin for WordPress, Magneto, and API for a custom product.

Does not reduce picture quality
3. Optimizilla – image optimization like tinypng
Optimizilla is a very simple online image optimizer. It works on a smart combination of the best optimization and lossy compression algorithms which help you reduce or shrink your JPEG and PNG images.
The biggest advantage of using Optimizilla for reducing the file size is that you can optimize and compress up to 20 images at a single time and what's more interesting is it has a side preview feature as well.
Let us have a look at some of its features (tinyimg):-
Optimize up to 20 images in a single go

Simply drag the files and start reducing the size of your image

Quick and easy to use

A special quality bar feature helps you to adjust the quality and size along with a resized picture preview.
Why use Optimizilla instead of TinyPNG?
TinyPng is also a good image resize tool but Optimizilla gives its users the full control to alter the quality and weight of the picture. Optimizilla gives the control to customers where they can use the slider to control the compression level and mouse/gestures to compare images.
4. Compressnow
Compressnow is a free tool designed to optimize and compress images in 4 different formats: JPEG, JPG, GIF, PNG. The simple web tool helps web bloggers, developers, social media influencers, etc to optimize and compress the images in bulk.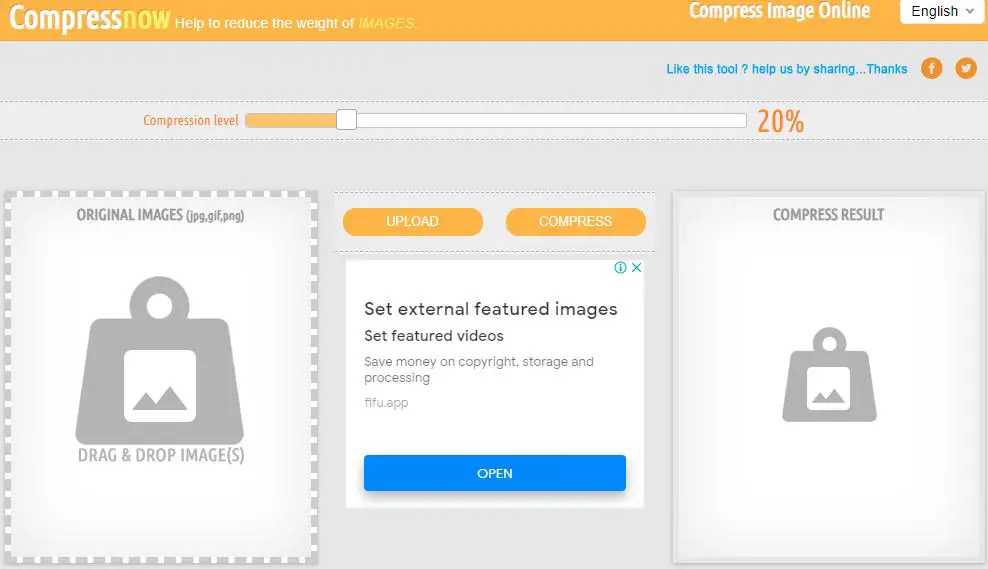 This web tool is intended to decrease the size of images for web use. Compressnow helps you to upload and import images in bulk and compress them with a simple three-step process.
All you need to do is select the images individually or up to 10 images at once or drag and drop into the drag area select the compression level according to your choice and finally download one by one or through Zip files.
Let us have a look at some features of compressnow:-
Compress images in 4 different formats: JPEG, JPG, GIF, PNG

Upload or drag up to 9 images at once

Upload image up to 9MB

User-controlled compression level

Compressnow stores the images for 30 minutes
Why choose Compressnow for compressing your images?
First of all, compressnow is a free web tool that supports 4 different file formats and enables the users to compress images as per their choice. You can upload and download pictures in bulk and this free web tool runs well on any web browser of Windows XP, Vista, 7, 8, 8.1, Mac OS X, Linux, etc.
5. Imgix
Imgix is high-speed software used by web developers, designers, etc to optimize and work on their images. The software not only helps in decreasing the weight of the image but provides you one-stop creative imaging solutions.
Imgix gives you a full suite of tools to ensure that your products look their best on any device or browser. Imgix also provides its users a bunch of photo filters to give a professional touch to your images or projects.
Here are the features of Imgix that make it to add to our Best TinyPNG Alternatives list.
Image Management

Search sort and edit information about your images by turning on the Imgix cloud storage bucket

Render and resize your pictures in high quality 

Basic color editing tools

Compatible with Amazon S3 bucket

Compress your files according to your or your client's requirement

Deliver your final images or projects through CDN technology.
Why choose Imgix?
Imgix is a professional software designed to provide a professional touch to the images by applying filters, compressing, adding watermarks, optimizing, and delivering them through CDN technology. The software is available for 3 months free trial and subscription prices start at $10.
6. ImageOptim
ImageOptim is an image optimization software that makes images load faster and save bandwidth. The software is excellent for publishing images on the web.
Enhanced compression allows you to use beautiful images without clogging your website.  ImageOptim works on Mac and web only.
It aims to optimize your images and compress them to the best so that your site doesn't lag when the visitors reach your website. ImageOptim web services are available for a free trial to the customers and the subscription plans start at $12/month.
Some of the important features of ImageOptim are:-
Image resizing on demand

Helps images load faster by compressing them without compromising the quality

Clean and compress user-uploaded images

ImageOptim API removes private metadata and converts images to formats and sizes optimized for the web

Effective and customizable

Work on Web without downloading the software

High-security servers
What makes ImageOptim different?
First of all, ImageOptim can be used on Mac or web(API). ImageOptim uses an enhanced compression tool to compress your pictures so that the images can load faster without any lags and burden on your customers and helps in saving bandwidth. 
Its most unique feature is that it removes private metadata such as GPS location and camera serial number to hide your identity and make your image secure.
7. JPEG Optimizer
JPEG Optimizer is one of the simplest and easy-to-use image compression and optimization tools.
It is a free online tool for resizing and compressing your digital photos and images for displaying on the web in forums or blogs, or for sending by email. Through this web software, you can optimize your images and resize them as well.
Let us have a look at the features:-
Easy to use

You can resize the height, width

Compress pictures easily by choosing the compression percentage pixel size

Default compression percentage is 65% and default pixel size is 400 which gives you a perfect compressed image without losing much quality

You can also view EXIF data

It provides the right balance between desired image quality and compression.

Supports only JPEG format
8. Optimole
If you are looking for a one-stop all-in-one image optimizations and compression tool that would do all your work-related thereto, then you must have Optimole.
Optimole is an image optimization plugin by Themelsle. It offers its customers various features that any other image optimizing and compression tool might not offer. 
For image compression, Optimole lets you choose from three different levels of compression quality, those are Low, Medium, and High. Optimole comes in the free and paid plan.
Paid plans are Premium and Enterprise, Premium plan subscription rate is 19 EUR/month and Enterprise plan subscription price is 100 EUR/month or more depending on your needs.
Here are the features of Optimole that make it to add to our Best TinyPNG Alternatives list.
Compatible with WordPress

You can resize the width, height, and gravity position.

You can adjust filters such as blur, sharpen and pixelate levels.

Adjust brightness, contrast, and saturation level.

Optimole takes your images and optimizes them automatically

You can test and analyze how much efficient is Optimole on your site by entering your website URL on Optimole

With a free plan, you can optimize up to 1GB of images which uses Optimole custom made CDN built with 7 locations around the globe

Paid plans have direct integration with Amazon CloudFront, with more than 130 locations around the globe.

Uses lazy loading to display the images

Track and monitor optimization stats

Serve your images with CDN in more than 110 server locations.
What makes Optimole better than other optimization and compression tools?
Optimole has various tools which not only optimize and compress your images but you can also adjust the brightness, contrast, pixels, colors, etc.
You also get an option to analyze how efficient Optimole will be to your site by just inserting your website link. You can deliver or serve the images directly to the end-users by CDN feature in just seconds.
9. Cloudinary
Cloudinary is an image and video management platform that helps you optimize and compress your videos and images and serve your media in a better way. The platform offers a media management API for websites and mobile apps to improve the overall user experience.
Cloudinary is best known for its high-speed delivery of images via Akamai's Worldwide CDN. The platform offers various features for video and image management and is available in both free and paid plans. The paid plan price starts at $89/month. Cloudinary is available on the web, iOS, Android, Desktop. 
Let us have a look at the exclusive features offered by Cloudinary:-
API

Improve the overall user experience

Up to 70% reduction in load time

Does all the things in the cloud so you have secured and protected backup

Tools for adding effects, watermarks, resizing, face detection, and cropping

Drag and drop files easily 

Control quality of the image or video as per your or your client's requirement.

Digital Asset Management (DAM)

Cloudinary offers advanced image resizing and cropping tools

Advanced video modification tools

Cloud-based video management

Metadata management helps you to remove GPS position, camera serial number date, time, etc to secure your privacy.

Serve and deliver your projects through flexible CDN

Cloudinary also offers closed collaborations and content management.

Cloudinary supports multiple image formats: PNG, GIF, WebP, JPG, BMP, SVG, TIFF, PSD, ICO, PDF, and EPS
Why is Cloudinary the most used platform for optimization and compression?
The main reason why Cloudinary is the most used platform is that it works well on the Web, iOS, desktop, android so any user can use it with ease.
Cloudinary offers a bunch of features starting from compression and optimization to content management and delivery of projects to end-users through CDN it does it all effortlessly. The software is available in both free and paid plans so you can choose according to your requirements.
10. ImageRecycle
ImageRecycle a pdf and image compression tool. ImageRecycle helps you to easily compress JPEG, PNG, GIF, and PDF files to give you an amazing output without changing the quality much.
ImageRecycle is compatible with various platforms such as WordPress, Joomla, Magento, PHP Script, Drupal, Opencart, Typo3, Prestashop, Craft. With the app, content is served faster and you can reach your customers quickly.
ImageRecycle is a cloud-based image optimization service that can shrink the size of your image files. ImageRecycle is available for a 15-day free trial where you can compress images up to the 100 MB limit.
Let us have a look at the features of ImageRecycle:-
Backup and restore images in one month

Compatible with various platforms

Compress JPEG, PNG, GIF, and PDF images easily

Makes the website load faster

Both lossy and lossless compression are available

Optimized and compressed images can be stored for a month

The paid plans start at as low as $10/year for 10,000 images.

Drag and drop

Easy to use API
Why is ImageRecycle better than TinyPNG?
ImageRecycle provides better features than TinyPNG. The platform is compatible with JPEG, PNG, GIF, and PDF images. You also get an option to choose lossy or lossless compression.
Not only optimizing and compressing images, ImageRecycle also ensures fast delivery of the project through CDN. ImageRecycle allows its customers to work with various CMS extensions.
11. Compressor.io
Compressor.io is an online tool for optimizing and reducing the size of images. It is a powerful tool that can be used to freely shrink or reduce the size of images. One drawback of compressor.io is it doesn't allow you to upload multiple images at once.
Compressor.io provides three options of compression type: Lossy, Lossless, Custom where in lossy type supports multiple image formats such as PEG, SVG, PNG, and GIF and lossless type supports only JPEG and PNG file formats.
Let us have a look at the features of Compressor.io:-
Choose between lossy or lossless or custom compression to get the best balance between image quality and file size.

Compress your images and improve your SEO ranking

Helps to reduce the file size of your images by compressing them without losing any quality.

The maximum size of the image allowed is 10 MB.

Compressor.io can help you save a lot of bandwidth and space

The Pro version of Compressor.io helps to protect metadata such as your GPS position, camera serial number, time, date, etc. providing you a fully secured compression.
What makes Compressor.io different from TinyPNG?
Compressor.io not only provides a variety of image formats that are compatible with it but also gives an option to its users to choose the type of compression.
This powerful SaaS tool helps you to compress images most simply and makes your website load faster. The remarkable advantage of using Compressor.io is that after the file size is reduced the quality of the image does not get reduced.
12. EWWW Image Optimizer
Ewww Image Optimizer is a WordPress plugin that helps a lot to make your site faster and boosts your SEO. EWWW Image Optimizer.
The plugin can optimize the images that you have uploaded previously to WordPress and you can also optimize all your existing images through it. Once the images are optimized half the work is done. It gives the users an option to choose the pixel size for compression at ease which makes it fully customizable.
This plugin is available for both free and paid plans. Let us have a look at the features offered by EWWW Image Optimizer:
EWWW Image Optimizer offers unlimited file size and makes sure that there are no restrictions and limits to speed as well.

It can automatically optimize images from the background

Free image backups store your original images for 30 days.

EWWW Image Optimizer helps you to convert your images into different file formats

Top-notch and high-tech SSL encryption technology make sure that all your data is secured and encrypted on all ends.

Provides a plethora of optimization options such as Conversion, WebP compatibility, Image resizing, etc.

The most exciting feature of EWWW Image Optimizer is that you can now schedule your images for optimization by choosing settings in the "advanced settings" section according to your preference.

The monthly plan starts at as low as $0.003/image.

Easy to handle
Why is the EWWW Image Optimizer considered one of the best by many web developers?
EWWW Image Optimizer does all that a web developer or a blogger might need. It can easily convert images into different file formats and provide you the best quality compressed image within seconds. You need not worry about the security of your data as the plugin takes care of the security itself with SSL encryption technology.
13. Smush
Smush is another WordPress plugin and one of the best TinyPNG Alternatives you can find on the web. Smush is best known for providing the fastest speed for image optimization and has been awarded for the same as well.
Smush Pro - Image Optimization for WordPress
Lossless compression helps to easily compress images without losing the quality. It automatically compresses images on upload and can also be used to compress and optimize your older image files Let us have a look at some of the features:
Optimize images even if they are not located in the media library.

The bulk optimization feature allows you to optimize up to 50 images at a time

You can also set maximum image resolution so that all images get resized below that

Helps in locating images that slow down your site

Secured data
Why use Smush?
Most of the developers these days work on WordPress, and to make their sites load faster an image optimization tool or plugin is a must. Smush is best known for its speed, it quickly optimizes which image is making your site slow, and with a click, you can compress the image and get your issue resolved.
Conclusion
Here we have everything your need to know from the list of the Best TinyPNG Alternatives. These days every web developer, blogger, or social media user needs a fast app that can optimize and compress their images and make their site work faster.
TinyPNG is one such image compressor and optimizer but has some drawbacks, so here we have created a list of the best TinyPNG alternatives with brief details and features about them.