From that presentation you promised to send to your teacher by today to study for your exams, buy goods for your upcoming projects, remembering everything might be overwhelming sometimes.
But, there's nothing to fear about – your Smartphone can help you avoid forgetting by reminding you about your tasks by various reminder app for Android available in app store/play store. There is a range of reminder apps aiming to help you remember your tasks.
Here is the List of top 5 reminder apps
1. BZ Reminder
The app is very easy to use and straightforward reminder app. Made for those who want to set up tasks super quickly.
The app also features widgets, a calendar. This reminder app also reminds you to call whoever you missed a call from. Simply swipe down from the top of your phone's display (notification bar) to see all the reminders you've created.
Adding a new reminder can be done without even unlocking your phone, all you need to do is swipe down and tap on the plus sign and create your new reminder.
Download BZ Reminder
2. Just Reminder
It's a simple all in one reminder app for Android just to remind you everything at a specified time. You can customize each reminder with a picture or a ringtone or even talking alarm tone. Just Reminder app also offers auto-snooze and LED blink (if your device supports it).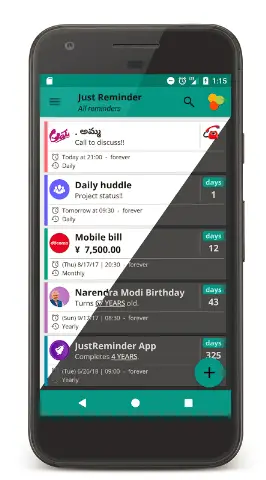 There's also backup/restore feature which helps you to backup or restores your reminder plans. You can also categorize your reminders in this reminder app. If you're not happy with the categories, you can always edit or remove them.
Download Just Reminder
Best Android Apps For Eye Exam and Hearing Test
3. Remind Me
Remind Me is an app with a Motto "Never Forget". Truly the app never lets you forget your simple daily tasks. The App focuses on these basic tasks with an idea that if a person can manage these simple tasks properly then there's no room for other tasks to get left behind.
The essence of this app is to simply let you set reminders once and there you go; the app will fail to remind you. You can also record your own voice as the reminder. If you prefer, you can also choose the default sound or a tone from your Android device's gallery as well.
Download Remind me
4. To do remainder with alarm
Memory like a sieve? Now there's no need to remember all those things that you have to do, because To Do Reminder will do that for you! It's quick and easy to use; you can set a task in the reminder list in mere seconds. It's the best reminder app with alarm.
An app can help you to remind – Daily Todo Tasks, Meetings, Homework and Assignments, Business Appointments, Taking Medication/Pills, Paying Bills, Policy renewals, Important Calls, Birthdays, Anniversaries and many more.
You can see all reminder notes on the home screen using app widget. You can also set advance alerts for Reminders.
Download  To do remainder with alarm 
Don't Leave Home Without These Google Travel Apps
5. Voice reminder
With Voice Reminder app, your reminders will be read aloud to you so you can be reminded of your tasks even if you're sleeping or Driving.
You can create your reminder by tapping on the plus sign at the top right and fill in the necessary information. Once you're done typing in your message, the reminder app will read it loud after pressing the microphone button.
Note:– I have written a post for people looking for best android apps for musicians?, do read it If you are interested.