What is Dell's problem? They keep shelling out these amazing PCs that anyone and everyone can afford, and fits in every kind of situation. Dell has made its name in the computer market by providing a wide range of products from budget PCs to high-end gaming portables. Do you work in an architectural firm? Or are you a major gamer? Look at your PC, there's a great chance that it would be a Dell.
And ever since the advent of laptops and notebooks, they have continued to do the same with our favourite personal computer. If you're a middle-class computer user like me, you can get a Dell at around Rs. 30,000.
And if you're a high-end user who expects a lot from his PC, you can get a high-performance Dell laptop at near Rs. 1 lakh. Whatever your computing needs be, Dell has a laptop/PC for you.
To make it easy for you, I have prepared this list of best Dell laptops of 2021. Now, buying a Dell laptop doesn't need hours of browsing through the net. Just reading this article and ordering on Amazon will do.
Yes, I know, laptops are no longer cheap. Price has become a major factor in deciding which laptop to buy. Let me assure you that there are many ways in which you can get discounts, warranties and cashback offers on your laptop purchase. Think about it – you buy your Dell laptop with a Rs. 20,000 discount coupon and get free Microsoft Office. Doesn't that make your laptop purchase sweeter?
Top 7 Dell Laptops in 2021
Dell Inspiron 14 5406 2-in-1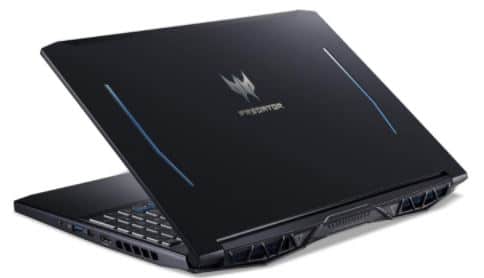 Nowadays, with the latest of technology, even the most basic of computing needs are not basic anymore. You have to have a PC that can deliver on the time-constrained demands of day-to-day life. The Inspiron 14 5406 2-in-1 is one of the many such Dell products that can look after your ever-mounting work and still allow you a breather.
It runs on a 11th Generation Intel Core i3-1115G4 Processor, has 4GB of DDR4 RAM and 512 GB of overall space. Be it playing medium-level-graphic games or watching movies or drawing up excel sheets, this laptop can see to most of your daily requirements, and is compatible with multi-tasking.
Price: Around Rs. 57,000
Dell Vostro 14 3491
Best for home office & small work environments, this laptop by Dell is the best suited to pertain to your work-related needs. You can conduct video conferences on it while chalking up a financial report.
With a 14" FHD AG Display, it allows you the breadth to pursue multiple tasks at once. It has a 10th Generation Intel Core i3-1005G1 Processor, 4GB RAM, 1TB+256GB storage space and Intel UHD Graphics. Buy this laptop if you don't wish to spend much and yet, want mid-level performance.
Price: Around Rs. 39,000
Dell G3 15
For the gaming-lovers of the world, Dell's G series allows you to have some game time while being able to perform other tasks efficiently. The NVIDIA GeForce GTX 1650 Ti 4GB chip can run any high-graphic games that you are interested in. It has a 10th Generation Intel Core i5-10300H processor with 8MB Cache.
The 15.6" FHD anti-glare LED display ensures that you have a truly engaging gaming experience. There is 8GB of DDR4-2933MHz memory and 1TB+256GB of storage space. So to speak, you will be absorbed within the game but in touch with reality.
Price: Around Rs. 77,500
Dell G5 15 SE
From the same Dell G series, comes the G5 15 SE, a gaming powerhouse like no other. It has an AMD Ryzen 7 4800H Mobile Processor with Radeon RX 5600M Graphics. A 16GB DDR4 memory ensures that your laptop never slows down. There is 512GB of hard drive space available.
But the most impressive feature of this amazing laptop is the AMD Smartshift Technology which automatically distributes power between the CPU and the GPU to give you smooth gameplay.
Price: Around Rs. 99,000
Dell XPS 15 9500
For those who only expect the best from their laptop, the XPS series by Dell is what you need. One of the thinnest laptops in the world (just 18 mm of width), Dell XPS 15 9500 is extremely lightweight and hence, easy to carry around. But that doesn't mean the laptop doesn't pack weight in terms of performance.
Powered by a 10th Generation Intel Core i7-10750H processor and up to 32GB DDR4 RAM, it can do about anything you want it to do. It can come with up to 1TB of storage space, depending on the version you buy. It has a 15.6" Corning Gorilla Glass Dolby Vision Eyesafe display which is both durable and visually immaculate. Use this offer by GrabOn to get interest-free EMIs on this laptop.
Price: Around Rs. 2,10,000
Dell XPS 17 9700
The big brother of XPS 15 9500, The Dell XPS 17 9700 has a more immersive, colourful 17" UHD+ Corning Gorilla Glass Dolby Vision Eyesafe display. It has a 10th Generation Intel Core i9-10885H processor which clocks at 2.4-5.3 GHz. An Intel UHD Graphics 630 chip paired up with NVIDIA GeForce RTX 2060 keeps this laptop at peak performance. A hard drive of up to 4TB means that it is practically impossible to run out of space.
To sum it up, there is no better laptop to have than this one. If you can afford it, you should definitely buy it.
Price: Around Rs. 2,35,000
Alienware M15 R3
There are people who play games sometimes and then, there are people for whom gaming is life. Alienware is the brand for this kind of gamers. The Alienware M15 R3 is the thinnest in its series and yet, as powerful as the others. It runs on a 10th Generation Intel Core i7-10750H processor, inbuilt with an NVIDIA GeForce GTX 1660 Ti 6GB chip. It has a 12-phase voltage regulation that enables the CPU & GPU to run at their best.
A storage space of 512GB is available, with a DDR4 memory of 16GB. This gaming beast also has a RGB colour keyword to facilitate working/gaming in the dark. It is truly the perfect package for all the professional gamers in the world.
Price: Around Rs. 2,10,000