We are interested in using whiteboard animations, and that's why they are everywhere. Whether a project presentation or an advert, these animations have shown how easy and effective it is to present most ideas.  
You, however, need the best cartoon maker to make it easier for you. Nowadays, most cartoon drawing software can connect to the internet, while others are entirely web-based. So, you can have your whiteboard animation done within a few minutes or add ideas to it whenever you need access.  
Here is a list of top cartoon animation software to help you put those ideas into an animation video.  
List of the Best Cartoon Makers for Your Whiteboard Animation  
Doratoon  
The first item on the list is an application that welcomes anyone who would like an equipped cartoon animation maker quickly. Doratoon is the name behind it, and this is a fully web-based platform with everything you require to create that whiteboard animation.  
What you need to get started is an account only which takes less than a minute to set up. After that, you can take advantage of the numerous whiteboard animation templates available in different categories.  
There are also numerous animated characters to add to your video; the same applies to importing files. The characters here can move, thanks to the path-finding feature. There is also a text-to-speech conversion if you don't have perfect audio to include. That makes it an interesting whiteboard animation maker since it helps ease the job.  
Therefore, you have a collection of features that will not only make the video but also make it look fantastic. More reasons to join Doratoon include the following: 
Ease of use: Anything you require here can be dragged and dropped if it's on the menu. Since you can also import from the local storage, everything you require can be at your disposal as you create the scenes.  
Quick exportation: You can export the video in MP4 or PPT formats. It's possible to share the video directly on social media, copy the link, and embed it on your YouTube channel or website. It's also possible to download the video and export it manually.  
Very affordable: You get a 7-day free trial when you sign up on Doratoon. After that, the cartoon maker presents you with affordable subscriptions that give you copyrights to the whiteboard animations you create.  
Mango Animate  
With only $40, you can get the full Mango Animate software, another incredible tool to guide you on making a cartoon on a whiteboard. It's one of the preferred tools to aid in conveying ideas in animation, no matter how complex they are.  
There is a library of templates and animation effects for you to leverage. You also get all the updates as you continue to use the software. You can depend on Mango animate to get the job done if you want expert-level animations.  
MySimpleShow  
You can also depend on MySimpleShow to create whiteboard animations. It's known for its simplicity, too, and it's possible to start with templates. Many businesses like it since it has more templates designed for the niche in general.  
If you are therefore looking for a promotion, training, or motivational videos, your employees and customers will meet something easily executable using this platform. As you make the animation, you can add graphics, images, and other material to express the whole idea.  
VideoScribe  
VideoScribe is an affordable cartoon maker that is popular among the novice. So, if you want to train yourself to create whiteboard animations, you can never go wrong with this software.  
You can start from scratch as you make the video or pick one of the pre-built templates on the dashboard. Images, various ways to add texts, and more are also included. You can also use the music samples available. If you need any assistance, customer support is available all through.  
RenderForest 
It's possible to create your whiteboard animation ideas using RenderForest. It mostly suits those in business or wanting to execute a business idea. There are plenty of 2D and 3D templates to use as the baseline and other tools to make it easy to create a stunning video within a few minutes.  
It should be your go-to product if you need educational or corporate whiteboard animation videos.  
Animaker  
Many have used Animaker cartoon animation software due to its open-source nature. It's free to use, and you only need an account to use the features at your disposal. There are six video styles for you to utilize, and the quality goes up to 720p.  
In most cases, it's about drag and drop as you add the material needed to create the animation video.  
RawShorts  
RawShorts may give you a few limitations, but it will still get the job done. It's simple to use since most items are dragged and dropped. It's free to use, but you only get a 2-minute video after the creation.  
When it comes to exportation, you can only move three per month. It's possible to start from the beginning or use one of the templates to edit. The best part is that you can integrate the platform with YouTube and other channels.  
A free demo will also show you how it's done before you start making the cartoon.  
Powtoon  
Powtoon can also aid in quick cartoon video creation. It's free to use, and you can create short video types. There are animated characters and images to help you create the whiteboard animated video.  
If you don't know what to do, there is a webinar and a training center for you. The videos are mostly three minutes long and in HD quality. They also offer cloud storage of up to 100MB and royalty-free music to use in the background.  
TruScribe  
TruScribe is there for people who want to create animated videos without restrictions. You, however, need a subscription quote from customer support before you can get the exclusive features.  
TruScribe uses scribology to help you in creating cartoon animations. The concept borrows heavily from behavioral psychology and neuroscience. Small teams can also help you write the script and draw images.  
So you can get quick help whenever you are stuck in the creation process. The only problem with this platform is that there are no free or trial versions.  
Biteable  
Biteable will not help you if you need free cartoon animation software. It's, however, straightforward to use when you get the paid version. You can use it to make animation videos that target most niches, but if you have the free version, it will not be possible to export the video.  
The support team will assist you if you are stuck. The platform does not also present you with a learning curve; there are plenty of templates, images, and different ways to present the text.  
There are also several soundtracks that you can utilize in your videos.  
VideoJeeves  
Major corporations and business enterprises have used VideoJeeves to create whiteboard animations. You can therefore depend on it for professional cartoon-making output.  
They have helped people create cartoons. More features include scripting, the storyboard, and voiceovers. You need to learn for some time, though, before you can use VideoJeeves.  
Doodly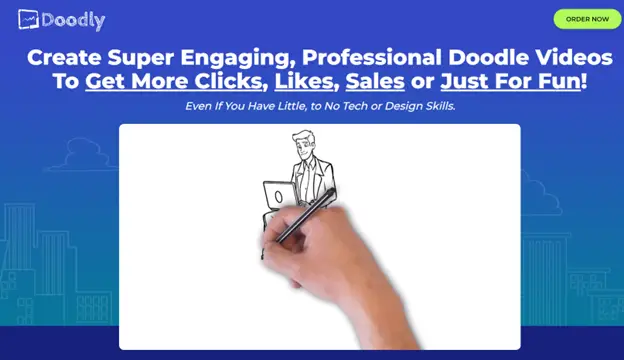 With Doodly, you are sure to create stunning animated videos as quickly as possible. Many have used it, too, in a bid to increase traffic and conversion in their brands. It welcomes those with little to no experience creating these cartoon videos.  
This platform can help you create videos from pictures by turning them into drawings. You can therefore finish up your video without too much time consumption.  
Easy Sketch Pro  
Easy Sketch Pro will also present you with a smooth cartoon creation curve. You can use the whiteboard video maker to execute any ideas you have in mind. There are pre-created graphics.  
Those who have used it know it's easy to use on a tablet or a smartphone with a large screen. However, you need a paid subscription to enjoy the features and export a video without a watermark.  
Anireel  
Anireel is a product from Wondershare, a Windows-based software that aids in making 2D types of whiteboard animations. It has a library of templates, characters you can drag and drop texts, and audio samples.  
It's also possible to convert text into speech while on the software. If you have other materials to use while making the whiteboard animation, you can import and animate them. There are also different scripts that you can utilize.  
Vyond  
The last one on the list is Vyond software for whiteboard animations. It's also loaded with templates, free images, audio samples, and other material you can access while on the cartoon maker.  
The best part while you use it is the lip sync feature that allows the characters to speak and behave like humans. Most cartoon video creators like it due to its real-life-like nature.  
Conclusion  
The above list represents the cartoon animation software you can use to create whiteboard animations. They are all accessible online, or download software if you want to use a dedicated machine.  
Among them, you can start with Doratoon to see how easy it is to make the whiteboard animations. For this one, all you require is an internet connection.