Do you like to read, watch or see live news? More importantly, do you prefer sharing it with your friends or colleagues? The million-dollar question arises, are you offered real, actual, consistent news posts? 
In today's technology-filled world, the answer is no. This is when you will want to ensure that you have a reliable new source. Can you find unbiased news sources? are there any unbiased news sources you can believe and share with anybody?
The good news is that, yes, there is, and you are most probably not using it. In this post, we take pride in sharing some of the best-unbiased news sources that provide you with the ultimate news stories written by a legitimate and moral journalists. 
These hard-working press reporters are not biased in their news reporting. They ensure that their readers read refined and enhanced news related to politics, national, and international. 
As an American citizen, it is your moral responsibility and duty to ensure that you read and share real news with others. You certainly do not want to waste your time reading something biased and does not exist. 
Because if you have shared the news report with somebody, they may never trust you again. If you are here to read serious, unadulterated, top-notch news, then we have found some transcendent news websites. 
Best Unbiased News Sources – Our Top Pick 👌👌
1. The Associated Press
The Associated Press is one of the oldest news channels on our list of unbiased sources. You would be astounded to know it was founded in the 18th century. That shows that they are going more substantially despite the surrounding competition. 
There is a splendid price to pay for refined news, as Americans like to read facts only. Besides, they are a non-profit news agency. They operate using what they want to call the inverted pyramid of news journalism.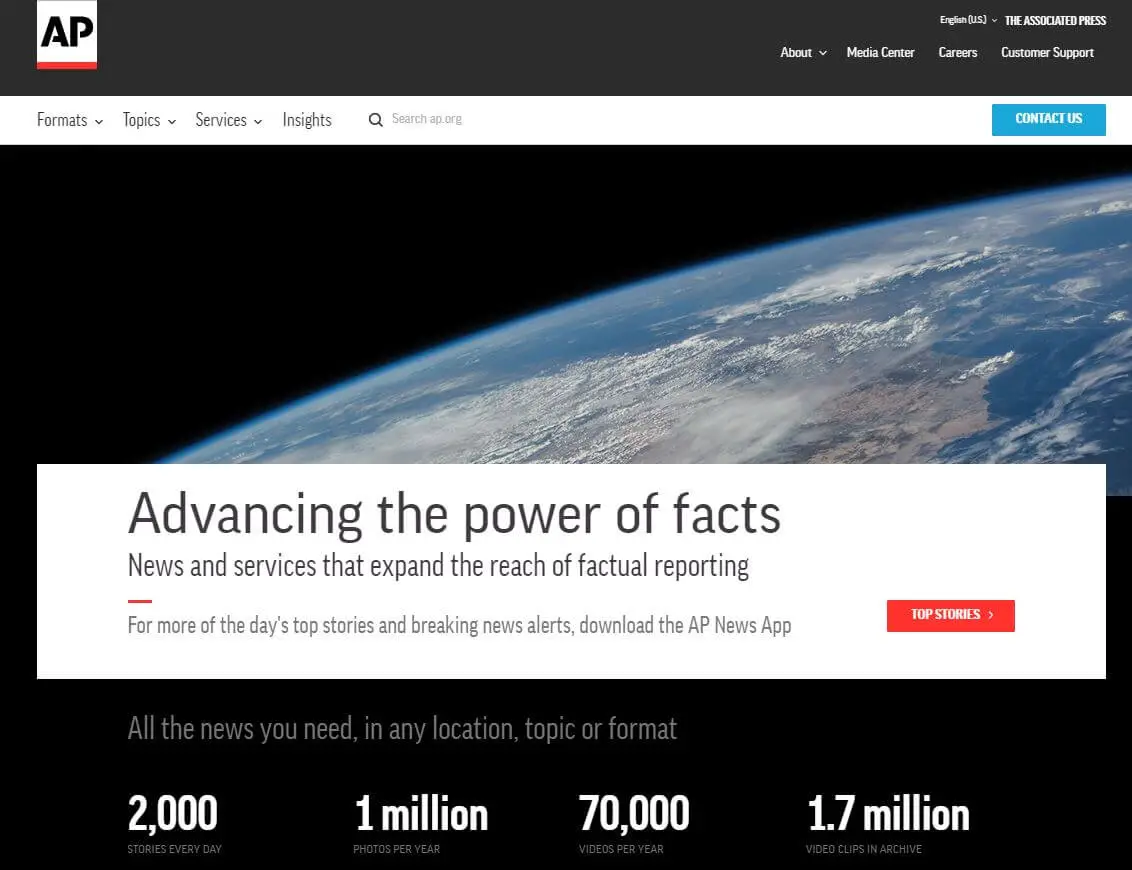 Though they give you the ground happenings of an incident or accident, they avoid repeating the same thing repeatedly. This is something that most reputed news channels tend to do. 
However, the Associated Press tends to churn out facts each time you turn on the news regularly about something. That sets them apart from the rest by a great distance.
They provide accurate details and significant information that other channels might have missed. 
It is no surprise that they have been able to bag more than 50 Pulitzer awards until today. They have raised the bar of news journalism and expect their counterparts from other news sources to implement the same dedication. 
News reporting is taken to new standards thanks to their hard work and dedication to providing Americans with unbiased news. This is one of the best-unbiased news sources. Otherwise known as the AP, the language used is mostly neutral. 
They avoid inflammatory tones that can set you on fire. They are probably the only news channel not afraid of challenging other news sources on a particular occurrence that is not true, providing you with the facts. 
We highly recommend AP news sources as the best in the world for unadulterated news. You will find their news segments exciting. They provide you with a radio broadcast as well as hourly updates. 
2. PBS News
PBS News is the second unbiased news source. It is very few of those news sources have remained unbiased to date. Their stories always feature both sides of the happenings. This enables the reader or viewer to understand what took place. 
This is suitable for those of you interested in the politics segment. You can find some common quotes and content given by politicians. The context of the content is vital for the reader to know what the person said. 
Unlike some news channels, which tend to fabricate the context, PBS News does not do that. Hence, we mentioned them here on our list. Some of the most common segments can be found on the website, like national, health, economy, world, and economy.
They also provide you with a podcast section where some of the popular audio news can be heard. You can find a live link on their website that takes you to the current happenings worldwide. 
You cannot go wrong with PBS News if you want US-based news. 
3. NPR News
NPR news is another unbiased news source you can find online. Though there have been some complaints about their journalists being supportive of the left, it rarely happens. Most of the news content is firmly based on the facts that occur. 
If you go through their posts, you will find that they respond professionally to comments and negative feedback. This is something that is crucially missing in today's world of news reporting. They tend to habitually provide facts to the readers for complaints regarding their news. 
The website is light and offers you vital information for the categories, including topics on a varied niche like business, science, politics, technology, race & culture. The news channel also provides podcasts and shows for a barrage of news content. 
You can often go through their news content based on facts and happenings, barring those few left supporting contents. We found most of their news articles and posts based on real facts. 
4. CBS News
CBS News was in some sort of sludge in 2014 after a poll claimed that most of the audience was left-based. The news came out as fake because the facts were different. We did a little digging around and found the content baseless. 
The truth is that most of the audience of the news channel is there for political happenings. They have a remarkable job even during the severe political crisis hitting America in recent years without using inflammatory language or content.
You can find the articles, posts, and comments sublime, adhering to their strict rules of engagement. Most of the debates are noteworthy and can interest you, provided you are politically motivated. 
If you want to read refined news on the political condition in the US, then your best news source would be CBS news. Of course, they cover other news areas like science and technology. 
5. BBC
BBC is another admirable news channel among unbiased news sources. Viewers worldwide can agree that they always ensure their news content is accurate. Their news anchors take their jobs with immense dedication and effort. 
They are the first to be there during any crisis or flooding, reporting live to you worldwide. Most of the journalists based on BBC are awarded winners. They publish accurate news offering the facts too.
Though they have faced some criticism from rivals regarding the news content, the truth is that BBC news takes pride in objectivity. If you are an independent newsreader, then your best option is for unbiased information on this news channel. 
It may be because they are based in the UK. Hence, there is not much influence from the US political line. The coverage of the political situation in America is quite powerful and balanced. 
It is no surprise that most BBC news viewers are from the United States of America. Their news content avoids hitting those punches on the spectrum based on the American political system. 
Apart from that, they also provide you with tons of news alternatives in technology, business, health, and others. We also liked the reality check segment, where they made immense efforts to ensure that you do not read fake news from other news channels. 
6. Reuters
Reuters is perhaps one of the most trustworthy news sources in the world. They are headquartered in London, UK, and have been doing a remarkable job for a long time. We noticed that they report a few accurate facts. 
Unlike other news content sites, you will see that their website contains less information. But you will be satisfied to know that it is genuine and authentic. One example would be avoiding using the term "terrorist" in a bombing site unless it is thoroughly verified. 
They are particular about the content, words, and news facts. That itself goes to show their commitment to the news segment. You will find their news reporting pretty simple and as straightforward as you can. 
Most of the new content is based mostly on facts. The content is precise and to the point. They do not elaborate and waste your time with too much-unwanted news content, which is a good sign of independent news sources.
Their journalists do not hesitate to take a tough stance against poor government decisions and corruption among politicians. They also cover most of the current issues around America and the world. 
The news content on most topics, including market, business, lifestyle, and technology, is refreshingly new and first-rate. You can use the TV link to view all the video shows on their broadcast if you are keen to do so. 
7. The Wall Street Journal (WSJ)
The Wall Street Journal (WSJ) is another unbiased news source that is highly reputed. The term Wall Street Journal is commonly found in many homes and on the street in America. They have made a name for themselves. 
Both on paper and online, the WSJ is a resourceful place for the unbiased latest news. There is a reason why people respect the WSJ because of its incredible power to present 100% actual news facts. 
They have a niche in doing that. Most of the highly respected and awarded journalists are part of their program. They ensure the news is original, accurate, and currently happening. The team verifies facts because they publish news content. 
8. Wikinews – Non-political news
Wikinews is our last unbiased news source and is perhaps another reliable website. The reason for that is it is part of Wikipedia. Though they have been under the radar for specific information or facts, the team has always ensured they are correct. 
Another reason is that anybody living on earth is free to contribute to them. This is what makes it unique, perhaps in one way. The coloration with reputed sources and legitimate individuals makes it highly improbable that they publish something incorrectly. 
Because if there is something wrongly posted up there, it is rectified almost immediately. Our panel has always admired collaborative new sources because they are unbiased, which is what we are reading about here. 
Other unbiased news sources worth your time
As we said before, we did our research at the beginning of this post and found some important unbiased news sources. They did not make it on the main list because, at times, bias can occur in their news reports. 
Not to mention, Pew Research and C-Span are not news channels. But they provide you with helpful news content to develop your facts. We have discussed them briefly for you to read. 
With C-Span's help, you can watch live hearings, events, and other happenings. The need to go through a news article or post to find it out is not there. Those who prefer just the facts as it is might want to use this channel.
As the name says, it focuses more on finance, economics, and business. If you are keen on reading some important news about America's current economic affairs and the world, this is your best news source. 
The name has nothing to do with religion. However, you can find a hint of the news favoring the belief in some respects. Otherwise, it dwells on the current happenings. You can expect to read refined content on government policies.
This is a no-frill website where only facts and figures are provided for your information. When you are particular about the news content and the sources, then here is your answer. Most of the range given on the website is about technology and media. 
The Economist provides beautiful coverage of the world's financial, technology, business, and media affairs. If you go through them on our page, you can read about their objectives. 
It is one of the unbiased news sources in the country as of now. 
How to know if you are viewing unbiased news sources? 
There are a few sure giveaways that can instantly tell you whether the news content is original or not. It can be extremely frustrating when you find out that the article or post you were just reading for an hour turned out to be biased or, worse, fake. 
Below are some ways to find out if you are reading an unbiased news source. 
The news content is written flawlessly. 
This is an immediate giveaway that the news post you are reading is unbiased. Of course, news reporters need to have good communication skills, but they can do the same with fake content. When you have been reading the news for a decade or more, your mind can verify whether it is fake.
Journalists reporting a fake news article won't bother rectifying the grammatical errors, sentence structure, and formats. They know that it is fiction and let it be. On the other hand, unique news content comes with incredible writing quality. 
The stress on facts is more than arguments. 
A first-rate news article will focus more on the facts and provide reliable content. It is unbiased and not made up. Hence, as you read, you come across quality content that intrigues you further. 
As a reader, you do not want to read what the article's author thinks and feels about it. Instead, you want to readjust the facts and happenings of the news content. The first paragraph is a clue whether you are reading a well-written post or merely wasting your time. 
The source of the news content is trustworthy. 
Yes, errors do occur once in a while. Even the best tend to tender apologies for providing false news once in a while. However, a reputed news channel always ensures its sources are 100% right. 
They repetitively check and verify if the facts did happen or occurred. Then they go ahead and print the news content. In the case of an article, the author ensures that his/her team cross-checks everything before it is out in the open. 
They do not hesitate to provide you with the source of the news. In some cases, they do not provide you with due to the nature of the content. But, when you read an article written by a famous author, you know it is legitimate. 
The need for social interaction is not there. 
When news content is published, they need others to push it up, which is not required. In a sense, it should be able to go on a neutral tone when it has happened or occurred. 
Thanks to social media, some news channels use false sources to push up the post online. This is a bad practice that is accepted in our world today. In a sense, they are framing the readers that they are reading something fundamental. 
The website tends to take aside. 
Not just the news content; when you find that the website content is biased towards aside, you know for sure that you are wasting time. These days most news channels tend to be biased toward a particular political party. 
You cannot blame them because they are financed and run by them. But as a reader, you cannot be forced into reading something you do not want to. Hence, you can simply spend a few minutes on the website and quickly find out if they are unbiased or not. 
The qualifications and credentials of the author are posted.
You can find the qualifications and credentials of the author. This way, you know that you are reading a top-notch post. Of course, some journalists who have started also do a fabulous job writing news content. 
If you want, you can review their profile on different social media tools like Facebook, Twitter, or LinkedIn, and find out if they are taking sides. This is a sure clue to discovering whether their news articles will manipulate your mind. 
How To Check the credibility of online news
Credder
checks news sites' credibility so you can avoid being tricked by 'fake' stories when you visit a website such as BBC News.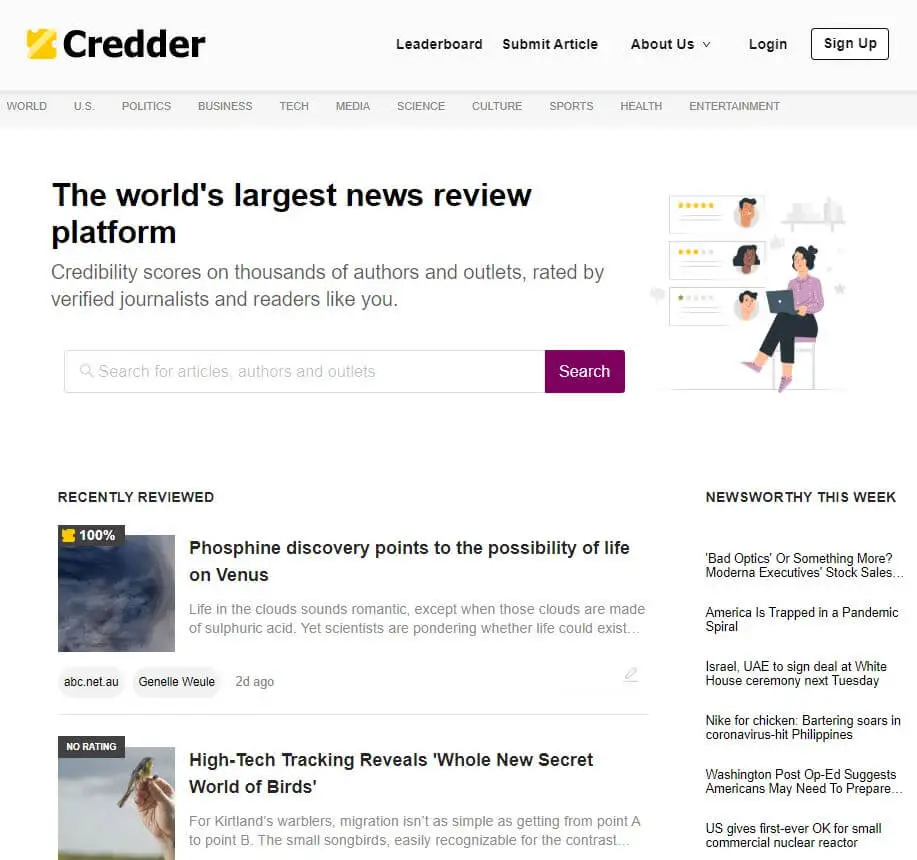 Credder kicks into action, displaying a small pop-up that shows how well-trusted the site is by critics and users. It's a quick way to determine if you're likely to read fake news.
Click the toolbar button on any site to add your trust rating and review the site and individual articles.
At the time of our research on Best Unbiased News Sources Websites Free From Censorship, we found a video about "How to Spot Fake News" worth watching.
How to Spot Fake News - FactCheck.org
✅FAQ
What are some reliable sources of news? 
Some well-known, trustworthy sources of uncensored information include The Associated Press, PBS News, NPR News, BBC, Reuters, etc. They are also known for making an effort to remain impartial. 
Which is the best news website in the world? 
Bbc.com, cnn.com, msn.com. nytimes.com etc., are considered the best news websites in the world and are known to set the standard for both news channels and newspapers worldwide. 
Is Al Jazeera a good news channel? 
Al Jazeera is one of the few well-known non-Western English-language news agencies, making it stand out globally.
It has served Arabic readers and an expanding worldwide audience since its founding in 1996. But due to its tight ties to the Qatari government, its reporting has not been without criticism. 
What is an independent news source? 
Any media, including television, newspapers, and online publications, unaffected by governmental or corporate interests is independent media. There are numerous uses for the phrase.
It is frequently used interchangeably with alternative media to describe media that expressly set themselves apart from the mainstream media in the United States and other developed nations.  
The term "independent media" is used in international development to describe the creation of new media outlets, particularly in regions with little to no established media presence. 
According to research, independent media is crucial for increasing governmental transparency and lowering corruption. 
What is the most reliable newspaper? 
The New York Times is, without a doubt, the most trustworthy newspaper in the entire globe. For more than 150 years, Times readers have counted on their newspaper to offer the most in-depth and unbiased reporting.
As a result, the Times has the greatest overall influence among American opinion leaders and has won more Pulitzer honors than any other news institution. 
Is NY Times a good newspaper? 
The New York Times is a daily morning newspaper published in New York City. It has long been the American newspaper of record and one of the greatest newspapers in the world.
However, its journalistic strength is what makes it strong; in terms of circulation, it has never been the biggest newspaper. 
Conclusion 
This is it. You are subsequently going to look at unbiased news sources. Isn't that a relief? You no longer have to read adulterated news that is most likely a fiction post. These sources given above provide you with real facts and things happening.
They give you a realistic image of the latest occurrences around you. As a human being and an American citizen, it is your right and duty to know the exact things happening around you rather than waste your time on some unchecked facts. 
We hope you will log in to the news sources and sit back to enjoy trustworthy refined news. All you need to do is sit back and relax over a hot tea or coffee. Log in to any provided news sources and read premium news content. 
Happy reading today onwards, unbiased news sources!