Calls usually mean somebody wants to speak to you, pass along some info at the least. When you can't view their number or name (if the contact is saved on your phone), then the person calling is an unknown caller. 
These calls might be from people close to us or important business reasons. The calls might also be from scammers, pranksters, or spammers. You can't know unless you pick up, which opens you to, whatever happens, positive or negative.
These calls can become quite repetitive and they can make life a lot stressful for you. It is important to learn how to guard yourself against these intrusions. 
This article will cover how people mask their calls, how the masked callers can be unmasked and other measures we can take to ensure repeat offenders are dealt with. 
How People Mask Unknown Callers 🤔
Before we go into details on how we can guard against scammers and their ilk, people mask their numbers for a variety of reasons. 
Some of the reasons are genuine like preventing people from finding out your contact information, some criminal like harassment or fraud, and others might just be for the fun of it like prank calling. 
These callers utilize a feature called the No Caller ID feature. It is simple to use and it isn't based on any operating system. It can be used on almost every type of mobile phone. 
Here's how it's done. 
The caller just has to add "*67" at the beginning of the number being dialed and then this immediately blocks the caller's ID. The person being called gets a No Caller ID in place of a name or number. 
Now you know how people mask their caller ID, let's dive into how to unmask it. 
How to Unmask Unknown Callers 🤩
1. Use Apps That Can Unmask Or Block Unwanted Calls 
There are android and iOS apps that help users unmask unknown callers. One app that comes recommended by reviews is TrapCall. With 13 years in the business of helping to unmask calls, TrapCall is the goto app for anyone facing issues with callers with unknown callers.
The services TrapCall offers are 
Unmask the unknown caller (phone number) 

Unmask names, addresses, and pictures of the unknown caller 

Record incoming calls 

Enable automatic spam calls blocking feature 

Blacklist unwanted caller 
These are the main features that users with an unknown caller problem will need. 
How To Use TrapCall 
It is quite easy to use TrapCall. Start by subscribing to their service, this can be done on their website.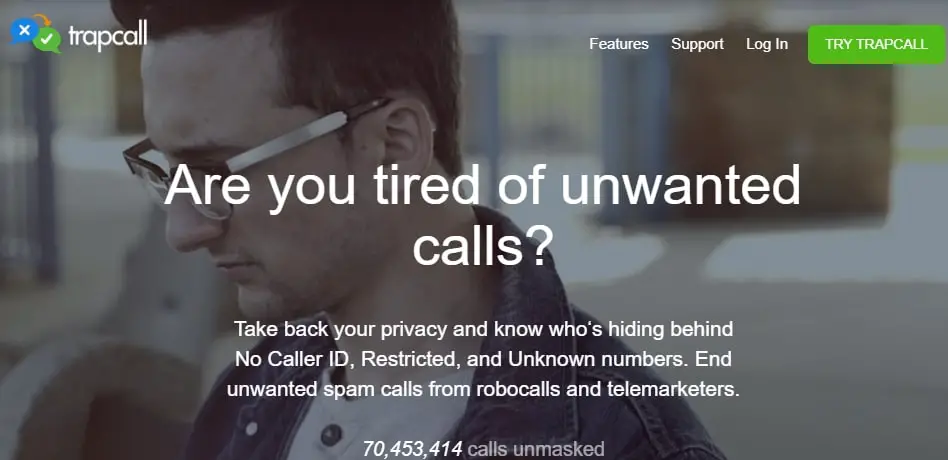 Sign up and then follow instructions to activate the service on your mobile device. 
The sign-up steps are laid out very easy and all you have to do is follow them precisely, it usually takes no more than 7 minutes to complete the process and activate the service. 
If you have any issues signing up, contact their customer care and they will sort it out in no time. It is a ready-to-use feature once you've activated the service on your phone. 
To use TrapCall when an unwanted caller is calling, decline the call normally on your phone. The call will be rerouted to TrapCall.
You just have to wait a bit and then you'll receive a notification from TrapCall that contains information about the unwanted caller. Info like the person's phone number, name, and other data will be made available to you. 
TrapCall services are not for free but there is a free trial for users who want to see whether it works or not. When signing up, you can choose to get a free trial first, and then when it works out, subscribe properly. 
TrapCall - Unmask blocked and harassing callers
The good news is it is compatible with iPhones and Androids, the not-so-good news is that TrapCall services are only confined to the USA region. Other places outside this region cannot utilize TrapCall's services. 
Note:- We are not affiliated with Trapcall.
2. Call The Phone Company And Ask For The Anonymous Caller ID Service
Most phone companies can provide you information about your calls but there is also a feature that people might not be aware of that might help you unmask the unknown caller that has been disturbing you. 
This service when enabled works by screening all your incoming calls and checking the authenticity of each and every call. What this means is that phone service providers cannot screen and check the authenticity of callers without first unmasking that caller. 
So when they unmask the caller and allow the call to come through, it is still unmasked and you can now see the previously unknown caller's phone number on your screen or a name if it is a saved contact. It works pretty well and it is easy to enable it. 
Call your network/service provider and inform them of the fact that you keep getting calls from an unknown caller and it is disturbing to you. There are limitations just like in the first method, but the limitation here is not geographical. 
Some phone service companies offer this service, some do not. The only way to know for sure is to call your own provider and ask for the feature to be enabled. 
You may need to provide additional information to your service provider according to their company policy but the info will be basic like name, address when you received the calls (date and time), and other basic questions you should have the answer to. 
As long as the company you're using has the feature, you will be able to unmask that pesky unwanted caller. 
3. Online Account: Users Whose Service Provider Does Not Have The Feature
There is still an option you may consider. It is not a totally dependable option but might be worth a try. Your service providers cannot help with the unknown caller issue but you can still access your call logs from your online account with your service providers. This might show the information you need. 
Please note that as earlier suggested, this tip for users with no service provider unmasking features might not work. 
Blocking All Unknown Callers
This tip is for people in urgent need of stopping an unknown caller at all costs. This is because the tip will perform a blanket ban on all unknown incoming calls which might lead to you missing out on important calls just because the person's contact info isn't saved on your phone. 
The feature should only be used when you're absolutely sure of the need. We will explain how to enable this feature for both mobile phone operating systems (iOS and Android).
iPhones:-
For users with an iPhone, follow these steps. Navigate to Settings > Phone. Search for Call Silencing and Blocked Contacts and open that option. Enable the Silence Unknown Callers option. 
What you've just done will ensure that callers not on your contact list won't ring, they will appear on missed calls list or go to voicemail but you won't even know when the unknown numbers are calling. This feature gives a measure of respite for people who get lots of disturbing unknown callers. 
Android

 
There are Android apps that can help because some android devices except a few like Samsung Galaxy users do not have the Silence Unknown Callers feature. 
For Samsung Galaxy Users 
Here's how to enable the feature. Navigate to your Phone icon. Press the More option. It is usually found at the bottom of the screen.
The icon has 3 vertical dots. Press Settings in the next menu that appears and then tap Call Blocking. Enable the Block Anonymous Call option. That's basically it for Samsung Galaxy users. 
For Other Android Devices
We will advise that you utilize third-party apps that will help silence unknown callers. Apps like Should I Answer? are suggested. Download the preferred app and follow in-app explanations to silence unknown callers. 
What You Can Do To Get Rid Of An Unwanted Caller

 
The options above were blanket solutions to situations where you didn't know the exact number of the unknown caller disturbing you. This tip is more specific. This is what to do when you've unmasked the unknown caller using one of the ways described above. 
Assuming you've figured out the contact ID of the unknown caller, follow these steps to totally block the number from ever calling you. 
Note: Some phones might need you to save contact before banning it.
iPhones

 
Phones may differ a bit in specifications and menus which sometimes is based on user preferences but the tips here can still be followed structurally on most iPhones. 
Navigate to the Dialer and locate the number you wish to block.
Tap the "i" icon. Tap the Block option. Confirm the process. The best part is that the number you blocked will never know. All they will get is that the number they're calling has been disconnected. 
Android

 
On Android devices, you can easily send all the calls of a particular number straight to voicemail. This is a tip that can help get unwanted callers off your phone. 
At the time of our research on How To Find Out an Unknown Caller And Get Rid Of Them, we found a video about "If Your Own Number Calls You, Don't Pick Up!" which is worth watching.
If Your Own Number Calls You, Don't Pick Up!
Conclusion 
Finding out the identity of an unknown caller can save you from being a victim of fraud or other exploitive criminal activities. Try out the methods explained above to unmask them and directly stop the calls. You can also apply blanket bans on all unwanted calls. 
As long as you're free from unwanted calls, it is worth the effort. Which tip have you tried? Tell us all about it in the comments section.