The video we make on our phone cameras and the videos professionals create have hell and heaven differences. The visual experience is crucial from a customer/user point of view.
And the visual experience attracts us and keeps us engaged throughout a movie or video game.
If we talk about movies like "Avengers" and "Avatar" the whole backend team has created an imaginary world that looks amazing and keeps the audience engaged. Similarly, VFX is merely outstanding in online games like PUBG and FIFA.
Hence VFX plays a critical role in binding customers and making them fall in love with the creation. The aim is to turn the illusion of an unrealistic video into a real one.
If you want to add VFX effects like sci-effects in your video, you don't need to worry about a lack of equipment or money constraints.
Because there is always a way, instead of giving up on your idea, let's discuss a list of VFX apps for Android & iOS that will help you create your videos with exceptional effects on your phone itself.
An amateur or a beginner can not do this task with perfection. Professionals should do this as the video footage needs to be looked at more live and happening.
However, with robust applications and advanced technologies, one doesn't need specialized training to add special effects to your videos. With the features and options developers provide nowadays; a neophyte can quickly produce great output.
Even you will be surprised to see the professionalism of the videos. A plethora of android apps can be used for this purpose.
Here is a comprehensive list of all those apps that might be useful for you. 
Best VFX Apps For Android and iOS – Our Pick 👌
1. FxGuru: Movie FX Director
FxGuru is one of the best VFX apps for Android & iOS, popular for its amazing features and straightforward UI. This app can add special effects like horror, sci-fi, and action to your videos and impress others. For a realistic film experience, you can use the MotionMatch feature.  
FxGuru: Amazing Special Effects for Mobile Video
You will get ghosts, zombies, skeletons, and madmen in horror themes. Similarly, in the weapons and vehicles theme, you will get guns, missiles, rockets, drones, nukes and trucks, cars, helicopters, trains, and police vans, respectively.
The app also provides disasters(floods, tornados, earthquakes, meteors) and animals(dogs, rats, snakes, dinosaurs). It has 90 plus special video effects.
A feature named "Red layout" will help the user adjust the camera depending upon the effect. You can share your videos directly on social media platforms like Youtube, Facebook, and Instagram.
It has a total of 17 special effects, from which only four effects are free. UFO Shuttle, TNT Barrel, Holiday Bot, and Satellite Crash. In short, FxGuru is a VFX app that can add unusual and realistic effects with a user-friendly UI.
Some of the fantastic features are as follows:-
90+ special video effects available

You can unleash your creativity with cinematic features for suspense and drama filters.

HD recording, enhanced soundtrack, and various themes

Red layout feature

Effects like SciFi, weapons, animals, holidays, animals, and vehicles
2. Movie Booth FX Free
The next item in the list of VFX apps for Android & iOS is Movie Booth FX Free. You only need to record a video from your smartphone or camera and add special effects.
The effects here are broadly categorized into three segments. I.e., Horror, Sci-FI, and Action. Like FxGuru, it also provides 18 effects for free. Though the app is free to use, it has limited features.
Movie Booth FX - Android App
After paying for premium features, you can explore the rest of the benefits. If you fantasize about becoming a video editor or a short filmmaker, this app is for you.
After adding special effects to your video, you can easily share it directly on any social media platform. Otherwise, you can save it on your phone or your SD card.
Some of the highlighted features are:-
Three FX features, i.e., Action, SCi-Fi, and Horror

Easy UI 

18 free effects

A perfect app for beginners

Easily shareable
3. Video FX Music Video Maker
This application has more than 10 million downloads in the Play Store. That means it must have some exciting features that people like to add to their videos. Its features are a little bit similar to Tiktok.
You can choose any song and create a superb lip-sync video through it. Mirror, Neon, Ghost, Film, Thermal, Stroboscope, Cinematic, and Cartoon are some of the app's special effects. It is effortless to use.
You can pause in between your work and resume again. Auto Pause helps you in this. That means you don't need to touch your screen repeatedly. The function works very smoothly. All you need to do is to play a soundtrack and start performing.
Make sure that your lip should synchronize with the music. It does not require any additional setup or software. It has more than 50 effects on it. However, the Stop Motion feature comes under premium features.
VideoFX - Music Video Creator for Android
You can delay your recording if you need time to prepare with the Start Timer feature. You will be surprised that it also has a fast-moving recording mode. After making your video, you can save it to your phone or share it on social media.
To highlight a few crucial features:-
Auto Pause option

It gives you Fast Motion recording mode

More than 50 video effects

You can easily import MP3 songs from your device and export MP4 videos

Easy shareable to any platform like Instagram and Facebook etc.
4. Extreme VFX
There might be chances you have not heard of the next app in our collection of VFX apps for Android & iOS. You may find many negative comments and bad reviews on the play store.
But it has certain cool features as well. The app strictly requires a play store version of 3.9.16 or higher to operate. It has a total of 20 effects in it, from which only four apps are free.
It works in a very simple way. Start recording video footage with a camera or smartphone, upload it to the app and add any special effects of your choice.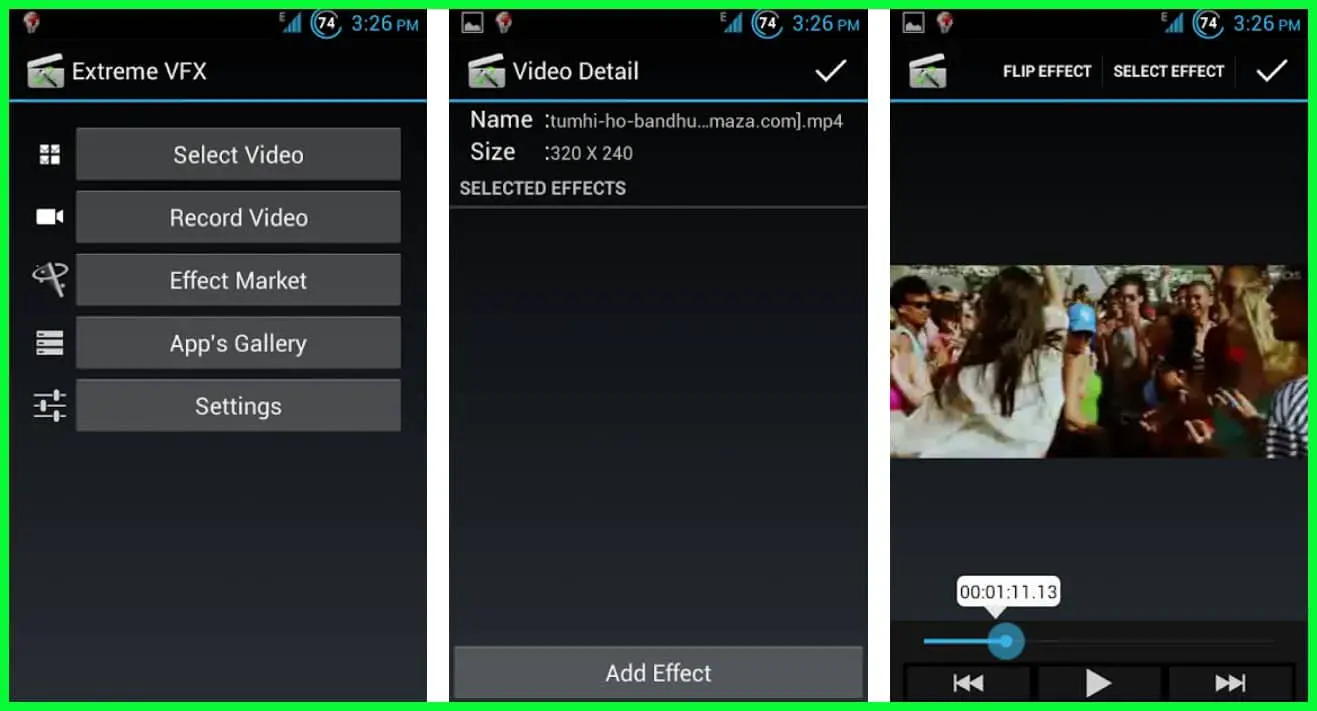 The best part of this app is it allows you to add more than one VFX effect to a single video. You can also add a prerecorded video to it and add filters. Maybe people don't like the app due to the irritating ads and supportive file download to run the app.
The app is supported on devices like ARMv7, ARMv5, ARMv6, and Intel-x86. Additionally, it is supported by any MIPS device. You can render by simply selecting a video followed by adding an effect.
Another interesting feature is you can directly contact the developer if you face any difficulties using it. You can also share your creations on other platforms.
If we have to sum up with some salient specifications, they would be
More than 20 effects

It demands play store version 3.9.16 or up

Direct contact to the developer via report error

Multiple VFX can be used on a single video

Easy save and share option
5. MovieRide FX
This app in our list of VFX apps for Android & iOS is comparatively professional. It has many templates that let you apply different VFX to your video.
You can make your recorded video more realistic by adding features like ThunderBolt, Space Wars, Storms, Space Walk, etc. One can not easily differentiate between the real and animated ones.
Like other VFX apps for Android, it is not free. Some of the effects are paid, but they are worth it. You can pay a small amount if you want your video to look professional.
MovieRide FX 'How to' video
The wide range of video effects includes Khumba, Spell Caster, Splat Gun, Dino Chase, Trans-Pod Giant, Love Song, M-racer, Tactical Strike, Transport Xmas, Master of Storms, Lazer Blade Battle, and so on.
But before buying, you must check the compatibility of your device. Your phone must have an android version of 3.0 or higher, and it must be able to record 480-pixel video.
You might face a situation where your purchased item won't work. But you don't have to panic. Simply go back, and try again after some time. It will surely work.
In case you still find similar problems, you can get them resolved by contacting them. You can deliver superb outcomes with effective paid software with precision and ease.
Some of the key features of the app are described below:-
It needs android version 3.0 or higher 

Many effects and filters like ThunderBolt, Trans-Pod, Space War, Storm, etc

Phone cameras should be capable of recording 480-pixel video

Both free and paid effects are available

You must check before buying any movie effect
6. EZGlitch – 3D Glitch Video & Photo Effects
The next name in the list of VFX apps for Android & iOS is EZGlitch – 3D Glitch Video & Photo Effects. A glitch is a fault that remains in a system for a short period. Glitch Art is when you use that digital error for aesthetic purposes.
It can be done by manipulating electronic devices or by corrupting digital data. And this Glitch video and photo app is the easiest way to add glitch-art effects to your photos and videos.
The amazing offerings of the application are VHS effects, vaporwave, 3D, and trippy effects. Its working is very simple. To add glitch art to your photo and video, you must upload a video from your phone or directly start recording using your phone camera.
You will be glad to know; it's a tremendous app for GIF makers. EZGlitch provides more than 80 types of filters to add some value to your creativity.
Some of the most astonishing fliers are Glow, Hue, Rainbow, Solarize, Slicer, Blocky, Repeat, Heat, Swear, Bad Tv, Jitter, Crapping, Chanel Swap, Slice Bars, Duotone, Wobble, Edge Color, Glitch Bar, PIxelate, Channel Shift, Water, Melt To Side, Glitch A, B, C, 2 Ways Shift, Slice Noise, Sine Wave and so on.
With its cool trippy effects, you can start your psychedelic journey if the psychedelic style excites you. All these psychedelic elements, glitch effects, and vaporwave give an intense look to your clips and pics that stands your post out on Instagram. We strongly recommend this app for its aesthetic glitch art FX to optimize a video.
We highlight some cool features of the app:-
Probably the best tool for adding glitch effect

More than 80 trippy vaporwave filters and effects

You have to pay for certain effects

You can create GIFs also

Easily share on Instagram, Snapchat, Facebook, Whatsapp, and other platforms
7. Videoshop
If you want to give a personalized VFX touch to your video, you can try Videoshop. Its UI is extremely friendly. Let us discuss its features in detail. You can easily trim and remove unwanted moments.
You can add slow-motion effects to your videos in which you have control to change the speed of the video. You can record your voiceover or select a soundtrack from your music library and use it.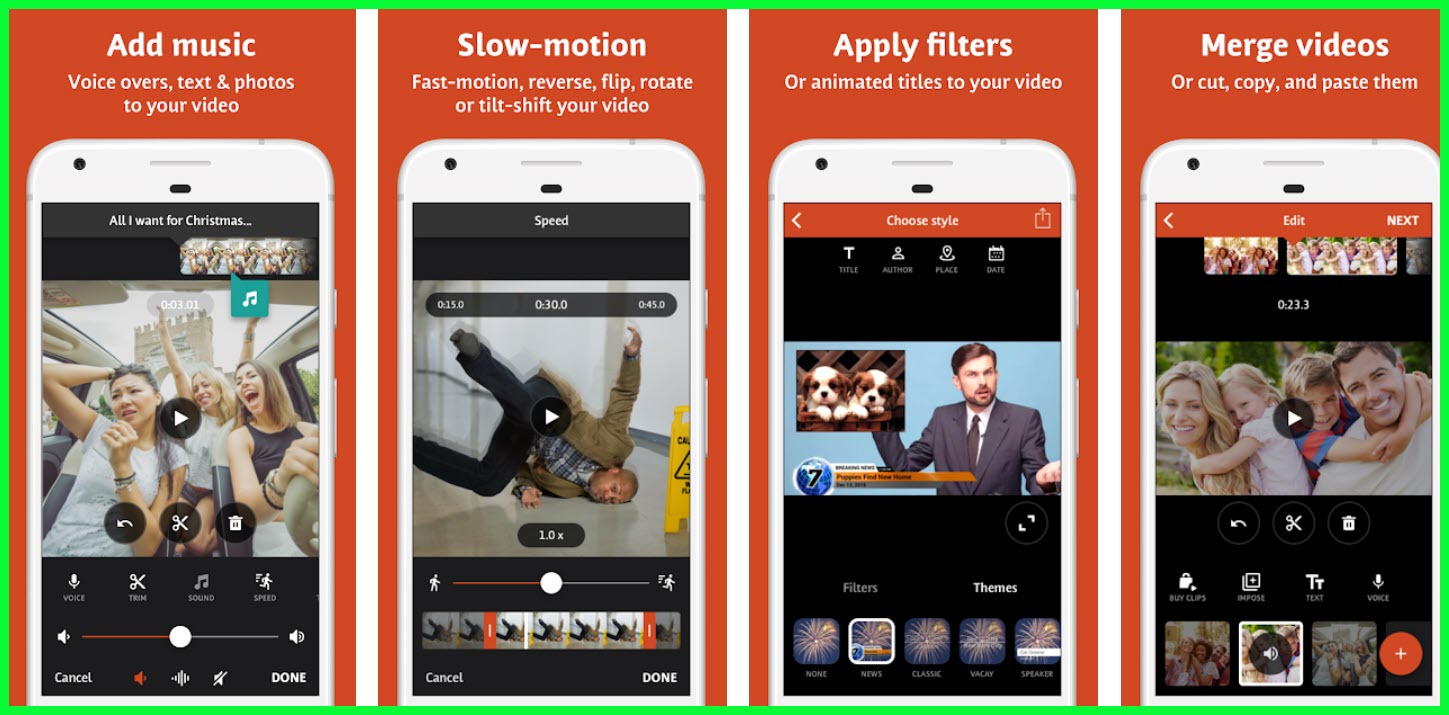 You can add different noise effects like animal sounds, nature, and laughter to make your video more realistic. You can adjust your video's color, brightness, contrast, saturation, and hue. The app allows you to add texts to the video.
You can split a long video and merge multiple clips through this app. You can easily introduce your videos with animated titles. Like Instagram filters, you can choose from a wide range of videos.
The app provides four transitions. You can choose from them to animate your footage. It supports high-resolution videos. If you like 2-3 filters and want to download the video with different filters, then you can easily make a copy of the edited one and continue your editing.
With the help of stop motion recording, you can create Vine videos. Moreover, the app gives you options like resizing and reverse. That means you can play videos in reverse. And the resize feature gives you to fit your video within the frame.
After making a beautiful animated video, you can share it on your favorite social media channels. With all these natural features, Videoshop creates a separate space for itself.
Here is the list of all the key features:-
Split and merge video option

Add-on text option

Animated titles and filters

Resize and Reverse option

Voiceover and slow-motion options
8. VHS Camcorder Lite
VHS Camcorder Lite is one of the best VFX apps for Android & iOS. If you want to relive the 80's moments, you are in the right place.
You will be surprised to know that this application is used by Snoop Dogg, Wiz Khalifa, Philip Bloom, Kendall Jenner, Khloe Kardashian, and numerous TV shows and music videos. Top newspapers and magazines like Macworld, TechCrunch, Forbes, Wall Street Journal, and The Independent have already covered this application.
VHS Camcorder Lite by Rarevision - The Original VHS Cam App! 📼📹
The UI will make you feel like you are actually in the 80s. It will look exactly like the videos recorded 40 years back. You can create VHS-style videos of your kids, which will look similar to your school-going videos.
It will give you the feeling of a virtual time machine. The app has all the features of retro life that one can ask for. The app will give a touch of realism by eliminating glitches of damaged videos, old footage, or old camera recordings.
You can smoothly drag your finger during recording to glitch up the picture. The cheese factor is something everyone wants. The phony zoom lens feature significantly increases the cheese factor.
The idea behind developing the application was when someone talked about retro video-making apps, and a suggestion for that "VHS Camcorder Lite"'s name should be discussed positively. That means it won't let you down with any of your expectations. 
Camcorder Lite is considered the best throwback video for all the above facts and records.
The salient features are as follows:-
The best option for throwback among all the apps

It gives you the original feeling of the old days

Many celebrities use it

Zoom lens feature and the touch of realism

Easy dragging option to glitch up the picture
9. Fight Photo Editor
This app has specific usage as it provides features dealing with war, battle, injury, wound, and scary looks. You might like this application if you are a fan of 300 or The Walking Dead.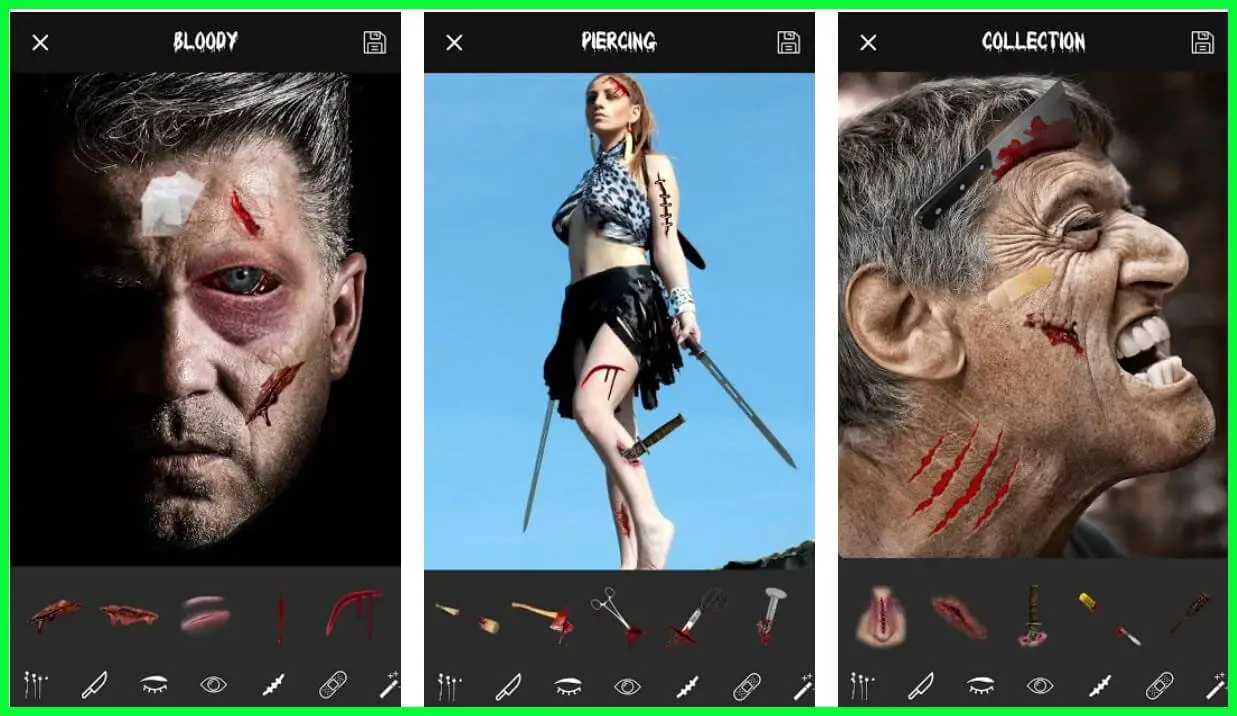 You can add bloody and scary wounds, blood, and blood sprays to your creation. You will get fight battle stickers whose size can be changeable. Moreover, your photo will look like a real warrior with the fight emoji catalog, virtual makeover, and fight editor effect.
The app provides text add-on and photo enhancement(saturation, hue, contrast, brightness). It is funny and easy to use. All the HD images are supported. You can adjust brightness, saturation, contrast, a shadow on your photo.
And In the end, edited or animated photos can be easily shareable on social networks like Facebook, Instagram, and Whatsapp. You can also save it on your phone and SD card.
Some key features are highlighted below:-
100+ injury stickers

You can add text and stickers to your photo

It supports high-resolution photos

The size of the stickers is easily changeable. 

The injury and wound marks look real and scary
10. PowerDirector: Google Editor's Choice App 🤴
PowerDirector is the last but not the least app in our best VFX apps for Android & iOS list. It is our best recommendation. It has more than 50 million downloads with a rating of 4.6 stars.
Most importantly, it comes in the editor's pick list of play stores. You can easily make high-quality professional videos with the help of powerful editing tools—the app is concerned with utility and speed. The app requires a 64-bit device for smooth operation.
PowerDirector Intro Video - Easiest video editor app
4k resolution videos can be exported to YouTube or Facebook with ease. With the help of a chroma-key, one can easily replace the background with a green screener. The video stabilizer feature helps you fix the shaking footage.
With a premium subscription, you will get an ad-free UI. Additionally, you will get unlimited access to the famous stock library "Shutterstock." It also gives you premium titles, transitions, and color filters.
Creating a captivating video will no longer be a headache. You can give a cinematic touch to your clips with countless stock music, photo, and videos.
Some features are as follows:-
It offers features like voiceovers and different features

Synchronization of different clips 

Easy join, crop, flip, and slip option

Video stabilizer for eliminating shaky videos

Premium features give you access to stock videos and new fonts
📗FAQ
Is there any VFX app for Android?
FxGuru is among the best VFX apps for mobiles. You can add fantastic effects to your videos, ranging from barrel explosions to alien invasions. The user-friendly interface lets you do all of it in a hassle-free manner.
What is the best software for VFX?
The best VFX software includes Adobe After Effects, Hitfilm Pro, Hitfilm Express, Apple Motion, Blackmagic Fusion, etc.
Which VFX software is best for Beginners?
Hitfilm is best for beginners is Hitfilm regarding composting, green screening, and visual effects. For animation and 3D modeling, Blender is perfect. CamTrackAR for your 3D tracking.
Can we do VFX on mobile?
You can use the video special effect app to apply VFX to your recorded footage on your Android devices. You virtually live in a movie or feel like your dream character using effects like Space Walk, Space Wars, Storms, etc.
Which app is used for VFX?
Blender VFX software can be used for VFX. You can use it to do full composting of videos and images. You will also get real-time previews and features like Sculpting.
Can I learn VFX at home?
The best VFX software for learning at home is DaVinci Resolve and HitFilm Express. You can start your VFX journey with these, along with top developers.
Conclusion
In this article, we have discussed how you can create your VFX video without being a professional. So many video editing tools, techniques, and special effects are behind the perfect video we see on the small and big screens.
Video special effects apps are used to decorate videos. These days, app developers provide many features that anyone interested in making VFX videos can easily do.
You don't require any prior knowledge and experience in video editing. If you are interested in doing this, these apps will help you in every possible way.
The above-discussed VFX apps for Android & iOS have pros and cons. We tried to create the best list of those apps. But we may leave a popular app. Let us know which VFX app you liked most. And have you come across any good VFX apps we have not mentioned? Write it.
The comment box is all yours.