The website downloader is your go-top option to clone the whole website in the easiest and fastest way. There are several advantages of using the downloader. This software can help you out in the following ways:
1. You can easily view and read the sites with many small pages that can be otherwise difficult to go through due to slow connections.
2. Also, sometimes people fall in love with the template of a popular website and want to use it as a reference site to build their own portal.
To do that, website developers require such software for 24/7 access to the data. So, testers and developers can make a copy of your site on a local server to analyze or modify it without meddling with the actual site.
3. Some websites are no longer accessible online after a while. You will obviously be unable to obtain the essential information again from that site. So, it is better to download them for offline viewing.
So, whatever is your reason, website downloader is essential for anyone who needs to archive a site. With this software, you can download an entire website to browse offline at your convenience.
Best Website Downloader Tools: Our Top Picks 👌
Here is the list of the best software to download all website data for offline viewing. 
1. HTTrack
HTTrack is amongst the most reliable websites downloading software for those searching for free option. The software has a smooth user interface. 
You can easily download the software and save it in your local directory. It will obtain HTML, graphics, and other files directly from the server to the PC and will periodically assemble all the directories.
The downloader has a straightforward process. You have to enter the site's URL and click on the Next button; the simulating process will begin instantly. However, the downloading will finish in minutes, hours, or days relying upon the size of the site you are downloading. 
It is capable of building the corresponding link-structure of the original site. In the browser, you can launch any page of your choice from the mirrored website, and you are ready to view link to link data, exactly like you see it online. 
Another feature of this software is that the paused sites can restart itself, and it even begins updating the already existing mirrored site. 
Pros:-
The software offers built-in guides to help out users wherever needed.

It also comes with a customization option.

It has the potential to obtain the original site's link structure.

This software is compatible with many Windows versions, i.e., Windows 2000 to Windows 10.
Cons:-
It has a prolonged downloading process.

The software is not suitable for PHP sites.
HakTip - Mirror Websites with HTTrack
2. SiteSucker
Macintosh presents to you the SiteSucker application, which will download the sites automatically from the browser.
This site works by asynchronously replicating the images, web-pages, style sheets, PDFs, and other files of the site into the local hard drive. In short, it copies the directory structure of the website.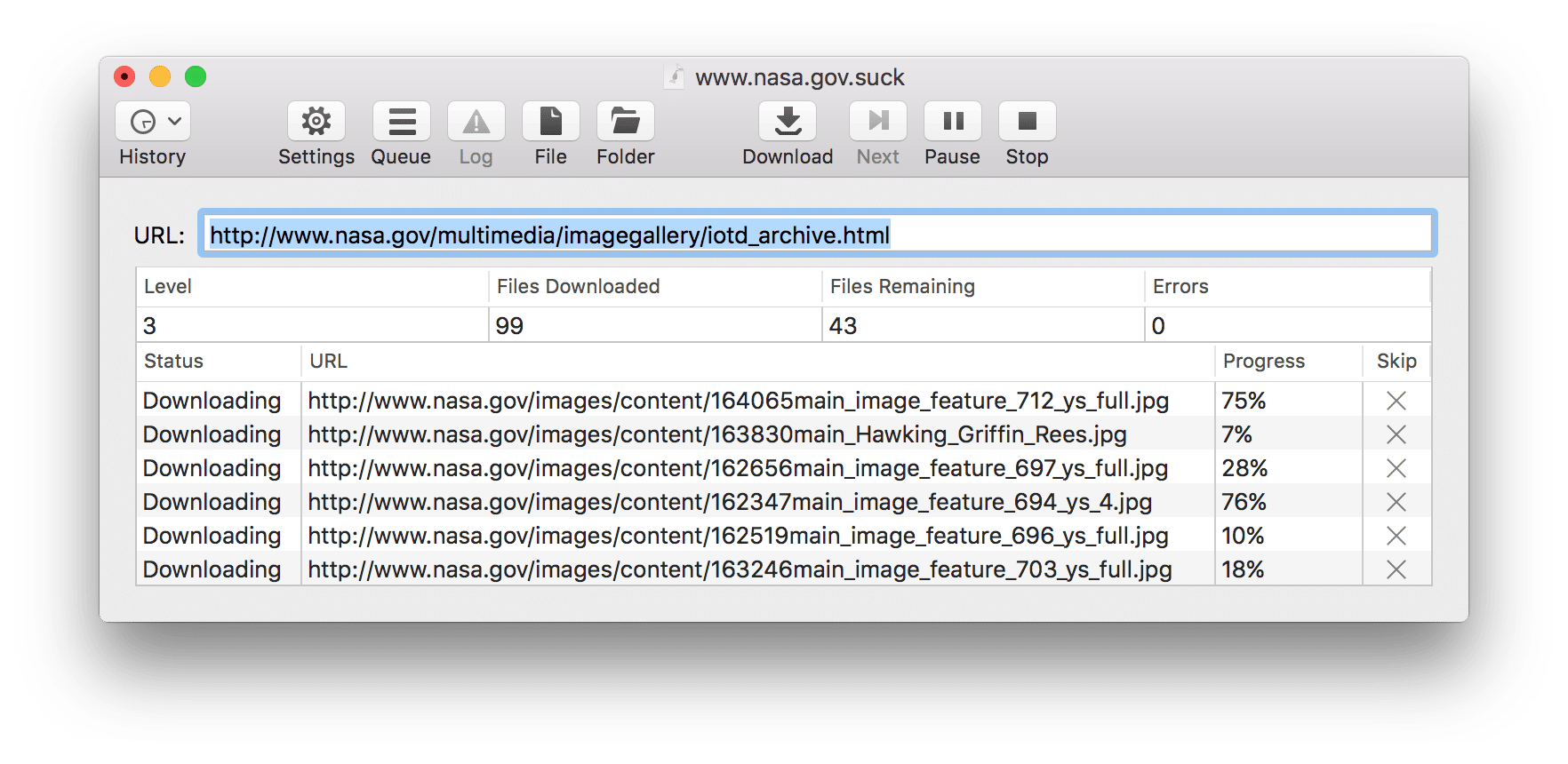 The software is simple to use too. You simply have to paste the URL of the site you want to replicate and press return. The SiteSucker will start downloading the whole site for you.
This site downloader is also used to create local copies of any site.
SiteSucker, by default, localizes the downloading files; thus, enabling you to go through the website in offline mode. You can even download websites without any alteration with this tool.
It further lets you make a document, which you can utilize to do the same download anytime you desire. On choosing the Save command, this tool can pause the download in the middle of a download and save its status in the document.
Further, you can restart the download from where you stopped it just by tapping on the Resume button.
Pros:-
This software has a speedy downloading process.

It allows the user to pause and stop downloading anytime in between the process.

You can store all the data about a downloaded site in a document file.

The software maintains the original folder structure.
Cons:-
Only limited files can be downloaded using this program.

This software is only compatible with iOS and MAC devices.
How to Save Any Website Offline on Mac!
3. NCollector Studio Lite
This website downloader has a simple process to download whole websites or specific files. Thus, it is one of the best website downloaders available online.
In offline browser mode of NCollector Studio Lite, you can download sites for offline reading. It likewise converts every internal link to the local link. 
Further, you will find a crawler mode in the software that crawls various websites for a wide range of files, such as images, documents, videos, music, and much more. You get downloaded files in your own configured settings. 
The software also enables you to download pictures utilizing Google as well as Bing search services. Besides, it can mirror a website in which it archives a wholly utilitarian snapshot of a specific site without any alterations on a new server or host. It works only on Windows.
Pros:-
NCollector Studio Lite is accessible in four modes: offline browser, search, mirror website, and crawler. 

The software specifies a search phrase as well as a search provider without any configuration.

This website downloader is easy to use for both experts and home users.

It supports Shockwave Flash as well.
Cons:-
Only the lite version of this software is free that also offers limited features. 

The mirror mode of the software cannot translate the links for using them offline.
4. Cyotek WebCopy
Cyotek WebCopy is another amazing tool on this list. This software will support replicating the site partially or entirely on a local machine as per your needs. You can view it offline whenever convenient for you. 
The website downloader starts analyzing the website for transferring all the web content into the hard disk of your system.
The software also automatically remaps different resources during the process. It includes style sheets, web pages, or images to the local path links. 
This software also enables you to set your preference that ranges from selecting segments of the site you want to download to utilizing its general settings.
Further, the downloader copies all the identified resources and even keep browsing for more. Hence, full website crawling is done for copying all that it detects while trying to establish a fair imitation of that specific site.
All in all, the website downloader assesses the HTML margin of the downloading portal and would attempt to obtain every linked resource.
Pros:-
This software will explore all linked resources like other pages, images, videos, and file downloads to store on your computer system.

The tool will crawl the whole website to download everything it detects.

It has a configuration setting to set which sections of a website to replicate.

Cyotek WebCopy is totally free software.
Cons:-
The website downloader does not incorporate a virtual DOM or any kind of JavaScript parsing.

It only works on Windows and Vista SP2.
5. Offline Explorer
As the name suggests, it lets you browse any website in an offline mode. Offline explorer is one of the premium tools for downloading and archiving the website. It runs on high-level downloading technology and boasts robust functionalities.
The Offline Explorer is an ultra-fast software that smartly downloads the sites. Moreover, it has a smooth interface that makes it easy to use. 
You can even download the specific sections rather than the entire website. It means you can set levels of links to follow and disallow particular videos, images, archives, and others.
You can also configure advanced exclusion commands depending on the directories, file names, etc. The software will save the downloaded website directly to your hard drive or even Flash drives or DVDs.
Some more benefits associated with this website downloader are password-protected sites support, keyword searching, sitemap generation, integrated web browsing, disk space management, BitTorrent support, amongst others.
Pros:-
You can archive your favorite website automatically and regularly using Offline Explorer.

The software allows users to set up multiple projects.

You are able to replicate the whole site or just a few files you require with Offline Explorer.
Cons:-
You get only a 30 days trial period that is also limited to only 2000 files downloaded.

It supports only Windows OS.
At the time of our research on Best Website Downloader Tools For Offline Viewing, we found a video about "Why You Should Never Visit The Dark Web" which is worth watching. 🏆🤴
Why You Should Never Visit The Dark Web
6. Teleport Pro
Teleport Pro is a multi-threaded, completely automated, file-retrieving web crawler. Using this website downloader, you can readily access and launch up to 10 retrieval threads. Besides, the software allows you to replicate sites that are password protected.
The software can manage any size of the website, without any glitch. It can scrape every file type available on any website. 
The tool allows even to build a website's duplicate with all files and subdirectories. Thus, you can search the site for particular file size and type as well. Further, exploring all pages from a central site and listing all pages from a website are its other notable features. 
Pros:-
With this, you can download all or parts of the site to the local drive.

You can filter files by their type, and search for keywords by running this software. 

The software also allows users to create a mirror of any website.
Cons:-
This website downloader is difficult to use.

It is not free software.
7. Offline Pages Pro
Some people prefer mobile browsing rather than surfing from a computer or laptop. So, for those Offline Pages Pro is the best shot.
This app will let you store any website on your smartphone to view it in offline mode. In fact, it is an excellent move to read the site if there is no internet connection.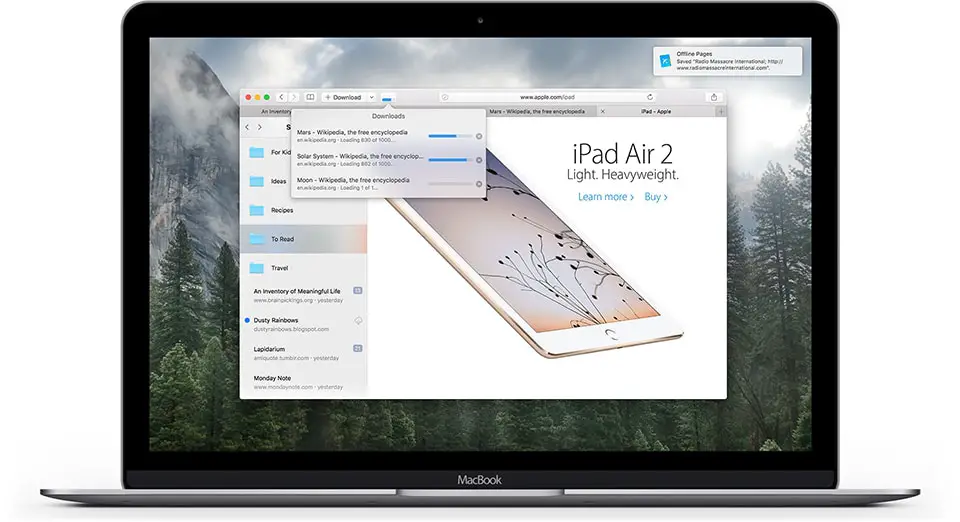 This app will also download the format of the website. Hence, you get a replica of the actual online website. 
It is simple to use this software. You simply have to click on the button next to the web address bar when you desire to download a web page. That's it; web pages will save on your device in a short while to surf in an offline mode.  
Not to mention, the Pro version of the app lets you tag pages so that you can easily find them later in your organized system. You also get the option to update the saved websites automatically on a regular basis.
Pros:-
Unlike other phone apps, the program will copy the whole web page to your mobile phone. 

You will acquire all documents, pictures, videos, and client-side interactivity copied on your phone.

The saving process is simple enough to put any site on download instantly.

 You can keep all of your downloaded sites updated to the current format using this website downloader for mobiles.
Cons:-
You need to make a one-time purchase to acquire this app.

This app only supports iOS devices.
8. WebAssistant Proxy Offline Browser
This one is more like a gimmick than real software. It is a completely free website downloader. If you are looking for a feature-rich website downloading software, WebAssistant Proxy Offline Browser is an ideal tool for you. 
Built on Java, it carries all the web traffic smartly and supports users to generate a copy of all the browsed web pages, clearly and immediately. These downloaded files will be accessible for offline use whenever.
You will notice the original web content, and the archive created by the software is precisely similar to the original website.
Thus, you can conveniently search your pages even when there is no internet connection. Further, the tool allows you to use your bookmarks in offline mode too. 
The proxy servers will also update the cached web pages, and new pages add automatically as soon as you return in online mode.
The downloader gives access to the exact position of the downloaded web pages. Lastly, it will enable you to analyze HTML pages from both the archive and the internet.
Pros:-
You will also get to mark the links to sources of cache archives for prompt access.

The WebAssistant Proxy Offline Browser can create

a cache of visited pages automatically, which you can share on various machines.

It operates efficiently in online and offline modes.

The downloader is compatible with Mac OS X, Windows, Unix, Linux, and Solaris.
Cons:-
You may have to run a few tests to understand the process before actually making the site's replica.
9. Web Reaper
We all know search engine optimization is the most crucial strategy to help any site build connections with high authority sites. If you, too, are looking forward to generating such links, Web Reaper is your one-stop solution.
This website downloader can crawl a website and download every web page, image, and other objects to view it offline. You can download the version as a local directory that runs as a completely browseable platform. You can also examine it utilizing any web browser.
Further, the website downloader allows you to browse using IE's in offline mode. It applies a multi-threaded downloading technique.
WebReaper can download as well as fix SWF movies for local browsing. You can use the filter creation wizard along with the range of 12 filters to effortlessly configure sections of the website you want to retrieve for offline view. 
The WebReaper downloader even supports web authentication and proxy to get access to protected and blocked sites.
Thus, with this tool, you'll acquire all the data you require to surpass the competition in your niche and rank your site as per the latest norms.
Pros:-
Web Reaper incorporates the tools that will give you the exact results you need to rank your website.

The highlight of this tool is that it can download the sites at two locations. 

This website downloader supportsShockWave Flash.

The software is available for free for both commercial and personal use.
Cons:-
The Internet Explorer cache mode of downloading a site is confined to Internet Explorer. 

This website downloader is only supportive of Windows operating systems.
10. SurfOffline Professional
As the name suggests, SurfOffline is a truly professional tool that boasts every essential functionality. Its user interface is not user-friendly. You will see offline/online options mode to visit the website.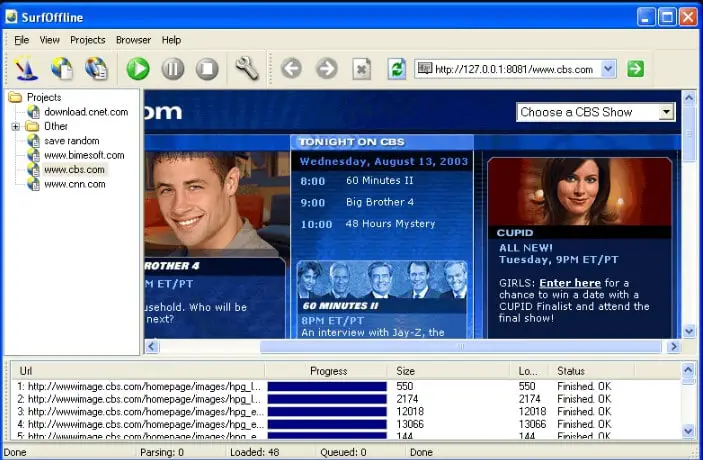 The software can efficiently download the whole site, including images, audio, video, and much more. The highlight of this website downloader is that it can both download password-protected websites and web pages both.
It has a built-in browser that will support sessions and cookies, enabling you to download those password-protected sites.
Pros:-
SurfOffline Professional is a lightweight website downloader as compared to other tools on the list.

Great all-around software to run for collecting all data from the website. 

It supports proxy servers, HTTP and FTP authentication, cookies, CSS, CSS2, JavaScript parsing, and Macromedia Flash.
Cons:-
The downloader is not free to use.

It's somewhat difficult to browse the site within the downloader.
11. GetLeft 
Next, the great website downloader on our list of best website downloaders is GetLeft that is accessible in 13 different languages. The software is an ideal pick for copying small files or sites of any single variance.
GetLeft instantly copies all the data from the desired website for offline reading. Before it starts downloading, you can filter the large files one by one or by selecting their type over the site map. However, it is not easy to use software that means only professionals can handle it.
It is time-saving software that allows you to schedule the downloading. Also, you can pause and restart the copying process whenever you want.
Pros:-
This software will capture less space on your system than other programs on the list. 

The software supports Windows 95, Windows 98, Windows 98 SE, Windows 7, Windows 8, Windows 2000, Windows 2003, Windows ME, Windows NT, and Windows XP operating systems.

GetLeft will also save your disk space. 

It is an open-source free to download software.
Cons:-
You need to put some effort into learning the process before actually using it. Hence, it is not meant for home users.

This software is unable to download multiple files recursively.
12. Website Extractor
Do you want to browse any website online and offline both? This tool can help you out in doing so. After the site download completes, you can review it offline or online as you want.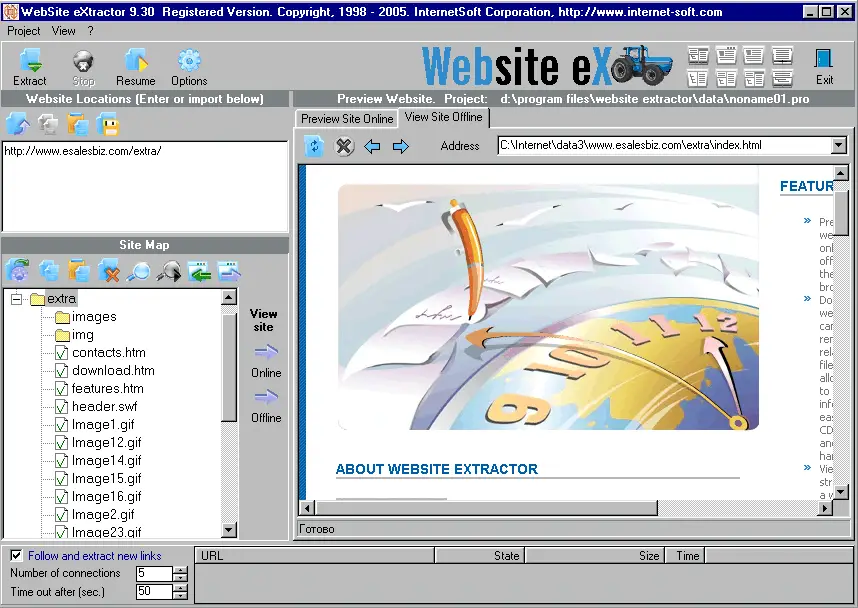 The Website Extractor boasts an advanced level of interface and individual settings. It is a user-friendly software, engineered to make website copying an easy process. You can copy the site by including or excluding any section as per your requirement.
Website Extractor incorporates all the basic features that a website downloader needs. You will also find some exclusive features, such as selecting the country of downloading the website. This website has some similar features as you will get in Offline Explore.
Any file stopped downloading because of bad connections or transfer errors? One of the best features of this software is that it lets you copy any data automatically. Lastly, this software can retrieve about 100 files at once. 
Thus, it is a time-saving website that downloaders you as compared to any average tool. 
Pros:-
Using Website Extractor, you can download any website precisely the way you want them as it offers a customization option.

This software enables you to start or stop downloading schedule download and file type. 

You can download the directory, types of files, their size, domain and file names, and any other elements.

All the retrieved files by the software stores only in your selected directory.
Cons:-
The software has a time-limited trial period.
Save whole web pages offline
I've discovered a great browser tool that lets you save web pages, so you can come back to them, even when you're offline. It's called Single File Z (Visit Here), and its GitHub page has links to the Firefox and Chrome add-ons.
If the name seems familiar, it's because it's an off-shoot of the Single File extension for Firefox, Chrome, and Edge, from the same developer. This newer Z version is similar but has a few tweaks – most notably, download sizes are a lot smaller.
Another interesting feature is that you can install the extension in different browsers (Chrome and Firefox, for example) and enable the option to "Allow access to file URLs'. This means that if you save a web page in Chrome, you can open it in Firefox.
There are two ways to save a web page. If the Single File Z extension is in your address bar, click the extension's button. After processing the page, you can save the HTML file to your PC. 
The other method is to right-click the page. Single File Z appears in the drop-down menu and hovering over this provides multiple saving options. As well as simply saving the page, you can save selected areas, along with open, pinned, or all tabs. There's even an auto-save option.
If you are an entrepreneur and want to build a company out of scrap, then you might want to extract data and information from other websites as well. The practice of extracting data from various websites is called Web Scraping.
Web Scraping is not allowed on all websites but you might want to request the owner of the website before doing that, and if you have the permission, you can scrap that website to analyze data and do wonders with it.
In this article, we are going to discuss various techniques that we can use to scrape a website.
Use Scraping Services:-
One of the easiest way and most efficient way to Scrape a website for a company is with the help of a Web Scraping Service. There are different services for different scales of work. 
Use Scrapinghub if you want to work on a large scale, this service will allow the developer to collect an enormous amount of data.

If you are not into collecting an enormous amount of data and want something to work on a smaller scale then you should be going for PareseHub.
PareseHub is easy and inexpensive. You will get a free plan of 200 pages and from there you can learn and later consider observing its pricing system.
Use Google Spreadsheet for Web Scraping:-
Google Spreadsheet, not only serves as a data managing application but can also help the users in scraping a website. 
To scrap a website with Google Spreadsheet, follow these steps:-
Step 1: First of you need to find a website you want to scrap, and then copy the URL for that particular section.
Step 2: Open the Spreadsheet, rename it, and paste the URL in the first row of the first column.
Step 3: Since we are using Bloomberg.com as an example, therefore, we are going to calculate the currency rating. In this example, we are going to scrap the value of USD over the Canadian Dollar.
Step 4: Make separate sections for each entity. (Currency, Date, Spot Rate, Currency, Spot Rate)
Step 5: Now visit this Bloomberg.com, cross rates, here you need to extract the source code, for that go to the USD/CAD currency, and right-click the entity to extract the source code wrapped in the anchor tag. If you can copy the HTML do that or click on the edit HTML  and then copy the code.
Step 6: Paste that copied HTML code below the pasted URL. 
Step 7: Now let's go to the entered entity, below the Currency section enter the currency(USD and CAD). under the Data tab, you need to insert the time command that's NOW(). Now under the Spot Rate(1) insert "=importXML(A1,"//a[@href='/quote/USDCAD:CUR']")" command. 
Step 8: Now let's go to the section where you have entered CAD, under its Cross Rate section insert 1/D4(that's the location of the previous cross rate). It will give you the Cros Rate value with respect to CAD currency.
Similarly, you can move further by just changing the currency in later entries.
Use Python library for web scraping:-
Python is said to be the programing language of the future. If you want to do web scraping in python then you have two methods, we are going to discuss both the methods.
Use the "Scrapy" Python library to scrap a website:-
Scrapy is the Python library that is used to extract information from the web-pages. Scrapy library has spiders that crawl over the website in order to monitor the web-site.
Spiders are used to define how the website should be scrapped for the information. They let us determine what information we should extract from the website. Coming to its relation with Python, Spiders are the classes that consist of all the logic required to extract the data.
Next up is Selector. Selectors are the mechanics used to select data with the web page's underlying HTML.
Before going to the meat that's the code, we should learn one more thing, that's Item. Items are the data extracted from the selector.
First of all, you need to install Microsoft Visual Studio, it will assist in typing the code.
Python Scrapy Tutorial - Cats & Spiders? Web Scraping Reddit with Scrapy [2020]
Final thoughts…
Do you want to access an online platform and do not have internet access? Or do you need to keep a backup of your own site? Maybe you are a website developer who needs to replicate a site asked by your client.
Whatever the case may be, the website downloader is your rescuer. So, the tools reviewed in the above list are your best options to replicate the full website for offline viewing at a later time. Hope you found your ideal software!