The statement by Goerge Washington Carver, "Education is the key to unlock the golden door of freedom," forges the need for education, and when you are living in a world of technology, who can stop you from taking what is yours, your educational rights?
The Internet has made everything reachable; education is one such aspect that the internet has made reachable; you can heighten your skills from the comfort of your house. There are zillions of online educational websites that offer thousands of courses to do.
Skillshare is one of the known names among online educational websites. You can further complete your studies in hundreds and thousands of courses, including business, design, photography, music, technology, writing, and many more.
The plus point in Skillshare is that the videos are most likely to take a few hours at best to complete. The videos are accessible 24*7, unlike the old traditional classes, missing one class, then no going back. 
Besides providing educational videos, Skillshare lets users do live projects to get responses from experts and learners.
To start the learning experience, learners first must sign up for Facebook, Google, or apple. Voila, you will get a 1-month free premium pass. 
Others are also trying to make education online access to students who don't have time to go to colleges and schools to gain knowledge. 
In this article, we have jotted down some of the websites like Skillshare so that if the prices are not up to your expectation or the standard of education does not reach your goals; then you can shit to one of the mentioned websites.
Without any further ado, let's get to the work. 
1. Udacity
If what you are after are cheap rates and accessibility, then you can never go wrong with Udacity. Udacity provides all these things and therefore has secured its place in our list of websites like Skillshare.
It thrives on ensuring its users will have education at a low rate and is accessible to anyone seeking knowledge. 
It has some informative content broadcasted as tutorials so users can achieve higher posts in their fields. Computer enthusiasts can quench their thirst for the latest digital content as the website tries to stay up-to-date with its content. 
It focuses on a long list of topics, such as data science, software engineering, and web development, and also has courses on Android and iOS.
They put all their strength into gathering information so students can make something out of it. 
They have upgraded their subjects so students can start their journey in fields like Artificial Intelligence, Autonomous systems, cloud computing, cybersecurity, data science, product management, programming and development, and many more.
It is one of the most sought-after websites like Skillshare and the point to be noted is that it offers heavy discounts during the pandemic, so do not let go of the opportunity to access one of the websites like Skillshare.
2. Coursera
When discussing websites like Skillshare, mentioning the name of Coursera is a must. The education website partners with most of the top-notch colleges and institutions worldwide. 
It stores a never-ending list of subjects and tutorials for its students. Coursera is one of the websites like Skillshare that can give healthy competition to other educational websites like Skillshare and Khan Academy. 
It has some exclusive content from top-tier sectors like colleges, universities, museums, or lectures from visiting lecturers. The tutorials ensure to include every detail about the subject so that no part should be left out. 
Coursera is said to be one of the affordable websites like Skillshare as it provides its services at no cost. However, as we know, all good things end, and Coursera's free version's glory has also ended.  
The free version has laid numerous restrictions on its data accessibility, so it is best to opt for the premium version to access free learning material.
The best part of the website is that it allows you to select according to your skill levels so that it can be anyone from beginner, mixed, intermediate, and advanced. 
Download the App from Google Play Store
Download the App from Apple App Store
3. Udemy
If you are comfortable with Coursera, you will quickly get the hang of Udemy, as it is a carbon copy of Coursera.
It has similar content that you see in Coursera, but you can also get to make your own courses by abstracting content from the lessons.
It makes learning with well-off professors and schools easier. The most attractive feature of Udemy is that all the customizable platformers of other sites are accumulated here.
You can decide whether you are satisfied with the free services, as it also has premium services ready to unleash.
Download the App from Google Play Store
Download the App from Apple App Store
Note:-
You may like to explore our guide on 15 Of The Best
Sites Like Udemy
For e-Learning.
4. LinkedIn Learning
Lynda is the former name of the website, LinkedIn learning is one of the solutions for online education that can be an asset to learners.
It has made quite a name among IT specialists and tycoons for its long-time providing skills sharpening data.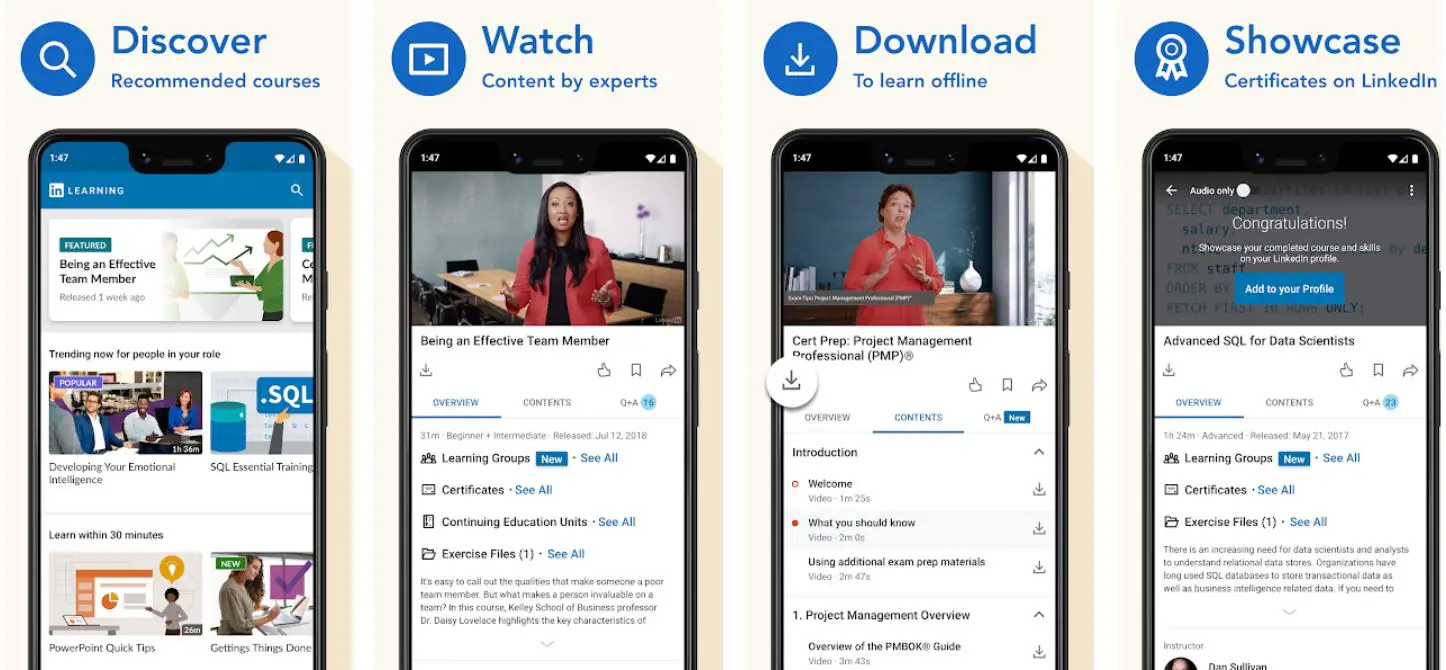 It has been in online education for more than two decades, so this period has made millions of learners attach to Linkedin learning for various reasons.
Therefore, Linkedin learning is a name that appears in the discussion of leading educational websites.
If English is not your native language, do not brood over it, as they have four other languages that you can use instead. 
The learning process will only start when learners subscribe, as it is obligatory. Its attractive point is its 30 days of free access to its library.
Completing 30 days will then ask learners to sign up so that their access to the video library remains intact.
The courses broadcast on LinkedIn are software development, business development, marketing, photography, and many more topics. Visual Learning is one of the subjects that most students go for. 
The students achieve certificates after completing courses, and if you are unsure about the path, Linkedln learning also suggests suggestions. It is one of the websites like skillshare that puts up a fight to grant education. 
Download the App from Google Play Store
Download the App from Apple App Store
5. Codecademy
If you are a programmer looking for the best teaching hub, then Codecademy is ready to ensure your experience is worthwhile.
It tries to ensure that its tutorial covers coding and the methods required to create websites.
You are getting coding classes at no cost, so it is a non-profit educational website. Many students from Codecademy secure well-paid jobs in top-notch enterprises such as  IBM, Facebook, Google, HUGE, and well-flourished enterprises all around the globe.
If anyone from HTML, CSS, Python, JavaScript, Ruby, C++, Java, SQL, R, C#, PHP, Go, Swift, Bash/Shell, and last but not least, Kotlin is your forte, then you are at the right place as Codecademy has highly qualified professors and lecturers. 
It also covers web development, data science, computer science, developer tools,  machine learning, code foundation, web design, game development, and mobile development, and the list is never-ending. 
It makes keeping tabs on improvement and skill level accessible. Not only professors and qualified programmers are at your service, but the close-knitted community of students is also ready to come to your aid.
You can grow your skills as well as your friend circle. It will be a significant loss if you skip this website while searching for websites like Skillshare. 
Download the App from Google Play Store
Download the App from Apple App Store
6. Khan Academy
Khan Academy is a site that offers free online education, just like Skillshare. It has a partnership with several high schools, and the covered course list is too long to write down in the article. 
It is easy to start liking Khan Academy due to its user-friendly interface. Its sole purpose is to make students reach their highest levels so that their future will shine brighter. Not a single delta is left out regarding subjects.
The site does not ask for a single penny in return for education. It is a non-profit educational site that has answers even to complex questions.
One can never get bored with Khan Academy as it thrives on making learning more casual than a routine where you have to get ready and sit a long time in the classes.
They are on a mission to provide free, world-class education for anyone, anywhere. It is an asset for students and a great measuring tool for teachers to check out the gap in students learning skills.
Download the App from Google Play Store
Download the App from Apple App Store
7. edX
edX is another website like Skillshare, developed in the year 2012. It is again one of the instances where education is free of cost. It is a non-profit project of two known colleges, MIT and Harvard University.
The standard of education is at par with professors who knows all about their perspective fields. The website covers computer science, engineering, data science, business management, and newly profound subjects such as psychology, humanities-based subjects, and linguistics.
You can also try your hands on different subjects like architecture, art, culture, economics and finance, environmental studies, ethics, food and nutrition, health and safety, and many more, as it has tutorials on them. 
If you are worried about whether you will receive the best education, then you are worrying about nothing as they are tied with some world-class institutions and colleges.
They provide certificates after you complete the course, so not checking edX is losing the key to a better future.
8. FutureLearn
FutureLearn has partnerships with world-class institutions, so if you want to study the same courses in the same teaching style, then FutureLearn is the way to go. The site tries to stand on the slogan of learning new skills online with top educators.
It does so by uniting with top-quality universities from around the globe, so it would be safe to call FutureLearn an open university.
The prime feature of this site is that you are the one who selects the pace and timing of the classes. 
It offers full-time classes along with part-time classes so that you can attend according to your convenience and, at the same time, enjoy a whole college experience. It has plenty of classes waiting for you to check out. 
The available courses in FutureLearn include literature, arts, business, media, law, social science, study skills, teaching, and many such subjects. Many of the courses are available for free. 
It ensures that easiness is maintained throughout the students' use, as it is not guaranteed in traditional schooling.
The most remarkable feature of FutureLearn is the active interaction between students so that they will have a whole school experience.
You can grow your skills and social circle, so why waste time reading more when you can check how excellent studying at FutureLearn can be?
9. Treehouse
The best place where coders and programmers can learn a lot about their field is Treehouse.
It is one of the best online coding websites that helps you in learning codes at home. Not only coding, creating, and designing as well.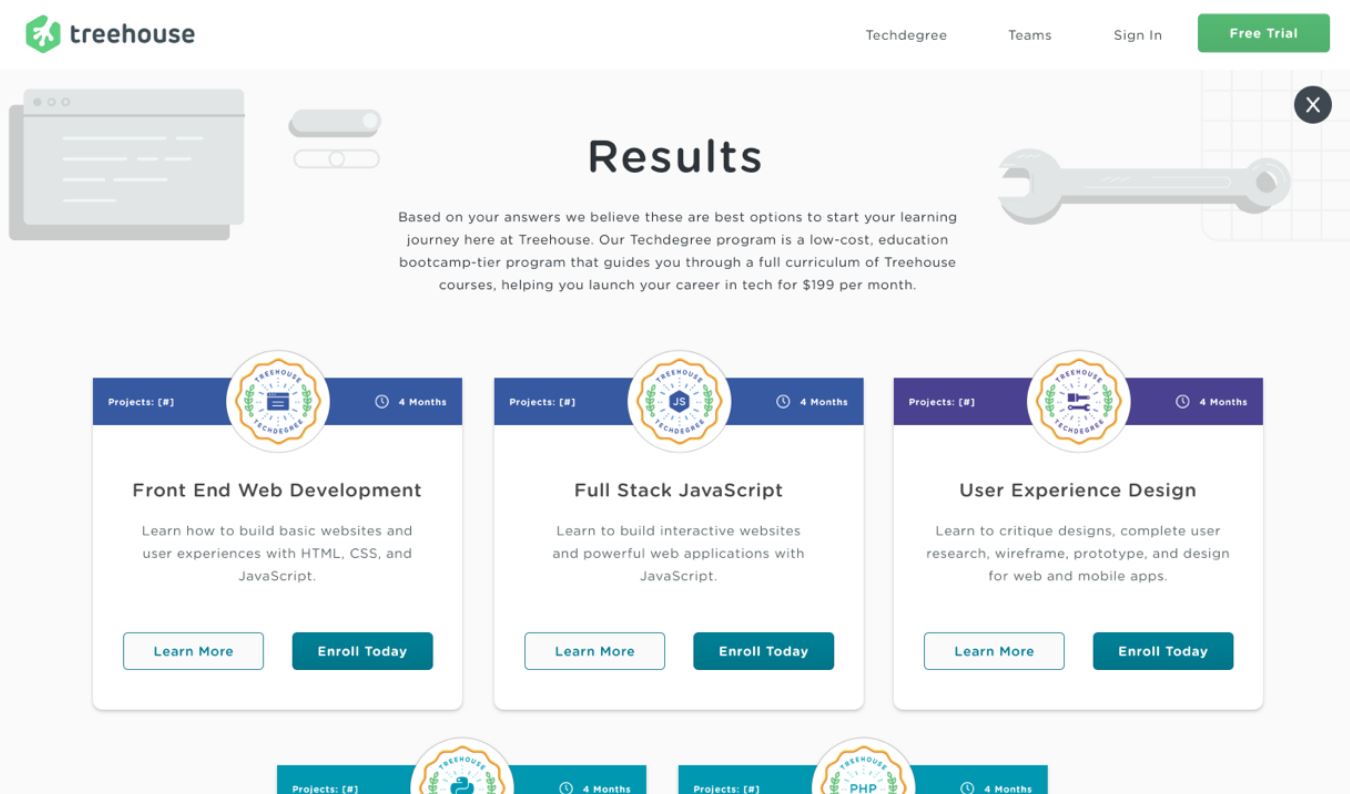 It lets you use the free service for seven days; after that, you must pay a certain amount to continue the classes.
It has high standards of education as they believe in expert-led videos. It also has a Bootcamp tier program called Techdegree. 
It guides you thoroughly through the curriculum of Treehouse courses so that you can select the right one for you. To start coding, you have to enter your email. It has projects, quizzes, and access to the Treehouse community's exclusive features. 
It would be a big mistake as a programmer to let go of these resources. Yes, it may be costly, but it provides one of the high-class coding lessons.
10. Code
Another safe option for programmers who want websites like Skillshare is Code. It is one online website that thrives on making coding learning more accessible and available to all.
It will not matter if you are a child or an expert, as Code has courses for every age group so that no one would feel left out. 
Over 45 languages are available, so a person with a native language other than English will have no problem understanding the videos.
The available topics are Science, Maths, Social Studies, Language Arts, Art, Media, Music, and Computer Science.
It also includes subjects such as  Computers, Android, iPad/iPhone, and Screen readers with poor or no technology. The available courses do not end here; you can also study app writing, robotics, and Javascript.
Before going for the premium version, you can check Code's 1-hour tutorial that shows the design and all the features of Code. If you are a rookie, you can go for beginner and slowly boost up to a comfortable level.
It is one of the coding websites that well-trained rookies can access to sharpen their programming level and knowledge. 
11. Canvas
Canvas is an all-in-one solution that works hard to provide courses on video editing lessons. If you are a content creator, then there is no other place than Canvas that can sharpen your editing skills. 
It has all the information you need to be number one in your field and secure high-paid jobs. It covers video learning, data assessment, leadership development, machine learning, and many more.
It tries to make way for educators so that teaching can become more simple, flexible, and not a burden so that they can give their all to teaching. 
12. Pluralsight – The Technology Skills Platform
Pluralsight is a website that makes the lives of software developers, IT professionals, and creative enthusiasts easier by providing them with a learning hub that answers all the questions regarding computer science.
The site offers live expert-led courses, so the standard of education does not matter when using Pluralsight as your guide.
Its library has a long list of courses that shine a light on topics such as software development, machine learning or AI, IT ops, cloud computing, and data professionals.
It offers a 10-day free trial so that you can decide whether it is the one or not.
Download the App from Google Play Store
Download the App from Apple App Store
13. Hubspot Academy
When you are looking forward to learning all the latest information in the IT field, Hubspot Academy is the right destination, which stores all the latest and trendy information in the It and developing department.
The average number of students visiting the site is over 3,50,000 because of expert-led courses and accessibility to subjects like marketing, sales, service, web design, web development, and data privacy.
The best part of this website is that it has short videos of the lessons, so you can learn whenever you have time.
There are three levels, beginners, intermediate, and advanced so choose according to the level of skills you have and can they go up to the higher level of education. 
Ted-ed is one of the websites like Skillshare that provides online education and is an open educational platform that broadcasts videos of various subjects.
The site does not believe in old schooling methods, so they approached a more friendly and fun teaching style.
The lessons are in cartoon form so that students will focus on the lesson throughout the class. Ted-Ed provides high school lessons as well as for junior students. It has a plethora of courses in its library.
Whether the question is about business, economics, engineering, design, technology, or health, or more common subjects such as mathematics, science, technology, social studies, or recently profound subjects such as psychology, philosophy, or religion-based studies, you will get your answers here.
Apart from this, it also has linguistic courses to make students learn and master their skills and do good in their careers. 
The point of using Ted-ed is that it is a multi-tasking website that wants its leaner to excel in their perspective field and motivates teachers and students to share their knowledge by creating more educational videos.
The learning process starts by registering on the site; no money is needed to register yourself. It is one of the websites like Skillshare that allows pleasant experiences to educators and learners alike.
15. Lesson Paths
Lesson Paths is somewhat different from other websites like Skillshare as it has both its original content and content from other sides. It is a place where you will get hundreds and thousands of links to educational videos. 
It lets users sum up links of a vast number of educational links. With experts' help, learners can ensure that the video links are worth their time.
Lesson Paths' original content is not based on specific topics; it contains information on random subjects and topics. If you are looking for a website to study subjects such as mathematics, science, sociology, and many more, then Lesson Paths is no use. 
It is one of the fastest means to have study materials during exams. You won't have to ask your friends for their notes. It has solutions even to problems that concern your love life. Boosting personal finances is more accessible than before. 
Without looking out by yourself, don't be in haste to judge, so check out the site to learn more about Lesson Paths.
Open Culture Online Courses is again one of the instances where you can pile up umpteenth links of educational videos.
It is a destination of more than 1500 links to professional lecturers, videos, and podcasts from well-known organizations and colleges.
It is one of the sites with materials you can only get on the colleges' sites and nowhere else, so it saves learners time that they could have been spending on going through different colleges' sites. 
It has stored materials from universities worldwide, such as universities in England, Wales, Australia, and the United States.
Open Culture is one site that lets students breathe and not overwork themselves. 
17. Academic Earth
Good news for geography and environment lovers as Academic Earth is a site that earth lovers should visit. It makes college look easier so students can complete their degrees without needing to sit long hours in classes. 
Academic Earth is thriving to make education less complicated than it is; it shows courses along with every single detail of the school and the subjects' topics. It makes the process as fast as it can get. 
To start the classes, you must first choose what type of degree you want to pursue and then the subject from the list on the screen. Associate, bachelor's, master's, doctorate, and diploma are available so that you can complete any of the degrees.
It is an entire organization with a long list of subjects such as arts and design, business management, computers and technology, and many more. It also lets you try new topics such as psychology and Counselling.
If you are a science and engineering or a liberal art and humanities student, then also no problems as it also covers it.
It offers expert-led education with the help of professors working in world-class universities and colleges like  Berklee College of Music, California Institute of Technology, Columbia University, Cornell University, and many more well-flourished colleges.
It would not be a wise move to let of such learning opportunities. Undoubtedly, Academic Earth is a must-visit site that can give competition to websites like Skillshare.
🎏FAQ
Because different people may have different perspectives about what makes a learning platform or educational resource fantastic or horrible, it might be challenging to say whether something is "better" than Skillshare.
Popular online learning platform Skillshare provides classes and courses on various topics, including business, technology, art, and design.
However, many other learning platforms and educational resources offer a similar or even more extensive range of courses and academic fields.
Examples of these include Udemy, Coursera, and Khan Academy. Researching and contrasting several choices will help you decide what best suits your needs and preferences.
Choosing MasterClass and Skillshare as the "best" platform is challenging because it ultimately depends on your interests and what you are searching for in a learning platform.
There are several online learning sites, such MasterClass and Skillshare, that provide lessons and courses on a range of subjects.
While Skillshare has a broader selection of courses and subjects available, The masterClass is renowned for providing lessons taught by renowned experts and professionals in their fields.
Your learning objectives and what you want to study will ultimately determine which option is ideal for you.
By researching and contrasting the two, find out which platform offers the courses and services that best suit your needs.
Depending on your situation and what you intend to achieve from using the platform, you can decide whether Skillshare is a waste of money.
An online learning platform called Skillshare provides a variety of classes and courses on various topics, from business and technology to art and design.
The courses and classes available on Skillshare may be helpful to certain people, but they may not think the platform is worth the price.
Ultimately, it comes down to your learning objectives, preferences, and how much time and effort you're willing to invest in using the platform.
Before judging whether Skillshare is pricey, it may be beneficial to investigate and contrast it with other learning tools and platforms.
Choosing between Brilliant and Skillshare as the "best" platform is challenging because it ultimately depends on your interests and what you are looking for in a learning platform.
Online learning portals like Brilliant and Skillshare provide courses and instructional materials in various areas. The particular topics and materials they provide, however, are different.
With a strong emphasis on math and science, Brilliant provides a variety of engaging, interactive courses, practice exercises, and challenges to assist users in advancing their knowledge in these fields.
In contrast, Skillshare offers a broader selection of programs and courses on various topics, including technology, business, design, and art.
The best option for you will rely on your educational objectives, personal interests, desired subjects, and available resources.
By researching and contrasting the two, find out which platform offers the courses and services that best suit your needs.
Final Words
Skillshare is one of the educational websites that try to make education accessible to anyone, anywhere; it is one of the affordable websites with lower rate plans than most. But there are many websites like Skillshare that do the same. 
According to the subject or degree, you can select the right website for you. Khan Academy, LinkedIn Learning, and Coursera are some websites that stand at the same level as Skillshare.
Berklee College of Music, California Institute of Technology, Columbia University, Cornell University, and many more well-flourished colleges.