Health and wellness are the two most important aspects of our life. As you must've heard the saying, 'health is wealth.' We must know and admit that the priority in our life must be our health.
Without good health and proper wellness, no matter how rich and successful you are, you will always feel a void in your inner self, like something is incomplete.
To fill that void, we need harmony between our body and soul. When we talk about wellness and health, it includes two things: mental and physical wellness. Mental wellness is as essential as physical wellness, harmony between the mind and body makes a complete human being.
This current scenario that we live in is entirely contrary to the ideal environment in which we are supposed to live. Mental pressure, difficulty sleeping, stress, and depression are taking a toll on our lives. Nowadays, mental peace is negligible.
To find an escape from mental stress, we turn our attention to eating fast foods, which end up affecting our physical health too.
A majority of people indeed use junk or fast food as a medium of escape from the mental situation that they are in. Apart from them, some are just habitual of eating fast foods. 
Working out is an essential part of keeping ourselves sound and healthy. We must have a daily routine for workouts and a diet plan. This is the least we can do to keep ourselves in shape. It is where these apps will come in handy, which we are just going to discuss.
Why are Wellness apps necessary?🤷‍♂️
We are surrounded by technology. The primary way we interact with technology is through mobile phones. They are very productive pieces of tech, but they can also be the most distracting and unproductive product.
We provide a brief list of apps that work on your smartphones so that you can channel your energy into making yourself productive and fit simultaneously.
We spend most of our time on our smartphones, and to be honest, it is somewhat justified also. People with jobs must do most of their work online, and smartphones are the best way to socialize and interact.
These apps keep track of your daily routine, sleep, diet, calories burned, etc. They are customizable according to your needs and can help you lead a better life.
Best Top Wellness Apps – Our Pick 👌👌
1. NOOM: Stop dieting. Get life-long results
Noom is amongst the most popular and well-organized dietary-related wellness apps. It studies the psychology of the user and gives plans and routines based on the research and data from millions of other users.
It focuses on changing people's behavior rather than restricting them to follow a strict diet plan that has its very own disadvantages. This app is also recommended by professionals like personal trainers and behavioral scientists.
When you first enter the app or its website, Noom will ask you questions like a survey and based on your answers, Noom provides you with the best possible diet plan and routine. Keep in mind that it is paid.
You have to take a subscription to the app to receive your program, but it is worth it. 
Download the App on Google Play Store
Download the App on Apple App Store
2. Headspace: Mental wellness apps For Meditation
Headspace is a meditation app that helps people relieve stress from their daily lives and helps them sleep better. Its users and subscribers claim that listening to this app instantly calms them and improves attention-giving spans.
Get Moving Mindfully with Headspace
This app focuses on meditation and its benefits, like living your day happier and having a good sleep cycle. If you're struggling mentally, which hurts your life, then headspace can help you improve your quality of life.
Headspace is also a paid service, but they offer frequent sales to get the help you need without making a dent in your pocket. It has sequentially pre-recorded audio in sessions so that you can listen to it anytime.
Download the App on Google Play Store
Download the App on Apple App Store
3. My Possible Self
My Possible Self mainly focuses on mental health. This app can help you sort things out if mental health is your concern.
It has a function called 'moments.' As you know, anxiety and stress are the primary concern of people with mental health conditions. Generally, anxiety and fear have triggers like changes in your behavior, bad sleep cycle, work overload, etc.
My Possible Self app preview
This app helps you manage all this through self-help modules that help you tackle stress, anxiety, and fear. You can keep track of all the related things related to stress, overload, and worry and significantly improve your mental health.
Download the App on Google Play Store
Download the App on Apple App Store
4. 8fit Workouts & Meal Planner
8fit is a renowned name in the fitness industry. It is a nutrition and fitness companion app that helps you find beneficial ways to work out and plan your routine with personalized diet plans. This app allows you to keep track of your workout, diet, and progress made in one place.
It is a custom home workout app oriented for people who don't go to the gym and prefer to work out independently.
You can create a plan with a nutritious meal that helps speedy progress of your physical body. It also includes sleep meditations and full-body health exercises, promising the overall growth of your physical and mental health.
Download the App On Google Play Store
Download the App on Apple App Store
5. Streaks: The habit-forming to-do list
Streak is a different category of app that we can use to form a daily to-do list. This to-do list can include good habits that we need to perform daily and reward ourselves.
With the help of the streaks app, you can create up to 12 daily tasks you want to retain in your daily schedule.
You can customize this app to its very extent. You can set different tasks for different weekdays and so on.
Your self-control is essential for this app to be beneficial; otherwise, making to-do lists will contribute nothing to making you a better person, whether physically or mentally.
Download the App on Apple App Store
6. Flipd: Focus & Study Timer
Have you ever realized that spending too much time on smartphones is unhealthy and unproductive? If the answer is yes, this app is mainly for people like you.
Flipd teaches your mind to refocus on the activities that you've done in the past that are harmful.
This app helps you stay focused and spend your time in productive fields in several ways. It encourages the fact that you need a break from the smartphone world.
It also has a feature that lets you block some of the most time-consuming apps, preventing you from finishing up your essential tasks and distracting you from your actual goal.
This app can make you very productive, which in turn will make you better at well-being.
Download the App On Google Play Store
Download the App on Apple App Store
7. MindBody: Home Workout & Fitness App
As the name suggests, this app can be the primary source of your physical and mental wellness services in your area or community.
It helps you book appointments related to your wellness and fitness. It generally helps its customers to find health, beauty, and wellness-related health businesses nearest you with just a tap of your finger.

You must type your zip code or the current address and leave the rest on Mindbody. It will find the best place related to your demand or requirement.
Mindbody also runs virtual fitness classes online where you can learn health tips from professionals. You can also pair these health and wellness apps to the Fitbit device to track your progress accurately during workouts or exercise routines.
Download the App On Google Play Store
Download the App on Apple App Store
8. Sleep Cycle: Sleep analysis & Smart alarm clock
With the fast-track life cycle, we are in a complete rush of unbearable stress. It affects our sleep directly. Sleep is amongst the most crucial aspects of living a healthy life.
If we don't have a good sleep schedule and we aren't sleeping well enough, then our body doesn't get proper rest, and if we don't get adequate rest, then it slows down our metabolism, and we feel tired all the time, which adds up to more stress and depression in life.
That is why having a good sleep schedule is a must. Sometimes we cannot sleep due to workload or anxiety. No matter how tired you are, you just can't sleep.
It can turn into a horrible situation. To tackle this problem, the app Sleep Cycle comes in very handy. This app takes proper track of your sleep, helps you sleep on time, and wakes you up at an adequate time.

Download the App On Google Play Store
Download the App on Apple App Store
9. Hastens Restore
This app is also designed to focus on your sleep and wake-up schedule. Hastens Restore app is different from the other apps as it contains a wide variety of audio soundtracks that helps you sleep well.
This app was designed by the mathematician and physician Dr. Jussi. He developed the app based on sliding resonance frequency technology. 
It is an app designed to make you fall asleep with different types of noises and music aimed to wake you up, keep you focused, relax, and help you fall asleep. This app takes a clinical approach based on heavy research behind the sounds present in this app.
Download the App on Apple App Store
10. LifeSum: Healthy Recipes, Food Diary & Diet Plan
A big part of your health depends upon the type of diet intake you acquire. Calorie intake is the most prominent aspect of making an impactful diet plan. Lifesum helps you track your calorie intake based on your diet plan.
This app also provides you with 1000+ healthy recipes that you can follow to control your calorie intake. This app can be used as a go-to virtual meal and diet planner.
Download the App On Google Play Store
Download the App on Apple App Store
11. Runkeeper – Distance Run Tracker
As the name suggests, this app keeps all your track records of how much you have run and at which pace. If you prefer running and tracking, this app might become very handy for data on how many miles or kilometers you've racked up.
This app also includes personalized training schedules to help reach your aspired goal in a given period. Whether running outside or on a treadmill, RunKeeper keeps all your stats in one place.
You can compare these stats to your previous stats to see how much you've improved over time. You can also connect your friend's or family member accounts to keep track of them.
Download the App On Google Play Store
Download the App on Apple App Store
12. SworKit Fitness – Workouts & Exercise Plans App
Sworkit allows you to access free workout videos and training routines by professionals that you can watch anywhere and start working out as soon as possible.
Sworkit has numerous workout options that range from slow and steady workouts to HIIT (High-Intensity Interval Training) routines. 
Sworkit is the Fitness Perfect Solution
From instantaneous abs sequence to full-body workout, Sworkit has it all sorted out. This app is like having your trainer on the go.
Download the App On Google Play Store
Download the App on Apple App Store
13. Apple Health
Apple Health app might not be accessible to everyone as it is only available on the IOS platform. So, if you own an iPhone, you have to go nowhere to download an extra app to keep track of your workout and health. It syncs up easily with most wearable devices.
Get to know the Health app on your iPhone - Apple Support
It also keeps track of the number of steps you've traveled in a day and resting energy independently without using wearables. The number of calories burned due to workouts, standing hours, exercise minutes, and all the other related databases are stored in one place, which can be accessed easily.
Download the App on Apple App Store
14. WW (Weight Watchers)
Weight Watcher is a unique app and approach to keeping track of your meals. It serves the purpose of making you healthier by recommending nutritious food choices.
What makes it different from the other apps is that you can scan a food item or enter the food item, and it will tell you ratings of that particular food on the WW scale. From there you can decide whether or not it is an excellent option to eat that food.
Weight Watchers app can also be synced to different wearables like Fitbit to make an accurate assumption of calories intake and out. Also, if you're a member of the WW community, you can get access to recipes and social networks for extra care and support.
Download the App On Google Play Store
Download the App on Apple App Store
15. Endel: Focus, Sleep, Relax
Endel is a relaxation app similar to the Hastens Restore, but instead of playing the pre-stored soundtracks, it allows the users to create their kind of sound therapy that solely depends on their taste likeness.
This factor offers a lot of room for customization according to user preference, whether they want to relax or sleep. You can opt for this app if it appeals to your liking or taste.
Download the App On Google Play Store
Download the App on Apple App Store
16. MyFitnessPal – Calorie Counter
Myfitnesspal is amongst the most popular fitness apps in its category. This app is known chiefly for food tracking.
You can lose weight by tracking your food and calorie intake and form a pitch-perfect plan to work on a daily basis. It has a free online calorie tracker and food analyzer. 
Along with food planning, it also has all the basic requirements one needs from a fitness app like a workout tracker. It can also quickly connect to wearable devices for more accurate results.
Download the App On Google Play Store
Download the App on Apple App Store
17. Meditopia: Sleep, Meditation, Breathing
Meditopia is one of the best meditation apps in existence. As we know, meditation is one of the most prominent factors in building relationships, acquiring peace of mind, increasing physical health, and overall developing character and body.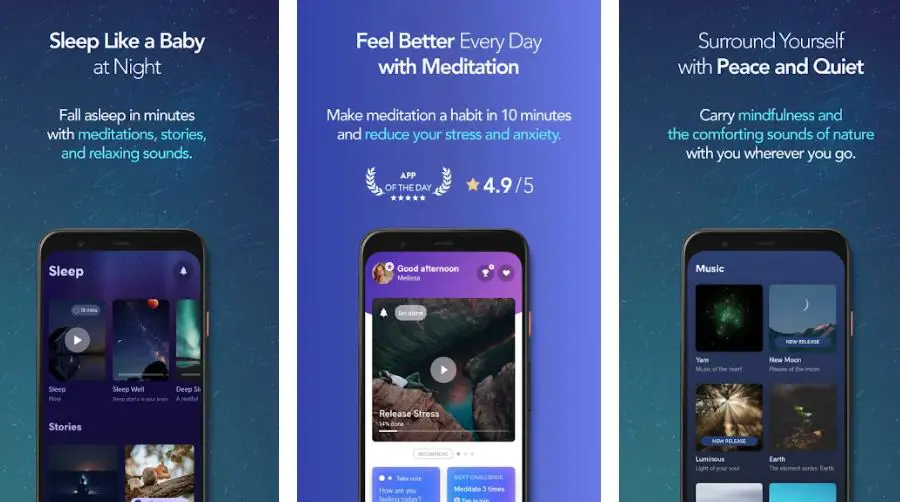 This app works on sessions like morning sessions where the meditation is designed to give us a positive mindset when we step outside our bed. You can just meditate for just 10 minutes in a day and will still see some fruitful results.
Download the App On Google Play Store
Download the App on Apple App Store
18. Calm – Holistic wellness apps
Calm is rated as the happiest app in the world. It comes under the category of relaxation apps that help us reduce anxiety and stress levels. If you want to sleep well and without worry, this is the app that you can opt for.
This app contains guided meditations that aim to give positive vibes to its listeners. It can last from 5-25 minutes. Apart from meditation, it also has an entire body program that includes body stretching. It also has breathing programs that help you to unwind and breathe better.
The most famous program of calm is the 10 minutes program which we can do to start our day if we have trouble falling asleep; then it also has sleep stories to offer, which you can listen to while trying to sleep.
Download the App On Google Play Store
Download the App on Apple App Store
19. Yoga Studio – wellness apps for employees
Yoga is one of the most effective ways to change ourselves into entirely different people. Yoga affects the mind, body, and soul of a human being. The Yoga Studio offers you a complete guide to yoga with over 180 different videos of high quality.
Yoga Studio Android App Preview
This app also includes meditation and relaxation practices. You can download the classes or videos offline if you perform yoga daily. You can see yourself slowly transforming towards a better direction for yourself.
Download the App On Google Play Store
Download the App on Apple App Store
20. Plant Nanny – fun water tracker and reminder
Plant Nanny is probably the funniest app on our list. It is a game where you grow a baby plant to become an adult by intaking water in real life. As we all know, drinking water is necessary for all of us. But we all slack off in drinking water.
Plant Nanny 2 - Your Adorable Water Reminder
Drinking plenty of water is very beneficial and healthy for us. And this app just helps us to do that entertainingly and uniquely. It can boost our physical wellness if we play the game correctly. It is like a simulator game.
The more water you drink, the more this plant grows. Doing this can increase your water intake, which will benefit you physically while having fun too.
Download the App On Google Play Store
Download the App on Apple App Store
21. Freeletics
Freeletics offers a quick and efficient way of workout. Suppose you are very busy and don't have time to focus on your health and work out.
This app can help you in so many ways. It mainly focuses on bodyweight exercises such as squats, burpees, push-ups, HIIT, and sit-ups that can be performed anywhere without needing equipment.
There are two versions of this app, one is paid, which offers some essential exercise of all kinds, but the free content is very limited. If you pay for the paid version of this app, it becomes a one-time stop for anyone as it offers tons of exercises with a training coach that can be performed anywhere.
Download the App on Apple App Store
22. WakeOut – wellness apps for students
This app was developed for those people who don't have enough time to focus on workout routines. Either they are very busy or extremely lazy. As we know, the exercises we perform suit our mental and physical health. 
Wakeout offers nearly 300 free exercises designed as a quick burst that can be performed in 30 seconds or more. You don't even require any particular place to accomplish it.
You can just perform these short exercises from where you are. These short exercises are very helpful and calorie burning, which saves a lot of precious time but gives good results in the long term. 
Download the App on Apple App Store
23. WOOP
Woop is a very underrated app because it offers something entirely different that none of the apps offers. It stands for wish, outcome, obstacle, and plan. This app uses a scientific approach for your goal setting.
You set up a goal for yourself and try to take mindful steps to perform it step by step.  You can list the positive outcomes of your goals and the obstacles you faced while approaching them.
It believes that if you set a realistic goal, you're trying to achieve it. Then you can truly achieve it by following simple steps towards it one by one.
Download the App On Google Play Store
✅Frequently Asked Questions
What is the best overall health app? 
MyFitnessPal is the best overall health application, with over 100 million downloads on the Google Play store. Headspace, Google Fit, and Pedometer are also up there as far as features and popularity are concerned. 
Is there an Apple Health equivalent on Android? 
Google Fit is right up there as one of the best and the most popular health applications for Android, with Samsung Health, Fitbit, and MyFitnessPal to follow. 
Which is the best healthy app for Android? 
MyFitnessPal and Google Fit are two of the best healthy applications for Android and offer a wide range of features to follow a healthy lifestyle. Both the applications are downloaded over 100 million times on the Google Play store. 
What is the #1 health and fitness app? 
MyFitnessPal is the best health and fitness application and offers everything you need to keep yourself fitter and healthier.
The app enables you to log your exercises, record calorie intake, and meet personal health goals, and it also offers a wide range of customization options.  
Is MyFitnessPal going away? 
There isn't any official word on going away from MyFitnessPal, and you can keep it using to achieve your fitness goals without overthinking. 
Which fitness app is most accurate? 
Google Fit is one of the most accurate fitness applications regarding calorie counting and workout training.
Apple Health and MyFitnessPal are also up there and offer a complete range of features to track your calorie intake and your workout routine. 
How do I choose a fitness app? 
It depends entirely on your fitness goals and other preferences. If you want to reduce body weight, MyFitnessPal is an excellent option.
And, if you are only interested in maintaining your current body posture and want to track your steps daily, Google Fit and Apple Health are great options. Some fitness applications also offer coaching and consulting, and everything comes to what your primary goal is. 
What is the best workout app for free? 
Strong and Nike Training Club are a couple of amazing workout applications available free of cost and offer a wide range of features, including at-home workouts, training programs for all levels, world-class trainers, Wellness guidance, live streams, video-on-demand, and much more. 
Is Google Fit accurate? 
Yes, Google Fit is one of the most accurate fitness applications. It works immensely well if you complement it with other leading fitness applications like MyFitnessPal.
And, if you want to use Google Fit only, you will have to keep your GPS on to ensure up to 100% accuracy rate. 
Is Samsung Health or Google Fit better? 
Both applications are designed for slightly different purposes. While Google Fit is known for counting fast-paced steps, and adding to the overall active time, on the other hand, Samsung health calculates the entire walking time, whether fast or slow.
Active time is more often than not higher in Samsung health. However, Google Fit is much better as far as accuracy is concerned. 
Is Fitbit or iPhone more accurate? 
Most wearables, including Fitbit, are more accurate than smartphones, including iPhones. 
Is Fitbit more accurate than Apple health? 
Fitbit is a much better option as compared to Apple Health. Whether you talk about accuracy, reliability, or friendly user interface, Fitbit outperforms apple health in all aspects.  
What are Wellness apps and their purpose? 
A fitness app is an app that you can download on your smartphone, and it serves only one purpose, to make you healthier and happier. These apps assist you by providing content on physical exercises and lifestyle changes like diet plans etc. 
These apps can also help you find peace of mind by reducing stress and anxiety with the help of meditations or audio soundtracks.  
Is it safe to use wellness apps? 
These apps are generally safe to use, but if you are new to exercise regimens or joining an entirely new program, you must be familiar with their basics, as they can sometimes be rigorous.
And if you are not performing those exercises correctly, they can have the opposite effects you hoped for. 
What features look like in an ideal wellness app? 
These apps must include exercise routines, sleep, medications, and an activity or routine tracker to track our daily activities. The app should also be compatible with wearable devices for accurate results. 
Should you pay for wellness apps? 
If you think the app is worth it and fulfills all your requirements, you can pay for it as these apps can replace going to an actual gym. Most workout and meditation plans do require any sort of equipment to perform. 
While some apps offer their content for free, some charge a reasonable amount for it. If you have the allowances or budget to pay for it, you can pay for the apps as it would be an investment in ourselves.  
Which is the best overall fitness and wellness app? 
See, the thing is that there are no worst or best apps. Each app has something different to offer. It entirely depends on you which app you like the best. The app which appeals to your interest is the one you can choose as your primary go-to wellness app. 
Final Verdict
In this article, we've discussed the best health and wellness application that are in existence. It ranges from full-fledged exercises to apps with audio soundtracks that help you reduce stress and sleep better.
Even if you are slightly struggling due to your mental or physical health, you have many options to choose from that will benefit your mind and body.
But downloading and paying for those apps won't do anything good for you until and unless you take care of yourself and follow the schedule and exercise shown in the apps. You need a proper commitment and determination to achieve your desired goal.
These apps can just show you a path to follow. To walk and succeed on that path depends on your hard work and determination. Giving up is not an option. You have to fight till the very end to achieve that goal of yours which you've dreamt about from the very beginning.
We hope that this article helped with what you were looking for. Remember, your destiny is in your hands, and you have to live up to the expectations you've assumed for yourself—best of luck with your future adventures.