I will be discussing all about FPS Counters and the best counters you can use. This article will also contain more tips about FPS and how tweaking some system settings can help increase your FPS. 
What Is A FPS Counter?
I'll have to separate the two words. FPS stands for Frames Per Second. 
This is basically the exact number of frames displayed during processes like games on your screen. 
Usually, higher Frames Per Second (FPS) means better video quality. 
In games, the FPS of your system matters a lot because a low FPS can make your game really poor, while a higher FPS will make your gaming experience smooth. 
There are some ideas that can help you increase FPS and I'll discuss them below but for now, let's concentrate
Counters
FPS Counters are apps that display a system's frame rate. 
For instance, whenever you're gaming, if you have an FPS Counter software installed, you should be able to see your system's frame rate. 
This will help you know exactly where your system ranks in FPS and whether you need to increase your FPS. 
FPS Counters Software You Should Look Into Using
You need an FPS Counter software to determine just how good or bad your system's frame rate is and then decide on how to improve it using the tips I explained below. 
Below are the counters I believe you can use easily and get your frame rate. 
The software isn't lined up in any particular arrangement, just choose the one you like and get it to be able to see your frames per second figure and increase gameplay. 
1. Fraps 
This software is not just for frame rates, actually, that's not even it's the main task. Fraps is used mainly to record gaming sessions and take screenshots of games. 
This is the main service this application provides, but because this is benchmarking software, you can use the frames counting feature that's present in the software. 
There are two versions, paid and free. If you also want to download videos for long and still use the counter tool, you might have to splurge for the paid version. 
But if you only want to know your system's frame per second, then you can try out the free version of Fraps. When you use Fraps, you are allowed access to edit the counter feature settings. 
Settings such as you placing the counter anywhere on your screen or designating a hotkey to turn on and off the counter feature. 
For users who want something simple, that will just inform them of their system's frames per second number, then this app is okay for you. 
Please note that it only works on DirectX or OpenGL games. 
2. Razer Cortex 
I know I promised to explain processes that will help increase your system's later but with this FPS Counter software, you can kill two birds with one app. 
The Razer Cortex is a game booster app that is absolutely free. Yes, you heard me. 
It is totally free and not only does it show you your system's frame rate, but it also acts as a game booster to help enhance your gaming sections. 
It does this by clearing up non-essential processes and freeing up your RAM so that your system will divert most of its resources to the game or display. 
There's still more to expect. 
What makes this app more special is that not only do you get your system's frame rate, you will also get a graph chart showing information about your FPS in relation to the gaming sessions you've had. 
This means you will be able to see your average FPS and which games need higher FPS to work better. If you're looking for more than a counter, this software ticks all of the boxes you may have. 
The software is free, it is useful for other tasks and not just a counter. It also displays extra information about CPU resources after gameplay sessions. 
3. Bandicam Screen Recorder 
As the name suggests, the main idea behind this app is to use it for recording screens during gameplay. 
It shows your frame rate during gameplay which is basically why it's on this list. 
Usually, most users won't have a higher frame per rate of 120 and that's basically the limit of this software. 
Anything higher and it won't really function. It is important to point out though that most systems are usually around 60 FPS so the frame per rate ceiling of 120 FPS is more than enough. 
This software is not freeware even though there's a trial version you can just use quickly. 
If you're interested in the software's other processes, you might want to pay for the full version. If you're just looking for your frame rate per second, use the trial version and you'll get the info you need. 
4. Dxtory

 
What this software offers is the ability to work on the DirectX, OpenGL, and Universal Windows platform games. 
This versatility makes it an attractive proposition for users who want something that works across all platforms. 
Of course, the main process the Dxtory offers is also screenshotting game scenes and recording game clips. 
But it also offers the traditional FPS counter which is why it is on this list. There are a few customization options available on this software. 
It doesn't really affect the performance of what is a sturdy, versatile software but it does add a certain aesthetic appeal. 
If you're looking for something that looks cool and also works just as cool, then Dxtory is your software. 
5. RadeonPro

 
Another exciting freeware that offers a lot of features that should interest most users. 
It is important to note that this software only works for you if you have an AMD graphics card. 
You should usually be able to see the type of graphics card you're using on your laptop or just google your device's name and check which graphics card you're using. 
(For people with GeFore graphics card, the next software after this one is for you) 
What RadeonPro offers is optimizing your game graphics to ensure you get the best out of your system's resources. 
But back to why it's on this list, it definitely has an FPS counter. 
You can enable the counter in the Settings menu and you will also have access to some other customization options like hotkeys for turning the counter off and on and choosing the part of your screen the counter will be displayed. 
There are other features that might interest you but I won't be delving into that because I'm trying to keep this list mainly focused on FPS Counters. 
This freeware is a good choice for users who have the corresponding graphics card. 
6. GeForce Experience 
Like I promised you GeForce graphics card users, there's an application named GeForce Experience that will help optimize your gaming sessions and the software will also provide users with an FPS counter. 
In the GeForce Experience app, click the "Settings" button.
Click on the Share and click on the Setting option, if you are not seeing setting option make sure the share option is enabled.
Click on the Overlays option and then click on the FPS Counter option and then click one of the four quadrants to pick where you want your FPS counter.
Other features include recording gaming sessions and adding filters to games for aesthetic views. 
You can also check out many customization options like hotkeys and where to position the counter. 
This freeware offers standard FPS counter features and also extra features that make it really enticing especially to users that have the corresponding GeForce graphics card. 
You should consider installing this software if you have a graphics card and you're in need of an FPS counter. 
7. FPS Monitor: Best Professional FPS counter
If you are looking for a professional dedicated FPS counter tool then go ahead with the FPS monitor application (Download Here). This application will give you a complete overview of your hardware performance at the time of gameplay.
FPS monitor will help you to find out the real culprit of high loads in terms of CPU, GPU, or Hard-disk or maybe your network connectivity.
With FPS Monitor, you're able to create your own overlay that will not interfere with your gameplay.
With the FPS monitor, you are able to get the hardware statics that will help you to understand if the hardware is required with your PC or no.
8. Windows Inbuild FPS Counter
You might be surprised by seeing the windows inbuild FPS counter in our list, Yes windows 10 comes with its own FPS counter that you need to enable it and use it.
There is no direct program for the FPS counter but you can get this feature in the Xbox game bar program.
Click on the Start menu and search for the "Xbox Game Bar"
now Click on the 4 line icon to access the widget's menu and click on the Performance tab.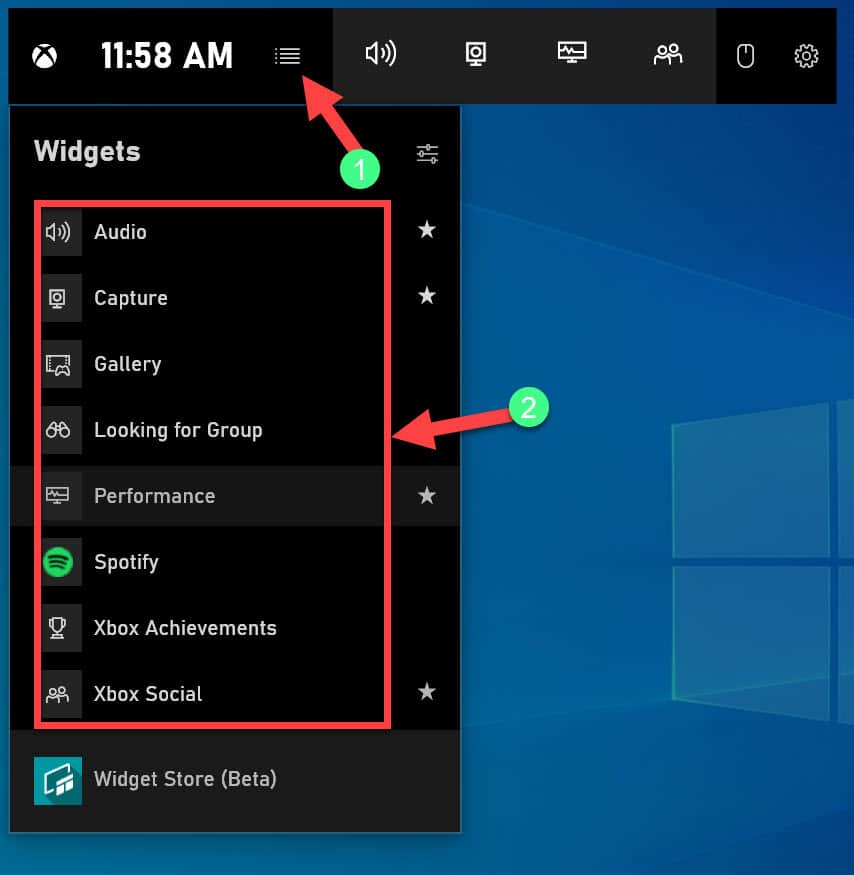 Click on the Three-line icon to configure the performance settings, make sure under the Metrics option you have enabled the FPS – Frame Per the Second option that will show you the FPS under the performance tab.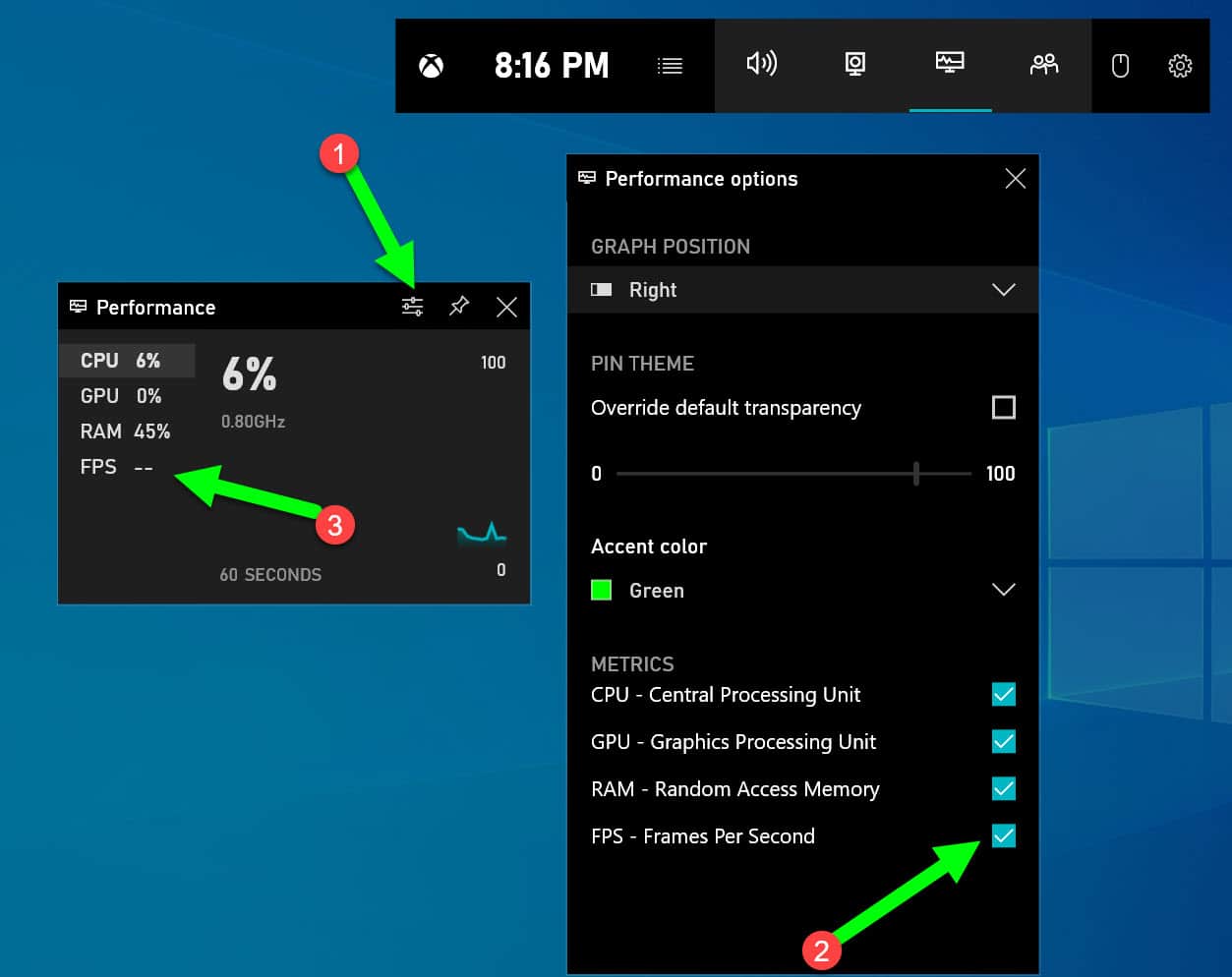 Now click on the Pin option to this widget on your screen. at the time of gameplay, this widget will show you the CPU, GPU, RAM, and FPS.
Note:- Below screenshot is not showing any FPS because I am currently not playing any game at this time.
Some Tips On How To Improve Your Games FPS
So I'm going to offer some tips on how to increase your system's FPS and this usually should result in smoother gameplay or display. 
I find it important to point out that when systems have low FPS, it is not due to network connections. 
What the FPS relies on is your system's monitor's refresh rate and the graphics card your system is packing. 
You might need to do one or more of the following processes to ensure that your system is in the right frame (pun intended) to function effectively. 
1. Remove Unnecessary Background/Foreground Processes

 
Using your Task Manager, you should just end the processes that aren't vital to your system. 
There are always unused processes that are hogging your CPU resources, ending these processes will allow your system to divert more resources to your gameplay or display. 
Windows 10 comes with a Game mode that will help you to get the best gaming experience.
In order to activate "Game mode", open the settings with the combination [Windows] + [I] and click on the "Gaming" button.
following the "Games Bar" page, go to "Game Mode" in the left column and move the
slider to "On" under "Use game mode".
The game on your PC will immediately receive the highest priority so that you can work with maximum quality and performance.
Once the gaming mode is activated, Windows 10 allocates many CPU cores to the on-going game, for example, 6 cores in case of an 8-core CPU.
How to Easily Optimize Windows 10 Services For GAMING
2. Updating Graphics Driver

 
This is a vital way of improving your FPS. Outdated graphic drivers can cause poor graphics in games.  You can also face issues like corrupted graphics drivers which must be fixed with updates. 
Get the latest drivers from NVIDIA, AMD, or Intel, depending on what graphics hardware your PC has inside.
It's really easy to check the GPU that you are using with your Windows task manager, Right-click on the taskbar and select the Task Manager and Click on the "Performance" tab and scroll down this page, you will find the GPU option.
As you are seeing in my below screenshot my laptop has both Intel and Nvidia, you might have intel and AMD that is perfect for gaming. In all these cases updating drivers will help you to get the maximum gaming experience.
Now let's update the driver, To update your driver use the below links to get the latest driver.
Nvidia Driver (Download Here), AMD (Download Here) and Intel (Download Here)
As I have Nvidia driver installed, I will go to the Nvidia driver website and find the exact model that I have.
As you saw in the above task manager screenshot, my laptop has "GeForce GTX 960M" GPU installed so I selected the "GeForce GTX 960M" option.
Note:- The same way you need to find out the driver for your PC/Laptop.
Click on the Search Option, I will show you driver download option, Download your driver and install it.
it's best to leave the "NVIDIA Graphics Driver and GeForce Experience" option at the time of driver installation.
Now it's time to optimize your Nvidia Graphics card for best-optimized settings,
Open the Nvidia Control panel and click on the "Manage 3D Settings" and in the right-pane side, search for the "Ambient Occlusion" if it's set to Off, make it Performance.
Caution:- This will consume high memory but it will enhance your gaming experience.
The second setting that you need to change is the "Antialiasing Mode" Setting. To improve your gaming experience try using the Enhance the application setting or Override any application option.
The third setting that you need to change is "Antialiasing – Setting", with this setting we are able to control how much amount of anti-aliasing sampling will be used. If you are looking for the best image quality then set this value to 8x.
Caution:– There will be a lag when playing the game because the game will be processed slowly.
The Fourth setting that you need to change is "Anti-aliasing – Transparency". This setting is helpful in giving a smooth appearance to small objects in the game like trees etc.
Set this value to the maximum available in the drop-down.
3. Choose Which GPU a Game Uses
With Windows 10, you are able to select which GPU a game or application will use. By-default windows are selecting the intel GPU due to power saving mode which is quite slow for the games.
To Choose Which GPU a Game Uses, Click on the Start menu and select the "Setting" or Press the "Windows Key + X" on your keyword.
Click on the Display option and Click on the "Graphics Settings" option.
Click on the Browse option and provide the path of your game.
Select the application you've added, and then click the "Options".
and select the "High Performance" option and click on the Save to save this configuration.
As you saw in the below screenshot on point 2, Windows 10 is using the Intel graphics card in the System default but in High Performance, it's using the Nvidia GPU.
4. Reducing Your Screen's Resolution

 
I know of a few games (PES) that work better only when the resolution is reduced. You can always tweak these settings in the game's graphic settings or even your device settings. 
5. Clear Up Space In Your Disk 
This is a good way to increase your FPS and also get rid of files that aren't needed anymore. 
Systems with disk space usually have more resources to divert to game processes so it is a standard tip for anybody looking to increase system FPS. 
6. Avoid Recording Gameplay
Gameplay recording is also a reason for low FPS, so if you don't have a requirement of gameplay recording stop it.
If you are using the Windows 10 Game Bar to record your game session then you can turn it off by visiting, Start > Settings> Game> Captures.
Click on the "Record in the background while I'm playing a game" option and turn it off.
Note: The ideal FPS is 60 FPS (Usually found in normal monitors and TVs, it is the most common and useful FPS) 
Top 5 FPS Games of all Time
There is a reason why people love first-person shooter (FPS) games – they allow us to simply play the game. They don't require a lot of thinking, digging into the lore and the story.
All they ask of us is to keep shooting and hit as many targets as we can. It's sort of refreshing, and it is definitely a lot of fun, so we do it.
Because of that, FPS games are among the most popular games today, and they have every reason to be. Let's see some of the best and most popular ones. They are all a great way to pass the time and have some fun along the way.
1. Far Cry 3
Far Cry 3 follows a young man by the name of Jason Brody. At the very beginning, we find out that he and his friends went on a trip, but ended up on an island controlled by modern-day pirates.
The leader of the pirates, Vaas, plans to sell them all into slavery. So, naturally, our protagonist escapes and begins a long journey of becoming a warrior who will rid the island of criminals.
The game has a bit of a story and a plot that is pretty easy to follow. As you progress through it, you unlock more and more skills and abilities which help you out in defeating the enemies.
There are many tasks and missions for you to do, and even a few things to uncover this mysterious island. Finally, the game has some RPG elements that allow you to choose different endings, which is a nice touch.
Far Cry 3 - Stranded Trailer [UK]
2. Call of Duty 4: Modern Warfare
Call of Duty has always been among the best and most popular FPS games, and this time is no exception. This installment of the game offers much more modern equipment and weaponry, as well as many new features, and also the multiplayer option.
In the single-player version of the game, you take several roles, which is not a new concept in a CoD franchise. The rest is pretty much the same as always – you get your objective that you need to fulfill, and in the meantime, you kill pretty much everyone in your way.
The objectives are different each time so that the game wouldn't become too repetitive. This game is a great example of a good FPS, which will provide you with multiple hours of enjoyment, and a pretty simple plot to follow.
Call of Duty 4: Modern Warfare Trailer
3. Wolfenstein: The New Order
This installment of the popular Wolfenstein franchise is a bit deeper than your regular FPS game. It features an alternate reality where the Nazis won WWII and forced the US to surrender.
You play as a soldier who wakes up from a coma and continues his task of making the Nazis suffer.
Without spoiling the game, I can tell you that this installment brings the player through yet another journey through a set of completely hostile areas, all with the goal of defeating the world's greatest enemy. You will uncover the secrets behind the Nazi victory, go undercover, and much more.
The game is pretty interesting, just like the previous Wolfenstein games, and I definitely recommend playing it.
4. Overwatch
Overwatch is a multiplayer FPS game that features squad-based combat. There are two different teams, each consisting of six individual characters.
Each character has its own class, ability, and role within the team. Each player may change their character after dying, or if they manage to return to their home base.
Overwatch Gameplay Trailer #2
Each of the players has three to four different skills, one of which is their primary attack. The goal of this game is pretty simple to figure out, and it all revolves around killing the players on the other team.
At the same time, you may choose to support your own team, and increase your chances of winning. It's a fun game, definitely, and it provides a different approach to this type of game, which makes it pretty unique.
5. Rage
Rage is a futuristic FPS, and its story revolves around an alternate version of Earth, which is hit by an asteroid. The large majority of the planet's population died in the collision, and the survivors are trying to find a new purpose in the new world.
They are constantly attacked by mutants and bandits, which all contribute to the feeling of a post-apocalyptic wasteland.
You, however, play as an ex-marine who was put in stasis before the meteor hit, in one of many underground shelters. After awakening, you discover that the rest of your shelter is destroyed, and everyone else is dead.
You head to the surface, and soon end up meeting the rest of surviving humans. After that, it's time for you to find your place in the new world as well, and try to deal with the fact that you don't belong there.
The game has a more interesting story than most FPS-type games and an interesting idea. It certainly is worth playing and exploring.
Conclusion 
FPS Counters are really useful to gamers and other users. You can get lots of exciting features from most of the software described above than just counters. 
That's why I tried to explain a little bit about some features that might have direct links to the reason why you need an FPS counter. 
Use any of the software above and then use some of the tips below to better improve your gaming or display. 
You can always get more out of your system and this article is filled with tips that will help you do just that. 
Please share with me the FPS counter software you're using and why you prefer it in the comment section below. Thanks for reading.